Creamy smooth lavender ice cream is filled with a delicate touch of sweet lavender and balanced with lemon zest, honey, and a touch of tangy yogurt. It's rich, soothing, fresh and perfect for summer!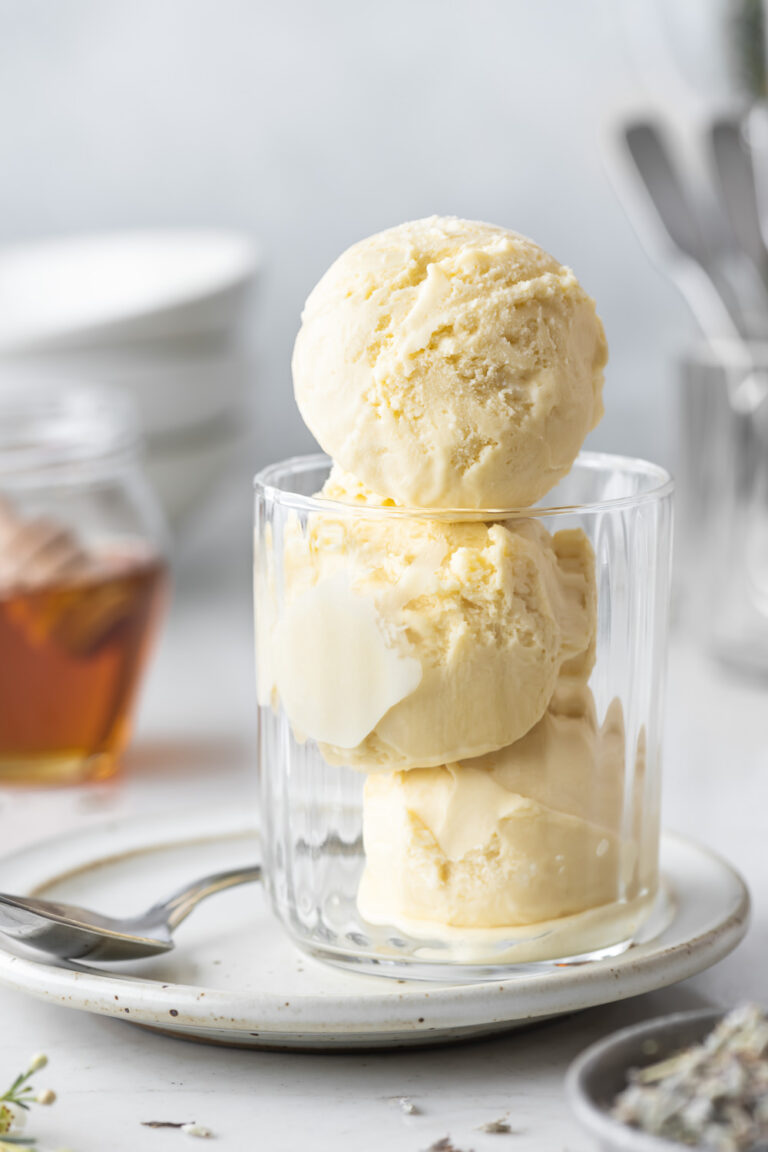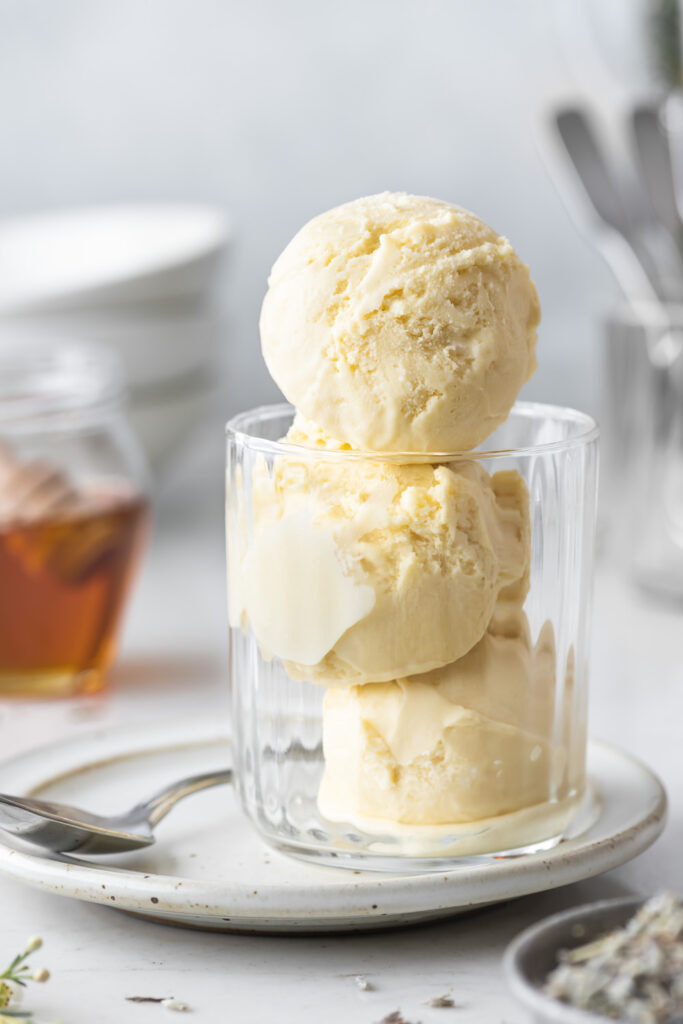 This lavender ice cream is a rich, super smooth ice cream recipe that's equal parts fresh, floral and subtle. Lavender is one of my favorite aromas: soothing and calm and sweet. And it is very intense.
The challenge with using it in food is keeping the flavor present but not overpowering. No one wants their ice cream to taste like hand soap!
I used a few key ingredients to play off the lavender and balance the perfumey nature so the flavor is delicate and fresh. You'll love to share this ice cream come Spring!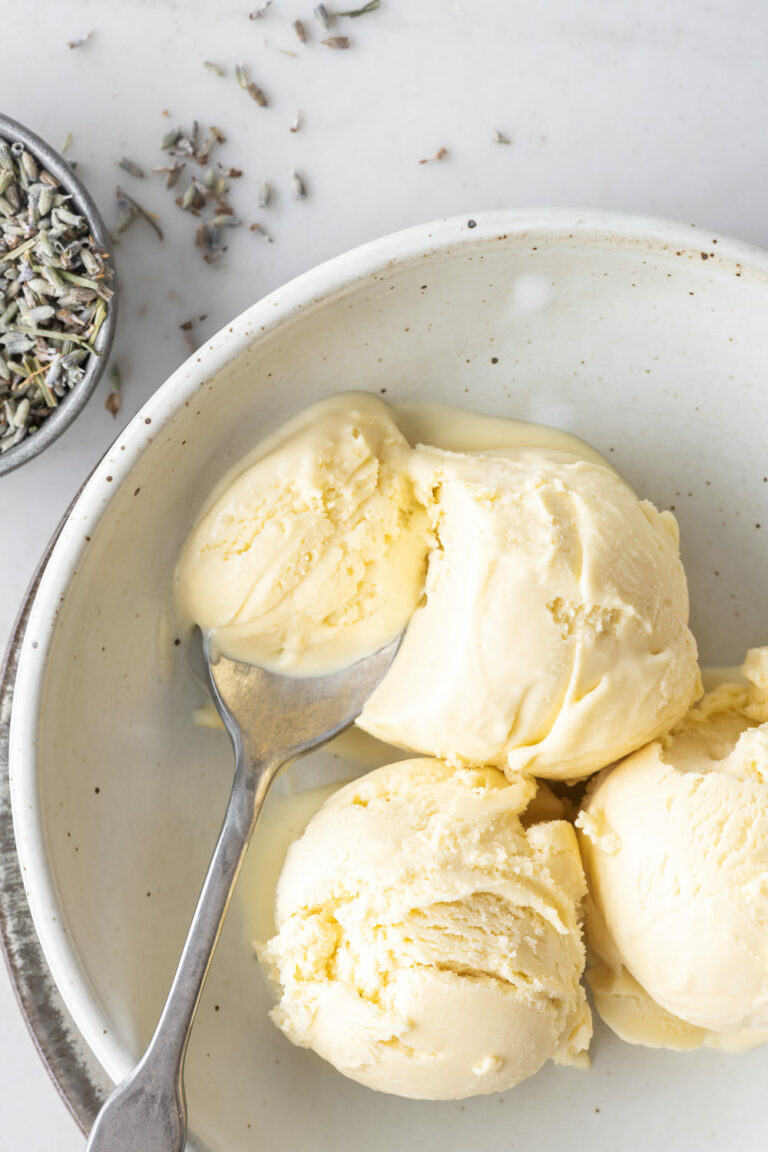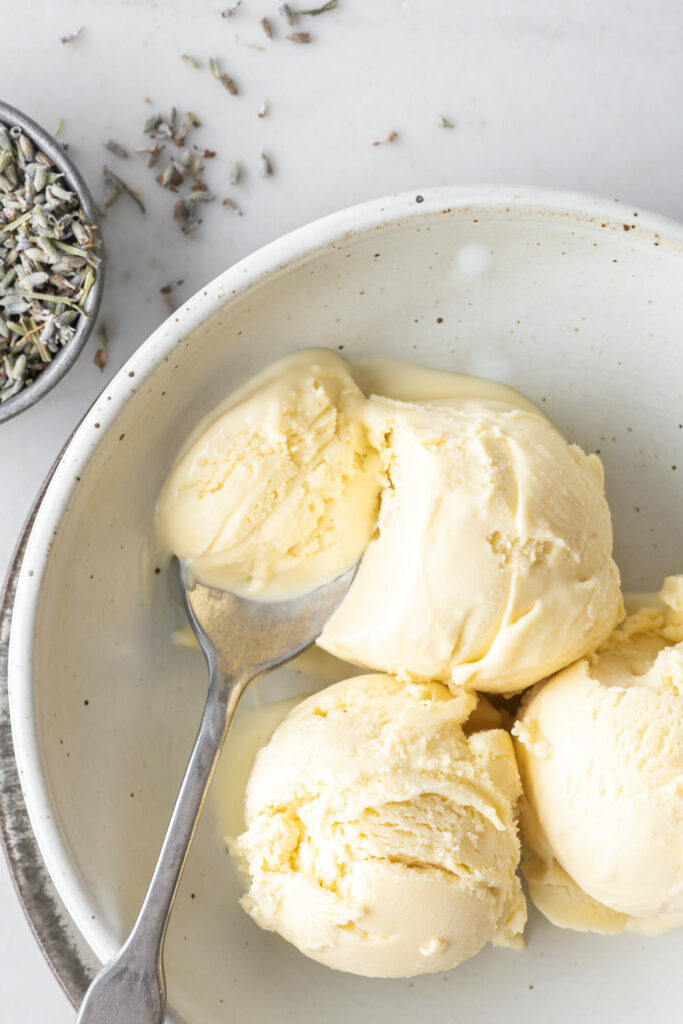 what does lavender ice cream taste like?
This lavender ice cream is a super creamy frozen treat that is flavored with lavender, honey, lemon and Greek yogurt. Lavender on it's own can be oppressive-- it's so floral, it can quickly go from pleasant to perfumy. I balance that floral intensity with a few key flavors.
First, we use the tiniest touch of lemon zest. Too much zest and it becomes a delicious lemon ice cream. But mixing in just ¼ teaspoon to the cream adds freshness and complexity.
Honey also adds a layer of flavor that goes so well with both the lavender and lemon, but we only add a little bit to keep the flavor secondary.
Finally, the Greek yogurt. I mix that into the custard after all of the cooking. The yogurt freshens the lavender ice cream recipe and helps all of the flavors pop. Keep in mind the yogurt accounts for just a third of the dairy added and the final ice cream is nothing like frozen yogurt! Just a tiny bit of tartness and tang to make it delicious.
All in all, this lavender ice cream is rich, creamy and smooth; it's noticeably and enjoyably lavender-- with tiny touches of lemon, honey and tangy yogurt. So delicious for spring and summer!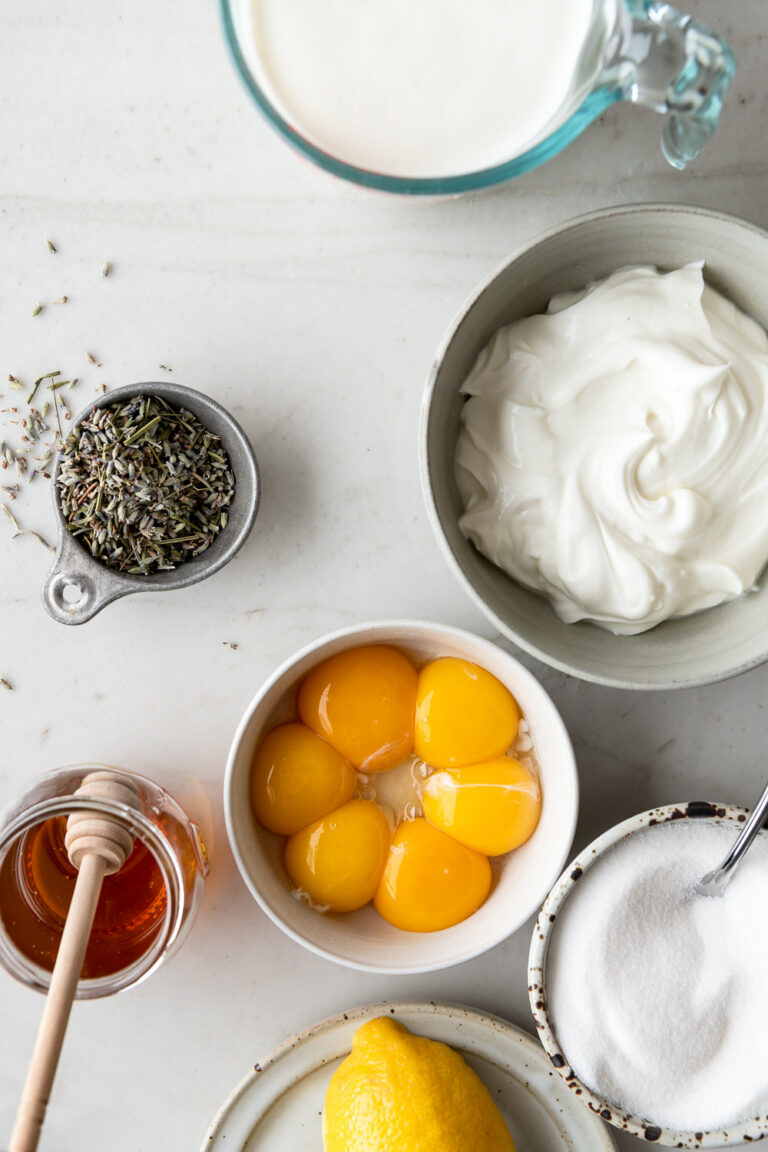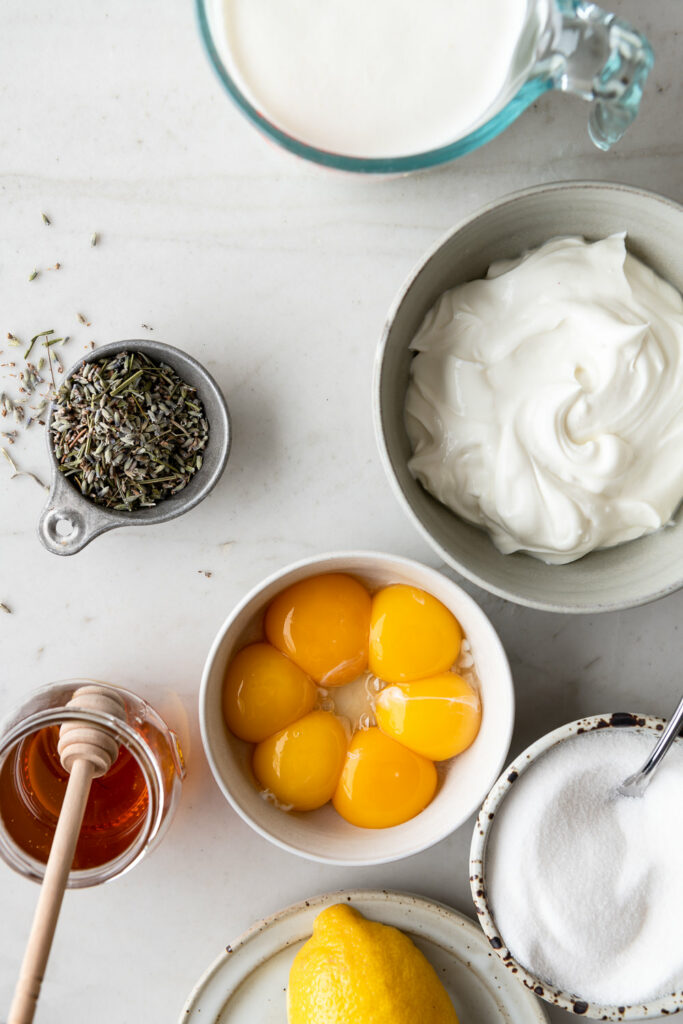 what you need for lavender ice cream:
Heavy cream
Dried culinary lavender
Lemon zest
Sugar
Honey
Salt
Egg yolks
Greek yogurt
Ice cream maker
how to make lavender ice cream
Infuse heavy cream with lavender and lemon
Strain cream into bowl with yolks, honey, sugar and salt
Cook custard until thick
Strain into bowl to remove any bits of cooked egg
Whisk in Greek yogurt
Chill custard completely
Churn in an ice cream maker
Enjoy as soft serve or freeze until firm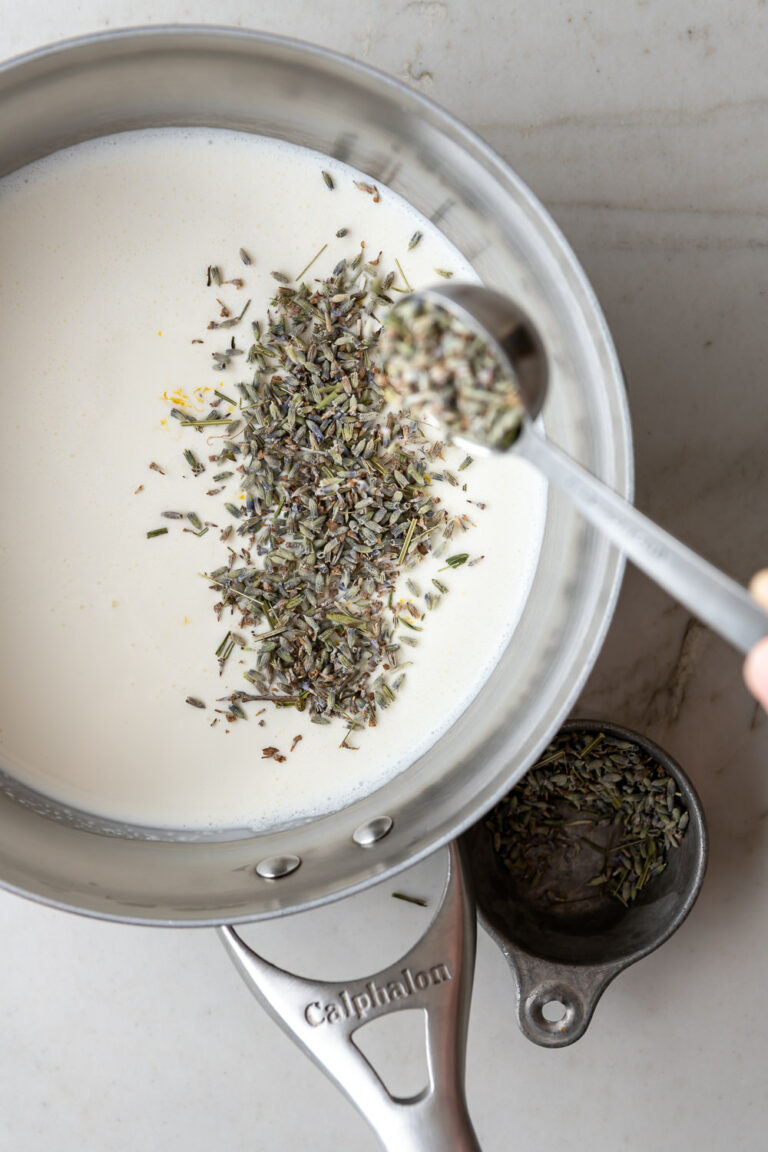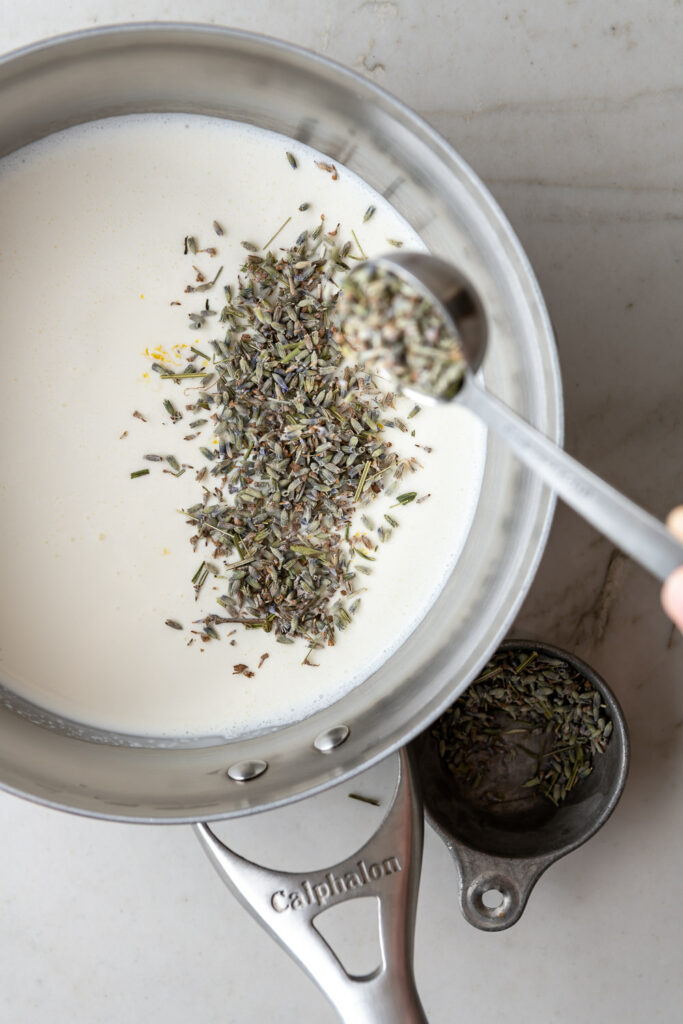 what is culinary lavender?
The recipe calls for culinary lavender, which is important for two reasons.
First, there are different cultivars of lavender with different flavor profiles and attributes. Those that are deemed best in food are categorized as culinary lavender (and they all tend to be "true lavender" or L. angustifolias). While all lavenders are edible, other cultivars can impart bitterness or a soapy, resiny flavor to food. Let's avoid those in our delicious lavender ice cream!
The second aspect of culinary lavender involves the processing. Specifically, the flowers are sifted and cleaned so all you get are lavender buds instead of a mix of buds, leaves and stems.
where can you get culinary lavender?
Thankfully, it's so easy to find some of the more obscure herbs and edible flowers these days. Amazon has a ton of options if you're looking for convenience and speed. I personally love all of the products from The Spice House and they carry a beautiful "ultra blue" culinary lavender that would be perfect in this honey lavender ice cream!
how to serve with this lavender ice cream:
Top with fresh berries (blackberries, blueberries, strawberries)
Scoop in a waffle cone
Sprinkled with crumbled graham crackers or shortbread cookies
Topped with sliced almonds
Dark chocolate shavings
Scooped onto pound cake
Sprinkled with crunchy granola
Topped with candied lemon zest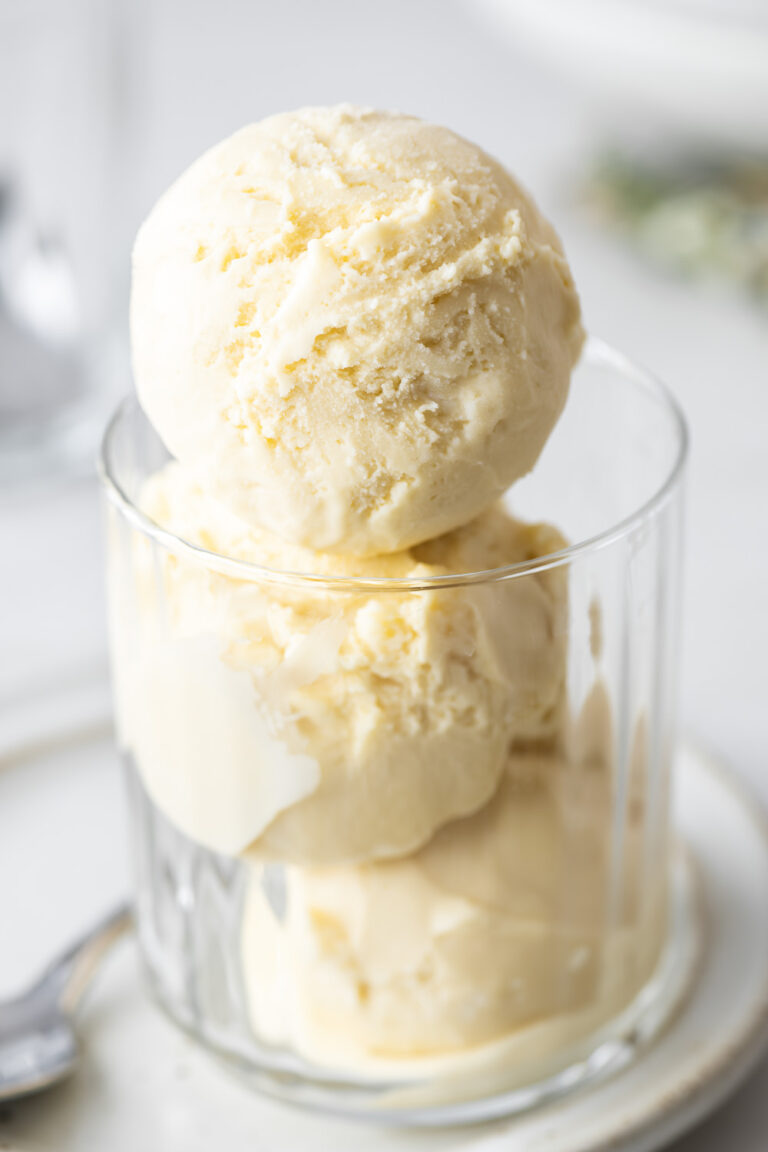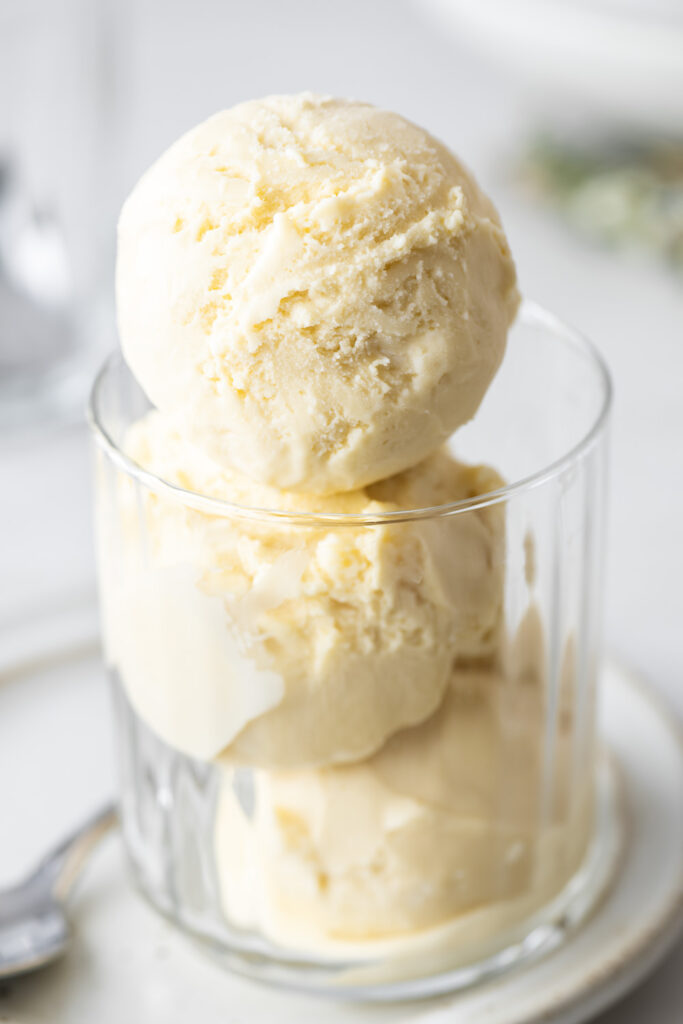 more ice cream recipes to try!
black walnut ice cream with dark chocolate
rum raisin ice cream with oat clusters
buttermilk ice cream with roasted strawberries and peaches
toasted coconut ice cream with dark chocolate
oatmeal no churn ice cream with sour cherry swirl
Print
lavender ice cream
Creamy smooth lavender ice cream is filled with a delicate touch of sweet lavender and is balanced with lemon zest, honey, and tangy yogurt.
Author:
Prep Time:

10 minutes

Cook Time:

15 minutes

Total Time:

25 minutes

Yield:

about 1 quart

Category:

Ice cream

Method:

Churned

Cuisine:

American

Diet:

Gluten Free
Ingredients
2 cups

heavy cream

2 tbsp

dried culinary lavender

¼ tsp

grated lemon zest

⅔ cup

granulated sugar

¼ cup

honey

½ tsp

kosher salt

6

large egg yolks

1 cup

plain, full-fat Greek yogurt
Instructions
Combine heavy cream, lavender and lemon zest in a medium saucepan over medium heat. Bring to a simmer then remove from heat. Let steep for 30 minutes.
Whisk together sugar, honey, salt and egg yolks in a large bowl. Strain lavender cream through a fine mesh sieve into the bowl and whisk to combine. Discard soaked lavender.
Return mixture to the saucepan. Gently cook over medium-low heat, stirring constantly, until custard thickens and coats the back of a spoon, 10- 15 minutes. Don't let it boil. Strain through a fine mesh sieve into a large bowl and whisk in the yogurt.
Let cool to room temperature, using an ice bath if desired. Cover and refrigerate at least 4 hours or up to several days.
Churn in an ice cream machine according to manufacturer's instructions. When it reaches a soft serve consistency, serve as is or transfer to an airtight container and freeze until firm enough to scoop, about 12 hours.
Notes
Nutritional information is only an estimate. The accuracy of the nutritional information for any recipe on this site is not guaranteed.
Nutrition
Serving Size:

½ cup

Calories:

387

Sugar:

28g

Sodium:

159mg

Fat:

27g

Saturated Fat:

16g

Unsaturated Fat:

9.5g

Trans Fat:

0.8g

Carbohydrates:

29g

Fiber:

0g

Protein:

9.3g

Cholesterol:

233mg
Keywords: lavender ice cream