The best Irish coffee recipe starts with a strong, smooth americano coffee, your favorite Irish whiskey, a touch of simple syrup, and a luscious layer of thickened cream spooned on top. We love to round out the flavors with a splash of Amaretto, but it's totally optional!
I've had a lot of bad Irish coffees in my day. Bitter old coffee, harsh whiskey, spray-can whipped cream. It's heartburn in a glass.
But then I went to Dublin and in those musky Irish dive bars, I experienced something completely different, and super delicious. Yeah, it was usually for breakfast, but it totally had my attention.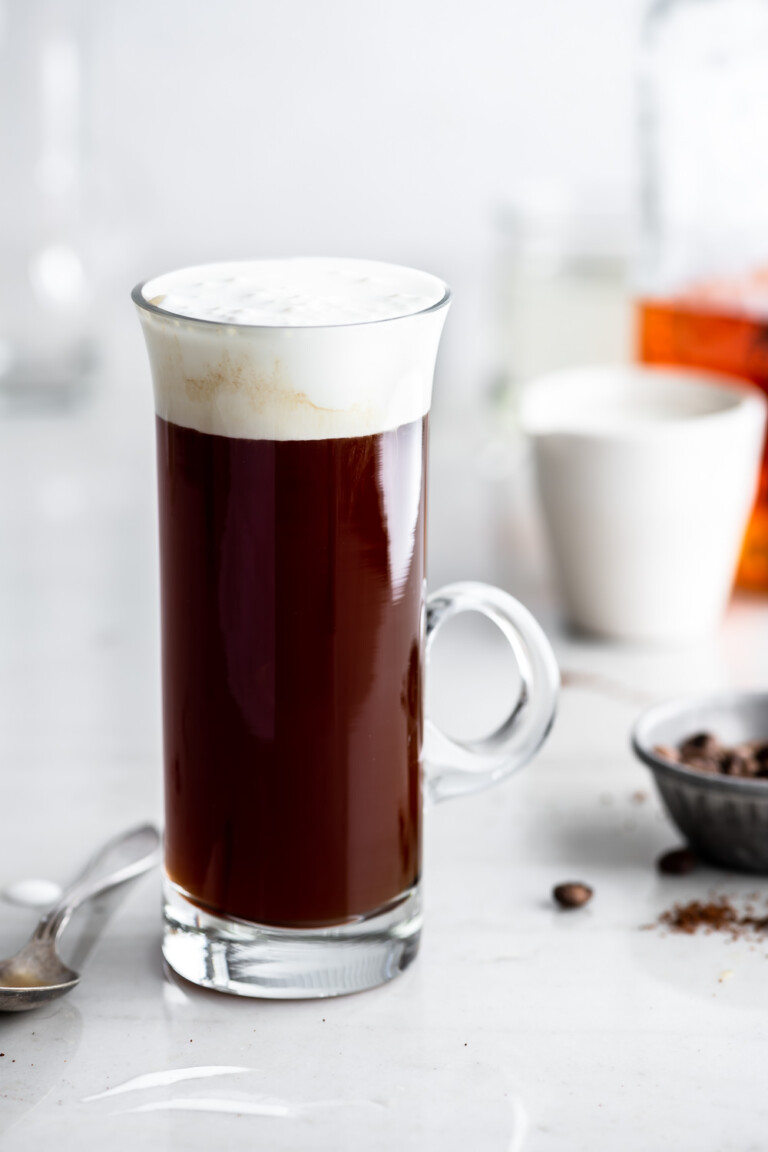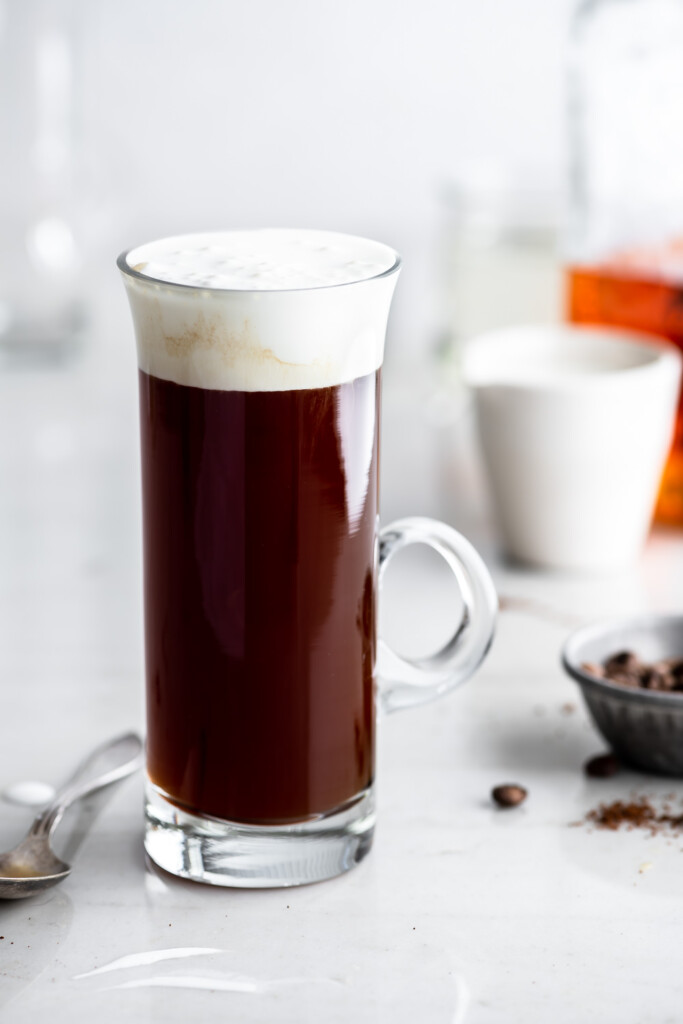 First and foremost, it always tasted like really good coffee. None of that old drip coffee nonsense: it was Americano based and richly flavored. It was lightly sweetened-- just enough to be extra smooth and help the flavors pop. Definitely spiked with Irish whiskey, but in a way that was pleasant and not in-your-face hot with alcohol fumes.
But my biggest takeaway was the cream. Lightly whipped cream that floated on the surface, cool and luscious and gorgeously silken. When you stirred the coffee, the cream seamlessly melted into the hot drink. Smooth and free from weird-looking chunks. That's my kind of spiked coffee.
So we set out to recreate that magic-- a rich coffee, sweetened just to take the edge off, the lightness of Irish whiskey, and that silky layer of thickened cream. Keep reading to get all the details.
This post may contain affiliate links. As an Amazon Associate, I earn from qualifying purchases.
what is Irish coffee?
Irish coffee is a simple and classic spiked coffee recipe. It boils down to coffee, Irish whiskey, sweetener and thickened cream.
The simplicity of the recipe means it's super important to use high-quality ingredients: great coffee and great whiskey will make ALL the difference!
It also invites opportunities to experiment with flavors and make the drink your own. We love to go rogue and stir in a splash of Amaretto. The almond liqueur is straight ambrosia and it rounds out the roasted coffee flavors and caramel notes in the Irish whiskey. It's not traditional, but since when is traditional always best?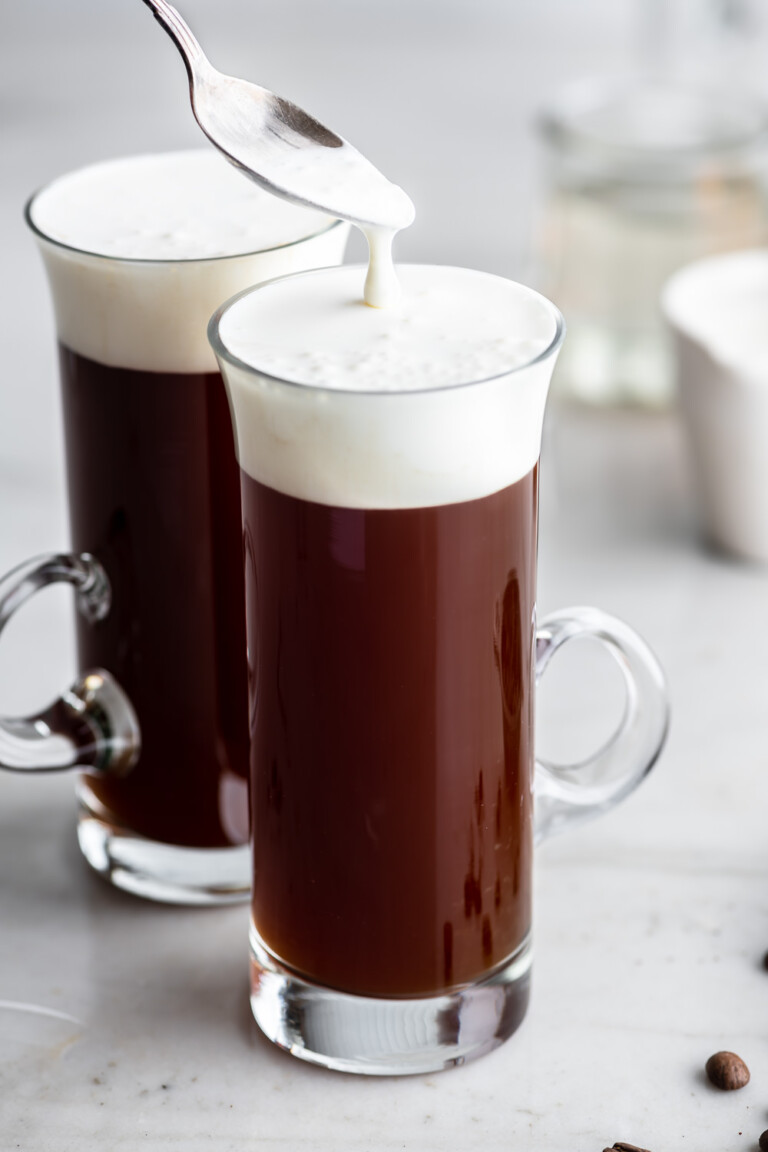 what makes this the best Irish coffee recipe?
Thickened cream: This is the best part of spiked coffee drinks: the cold, luscious layer of lightly whipped cream. We use a mason jar and shake it by hand for simplicity, but you could also use a hand mixer or a whisk. The key is to whip it so it's thick enough to float on the surface, but not so whipped that it won't melt seamlessly into the drink as you stir it in. No floating chunks of whipped cream here!
Jameson: Any whiskey made in Ireland is considered Irish whiskey, which opens the spirit up to a wide variety of possible styles. We prefer to use Jameson in our Irish coffee recipe for its clean, fresh, smooth style (triple distilled!) that blends seamlessly into the coffee.
Americano coffee: The majority of this cocktail is coffee, so the quality you use DIRECTLY impacts what your drink will taste like. You could use your favorite drip coffee. But if you have access to an espresso machine, that's 100% the way to go. Make an americano for the richest coffee flavor and the best Irish coffee.
Simple syrup: If you make cocktails, you probably have a jar of simple syrup in the fridge. I totally prefer using simple syrups in drinks, even hot drinks, because the sugar is already dissolved and ready to go. Clean and simple! If you want to just use granulated sugar, simply mix in 2 teaspoons!
Irish coffee ingredients
Irish whiskey
Amaretto liqueur
espresso or freshly-brewed drip coffee
simple syrup
heavy whipping cream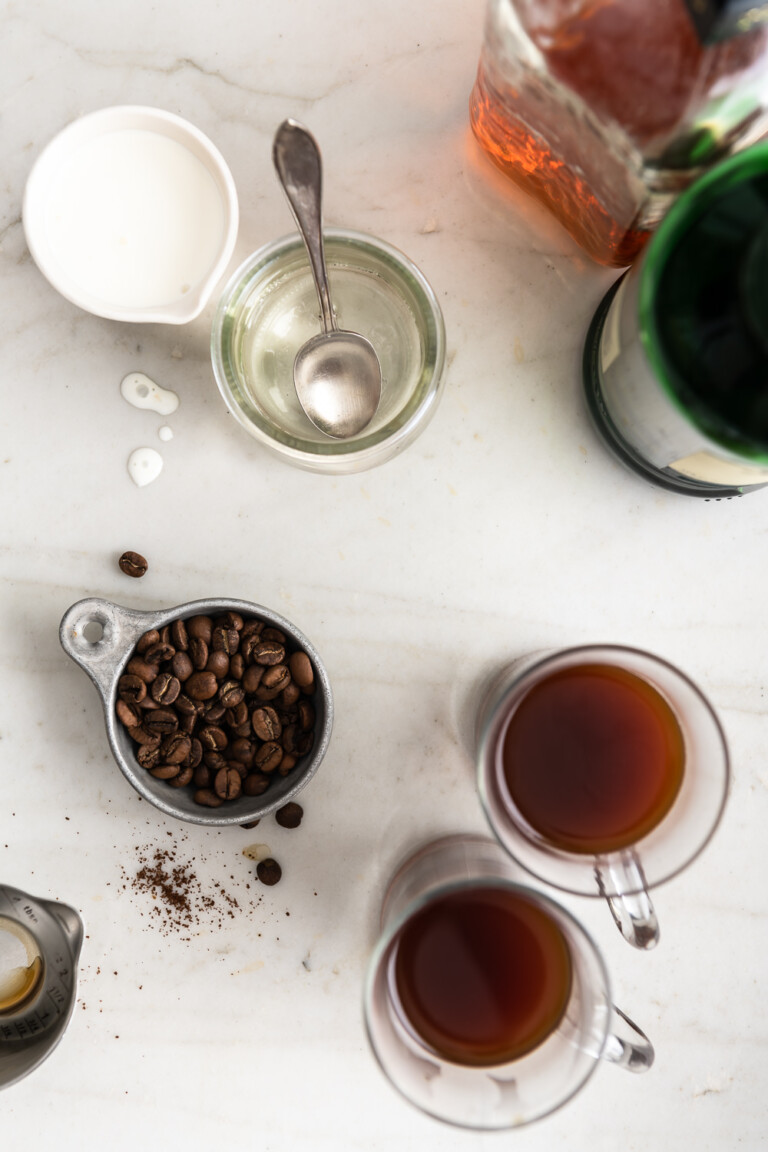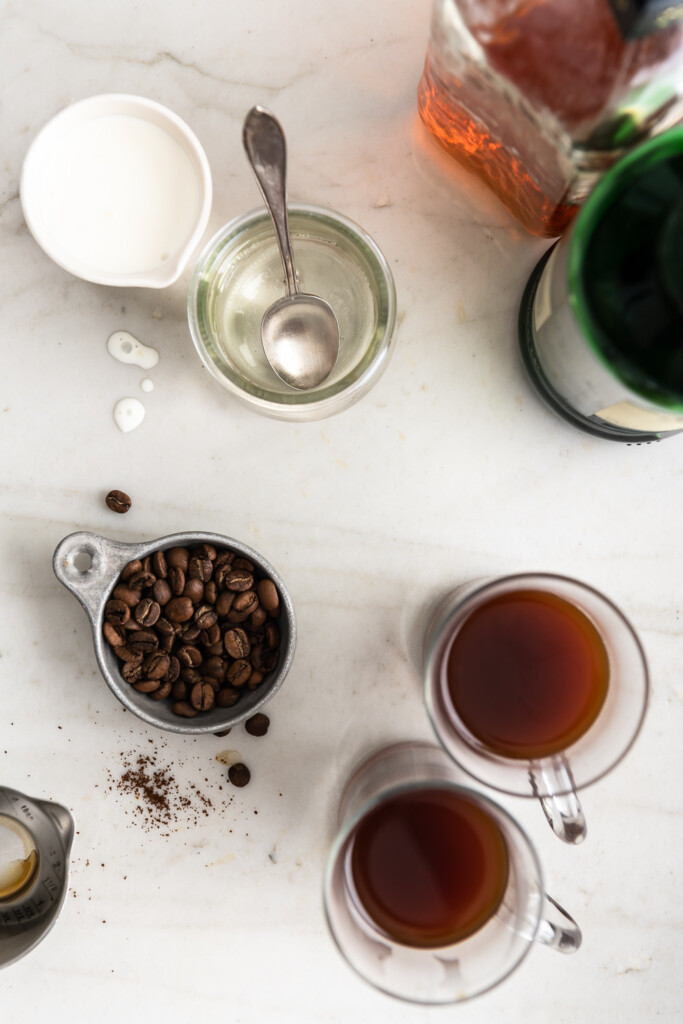 how to make Irish coffee:
Shake heavy cream in a jar until thickened; keep cold in fridge.
Make an americano or drip coffee.
Combine whiskey, amaretto (if using), simple syrup and coffee in an Irish coffee mug.
Spoon ½-inch of cold, thickened cream on top.
Enjoy immediately.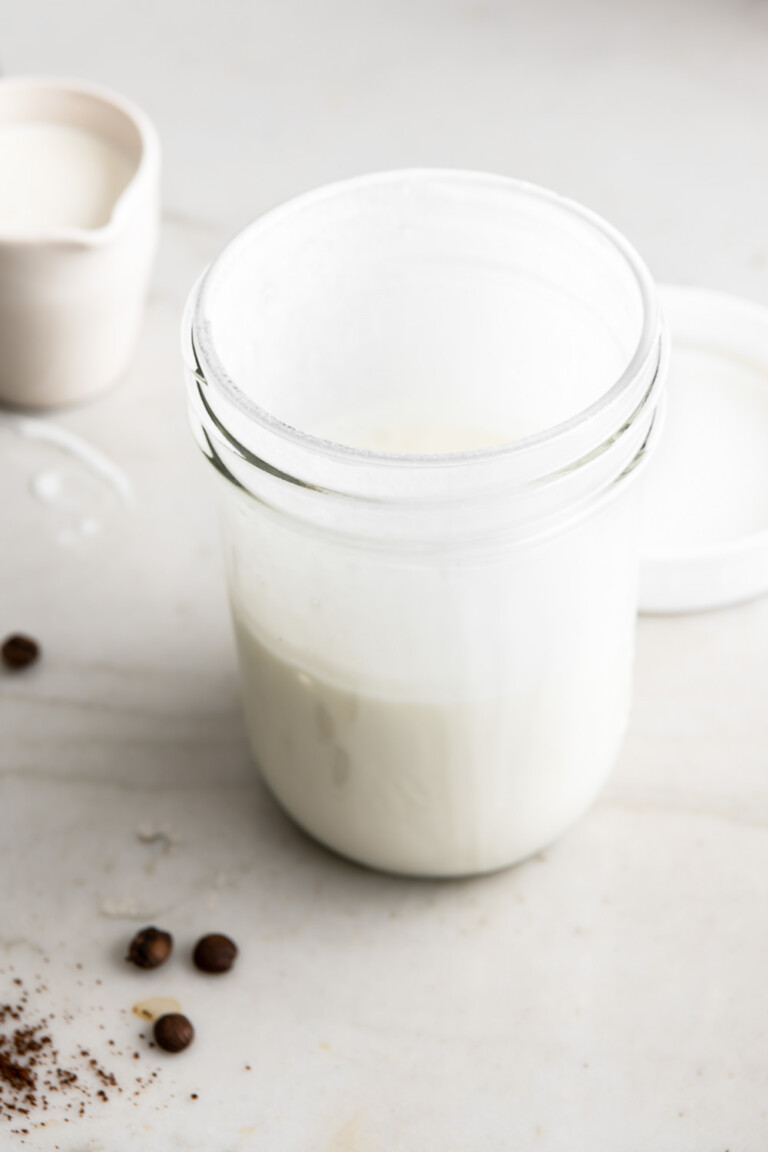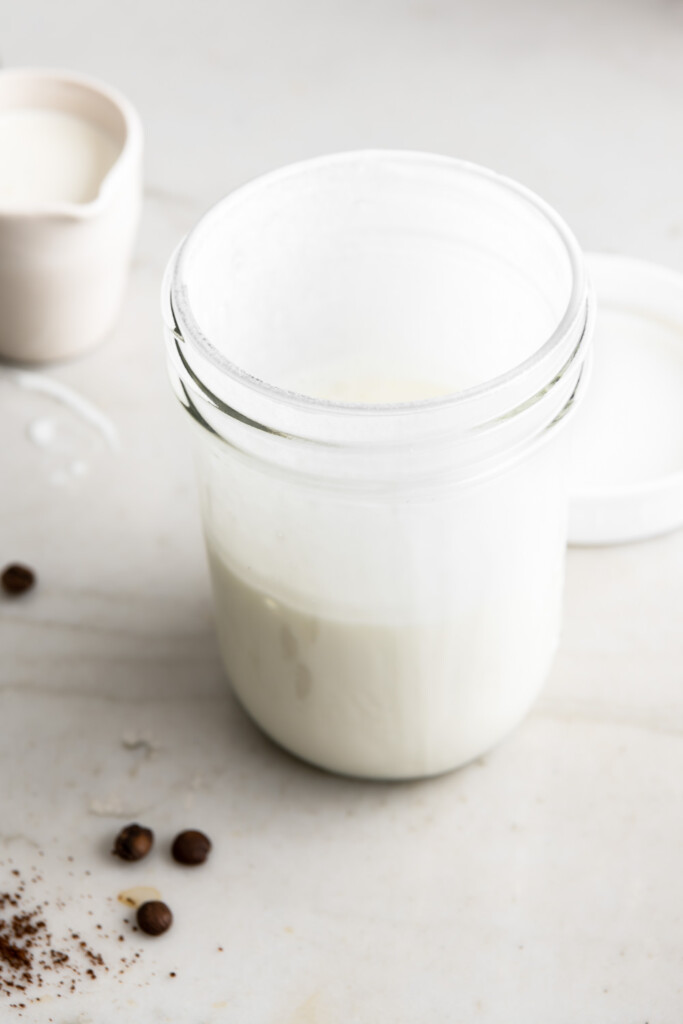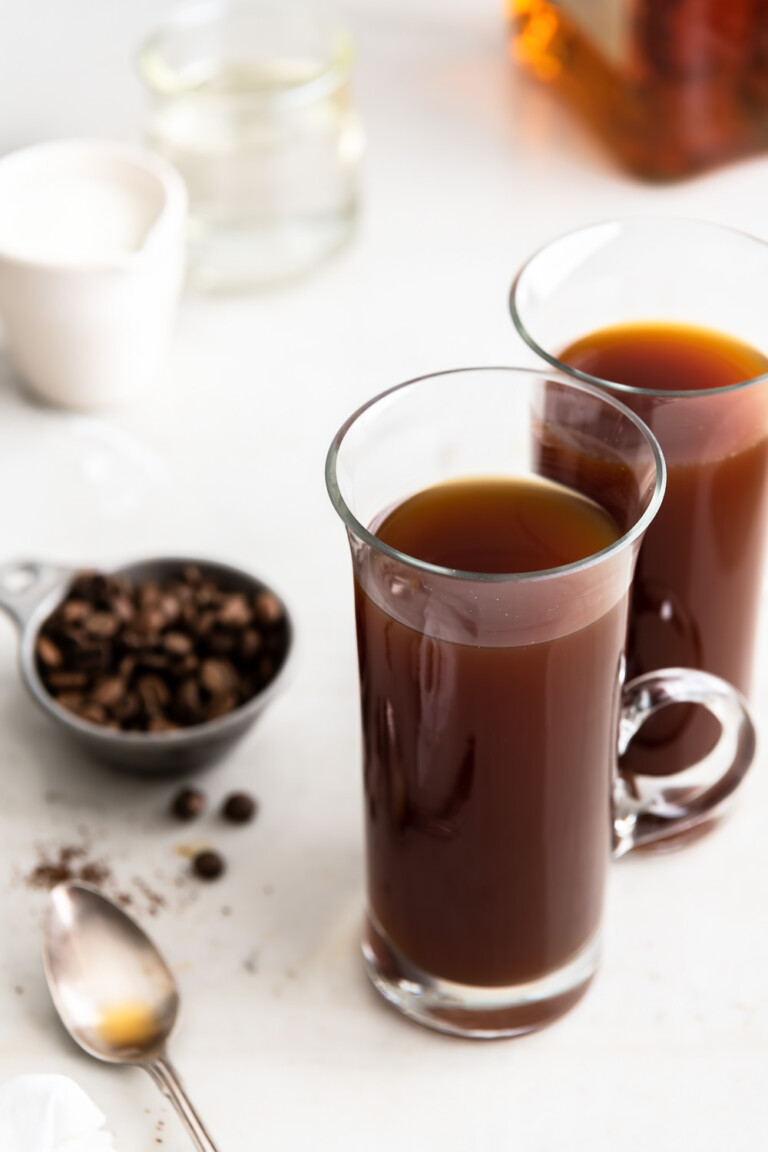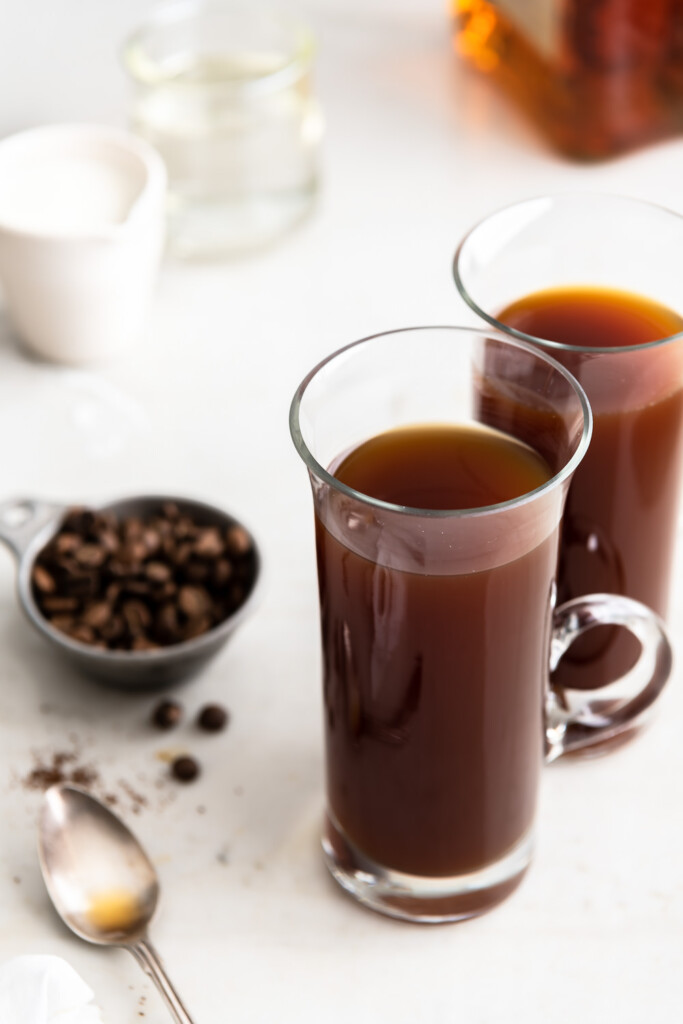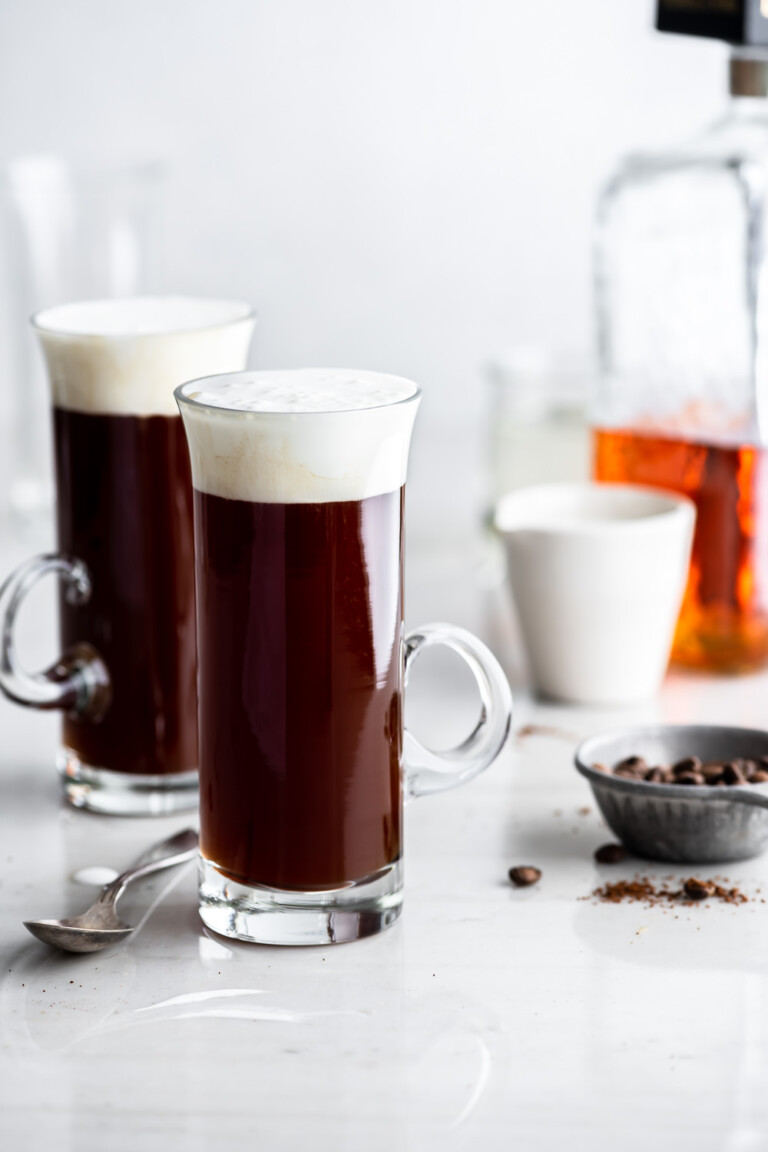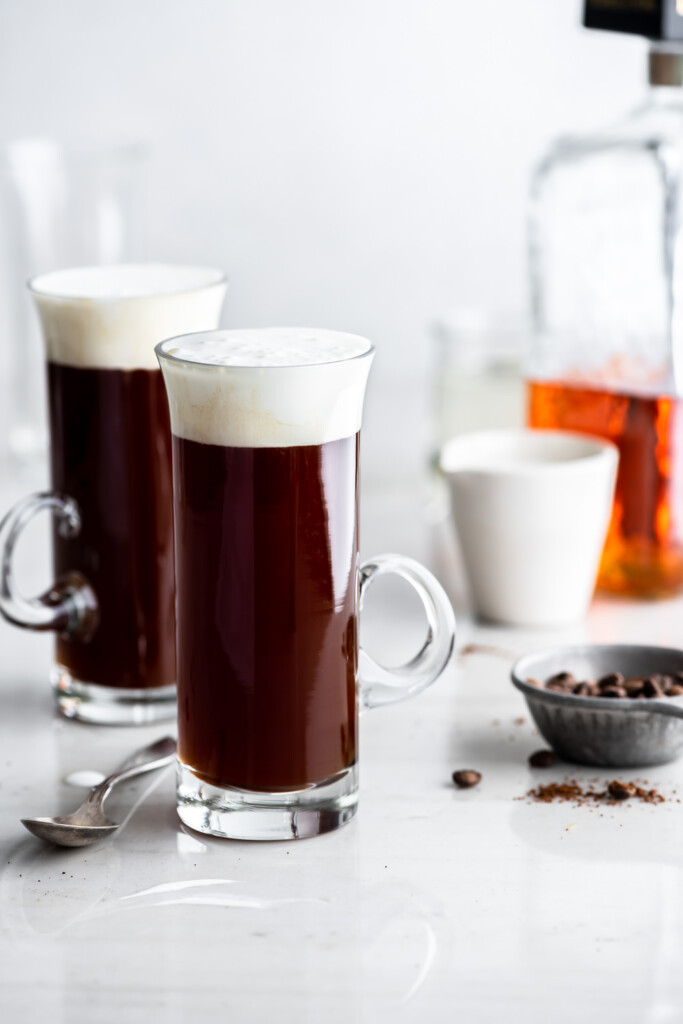 more ways to make this Irish coffee your own:
Garnish with cocoa powder or cinnamon
Use Bourbon for a Kentucky Coffee
Use Scotch for a peaty, smoky note (known as a Highland Coffee)
Mix in a splash of Irish cream
Swap simple syrup with Kahlua for a cocoa flavor
What Irish whiskey should I use?
Use good Irish whiskey, but don't feel obligated to use your best Irish whiskey. This is still a cocktail, and I will always maintain that any liquor mixed with sugar, cream, coffee, etc. will always be hidden and masked.
The nuance of a super high-end whiskey will be lost in this spiked coffee recipe. You should use good whiskey, but don't waste your best stuff on a creamy coffee drink!
We prefer Jameson Original Irish Whiskey: it's a blended whiskey (a mix of pot still whiskeys and grain whiskeys) that gets distilled 3 times, and aged in barrels for 4 years. The result is a light, super smooth spirit that is fruity, nutty and infused with notes of spice and vanilla. It's also a classic spirit for Irish coffee-- why mess with it?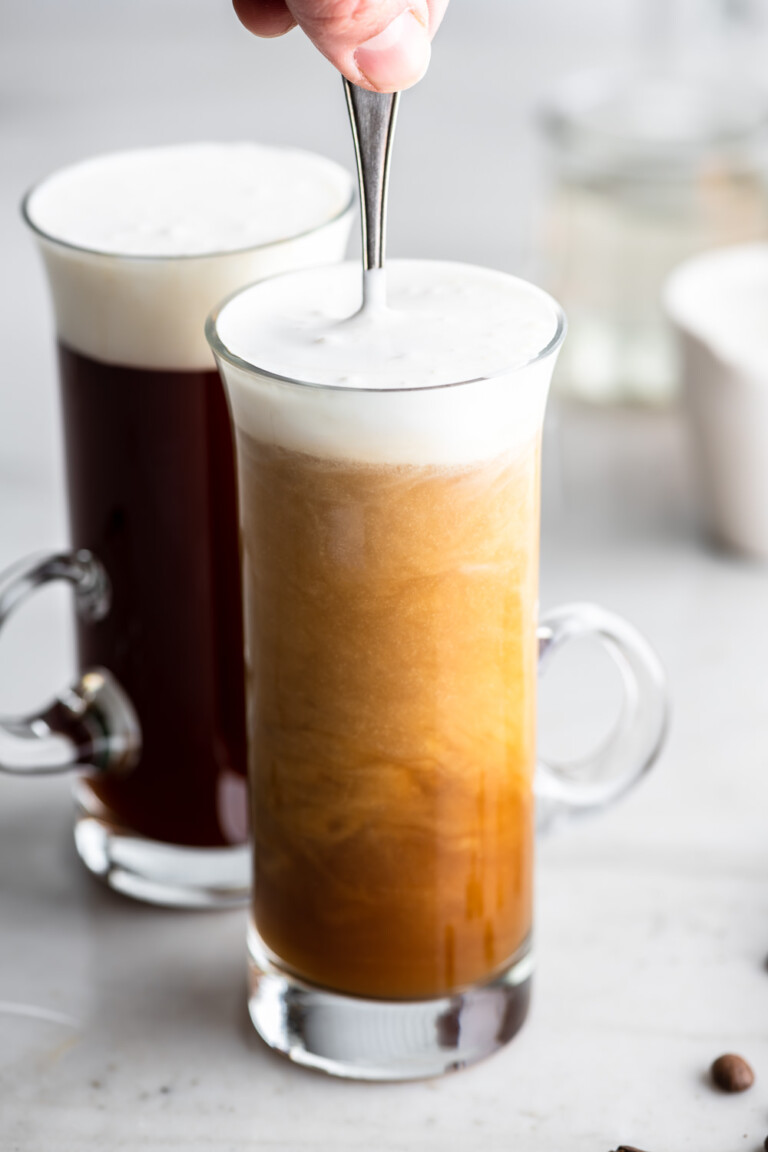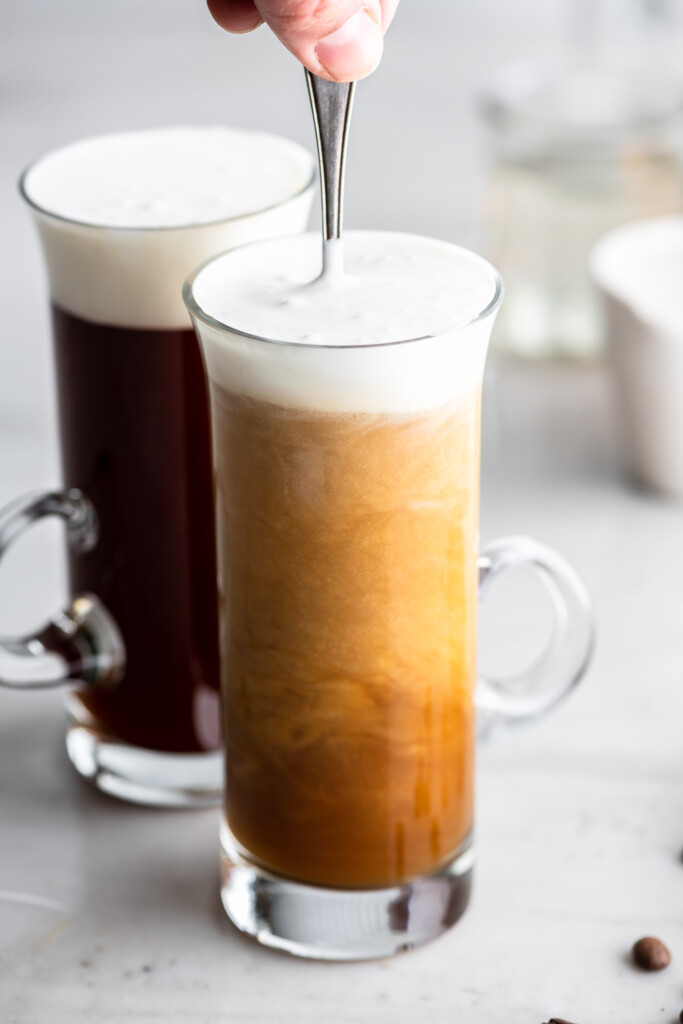 If you want to branch out and try something different, here are a few more really great Irish whiskeys to try in Irish coffee:
The Busker Irish Whiskey: aged in 3 different types of barrels (old sherry, Bourbon and Marsala barrels) for extra spice and depth of flavor
Bushmills Black Bush: Extra smooth Irish whiskey that is higher in malt whiskey and aged in oloroso Sherry barrels. The result is a whiskey with nutty flavors, dark color and velvety smooth texture.
Kilbeggan Single Pot Still Irish Whiskey: This spirit is only distilled twice in copper pot stills, producing a whiskey that is richer in flavor and weightier than most traditional styles of Irish whiskey. It also has an extra creamy mouthfeel, thanks to a small amount of oats in the mashbill!
more warm alcoholic drinks and spiked coffee recipes to try:
ginger hot toddy with applejack
hot mulled cider with pear, ginger and whiskey
hot chocolate with coconut milk
Print
best Irish coffee recipe
The best Irish coffee recipe starts with smooth americano coffee, Irish whiskey, and a luscious layer of thickened cream spooned on top.
Author:
Prep Time:

5 minutes

Total Time:

5 minutes

Yield:

1

Category:

Drinks

Method:

Shaken

Cuisine:

Irish

Diet:

Vegetarian
Ingredients
¼ cup

heavy whipping cream, cold

1 ½

Irish whiskey

½ oz

Amaretto liqueur (optional)

½ oz

simple syrup

1

shot of espresso mixed with 4 oz hot water (or

4 oz

freshly-brewed drip coffee)
Instructions
Pour cream into a mason jar and tighten the lid. Shake vigorously for 2- 3 minutes until thickened and foamy, but still pourable. Keep cold in the refrigerator.
Combine whiskey, Amaretto (if using) and simple syrup in a mug or heat-proof glass. Pour hot coffee over top and stir to combine. Spoon about ½-inch of thickened cream on top (you won't need all of it) and serve immediately.
Notes
Nutritional information is only an estimate. The accuracy of the nutritional information for any recipe on this site is not guaranteed.
Nutrition
Serving Size:

1

Calories:

327

Sugar:

13g

Sodium:

13mg

Fat:

11g

Saturated Fat:

6.9g

Unsaturated Fat:

3.3g

Trans Fat:

0.4g

Carbohydrates:

13g

Fiber:

0g

Protein:

1g

Cholesterol:

34mg