This is an airy, silky, creamy coconut mango semifreddo topped with toasted coconut flakes and fresh mango. Learn how to make this elegant, tropical summer dessert.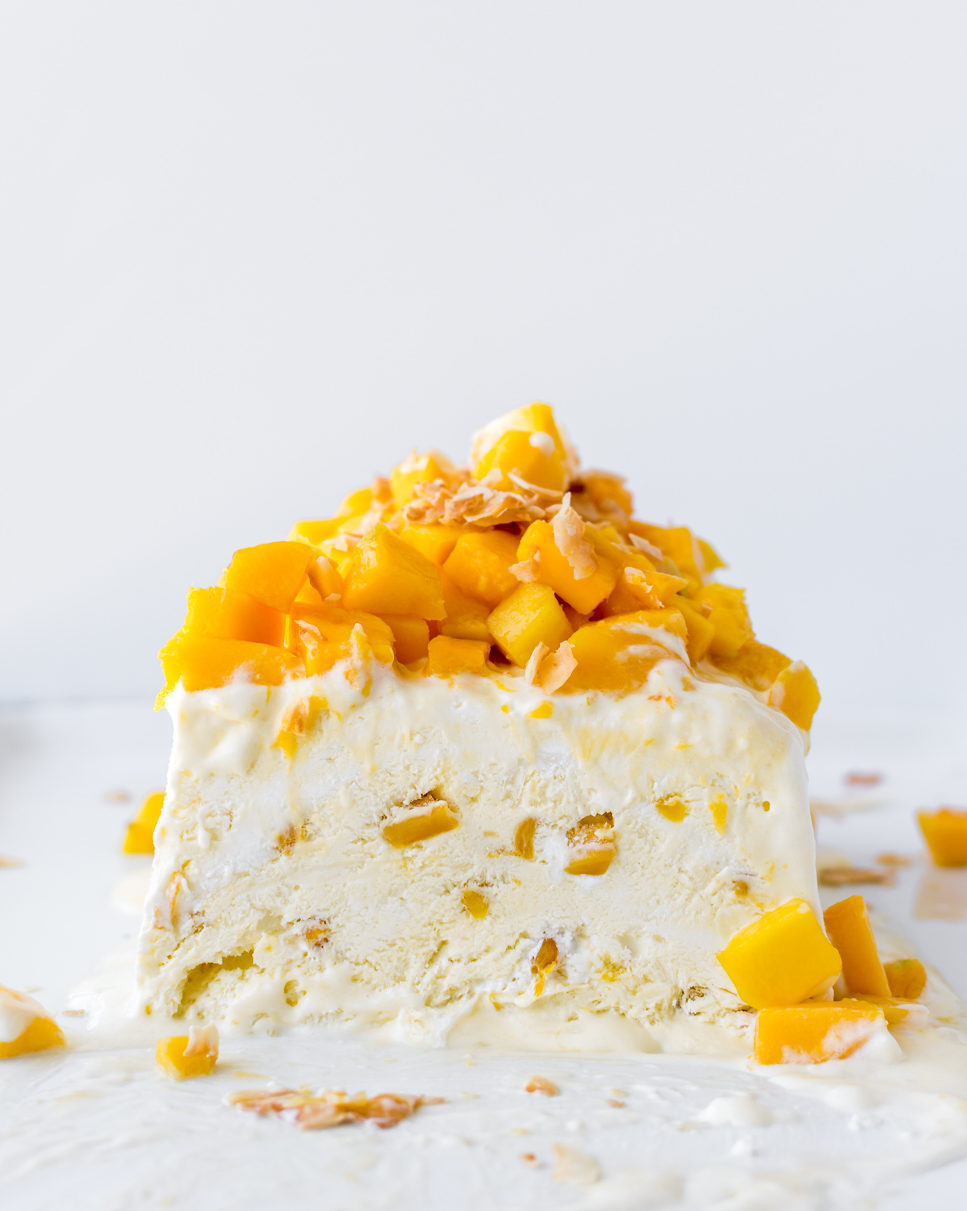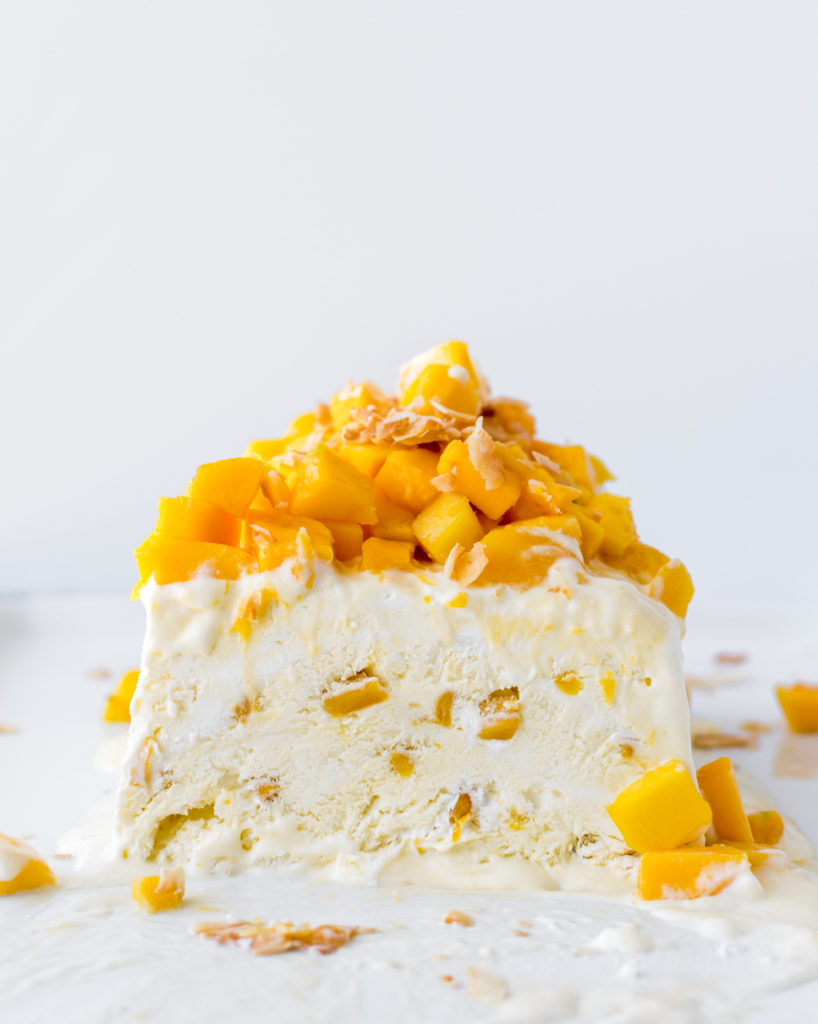 what is semifreddo?
Semifreddo is an Italian frozen dessert often compared to ice cream, but it's best described as a frozen mousse. It's light and airy, yet incredibly rich and creamy. Sadly, it is not a shortcut to making ice cream.
how do you make semifreddo?
A true semifreddo is a little bit involved. You have to make a whipped cream, a zabaglione sauce (sans the wine) and a shiny meringue from whipped egg whites and sugar. Then you fold everything together, pour it into a plastic lined loaf pan and freeze it until firm.
why not make ice cream?
The clear advantage to a semifreddo is that it's a homemade ice cream, with a luscious creamy texture, that can be made without an ice cream maker! In addition, it's a touch more upscale than ice cream and is an elegant dessert option for a dinner party.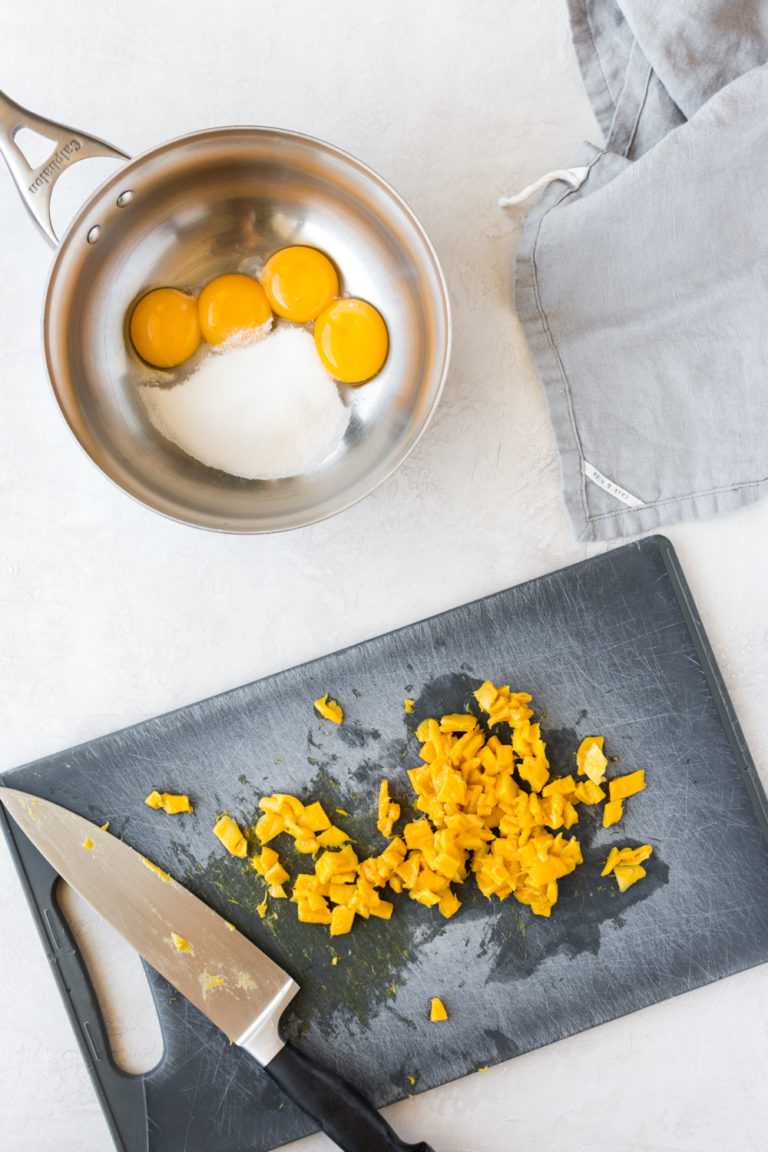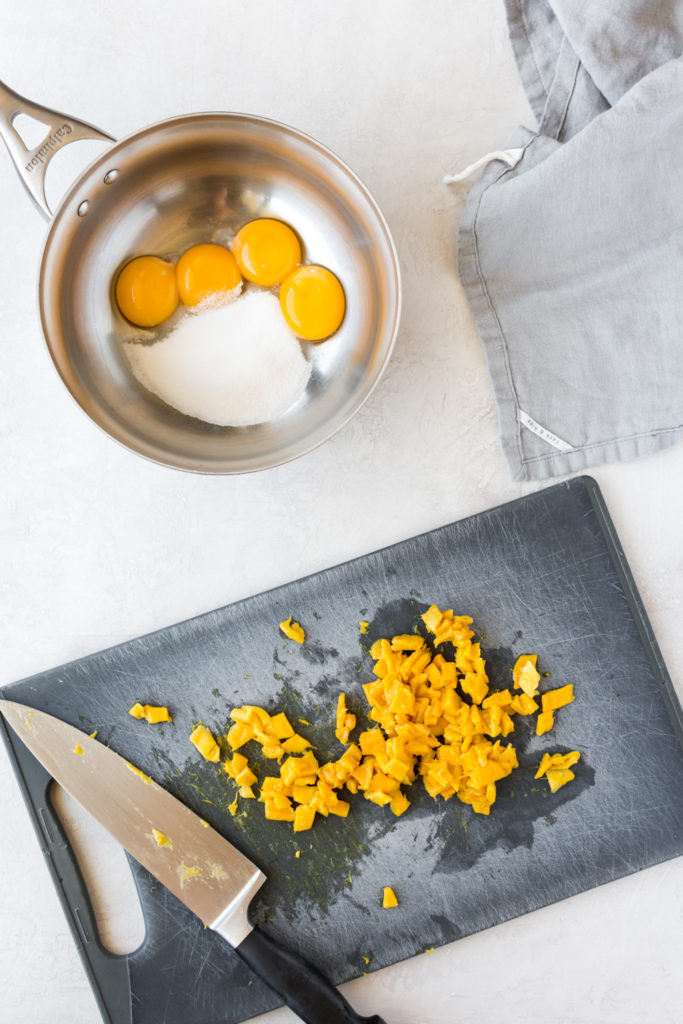 how to make this mango semifreddo:
I incorporate rich coconut cream into the whipped cream, and a touch of coconut extract and dried mangoes into the zabaglione for a tropical, summery semifreddo.
It's important that you use rehydrated dried mangoes, rather than fresh, because the lower water content keeps them soft and chewy when frozen, rather than hard and icy.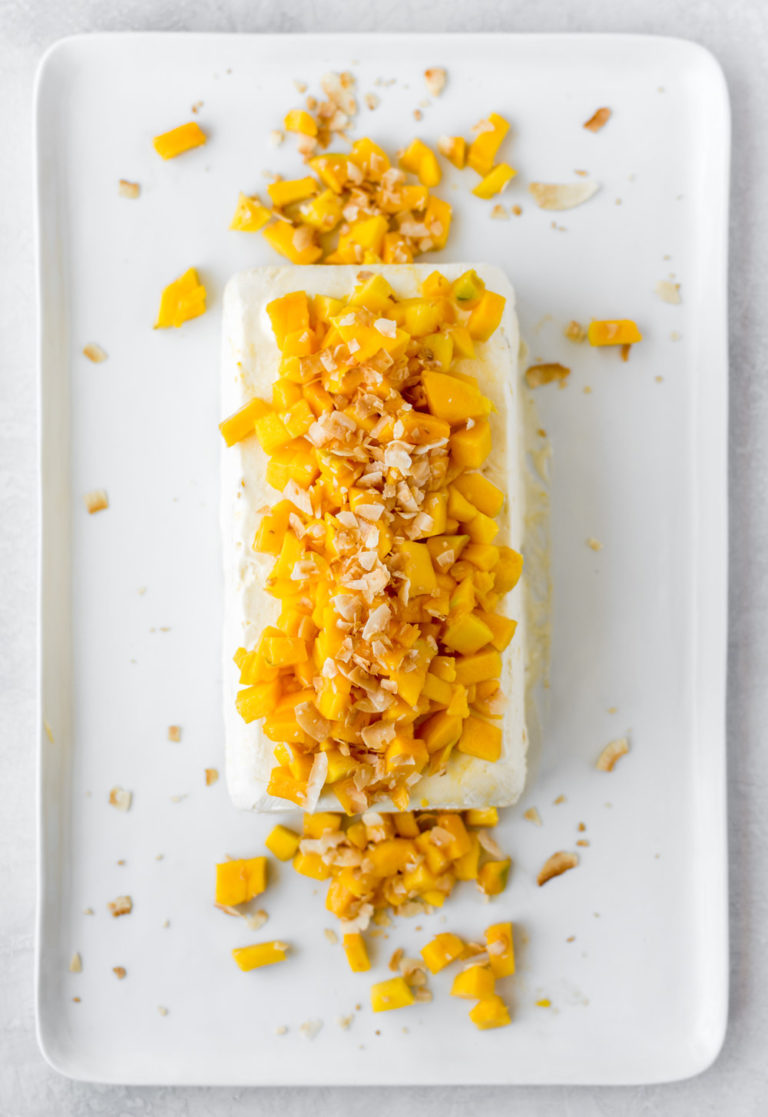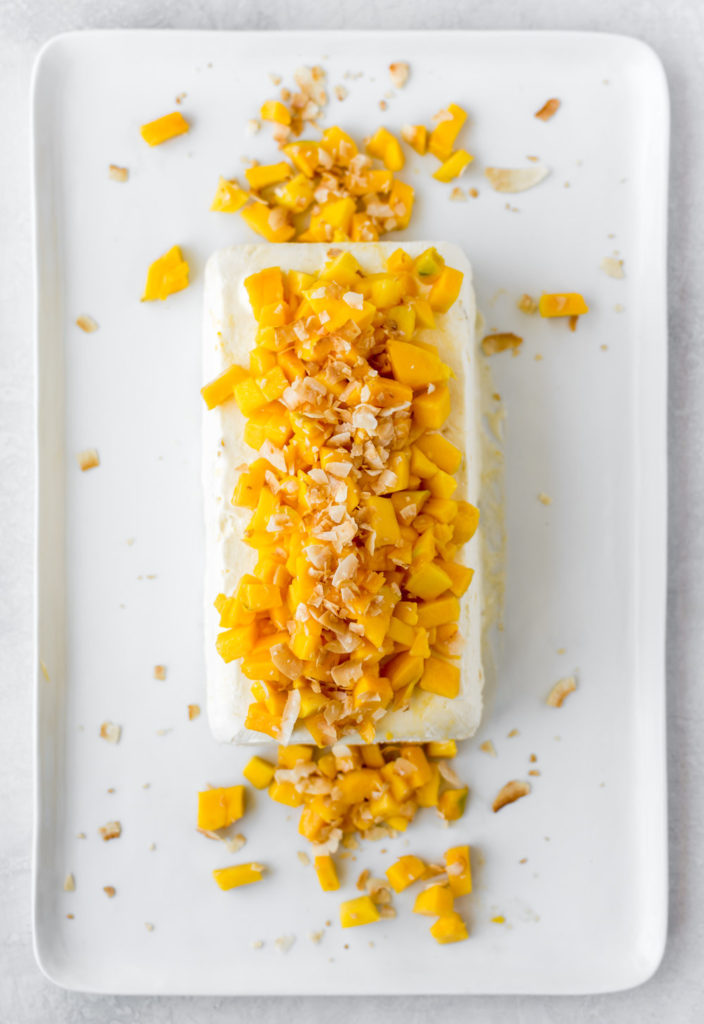 Once fully frozen, you can slice the mango semifreddo and top it with your choice of fresh fruit. I kept it simple with fresh mangoes and toasted coconut flakes, but fresh passionfruit, lychee, papaya, kiwi, and pineapple would all be mouthwatering additions to this summer semifreddo.
This recipe was inspired by an amazing collection of semifreddo recipes from Fine Cooking. If you have the semifreddo bug, I highly suggest you check out their arsenal!
more ice cream recipes you'll love:
toasted coconut ice cream with dark chocolate
oatmeal no churn ice cream with sour cherry swirl
Print
coconut mango semifreddo
An airy, silky coconut mango semifreddo topped with toasted coconut flakes and fresh mango. Learn how to make this elegant, tropical summer dessert.
Author:
Prep Time:

18 hours 50 minutes

Cook Time:

15 minutes

Total Time:

19 hours 5 minutes

Yield:

10

Category:

Desserts

Cuisine:

American
Ingredients
1

14- ounce can (

414

ml) coconut cream, well chilled (overnight in the fridge is best)

4 oz

(about

1 cup

) dried mango

1 ¼ cup

heavy whipping cream, cold

2 tbsp

apricot preserves

4

large egg yolks, room temperature

⅔ cup

granulated sugar, divided

2

large egg whites, room temperature

½ tsp

cream of tartar

¼ tsp

salt

1 tsp

coconut extract (or vanilla extract for a more subtle coconut flavor)

2

mangoes, peeled and diced, for topping

¼ cup

coconut flakes, lightly toasted, for topping
Instructions
prep:
Refrigerate can of coconut cream overnight.
Thoroughly chill a large metal bowl and the beaters of an electric hand mixer (15 minutes in the freezer works fine).
Put the mango in a medium heatproof bowl and cover with boiling water by 1 inch. Set aside to soften for 20 minutes.
Line a 9"x5" loaf pan with enough plastic wrap to leave a 5" tail on both ends. Smooth out the plastic as much as possible (I find a small spritz of cooking spray on the pan helps keep the plastic wrap in place and removes wrinkles). It's impossible to get it completely smooth, wrinkles in the semifreddo can be smoothed out later.
whip the cream:
Carefully open the can of coconut cream, making sure not to shake or tip the can. Scoop out the firm layer of coconut cream that has solidified at the top of the can and leave the liquid behind (drink it from the can or use it in a smoothie!)
Place this coconut cream in the chilled mixing bowl and combine with heavy whipping cream. Whip with the chilled beaters on medium-high speed just until firm peaks form, 3- 5 minutes. Refrigerate.
make the zabaglione:
Drain the mango and finely chop. Combine with apricot preserves. Set aside.
Clean and dry the beaters. In a medium saucepan, bring 2" of water to a gentle simmer. Put the egg yolks and ⅓ cup of the sugar in a medium metal bowl and set the bowl over the pan of simmering water, making sure the bottom of the bowl doesn't touch the water. Beat on medium speed, frequently scraping down the sides of the bowl with a silicone spatula, until the zabaglione is thick, almost doubled in volume, and the beaters leave a trail when you lift them, about 5 minutes. Remove the bowl from the pan and fold the chopped mango mixture into the zabaglione until combined. Set aside.
make the meringue:
Clean and dry the beaters. Return the water to a gentle simmer. Put the egg whites, the remaining ⅓ cup of sugar, the cream of tartar, and salt in a large metal bowl and set it over the pan of water. Beat on medium speed, occasionally scraping down the sides of the bowl with a clean silicone spatula, until light, fluffy, and shiny, about 3 minutes. Remove the bowl from the pan, add the coconut extract (or vanilla, if using), and continue beating until the meringue is very thick, about 2 minutes more.
finish:
Use a silicone spatula to gently fold the zabaglione into the meringue and then fold in the whipped cream until no streaks remain.
Scrape the mixture into the prepared pan and smooth the top with an offset spatula, scraping off excess if necessary to create a level top. Wrap the overhanging plastic over the top to cover and freeze for at least 6 hours and up to 3 days.
Peel back the plastic wrap from the top of the semifreddo. Invert the pan over a serving platter. Lift off the pan, holding the overhanging plastic down on one side and then the other. Remove the plastic wrap. If the semifreddo looks wrinkled, warm a long knife or small offset spatula under hot running water, wipe the blade dry, and run it over the wrinkles to smooth them out.
Slice the semifreddo crosswise into 1-inch-thick pieces, and serve with fresh mango and toasted coconut flakes.
Nutrition
Serving Size:

1

Calories:

429

Sugar:

54g

Sodium:

148mg

Fat:

21g

Saturated Fat:

14g

Unsaturated Fat:

5.2g

Trans Fat:

0.4g

Carbohydrates:

58g

Fiber:

1.7g

Protein:

5.7g

Cholesterol:

126mg
Keywords: mango semifreddo, coconut semifreddo, what is semifreddo