Rum raisin ice cream is filled with juicy rum-soaked raisins and warm notes of cinnamon and toasty oats. It's ultra creamy and so delicious when you make it at home!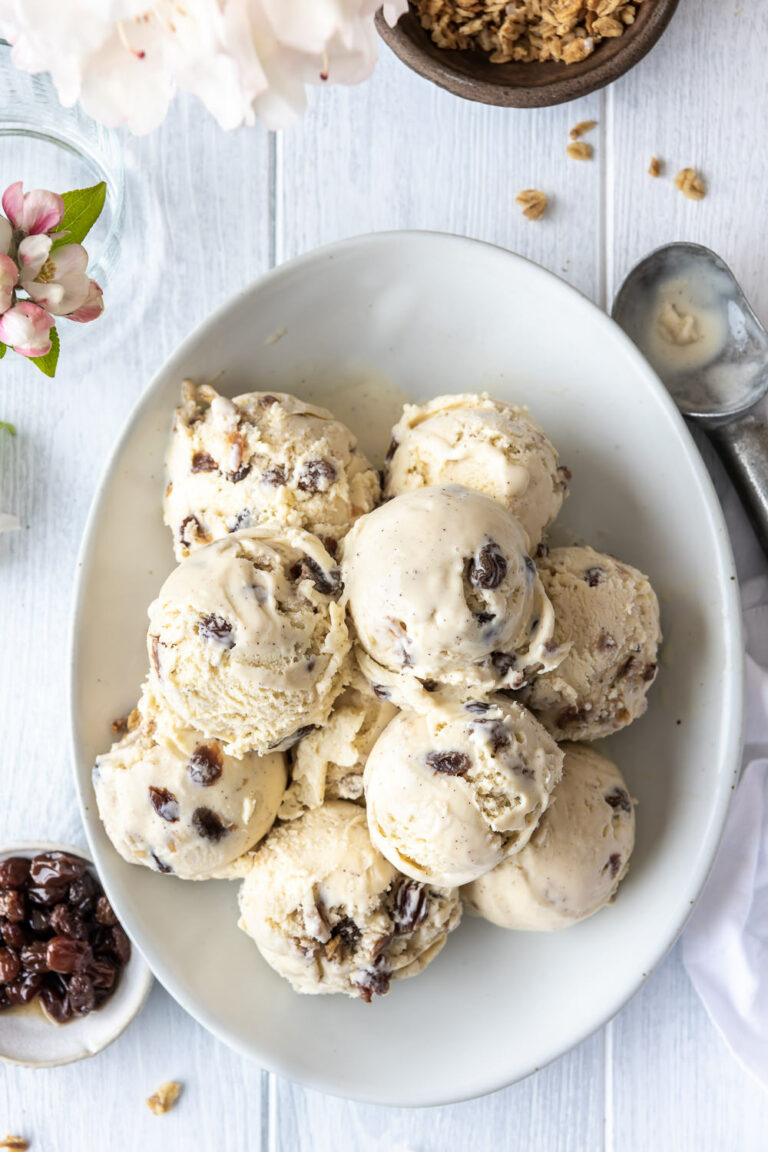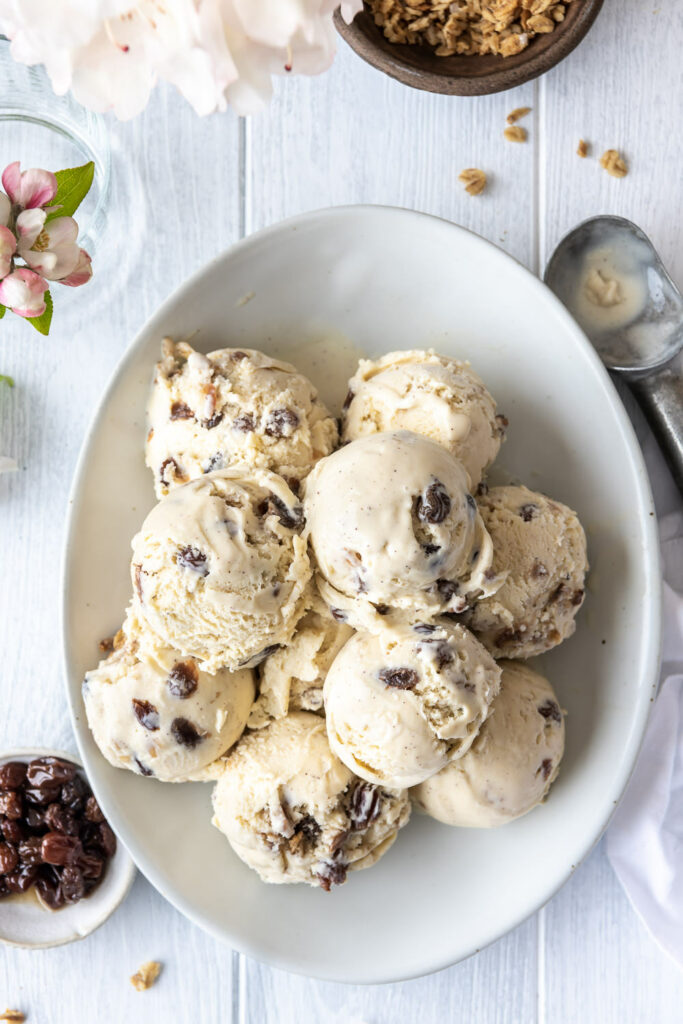 Rum raisin ice cream is so much more than frumpy raisins. Get past the grandma vibes and free yourself to enjoy the deliciousness that is homemade rum and raisin ice cream.
To make the best ice cream, we start with a rich custard and infuse it with the flavor of toasted oats and a touch of cinnamon. Those oats are strained out and baked into crunchy, flavor-packed clusters that we fold in at the end of the churning.
I worked extra hard on the raisin part of this rum ice cream. Soaking the raisins in straight rum gave them a soft texture when frozen, but they turned into serious rum bombs. I know, I know-- it sounds great. But they actually really detract from the silken texture of the ice cream. The harshness overpowers the other flavors and makes it hard to appreciate the ice cream itself. Pure rum soaked raisins also aren't really kid friendly or friendly for anyone, really, who doesn't love rum. They taste really, really boozy.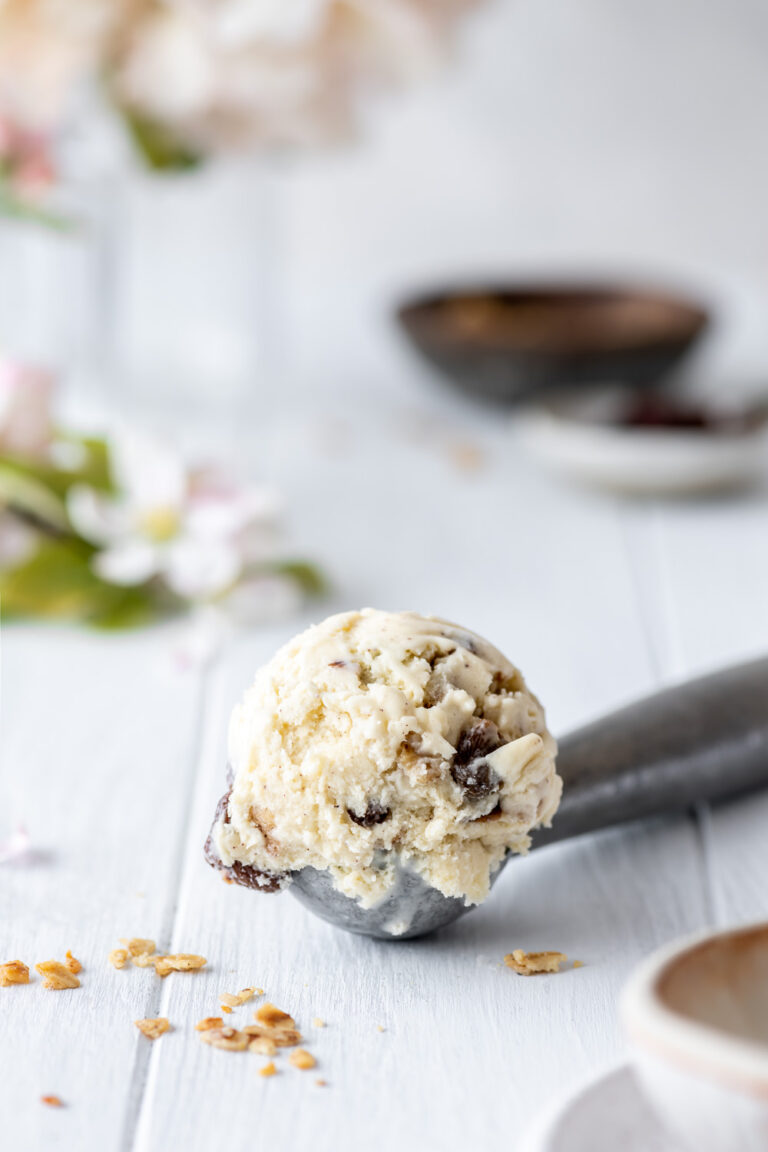 So instead of a straight rum soak, we simmer the raisins in rum and a bit of sugar. This softens the fruit and cooks off some of the alcohol, but it maintains the sweet, roasty, vanilla flavor of rum. At the end, we stir in an extra splash of rum for a subtle bite of alcohol. It's noticeable but not overpowering, and you don't have to worry about serving your kids a gateway drug of rum raisin ice cream.
We're left with an unctuous ice cream with undertones of cinnamon, toasty oats and rum. It's an ultra creamy rum raisin ice cream, with chewy oat clusters and soft juicy raisins woven throughout.
what is rum raisin ice cream?
At its core, rum raisin ice cream is a vanilla ice cream with rum-soaked raisins stirred in at the end. Haagen Daaz is credited as the inventor of this delicious flavor, which hit shelves back in the 80's. It's since lost some popularity, but only because raisins are way out of style these days-- not because it isn't super delicious. So if you're hesitant about the raisin thing, get over it. They don't have to be cool to be really tasty, especially when dark rum is involved!
what you need for rum raisin ice cream:
Raisins
Dark rum
Sugar
Egg yolks
Rolled oats
Whole milk
Heavy cream
Cinnamon
Vanilla extract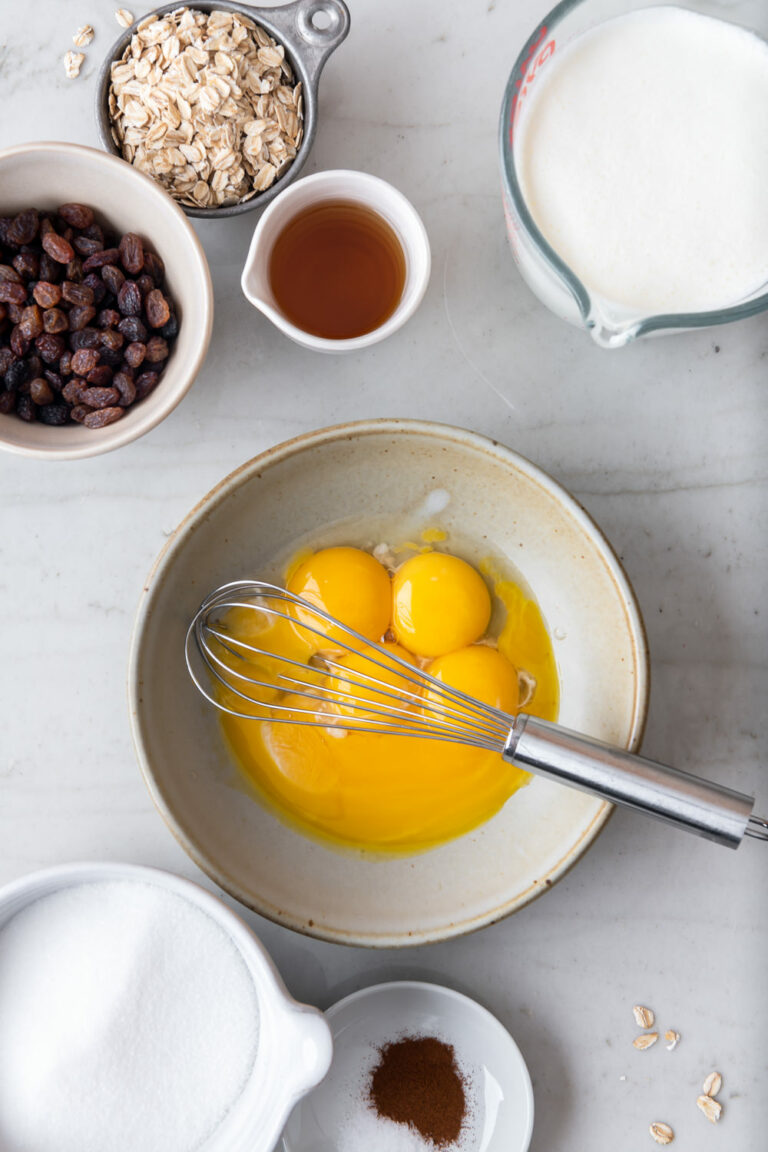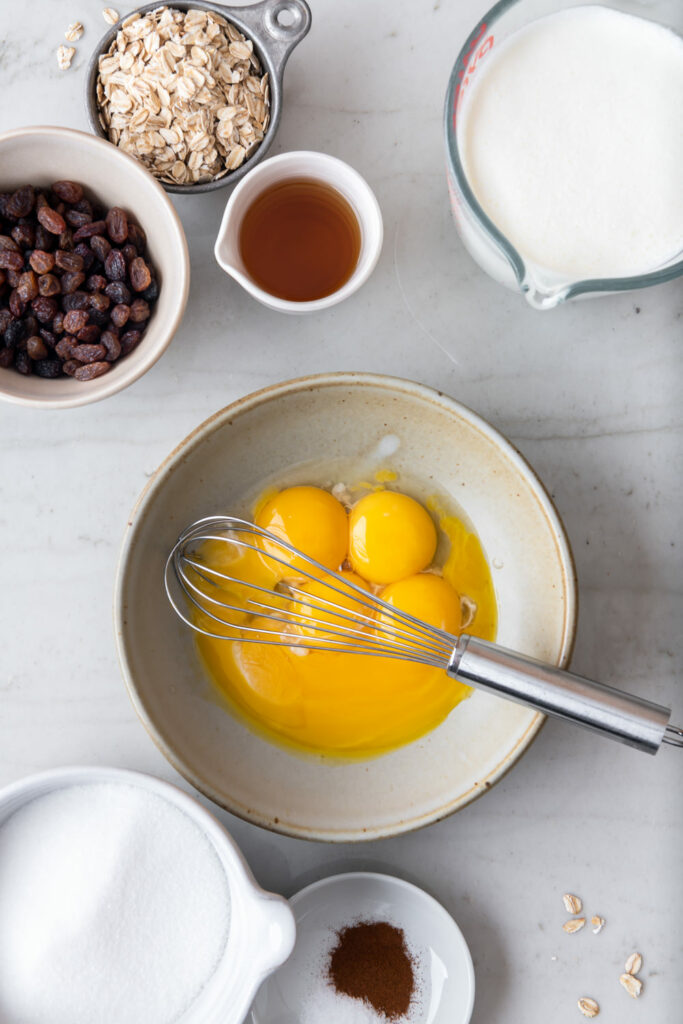 how to make rum raisin ice cream:
Gently heat the raisins with rum and sugar until plump. Stir in extra rum and let cool.
Whisk yolks with half the sugar.
Toast oats in a pot, then add cream, milk, and half the sugar.
Cook milk mixture until just about to simmer, then temper egg yolks.
Return to the pot and gently cook until thickened.
Strain out oats and bake on until crispy clusters form.
Add vanilla to custard and chill.
Churn custard into soft serve.
Mix in drained rum raisins and oat clusters.
Freeze in a loaf pan until hard.
Scoop and enjoy!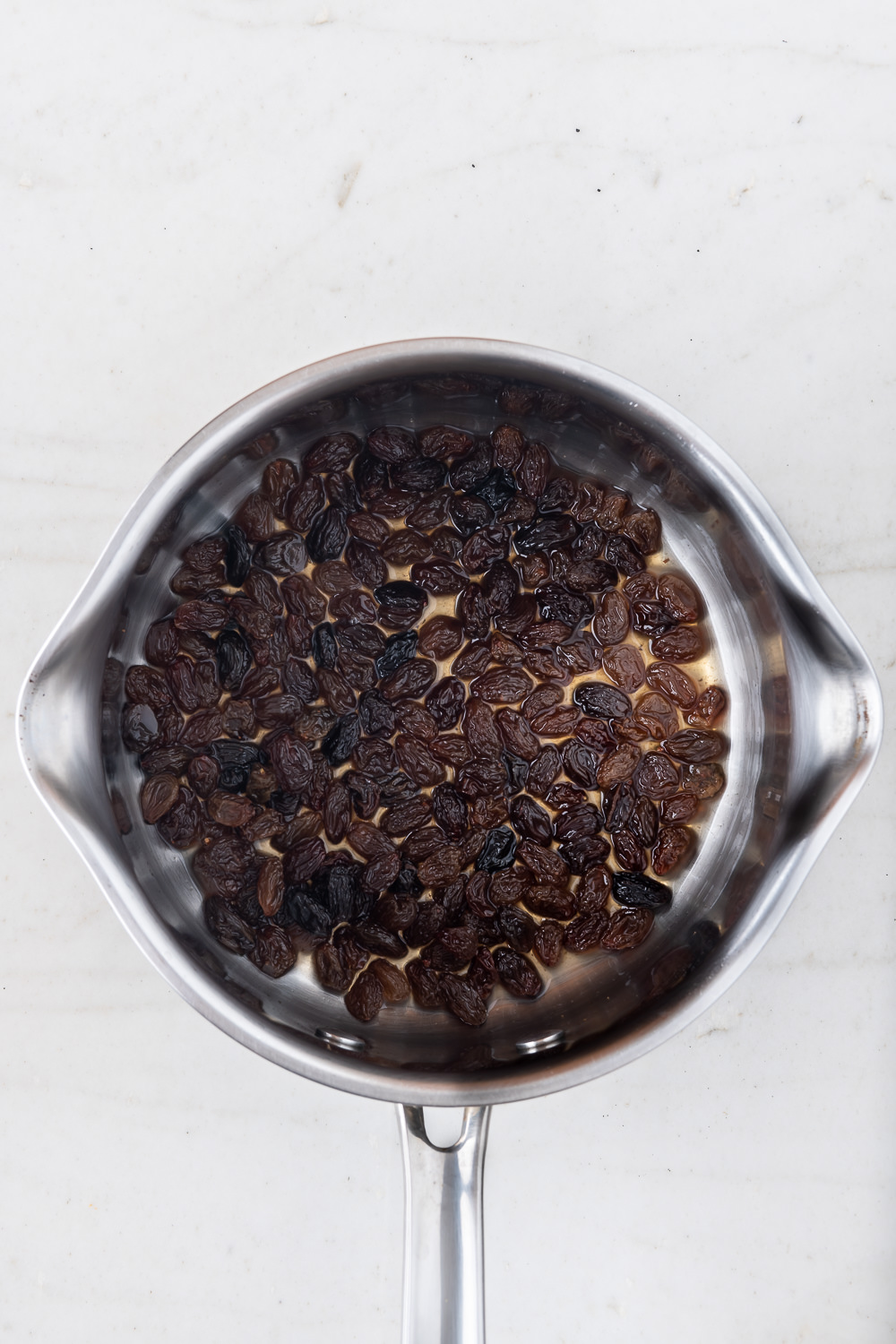 why this is the best rum and raisin ice cream recipe:
Rich custard: I love to make my ice cream with 6 egg yolks and equal parts whole milk and heavy cream. The yolks add richness and a silky smooth texture. The dairy ratio adds enough fat for a soft and creamy texture without getting too heavy.
Soft rum flavor: We introduce rum flavor without too much alcohol by gently cooking the raisins in a rum syrup. A touch of rum is stirred in at the end to give a pleasant "bite" of alcohol. This syrup is also stirred into the custard. The result is the flavorful addition of aged rum without the unpleasant harshness that an 80-proof spirit can bring.
Cozy complexity: I didn't stop at just rum and raisins. Instead, I added cozy flavors with a tiny touch of cinnamon and, my favorite part, toasted oats. The ice cream base is perfectly flavored and utterly addicting.
Crunchy bits: This ice cream is all about the textures. Super silky base, soft plump raisins, and crunchy-chewy oat clusters. We mix in what will seem like a small amount of the oats, but it's just enough to add texture that compliments the ice cream without taking it over. Save the extra oat clusters for sprinkling on top!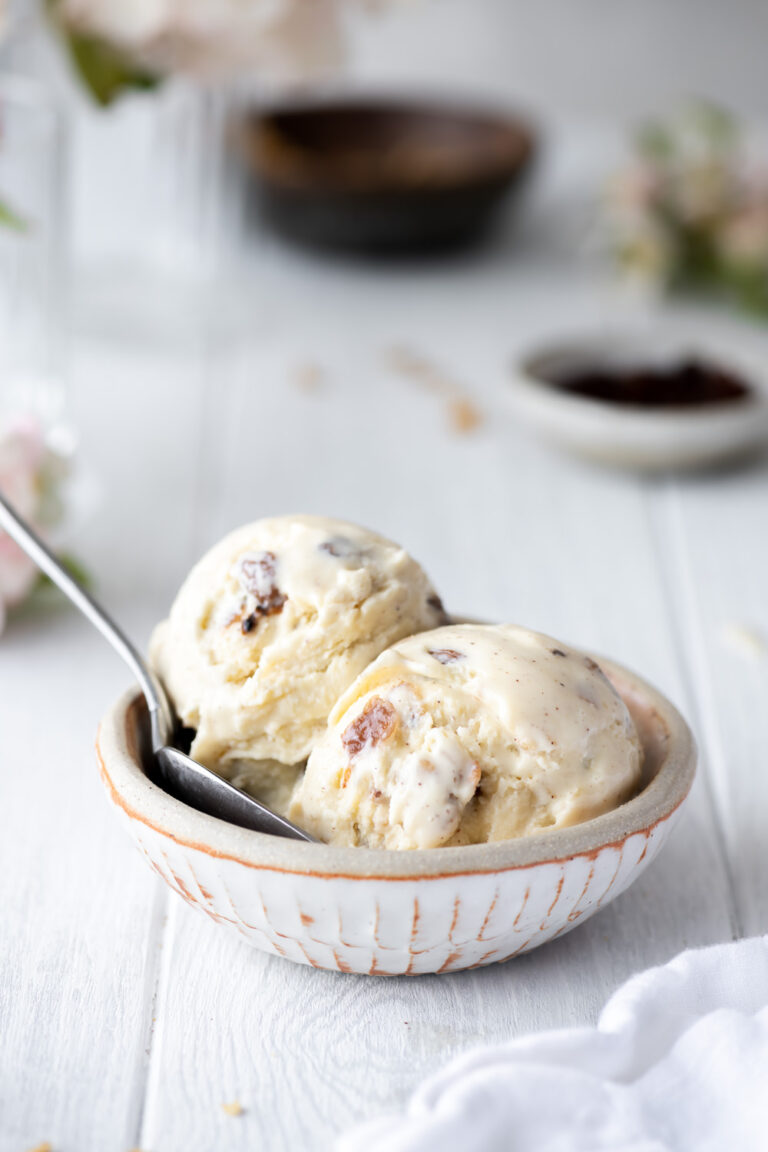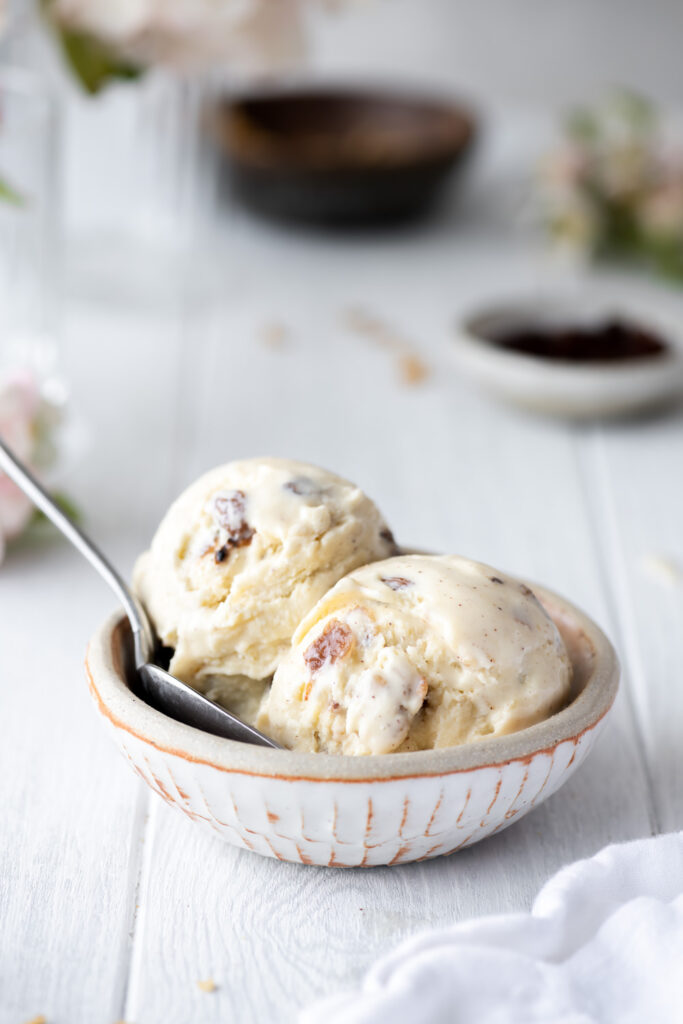 frequently asked questions:
what does rum raisin ice cream taste like?
This ice cream is a rich custard that's lightly scented with cinnamon, toasted oats, and rum. It's filled with a smattering of plump rum-soaked raisins and crunchy oat clusters. It's the most delicious combination of silky, crunchy, creamy and cold!
is there alcohol in rum and raisin ice cream?
Yes, there is rum in this rum raisin ice cream recipe-- and all rum raisin ice cream, for that matter.
In our case, however, it's only 2 teaspoons of a rum syrup in a whole batch of ice cream (about 6 cups). So while the rum content is enough to impart flavor, the alcohol content is negligible. The raisins themselves will soak up some rum, but there's only about 1 tablespoon of raisins per serving. Not even close to enough rum to worry about getting drunk from rum raisin ice cream.
can you eat rum raisin ice cream while pregnant?
Yes, you can! If you're concerned about raw eggs (salmonella) or alcohol content from the rum, fear not. The eggs are fully cooked in the custard and the rum content, as mentioned above, is negligible. Go to town and enjoy this ice cream while you're eating for two!
recipe modifications:
If you don't want any residual alcohol in the ice cream, you can skip adding the extra 2 tablespoons of rum to the raisins. The small amount of alcohol that we do use will have cooked off when we simmer the raisins.
On the flip side, if you want to go big with the boozy raisin bombs, simply soak the raisins in your favorite aged rum for at least 6 hours and up to a month. The longer the soak, the softer and more plump they will get. Drain them really well before mixing into the churned ice cream-- too much alcohol will "liquefy" your frozen soft serve by lowering the freezing point, essentially undoing all of your churning and causing to to melt.
If you want to simplify the process, feel free to skip the oat clusters. I love the added texture, but the toasted oat flavor that comes from infusing the cream is plenty delicious too!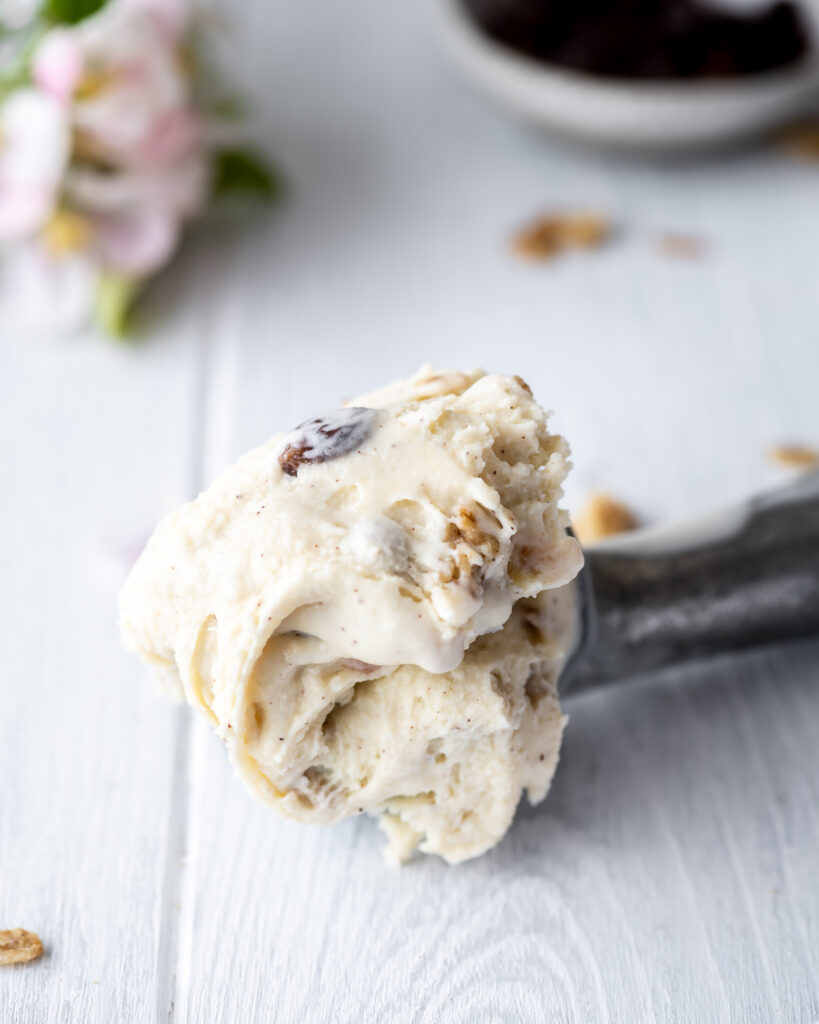 more ice cream recipes to try!
black walnut ice cream with dark chocolate
buttermilk ice cream with roasted strawberries and peaches
lavender ice cream with honey, lemon and yogurt
toasted coconut ice cream with dark chocolate
oatmeal no churn ice cream with sour cherry swirl
Print
rum raisin ice cream
Rum raisin ice cream is filled with juicy rum-soaked raisins and warm notes of cinnamon and toasty oats. It's ultra creamy and so much better when you make it at home!
Author:
Prep Time:

15 minutes

Cook Time:

1 hr

Total Time:

2 minute

Yield:

6 cups

Category:

Ice cream

Method:

Churned

Cuisine:

American

Diet:

Gluten Free
Ingredients
½ cup

dark raisins

1 cup

plus 2 tsp granulated sugar, divided

¼ cup

plus 2 tbsp dark rum, divided

6

large egg yolks

½ cup

old fashioned rolled oats

2 cups

whole milk

2 cups

heavy cream

½ tsp

kosher salt

¼ tsp

cinnamon

2 tsp

vanilla extract
flaky salt
Instructions
rum raisins
Combine raisins, 2 teaspoons sugar and ¼ cup rum in a small saucepan. Gently cook over low heat until raisins plump up and about 2 tablespoons of syrup remain. Remove from heat and stir in remaining 2 tablespoons rum. Cool and soak until ready to use.
Thoroughly strain off all syrup before mixing into ice cream, reserving 2 teaspoons for the custard (optional).
ice cream base
Preheat oven to 300°F.
In a medium bowl, whisk together ½ cup sugar and egg yolks. Set aside.
Toast oats in a medium saucepan over medium heat, stirring occasionally, until fragrant and just starting to brown, about 5 minutes. Add milk, cream, remaining ½ cup sugar, salt and cinnamon to the oats. Cook, stirring often, until sugar is dissolved and mixture just begins to simmer.
Whisk about 1 cup of hot milk into the egg yolk mixture. Repeat with 1 more cup of hot milk, whisking vigorously. Return this custard to the saucepan and gently heat, stirring often, until mixture thickens and coats the back of a spoon, 10- 15 minutes. Don't let it boil.
Strain through a fine mesh sieve, pressing gently on oats to release extra custard. Mix in vanilla and reserved soaking rum (if using) into custard. Let cool to room temperature. Cover and refrigerate at least 4 hours or overnight.
Transfer strained oats to a parchment line baking sheet, spread out in a thin even layer and sprinkle with a pinch of flaky salt. Bake, breaking the oats into bite sized clusters and stirring every 15 minutes, until light golden brown and just beginning to crisp, about 45 minutes. Let cool.
When ready to freeze the custard, churn in an ice cream machine according to the manufacturer's instructions. When it reaches a soft serve consistency, add strained raisins and ¼ cup cooled oat clusters; churn until well mixed.
Transfer to an 8-inch x 4-inch loaf pan, smooth surface and sprinkle with a few spoonfuls of oat clusters. Cover with plastic wrap and freeze until firm before serving.
Notes
Nutritional information is only an estimate. The accuracy of the nutritional information for any recipe on this site is not guaranteed.
Nutrition
Serving Size:

½ cup

Calories:

301

Sugar:

25g

Sodium:

86mg

Fat:

18g

Saturated Fat:

11g

Unsaturated Fat:

6.1g

Trans Fat:

0.5g

Carbohydrates:

28g

Fiber:

0.6g

Protein:

4.4g

Cholesterol:

141mg
Keywords: rum raisin ice cream