This silky toasted coconut ice cream is made with real dairy and two forms of coconut. Mix in dark chocolate and sprinkle almonds for the best homemade coconut ice cream!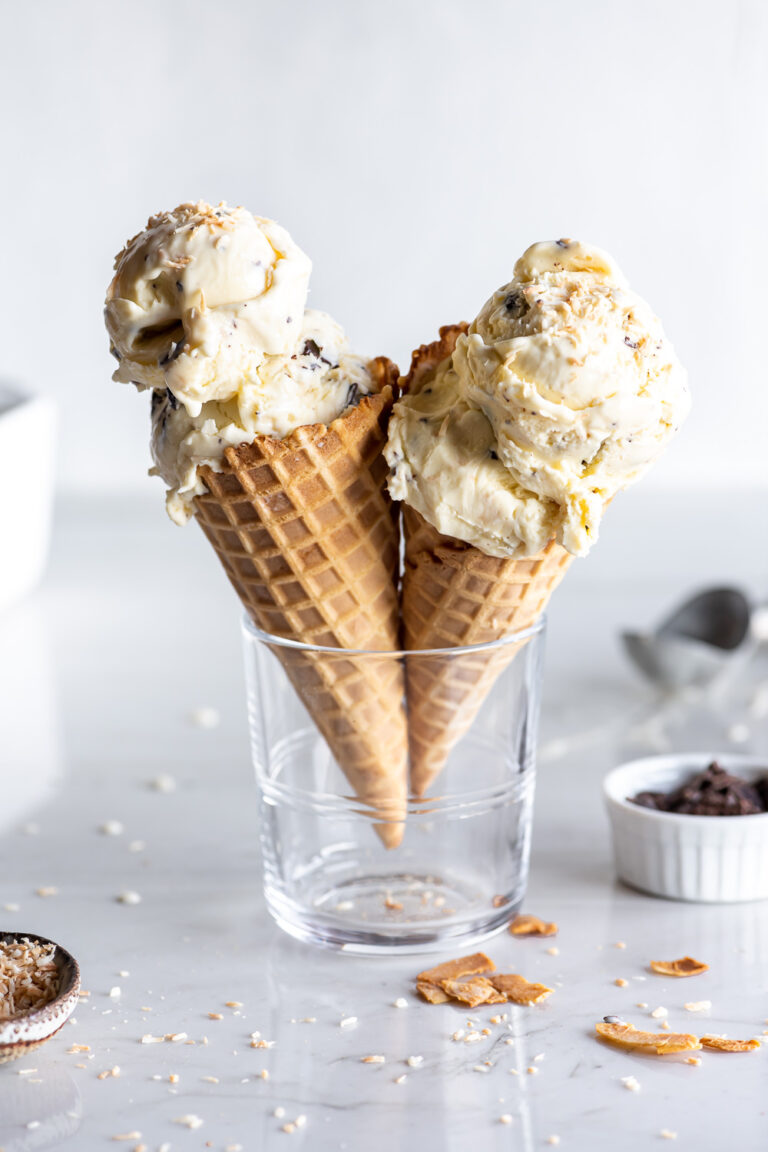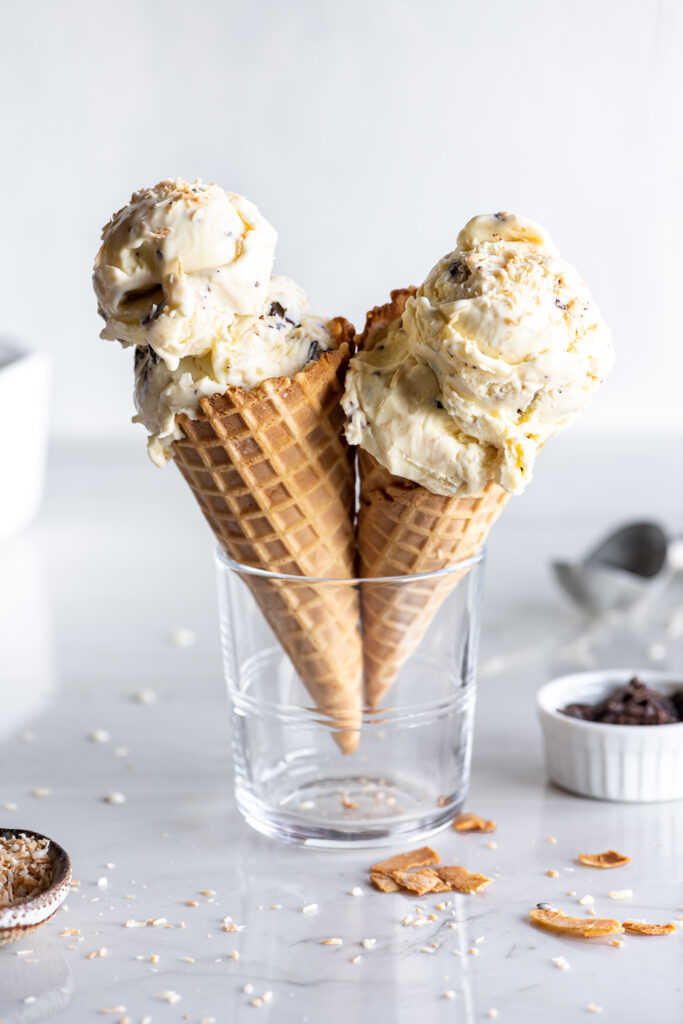 In a word, this toasted coconut ice cream is luscious. And it's real— made with full-fat dairy, sugar, egg yolks and a lot of coconut. It starts with a silky, coconut-scented custard, then it's churned with thick shavings of dark chocolate and toasted coconut. Top with chopped roasted almonds if you like a little crunch on your ice cream. These are my all-time favorite dessert flavors (it's like an inside- out Almond Joy) and they work so well in the cold, creamy format.
Unfortunately, this toasted coconut ice cream does require an ice cream maker. If you don't own one, I get it. I've always hesitated to buy one (who has space for all of these kitchen things?), but I was gifted one last year and was surprised to find I love it.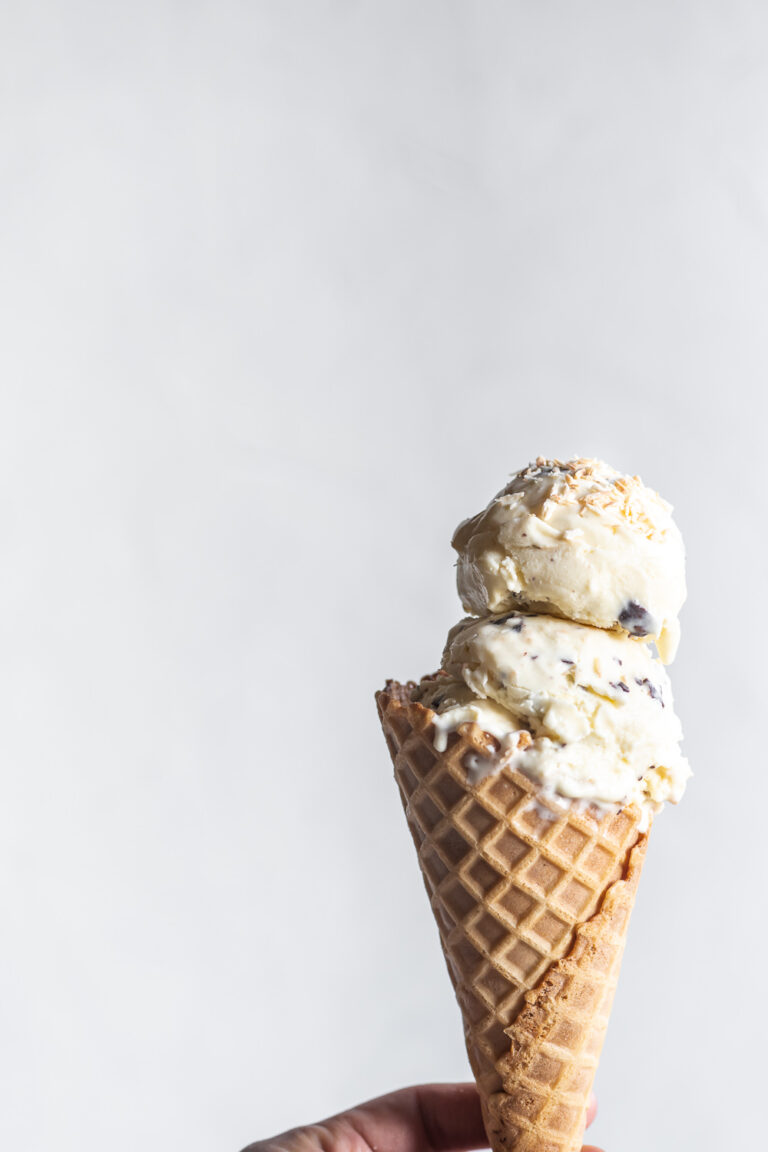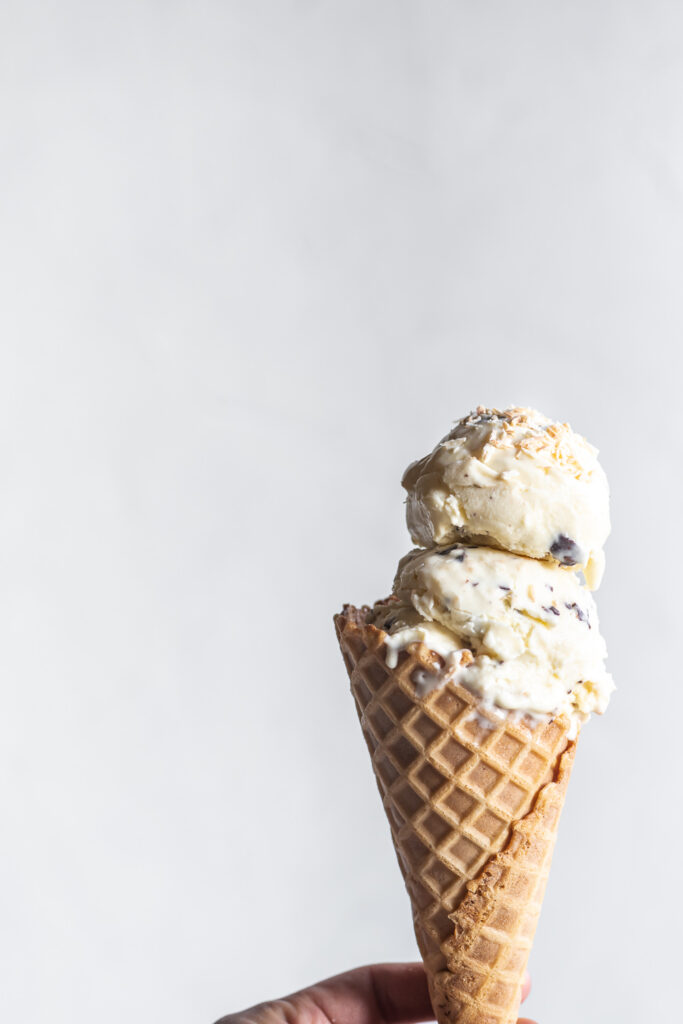 There's nothing wrong with no-churn ice cream. I've made plenty of great ones (like this, and this) to solve the problem of homemade ice cream without all of the machinery. But homemade churned ice cream? It's world class. And easy. And so much fun with kids. So if you've been on the fence about it, just get one, keep it in the garage and when the craving strikes, you can make the ice cream of your dreams.
how to make homemade coconut ice cream:
Whisk together egg yolks and half the sugar
Heat milk, heavy cream, coconut chips, remaining sugar and salt
Temper yolk mixture, return it to the pot
Gently cook custard until thick, don't let it boil
Stir in vanilla
Chill at least 4 hours or overnight
Strain custard (discard spent coconut chips, or see list below of other uses!)
Churn in an ice cream maker
Stir in toasted coconut and chopped chocolate
Serve as is, or transfer to airtight container and freeze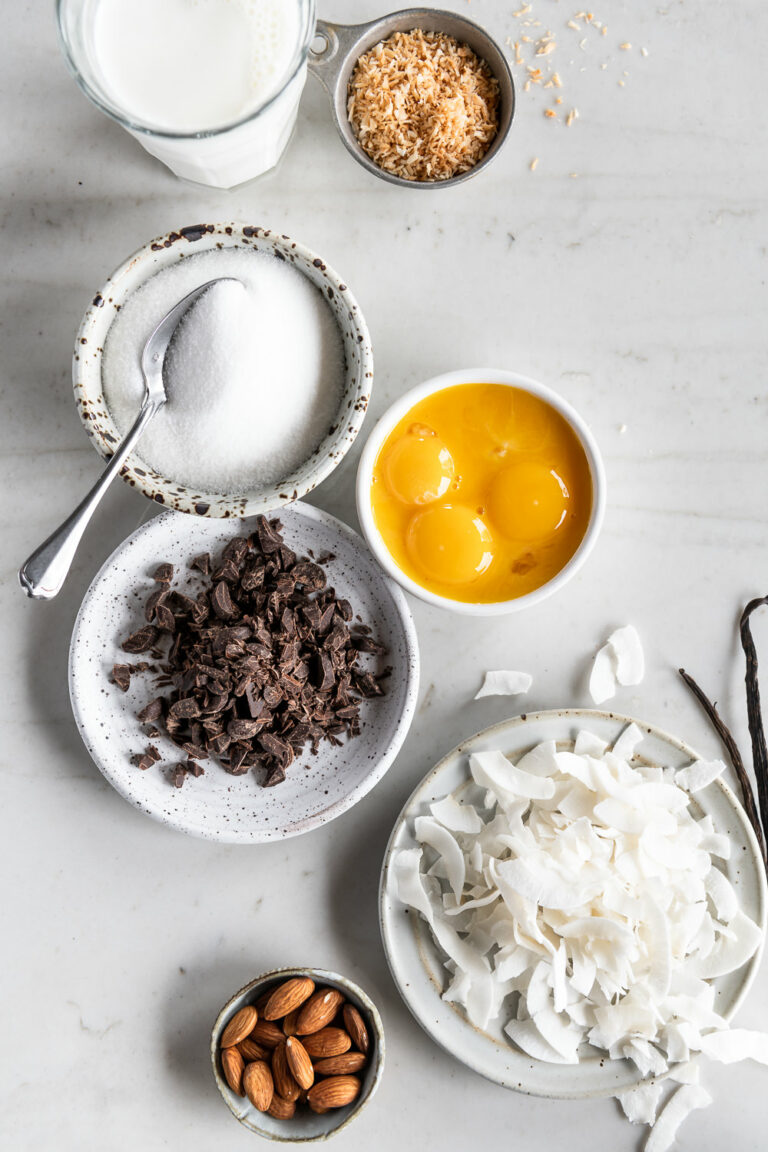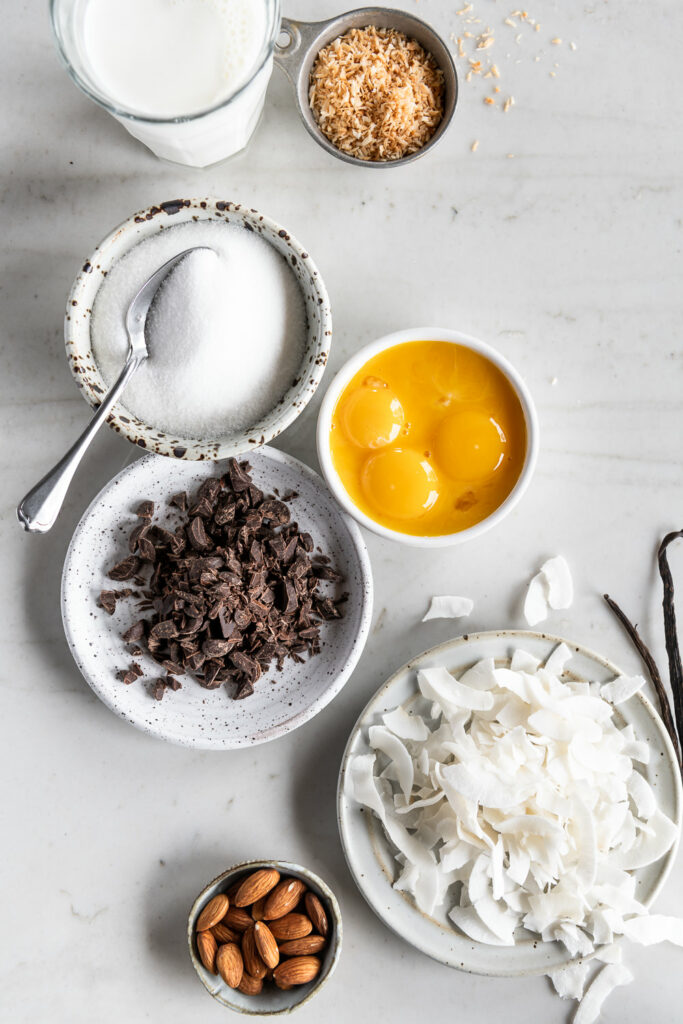 uses for leftover coconut chips
This toasted coconut ice cream starts with steeping coconut chips in a custard. This is the most important step for a flavorful, homemade coconut ice cream. But it's hard to throw away those used coconut chips! They still have flavor and great texture. So once they have been strained out of the custard, you can still use them. Here are some ideas to get you started:
baked coconut custard chips
By far, the most delicious thing to do with these custard soaked chips is to bake them. They transform into a crunchy, caramelized, seriously addictive snack. They might be better than the coconut ice cream itself.
Squeeze out as much coconut custard as you can.
Spread out in an even layer on a parchment lined baking sheet.
Bake at 250°F for about an hour, stirring every 10- 15 minutes. The coconut chips are done when they're evenly browned and dry (they will seem impossibly soggy and wet at first-- stay the course).
Let cool until crunchy. Store in an airtight container.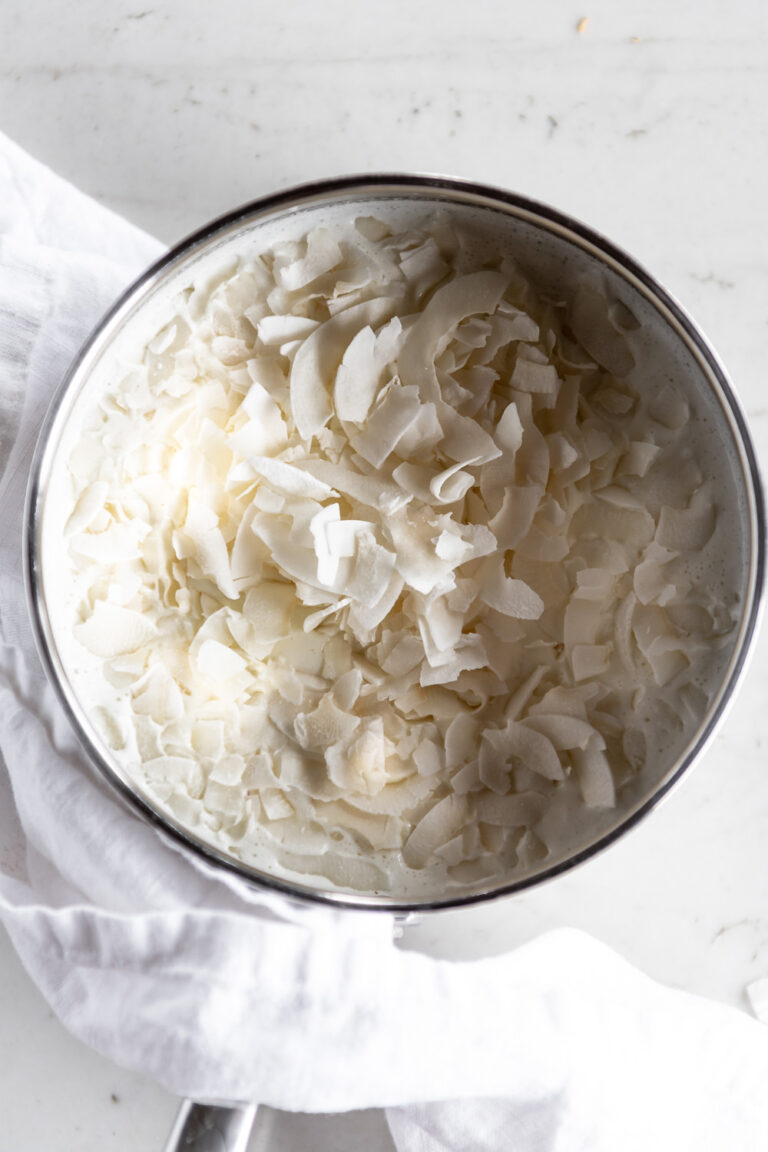 finely chop the soaked (unbaked) coconut chips in a food processor and stir into…
homemade granola bars
oatmeal cookies
banana bread
bran muffins
carrot cake
german chocolate frosting
oatmeal
chia seed pudding
yogurt
fruit smoothies
what makes this toasted coconut ice cream so good?
Full-fat dairy: half milk and half heavy cream is my favorite ratio for homemade ice cream. The fat from the heavy cream keeps the ice cream soft and creamy when it's frozen. A good amount of milk keeps it from getting too rich.
Egg yolks: the emulsifying properties of egg yolks pull together the water and fat to produce a rich and smooth texture. They also keep the ice cream cold and slow the melting when it's in your dish. Don't skip them!
Two forms of coconut: thick coconut chips are steeped in the custard for maximum flavor. Their large size is easier strain out of the custard, compared to shredded coconut. Then toasted shredded coconut is mixed in at the end. The toasty flavor and fine texture are ideal when frozen into ice cream.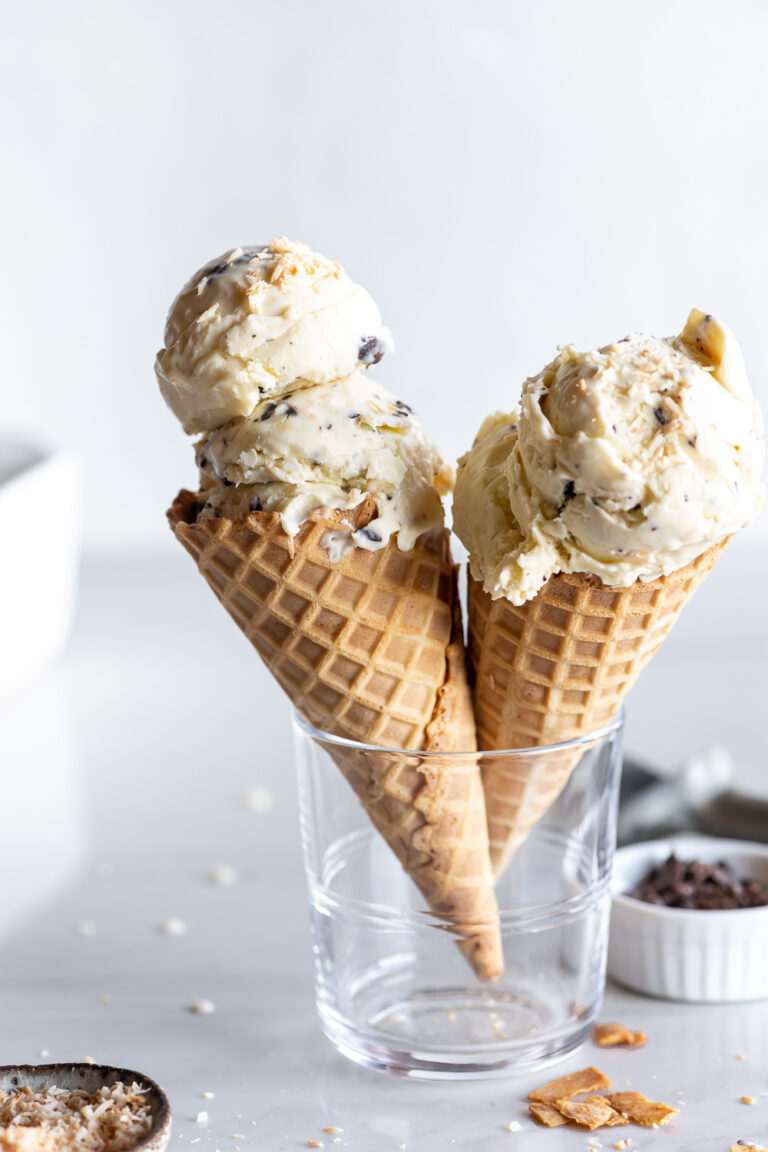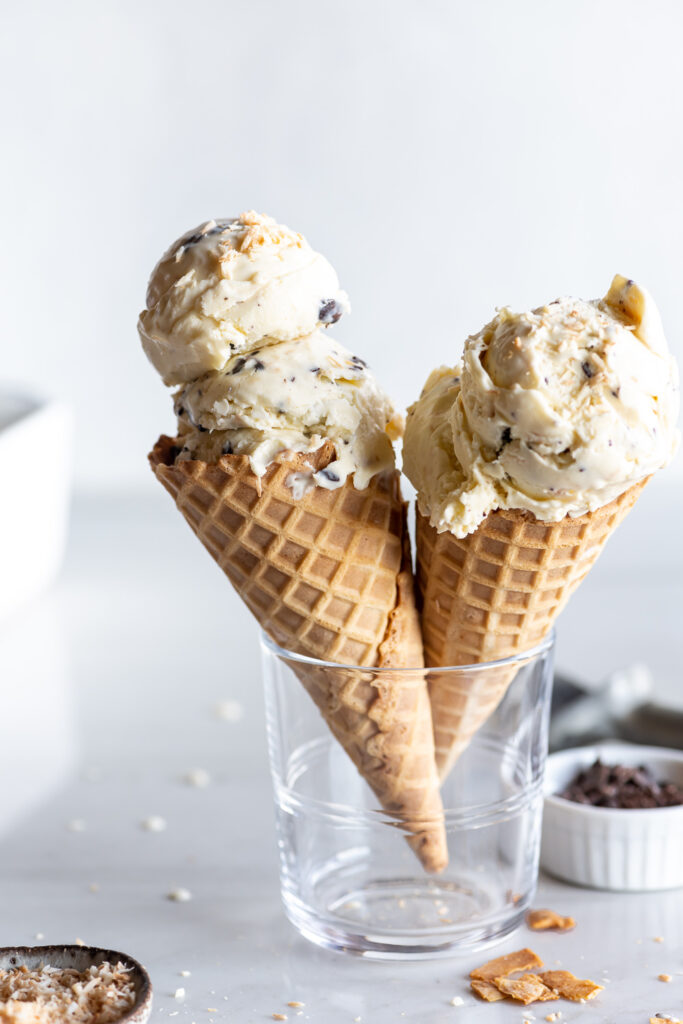 more ice cream recipes and frozen desserts:
lavender ice cream with honey, lemon and yogurt
rum raisin ice cream with oat clusters
buttermilk ice cream with roasted strawberries and peaches
black walnut ice cream with dark chocolate
oatmeal no churn ice cream with sour cherry swirl
Print
toasted coconut ice cream with dark chocolate
This silky toasted coconut ice cream is made with real dairy and two forms of coconut. Mix in dark chocolate and sprinkle almonds for the best homemade coconut ice cream!
Author:
Prep Time:

10 minutes

Cook Time:

20 minutes

Total Time:

30 minutes

Yield:

6 cups

Category:

Ice cream

Method:

Churned

Cuisine:

American

Diet:

Vegetarian
Ingredients
1 cup

granulated sugar, divided

5

large egg yolks

2 cups

whole milk

2 cups

heavy cream

2 cups

unsweetened coconut chips

½ tsp

kosher salt

1 tsp

vanilla extract

½ cup

unsweetened shredded coconut

¼ cup

bittersweet chocolate, finely chopped

chopped toasted almonds, for garnish
Instructions
In a medium bowl, add half the sugar and egg yolks and whisk to combine. Set aside.

Combine milk, cream, remaining sugar, coconut chips, and salt in a medium saucepan. Heat over medium-low heat, stirring constantly, until sugar is dissolved and mixture just begins to simmer. Reduce heat to low and whisk about 1 cup of hot milk into the egg yolk mixture. Repeat with 1 more cup of hot milk, whisking vigorously. Return this custard to the saucepan and gently heat, stirring constantly, until mixture thickens and coats the back of a spoon, about 10 minutes. Don't let it boil.

Transfer to a large bowl; stir in vanilla. Let cool to room temperature. Cover and refrigerate at least 4 hours or overnight. 

While custard chills, toast shredded coconut. Preheat oven to 325°F. Line a baking sheet with foil and coconut in an even layer. Toast, stirring every few minutes, until golden brown and fragrant, about 5 minutes (watch closely). Transfer to a bowl to cool.

When ready to freeze mixture, strain through a fine mesh sieve and discard soaked coconut chips (see note). Churn in an ice cream machine according to manufacturer's instructions. When it reaches a soft serve consistency, add ¼ cup toasted coconut and dark chocolate and churn until well mixed.

Serve as is, with extra toasted coconut and almonds on the side, or transfer to an airtight container and freeze until needed.
Notes
Note: you can slowly bake the strained coconut chips or use them in a variety of baked goods. See blog post for ideas.
Nutritional information is only an estimate. The accuracy of the nutritional information for any recipe on this site is not guaranteed.
Nutrition
Serving Size:

½ cup

Calories:

289

Sugar:

20g

Sodium:

157mg

Fat:

21g

Saturated Fat:

13g

Unsaturated Fat:

6.6g

Trans Fat:

0.5g

Carbohydrates:

21g

Fiber:

0.8g

Protein:

5.8g

Cholesterol:

142mg
Keywords: toasted coconut ice cream