This elegant kale caesar salad is layered with crispy, garlicky crouton-crumbs, a ton of good parmesan, and a creamy, lemony caesar dressing.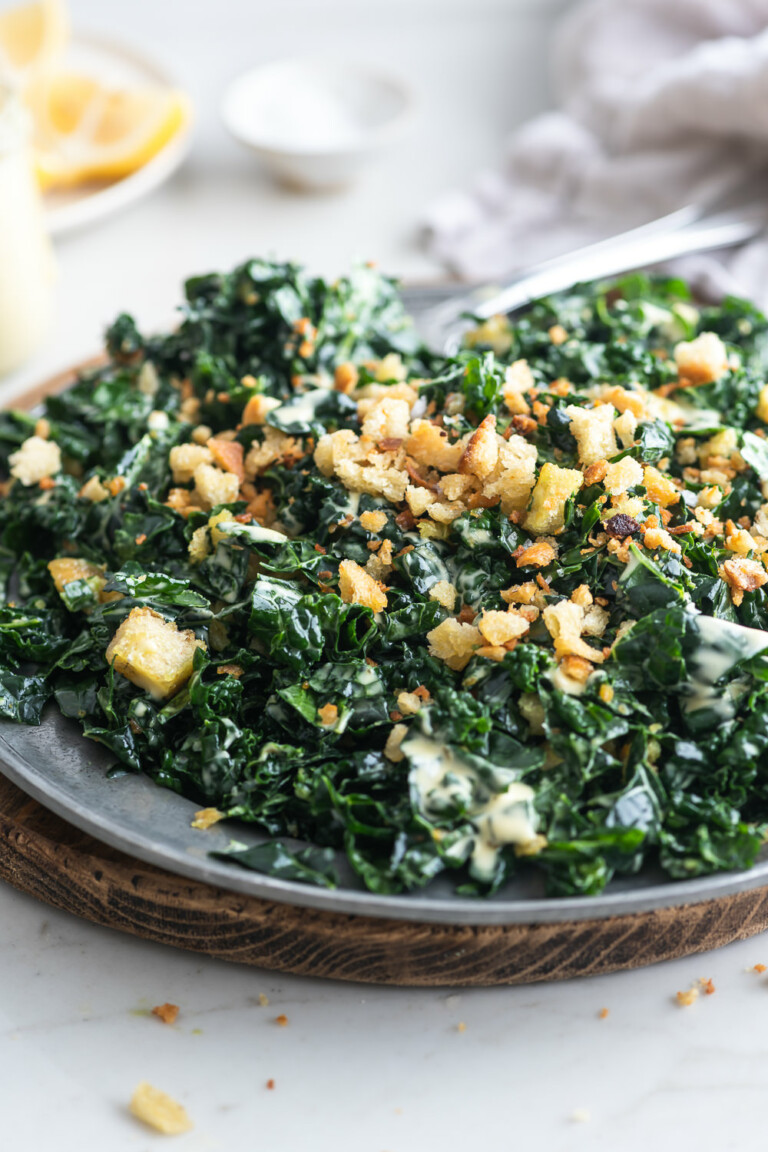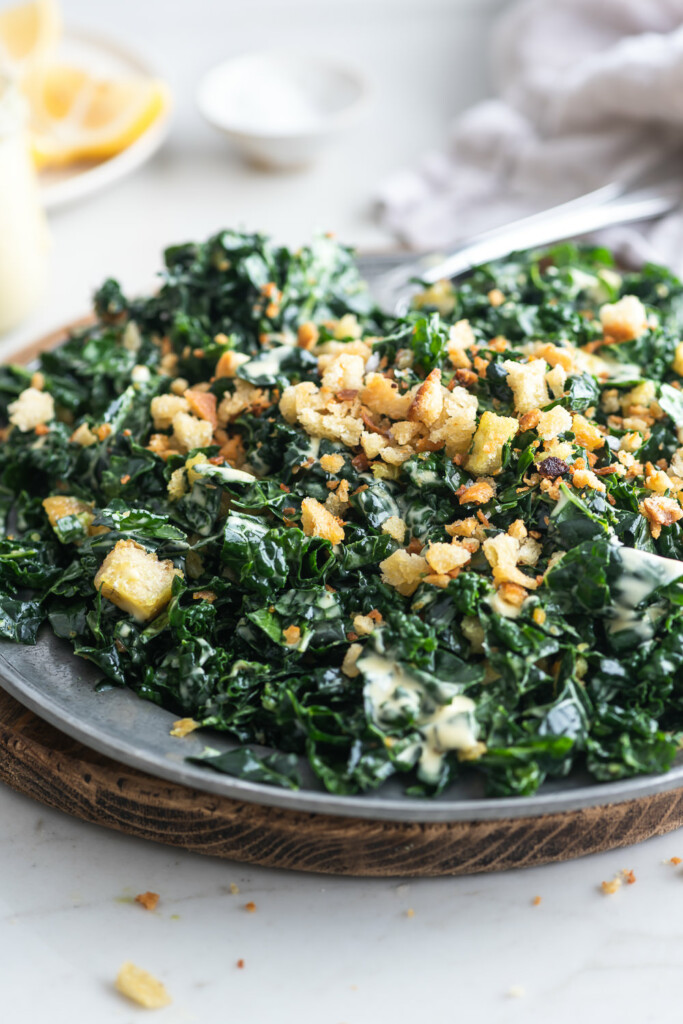 This kale caesar salad is so rich and decadent, yet deeply satisfying with the savory bite of garlic and good parmesan. It's an elegant twist on the classic caesar salad, with extra lemony freshness and a hint of dijon. Simplicity is key here: good kale, crunchy croutons, and a creamy caesar dressing are all you need to knock this out of the park.
We start with a tender bed of massaged kale and top it with golden, craggily crouton crumbs. They're like mini croutons that add a crispy, garlicky crunch to every bite.
Then there's the dressing. It literally makes the salad, so give it some extra love. Our version is a delicious balance of rich eggs, salty parmesan, Worcestershire and anchovies, and a big squeeze of fresh lemon.
I prefer to be cautious with the garlic and anchovies, using just enough for that characteristic caesar intensity. If I go overboard with either, I just feel like a walking Caesar salad for the rest of the day. Not good.
But that's the beauty and fun of cooking: tweak the recipe to your own taste and you can't go wrong.
The result is an ultra-savory kale caesar salad recipe that we just can't get enough of. Use any extra dressing as a dip for crudites, crunchy chicken strips, or spread on a grilled salmon sandwich. It's the gift that keeps on giving!
This post may contain affiliate links. As an Amazon Associate, I earn from qualifying purchases.
kale caesar salad ingredients:
flat-leaf kale
lemons
parmesan
eggs
dijon mustard
garlic
sourdough bread
anchovies
worcestershire sauce
olive oil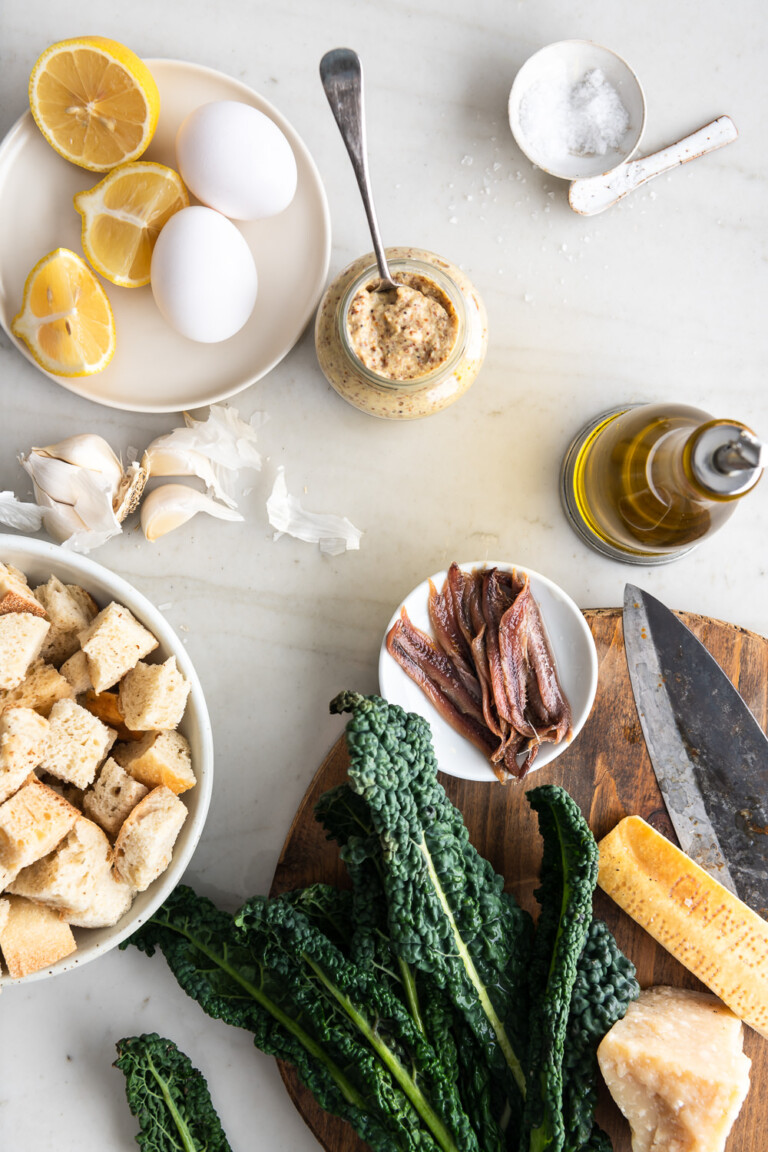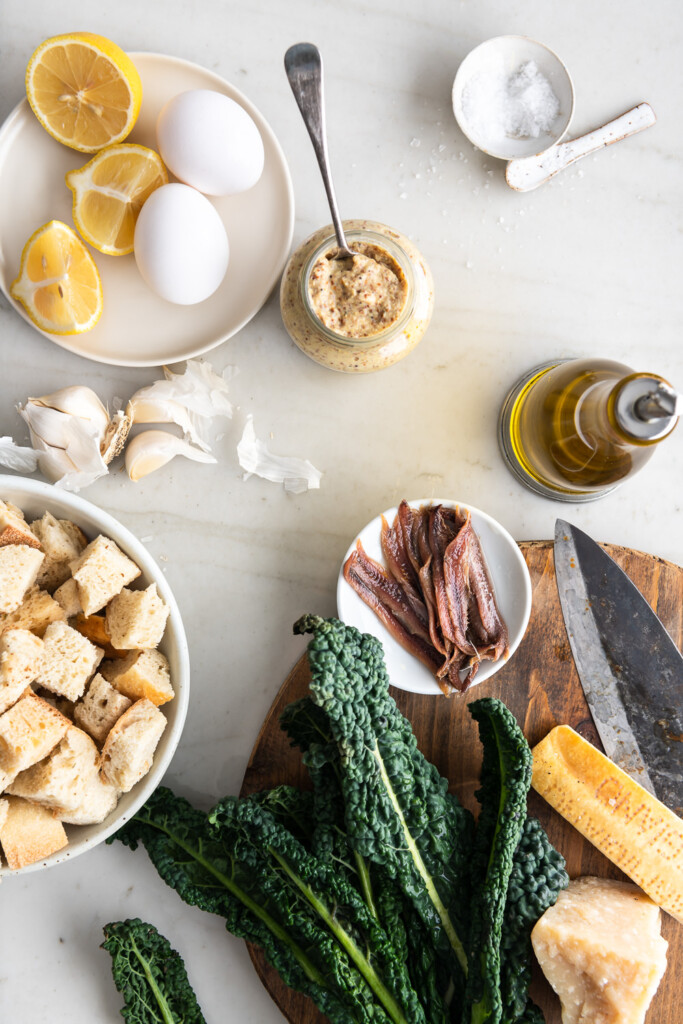 how to make a kale caesar salad
Pulse the sourdough into ¼-inch crumbs in the food processor.
Cook the crumbs with olive oil and garlic until crunchy and golden, 5- 7 minutes.
Coddle the eggs in boiling water for 1 minute.
Add to the blender and make the caesar dressing.
Slice the kale into ribbons and massage with salt.
Toss with crouton crumbs, parmesan, and half the dressing.
Taste and add more dressing if desired.
Serve and enjoy!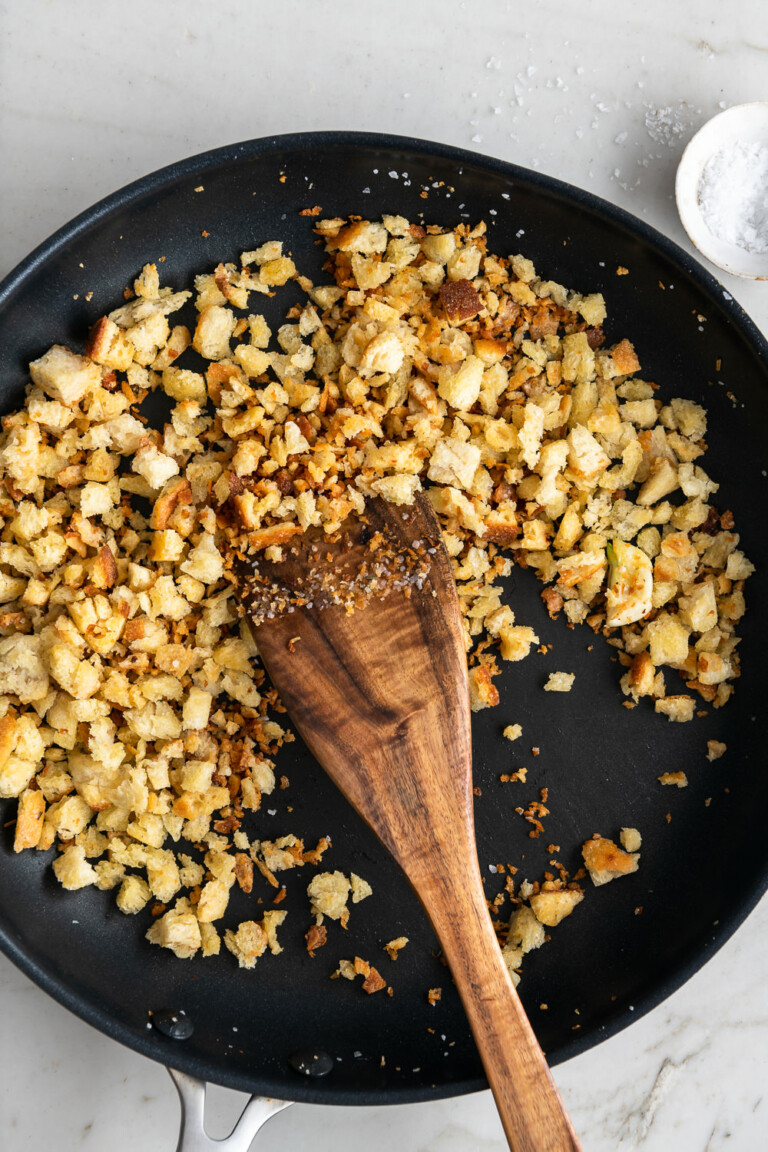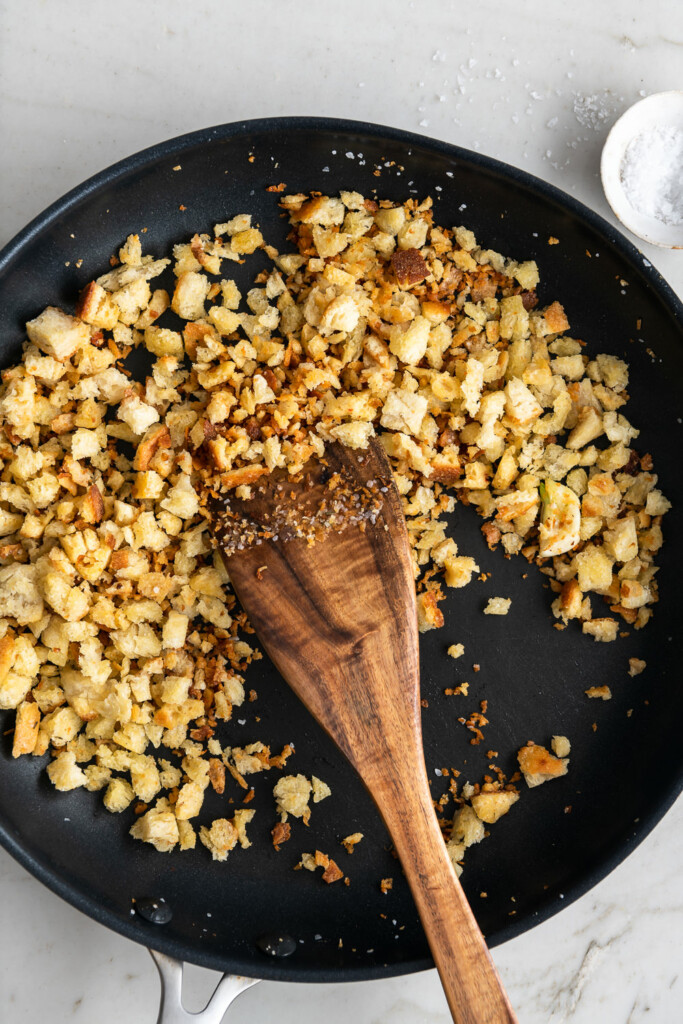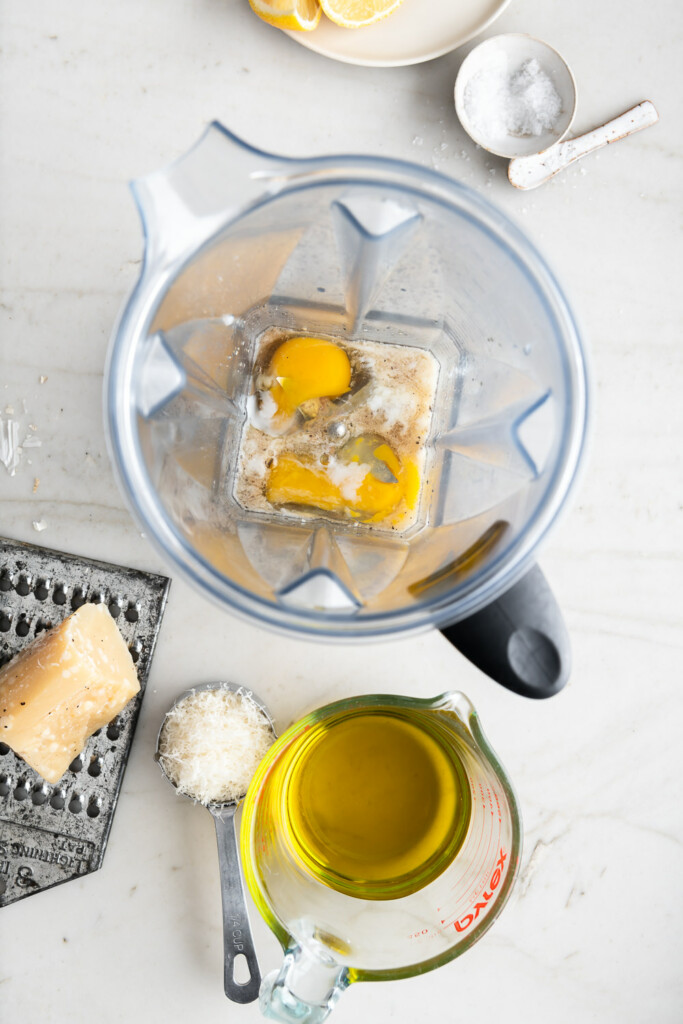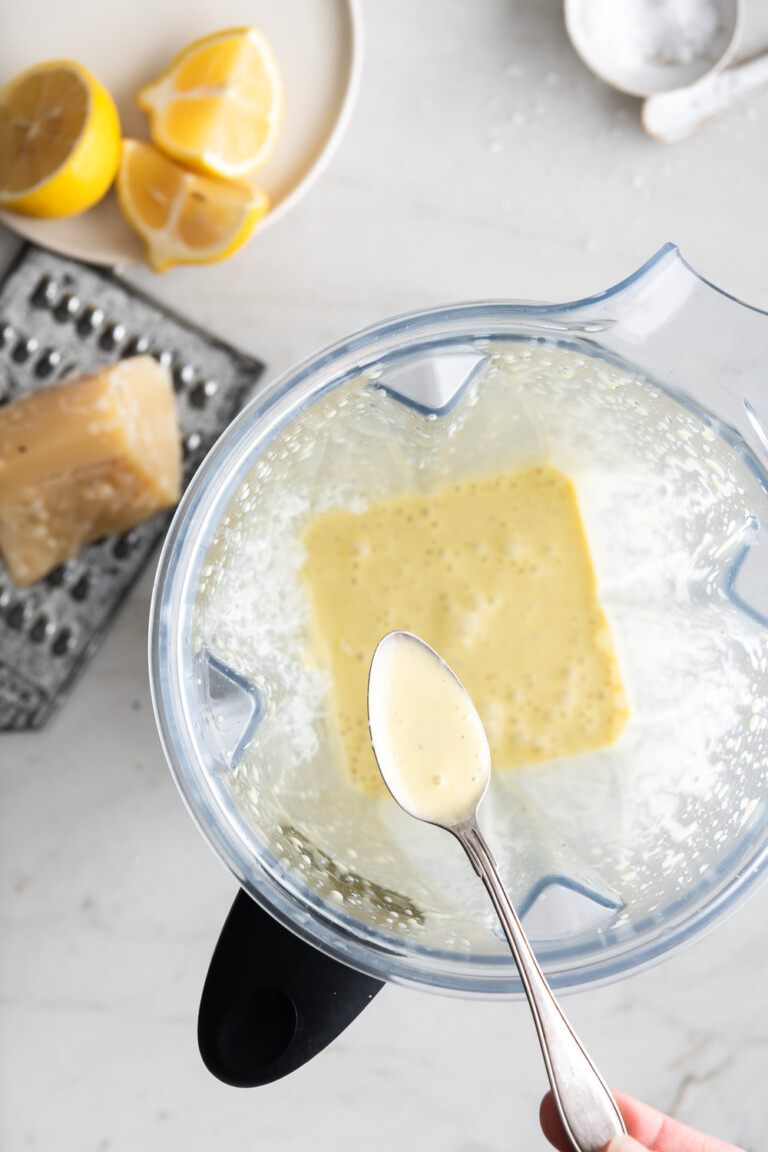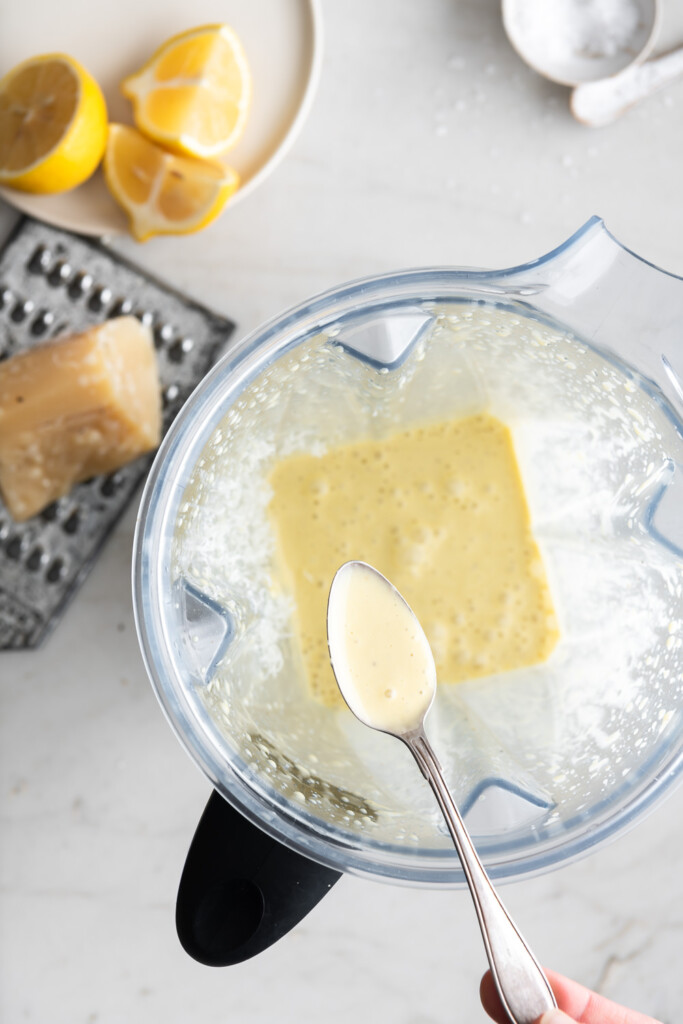 what makes this the BEST kale caesar salad?
Massaged kale: I almost always massage kale with a pinch of salt for salads. It softens the texture, wilts the leaves a bit, and helps them absorb the salad dressing.
Flat-leaf kale: Also known as lacinato kale or dinosaur kale-- this type of kale is my favorite for salads. For one, it's much easier to clean. The leaves are also softer and more tender than curly kale. If you pick your favorite and make sure it's fresh, you can't go wrong.
Coddled eggs: The purpose of coddling eggs is to add a thicker, richer mouthfeel to the dressing. Just note: the minute in boiling water won't pasteurize the raw eggs. If you have health concerns, you can buy pasteurized eggs or pasteurize them at home before making the dressing.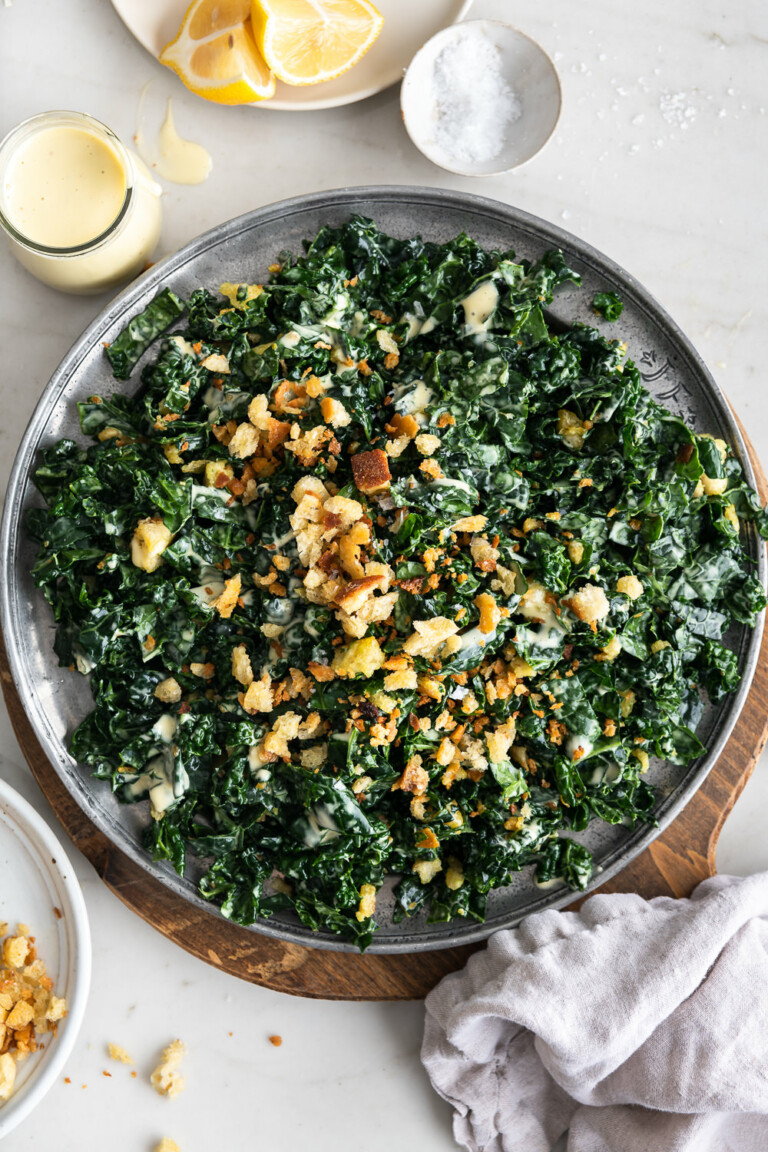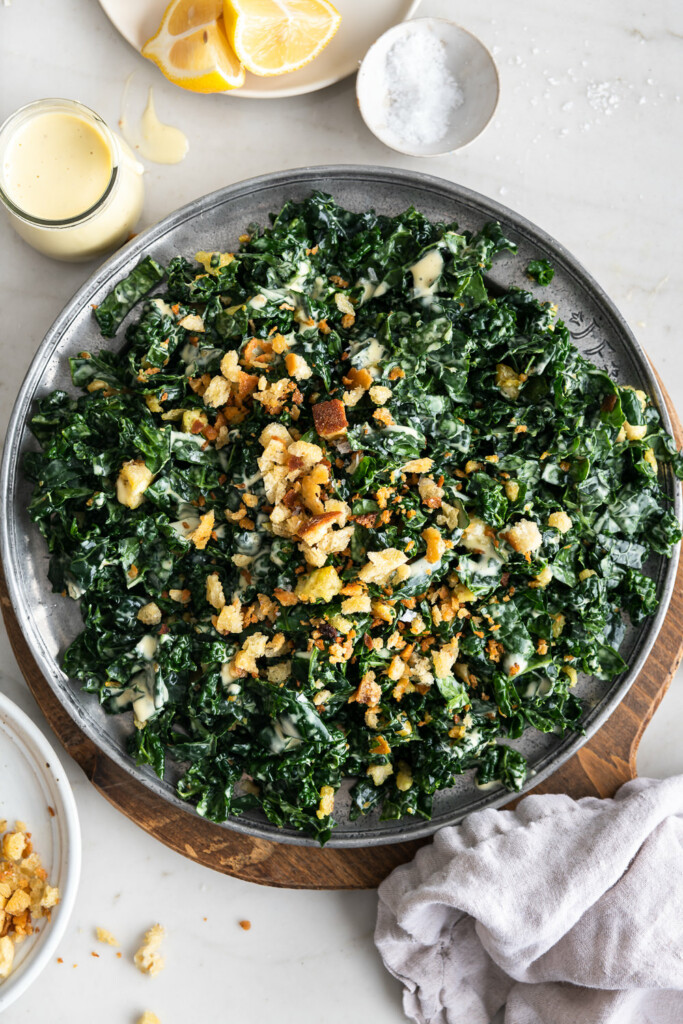 Oil-packed anchovies: Use the highest quality anchovies you can get your hands on. They add so much depth of flavor, a caesar dressing without them falls flat. I prefer just enough to add complexity without the anchovies actually being noticeable. But if you just really love them, please add more!
Craggily crouton-crumbs: I love these homemade breadcrumbs so much. They're a hybrid crouton-breadcrumb: big enough to make a crunchy impact, but small enough to be dispersed in every bite. They're garlicky, crispy, and salty. And best of all: there's no need to turn on the oven!
Super creamy dressing: We make this caesar salad dressing in a blender and slowly drizzle in oil until it's fully emulsified, thick and rich. The rich eggs and olive oil are perfectly balanced with fresh lemon juice. You could also use an immersion blender!
make this kale caesar salad your own:
Grilled herb chicken breasts
Grilled steak strips
Sautéed garlic shrimp
Cold smoked salmon, torn into pieces
Sliced hard-boiled eggs
Roasted lemony chickpeas
Sliced avocado
Crunchy chopped bacon
Add shredded romaine or shaved brussels sprouts for extra crunch
Toss in tiny cauliflower florets, sliced radishes, or shaved carrots
Skip the anchovies to make it vegetarian
Cook the croutons with minced anchovies or parmesan for extra flavor
Serve it as a wrap!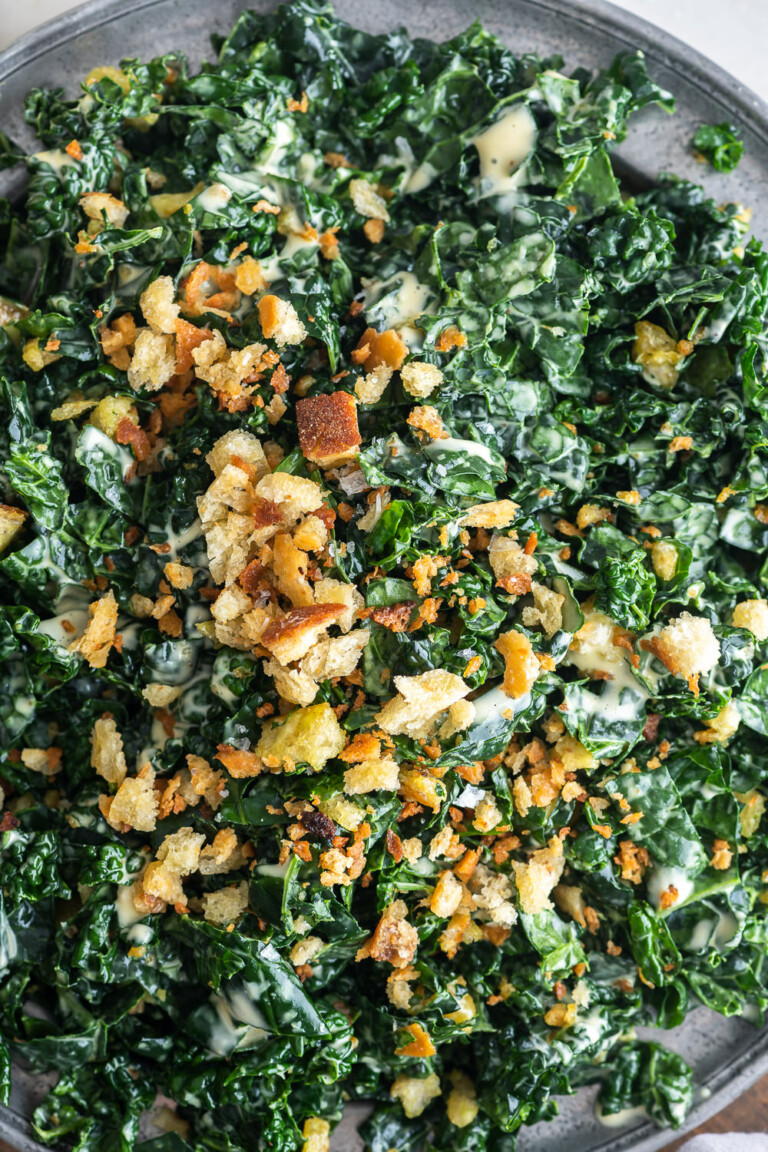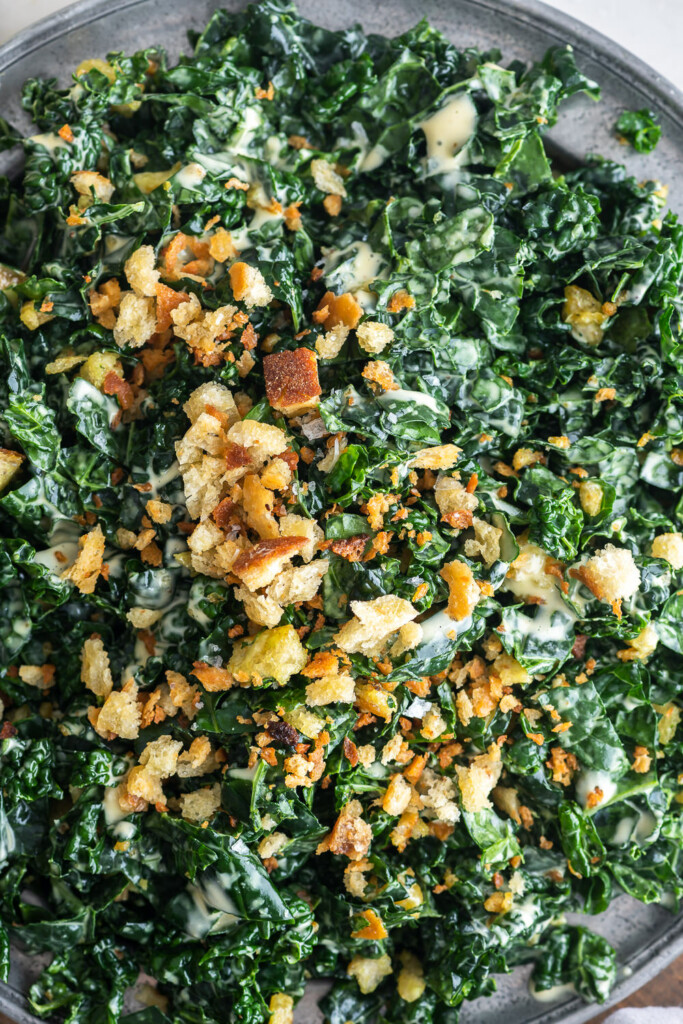 how many calories in a kale caesar salad?
I like to keep the salad with just enough dressing to coat the leaves, which is about half the dressing as written in the recipe. There's more to pass at the table for those who love it extra saucy. For ⅙th of this kale caesar salad recipe using half the dressing, there are 377 calories per serving. For more details, see the bottom of the recipe card.
Please keep in mind our nutrition information is just an estimate!
more kale salad recipes to try!
kale and brussels sprout salad with pecorino and almonds
quinoa kale salad with oranges and lemon tahini dressing
Print
kale caesar salad
This elegant kale caesar salad is layered with crispy, garlicky crouton-crumbs, a ton of good parmesan, and a creamy, lemony caesar dressing.
Author:
Prep Time:

25 minutes

Cook Time:

10 minutes

Total Time:

35 minutes

Yield:

6

Category:

Salads

Method:

Tossed

Cuisine:

American
Ingredients
toasted garlic crumbs
½

loaf of sourdough bread

3 tbsp

olive oil

1

garlic clove, smashed and peeled
kosher salt
freshly ground black pepper
kale caesar salad
2

eggs

3 tbsp

freshly squeezed lemon juice

½ tsp

Dijon mustard

1

small garlic clove, mashed into a smooth paste

4

-

5

anchovies, chopped and mashed into a smooth paste (or to taste)
dash Worcestershire sauce
kosher salt
freshly ground black pepper

¾ cup

extra virgin olive oil

¾ cup

freshly grated Parmesan, divided

2

bunches flat leaf kale, stemmed and sliced into

½

-inch thick ribbons
Instructions
toasted garlic crumbs
Use a serrated knife to remove crust from the bread and cut the loaf into 1-inch cubes. Pulse the cubes in a food processor until the bread resembles coarse chunks of bread, about ¼-inch in size.
Heat olive oil and garlic in a large skillet pan over medium heat until fragrant, about 1 minute. Add bread crumbs, season with salt and pepper and cook, stirring frequently, until crunchy and golden brown, 5- 7 minutes. Transfer to a plate to cool; discard garlic clove.
kale caesar salad
Place the whole eggs in a heat-proof bowl and pour boiling water over top. Let sit 1 minute. Pour off water and crack eggs into a blender. Add lemon juice, mustard, garlic, anchovies and Worcestershire sauce, ½ teaspoon salt and ¼ teaspoon black pepper. Bllend until smooth.
With the blender on medium-low speed, add the olive oil slowly until the dressing is thick (this should take about a minute). Stir in ¼ cup parmesan. Season with more salt and pepper to taste. 
Place kale in a large bowl and massage with a pinch of salt until leaves are dark green and soft. Toss with the breadcrumbs, remaining ½ cup shredded parmesan and half the dressing. Taste and add more dressing, if desired. Serve and enjoy, passing extra dressing and parmesan.
Notes
Nutritional information is only an estimate. The accuracy of the nutritional information for any recipe on this site is not guaranteed.
Nutrition
Serving Size:

1 (using half of dressing)

Calories:

377

Sugar:

2.9g

Sodium:

602mg

Fat:

26g

Saturated Fat:

26g

Unsaturated Fat:

19g

Trans Fat:

0.1g

Carbohydrates:

27g

Fiber:

2.3g

Protein:

11g

Cholesterol:

44mg
Keywords: kale caesar salad