This silky smooth parsnip puree is about to replace your sweet potatoes on the holiday table! It's a decadent side dish, full of sweet anise notes and a nutty brown butter swirl. Salty fried shallots add an addictive little crunch, while a touch of dijon and lemon balance out the sweet parsnips. The combination is absolutely addicting.
Read on to learn what you'll need, how to make it, why this is the best parsnip puree, and what to pair it with!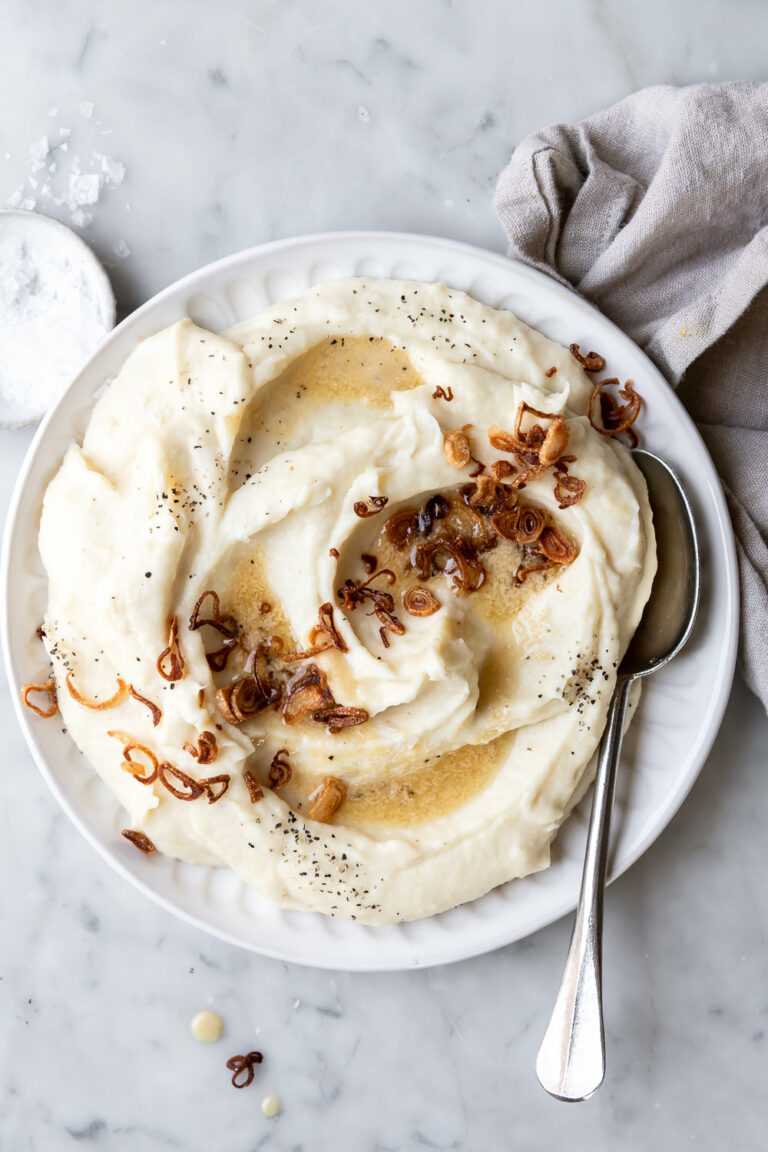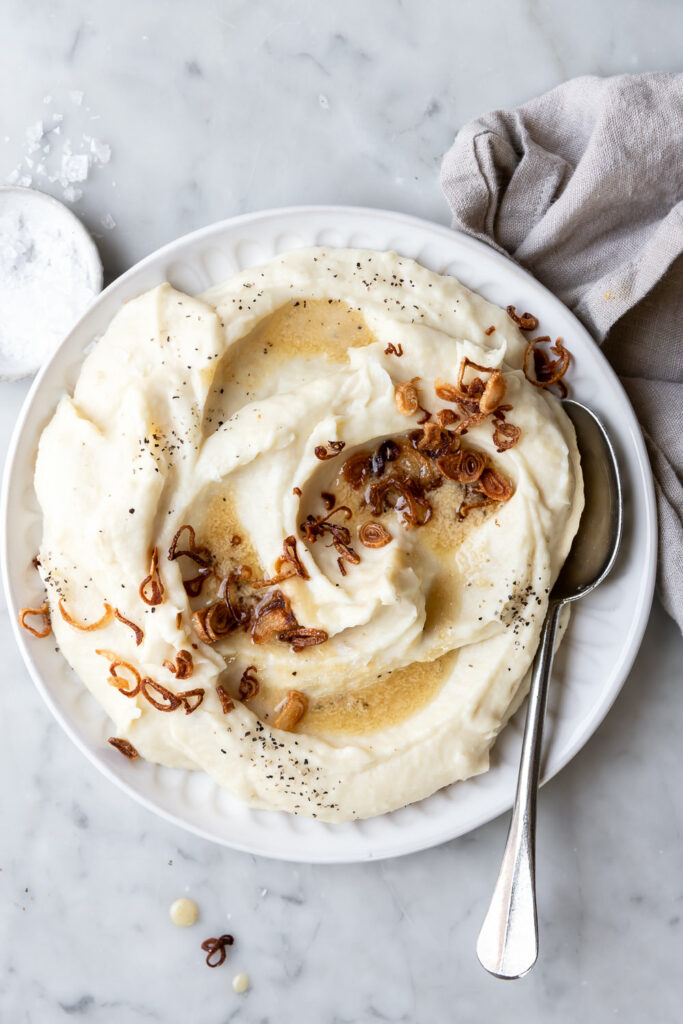 what you need for this parsnip puree recipe:
Parsnips
Cream
Milk
Butter
Dijon mustard
Lemon
Shallots
Vegetable oil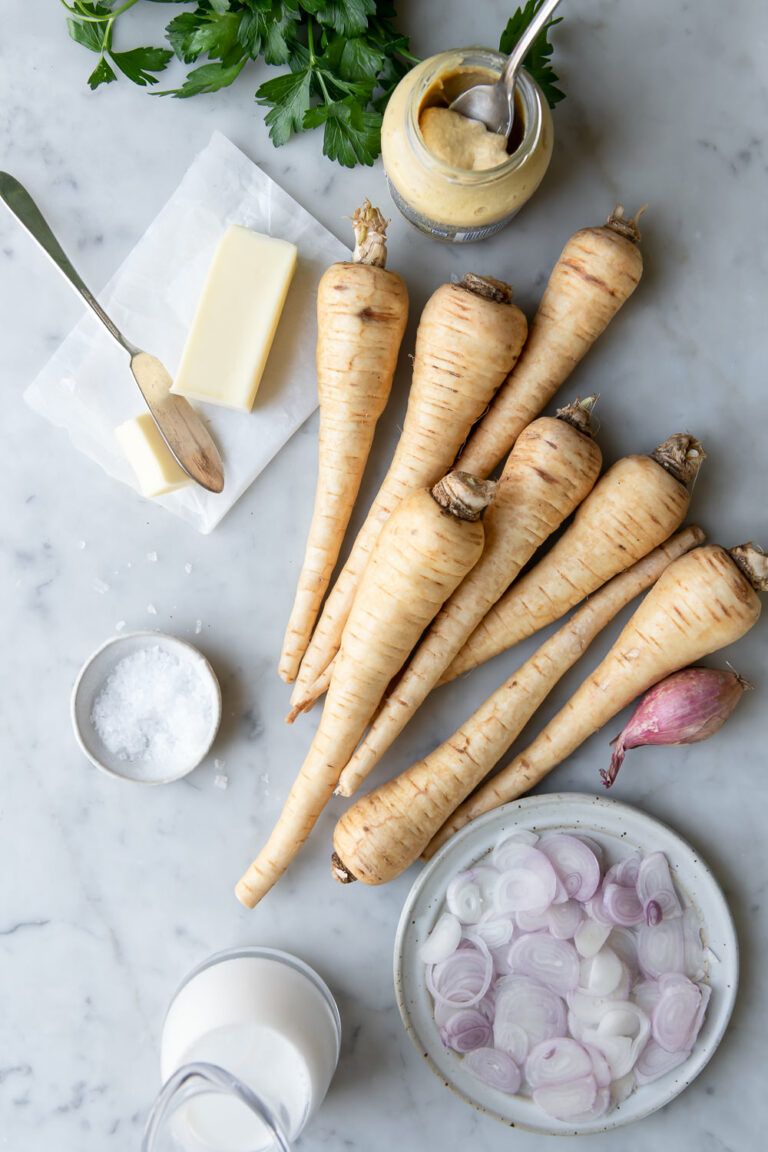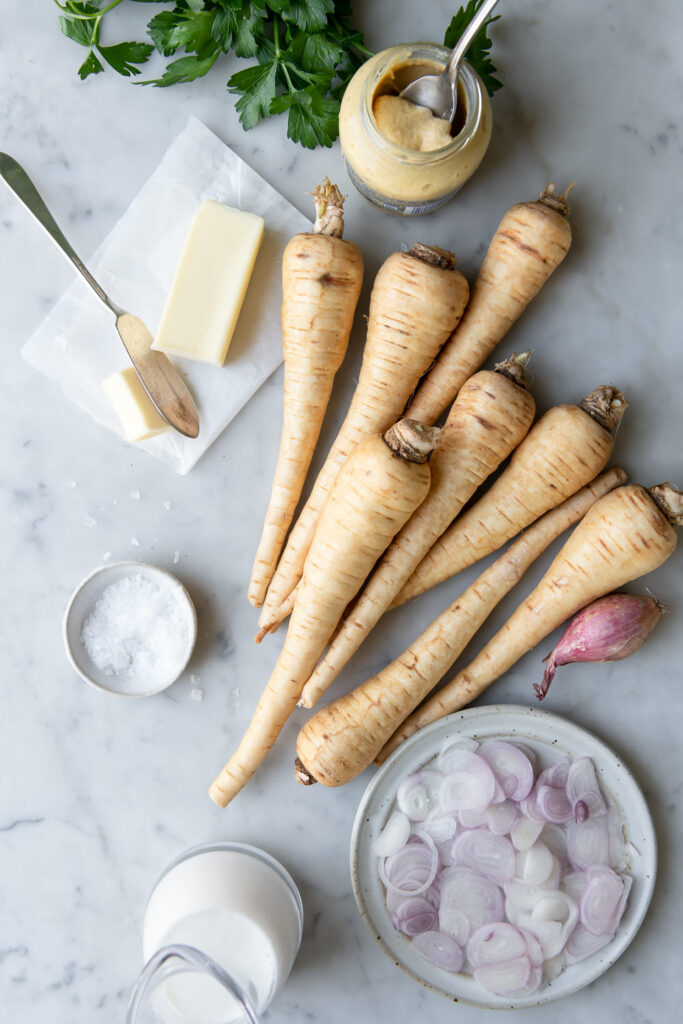 what is parsnip puree?
Parsnip mash is a delicious way to serve parsnips. It's a simple dish, made by cooking parsnips (steamed in this case) then blending them with a mix of cream and milk. You can use a food processor or heavy-duty blender to get it extra smooth. We love to serve it with a flavorful brown butter drizzle and crispy shallots, but it's very flavorful on its own!
how to make parsnip puree:
Peel, core and chop the parsnips.
Steam until very tender.
Puree with heavy cream and milk, set aside.
Brown the butter.
Whisk in dijon, lemon and a splash of water.
Fry the shallots.
Serve: plate the parsnip puree, drizzle with brown butter dijon sauce, top with fried shallots!
To simplify the process, just melt some of this mustard butter and drizzle it on top!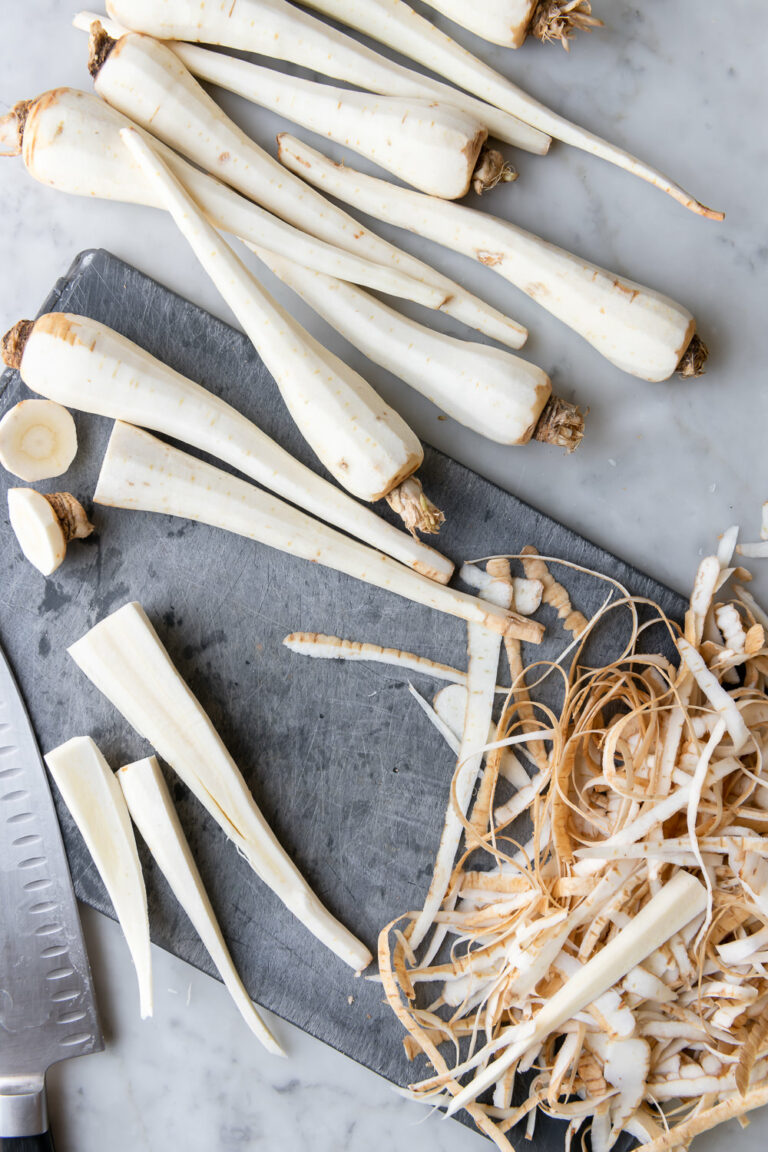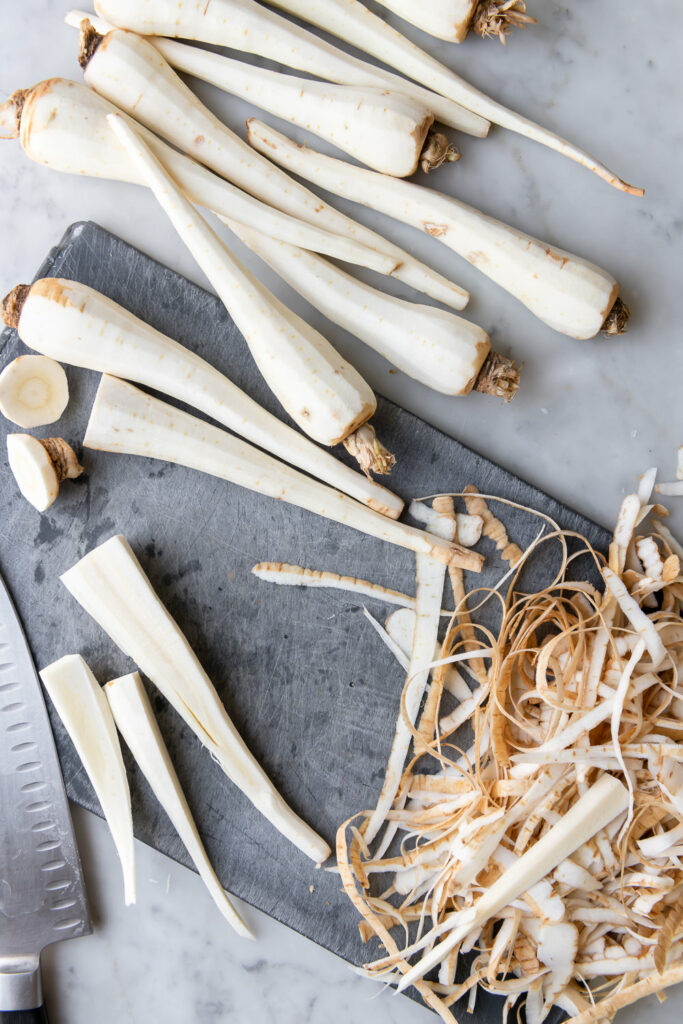 what makes this the best parsnip puree?
Steamed: Steaming concentrates the flavor of the parsnips and it's quick and easy. It keeps your oven off or available for more important dishes, like the turkey! Boiling parsnips gives a water-logged consistency, and simmering in cream is extra messy. Steaming gives you tender parsnips in a simple, no-fuss way.
Brown butter dijon: If you've never had straight parsnips, you should know they're sweet. Sweeter than you'd think! The sweetness makes a great dish, but it can be too much on its own. I find the touch of dijon mustard and lemon balance out the sweetness. And the brown butter? Who can resist that rich, nutty flavor! It adds so much depth here.
Velvety smooth: A lot of recipes will tell you to just chop the parsnips, cook and blend. Unfortunately, unless you're using very small and tender parsnips, this won't give you a smooth puree. The woody stems have to be removed-- they'll never soften enough to be blended down. It's an annoying thing to do, but it's worth it for a velvety smooth consistency. If you really don't want to remove the core, you can pass the puree through a strainer after blending to remove the fibers.
Perfectly rich: I prefer a mix of cream and milk in our parsnip puree. It adds rich texture without being too heavy. All cream can be too rich, while all milk can be a little too thin.
Fried shallots: Need I say more? Fried shallots pack so much flavor and add a wonderful salty crunch to the puree. I love the textural contrast! They made an addictive little kitchen snack, too, so you should probably double the amount to be safe.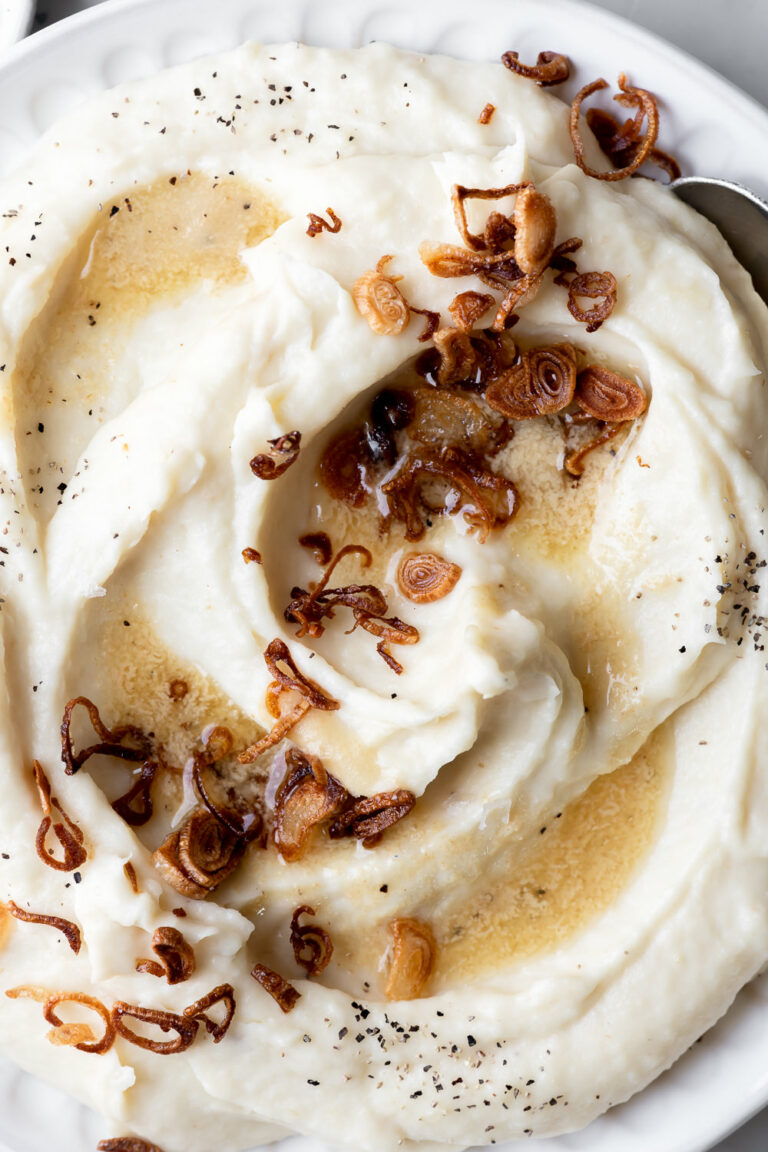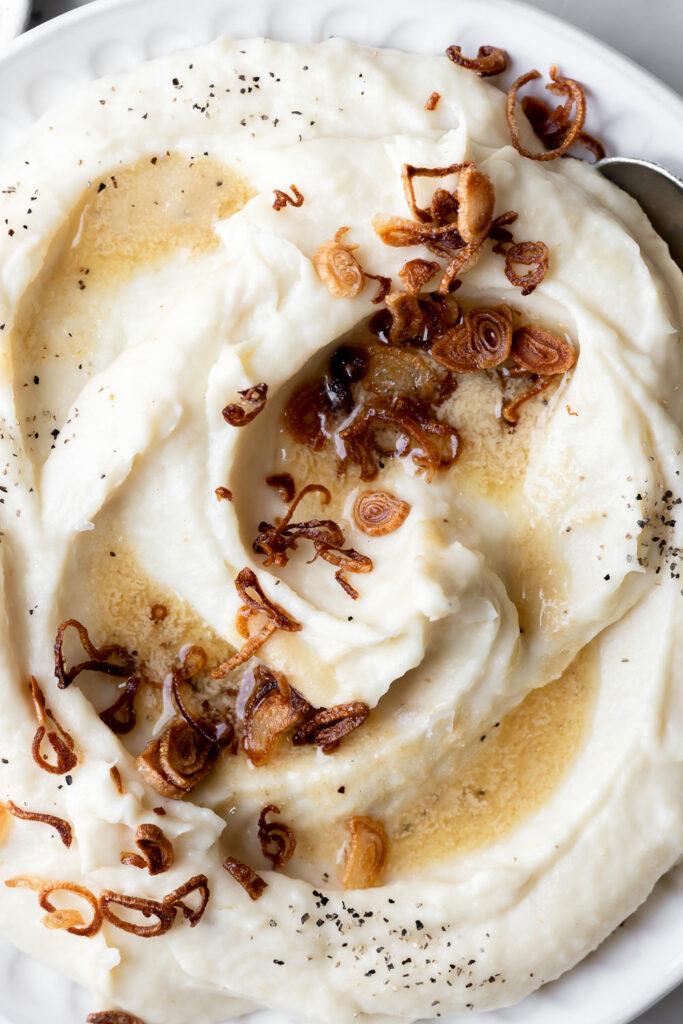 when are parsnips in season?
Parsnips are available through fall, winter and early spring. They are extra sweet in the heart of winter, after a hard freeze, which causes them to convert much of their starch to sugar.
Look for small tender parsnips, if possible, to avoid the hassle of the woody core! Learn more about parsnips here!
how to get smooth parsnip puree:
The key to really smooth parsnip puree is to make sure the parsnips are completely tender before blending. If you're using medium to large parsnips, make sure to remove the woody core before chopping. They're tough and will never fully break down, leaving you with a lumpy mash.
The second key is to blend it for longer than you might think necessary. You can't over-blend them. Don't worry about gumminess in the same way you would potatoes— they have much less starch.
For an extra-velvety smooth, lump-free mash, use a powerful blender (like VitaMix), then pass the puree through a mesh strainer.
how to reheat parsnip puree:
Parsnips are much less fussy than potatoes. You don't have to worry about the gluey, gummy issues that come with over-processing potatoes-- or not re-heating them properly.
Parsnip puree can be reheated in the microwave, which is easy and quick. You could also reheat them in a pot on the stove, over low heat, stirring every so often until warmed through. For a hands off method, transfer them to a baking dish, cover with foil, and reheat in the oven at 300°F until heated through (15- 20 minutes).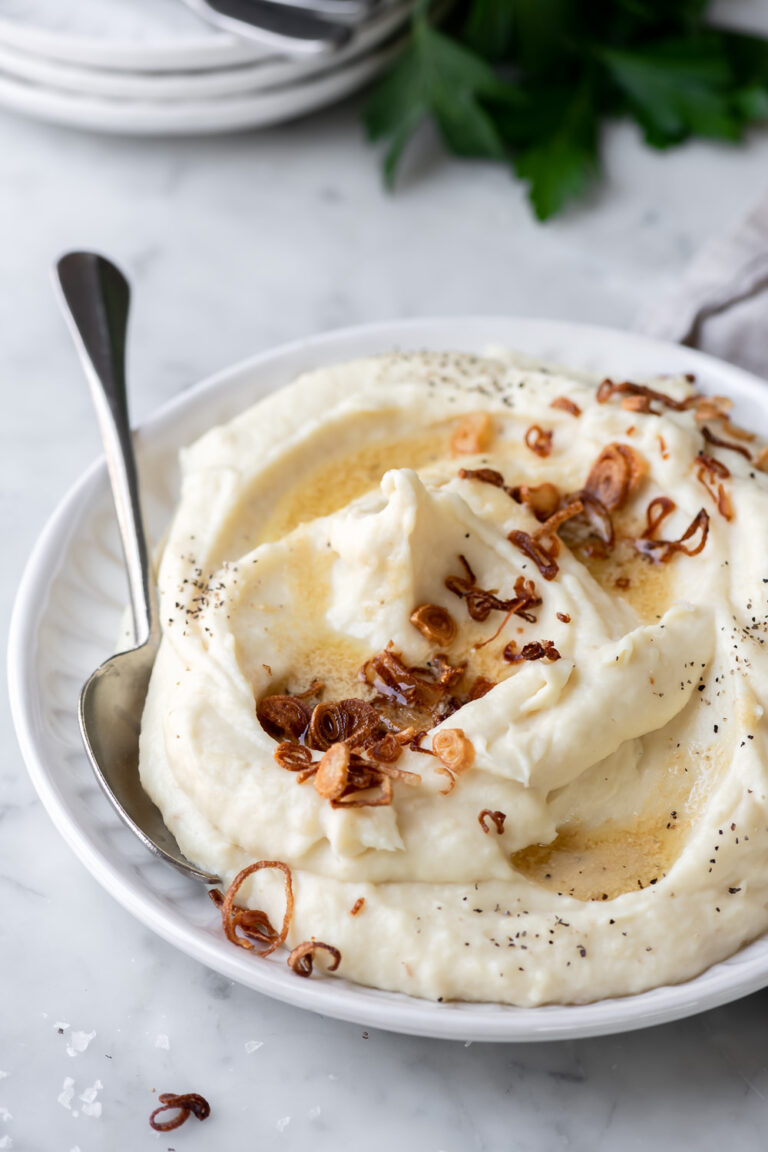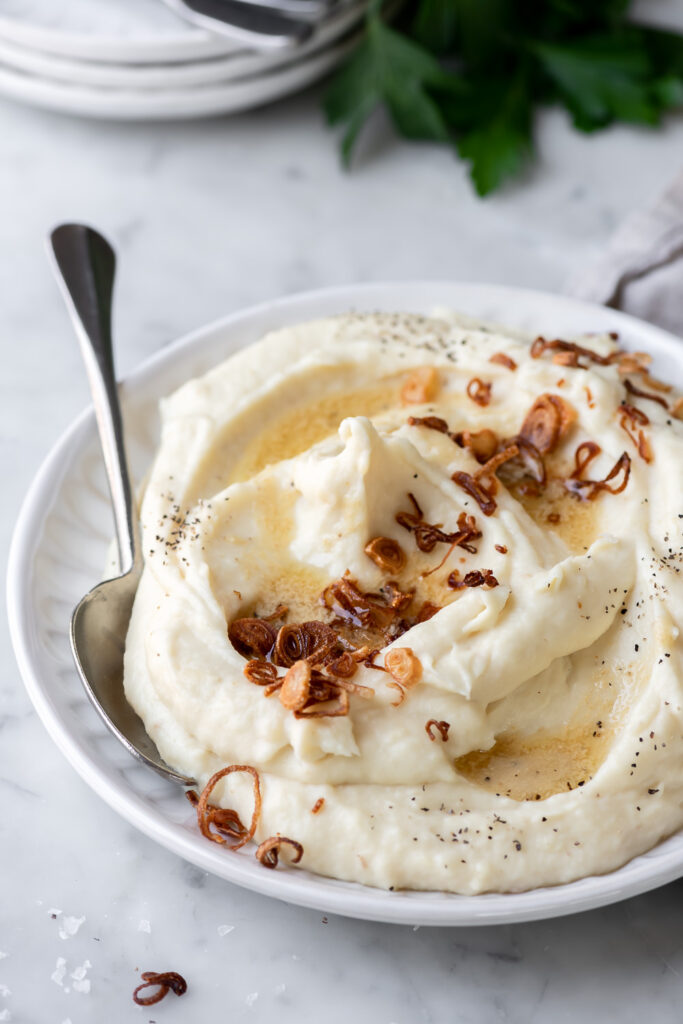 what goes well with parsnip puree?
I love to serve this parsnip puree with a fresh salad and simple roast chicken. It's a sweet mash, so make sure to serve it with something bright and acidic (vinaigrettes), or salty (roast meat) to balance out the flavors.
It goes so well with this kale brussels sprout salad and my favorite winter salad of all time: this crisp and juicy radicchio salad with oranges.
It's a great side dish for Thanksgiving and Christmas, as a delicious alternative to sweet potatoes! Don't forget dessert-- serve it with this pecan pie without corn syrup for the perfect treat.
wine pairings:
A wine pairing here is extra tricky, considering how sweet and intensely flavored parsnips are. The challenge is finding a wine that is sweeter than the parsnips, or has the perception of sweetness through rich texture and intense flavors. Otherwise the combination will strip the wine of its balance. For example, pairing of sweet parsnips with a tannic red wine will make the wine taste harsh and sour.
Try an off-dry, flavor intense white wine such as Riesling or Chenin Blanc. Or a richly texture white wine, not necessarily sweet, that can round out the pairing, such as Viognier (love Northern Rhone here) or even Semillon from Bordeaux.
A light, bright, soft red wine could also work, just stay away from oak aging and high tannins. Pinor Noir, Gamay, or Merlot could all be delicious!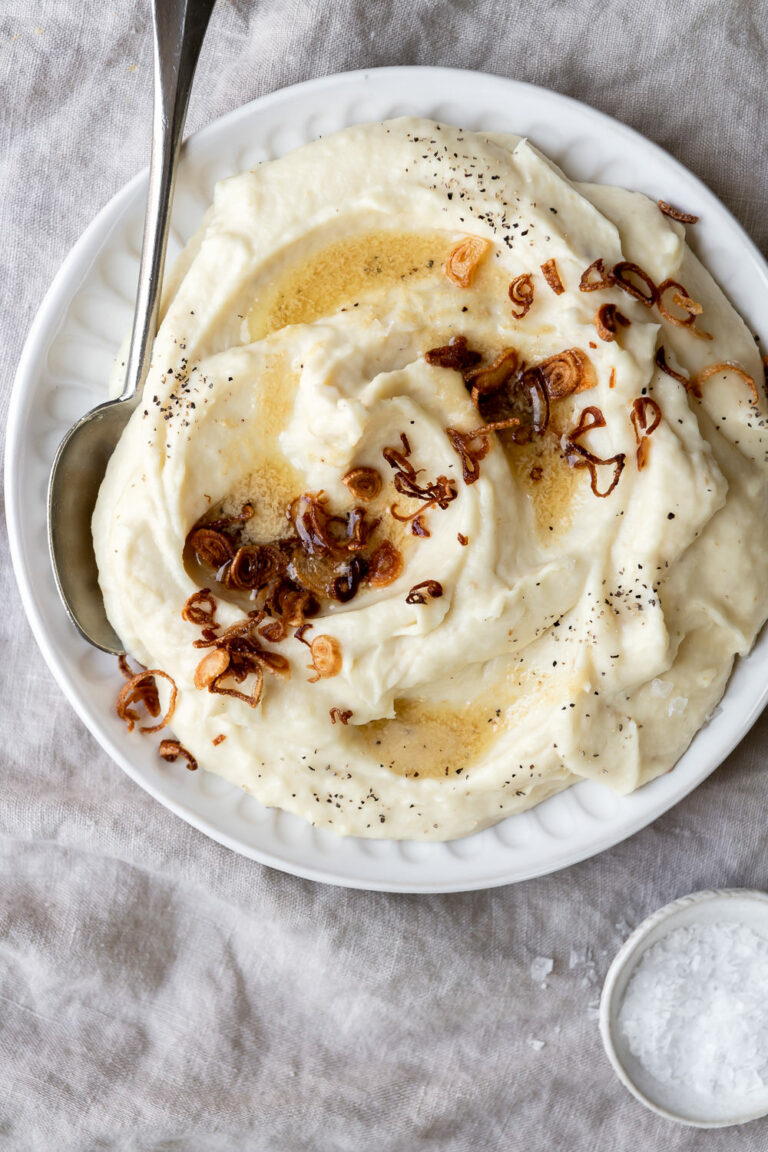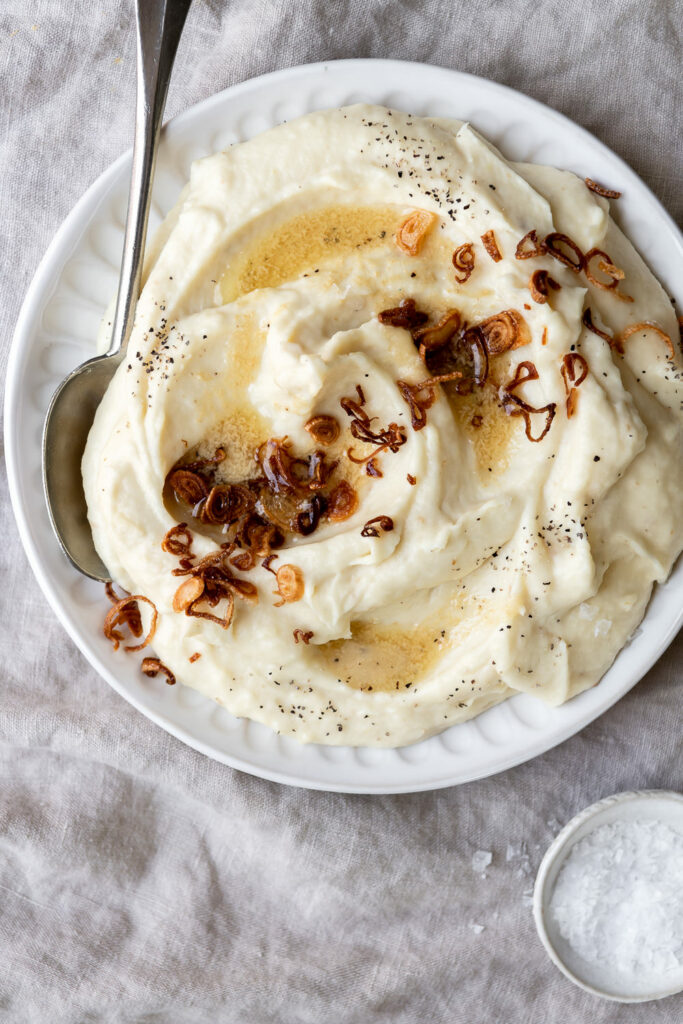 more mash recipes to try:
creamy mashed rutabaga with olive oil, lemon and herbs
Print
brown butter parsnip puree
This silky smooth parsnip puree is a decadent side dish, complete with nutty brown butter and crispy fried shallots. A perfect holiday side!
Author:
Prep Time:

10 minutes

Cook Time:

20 minutes

Total Time:

30 minutes

Yield:

4 ½ cups

Category:

Side

Method:

Blended

Cuisine:

American

Diet:

Gluten Free
Ingredients
fried shallots:
2

shallots
vegetable oil, for frying (about ½ cup)
fine salt
parsnip puree: 
2 ½

lbs parsnips (about

8

medium), peeled, cored and chopped

¼ cup

(

½

stick) salted butter

2 tsp

dijon mustard

2 tsp

lemon juice

¾ cup

heavy cream

½ cup

whole milk, plus more if needed

¾ tsp

kosher salt, plus more to taste
freshly ground black pepper
Instructions
fried shallots:
Place shallots in a small pot and cover with vegetable oil. Cook over medium heat, stirring occasionally to keep the rings separate, until golden brown, 15- 20 minutes. Lower the heat, if needed, to maintain a steady but gentle simmer.
Use a slotted spoon to transfer fried shallots to a paper towel-lined plate. Sprinkle with kosher salt and let cool.
parsnip puree: 
Fill a large pot with 1-inch of water and bring to a simmer. Load steamer basket with parsnips and place in pot (water shouldn't touch the bottom of the basket). Cover and cook for about 15 minutes, or until very tender.
Meanwhile, melt butter in a small skillet over medium-low heat. Cook, stirring frequently, until butter begins to bubble then brown and smell nutty, about 5 minutes. Transfer to a bowl. Whisk in dijon, lemon juice and 1 tsp water. Add another teaspoon of water, if needed, to bring sauce together. Set aside.
Carefully transfer parsnips to a food processor or blender. Add heavy cream, milk, salt and black pepper and puree until smooth. Transfer to a large serving dish. Use the back of a spoon to create swirls in the surface of the puree then drizzle with brown butter dijon sauce. Top with fried shallots and serve.
Notes
Nutritional information is only an estimate. The accuracy of the nutritional information for any recipe on this site is not guaranteed.
Nutrition
Serving Size:

½ cup puree

Calories:

211

Sugar:

7.3g

Sodium:

199mg

Fat:

13g

Saturated Fat:

8.1g

Unsaturated Fat:

4g

Trans Fat:

0.5g

Carbohydrates:

23g

Fiber:

4.6g

Protein:

2.8g

Cholesterol:

37mg