This pumpkin creme brulee is an elegant Fall twist on the classic custard. It's an ultra-smooth, spiced custard that's topped with a glassy layer of caramelized sugar. Swap out your traditional pumpkin pie for this delicious pumpkin creme brulee-- your friends and family will be obsessed.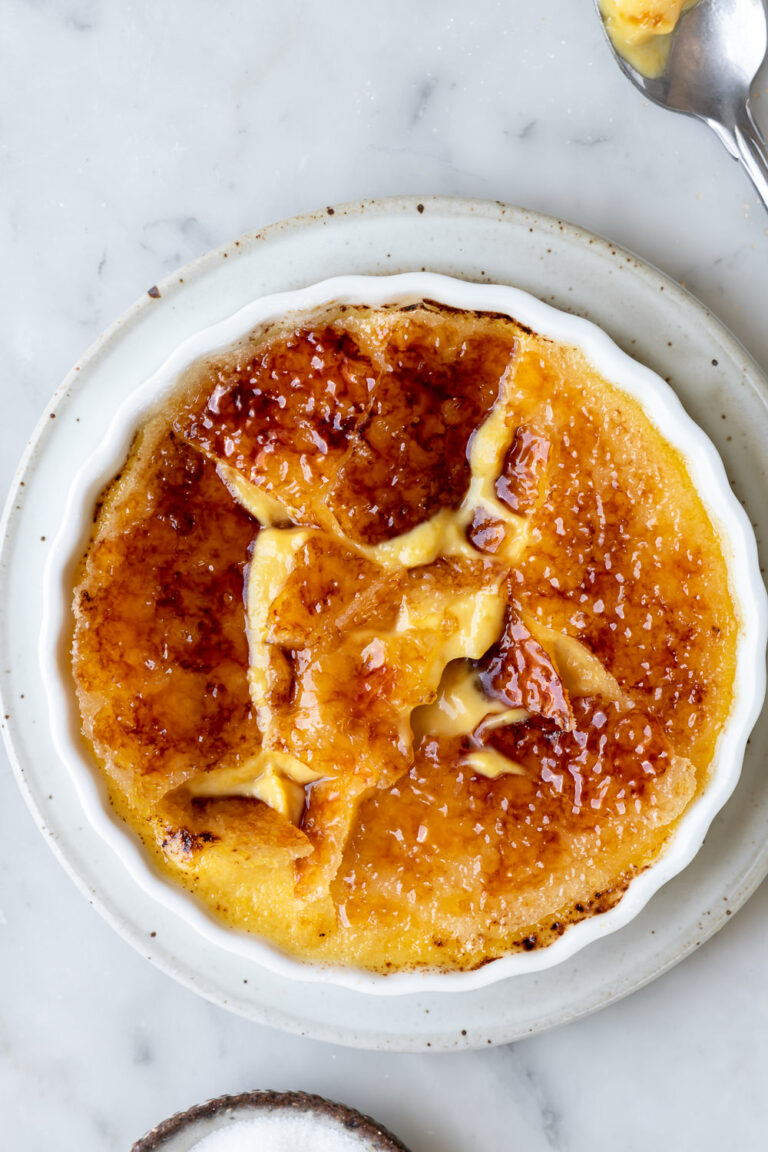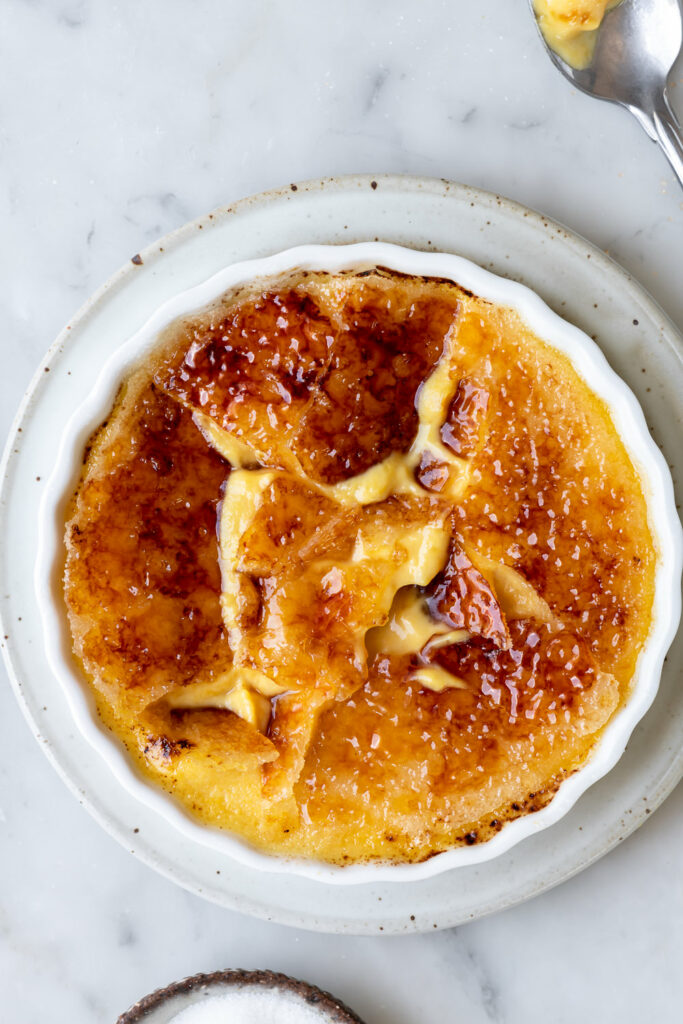 This post may contain affiliate links. As an Amazon Associate, I earn from qualifying purchases.
One of the beauties of creme brulee is texture. The contrast of velvety smooth, cool custard against the crunchy caramelized sugar is absolute bliss. It's got everything in one perfect bite: rich, creamy, cool, crunchy. 
When developing this pumpkin creme brulee recipe, I wanted to make sure it maintained this silky smooth consistency and stayed true to the best creme brulee. With the first few tests, I used whole ground spices and found introduced an unpleasant gritty texture, which makes sense— they're ground spices!
So I pivoted the technique to infusion. 
We infuse heavy cream will all of the pumpkin spice flavor, but maintain the silky texture that is, arguably, the most important part of creme brulee. It also keeps the flavors slightly muted and more restrained, which is a refreshing change for pumpkin spice!
You might as well call this pumpkin pie creme brulee-- the texture and flavor is like an elevated twist on the classic pumpkin pie. But even better, these creme brulees can be made several days ahead and they're individual servings, which everyone loves!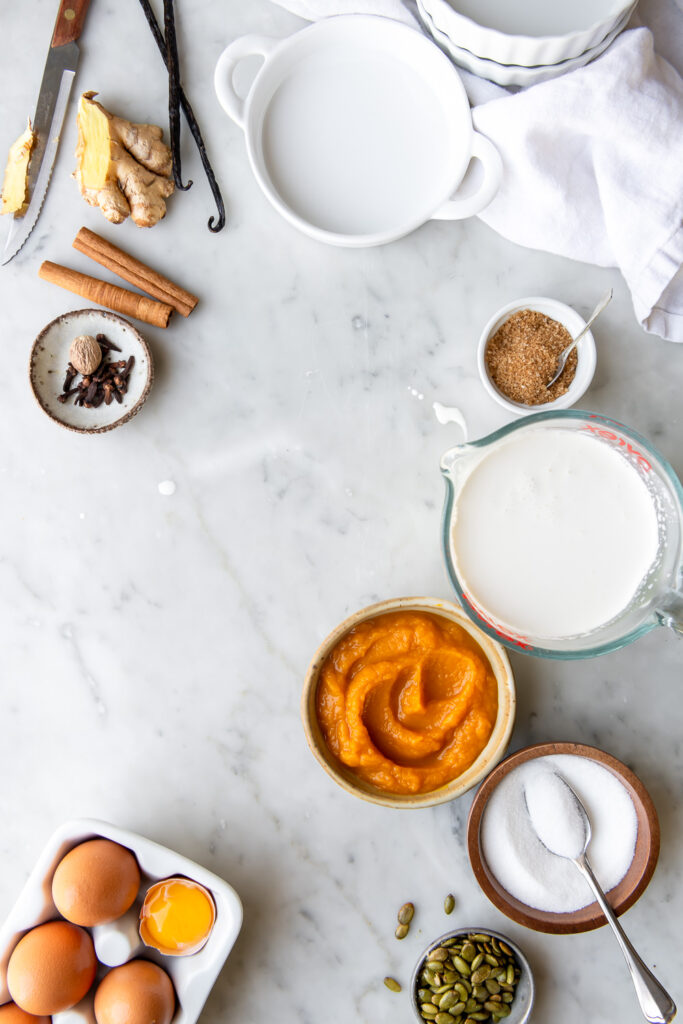 what you need for pumpkin creme brulee:
Heavy cream
Sugar
Cinnamon stick
Whole cloves
Fresh ginger
Eggs
Canned pumpkin
Vanilla
5 6-oz shallow ramekins
how to make pumpkin creme brulee:
Infuse the cream with whole spices and ginger.
Whisk together egg yolks, sugar and salt.
Stir in vanilla and pumpkin.
Strain cooled cream into pumpkin mixture.
Divide custard into ramekins in a large roasting pan.
Make a water bath: pour boiling water halfway up the sides of the ramekin.
Bake until just set, about 35 minutes.
Let cool, then chill at least 3 hours.
When ready to eat: sprinkle with sugar, caramelize with a torch and enjoy immediately!
How to caramelize sugar on creme brulee
Make sure your creme brulee has been thoroughly chilled before caramelizing the sugar— we don't want to overheat and liquefy the custard when melting the sugar.
Sprinkle an even layer of sugar over the entire surface (about 1 tablespoon)
Turn on your kitchen torch and place it 2- 3 inches away from the surface of the sugar
Keep moving it over the surface, to heat, melt and caramelize the sugar without burning any one spot. Move the flame further away if the sugar is burning, and closer if it isn't melting. Always keep the torch moving to prevent hot spots.
Let cool a few minutes so the sugar will get crunchy. Serve right away.
Caramelize the sugar just before serving, otherwise it will start to soften and dissolve into a sticky, melty mess.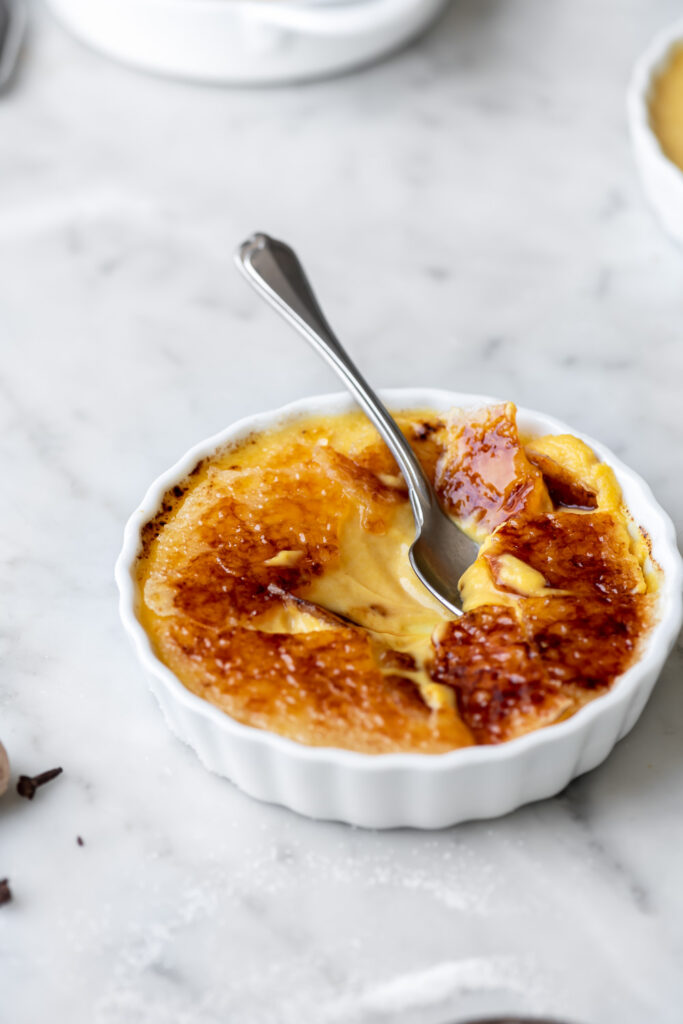 why this is the best pumpkin creme brulee!
Infused cream: This has the biggest impact of great creme brulee. It's so important to infuse the cream with spices and flavors, rather than adding them directly to the cream. The result is an ultra-silky pumpkin creme brulee, complete with all of the flavors. Let the cream sit at least 15 minutes to fully infuse, then strain it directly into the egg yolk mixture. Because the cream will be mostly cool at this point, there's no need to temper the eggs. But it does increase the oven time beyond what you normally expect with creme brûlée.
Water bath: The water bath is really important for slow and even cooking. This is how we get that velvety smooth, creamy texture! If you're worried about transporting the tray to the oven and splashing water, you can always place the custards in the hot oven first and then carefully pour in the water. You've got this!
Egg yolks: extra egg yolks add richness and velvety smooth texture!
Crunchy sugar: true to all creme brulee, we melt and caramelize sugar on top for an extra layer of caramel flavor. Shattering that glassy layer of sugar is the best part!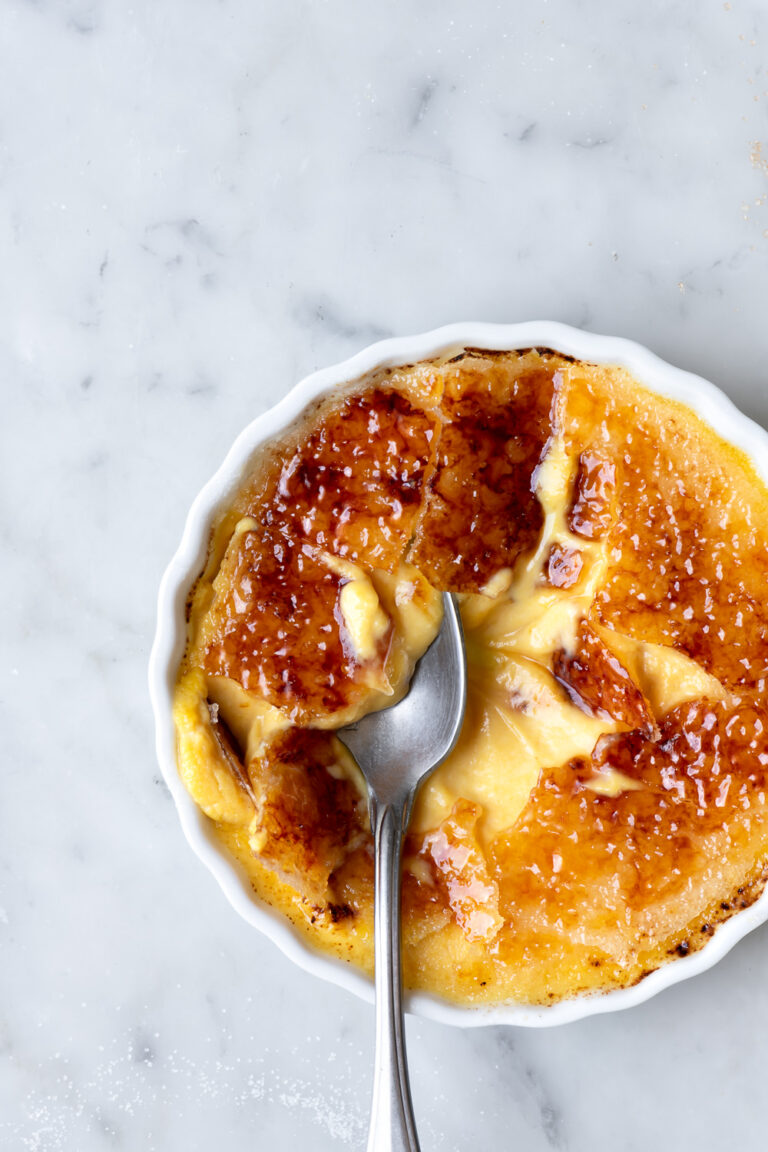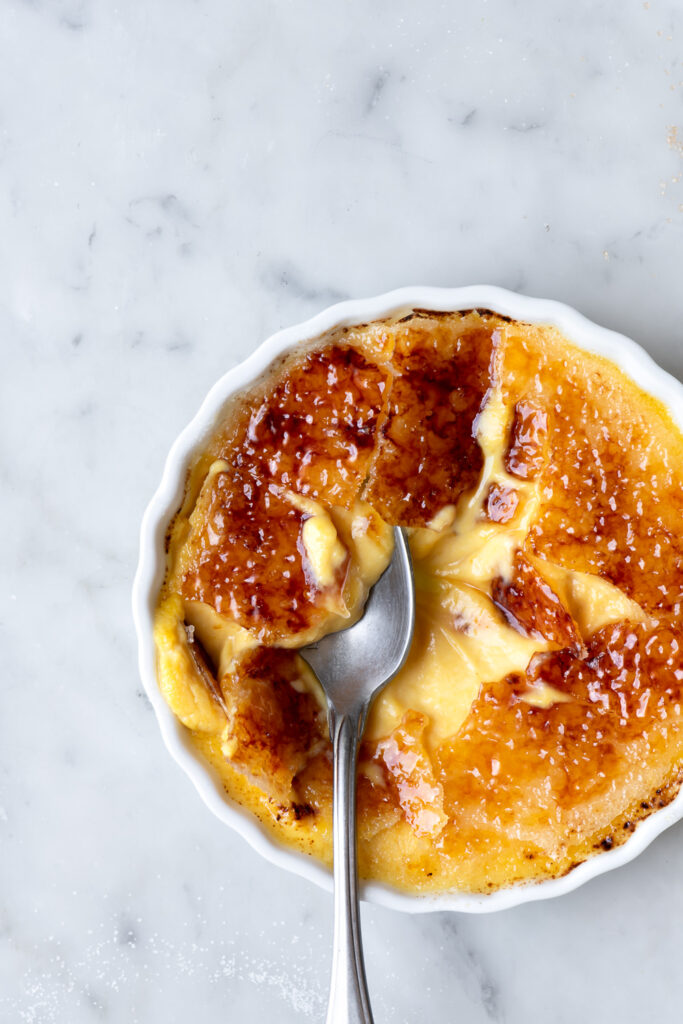 pumpkin creme brulee wine pairing:
Pairing desserts with wines is so much fun, and we definitely don't do it often enough. Pumpkin creme brulee is a perfect opportunity to break out your dessert wines— or stock up on some new ones!
There are a few key elements about pumpkin creme brulee we want to think about, in regards to wine pairings:
Creamy texture: let's find a wine with an opulent texture to mirror this creaminess.
Sweet: the sweet custard and crunchy sugar all mean one thing— this is a sweet dessert. For a balanced dessert wine pairing, we need to find a wine that is sweeter than the dessert. Otherwise the balance of the wine can be thrown off by all the sugar in the dessert, which will make it taste unpleasantly sour (think of your classic morning pairing of sweet toothpaste and orange juice).
Intense flavor: this pumpkin creme brulee is packed with flavors of ginger, cinnamon, cloves and pumpkin. It's maxed out on flavor intensity (specifically baking spices)— we need a wine that is also intensely flavored, or it will be completely drowned out by the dessert. If we find a wine with notes of baking spice flavors, even better!
Dessert wines to try:
Gewurtztraminer Seleción de Grains Noble (Alsace, France): oily textured, complex dessert wines with flavors of ripe lychee, honey, cinnamon, clove and nutmeg.
Malmsey Madeira: rich, sweet wine with flavors of caramel, orange and roasted nuts.
Pedro Ximénez sherry: dark, syrupy sweet fortified wine with flavors of brown sugar, dried fruit, caramel and coffee.
Banyuls Ambré Vin Doux Naturels (Roussillon, France): rich fortified wine with flavors of baked fruit, dried citrus and sweet spice.
more fall dessert recipes to try!
brown butter cranberry clafoutis
baked apple halves with oat streusel
ginger scones with dark chocolate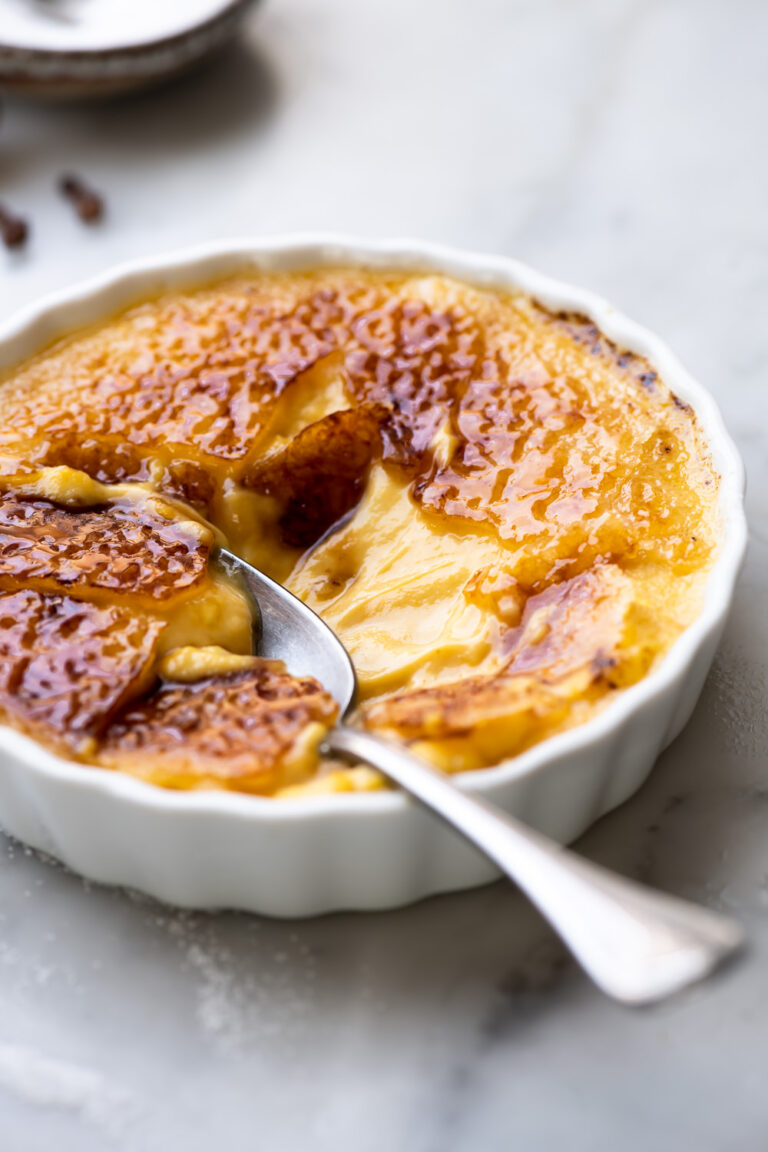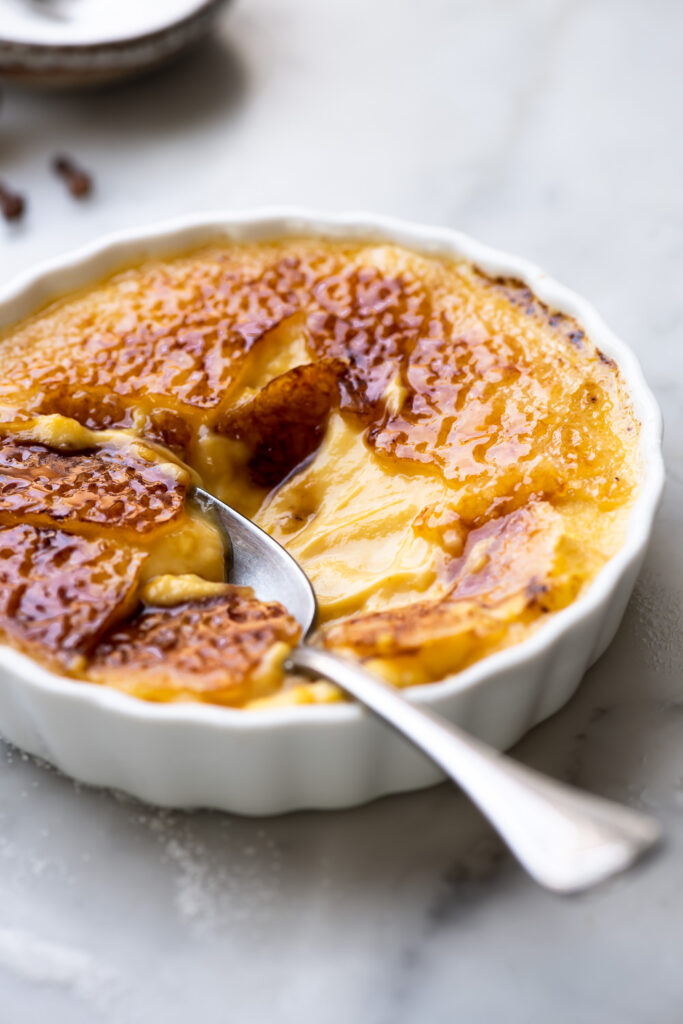 Print
pumpkin crème brûlée
This pumpkin crème brûlée is an elegant Fall dessert. It's a pumpkin spiced custard that's topped with a glassy layer of caramelized sugar!
Author:
Prep Time:

15 minutes

Cook Time:

45 minutes

Total Time:

1 hour

Yield:

5 6-oz ramekins

Category:

Dessert

Method:

Baked

Cuisine:

American

Diet:

Gluten Free
Ingredients
2 cups

heavy cream

1

cinnamon stick, broken into pieces

10

cloves

1

3-inch piece ginger, peeled and roughly chopped

6

egg yolks

⅓ cup

sugar, plus more for topping

¼ tsp

kosher salt

¾ cup

canned pumpkin

1 ½ tsp

vanilla extract
Instructions
Preheat oven to 300°F.
Heat cream, cinnamon stick, cloves and ginger in a small saucepan over medium-low heat. Cook until bubbles just begin to form along the edges, then turn off heat. Steep for 15- 20 minutes, stirring once or twice.
Combine egg yolks, sugar and salt in a medium bowl and whisk until lightened. Stir in pumpkin and vanilla. Strain cooled cream through a fine mesh sieve into a pumpkin mixture. Mix well.
Bring about 3 cups of water to a boil. Place five 6-oz shallow ramekins on a rimmed baking sheet; divide the custard into the ramekins. Fill the baking sheet with boiling water halfway up the sides of the ramekins and carefully transfer to the oven. Bake until the custards are just set, about 35- 45 minutes (time will vary depending on how warm your cream was). Remove from the water bath and let cool to room temperature. Refrigerate at least 3 hours, or up to 2 days.
When ready to serve, sprinkle a tablespoon of sugar over the top of each custard. Caramelize the sugar with a blow torch or under a gas broiler. Serve within an hour (any longer and the crunchy sugar will start to dissolve).
Notes
Nutritional information is only an estimate. The accuracy of the nutritional information for any recipe on this site is not guaranteed.
Nutrition
Serving Size:

1 5-oz ramekin

Calories:

505

Sugar:

30g

Sodium:

101mg

Fat:

40g

Saturated Fat:

24g

Unsaturated Fat:

13.4g

Trans Fat:

1.2g

Carbohydrates:

32g

Fiber:

1.1g

Protein:

6.3g

Cholesterol:

329mg
Keywords: pumpkin creme brulee