This creamy corn soup recipe is filled with the flavor of fresh summer corn, sweet onions and cream. We add a yukon gold potato for a buttery texture and leftover corn cobs to boost the flavor. To finish the soup, we garnish it with crunchy raw corn and spicy chorizo crumbles for a delicious combination of sweet and spicy.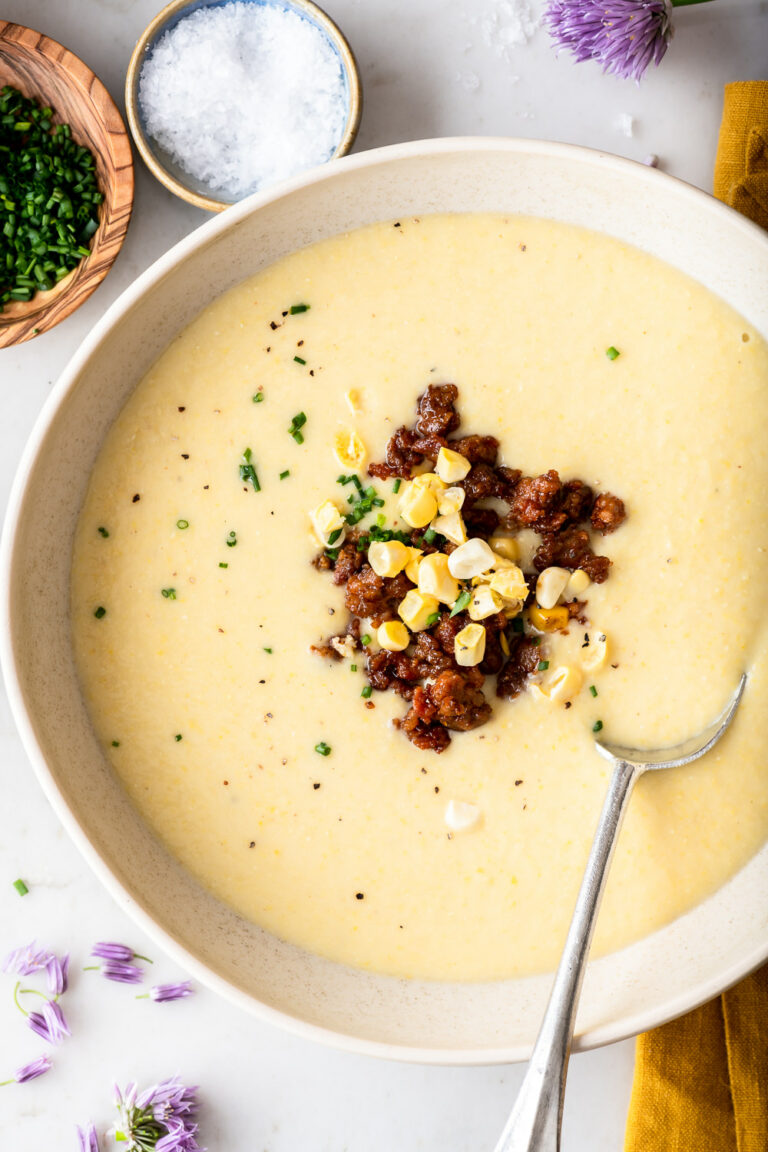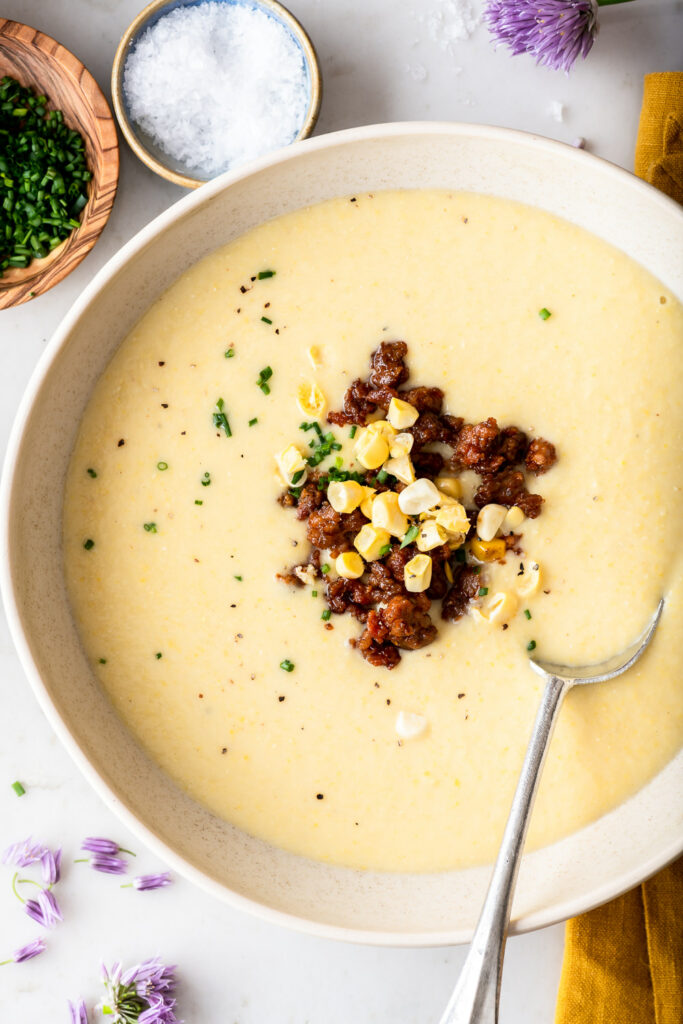 what makes this the best corn soup?
Delicate aromatics: Corn is a soft flavor that can easily get drowned out by too many other things. I developed this corn soup recipe with the goal of really highlighting beautiful, sweet summer corn. The rest of the flavors (sweet onions, a tiny touch of garlic, fresh chives and chorizo) are supporting characters to keep the soup interesting but restrained. You'd think the chorizo would be too much, but in small quantities it's a delicious accent to the corn!
Corn milk: If you've never scraped an "empty" corn cob before, you're in for a treat. There's always so much left over on the cob-- ton of little corn bits and the much prized "corn milk". Both will give the soup a fresh boost of corn flavor and is delightfully resourceful!
Spicy chorizo oil: I love the slow, warm burn that chorizo oil adds to this creamy corn soup. It offsets out the sweet corn and adds a rich, porky flavor. If you want more meat, double the quantity!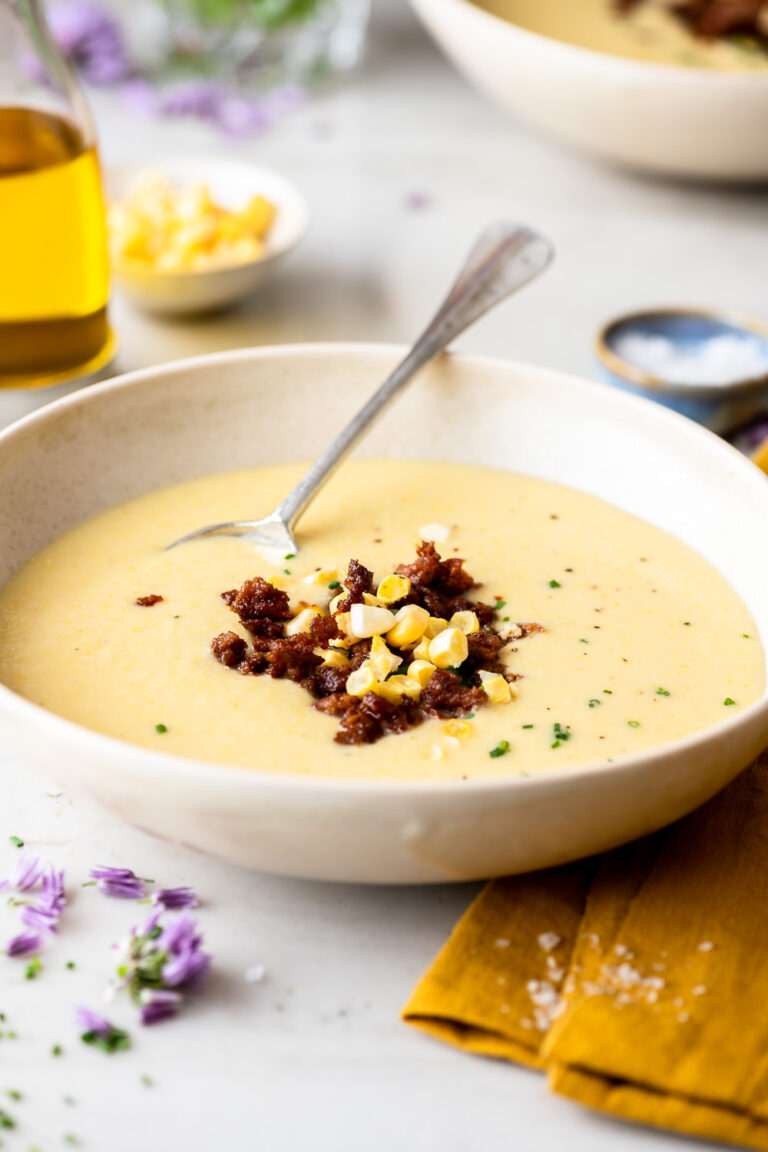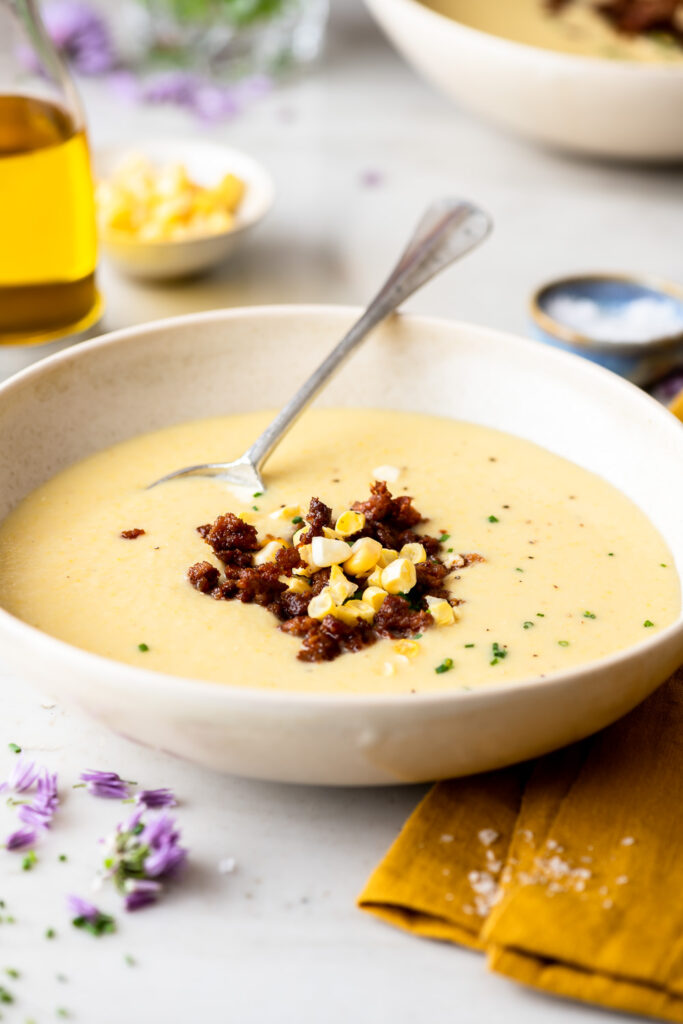 Corn cobs: It's a shame to toss the corn cobs when you're using fresh corn on the cob. There's so much flavor packed in the cob-- it's a key part to a great corn soup. But it's kind of annoying to make a separate corn stock just for soup. The solution? Skip the stock step and toss the cobs in with the soup as it cooks! I find two cobs, broken in half, will add solid flavor yet they don't take up a ton of space in the pot. Depending on the size of your pot, feel free to throw in more cobs. Tip: use your hands to snap the cobs in half and don't try to hack it apart with a chef's knife!
Yukon gold potato: You could use any type of potato here, but I love yukon golds. They have a buttery flavor and dense texture that boosts the body of this corn soup without getting mealy.
what you need to make corn soup
Fresh corn
Onions
Garlic
Potatoes
Chorizo
Chives
Vegetable stock
Heavy cream
Olive oil
Butter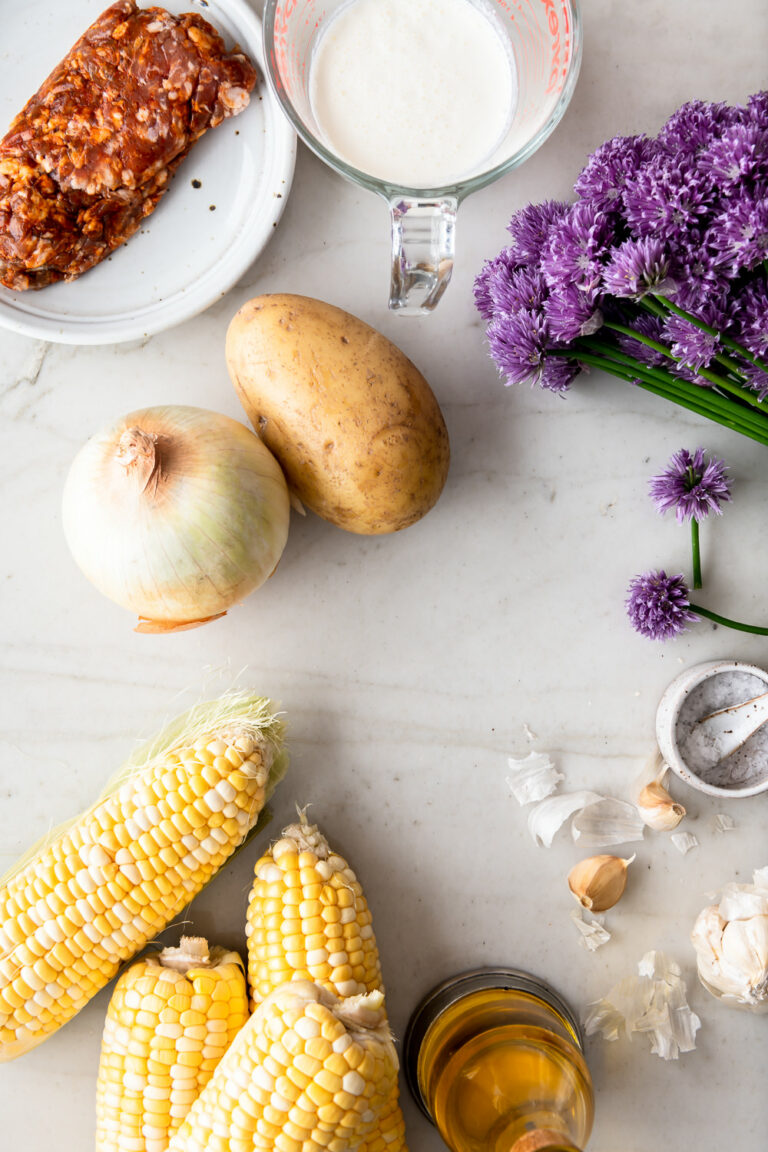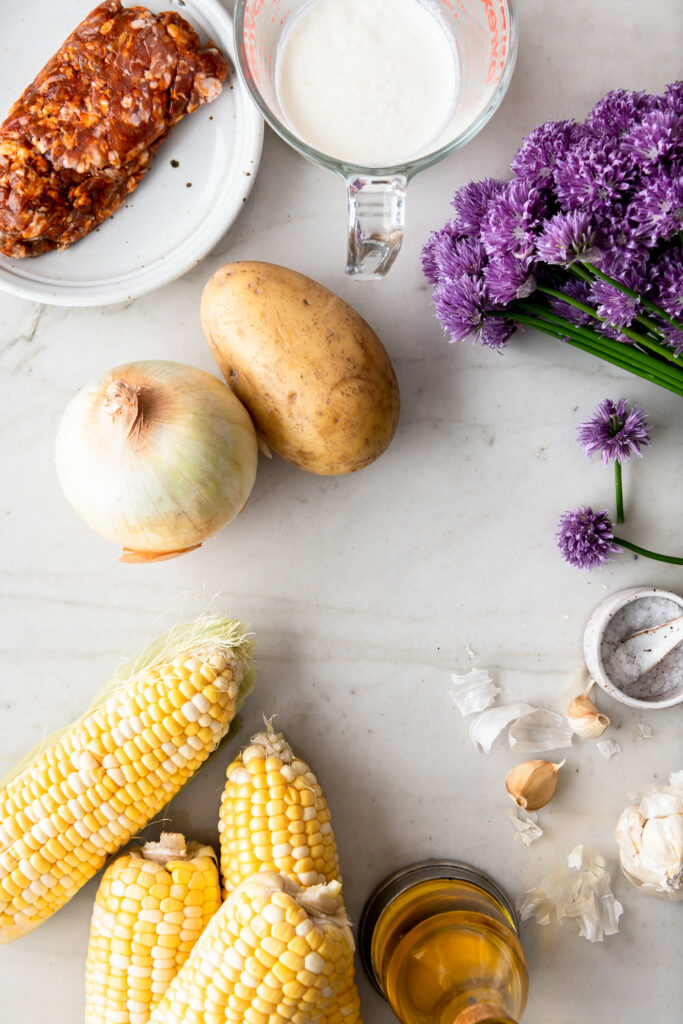 how to make corn soup
Brown chorizo into crumbles, drain and set aside
Sauté onions until very soft
Cut off corn kernels and scrape off corn milk
Add garlic, corn kernels, potatoes, stock and 2 broken corn cobs to onions
Simmer 20 minutes
Discard corn cobs
Blend soup until very smooth and strain through fine mesh sieve
Stir in cream and adjust seasoning
Serve hot, with chorizo crumbles and chives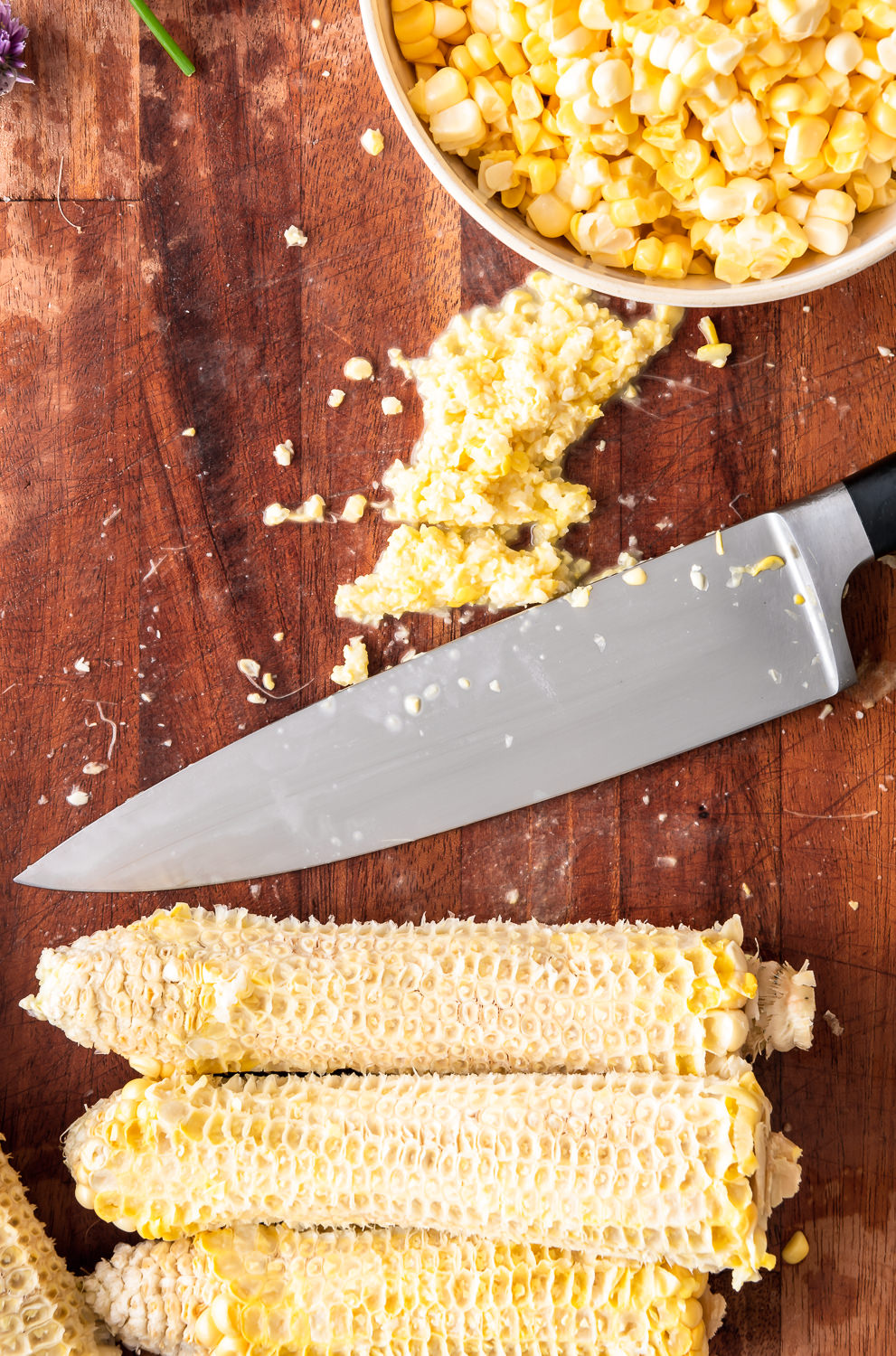 what does corn soup taste like?
This corn soup tastes like fresh summer corn. We slowly sauté sweet onions to amplify the sweet corn flavor and then throw in yukon gold potatoes to give the soup more body. The flavor of fresh corn stays front and center-- sweet, juicy and so summery. Chorizo crumbles add a subtle spice to the background of the corn soup, but it's totally optional! I love to finish the soup with minced chives to play up the fresh summer feel.
creamy corn soup variations:
Serve it cold: I love this soup cold! This chilled corn soup tastes like a summery version of vichyssoise. Sweet, smooth, creamy and full of flavor.
Roasted or grilled corn: Add a smoky flavor by grilling or roasting the corn first. Let it cool, cut off the kernels and proceed with the recipe as written.
Add a roasted poblano or jalapeño: Increase the spice and smoky flavor by roasting a poblano pepper (or a few jalapeños). Char the outside, steam the pepper, peel off the burnt skin and roughly chop the roasted pepper. Add to the soup along with corn and potatoes, and finish the recipe as written.
Swap chorizo for diced ham: Replace chorizo with leftover ham (and throw in a bone with the cobs, if you have one). The corn soup will be sweet, smoky and porky!
Top with roasted chicken: Skip the chorizo and garnish the soup with roasted chicken. Add diced avocado on top for a pop of color and creamy texture.
Make it vegetarian: Omit the chorizo completely.
Make it vegan: Skip the chorizo, use olive oil in place of butter and drop the heavy cream (use more stock to thin, if needed)
Dairy-free: You can also make this corn soup with no milk, cream or butter. Just make sure to blend it up really smooth and pass it through a strainer for an ultra silky consistency. I add cream for extra richness, but it's definitely not necessary. Use olive oil for sauteing the vegetables and your favorite stock to thin to the desired thickness.
how to use frozen corn in this soup:
If you can't get your hands on fresh ears of corn and really want corn soup, don't worry! You can easily use frozen corn in this soup instead.
You can typically assume 1 ear of corn will yield ½ cup of corn kernels.
Simply follow the recipe as written, skipping the corn prep steps and ignoring the addition of corn cobs, and use 4 cups of frozen corn. Save ½ cup for a garnish (thaw in the microwave) and add the remaining 3 ½ cups of frozen corn in Step 4.
more tips for making corn soup:
The cleanest way to cut corn off the cob: Place the cob in the hole of a bundt pan. As you cut down the cob, the kernels will fall into the pan and collect there. No more chasing corn kernels all around the counter! Just be sure to slow down your cut as you near the pan-- it's easy to accidentally damage your knives if you slam against the metal.
Flip your knife and use the blunt edge to scrape off the corn milk, directly into the bundt pan.
If you have a lot of fat leftover from browning the chorizo, save it! I love to warm it up and drizzle it over the soup. The spicy chorizo flavor is magnified and the vibrant oil looks beautiful.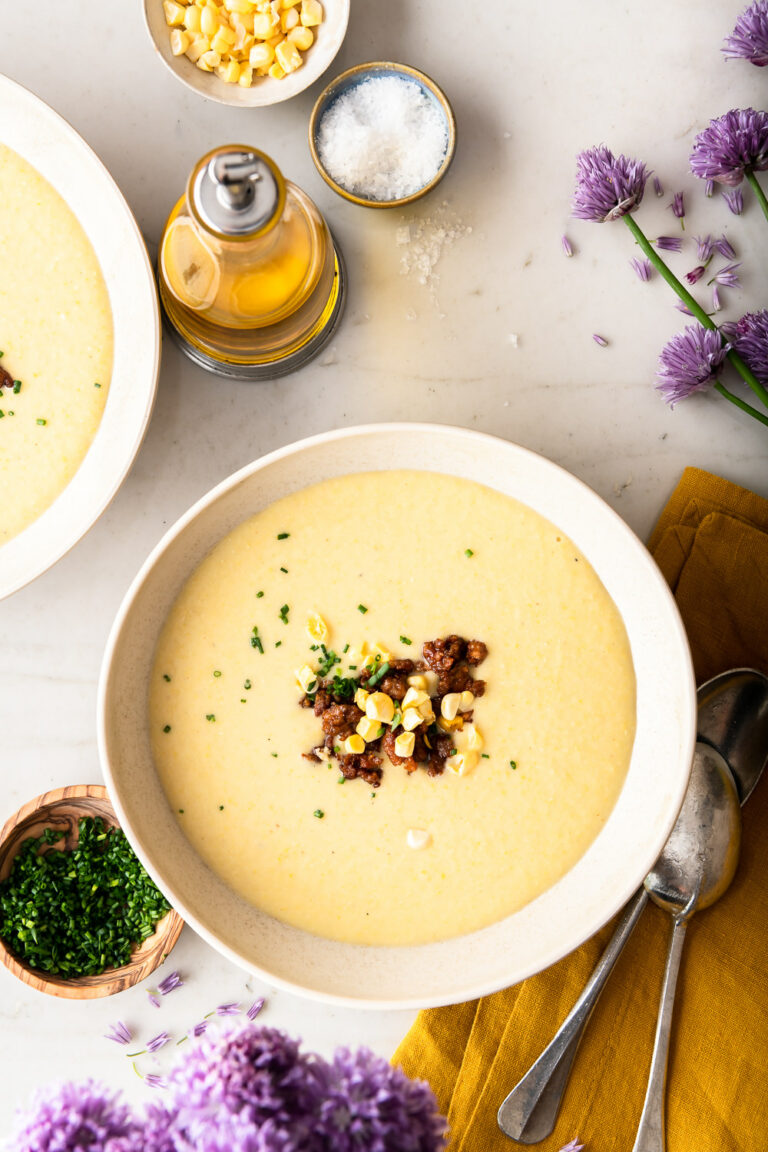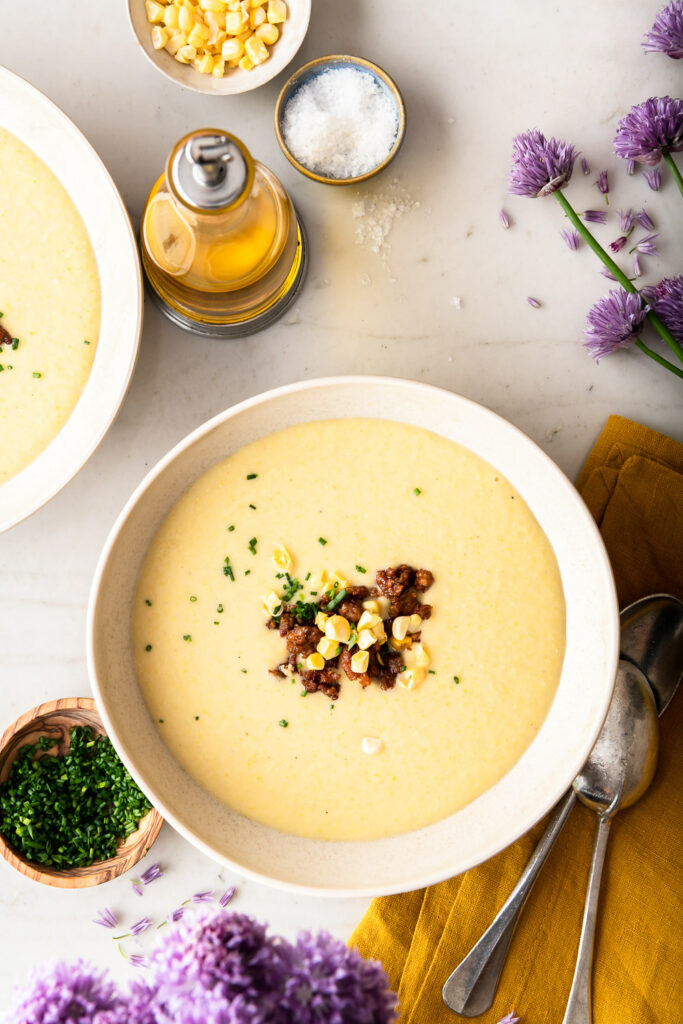 what to serve with corn soup
I love to serve this creamy corn soup with a fresh salad and a decadent cheese platter (with plenty of wine) and call it a day. This summer panzanella with peaches and burrata and our butter lettuce salad are both a perfect match.
To round out the meal, throw a few thick steaks on the grill or sear them in a hot pan on the stove. Simple and so good!
what wine would you serve with a summer corn soup?
This corn soup is so creamy and full of sweet corn flavor, I love to pair it with a buttery Chardonnay. To get a wine with these flavors, they have to go through a secondary fermentation (typically in a barrel) which has the added benefit of creating a luscious mouthfeel.
I like plenty of acid in my white wines, and it's extra important to offset the richness of a creamy soup. Look for cool climate Chardonnays to ensure that the wine will be zippy and fresh, despite the malolactic fermentation (which lowers the acid level).
In my mind, the best wine to serve with this corn soup will have bright acidity, a creamy texture, and a combination of fresh fruit flavors (apple, lemon, pear) and soft lactic notes (butter, yogurt).
To find a Chardonnay that matches up, find some cool climate wine regions (Sonoma Coast, Willamette Valley, Burgundy) and look for the terms "barrel fermented Chardonnay", "malolactic fermentation", "sur lie", "battonage", and avoid those that talk about stainless steel.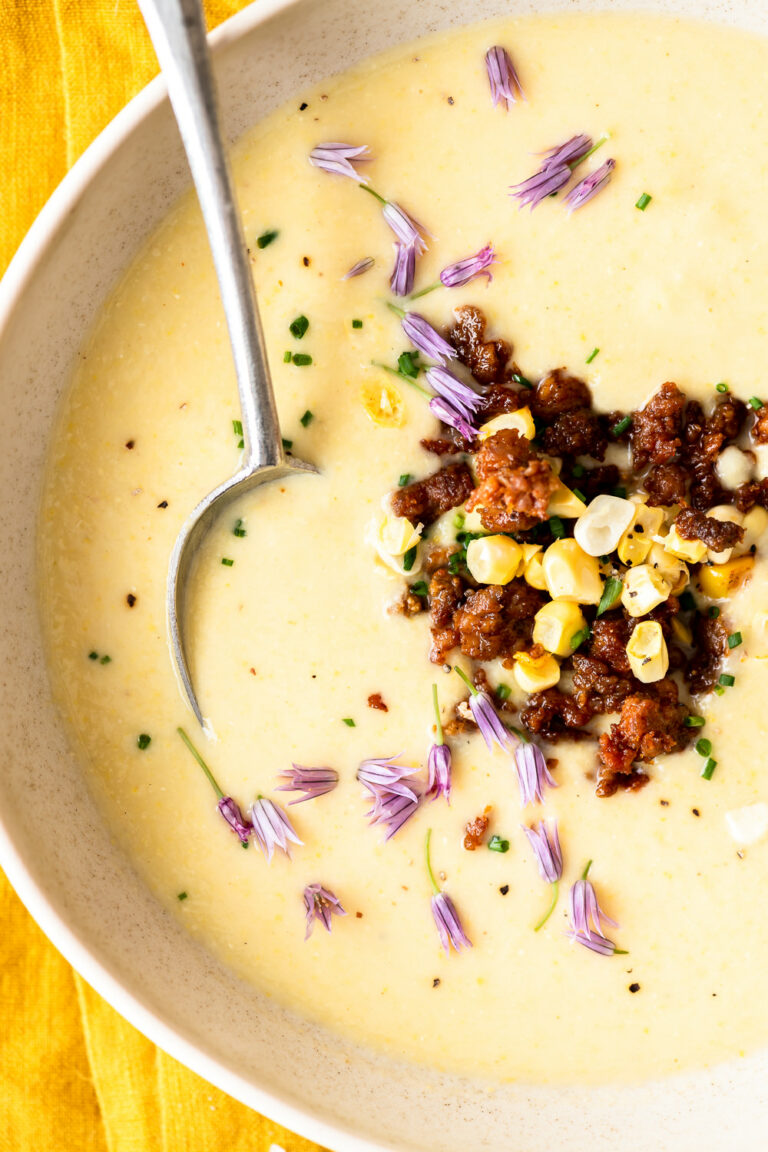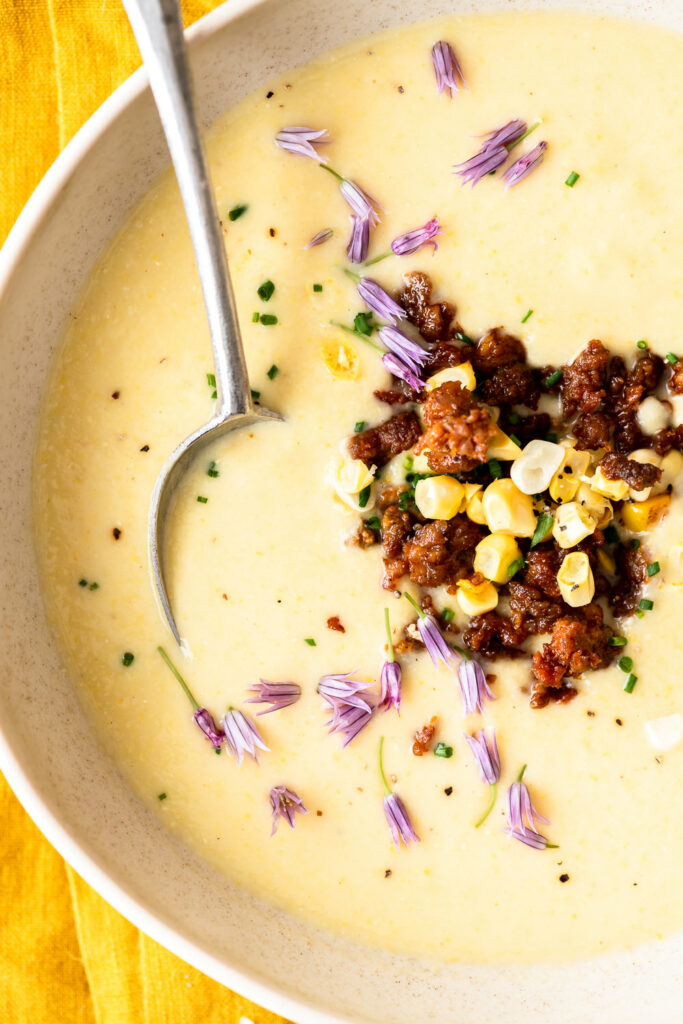 more soup recipes to try!
kabocha squash soup with cauliflower and leeks
creamy lobster chowder with bacon and chives
cabbage soup with farro and onion
spicy miso udon soup with vegetables
Print
sweet corn soup
This creamy corn soup recipe is filled with the flavor of fresh summer corn, sweet onions and cream. Finish with crunchy raw corn and salty chorizo crumbles for a delicious combination of sweet and spicy.
Author:
Prep Time:

15 minutes

Cook Time:

45 minutes

Total Time:

1 hour

Yield:

6

Category:

Soup

Method:

Blended

Cuisine:

American

Diet:

Gluten Free
Ingredients
1 tbsp

olive oil

4 oz

fresh chorizo 

2 tbsp

unsalted butter

1

large sweet onion, chopped

1

garlic clove, minced
Kosher salt
Freshly ground black pepper

8

ears fresh corn, husked

2

medium yukon gold potatoes (about

12 oz

), peeled and cubed

5 cups

low-sodium vegetable stock, plus more if needed to thin

½ cup

heavy cream

1 tbsp

fresh chives, for garnish
Instructions
Heat olive oil in a large pot over medium heat. Add chorizo and cook, breaking up into bite sized crumbles, until cooked through and crispy, about 5 minutes. Use a slotted spoon to transfer chorizo to a paper towel-lined plate to drain.
Pour off all but 1 tablespoon chorizo oil and add butter. Once melted, add onions and cook, stirring every so often, until very soft, 12- 15 minutes.
Meanwhile, use a sharp knife to cut corn kernels off the cobs and transfer to a large bowl. Use the back of the knife to scrape off the remaining corn bits and corn "milk" from the cob; add to the bowl. Break 2 of the cobs in half and discard the rest.
When the onions have softened, stir in garlic and cook for 30 seconds, until fragrant. Add all but ½ cup of corn, reserved corn cobs, potatoes and stock and season with salt and pepper. Bring to a boil, reduce to a gentle simmer and cook for 15- 20 minutes, until potatoes are very tender. Discard the cobs.
Working in batches if necessary, puree the soup in a blender until very smooth. Pass through a fine mesh sieve into a clean pot; discard solids. Stir in heavy cream and adjust seasoning. Add more stock, if needed, to thin. 
To serve, ladle soup into bowls and top with chives, reserved corn kernels and chorizo crumbles.
Notes
Nutritional information is only an estimate. The accuracy of the nutritional information for any recipe on this site is not guaranteed.
Nutrition
Serving Size:

1

Calories:

391

Sugar:

9.9g

Sodium:

806mg

Fat:

22g

Saturated Fat:

10g

Unsaturated Fat:

10.4g

Trans Fat:

0.3g

Carbohydrates:

41g

Fiber:

4.3g

Protein:

11g

Cholesterol:

49mg