This miso udon soup is made with a spicy miso broth, sauteed mushrooms, baby bok choy and chewy udon noodles. Top with a soft poached egg for a complete meal!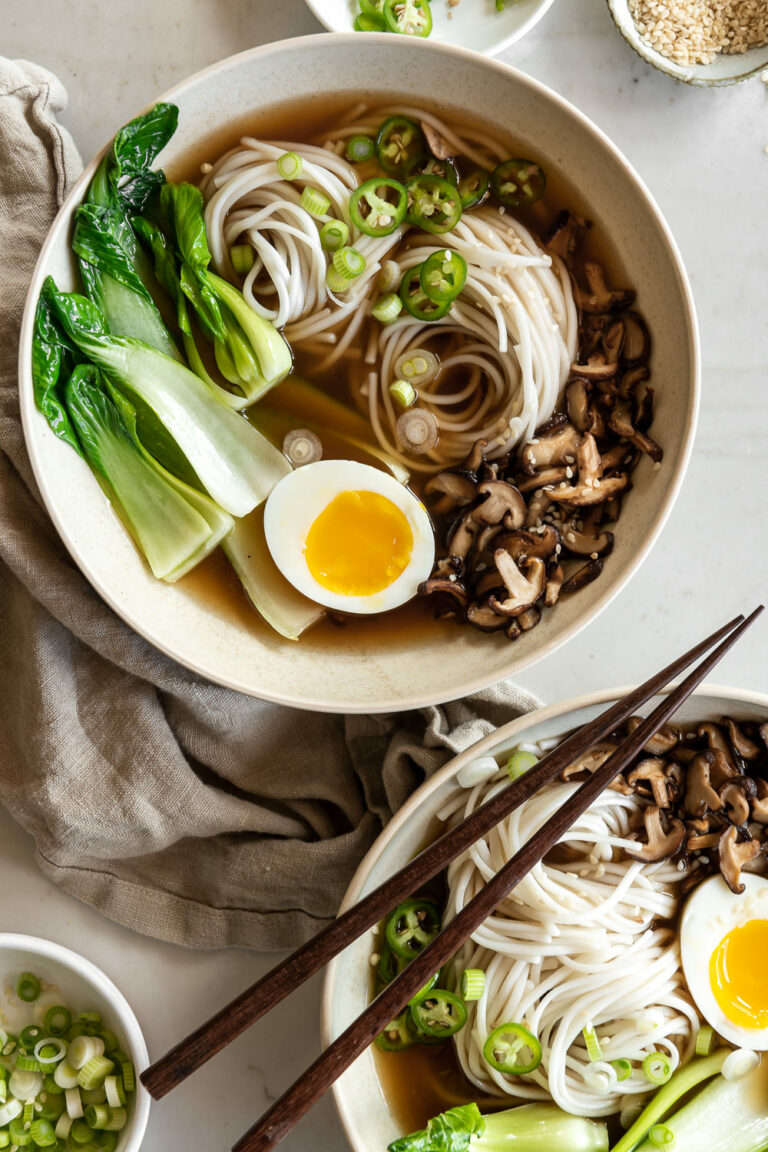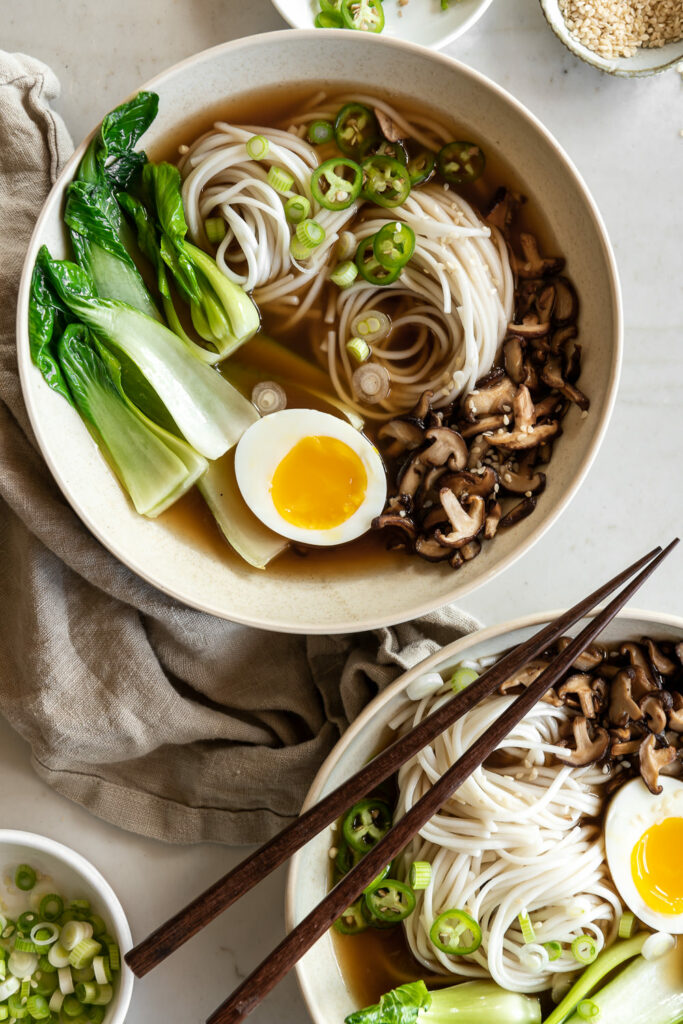 By the end of winter, I really start to crave big bowls of spicy broth and a lot of vegetables. The allure of fancy dinners and rich desserts has worn off. The holiday glow is long past, but spring isn't quite here. I search for lighter flavors and simpler meals. And for me, a hit of spice rounds out all the edges and keeps our food interesting.
I make this miso udon soup with traditional kombu, then I toss in non-traditional elements-- like a serrano pepper-- for a little more flavor and fun. Depending on how the week is going, I may add a few extra handfuls of vegetables (I love the crunch of fresh bean sprouts here!) or stir in a big spoonful of chili oil.
The real nugget is the spicy miso broth. It's delicate yet complex. A little briny, a little sweet, filled with umami. Go with it. The rest of the soup is up to you.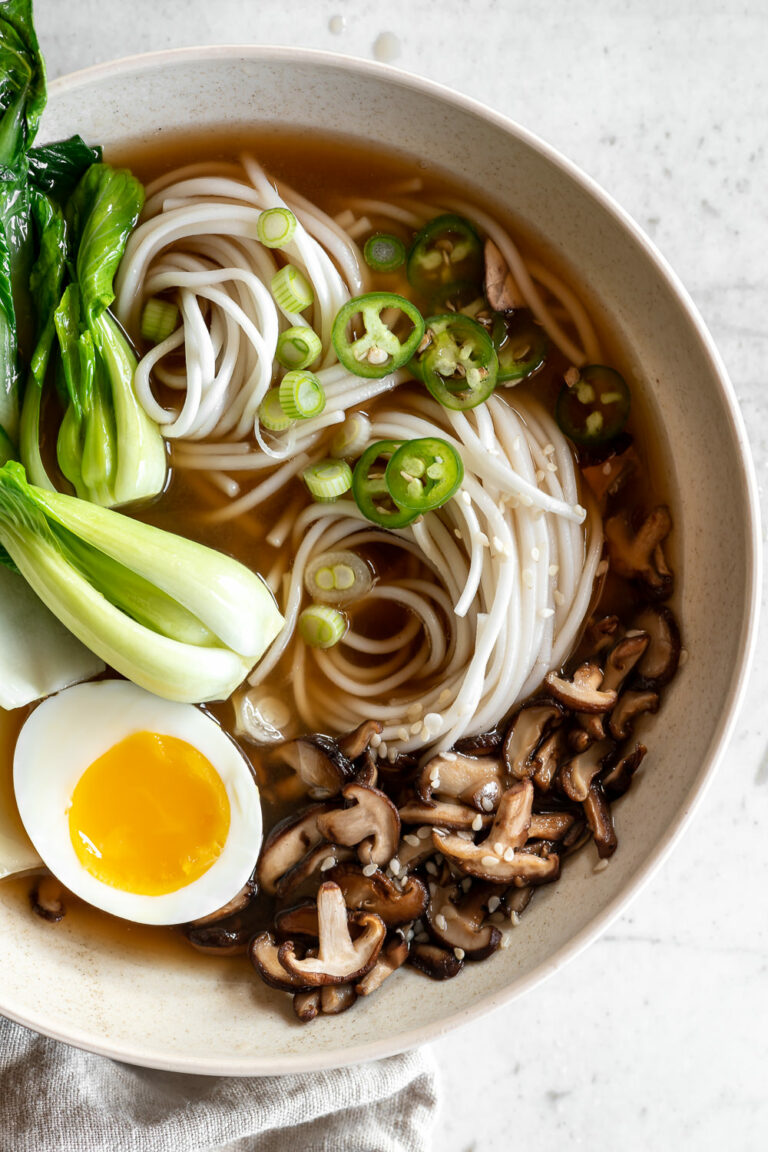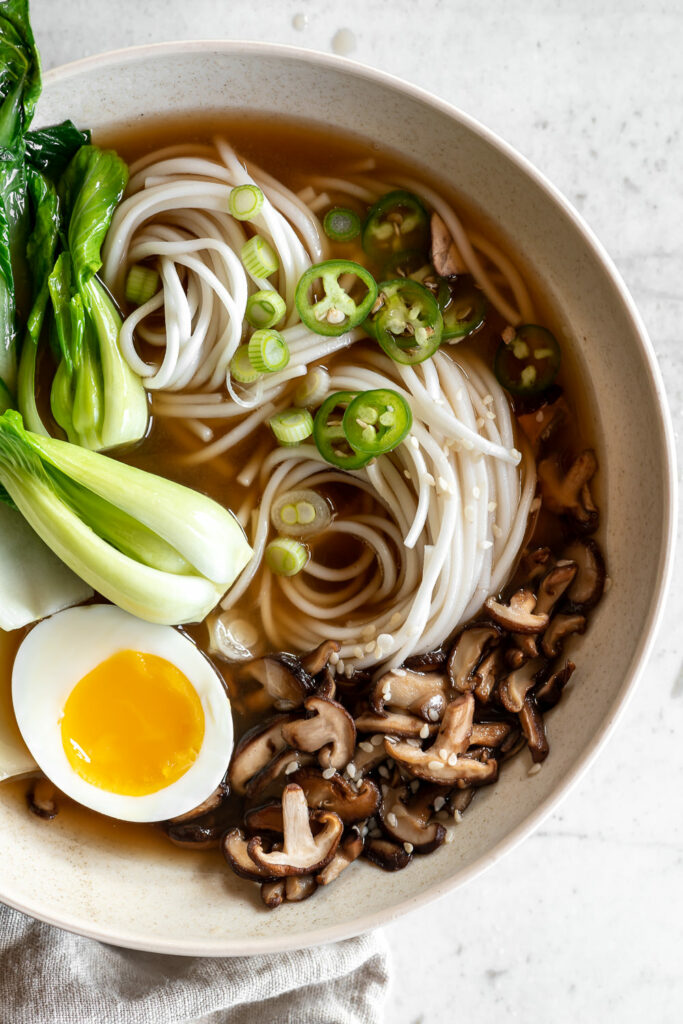 how is miso udon soup made?
This miso udon soup is made with a spicy miso broth, mushrooms, bok choy and chewy udon noodles.
The broth starts out with kombu, dried shiitake mushrooms, a serrano pepper and a bit of chicken stock.
Once it has steeped, pull out and discard the kombu.
Then stir in white miso paste, soy sauce and a splash of mirin for depth of flavor.
Saute fresh shiitake mushrooms and bok choy in toasted sesame oil, then add them to the broth.
Divide cooked udon noodles into bowls and top with the broth and vegetables.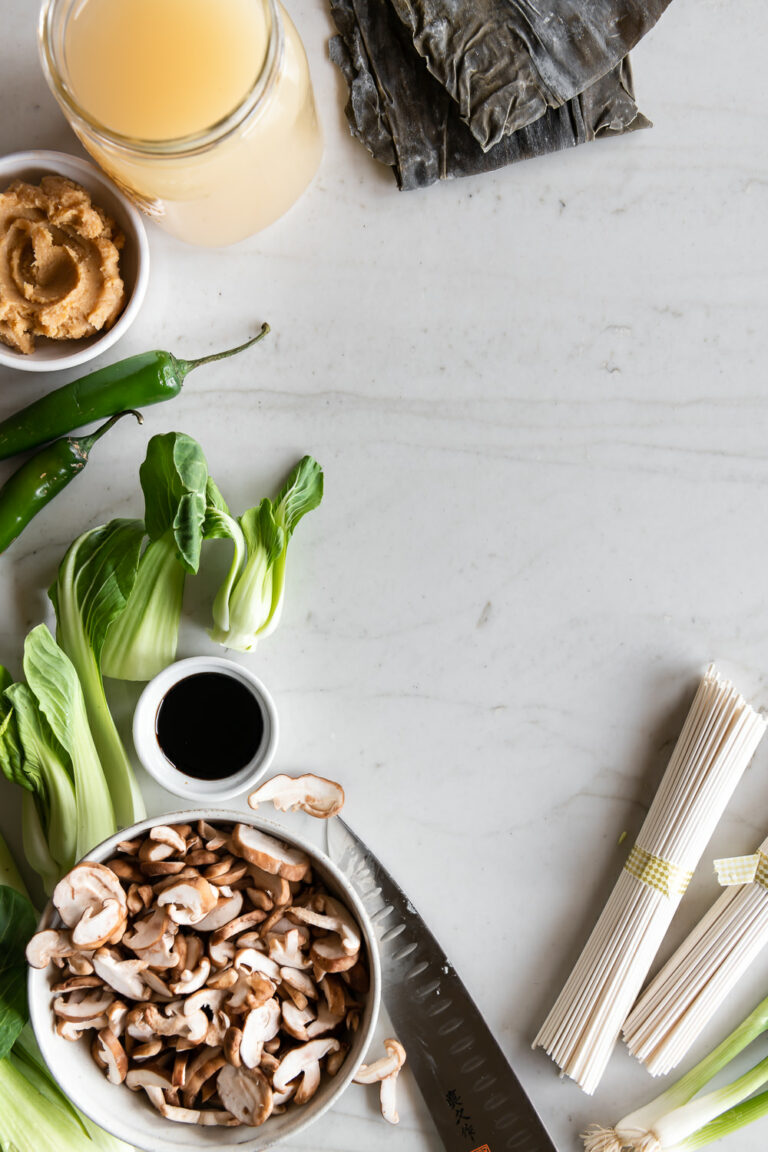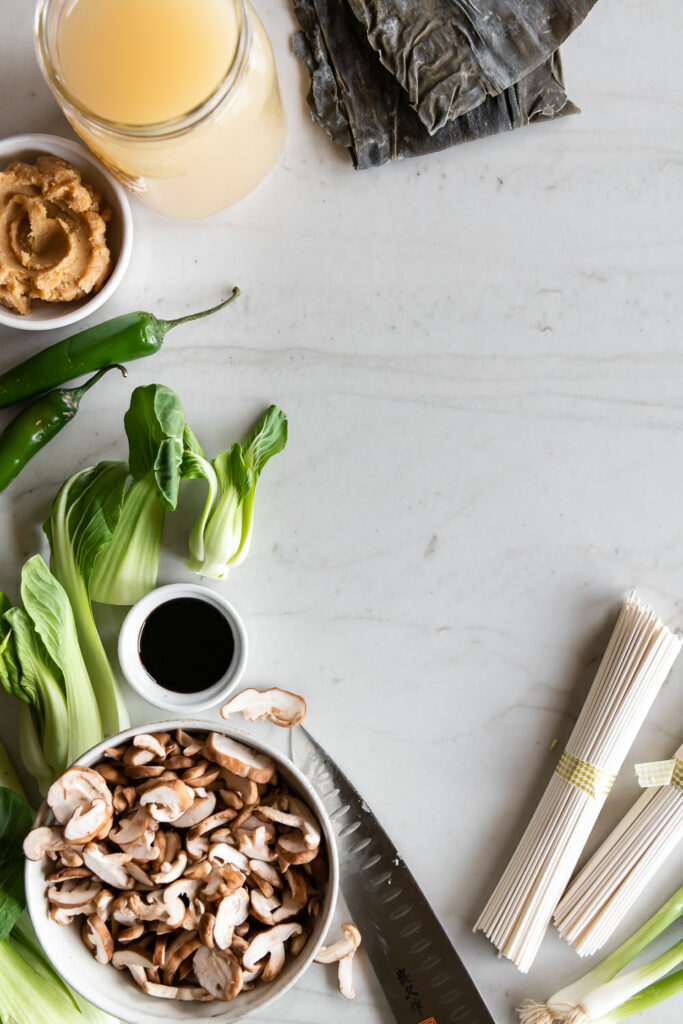 what else can I add to this miso udon soup?
Sauteed snap peas, broccoli or broccolini
Sauteed kale, swiss chard, spinach or cabbage
Julienned zucchini or carrots
Fresh bean sprouts
Water chestnuts
Fried firm tofu
Soft tofu, cubed
Roast chicken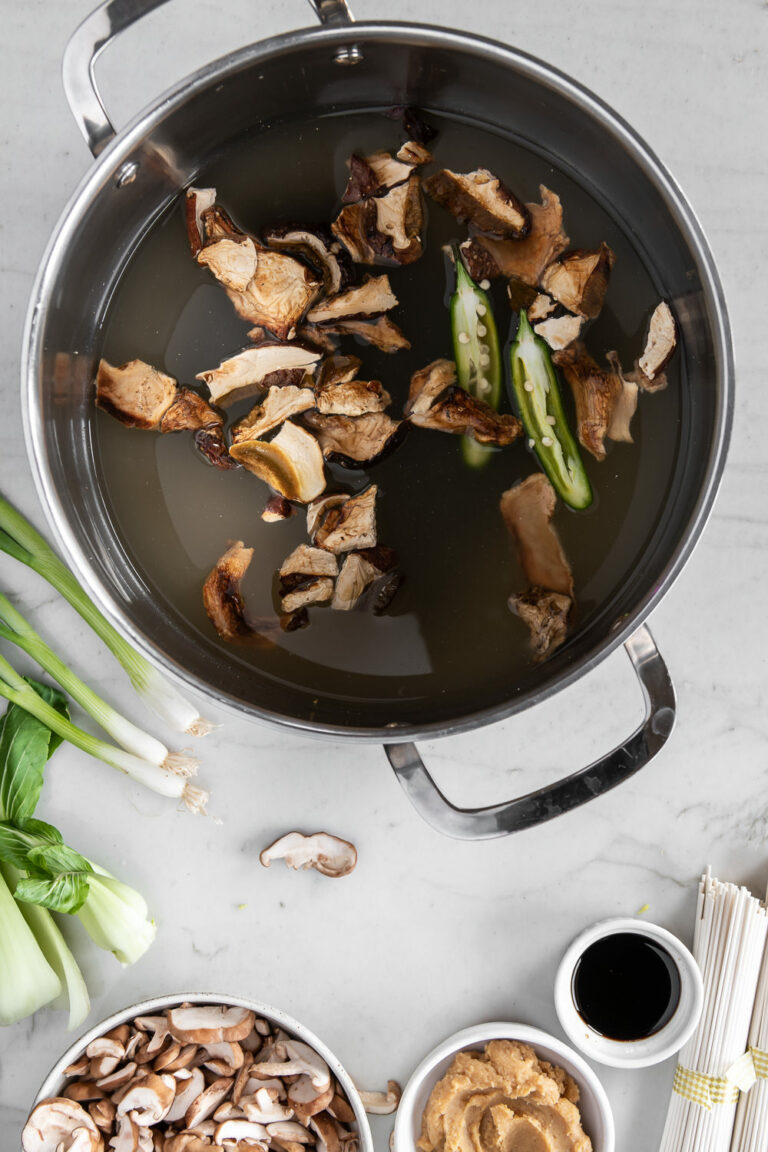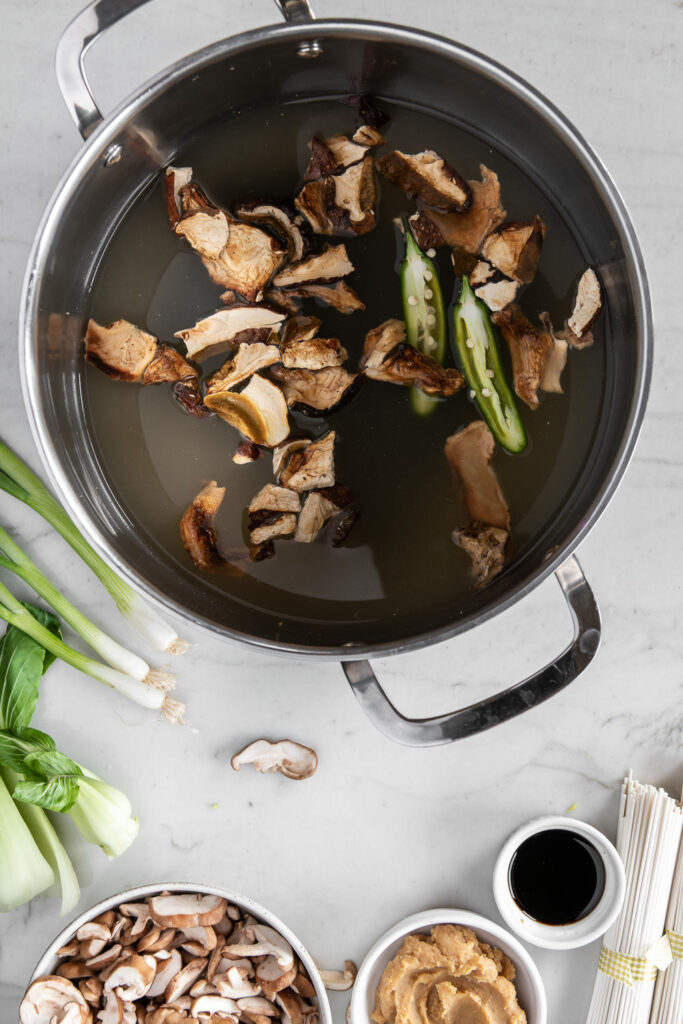 what is kombu?
Kombu is dried kelp that is used for its briny flavor and rich umami qualities. It's easy to find these days, thanks to online food stores (and Amazon). It is well worth seeking out to make the most complex tasting udon soup.
In general, kombu is combined with bonito flakes to make a flavorful broth (dashi). I use only kombu dashi in this miso udon soup, but feel free to explore bonito flakes and add some to the mix!
Cooking with kombu is super easy-- just steep it in hot water for about 10 minutes then discard the spent kombu. The resulting broth is clean and light tasting, with a touch of salinity. Don't let the water simmer, however, which will give a bitter and sour quality to the broth.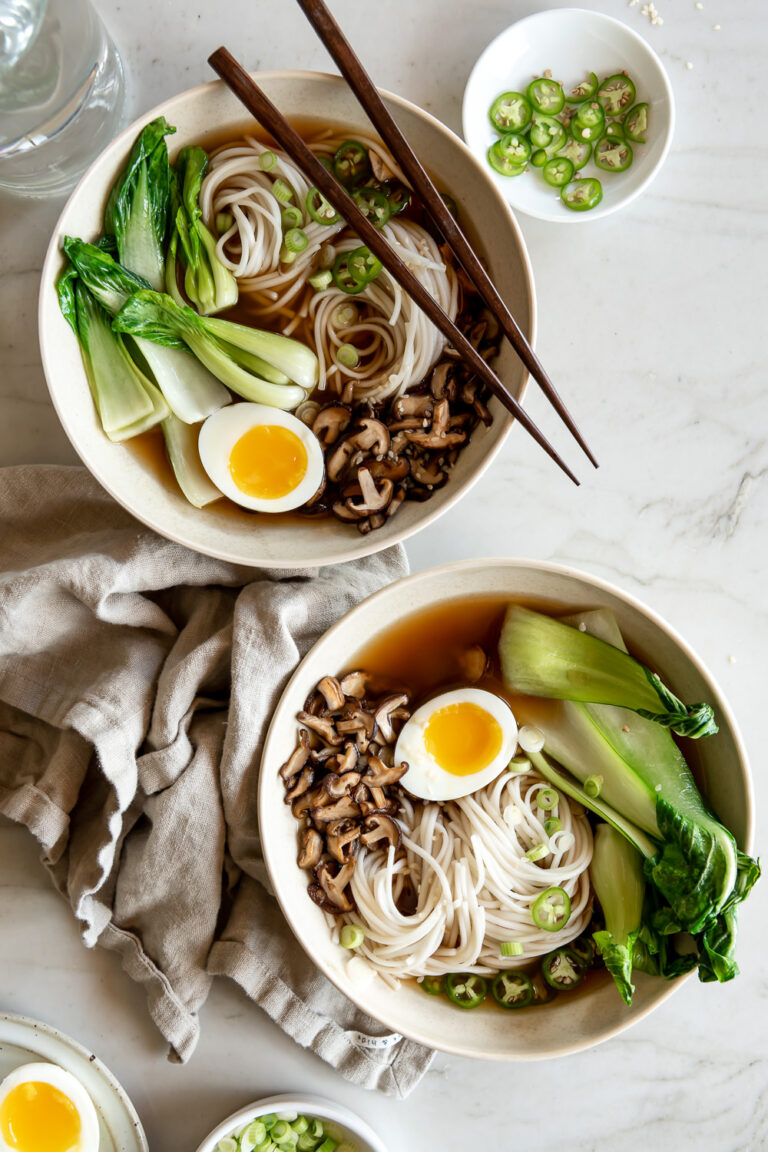 what's the best miso paste for this miso udon soup?
I love to use white miso paste in this udon noodle soup. It is fermented for the least amount of time and has the lightest flavor. The mild nature of white miso adds complexity without overpowering the delicate vegetable broth.
If you want a stronger miso flavor, you can try yellow miso. I would avoid red miso in this vegetable udon soup, however. It is fermented for the longest amount of time and will quickly dominate the other flavors.
more tips on this miso udon soup:
If you're worried about grit from your dried mushrooms, you can rehydrate them separately. Place them in a bowl and pour 1 cup of boiling water over top. Let sit 20 minutes, then transfer the softened mushrooms to the broth. Strain the soaking liquid through a coffee filter to remove grit, then add to broth. Just make sure to use 1 less cup of water in the broth.
Kombu can impart a lot of flavor surprisingly fast. The flavor is infused even with cold water, so be careful how long you let it sit. Taste the broth as you go and pull it out if you find the flavor is getting too strong.
how to make perfect soft boiled eggs:
Bring a pot of water to a boil
Carefully add eggs (straight from the fridge is fine!)
Simmer gently for 6 ½ minutes
Transfer to ice water bath
Carefully peel, slice in half, and eat
related recipes
how to make homemade sichuan chili oil
cold spicy sesame peanut noodles
Print
spicy miso udon soup
This miso udon soup is made with a spicy miso broth, sauteed mushrooms, baby bok choy and chewy udon noodles. Top with a soft poached egg for a complete meal!
Author:
Prep Time:

15 minutes

Cook Time:

25 minutes

Total Time:

40 minutes

Yield:

4

Category:

Soup

Method:

Stove
Ingredients
6 cups

water

2 cups

low-sodium chicken stock

1 oz

kombu (dried kelp)

1 oz

dried shiitake mushrooms (can substitute other dried mushrooms)

1

serrano pepper, halved

2 tablespoons

soy sauce

¼ cup

white miso

1 tbsp

mirin

¾ tsp

kosher salt, plus  more to taste

2 tbsp

toasted sesame oil

1

pound fresh shiitake mushrooms, stemmed and sliced

2 cups

baby bok choy, stems cut off and leaves washed

8 oz

dried udon noodles (or

12 oz

fresh/ frozen)

4

soft boiled eggs (optional)

sliced scallions, for garnish

sliced serrano peppers, for garnish

sesame seeds, for garnish
Instructions
Combine water, chicken stock, kombu, dried shiitake (see note), and serrano in a large pot. Heat over medium heat and cook, uncovered, until water just begins to simmer, about 10 minutes. Remove and discard kombu and serrano.

Add soy sauce, miso, mirin and salt and stir to combine. Keep warm, over low heat, until ready to eat (don't boil).

Heat 1 tbsp sesame oil in a saute pan over medium-high heat. Add mushrooms, season with salt, and cook until browned and crispy, about 10 minutes. Add mushrooms to broth. Heat remaining 1 tbsp sesame oil in the saute pan and cook bok choy until bright green and crisp tender, 6- 8 minutes. Transfer bok choy to broth.

Cook udon noodles according to package instructions. Divide into 4 bowls and top with broth and vegetables. Serve with a soft boiled egg, if desired, and garnish with fresh scallions and sesame seeds.
Notes
Note: if you're worried about grit from your dried mushrooms, you can rehydrate them separately, strain the liquid and return it to the pot.
Nutrition
Serving Size:

1

Calories:

282

Sugar:

7.3g

Sodium:

935mg

Fat:

9.1g

Saturated Fat:

1.3g

Unsaturated Fat:

6.6g

Trans Fat:

0g

Carbohydrates:

42g

Fiber:

6.7g

Protein:

11g

Cholesterol:

0mg