Panzanella salads are all about texture. They're built on a base of craggily, olive oil soaked chunks of bread, so they already have an advantage over your everyday lettuce salad. Add to that crunchy vegetables, milky cheese and juicy stone fruit, and you can see why this summer panzanella salad is just so satisfying. No limp lettuce here!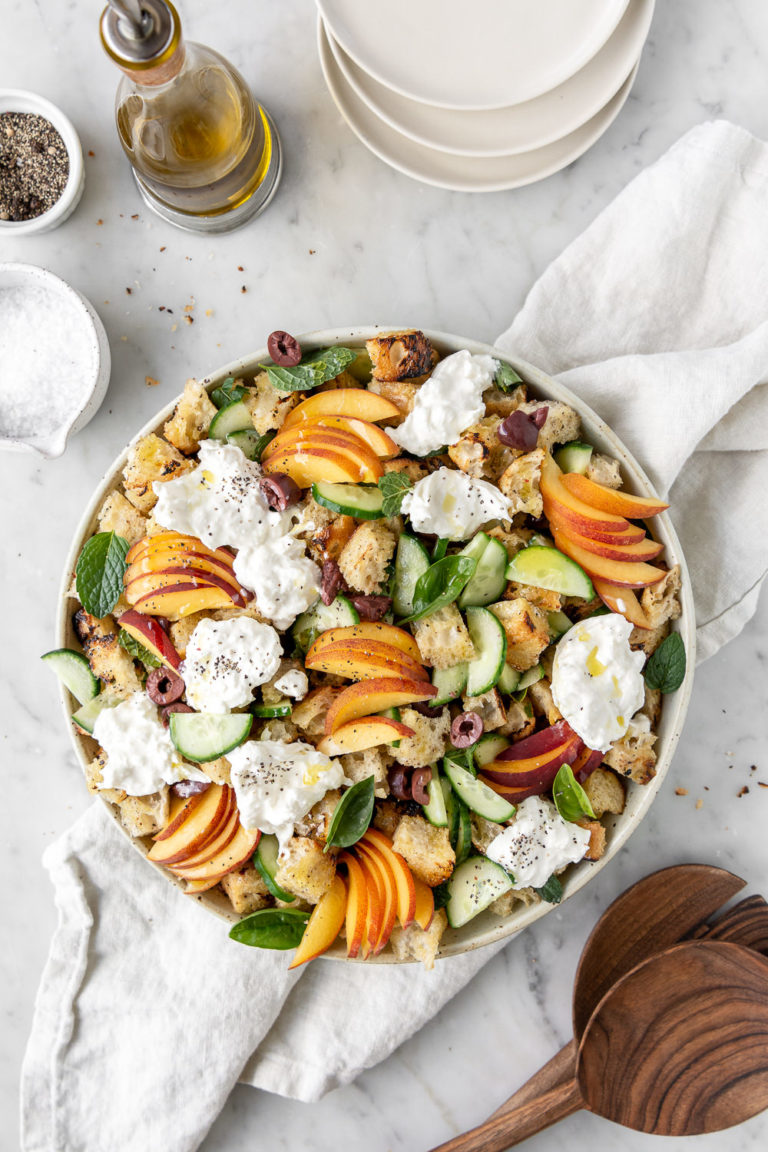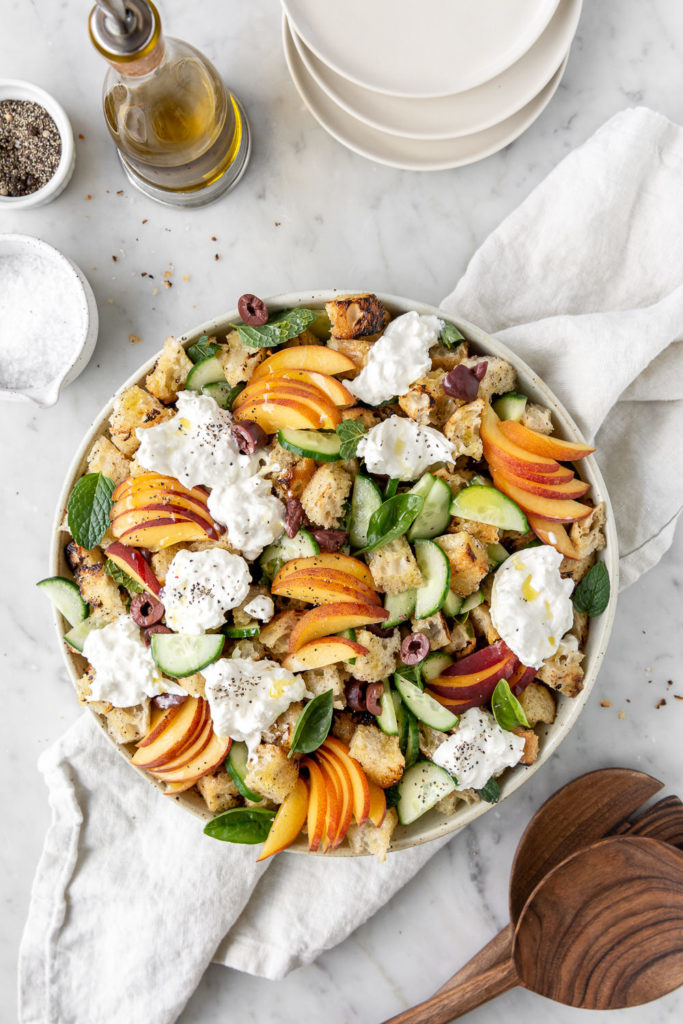 That being said, some people prefer to let bread salads marinate for a little while, to soften the croutons and marry the flavors. It's entirely up to you. I love the crunch of grilled bread when it's freshly tossed in dressing, so I prefer to eat this grilled panzanella salad right away.
It's also just too much to smell the fragrant herbs, smoky bread, and mouth-watering vinaigrette and wait 30 full minutes. But am I pregnant? Yes. Could a non-pregnant person sit patiently and wait? Ehh, maybe. You'll have to make this super juicy, super fragrant peach panzanella salad and let me know.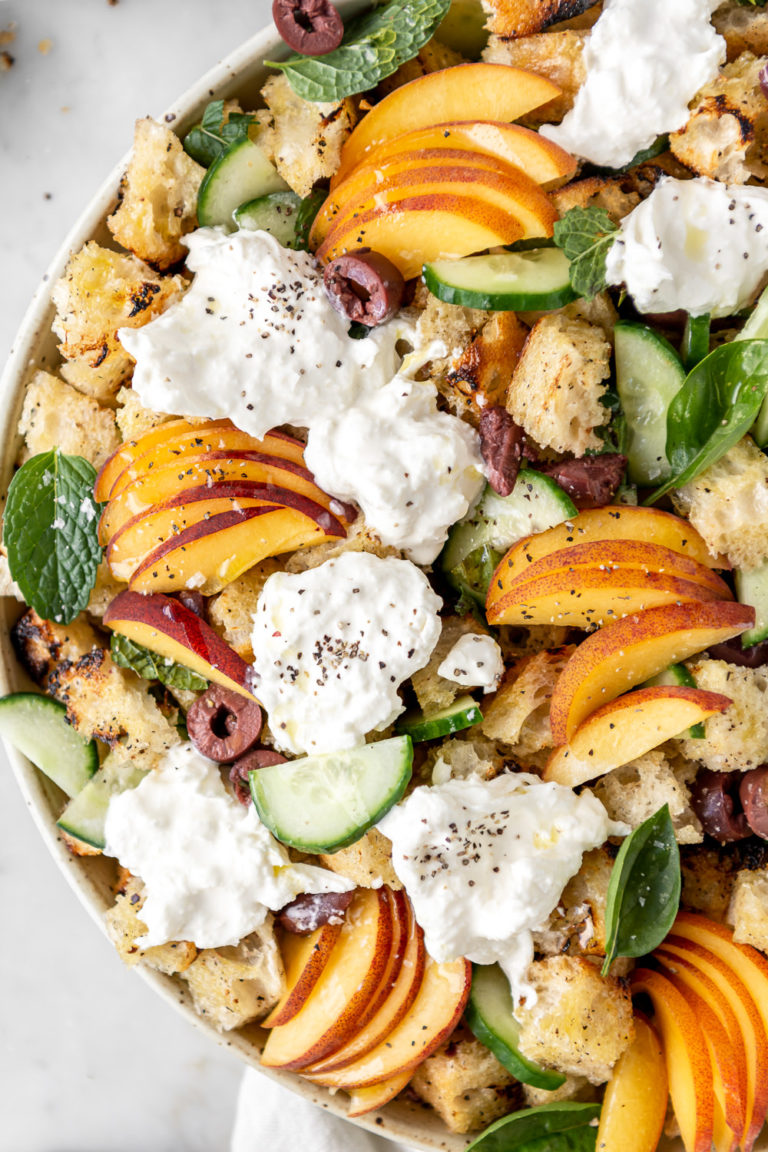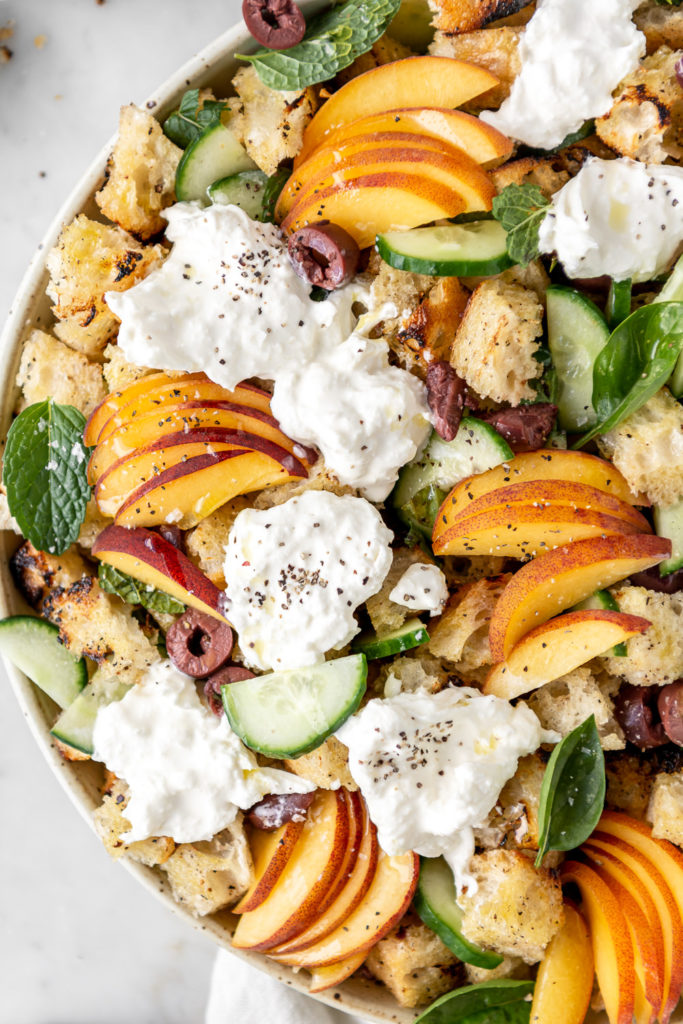 so what can you expect from this summer panzanella salad, aside from to-die-for crunch, flavor soaked bread and a gorgeous array of colors?
The salad starts with crunchy grilled pieces of bread. I prefer to cut the crust off before grilling (it can get sharp and slightly painful), then I cut the bread into 1-inch strips and tear the strips into bite sized pieces. These roughly torn edges are key to a good panzanella salad. They soak up the dressing and carry bits and pieces of the salad along with them, giving you the most flavor in every bite.
Then, the grilled croutons are tossed with a few handfuls of extra juicy summer peaches, cool chunks of cucumber, briny kalamata olives and fresh torn mint and basil. I absolutely love the flavor combination here-- it's so fresh and so summery, yet it's also somewhat unexpected. Then the panzanella is tied together with torn pieces of creamy burrata and a bright red wine vinaigrette.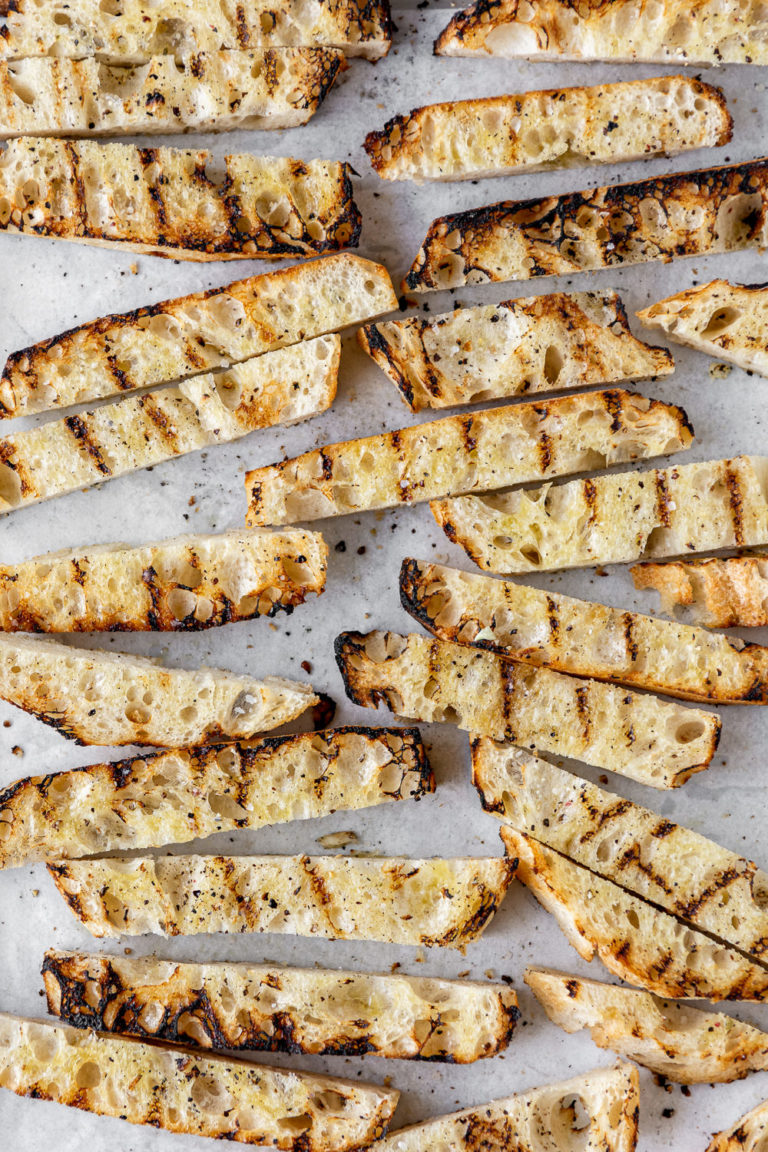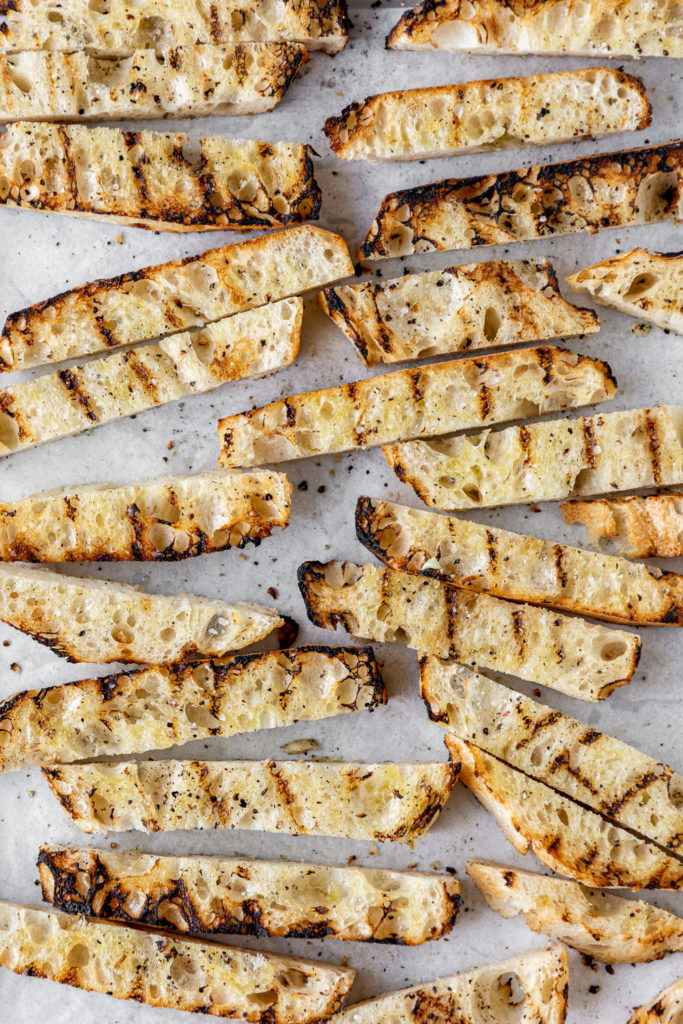 All in all, this is the best kind of summer salad. It highlights the freshest summer produce with a backdrop of really good bread and an accent of your favorite fresh cheese.
It's substantial enough to fill you up at lunch, and simple enough to throw together for a last minute dinner party. This peach panzanella salad also travels incredibly well, dressed or undressed. Read on below for tips on prep, assembly, and storage.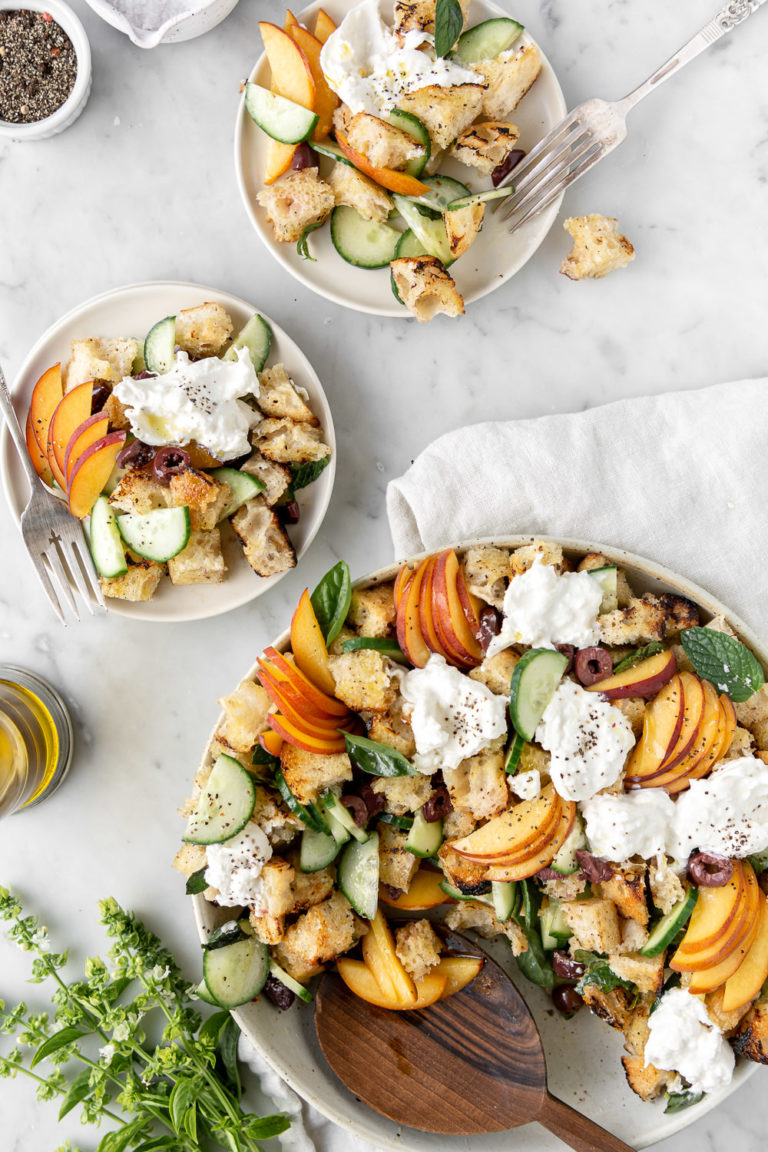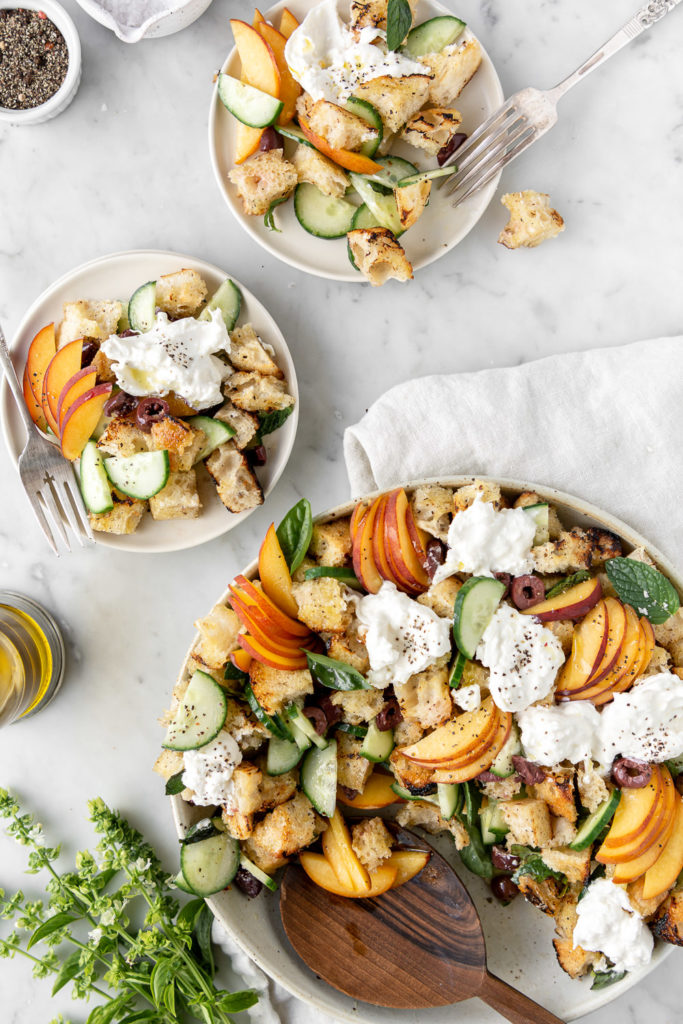 does this summer panzanella salad keep?
Not really. Like most salads, this summer panzanella does not keep especially well once it's been tossed with the dressing.
I prefer to serve it within 15 minutes of mixing in the dressing, but you can let the salad marinate for up to 30 minutes. This will help the flavors meld and soften the bread, and it also helps with party logistics.
That being said, storing it for much longer will simply give you a soggy bread salad. Grilled panzanella salads are all about crispy, crusty, craggily, crunch. You really don't want mush, and that's what will happen if it sits for too long. But that doesn't mean you can't make your life easier and prep things in advance. Read on to learn more!
how to make this summer panzanella ahead of time:
When it comes to entertaining, I'm all about prepping and cooking as much as possible before people arrive. It gives me time and space to enjoy the cooking, clean up, and then enjoy our guests. I also used to work for a catering company, which really took my planner tendencies to the next level.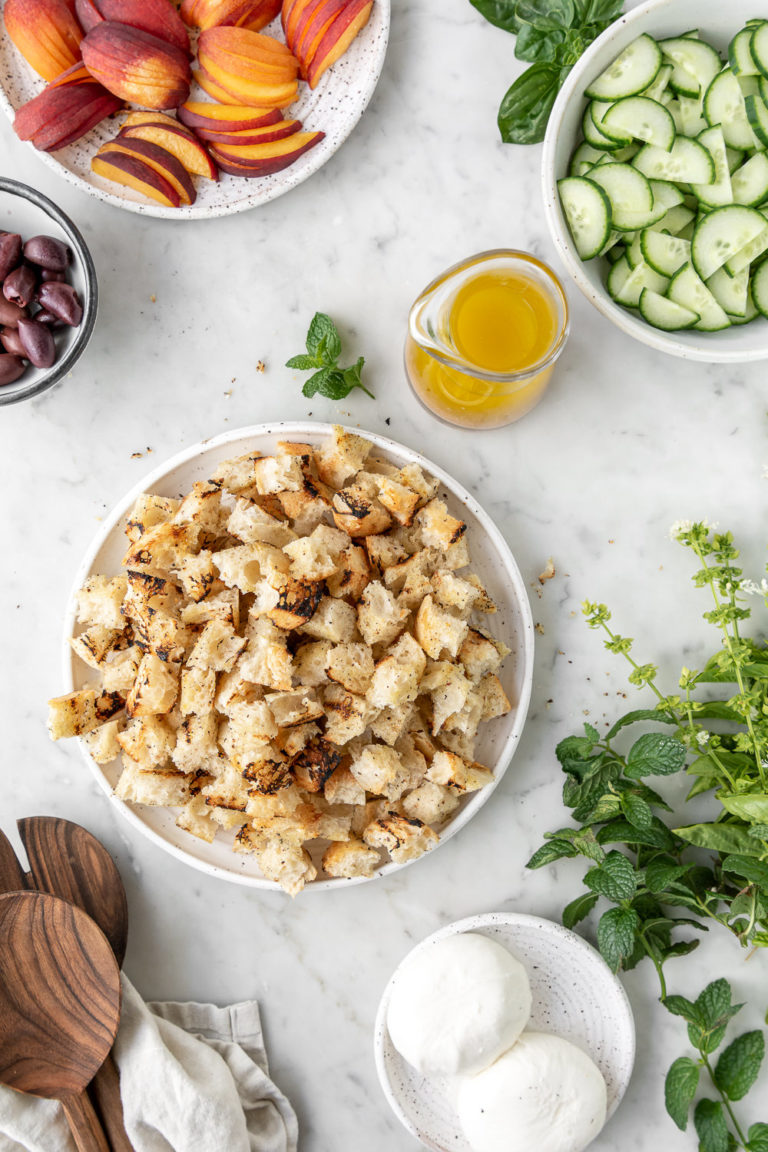 The great news here is almost all of the components of this grilled panzanella salad can be made the day ahead. When your guests arrive, all you need to do is throw the ingredients together in a bowl, toss and serve!
The bread can be grilled and torn into pieces up to 8 hours ahead of time. Store in an airtight ziplock. The time frame here hinges mostly on the humidity and how quickly your croutons will go stale.

If you'd like to store the grilled croutons longer, you may need to refresh them in the oven at 350°F for 5- 10 minutes, then let cool completely, until crunchy again.

The peaches, cucumber and olives can be sliced and chopped the day before. Store them in separate, covered containers in the refrigerator until ready. Pull them out 30 minutes before serving to take the chill off.
The dressing can be made up to 2 days ahead and stored in a covered container in the refrigerator. Pull out 30 minutes before the panzanella assembly and re-whisk before tossing.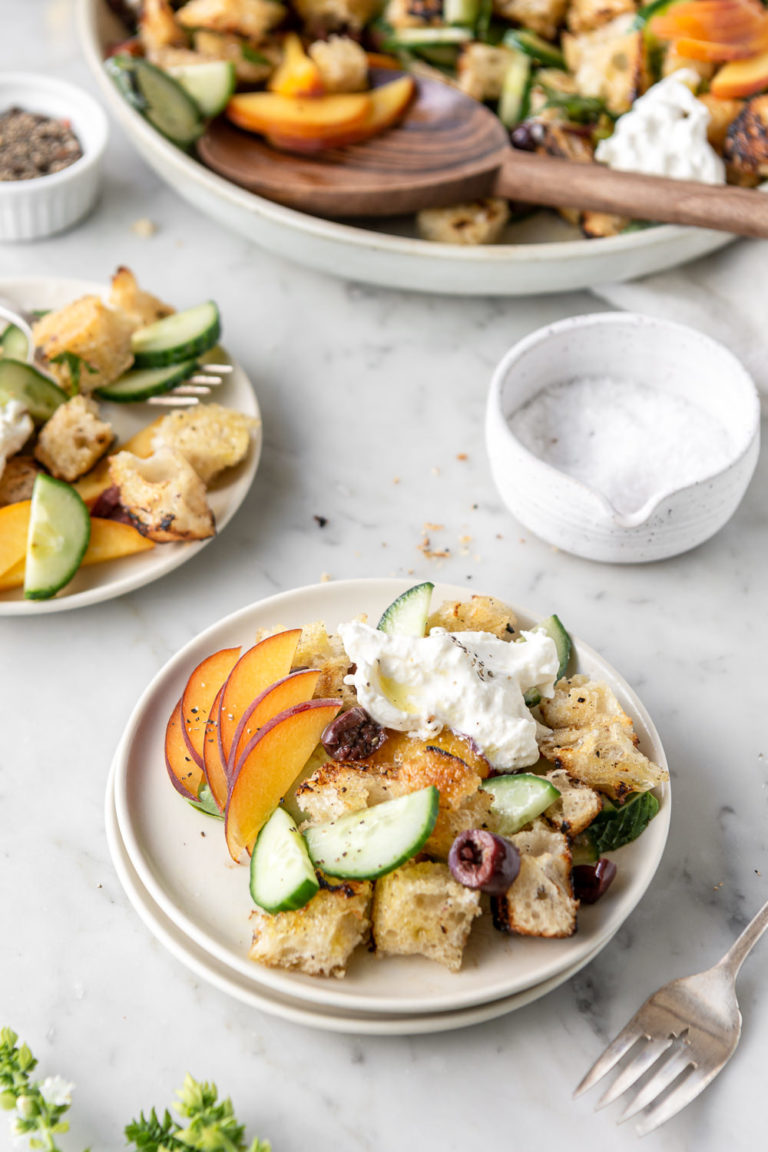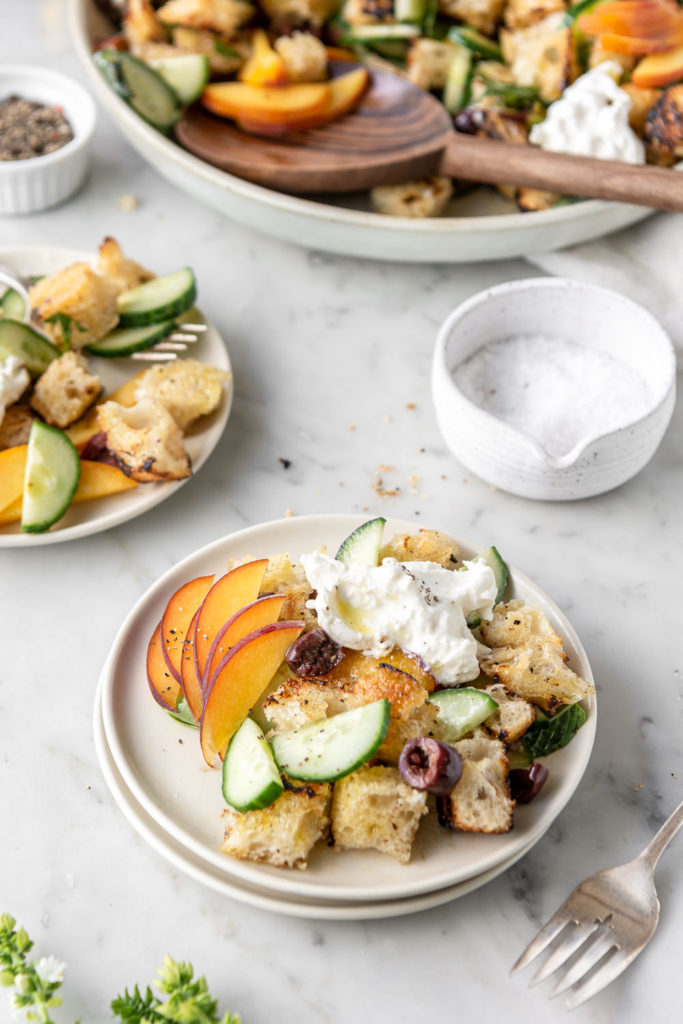 can I make this grilled panzanella salad without a grill?
Yes you can! If you don't have a grill (or don't feel like lugging it out), simply preheat your broiler. The salad won't have the smoky flavor or small bits of char on the bread, but it will still be delicious.
Prep the bread as instructed in the recipe, then arrange in an even layer on a baking sheet.
Broil for about a minute, watching very closely (the bread can quickly burn and every broiler is different).
Flip the bread and broil another minute or so, until golden brown and beginning to char.
Set aside until cool enough to handle, then proceed with slicing and tearing as described in the recipe below.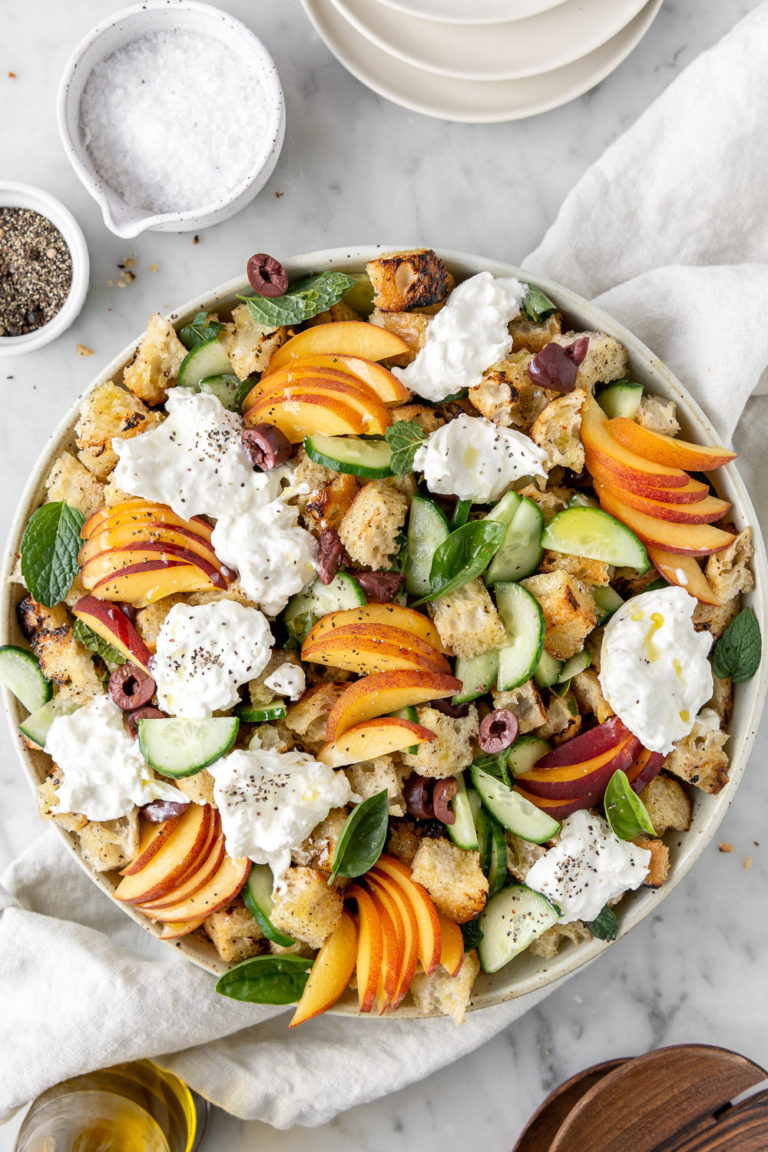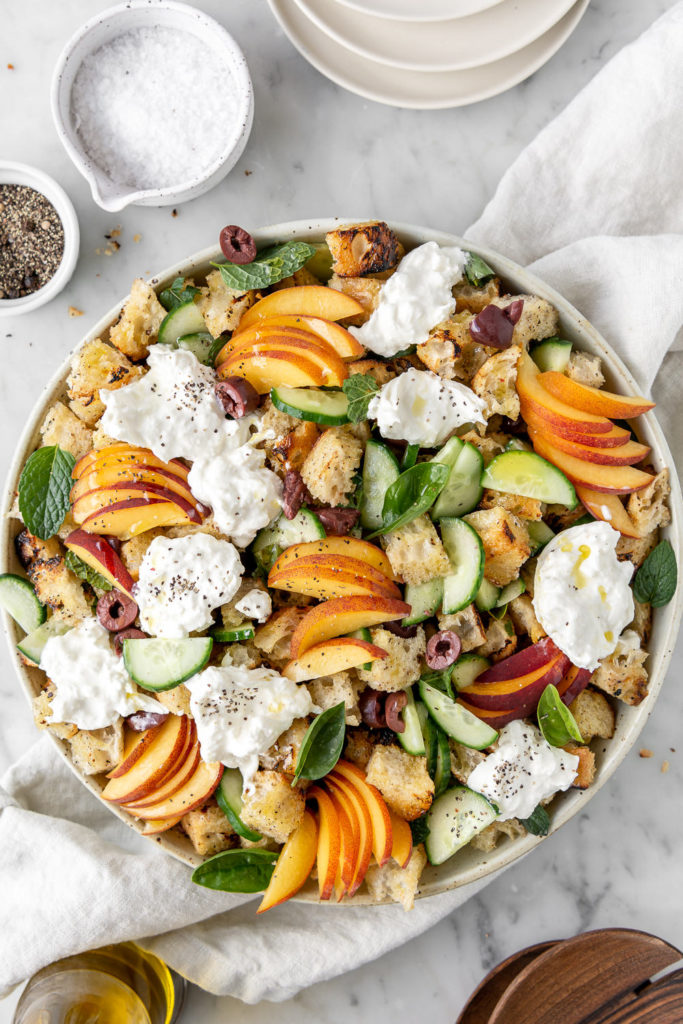 more burrata recipes to try:
Try this easy tuna salad by Caramel and Spice for another delicious, fresh summer salad!
Print
summer panzanella salad with peaches, cucumber and burrata
This is the most summery grilled panzanella salad. It's filled with juicy peaches, briny olives, cool cucumber slices, milky burrata and a shower of fresh herbs.
Author:
Prep Time:

15 minutes

Cook Time:

5 minutes

Total Time:

20 minutes

Yield:

8

Category:

Salad

Method:

Grill

Cuisine:

American
Ingredients
red wine vinaigrette
3 tbsp

red wine vinegar

1 tsp

dijon mustard

½ tsp

honey
kosher salt and black pepper

½ cup

extra-virgin olive oil
grilled panzanella salad
1

lb loaf sourdough bread

2 tbsp

olive oil
kosher salt and black pepper

1

garlic clove, peeled and halved lengthwise

3

ripe peaches, pitted and thinly sliced

1

English hothouse cucumber, sliced into half moons

½ cup

kalamata olives, pitted and roughly chopped

¼ cup

fresh basil, torn

¼ cup

fresh mint, torn

8 oz

burrata cheese
Instructions
In a glass measuring cup or jar, add vinegar, mustard, honey, ½ tsp kosher salt and black pepper. Whisk in olive oil, taste, and add more salt or pepper if needed. Set aside.
Preheat grill to medium high. Meanwhile, use a serrated knife to remove crust from the loaf of bread and cut into 1-inch thick slices. Brush both sides of bread with olive oil and sprinkle with salt and black pepper. Grill the bread for about 1 minute on each side, or until browned and charred in spots. Transfer to a plate, rub with garlic halves, and let cool.
Slice grilled bread into 1-inch thick strips then tear into bite sized pieces. Place croutons in a large bowl along with peaches, cucumber, olives, basil and mint. Toss with two-thirds of dressing, taste, and add more dressing or seasoning if needed. 
Transfer to a large serving platter. Tear the burrata into bite sized pieces and scatter over salad. Enjoy!
Nutrition
Serving Size:

⅛th of salad

Calories:

440

Sugar:

9.4g

Sodium:

735mg

Fat:

27g

Saturated Fat:

6.6g

Unsaturated Fat:

18.7g

Trans Fat:

0g

Carbohydrates:

39g

Fiber:

2.7g

Protein:

13g

Cholesterol:

22mg
Keywords: summer panzanella salad