This eggplant involtini is a light, simple, fresh summer dish that takes the hassle out of eggplant. The eggplant is sliced, brushed with olive oil and baked for a perfectly dense and meaty texture. The cooked slices are rolled around a light, fluffy, basil ricotta filling and simmered in a simple tomato sauce.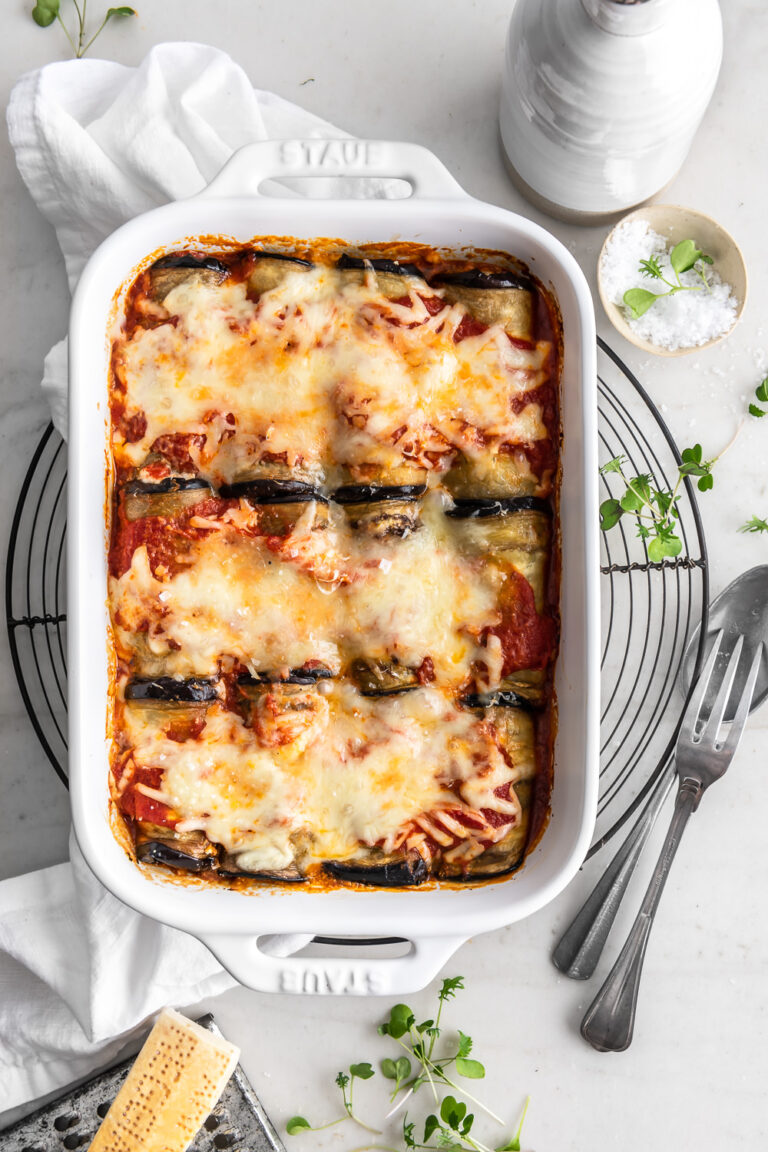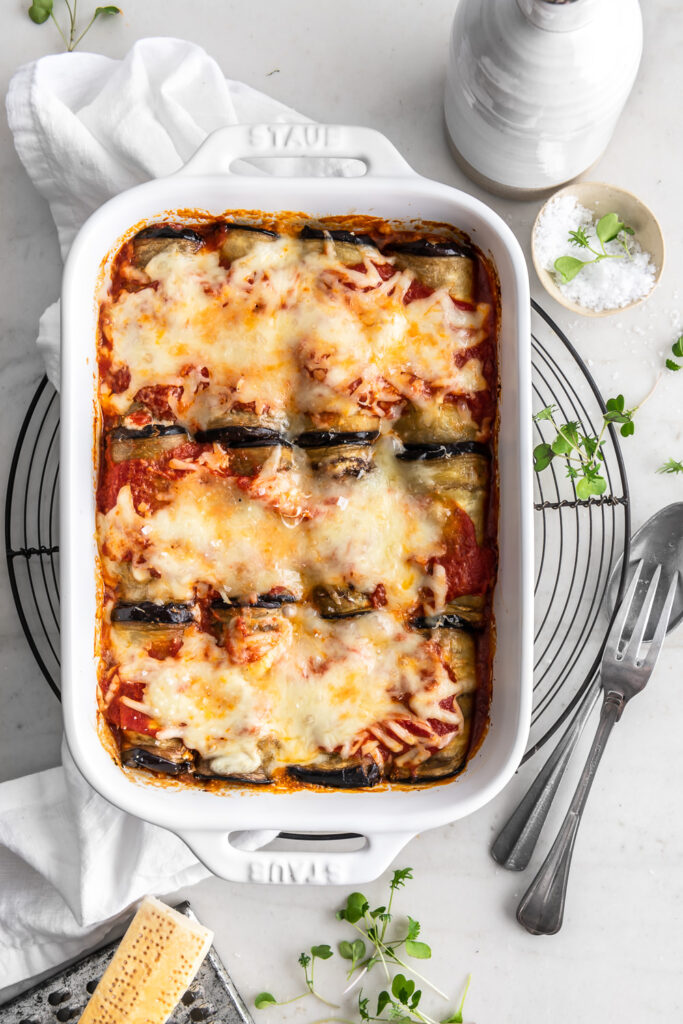 I don't know about you, but I've always struggled with finding eggplant recipes that I like. The eggplant is either spongy, tough, and bitter, or it's mushy and brown. Or worst of all, a sponge of grease. Because of my eggplant struggles, I'm always hesitant to cook it. But eggplant involtini is a different story!
It combines all the flavors of eggplant parmesan and rolls them up into neat little packets that look beautiful in the pan and are so easy to dish out.
To develop a perfect eggplant involtini recipe, I was inspired by a version from America's Test Kitchen. Instead of frying the eggplant into greasy slices, they roast them for a much lighter (and simpler) meal.
From there, I use my favorite tomato sauce of all time (thank you Marcella Hazan!) to brighten the dish and add a delicious pop of flavor. A handful of your favorite soft herbs go into the ricotta, then the eggplant slices are rolled up and baked. This eggplant involtini recipe is light, fresh, and the best use for those beautiful summer eggplants!
what you need for eggplant involtini:
eggplants
whole peeled tomatoes
onion
ricotta cheese
parmesan
mozzarella
extra-virgin olive oil
butter
fresh herbs (basil, parsley and mint)
panko
kosher salt and black pepper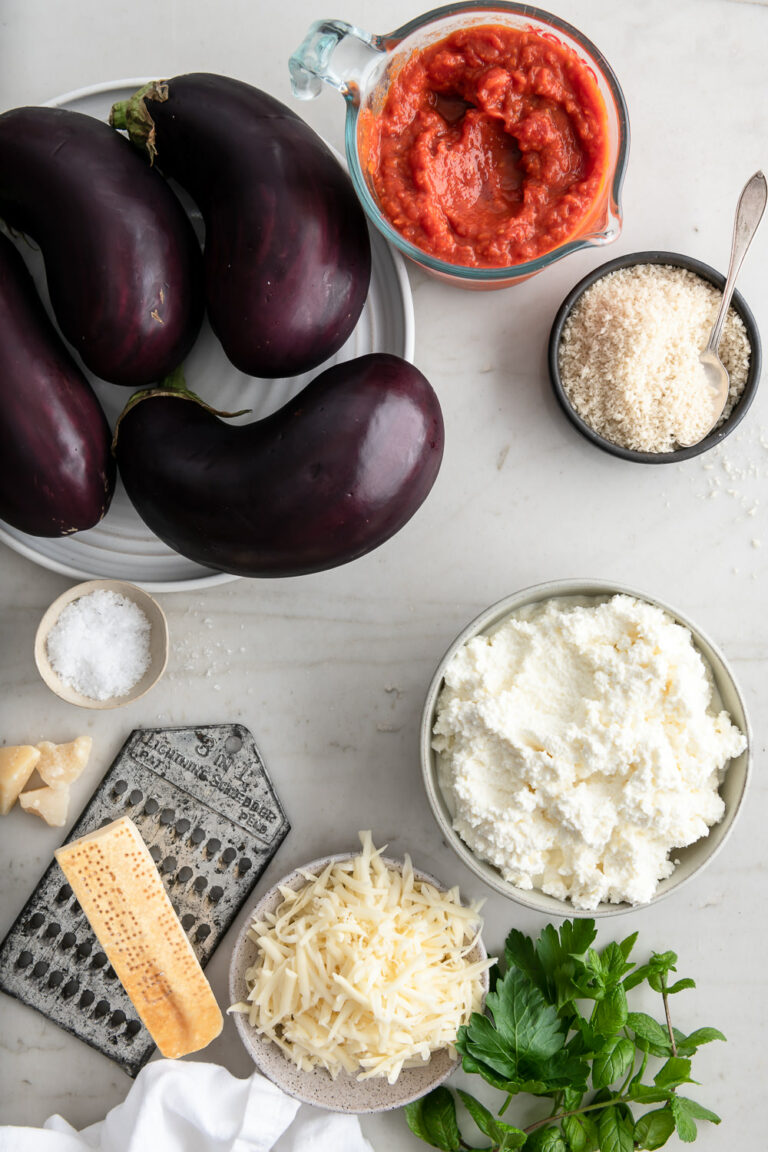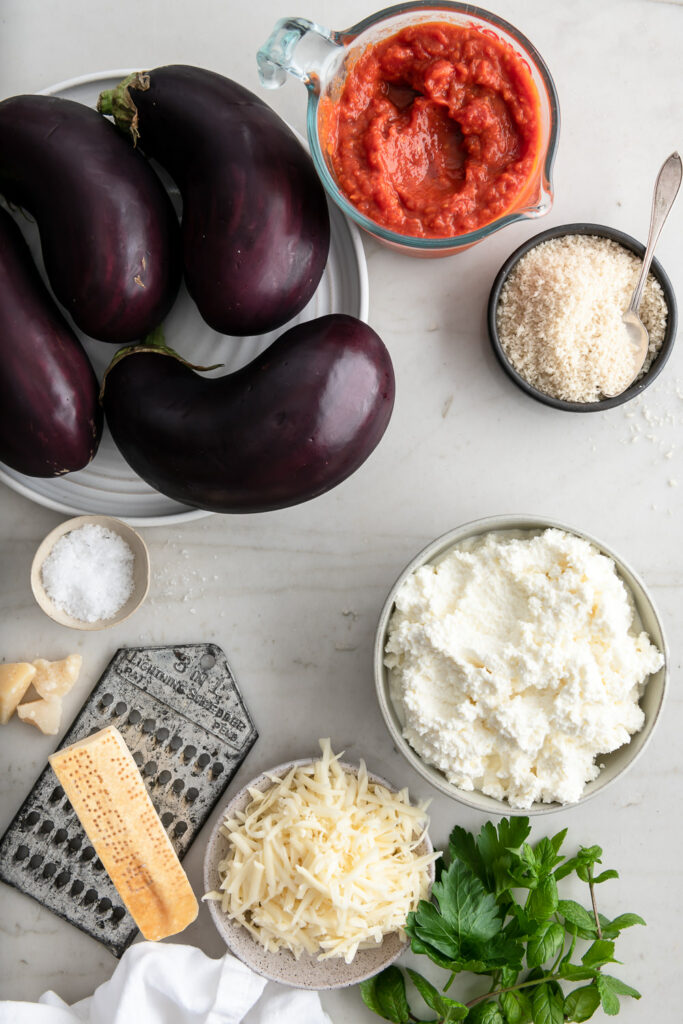 what is eggplant involtini?
Eggplant involtini is a dish that takes cooked slices of eggplant and rolls them up around a ricotta filling. The eggplant rolls are baked in a tomato sauce, oftentimes covered with mozzarella and parmesan, until the cheese is melted and the sauce is bubbly. Variations include frying the eggplant slices, similar to eggplant parmesan, or grilling them until soft. Here, we roast the eggplant slabs so they're tender yet meaty and we skip the greasy hassle of frying.
how to make eggplant involtini:
Make a simple tomato sauce
Slice eggplant into slabs, brush with olive oil and roast until tender
Mix up ricotta, panko and fresh chopped herbs
Roll eggplant slabs around a spoonful of ricotta filling
Spread tomato sauce in the bottom of a baking dish, arrange eggplant rolls inside, cover with more sauce and sprinkle with cheese
Bake until sauce is bubbly and cheese is melted
Serve hot!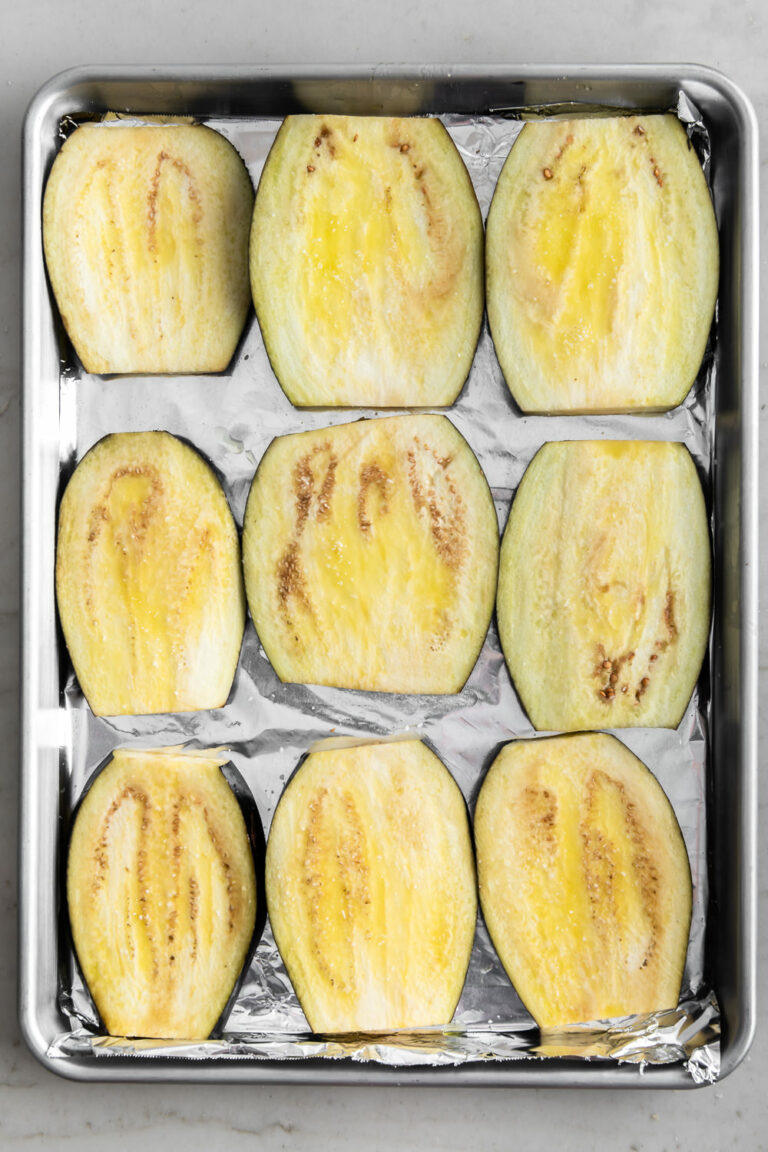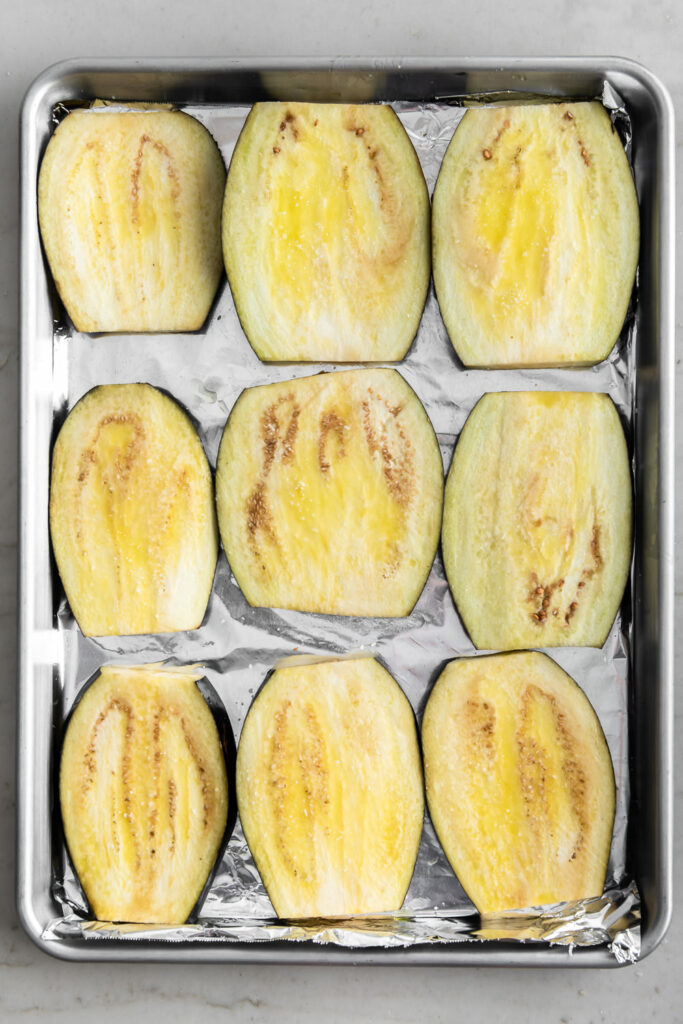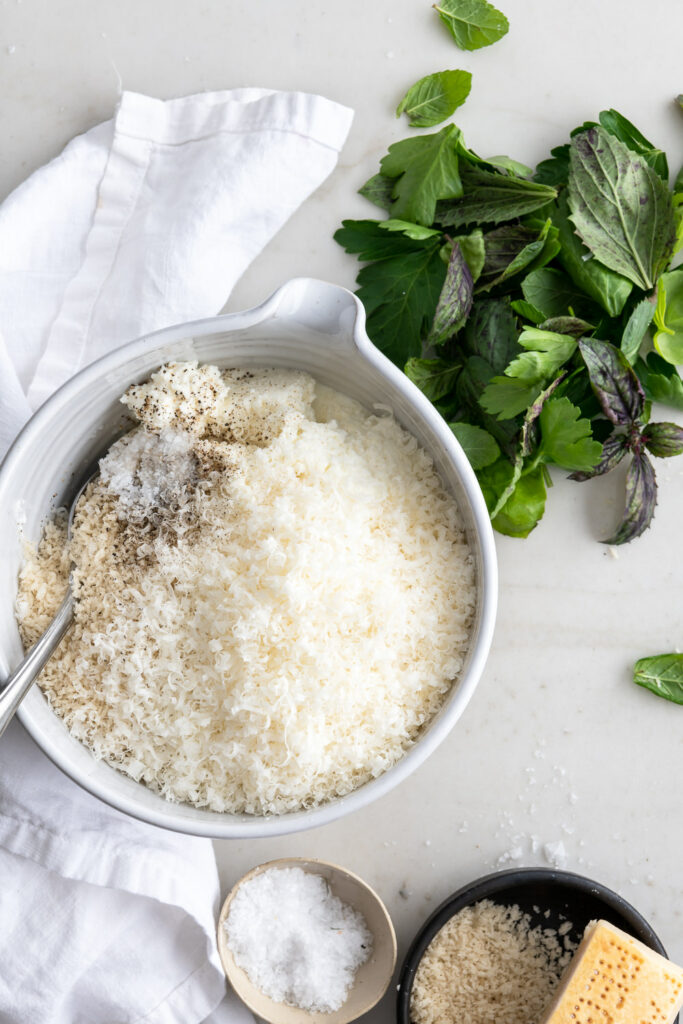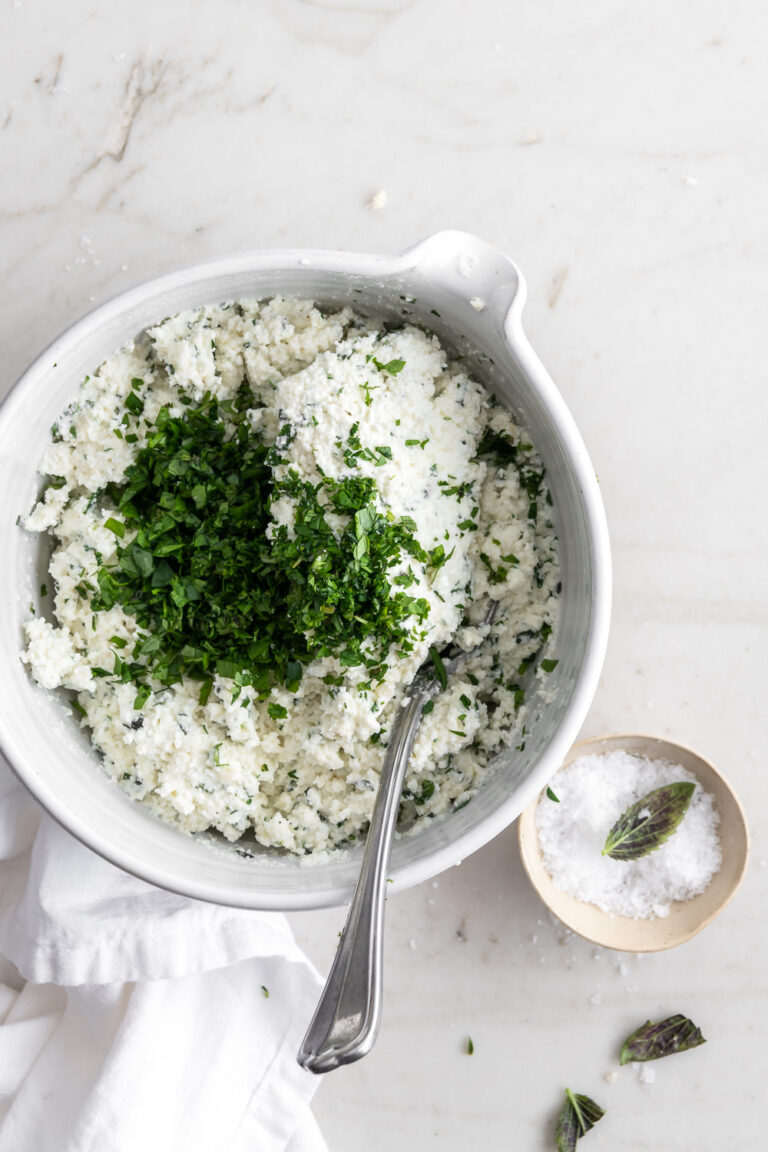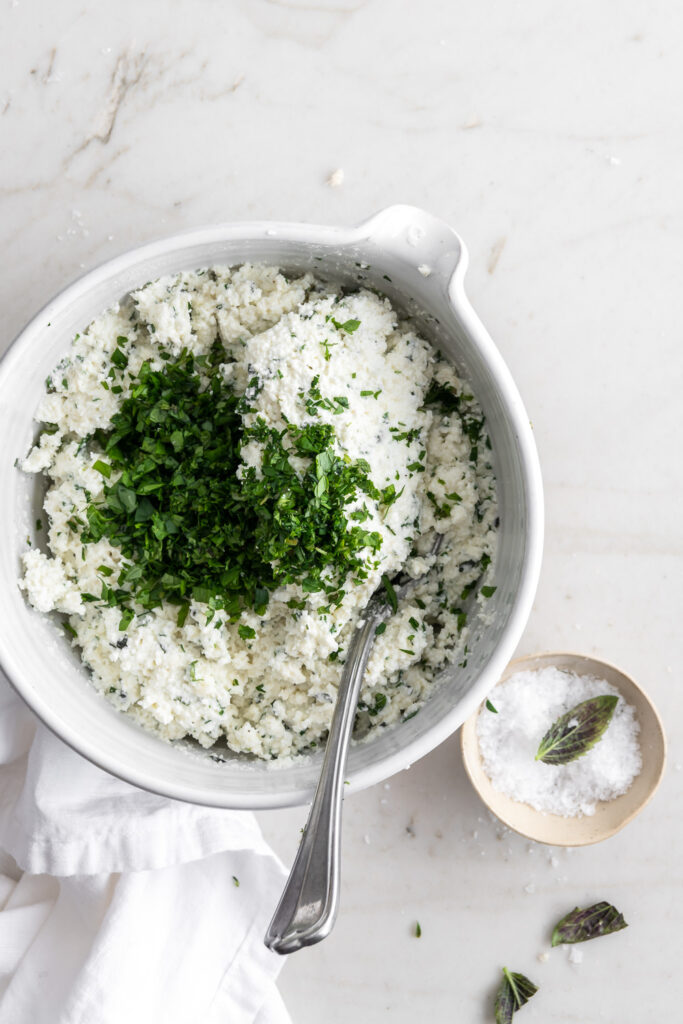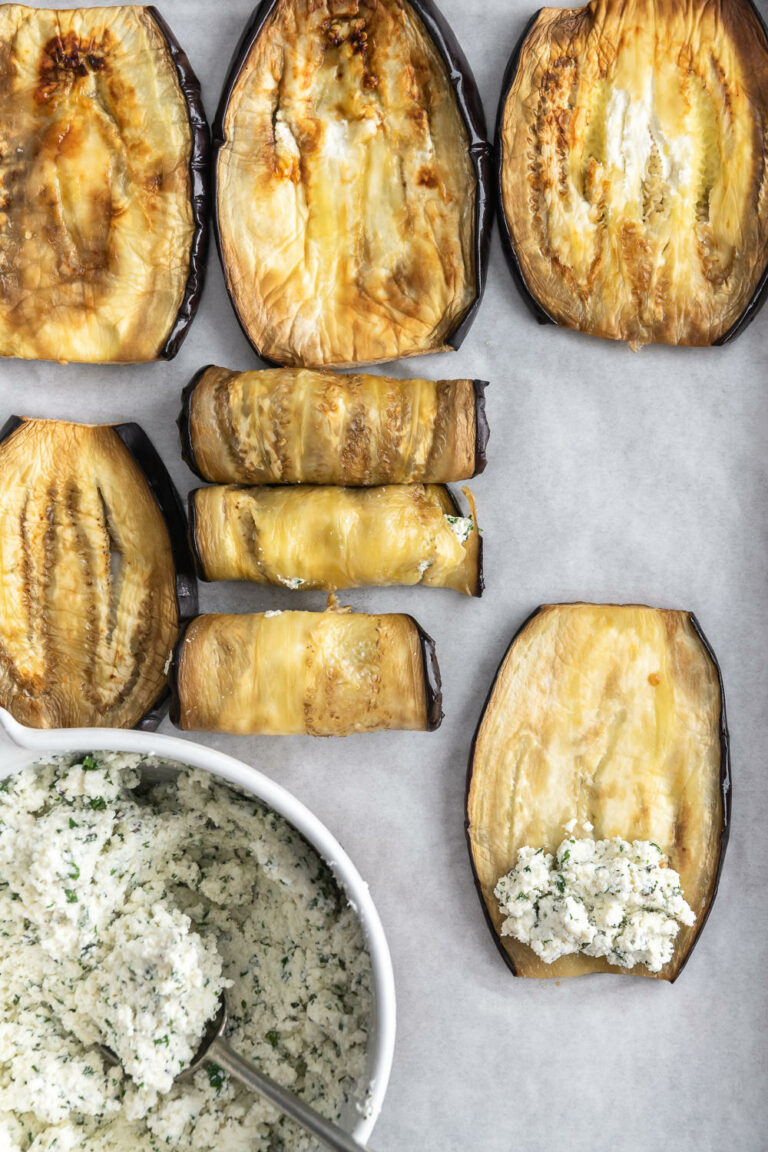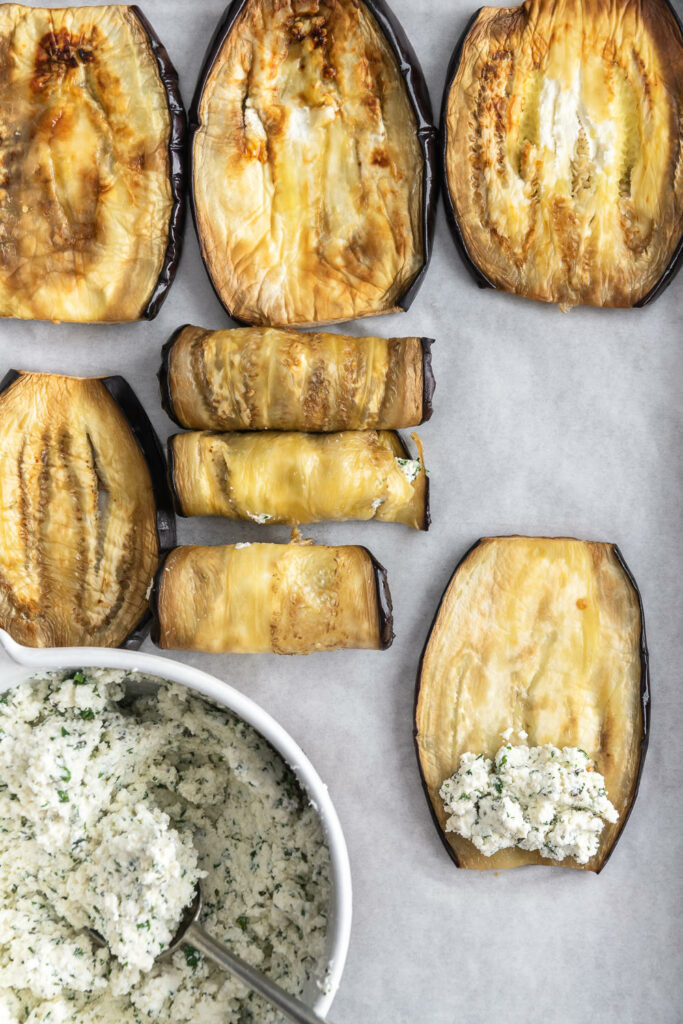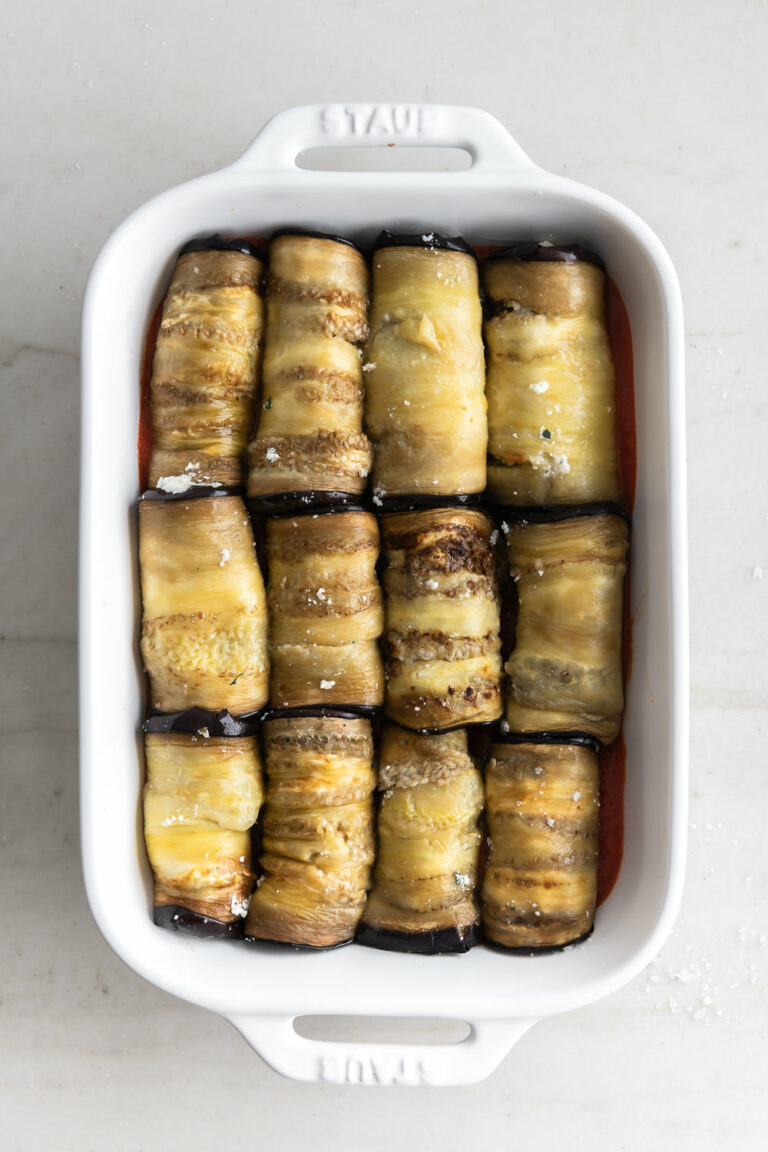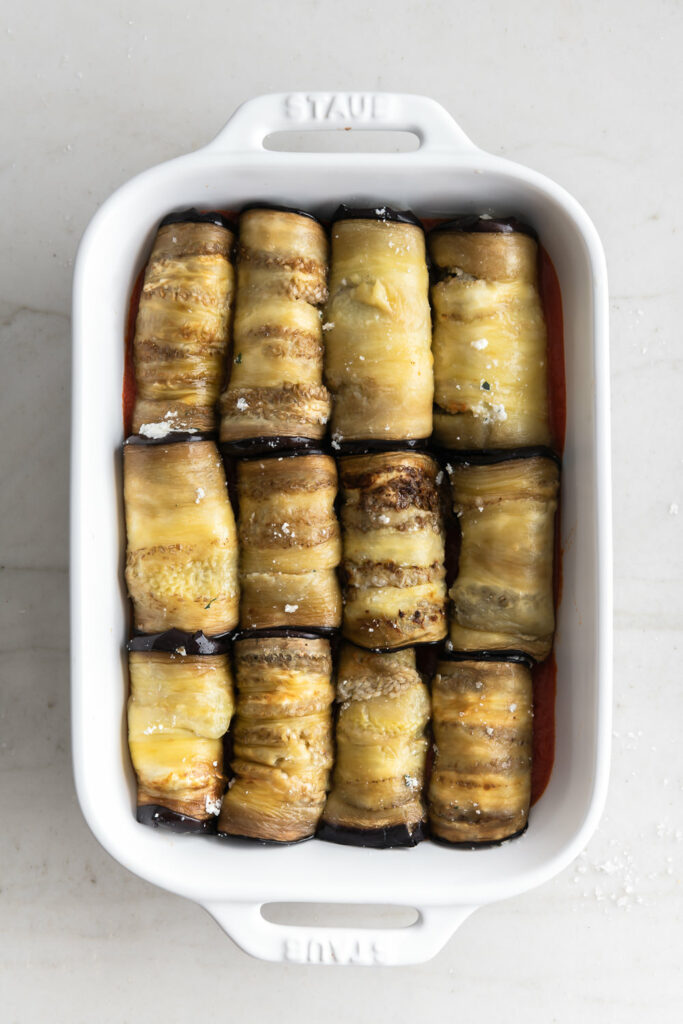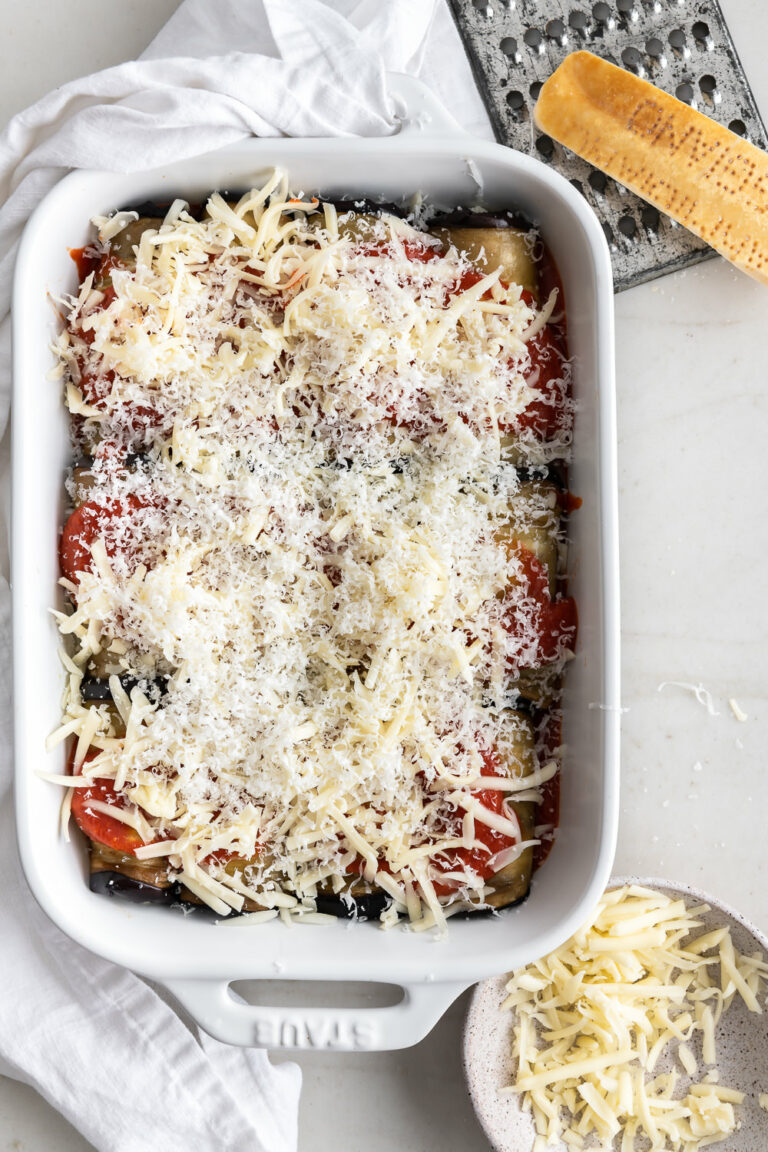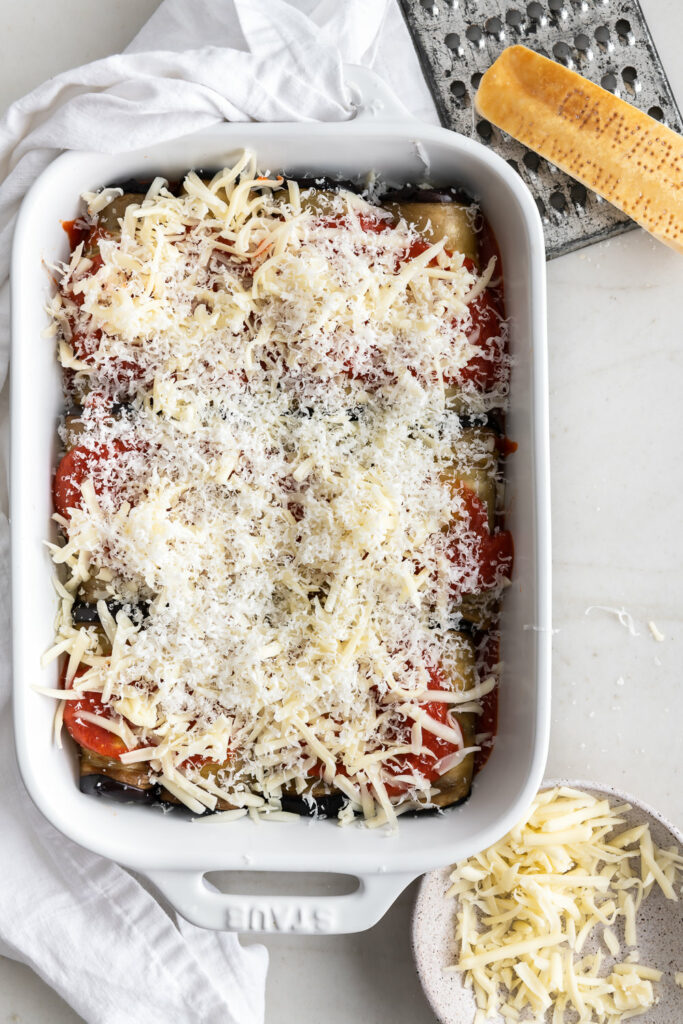 why this is the best eggplant involtini recipe:
Roast eggplant: My favorite part about this recipe is the use of the oven. We skip the greasy hassle of frying the slabs, or the inconvenience of firing up the grill for one small step of the recipe. Instead, we roast the eggplant slabs until tender and lightly caramelized. They cool quickly and are simple to roll up into ricotta bundles. Then they go right back in the hot oven.
Herby ricotta filling: The ricotta filling is light, fluffy and filled with a generous handful of fresh herbs. Use whatever soft herbs you have on hand. I love the combination of basil, mint and parsley-- it's complex, fresh and summery! Panko crumbs help bind the filling, while keeping it extra fluffy. We skip the eggs, which can make the ricotta heavy and firm.
Simple tomato sauce: The tomato sauce I use is adapted from Marcella Hazan's world famous sauce. It's crazy simple and absolutely perfect. Gently simmer whole peeled tomatoes, a chunk of butter and half an onion until a luscious sauce emerges. The bright tomato flavor and smooth texture is the perfect foil to the meaty eggplant ricotta rolls.
Melted cheese: While you could skip the mozzarella entirely for an extra-light version of eggplant involtini, we prefer melty, bubbly, browned mozzarella. It balances the tomato and roasted eggplant and keeps you coming back for more!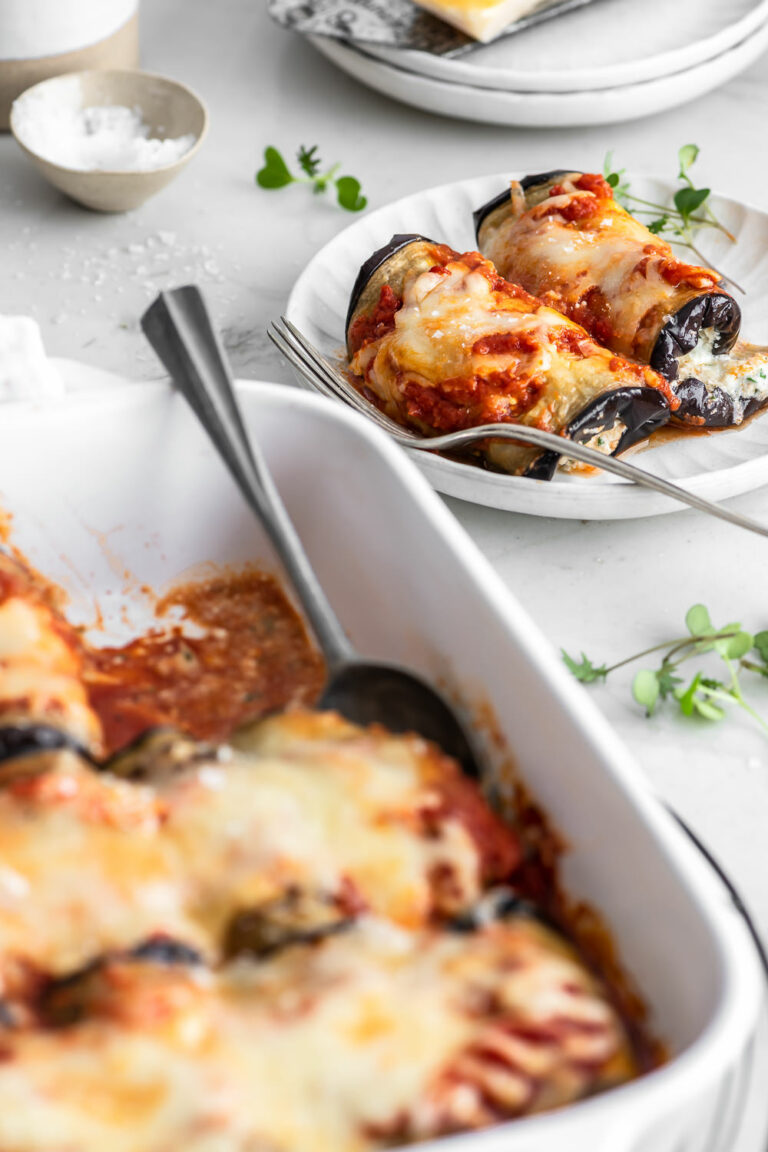 what is the difference between rollatini and involtini?
Nothing! Eggplant rollatini is another name for eggplant involtini, but rollatini isn't a real word in Italian. It's a cutesy Americanized term for the Italian dish, much like cioppino (also a made up word). Involtini means rolls in Italian, so eggplant involtini is just a more technical term for eggplant ricotta rolls.
All in all, they both refer to an eggplant ricotta recipe where thin slices of eggplant that are cooked, rolled up around a ricotta filling and baked in a tomato sauce.
make ahead, reheating and storage options fo:
Eggplant involtini will keep in an airtight container in the refrigerator for up to 3 days. It does not freeze well, so make it with the intention of eating it fresh!
The entire dish can be made and stored in the refrigerator, unbaked, for one day. Much longer and the eggplant will get soggy. To work ahead, though, you can make the tomato sauce in advance and store it in the refrigerator for up to 5 days.
To reheat, the eggplant ricotta rolls can be microwaved until hot and melted. Make sure to cover the dish or the tomato sauce might pop and splatter all over your microwave!
It can also be warmed through in the oven at 350°F, until the sauce is bubbly and cheese is melted. When reheating, I always like to toss on an extra handful of shredded cheese to give it fresh life.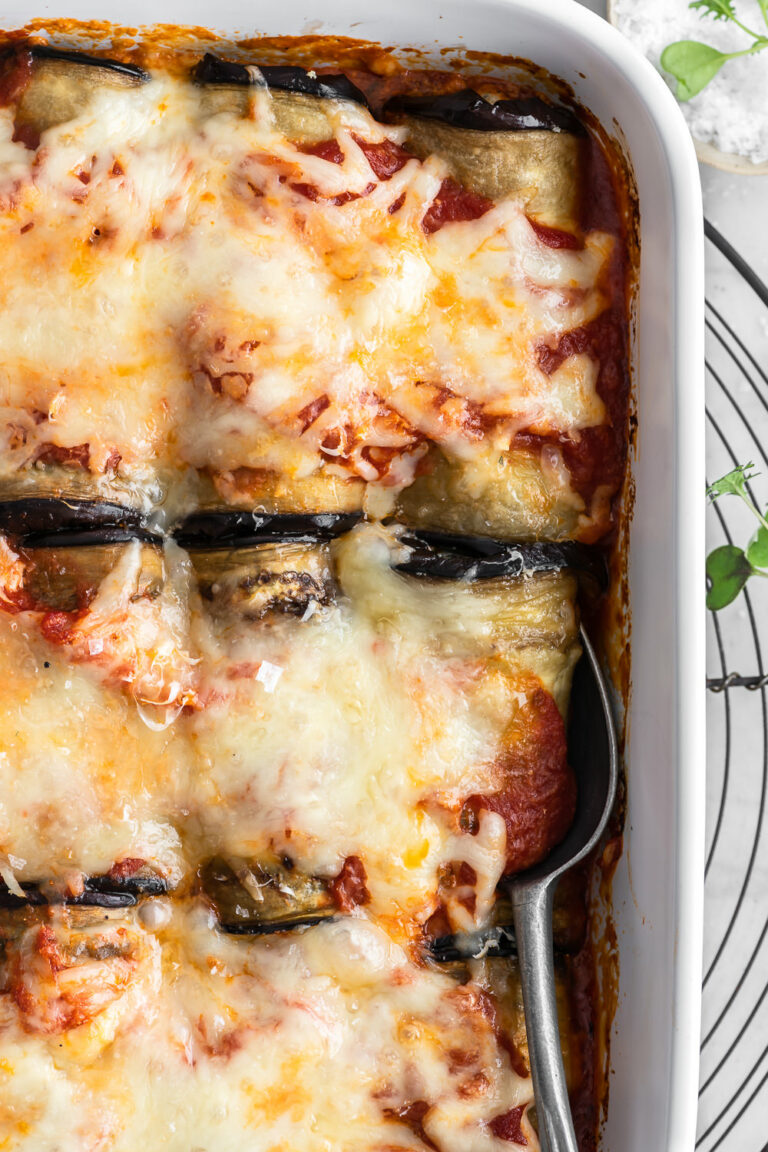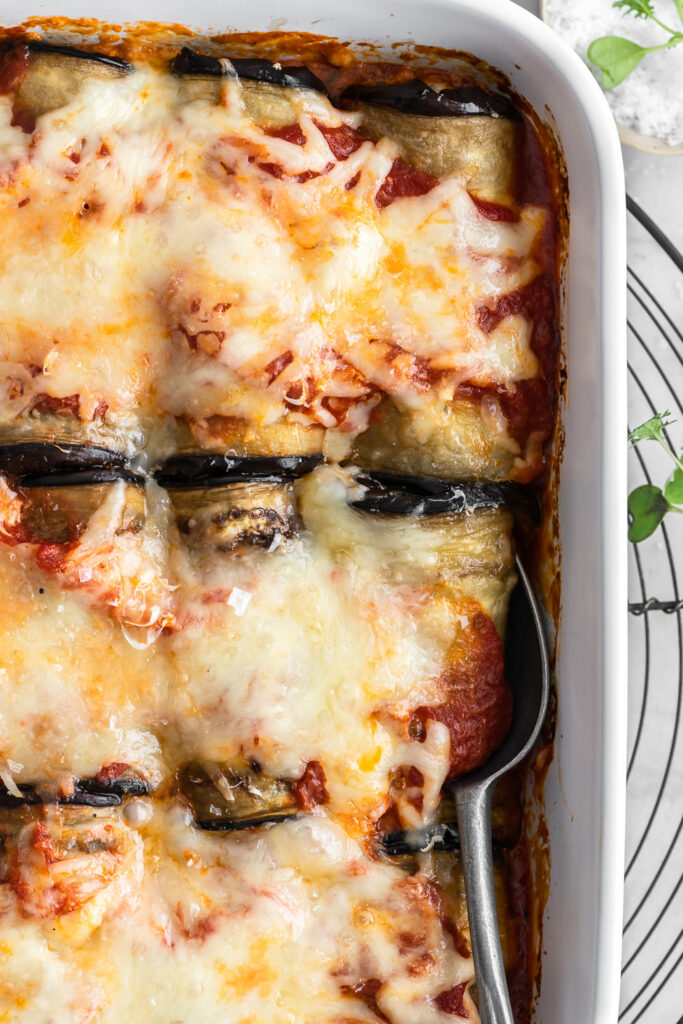 more eggplant involtini tips:
Look for eggplants that are as straight and long as possible. Not Japanese eggplant, but preferably not the stubby little curved ones I'm showing in the picture either. Just a standard eggplant shape is perfect to cut into slabs that are as rectangular as possible. This makes rolls that are uniform and parallel.
Use a serrated knife to cut the eggplant. It's the easiest way to cut even slices.
Cut the eggplant into ⅜-inch slices. I know, I know. Don't get your ruler out, but aim for an in between thickness of ¼-inch and ½-inch. If the slabs are too thin, the roasted eggplant can tear in the center. If too thick, they are more difficult to roll and tend to be too much eggplant in the ratio of the roll.
more summer recipes to try!
grilled corn salad with serrano peppers and herbs
summer panzanella salad with peaches, cucumber and burrata
Love eggplant? Try this stuffed eggplant by Kathy over at Flavor Feed!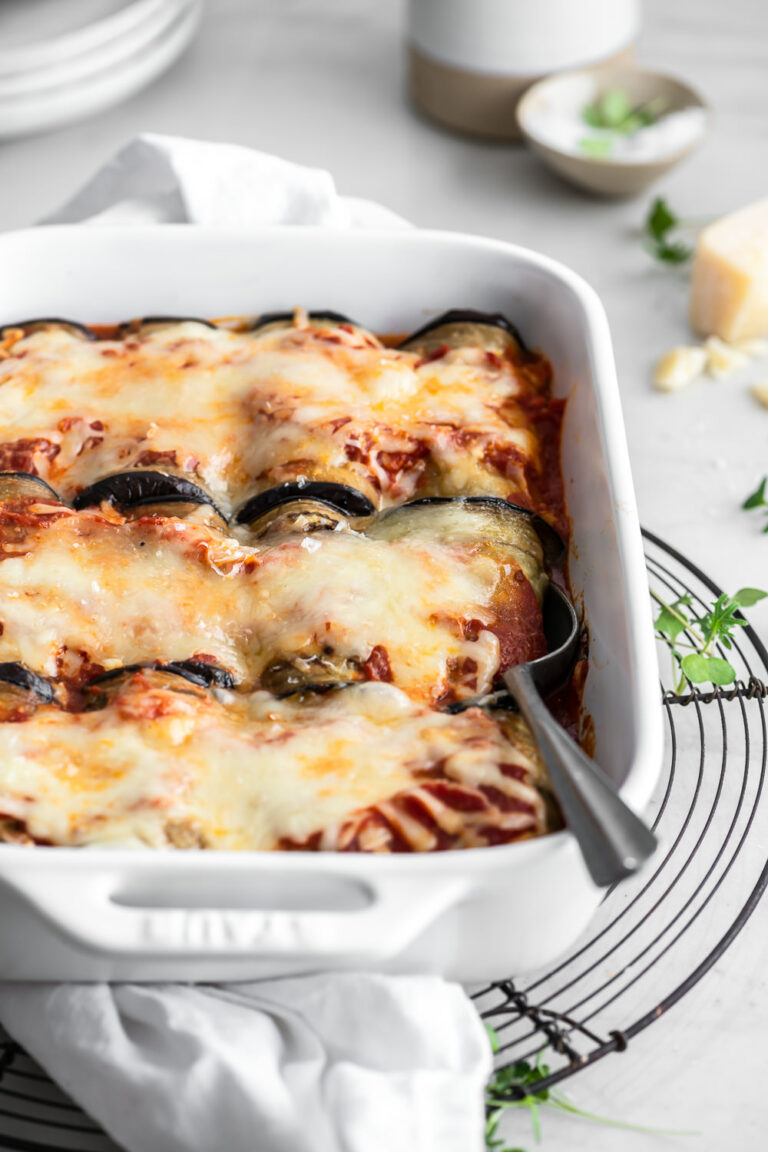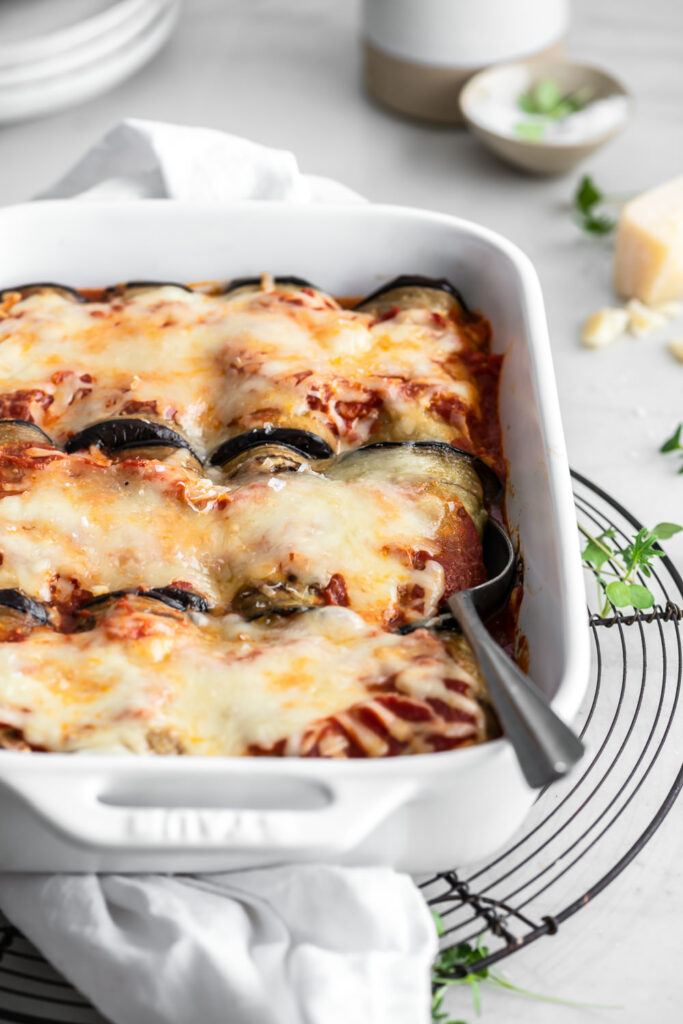 Print
eggplant involtini
This eggplant involtini is a light, simple, fresh summer recipe. Roast eggplant is filled with ricotta and simmered in an easy tomato sauce.
Author:
Prep Time:

15 minutes

Cook Time:

1 ½ hours

Total Time:

0 hours

Yield:

6

Category:

Main

Method:

Oven

Cuisine:

Italian

Diet:

Vegetarian
Ingredients
tomato sauce
1

28-oz can whole peeled tomatoes, with juice

4 tbsp

(

2 oz

) unsalted butter

½

onion, peeled
kosher salt
freshly ground black pepper
eggplant involtini
3

medium eggplants, sliced into ⅜-inch thick slabs (about

12

slices)

¼ cup

extra-virgin olive oil
kosher salt
freshly ground black pepper

15 oz

whole milk ricotta cheese

1 cup

grated parmesan, divided

¼ cup

panko breadcrumbs

¼ cup

chopped fresh basil

2 tbsp

chopped fresh parsley

2 tbsp

chopped fresh mint

1 cup

shredded mozzarella
Instructions
tomato sauce
Combine tomatoes, butter, onion, ½ teaspoon kosher salt and pepper in a medium saucepan over medium heat. Bring to a gentle simmer and cook, uncovered, for about 45 minutes. As the sauce cooks, use a wooden spoon to break up the tomatoes and mash them into smaller pieces.
Taste and add more salt or pepper as needed. Discard onion and blend smooth with an immersion blender.
Sauce can be kept, refrigerated, in an airtight container for up to 5 days.
eggplant involtini
Preheat oven to 425°F. Line two baking sheets with foil and lay out eggplant slabs. Brush both sides with olive oil and season with salt and pepper. Bake for 20- 25 minutes, or until eggplants are tender and lightly browned. Set aside until cool enough to handle. Reduce oven temperature to 400°F.
While eggplants cook, make ricotta filling. Combine ricotta, ¾ cup parmesan, breadcrumbs, ½ teaspoon kosher salt, black pepper, basil, parsley and mint in a medium bowl. Mix until well combined.
Spread a thin layer of tomato sauce in an 8-inch x 11-inch baking dish. Spoon about 2 tablespoons of ricotta filling onto the widest end of each eggplant slice. Roll the slices up tightly but gently, and place seam side down in a snug, even layer in the pan.
Spoon more sauce over the eggplant rolls (you may not need all of it) and sprinkle with mozzarella and remaining ¼ cup grated parmesan. Bake until cheese is melted and sauce is bubbly and fragrant, about 30 minutes. Serve hot.
Notes
Nutritional information is only an estimate. The accuracy of the nutritional information for any recipe on this site is not guaranteed.
Nutrition
Serving Size:

2 rolls

Calories:

505

Sugar:

14g

Sodium:

574mg

Fat:

31g

Saturated Fat:

14g

Unsaturated Fat:

14.3g

Trans Fat:

0.6g

Carbohydrates:

41g

Fiber:

9.2g

Protein:

21g

Cholesterol:

66mg
Keywords: eggplant involtini