This is a creamy, richly flavored soup made with roasted kabocha squash, cauliflower and sweet, buttery leeks. The soup is blended until velvety then drizzled with sour cream and topped with pepitas.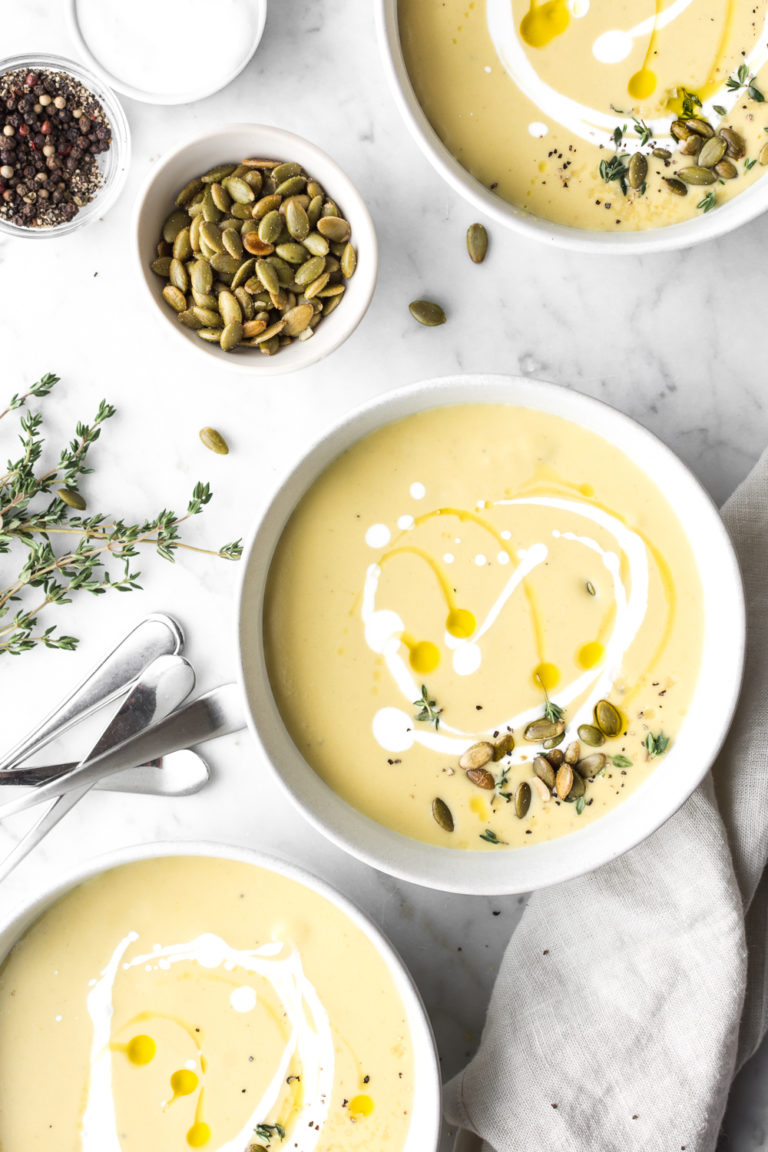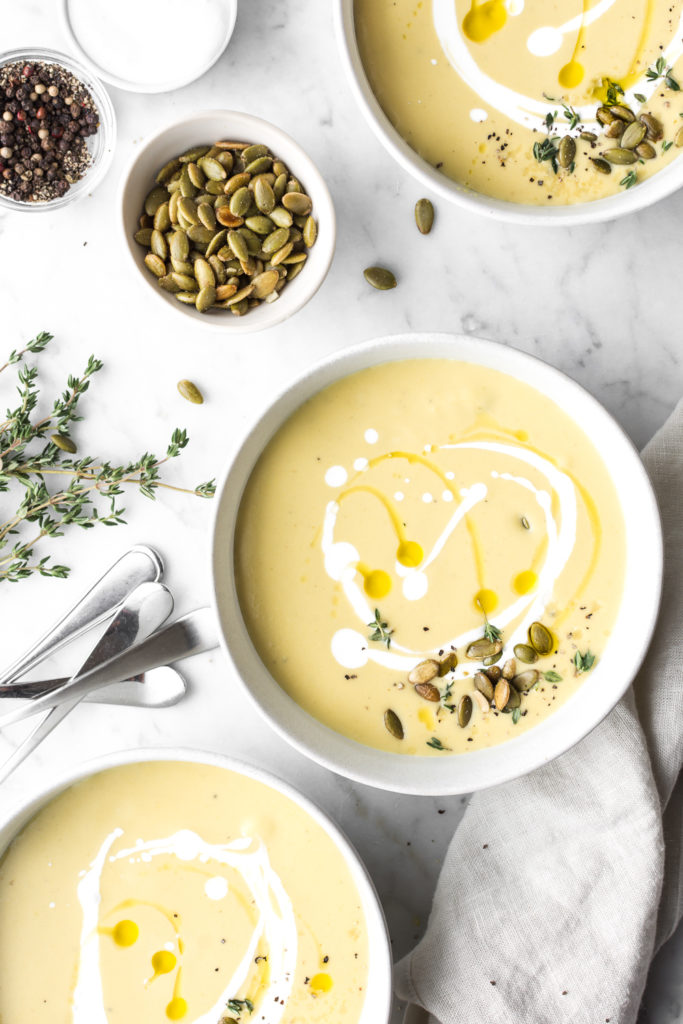 This might surprise you, but this roasted kabocha squash soup is really all about the leeks.
I cook them low and slow to bring out their flavor and develop a touch of caramelization. They're so soft, buttery and fragrant, they practically melt into the pan by the time you're done with them. And they add so much flavor to the kabocha squash soup, don't rush them!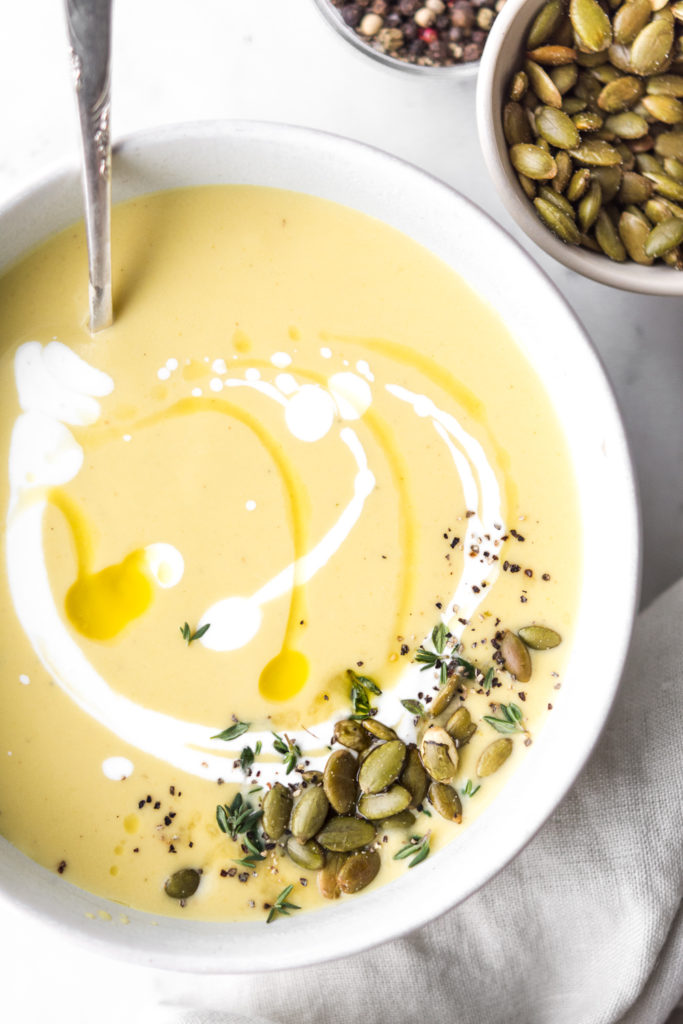 Roasted cauliflower adds creaminess, and the kabocha squash lends a velvety richness. If you can't find kabocha squash, feel free to substitute it with acorn or butternut squash.
I ramp up the richness of this cauliflower squash soup with heavy cream, but it's not necessary. This soup has plenty of texture on its own.
That being said, I can't go without a drizzle of fruity olive oil and sour cream for a pop of freshness. And I love to finish the kabocha squash soup off with the salty, butter crunch of roasted pepitas.
what does kabocha squash taste like?
Kabocha squash is one of my favorite winter squashes (second to the adorable, delicious and hard to find honeynut squash). When ripe, kabocha squash has a dense and velvety texture that makes it the ideal candidate for soups.
I love to roast it, which caramelizes the sugars and concentrates the flavors. It has a richer flavor than butternut squash and reminds me most of a sweet potato.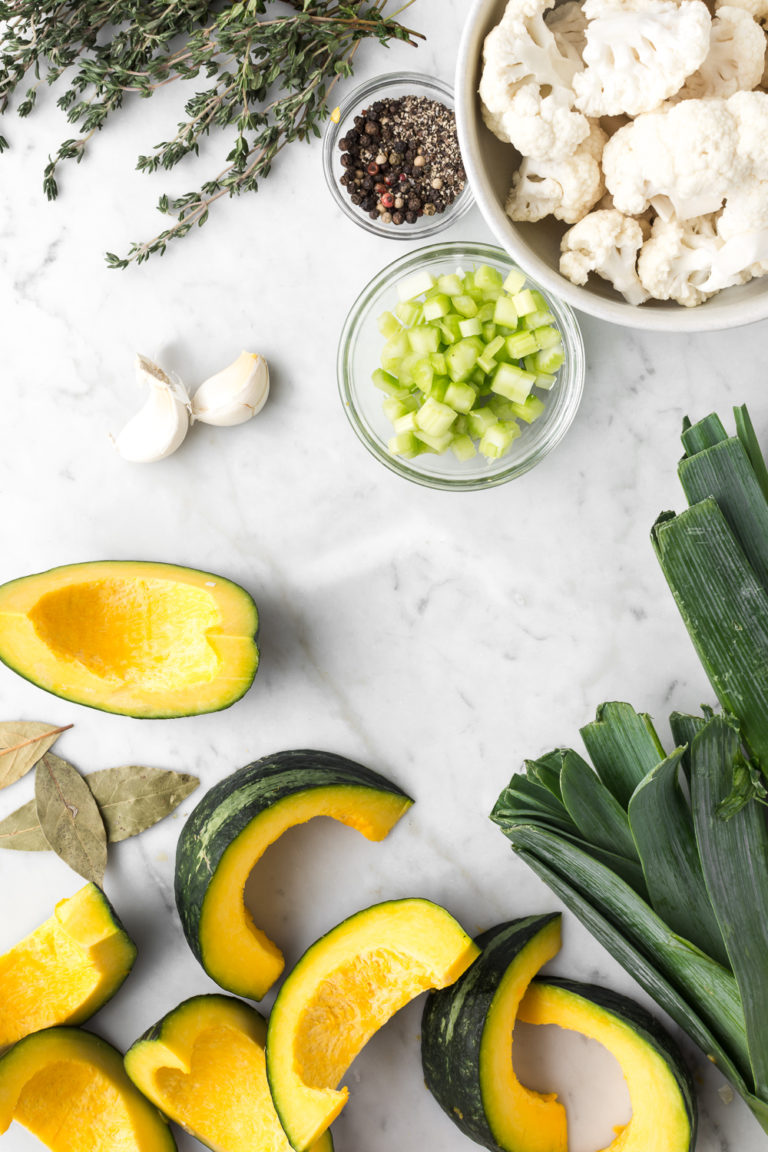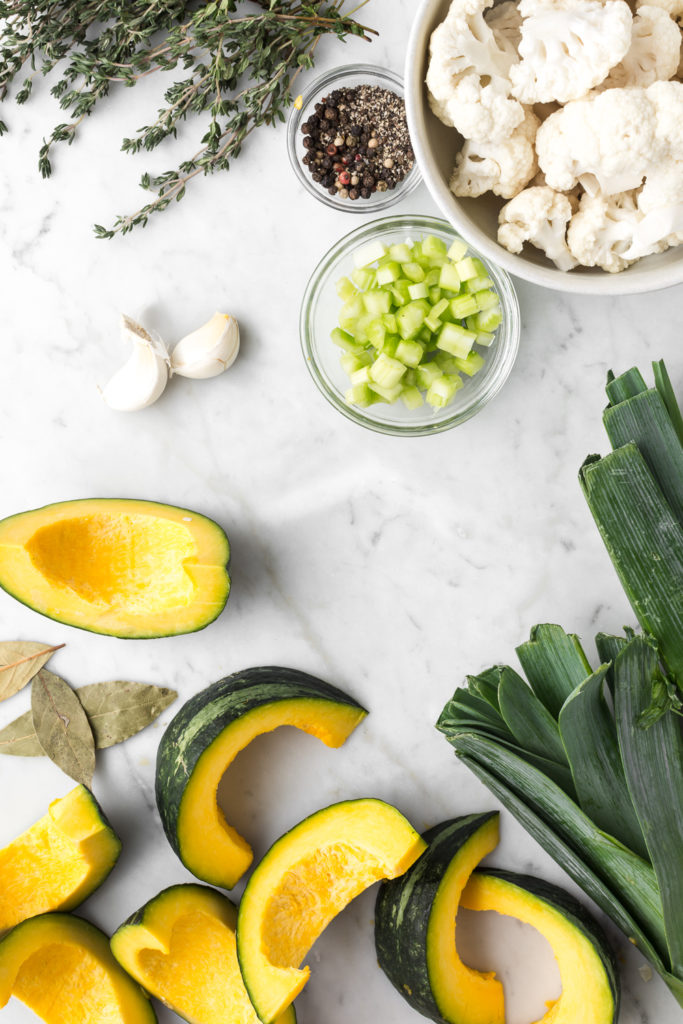 how do you pick the best kabocha squash?
Look for a kabocha squash that has a deep, dark green color. A few bumps, blemishes or orange patches on the skin are completely normal and don't influence the quality.
You also want to pick a squash that is heavy for its size, which is a good indicator of ripeness.
To rule out overripeness, make sure the stem is strongly attached and free of mold. And look for a rind that is thick, dull and free of soft spots.
Because of the thick skin, kabocha squash (and all "winter squash") can be stored for several months in a cool, dry area away from direct sunlight. Even though they're harvested in the fall, they can be enjoyed throughout winter if they're grown and stored well.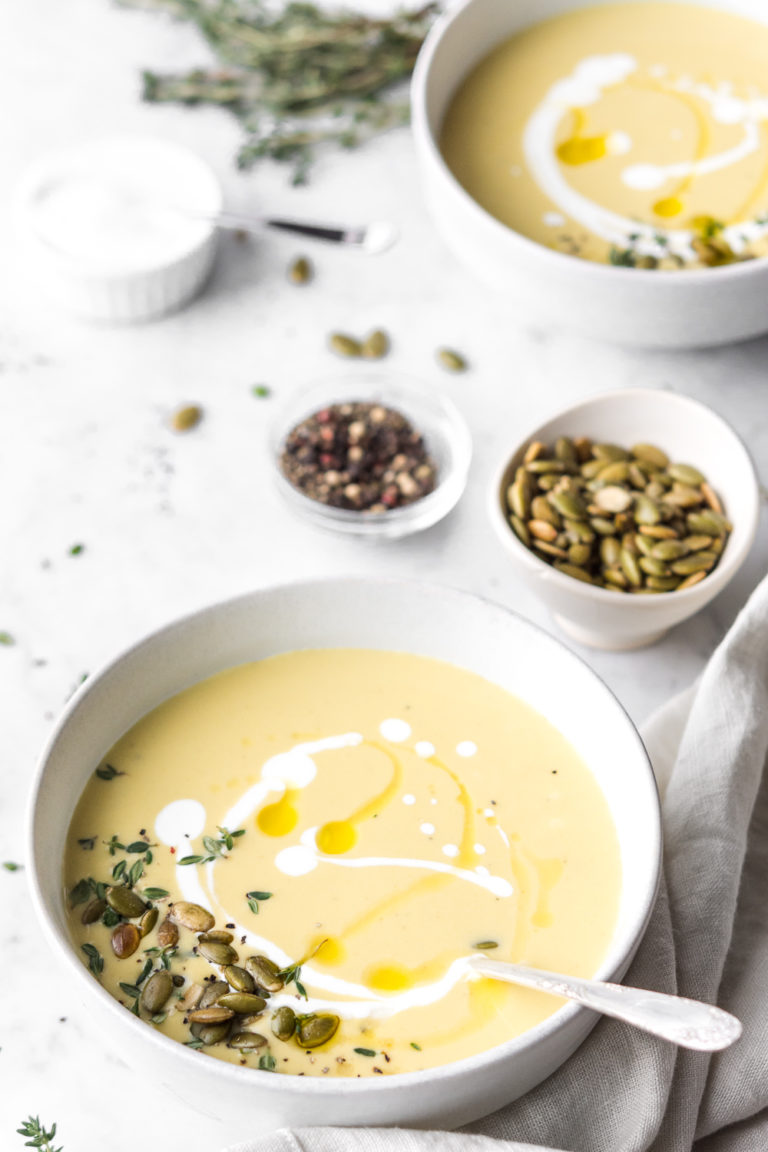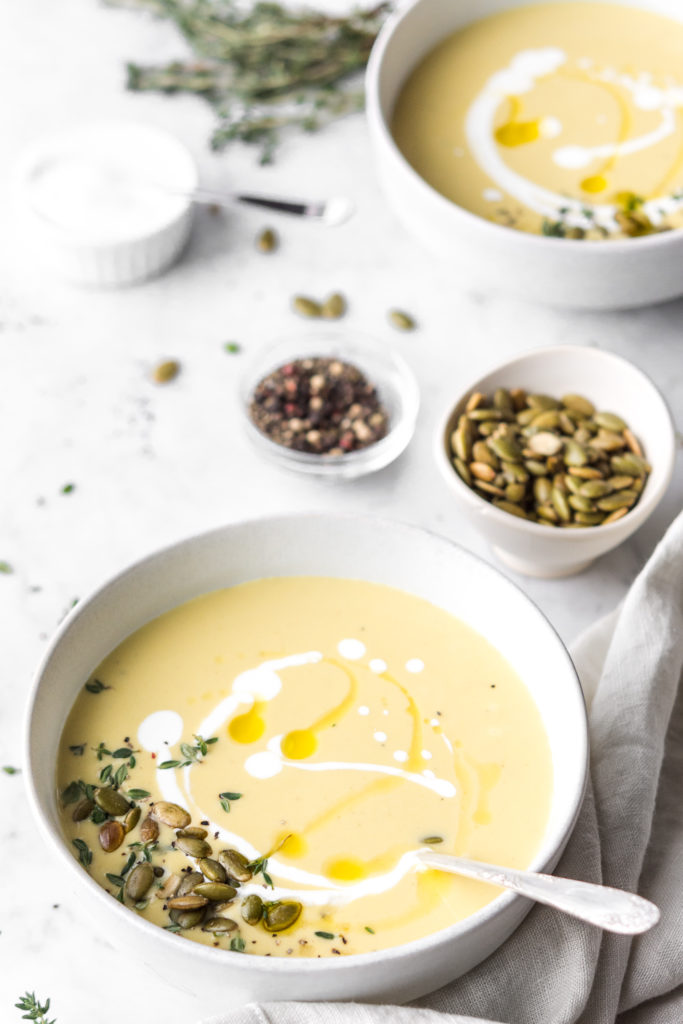 how to make kabocha squash soup:
Roast the kabocha squash and cauliflower in the oven
Slowly caramelize the leeks and celery in butter
Add garlic, roasted squash, cauliflower, herbs and chicken stock
Simmer the soup to meld the flavors
Puree until smooth and velvety
Stir in heavy cream and top with roasted pepitas and sour cream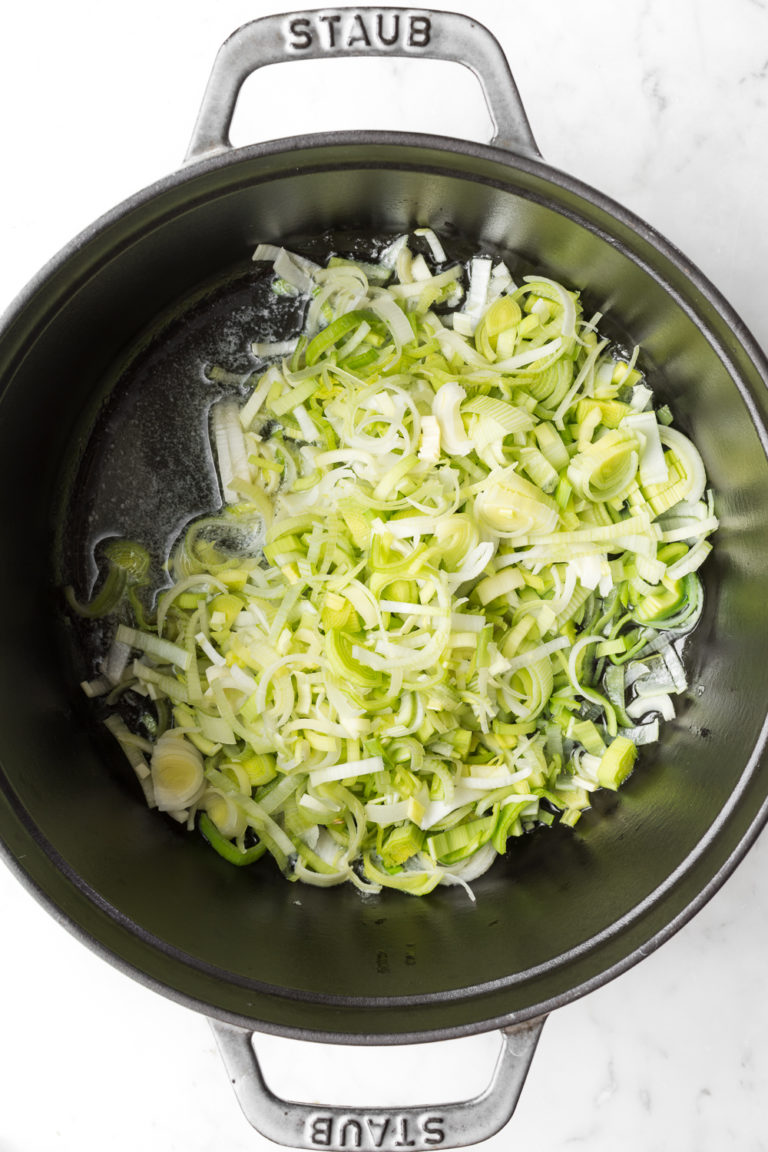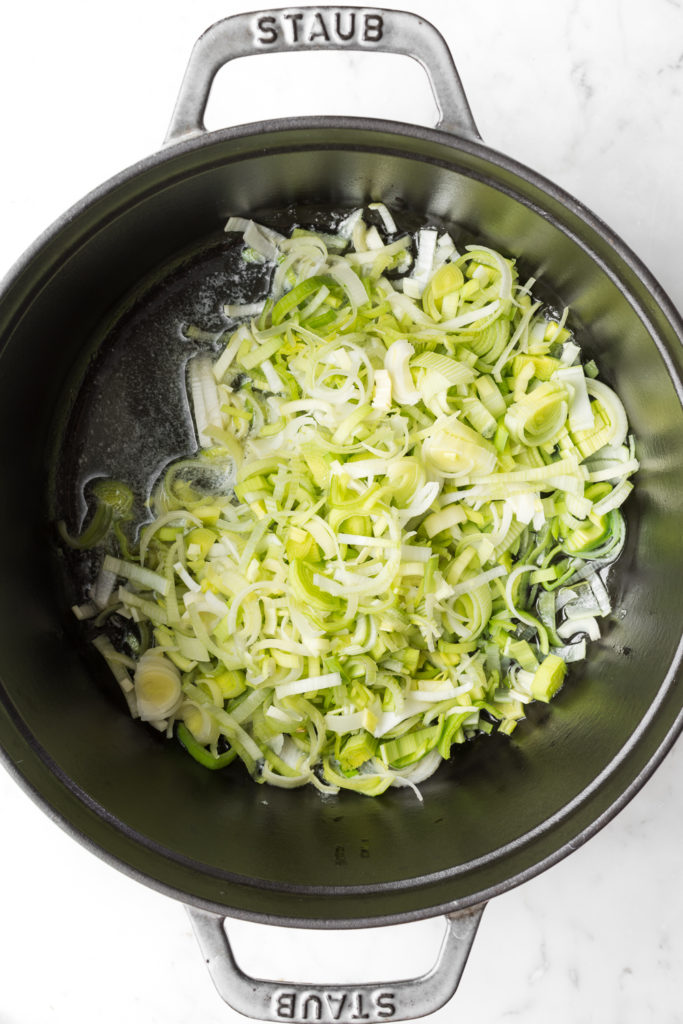 can you freeze this soup?
Yes! Roasted kabocha squash soup freezes really well. Store the cooled soup in an airtight container, then freeze. Make sure to leave at least an inch of headspace in the container to account for expansion, especially if you're using glass.
The soup will keep, frozen, for up to 3 months.
To thaw, pull out the frozen kabocha squash soup and refrigerate overnight. Alternatively, you can defrost in the microwave.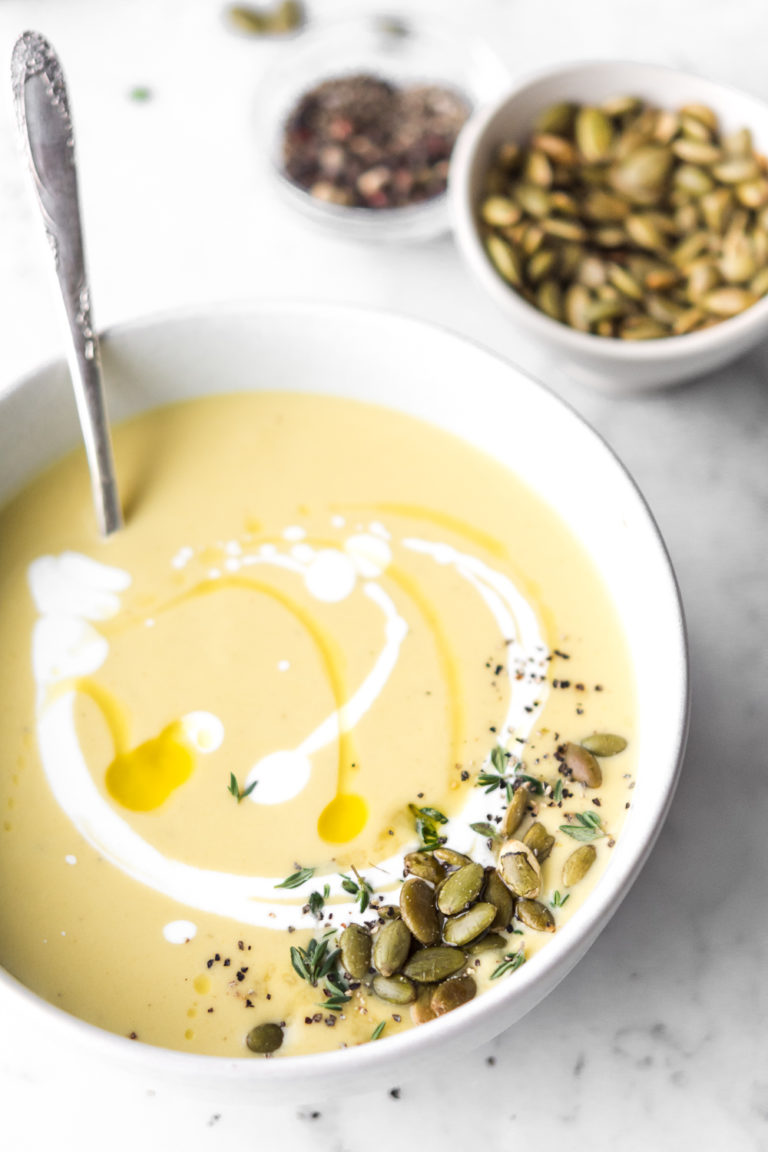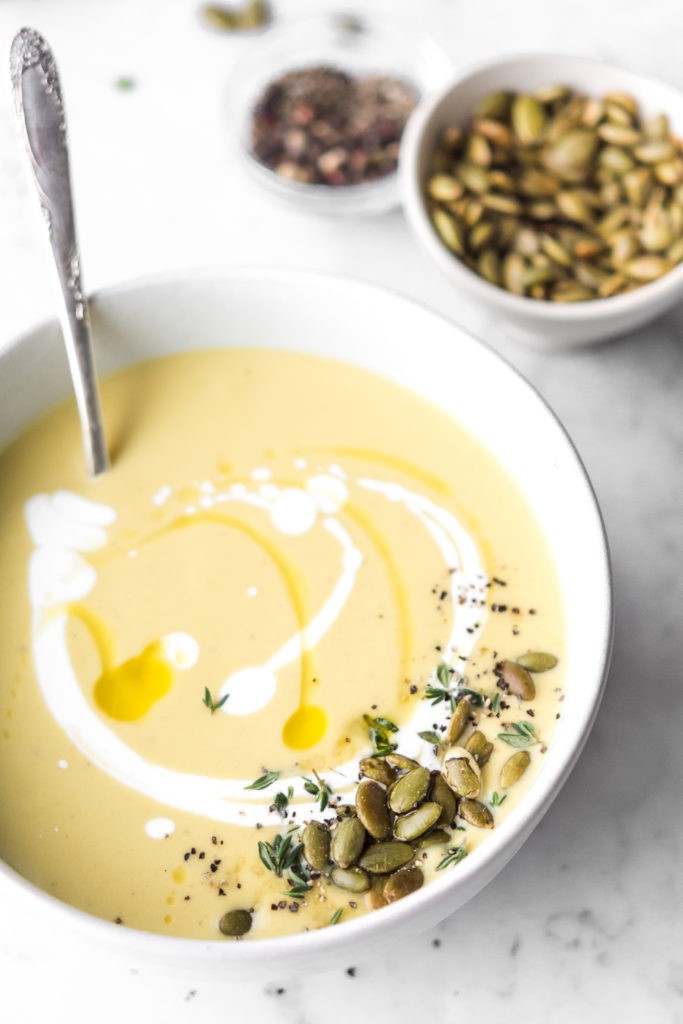 related recipes:
pumpkin pot pie with white beans and bacon
butternut squash fritters with leeks and fresh thyme
parsnip puree with brown butter dijon drizzle and fried shallots
mashed rutabaga with olive oil, lemon and herbs
roasted parsnips with maple ginger glaze
farro soup with cabbage and onion
---
Print
roasted kabocha squash soup with cauliflower and leeks
This is a velvety soup made with roasted kabocha squash, cauliflower and sweet, buttery leeks. The soup is blended then topped with sour cream and pepitas.
Author:
Prep Time:

5 minutes

Cook Time:

65 minutes

Total Time:

1 hour 10 minutes

Yield:

4- 6

Category:

Soup

Cuisine:

American
Ingredients
1

small kabocha squash (about

3

lbs), halved, seeded and cut into large wedges

1

small head of cauliflower (about 1 ½ lbs), cut into florets

3 tbsp

olive oil, divided

kosher salt

freshly ground black pepper

2 tbsp

butter

3

small leeks, well rinsed and sliced into half moons

1

celery rib, diced

2

garlic cloves, minced

5 cups

low sodium chicken stock, plus more if needed

1 tbsp

fresh thyme

1

bay leaf

½ cup

heavy cream (optional)

¼ cup

sour cream thinned with 1 tbsp of cold water, for drizzling

2 tbsp

fruity olive oil, for drizzling

¼ cup

roasted salted pepitas (pumpkin seeds), for garnish
Instructions
Preheat oven to 400°F. In a large bowl, drizzle cauliflower with 1 tablespoon olive oil, season with kosher salt and freshly ground black pepper. Toss to coat and set aside. Place squash on a foil lined baking sheet and toss with 1 tablespoon olive oil, kosher salt and freshly ground black pepper.

Roast squash for about 20 minutes, or until browned and caramelized on bottom edge. Flip squash wedges, move to one side of the baking sheet and add cauliflower. Roast vegetables for another 20- 25 minutes, or until soft and browned on the edges. Remove vegetables from the oven and let sit until cool enough to handle. 

Meanwhile, heat remaining 1 tablespoon olive oil with butter in a large pot over low heat. When butter has melted, add leeks and celery and season with salt and black pepper. Saute, stirring occasionally, for about 15 minutes or until very soft and beginning to brown. Stir in garlic and cook about a minute, until fragrant.

Peel skin off of squash and discard, then add to pot with leeks. Add cauliflower, chicken stock, thyme and bay leaf. Season with salt and black pepper. Bring soup to a boil then reduce heat to a simmer. Cook for 15- 20 minutes, mashing squash and cauliflower against the pot to break them up. Remove soup from heat and let cool slightly. Remove bay leaf and use an immersion blender to puree soup. Alternatively, carefully transfer the soup to a blender to puree until smooth (you may need to do this in several batches, depending on the size of your blender).

Stir in heavy cream (if using) and add more cream or stock to reach desired consistency. Taste and add salt and pepper as needed. Serve with a drizzle of sour cream, olive oil and a sprinkle of pepitas.
Notes
Soup will keep for up to 4 days, covered and refrigerated. It can be frozen for up to 3 months.
Nutrition
Serving Size:

⅙ of recipe

Calories:

330

Sugar:

7.6g

Sodium:

636mg

Fat:

27g

Saturated Fat:

10g

Unsaturated Fat:

14.9g

Trans Fat:

0.5g

Carbohydrates:

19g

Fiber:

4.2g

Protein:

7.3g

Cholesterol:

38mg
Keywords: kabocha squash soup