Pickled peaches are sweet, tart, gingery and so delicious. Your friends will look forward to receiving jars of these sweet pickled peaches every year-- if you can part with them!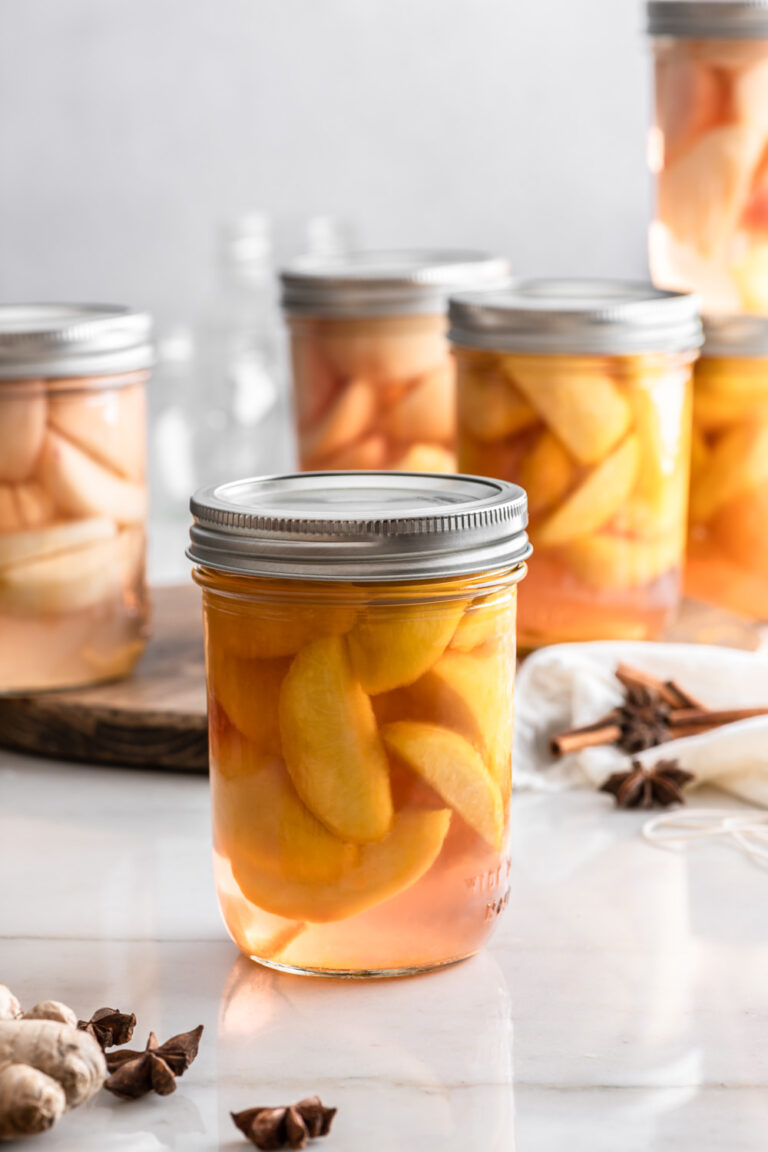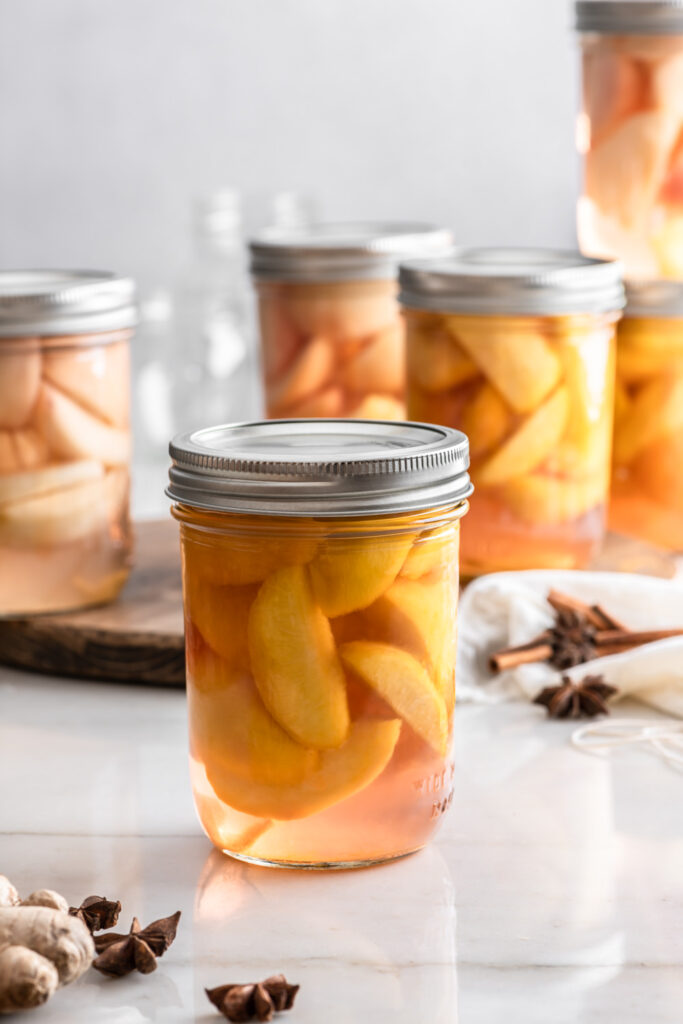 These pickled peaches have a nearly candied consistency and are deeply infused with sweet vinegar brine and a ton of spicy ginger flavor. They're everything I want canned peaches to be!
Their texture is smooth, with just enough firmness to keep you coming back for more. These spiced pickled peaches are the best way to preserve the summer bounty and keep those ripe summer peaches in your life for months and months.
Keep reading for all of my tips on how to make perfectly pickled peaches, how to can them, and even how to adapt this recipe for simple quick-pickled peaches that will keep for several weeks in the fridge.
what you need for pickled peaches:
peaches
ginger
cinnamon sticks
star anise
white vinegar
sugar
water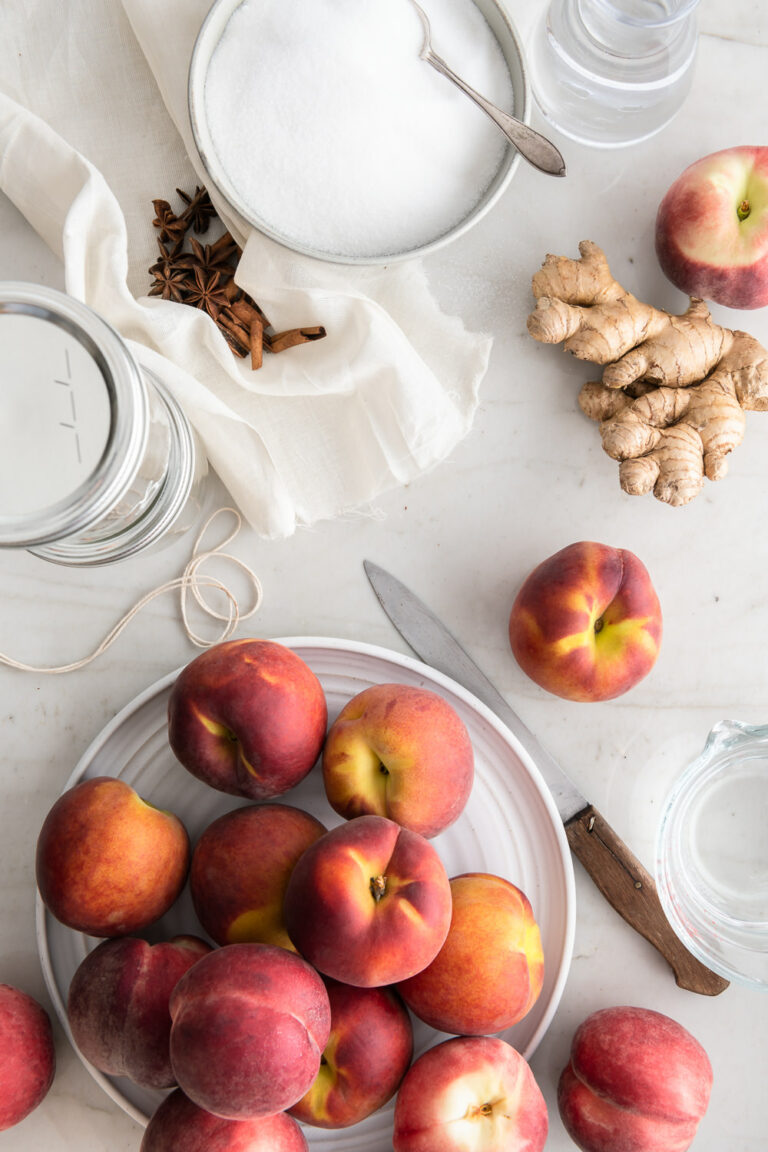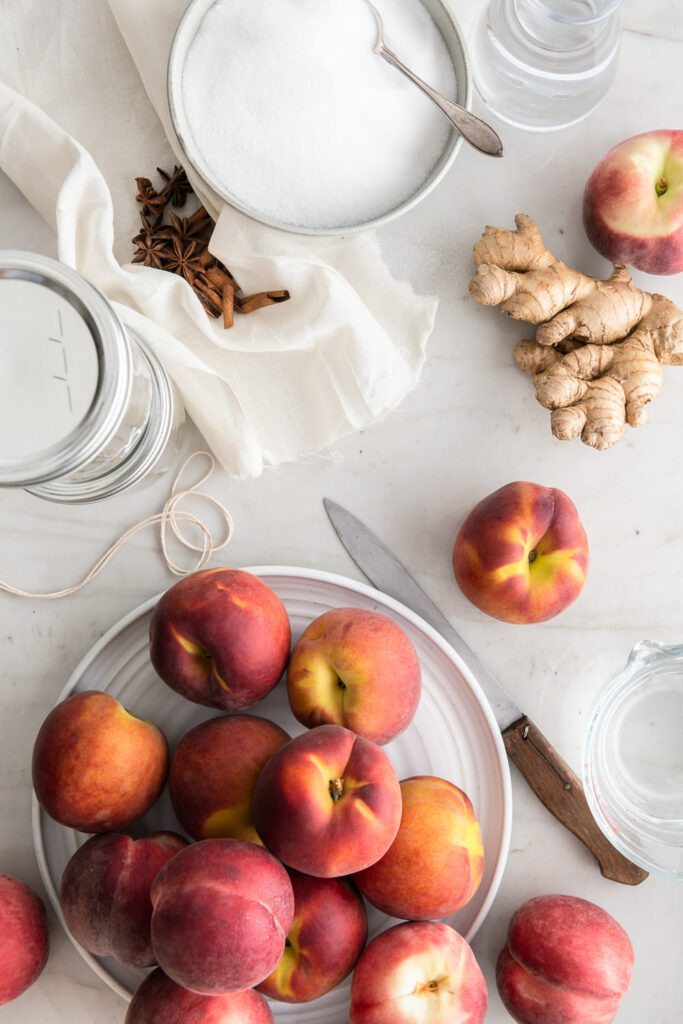 how to make pickled peaches:
Clean and dry canning jars
Simmer sugar, water, vinegar and spices for 10 minutes
Blanch, peel and slice peaches; toss in lemon juice
Add to syrup and heat
Transfer peaches and syrup to jars
Process in boiling water bath for 20 minutes
how to make quick pickled peaches:
The full recipe below is for canned pickled peaches, but you can very easily switch it over to quick pickled peaches. The main difference is the cans will not be vacuum-sealed, so they must be stored in the refrigerator.
This is a great method if you have peaches that are a little too soft and will break down to mush if processed in a boiling water bath. It's also much quicker to do!
To make quick pickled peaches, follow the recipe all the way through putting the lids on the jars. Then, let them cool and store in the refrigerator! Easy!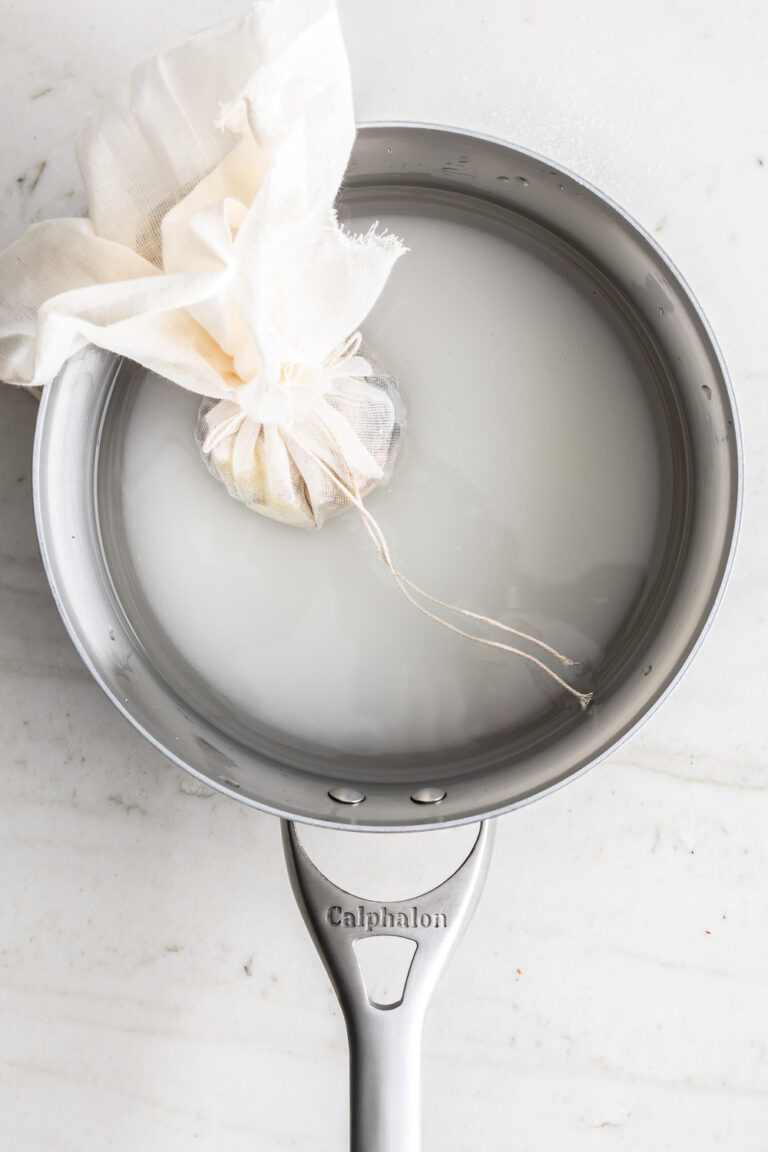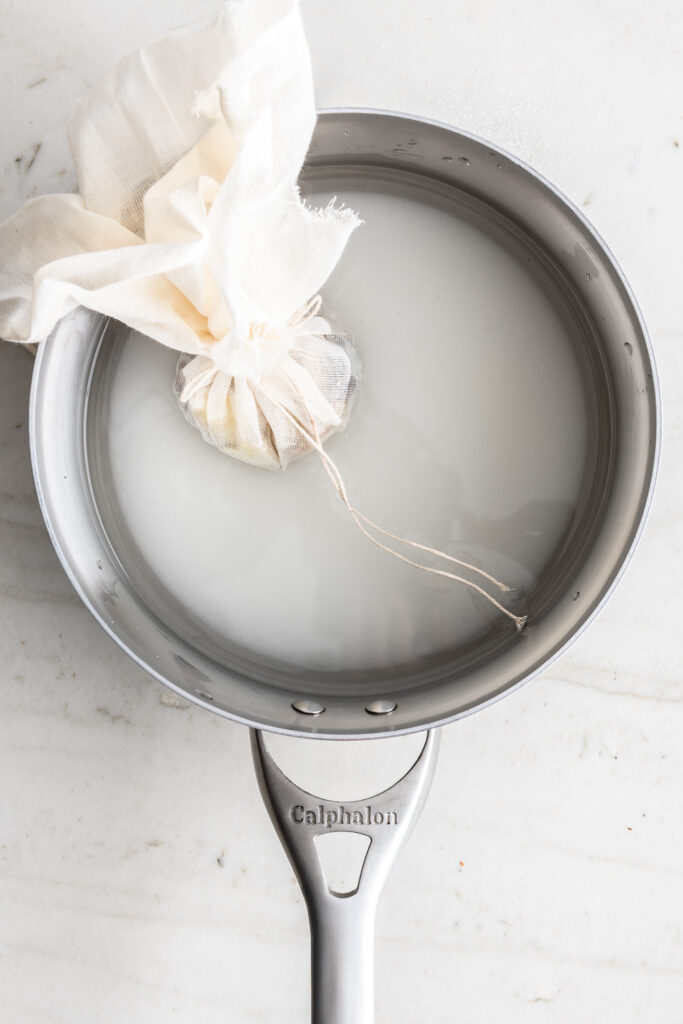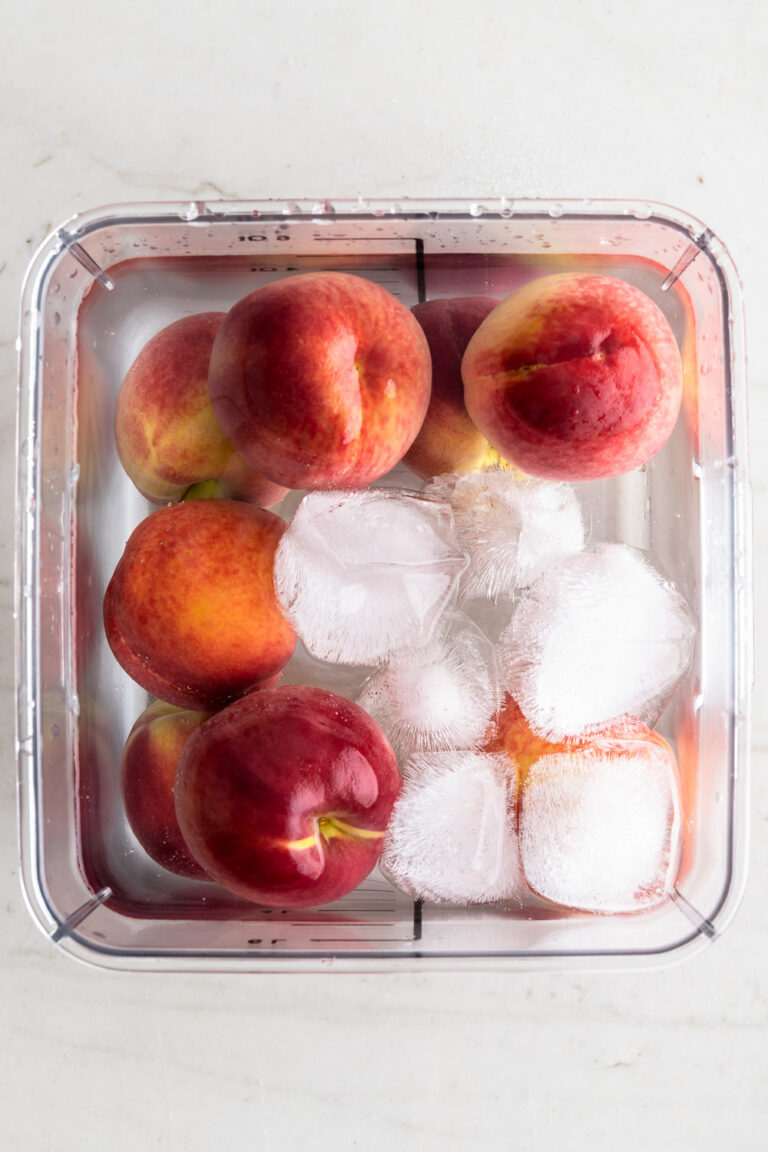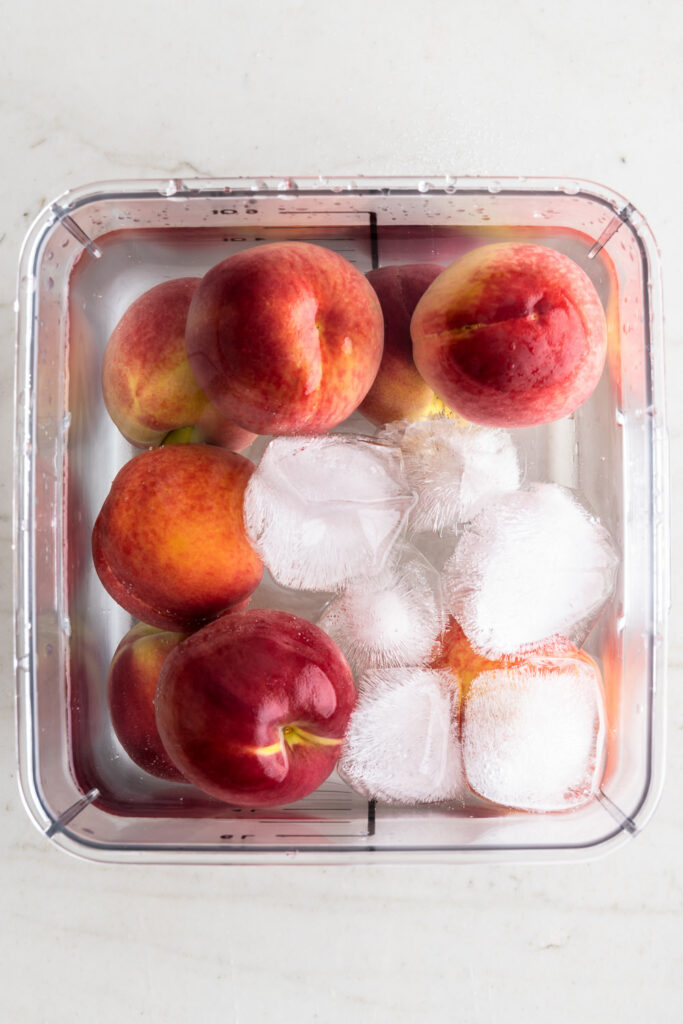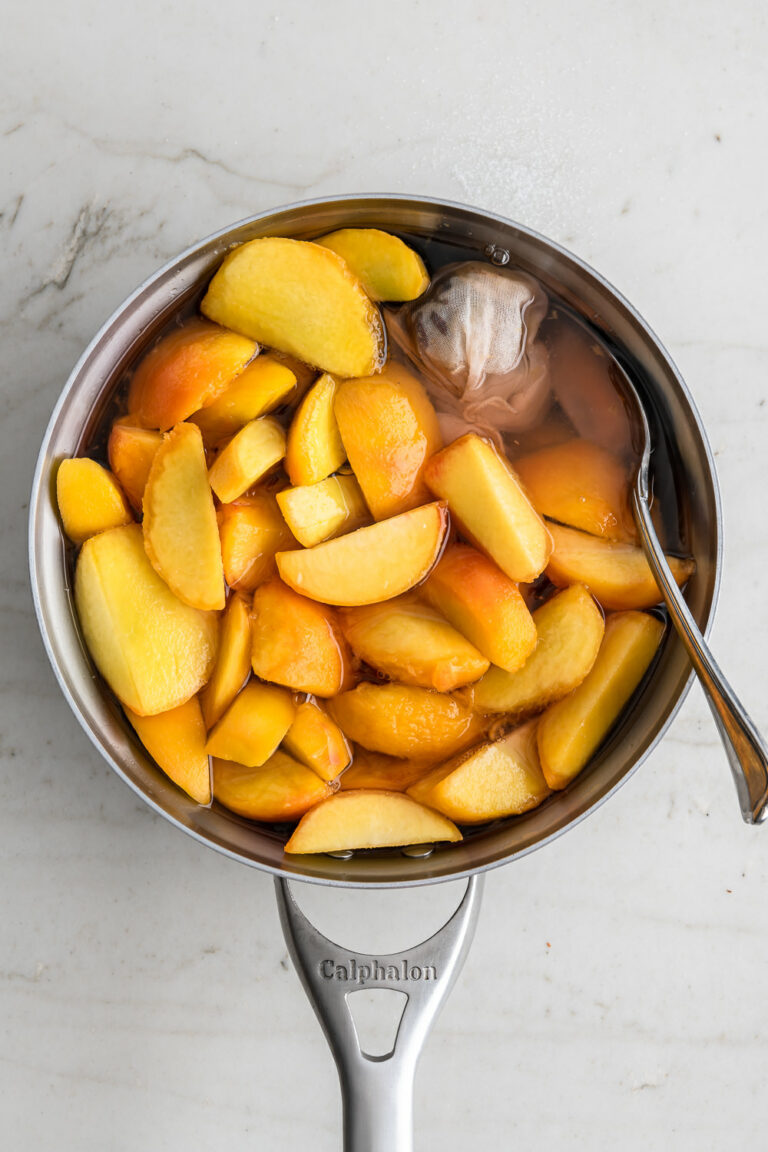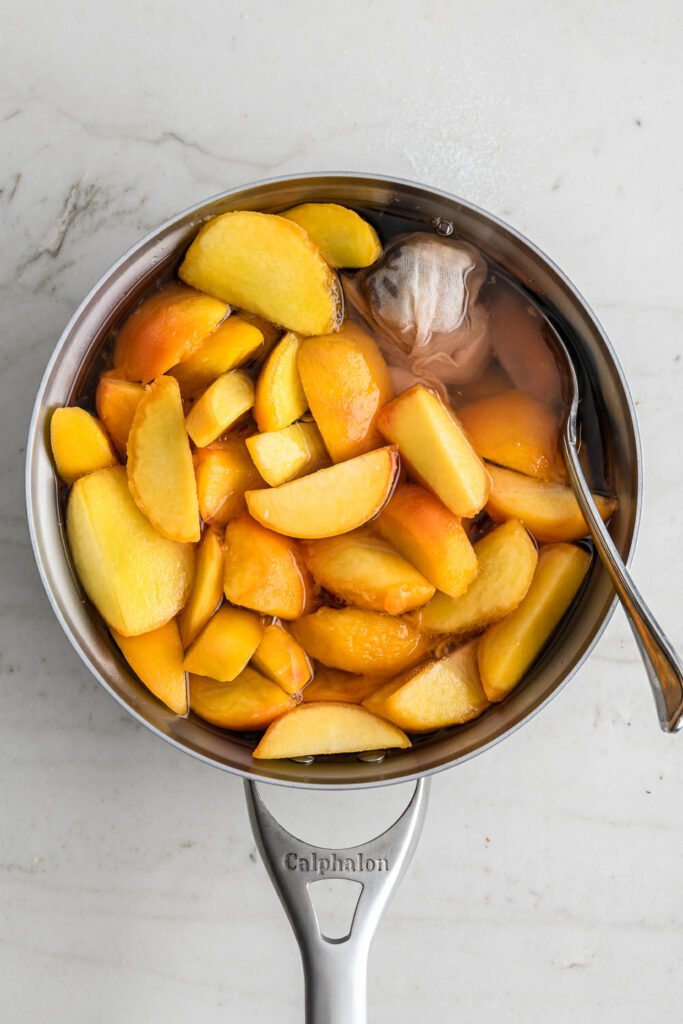 tips for canning pickled peaches:
Toss peaches in lemon juice to keep them from browning. I prefer to fill a big bowl with about ½ cup of lemon juice. As I peel and slice the peaches, I put them in the bowl and toss them around in the lemon juice. This is the best way to prevent browning, preserve freshness and buy you some time as you peel those 6 pounds of peaches!
Clean (not sterile) jars. I recommend running empty jars through the dishwasher before canning. We process the jars for 20 minutes, so they don't need to be sterilized, but it doesn't hurt to be as clean as possible. This is a good time to inspect your jars and make sure there aren't any nicks, cracks or rough edges that could prevent an airtight seal.
There's no need to soak or boil the two-part lids anymore! Just use clean, rust-free rings (which can be reused) and new flat lids.
Don't overpack the jars with peaches. You want to aim for least 35% syrup for the right acid balance.
Leave ½-inch of headspace in the jars. This leaves room for the contents to expand while you heat them and then form a vacuum when they cool. Make sure to run a clean skewer or thin spatula around the inside of the jar and gently press the peaches from side to side to release trapped air bubbles. Top with more syrup at the end to achieve the right headspace.
Clean the lip of the jars. Use a damp paper towel to wipe the edge of the jar really clean, then attach the lid.
Don't over-tighten the lids. Close the jars so they're "hand tight", but don't crank them down. Remember, canning works by heating the contents of the jar and forcing gases out. As the jar cools, a vacuum seal is formed. The air can't escape if the lids are too tight!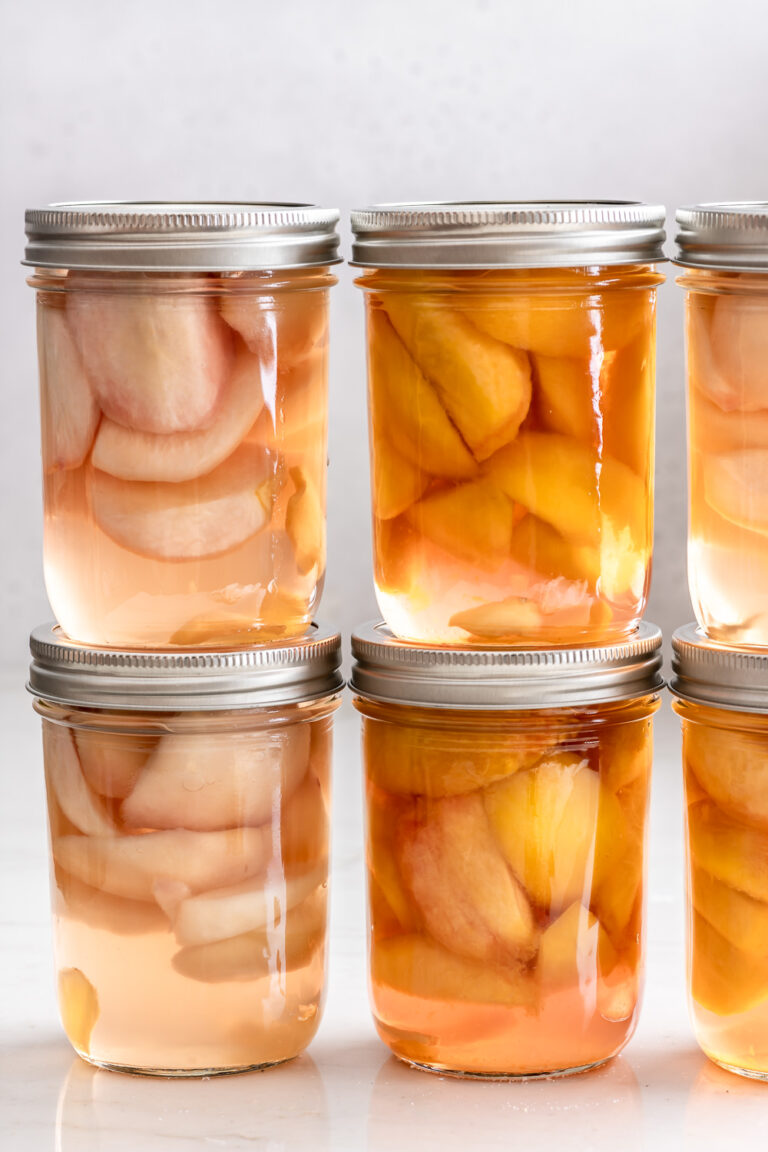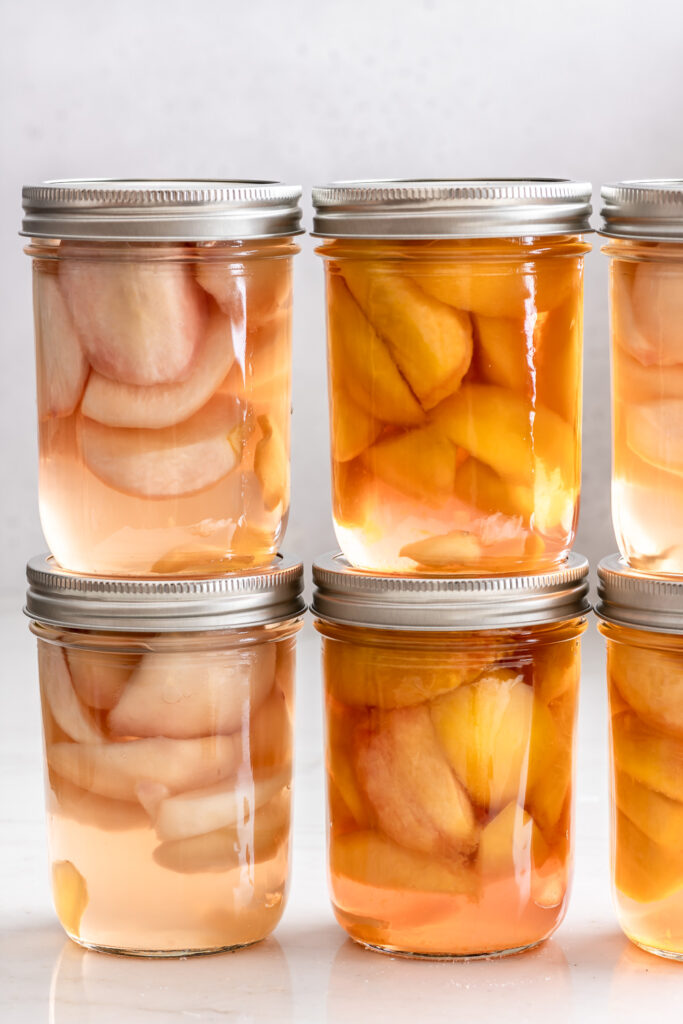 Make sure there's at least 1-inch of water above the tops of the jars. I always fill the pot about two-thirds of the way full, then bail some water out, if needed, once the jars go in. You could also just heat a pot of water on the side in case you need more boiling water to fully submerge the jars.
Start the 20-minute timer once the boiling begins! Heat the water in the canner so it's hot but not boiling, add the jars, cover and bring to a boil. If you add the jars to boiling water, the temperature change could cause the jars to crack. And it can sometimes take a while to bring all of that water to a boil, so don't start the timer prematurely.
Don't disturb the jars! When the time is up, turn off the heat and let the boiling subside. Carefully remove the jars from the hot water without tilting or sloshing the liquid inside, which could disrupt the seal. Let the jars cool, undisturbed, for a few hours. If the lids haven't popped and sealed (curved down), reprocess the jars within 24 hours or store them in the fridge.
Altitude: if you live more than 1000 feet above sea level, you need to process your pickled peaches for more time. Check out this chart to figure out how much time you need to add.
what can you do with pickled peaches?
The very best thing to do with the sweet pickled peaches is to eat them, straight from the jar. But of course, there are so many other delicious ways to use them. Here's a list to get you started!
Chopped up and used a relish for roast or grilled meat
On top of your favorite fried chicken sandwich
In a cheese and charcuterie board, alongside some apricot mostarda!
Spooned on top of homemade buttermilk ice cream
Blended up and mixed with your favorite sparkling wine for the best kind of bellini
Spooned onto crunchy toast with burrata, ricotta or brie
Added to a prosciutto pizza, just as it's coming out of the oven
Tossed in an arugula salad
Chopped up into a salsa for grilled fish or chicken
On top of your favorite overnight oats or chia bowl
In a bourbon peach sour: recipe at the very bottom!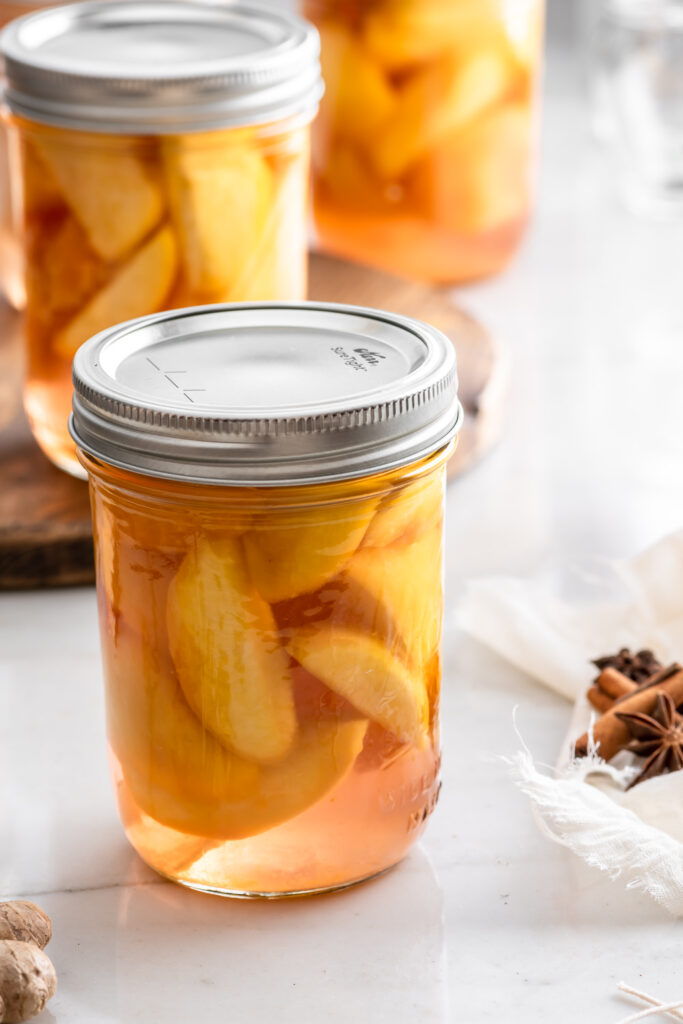 what does a pickled peach taste like?
Pickled peaches are sweet, tart, and lightly spiced. We prefer to start with crunchy peaches so that they retain a pleasant texture, like a canned peach. If they are too ripe, they'll be mush after the boiling water bath.
The pickling syrup is a sweet, thick sugar-vinegar brine that's flavored with ginger, cinnamon and star anise. It infuses the peaches and gives them a ton of sweet, punchy, gingery flavor.
what peach is the best for pickling?
Look for peaches that are ripe but firm. Variety isn't as important as firmness. If you plan on canning them, the firmer, the better. Peaches on the softer side will break down into mush after processing in a hot water bath.
At this firmness level, you'll need to cut the peach slices off the pit. Even if you can find freestone peaches, they won't likely twist off the pit very easily. Be prepared to hack a bit!
I especially love making white pickled peaches. Not only are they absolutely beautiful in their almost purple-colored syrup, but if you start when are just ripe (basically crunchy) they will transform into a perfectly succulent, candied texture.
how long will pickled peaches last?
Canned: store in a cool, dark place for up to a year.
Once opened, a few weeks in the fridge
Quick pickled peaches: a few weeks in the fridge
BONUS RECIPE: bourbon pickled peach sour
2 oz bourbon
1 egg white
2 oz pickling syrup
½ oz lemon juice
Add bourbon, egg white, pickling syrup and lemon juice to a cocktail shaker. Vigorously shake until mixture is very foamy, about 1 minute.
Fill shaker with ice and shake another 20- 30 seconds, or until well chilled.
Strain into a coupe. Garnish with lemon twist and serve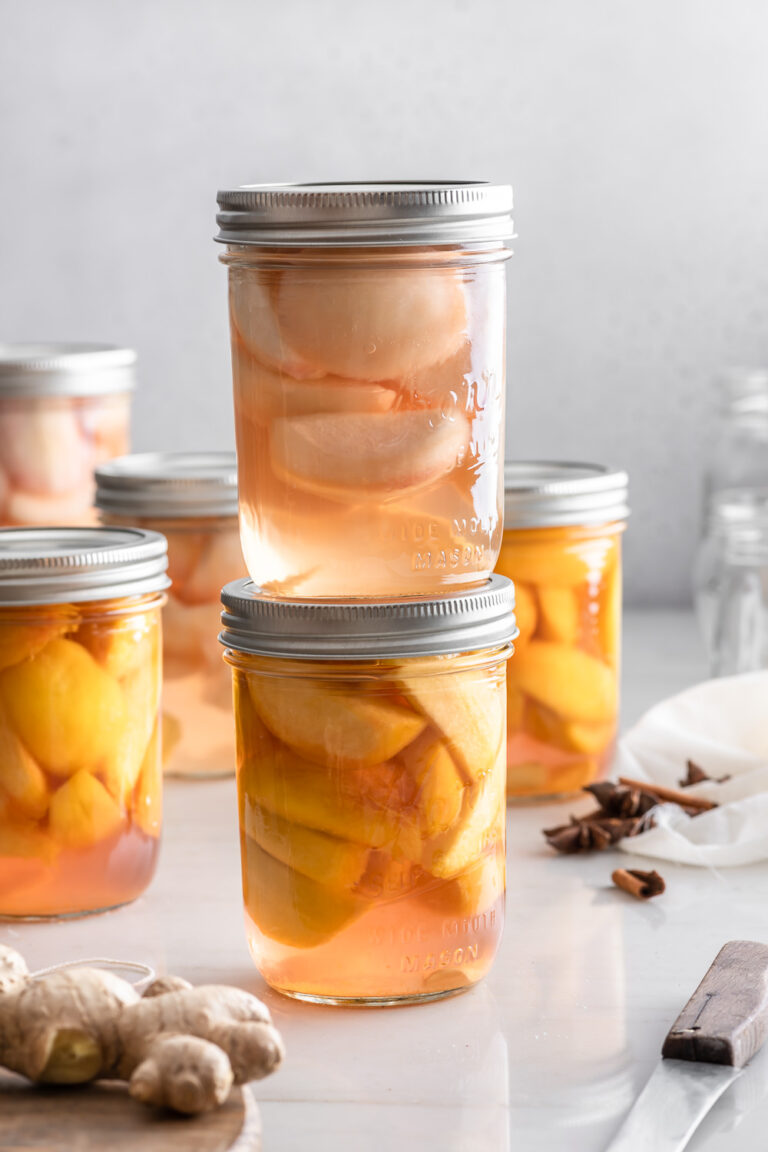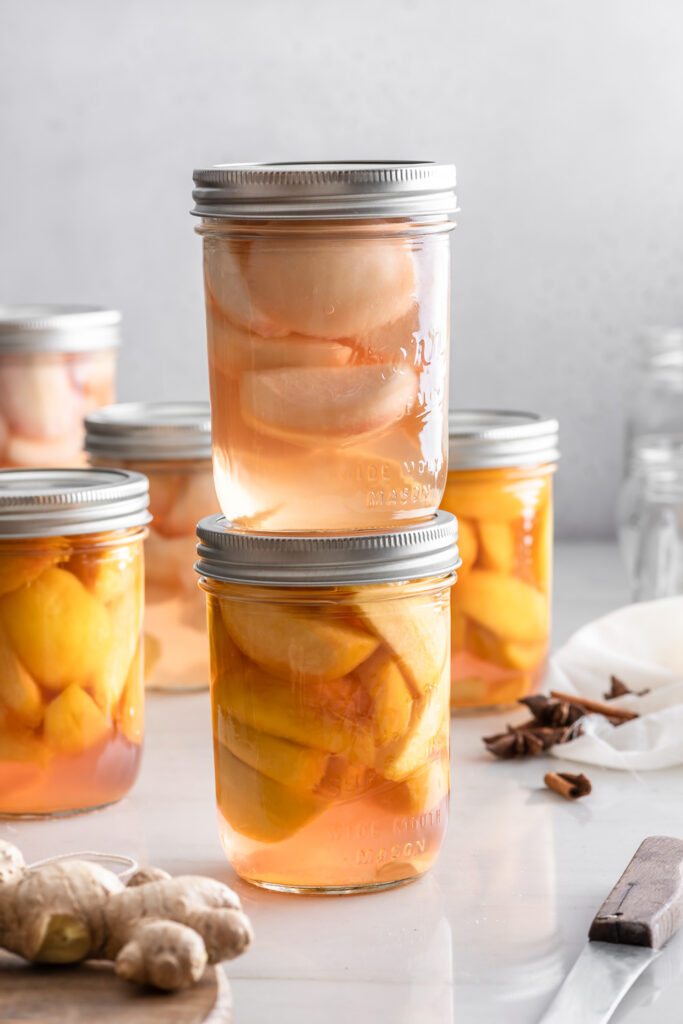 more pickle recipes to try!
Print
pickled peaches (quick and canned)
Pickled peaches are sweet, tart, gingery and so delicious. They have a candied peach consistency and are infused with sweet vinegar and a ton of spicy ginger, cinnamon and star anise.
Author:
Prep Time:

20 minutes

Cook Time:

30 minutes

Total Time:

50 minutes

Yield:

6 pints

Category:

Pickles

Method:

Canned

Cuisine:

American

Diet:

Vegan
Ingredients
2

-inch piece fresh ginger, thinly sliced, plus 12 peeled slices

3

cinnamon sticks, broken into pieces

2

star anise

4 cups

granulated sugar

3 cups

water

2 cups

distilled white vinegar

6

lbs ripe but firm peaches

½ cup

lemon juice
Instructions
Wash 6 pint jars and 2-piece lids with hot soapy water and let dry. Drop 2 slices ginger in each jar and set aside.
Tie up ginger, cinnamon pieces and star anise in a piece of cheesecloth and toss in a large saucepan. Add sugar, water and vinegar. Bring to a boil, stirring to help sugar dissolve, then simmer for 10 minutes.
Meanwhile, bring a large pot of water to a boil and fill a medium-sized bowl with ice water for blanching. Drop peaches in the boiling water and cook for about a minute, or until the skins loosen, then shock in ice water.
Fill a large bowl with lemon juice. Slip skin off of peaches, then slice into 1-inch thick wedges. Toss the slices in the lemon juice as you go to prevent browning.
Use a slotted spoon to transfer sliced peaches to syrup; discard lemon juice. Bring to a boil then remove from heat. Ladle peaches and syrup into prepared jars, leaving ½-inch headspace; discard spice satchel. Use a clean, damp paper towel to clean the edges of the jars and close with two-piece lids. Process jars in a boiling water bath for 20 minutes.
Store cooled jars in a cool, dark, dry place for at least 1 week (to let flavors meld) and up to 6 months.
Notes
Nutritional information is only an estimate. The accuracy of the nutritional information for any recipe on this site is not guaranteed.
Nutrition
Serving Size:

½ cup undrained

Calories:

100

Sugar:

21g

Sodium:

5mg

Fat:

0g

Saturated Fat:

0g

Unsaturated Fat:

0g

Trans Fat:

0g

Carbohydrates:

25g

Fiber:

1g

Protein:

0g

Cholesterol:

0mg
Keywords: pickled peaches