This is the absolute best spritz cookie recipe out there. They're light, tender and crisp on the edges. They have a rich buttery flavor (thanks to the salted butter) and they are so much fun to decorate for the holidays. You can go crazy with red and green sprinkles, keep it elegant with metallic sprinkles, drizzle or dip them in dark chocolate, or enjoy them as a plain butter cookie. They're incredibly versatile.
I adapted these spritz cookies just a bit, from my Grandmother Dorothy Drum's original recipe. This is a classic spritz cookie and uses only vanilla for flavor, but feel free to add a few drops of almond extract if you'd like.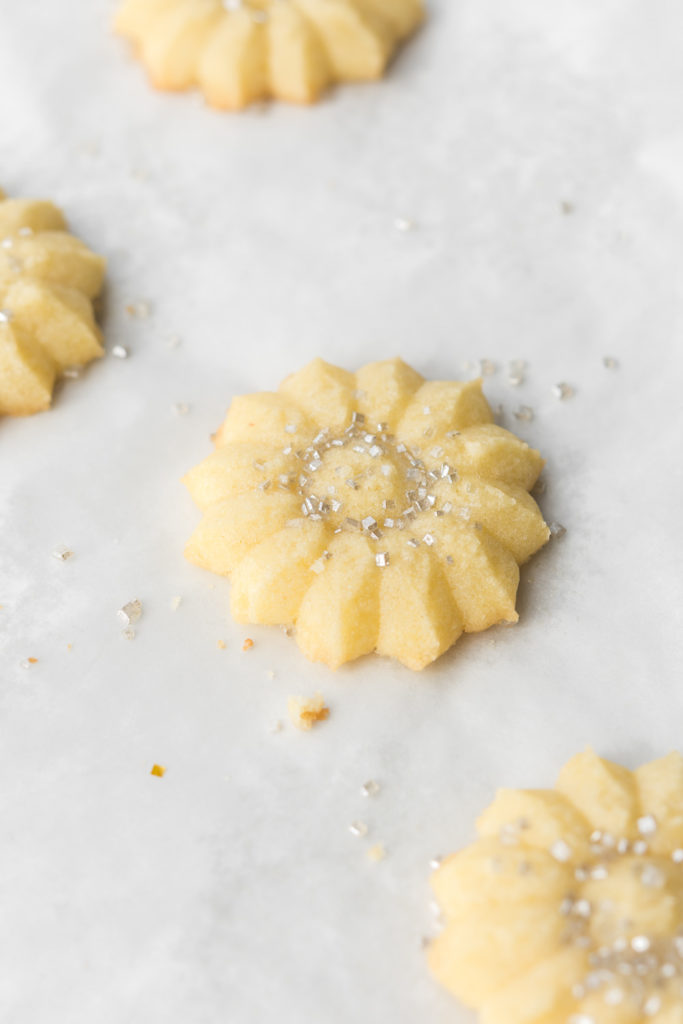 how do you decorate spritz cookies?
Spritz cookies are so versatile. My favorite part about making them is how easy they are to decorate (because I'm NOT a fan of frosting). Once you figure out the cookie press, the cookies already look amazing. Just sprinkle on something colorful and you're all set! Most importantly-- spritz cookies don't have to be just for the holidays. They are essentially salted butter cookies and should be enjoyed for all occasions!
Here are a few decorating ideas:
Colored sprinkles, edible glitter, metallic balls (added before baking)
Coarse sugar (added before baking)
Colored dough (knead a few drops of food coloring into the final dough, just before pressing the cookies)
Dipped in/ drizzled with melted chocolate (once they've cooled)
Tops dipped in a powdered sugar icing (this one hardens!)
Flaky salt for a sweet, savory, non-traditional twist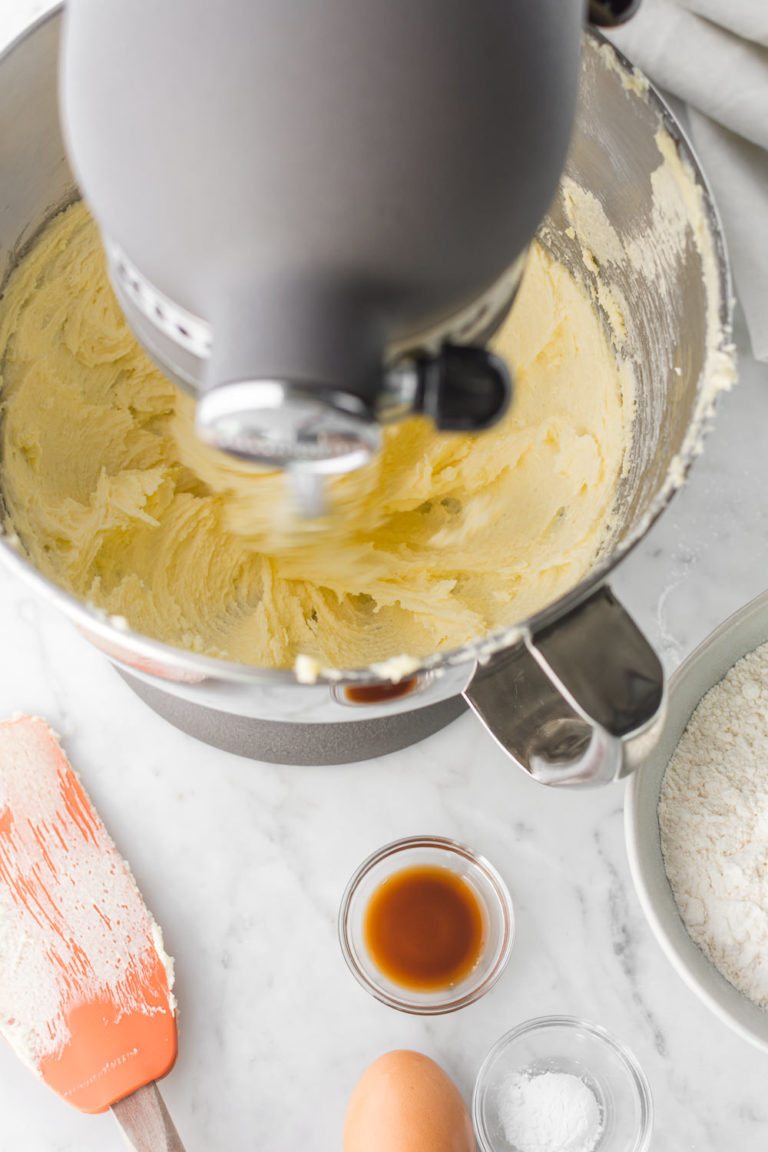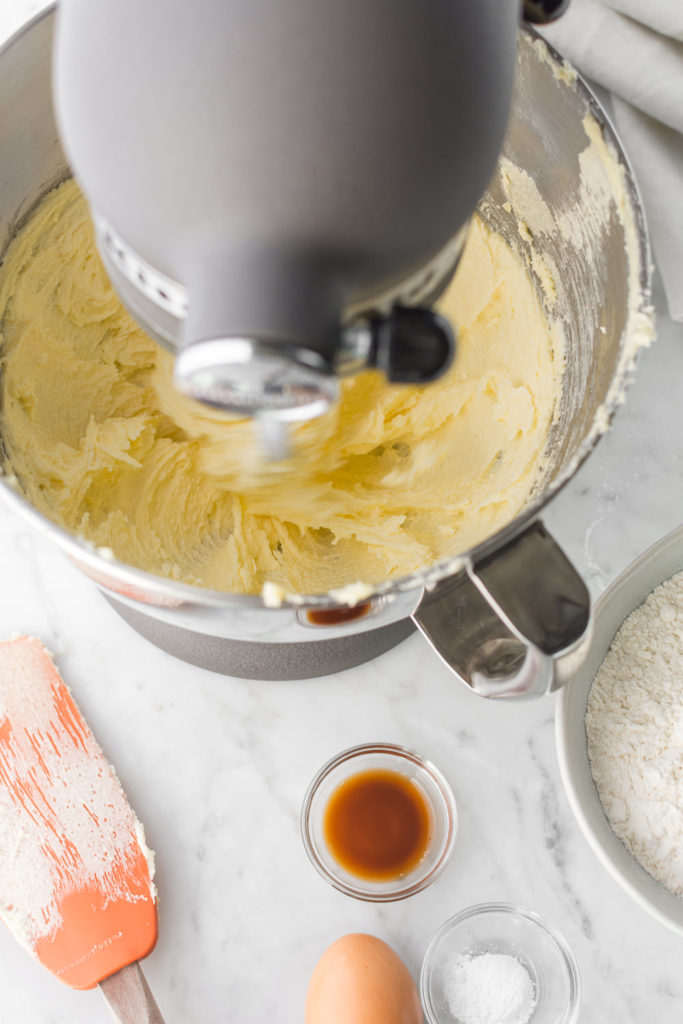 can you use parchment paper for spritz cookies?
It's best not to. While cleanup is always easiest when you line the baking sheet with parchment paper, it's best to leave it bare for spritz cookies. This helps the cookie dough stick to the sheet, rather than the cookie press. It's the easiest way to avoid having to peel the dough off the press, thus giving you a beautifully shaped cookie.
And the good news is spritz cookies bake up buttery and clean, so there's very little scrubbing that needs to be done. (Unless you have helpers with sprinkle decorations, and then all I can say is enjoy it and let the pan soak.)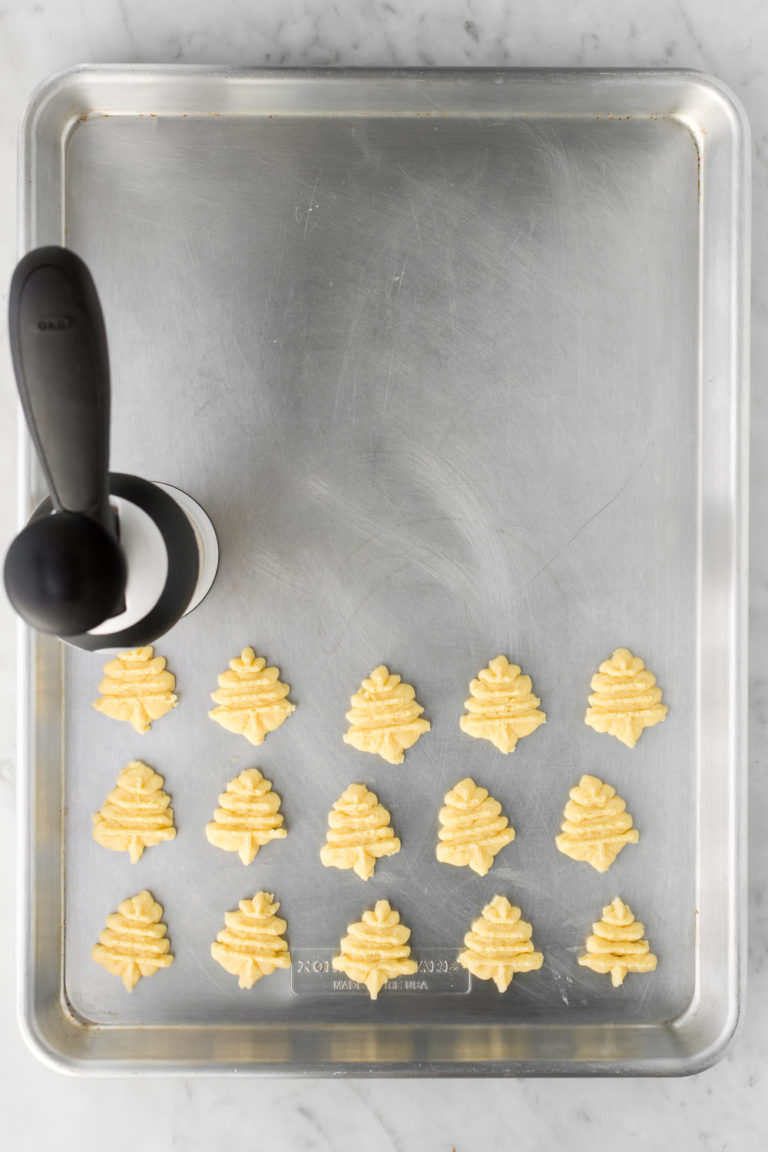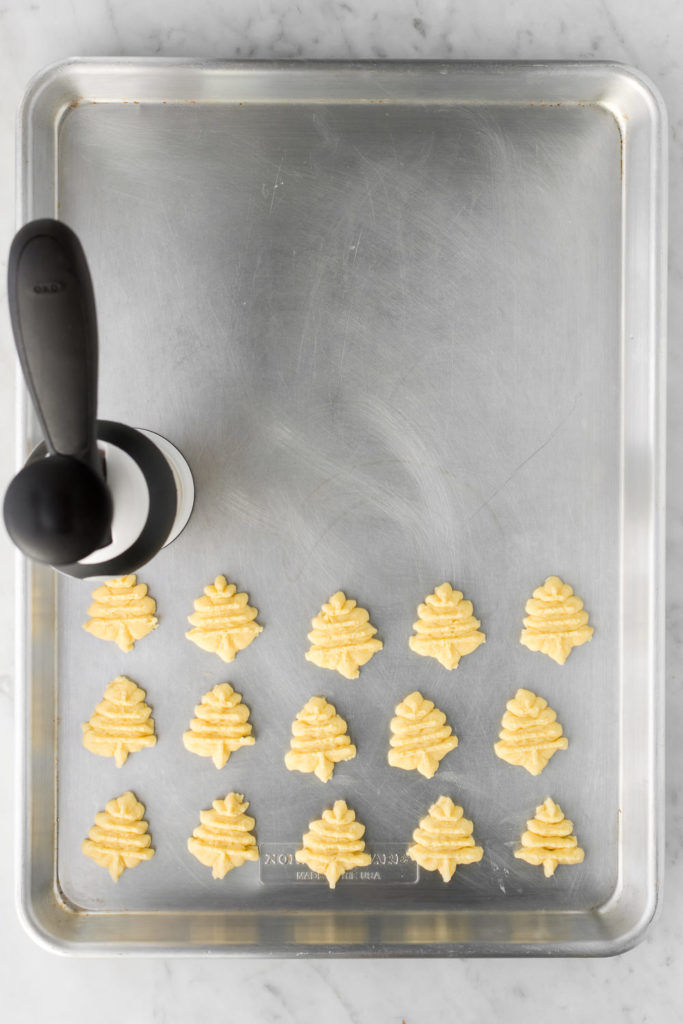 Because the cookies are pressed directly onto the sheet pan, you want to make sure the pans aren't hot from the oven. Otherwise the dough will start to melt, slide around, and make a mess.
Simply rinse the hot sheet pan under running water (very carefully-- don't get a steam burn!) until it is cool to the touch, dry it, then continue pressing out your spritz cookies.
how long do these salted butter spritz cookies last?
Spritz cookies last up to 1 week in an airtight container at room temperature. To keep them as fresh as possible, I use a Ziplock bag and squeeze out all of the air.
can I freeze spritz cookies?
Yes! Spritz cookies freeze incredibly well and are best eaten within 3 months of freezing.
You can even press out and decorate the dough, then freeze the unbaked cookies on the sheet. The frozen unbaked cookies can be stored in an airtight container for up to 1 month. When you're ready to bake, arrange the frozen cookies on the baking sheet (add more sprinkles if necessary) and bake an additional 1-2 minutes.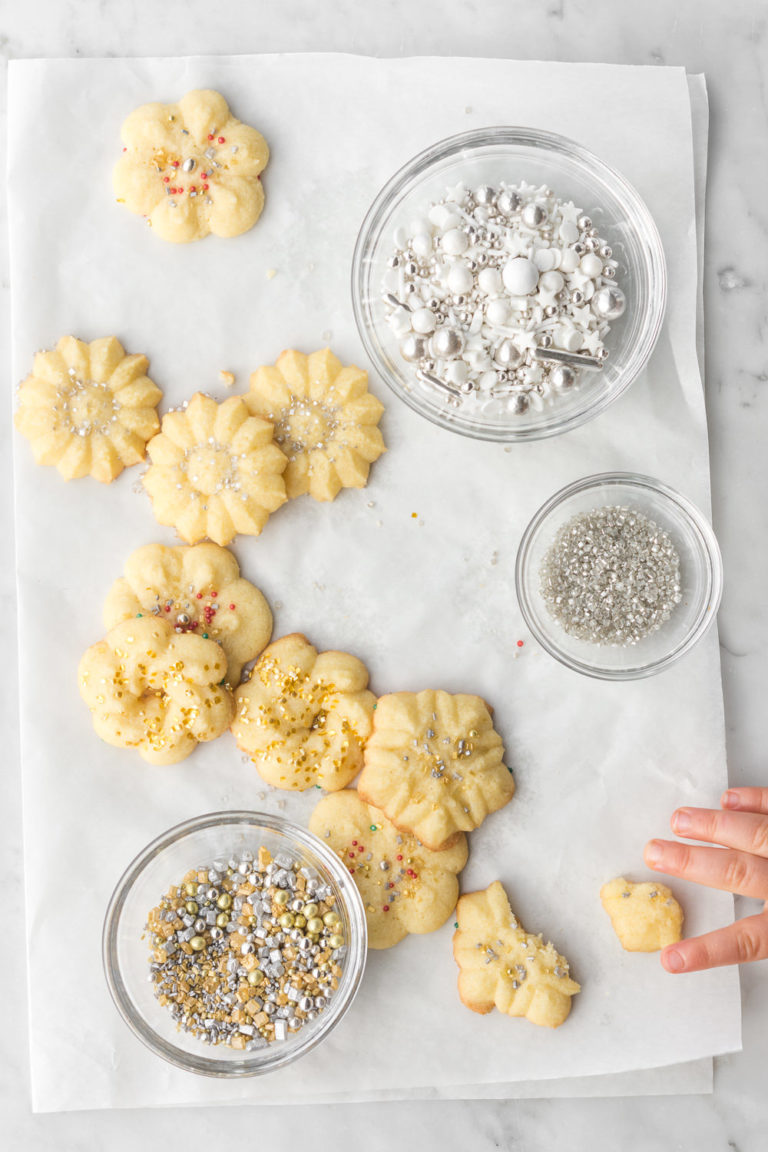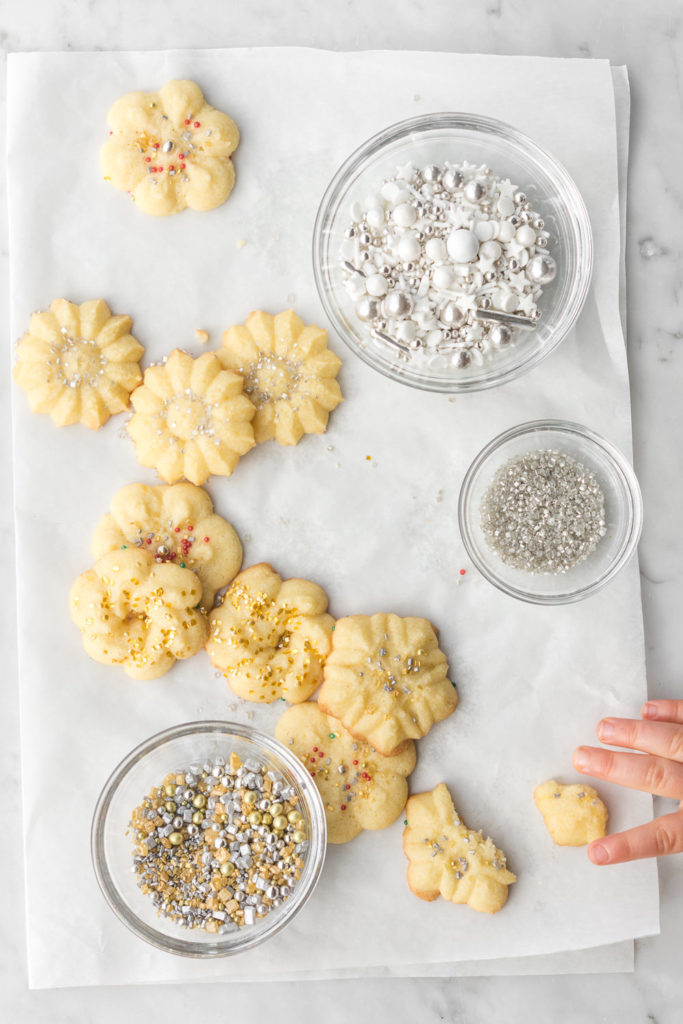 what if I don't have salted butter for the cookies?
On average, a stick of butter contains about 80 mg sodium per 10 g serving (a tablespoon is 14 g). This equates to about ¾ tsp table salt for 1 cup of butter. This varies by brand, but I feel that the difference, reflected over an entire batch of cookies, is negligible. So if you don't have salted butter on hand, simply add ¾ tsp table salt along with the sugar.
Note: this is a great site that lists total sodium content of major butter brands, if you're curious. You can also just look on the back of your package.
how to make spritz cookies without a cookie press
Most important of all, you don't need a cookie press to make spritz cookies! Yes, the press is so fun and makes the cutest cookies, but it's very easy to skip.
Simply roll the dough into tablespoon-sized balls and place them on a parchment paper lined cookie sheet. Flatten the dough ball slightly with the tines of a fork, then turn the fork 90 degrees and squish the dough again to make a criss cross pattern. Repeat with the remaining dough balls. Decorate as desired and bake!
the best spritz cookie press:
We've gone through A LOT of cookie presses over the years and the OXO cookie press is the best one I've ever used. No, I'm not sponsored by OXO. The cookie press is just so easy to use and clean, it's small to store and best of all-- it's reliable.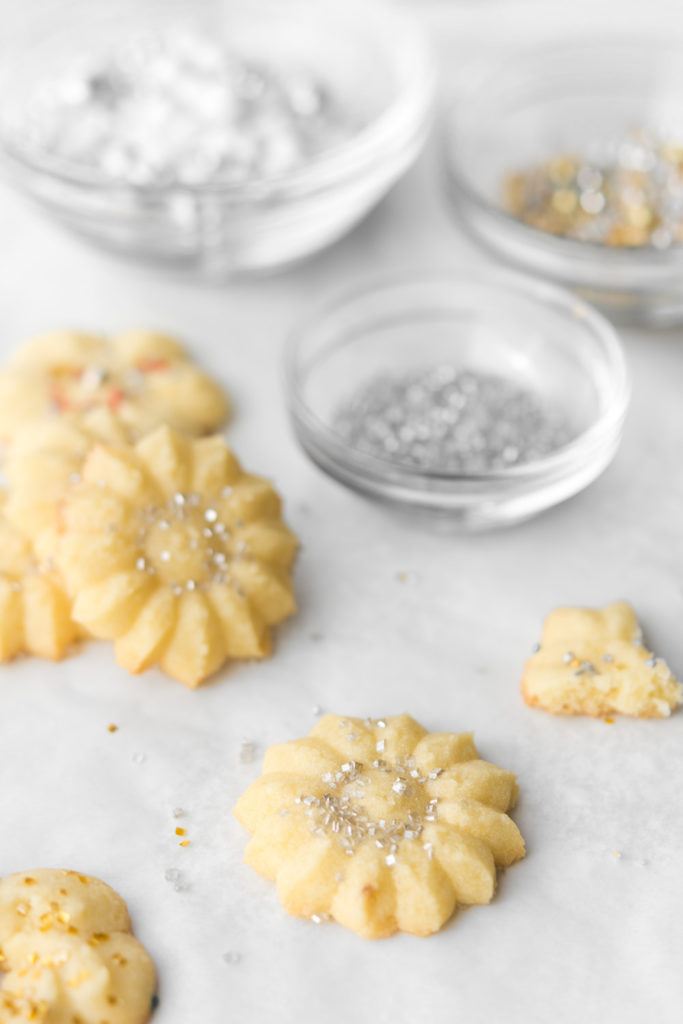 This recipe is dedicated to my oldest sister, Jayanti Mae Maynard, who passed away unexpectedly on October 19th, 2019. She died from a pulmonary embolism at the age of 33, leaving behind two little boys (ages 5 and 3 months) and her incredibly strong husband. We are so heartbroken. The last thing she said to me was that I should put our Grandma's spritz cookies on my blog. We made spritz cookies every year as kids, and we pretty much always had a bag in the freezer. I even prefer eating them frozen, probably out of nostalgia. Making spritz cookies is one of our family's strongest traditions, so of course this recipe belongs here. My sister loved carrying on this tradition with her family and made these cookies every Christmas. We love and miss you so, so much Jaya.
more christmas cookies to try:
pecan shortbread cookies (perfectly buttery and crisp)
chocolate dipped almond cookies
butter cookie sandwiches with chocolate hazelnut ganache
cinnamon hazelnut meringue cookies
double chocolate meringue cookies
criss cross peanut butter cookies by Level Up Bakes
Watch our Christmas cookie web story here!
Print
salted butter spritz cookies
These salted butter spritz cookies are light, tender and crisp on the edges. The cookies have a rich buttery flavor, thanks to the salted butter, and they are so much fun to decorate for the holidays.
Author:
Prep Time:

20 minutes

Cook Time:

20 minutes

Total Time:

40 minutes

Yield:

about 100 small cookies

Category:

Desserts

Method:

Baked

Cuisine:

American
Ingredients
2

sticks (1 cup, 8 oz) salted butter, softened (add ¾ tsp table salt if using unsalted butter)

¾ cup

granulated sugar

1 tsp

vanilla extract

1

large egg

2 ¼ cups

all-purpose flour

sprinkles, for decorating
Instructions
Preheat oven to 375°F.

In the bowl of a stand mixer fitted with a paddle attachment, cream butter and sugar on medium low speed until very light and fluffy, 3- 5 minutes, scraping down the bowl as needed. Add vanilla extract and egg and beat until combined. Add flour and slowly mix until the dough just begins to come together. Don't over mix it.

Fill a cookie press with dough and follow the manufacturer's instructions on how to press out dough onto a bare cookie sheet. Decorate with sprinkles as desired. 

Bake for 7- 9 minutes, or until edges are just beginning to turn golden brown. Let cool briefly, then transfer to a cooling rack. Carefully rinse the hot sheet pan under water to cool off and dry it well. Repeat pressing, decorating and baking the cookies until all of the dough has been used.
Nutrition
Serving Size:

1 cookie

Calories:

33

Sugar:

1.5g

Sodium:

15mg

Fat:

1.9g

Saturated Fat:

1.2g

Unsaturated Fat:

0.6g

Trans Fat:

0.1g

Carbohydrates:

3.7g

Fiber:

0.1g

Protein:

0.4g

Cholesterol:

6.7mg