This crackly topped chocolate espresso cake rises in the oven and falls as it cools, just like a fallen souffle. It's lightly sweetened and filled with dark chocolate, bitter cocoa and espresso. Top with a dollop of boozy whipped cream for a decadent treat.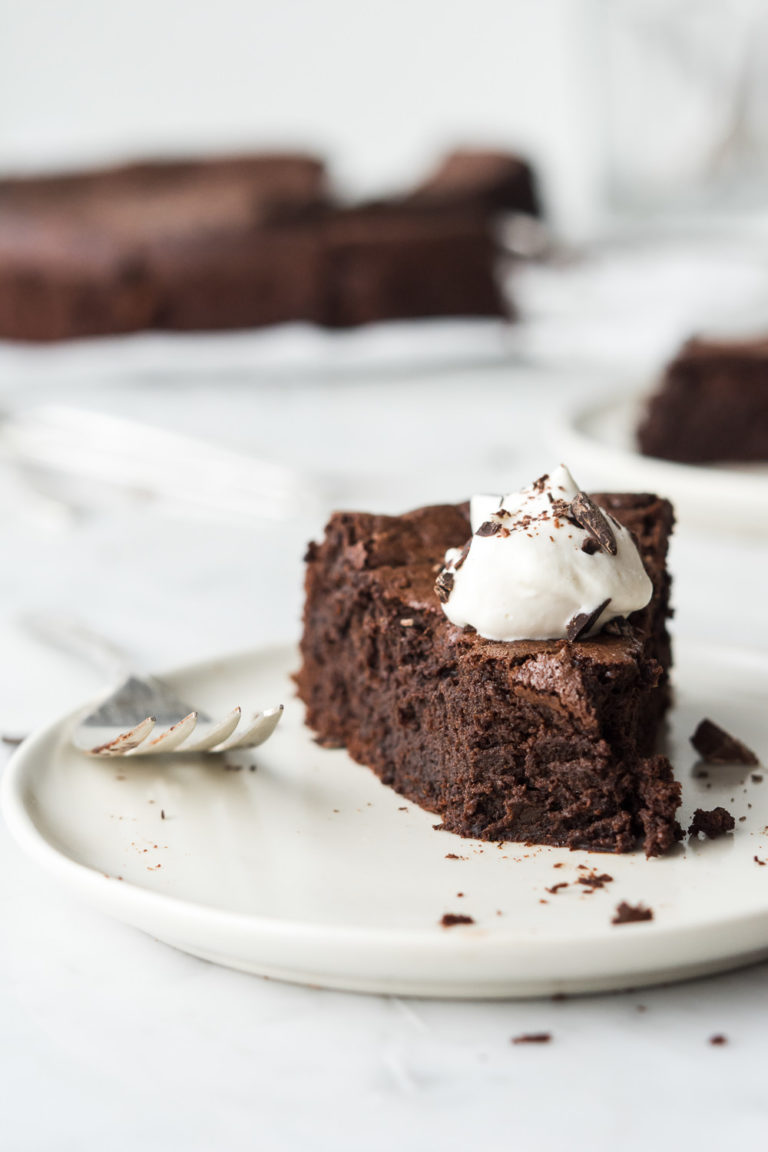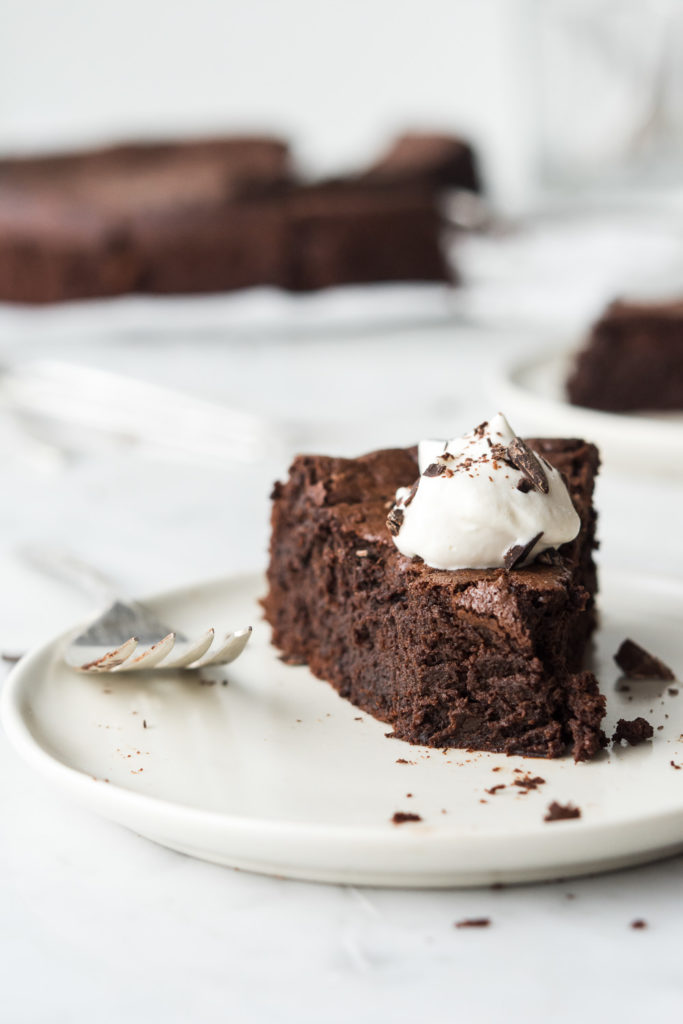 This fallen chocolate espresso souffle cake is going to be your new favorite cake. It's decadent, elegant, and pretty darn simple. My favorite part of this cake is the texture, which is simultaneously rich and airy. The richness comes from bittersweet chocolate, butter, and the fact that it's a flourless cake. But unlike some flourless chocolate cakes, a bite of this one doesn't taste like a million calories. So it's super easy to eat a few slices without realizing it.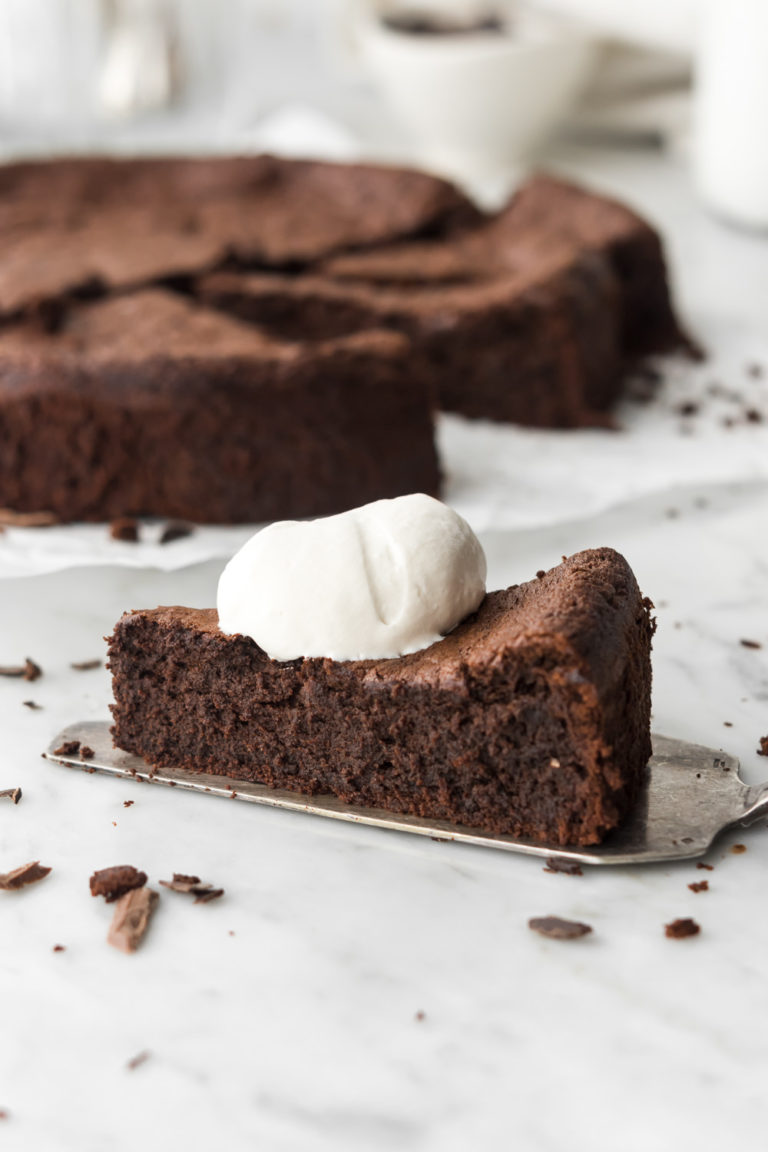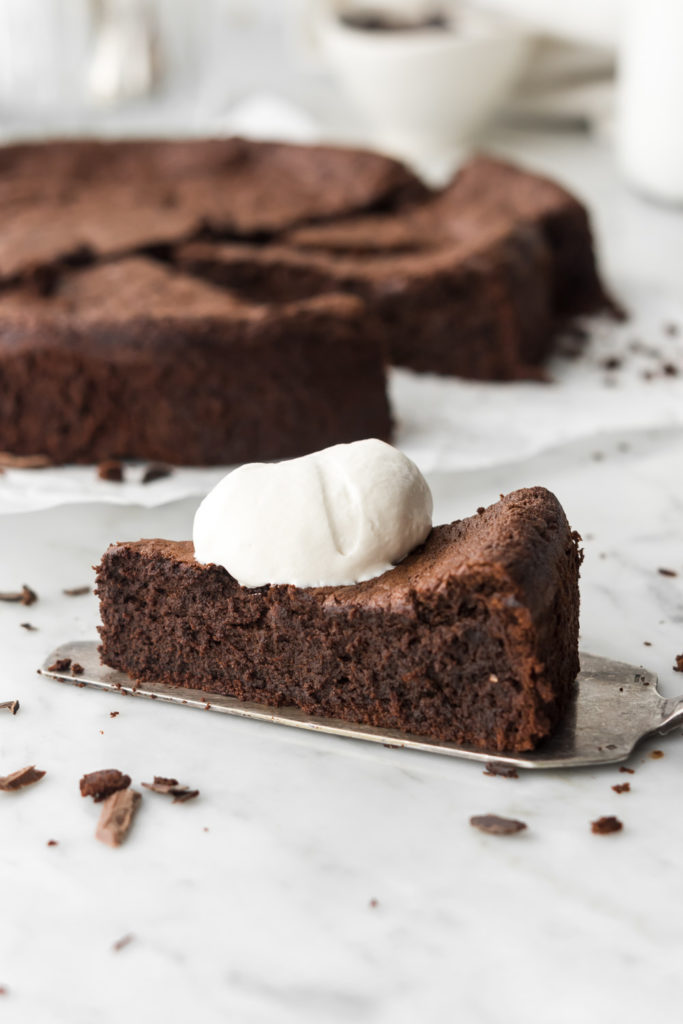 And that airiness, deceptive as it may be, comes from a technique I learned from Richard Sax. He beats a portion of the egg whites into a shiny meringue, then folds it into the batter. This causes the cake to rise in the oven, then fall like a souffle as it cools. The center gets even fudgier, the top becomes gorgeously crackled and the lofty edges are the perfect retaining wall for a fluffy mound of homemade whipped cream.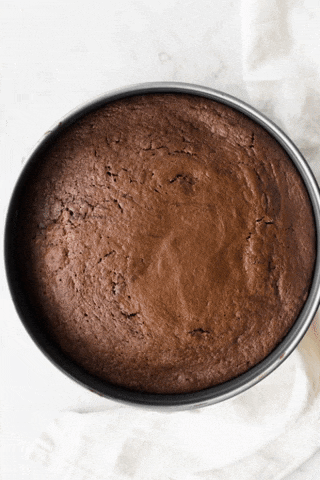 In addition to the decadent texture, you'll also love the rich depth of flavor that comes from the best quality bittersweet chocolate, roasty espresso powder, cocoa powder, and a splash of Kahlua. I love the deep flavors of bitter cocoa and espresso with just a touch of sugar. If you prefer more sweet desserts, you could increase the sugar to 1 cup or boost the sugar in the whipped cream. But try it the way it is first-- I think you'll really love the restraint in this chocolate espresso cake.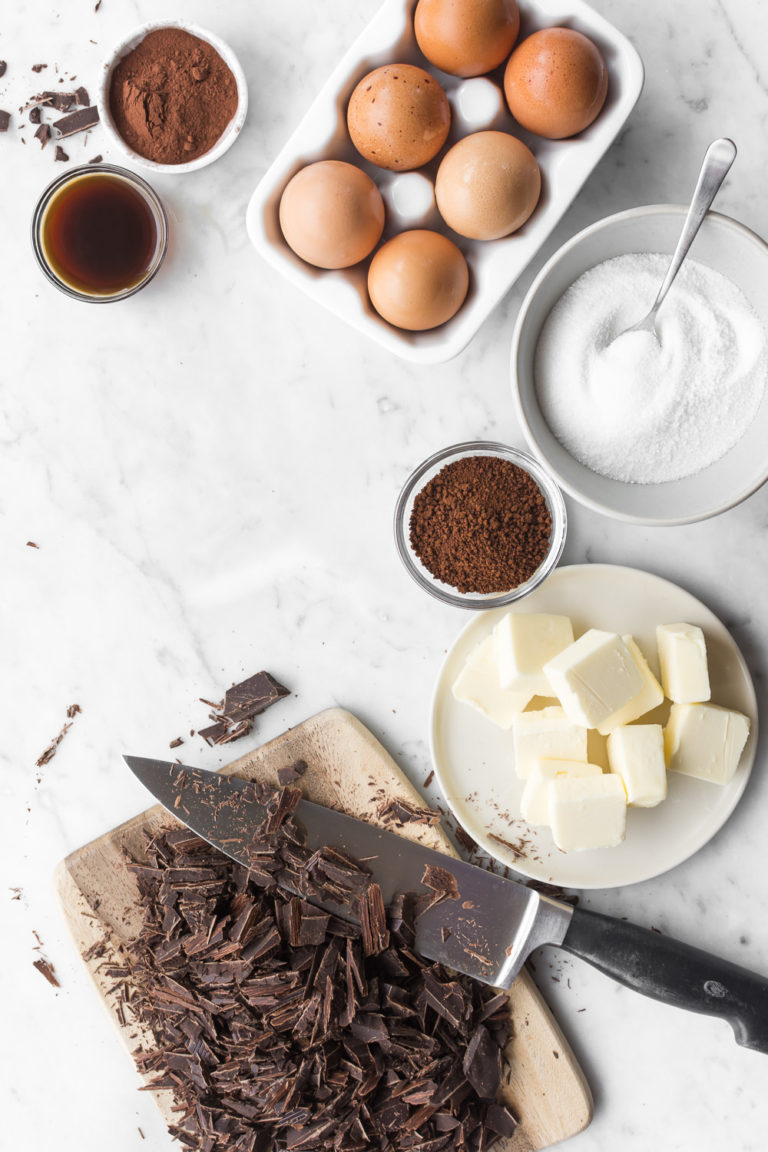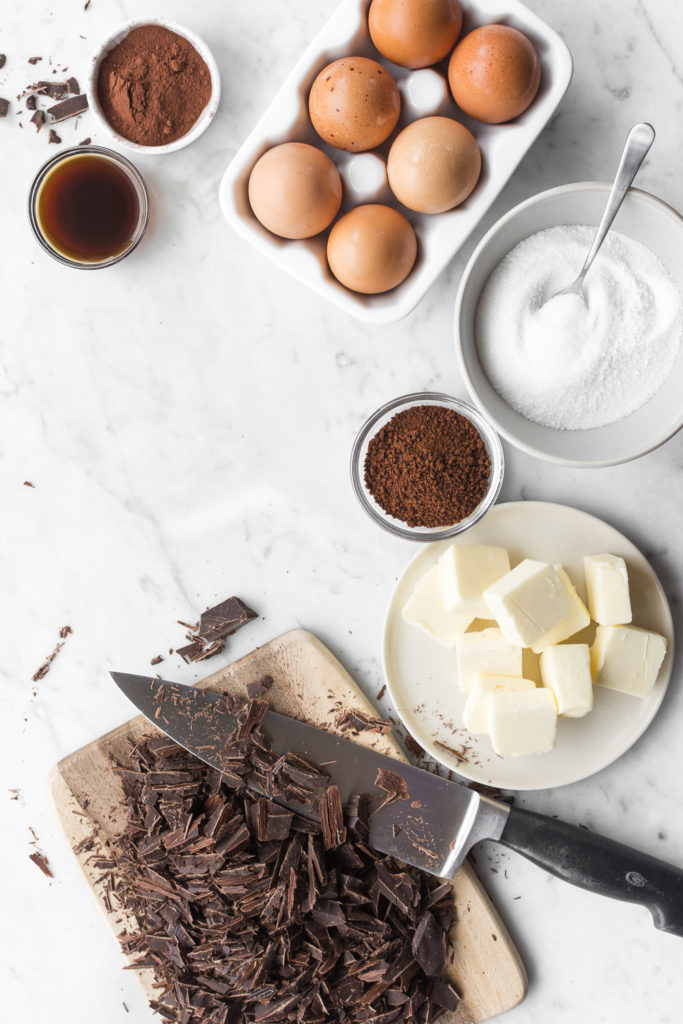 is there a substitute for instant espresso powder?
Instant coffee powder is the best substitute in this cake. If you don't have instant espresso or instant coffee powder, however, you can skip the "espresso" part of the cake entirely and still have a deliciously rich chocolate cake.
Alternatively, you can use 2 teaspoons of coffee extract, but the depth of flavor won't be the same.
Don't use coffee grounds as a substitute! They won't dissolve in the batter and will give the chocolate espresso cake a gritty texture.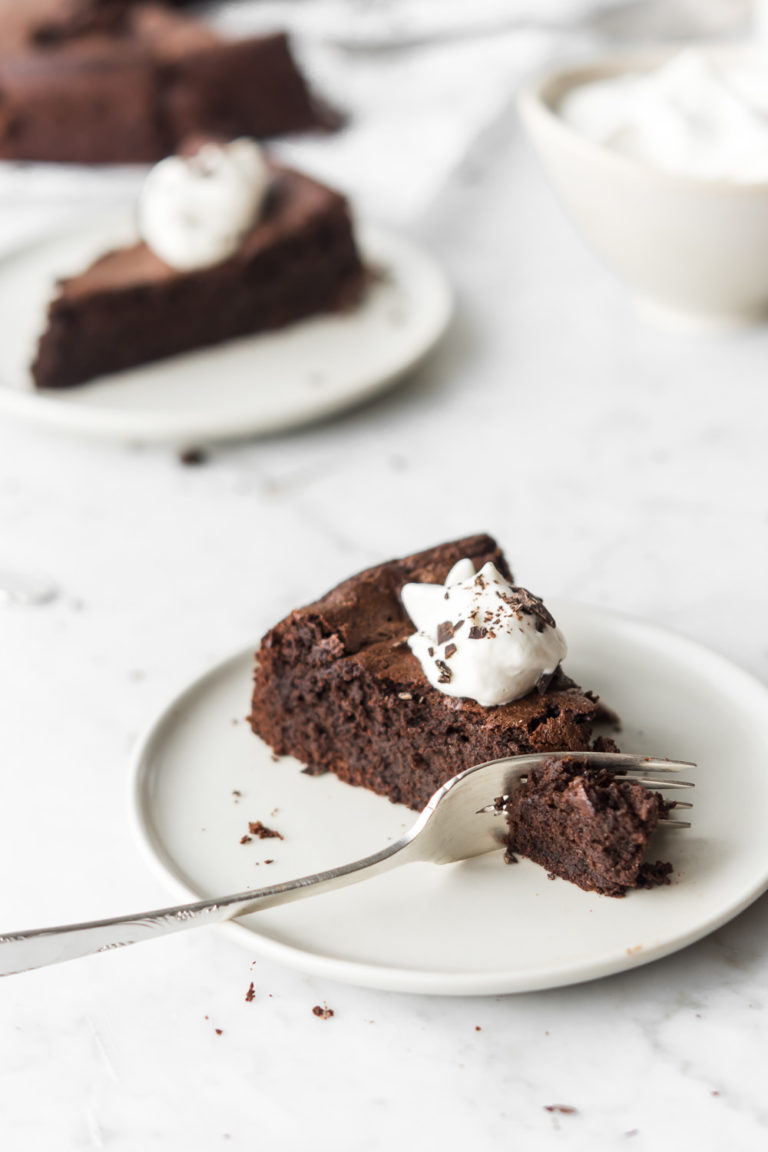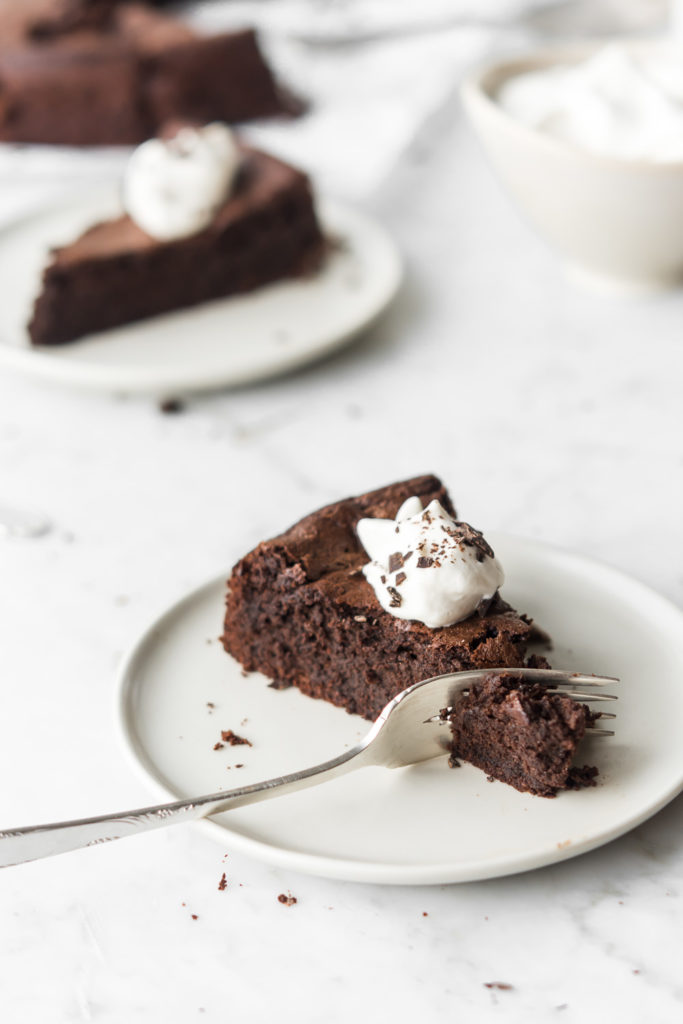 is instant coffee the same as instant espresso powder?
No, they aren't the same, but you can use instant coffee in place of the instant espresso powder if that's all you have.
Instant coffee is made by be dehydrating coffee into small crystals. When these crystals are mixed into hot liquids, they dissolve and make a coffee flavored liquid. The same process is used for instant espresso powder, which has a much stronger flavor. The instant espresso powder will give a more pronounced coffee flavor and more complex aromas to baked goods.
related recipes:
baked chocolate tart with candied orange slices
cappuccino muffins with caramelized white chocolate
ganache-stuffed chocolate guinness cupcakes with espresso buttercream
salted double dark chocolate cookies
chocolate mousse tart with hazelnut crust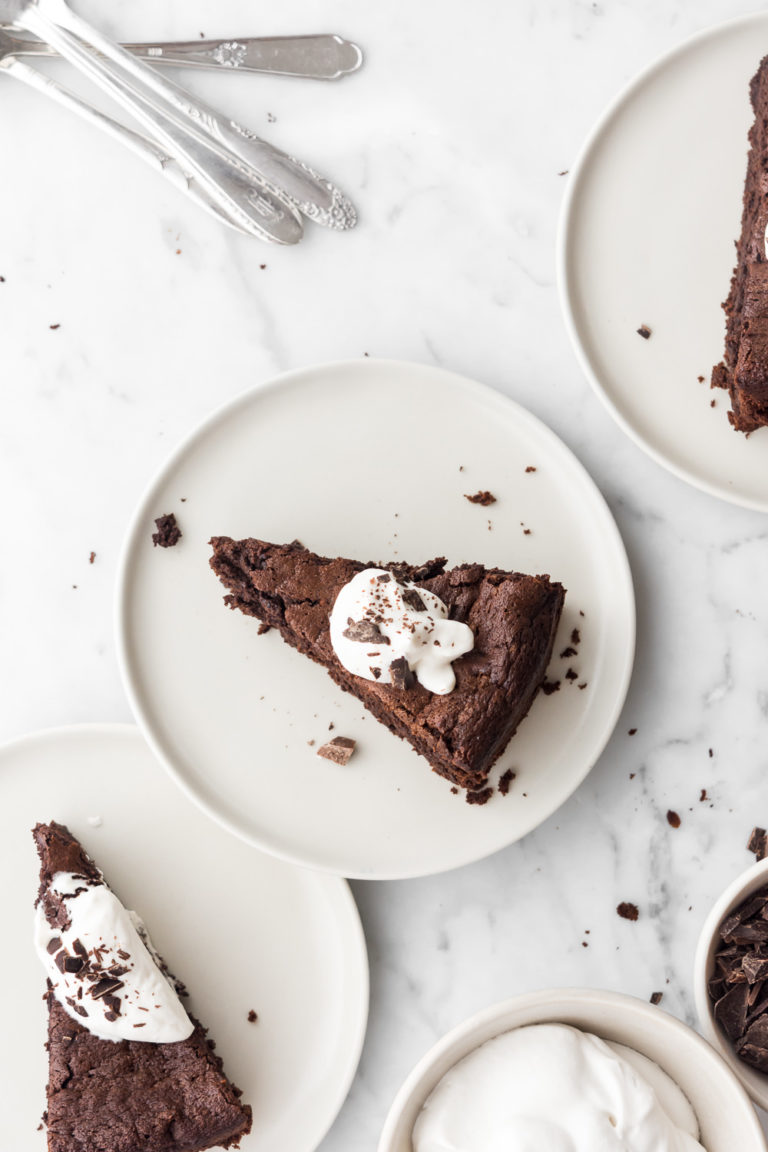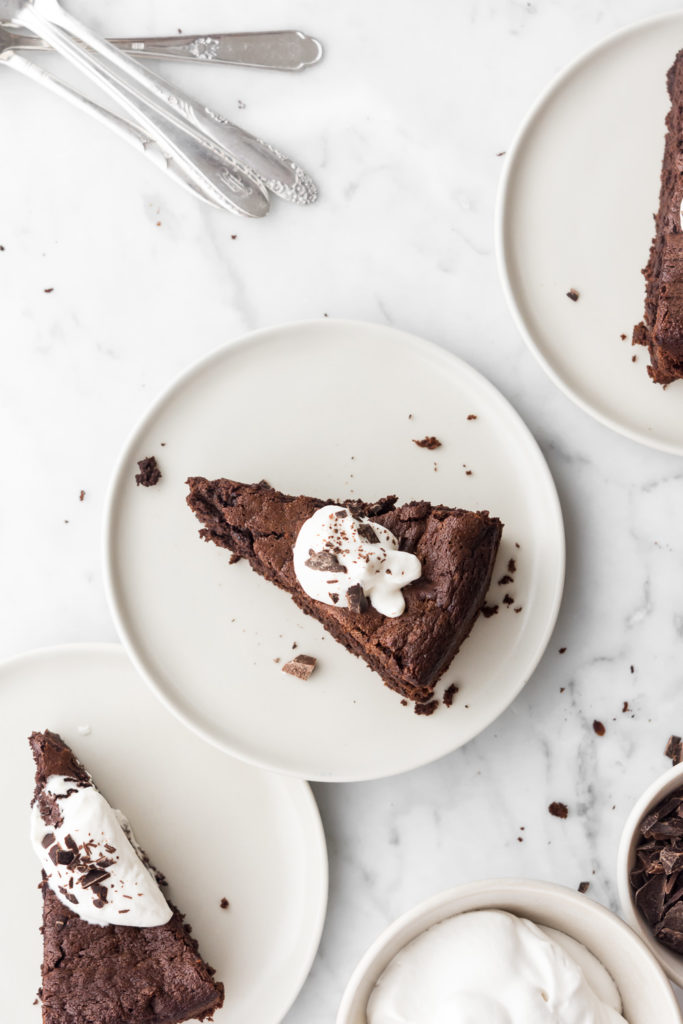 Print
fallen chocolate espresso souffle cake with boozy whipped cream
This crackly topped fallen chocolate espresso cake rises in the oven then falls, just like a souffle. It's lightly sweetened and filled with bitter cocoa.
Author:
Prep Time:

25 minutes

Cook Time:

40 minutes

Total Time:

1 hour 5 minutes

Yield:

12

Category:

Cake

Cuisine:

American
Ingredients
fallen chocolate espresso souffle cake
10 tbsp

(1 stick plus 2 tbsp) unsalted butter, cut into tablespoons

10 oz

bittersweet chocolate, chopped

2 tbsp

instant espresso powder

2 tbsp

unsweetened cocoa powder

1 tsp

vanilla extract

1 tbsp

Kahlua

½ tsp

kosher salt

6

eggs, room temperature

¾ cup

sugar

cocoa powder, for topping
boozy whipped cream
1 cup

heavy whipping cream, cold

1 tbsp

powdered sugar

1 tbsp

Kahlua

1 tsp

vanilla extract
Instructions
Preheat oven to 350°F. Line the bottom of a 9- inch springform pan with parchment paper and leave the pan and paper un-greased.

Place the butter and chocolate in a heatproof bowl set over a saucepan of simmering water. Don't let the water touch the bottom of the bowl. Heat until the chocolate and butter are melted, stirring occasionally, then remove from heat and let cool. Whisk in espresso powder, cocoa powder, vanilla, Kahlua, salt and two eggs until combined. Mixture will look slightly curdled-- it's okay.

Separate the remaining four eggs. Whisk the yolks into the chocolate mixture and put the whites in the bowl of a stand mixer fitted with a whisk attachment. Alternatively, you can use a large bowl and a hand mixer. 

Whip egg whites on medium speed until frothy, then slowly add the sugar. Continue to beat until the whites are stiff and glossy, about 5 minutes.

Use a rubber spatula to stir a small amount of whipped egg whites into the chocolate mixture to lighten the batter. Then gently fold the whites into the chocolate mixture in three additions, folding until just mixed. Pour into the prepared pan and smooth the top.

Bake for 35- 40 minutes, or until the cake is puffed and the top of the cake is firm and just beginning to crack. Place the cake on a rack and let cool completely in the pan. The cake will fall in the center and crack more on the surface. 

To un-mold, run a knife along the edge of the cake to loosen it from the springform pan, then carefully release the sides.

Just before serving, make the boozy vanilla whipped cream. In the bowl of a stand mixer fitted with a whisk attachment, beat heavy cream on medium speed until soft peaks form, about 3 minutes. Add powdered sugar, Kahlua and vanilla and whip just until the cream forms stiff peaks. 

Serve cake with a dollop of whipped cream.
Notes
Recipe inspired by Richard Sax's Chocolate Cloud Cake
Chocolate espresso cake will keep up to 1 week, covered and refrigerated.

Boozy whipped cream is best eaten right away. If you do have leftovers, store in an airtight container for up to 10 hours. When ready to use, re-whisk for 10 to 15 seconds.
Nutrition
Serving Size:

1/12 of cake

Calories:

405

Sugar:

15g

Sodium:

145mg

Fat:

32g

Saturated Fat:

19g

Unsaturated Fat:

10.8g

Trans Fat:

0.3g

Carbohydrates:

22g

Fiber:

4.1g

Protein:

7.4g

Cholesterol:

141mg
Keywords: chocolate espresso cake