These thick and buttery vanilla bean shortbread cookies are an absolute classic! They're tender cookies, with crisp edges and a melt-in-your mouth texture. Pure crumbles of butter and vanilla-- what more do we really want?
This is the absolute BEST shortbread cookie recipe and it's a little non-traditional. The cookies hold their shape well, so you can use your choice of cookie or biscuit cutters on them. I love to roll these out a little thicker than usual for a dense and tender cookie to sink your teeth in.
I also share a million different ways to add your own flair to these cookies, from shapes, flavors, drizzles and mix-ins. Read in for a ton of shortbread inspiration!
This post may contain affiliate links. As an Amazon Associate, I earn from qualifying purchases.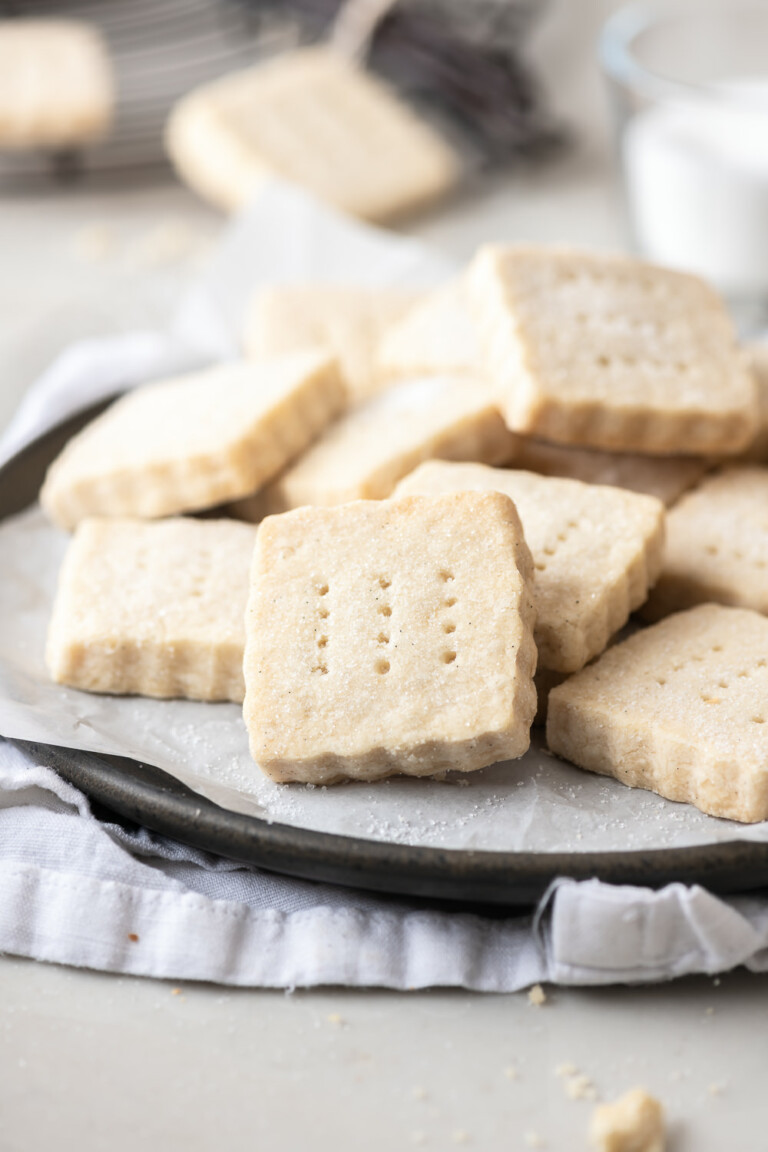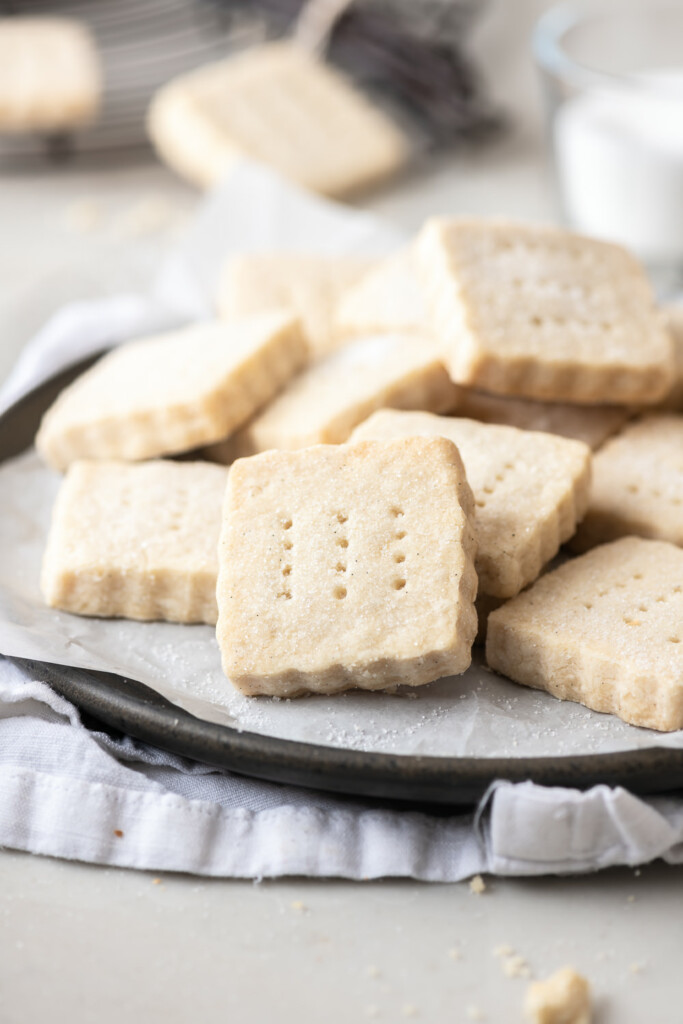 What makes this the best shortbread cookie recipe?
High-quality butter: Use really good butter here! The better the butter, the richer the flavor. Quality ingredients are extra important when there are only a handful involved.
Powdered sugar: I love the tender, melt-in-your-mouth texture that powdered sugar gives to shortbread cookies. Granulated sugar makes crunchier cookies. These have crisp edges and a tender, buttery bite.
Vanilla bean: This is completely non-traditional, but I'm not a stickler for traditions if they can be improved. I love to complement the buttery notes of shortbread with warm vanilla bean seeds. The specks are beautiful, the flavor is so cozy, and the cookies are better for it! You can substitute vanilla bean paste or vanilla extract, if needed.
Cut-out shortbread: Pulling out hot baked shortbread and cutting it into shapes is not that fun. I much prefer the simplicity of rolling out dough, cutting it into shapes, baking it and being done! That's what we do here. Keep the dough cold and the shapes will hold great.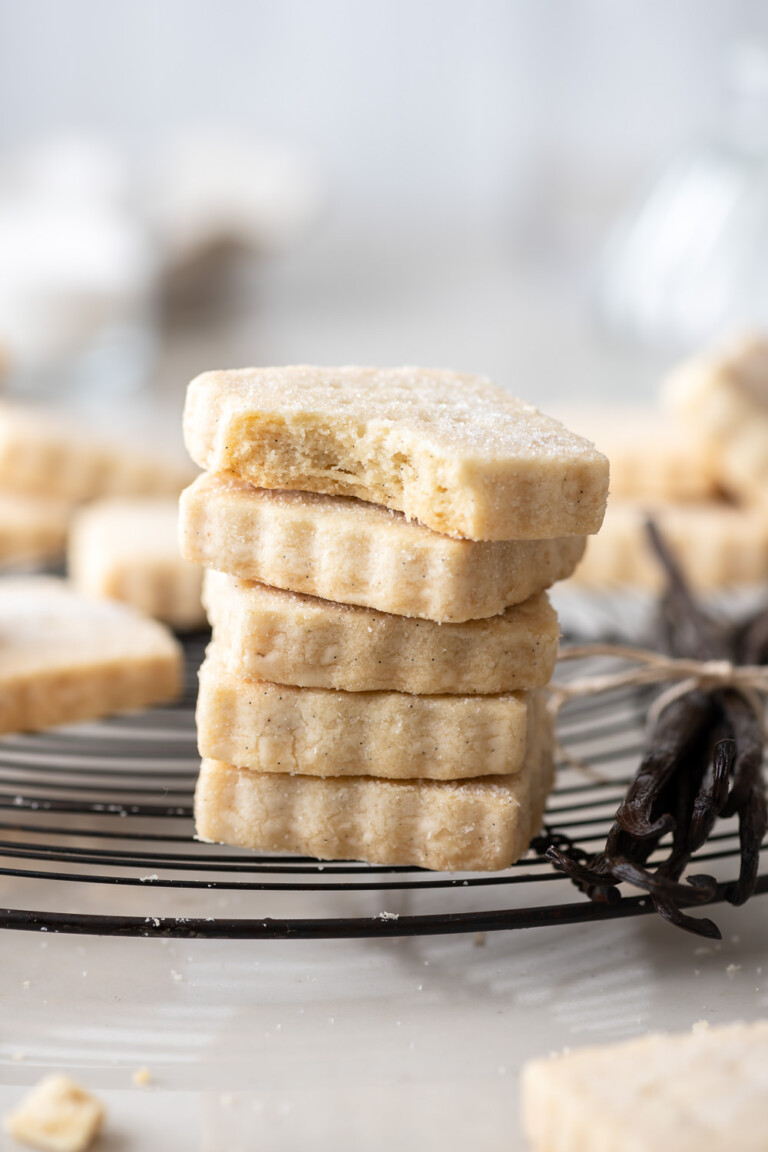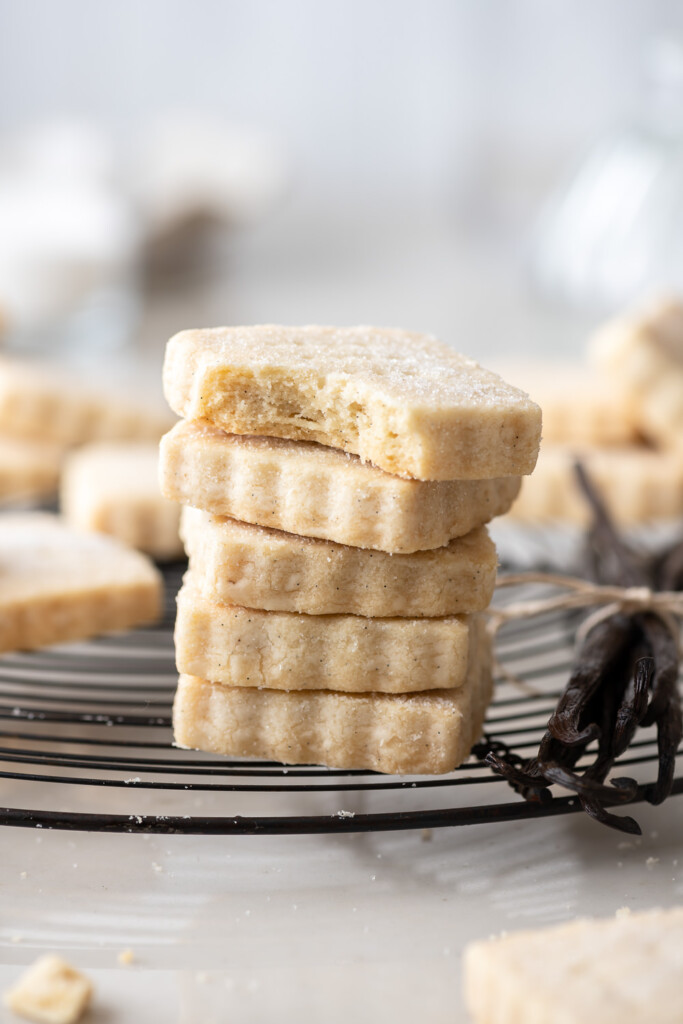 Sugar coating: We press the unbaked cookie tops into granulated sugar for extra crunch and glisten. This is also a deviation from classic shortbread cookies, but it's just so pretty. I love the textural contrast and sheen. For extra crunch, use sanding sugar!
Easy: These are super easy shortbread cookies. Mix the dough in a stand mixer or a hand mixer, roll into a slab and chill. Cut out the cookies and bake. There are plenty of stopping points so you can break the baking into several days, if needed. Perfect for Christmas cookie boxes! Read on for ways to make this dough ahead.
shortbread cookie ingredients:
butter
powdered sugar
granulated sugar
all-purpose flour
vanilla bean
fine salt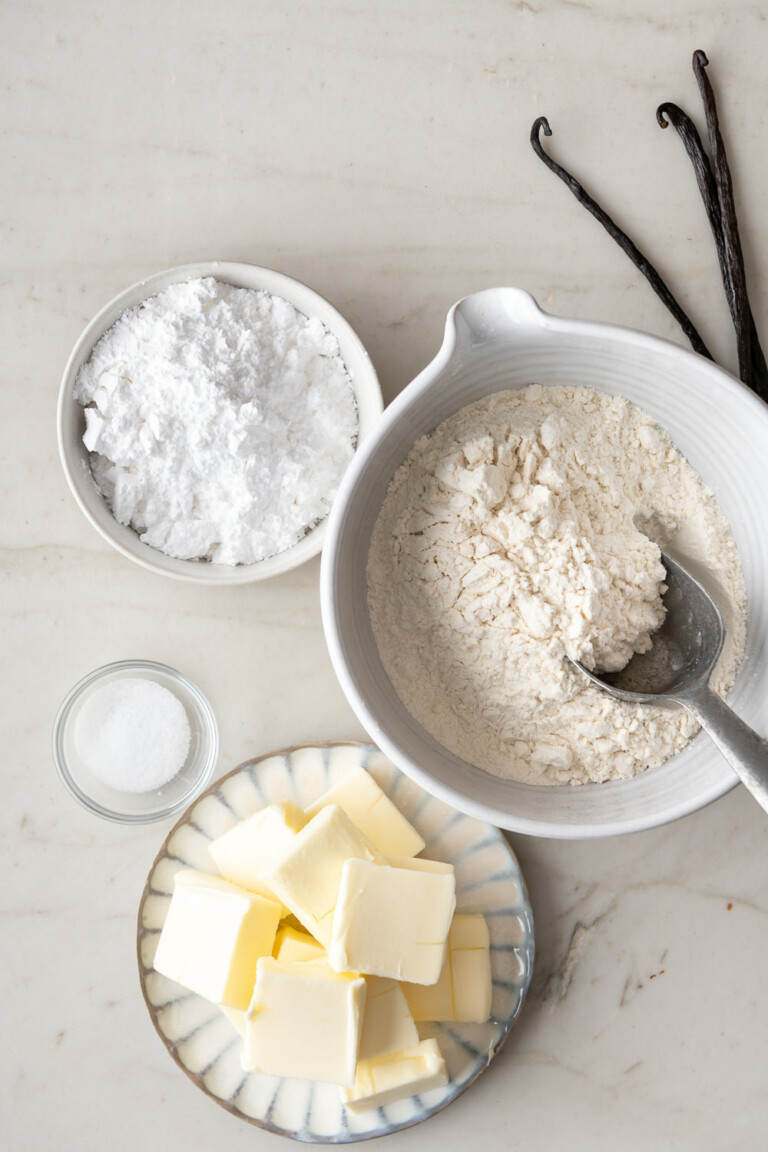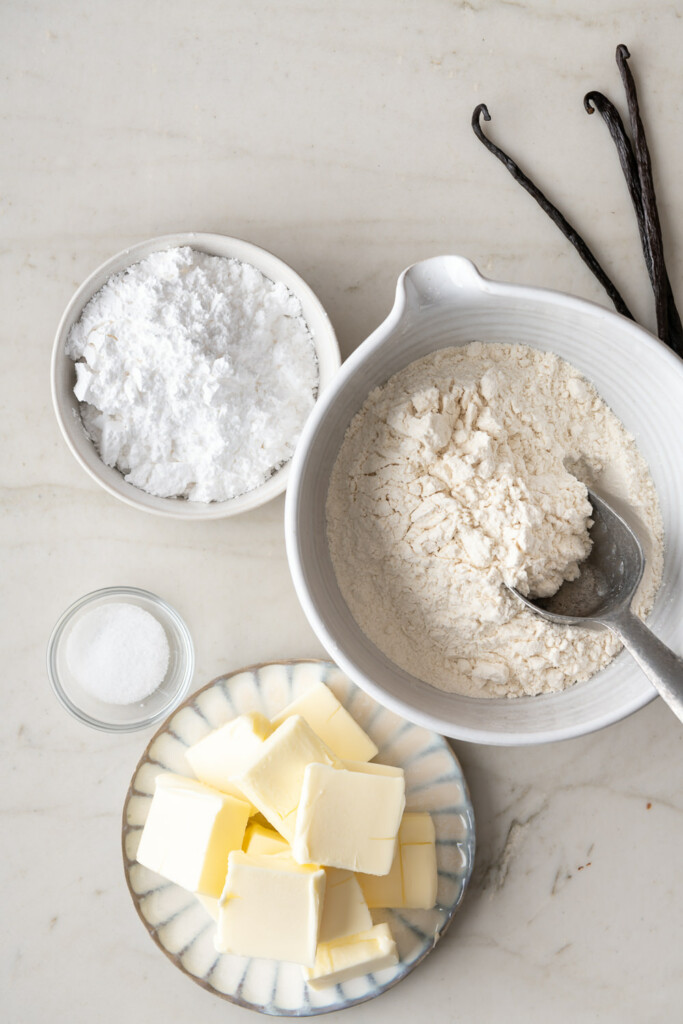 how to make shortbread cookies:
Mix butter in a stand mixer until softened.
Add powdered sugar, salt and vanilla bean seeds; mix until smooth.
Add flour and mix until just combined. May need to mix in up to 1 tablespoon of water if too crumbly.
Transfer to parchment paper, roll out to ⅜-inch thick
Chill at least 1 hour and up to 2 days
Cut into 2-inch squares or circles
Use a fork to gently dock cookie dough
Bake at 325°F for 25 minutes, or until edges are set and tops are a light gold color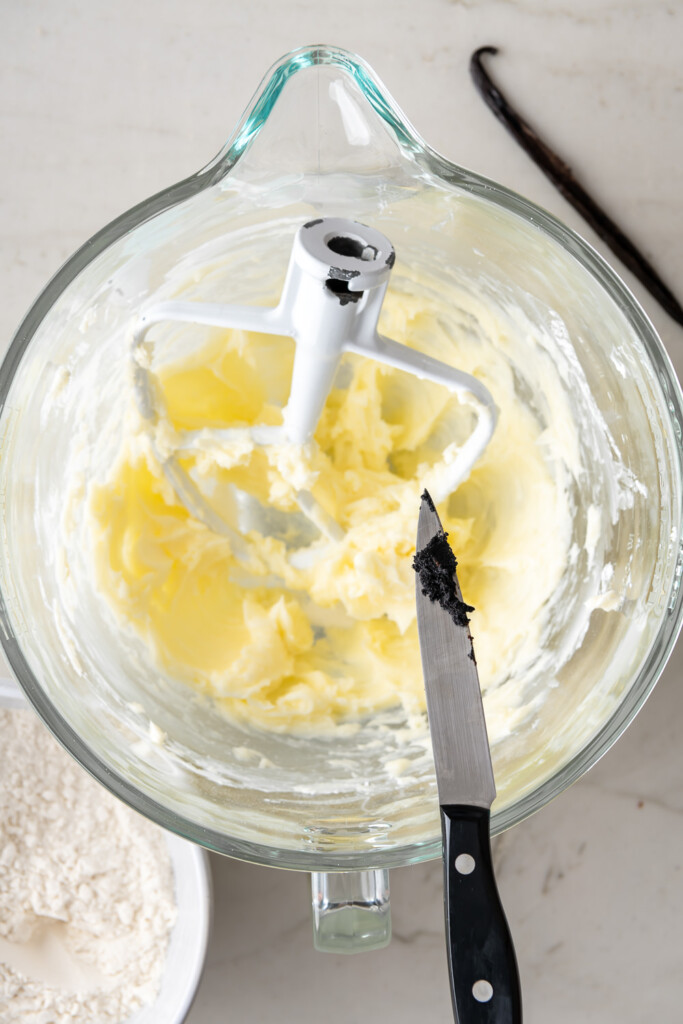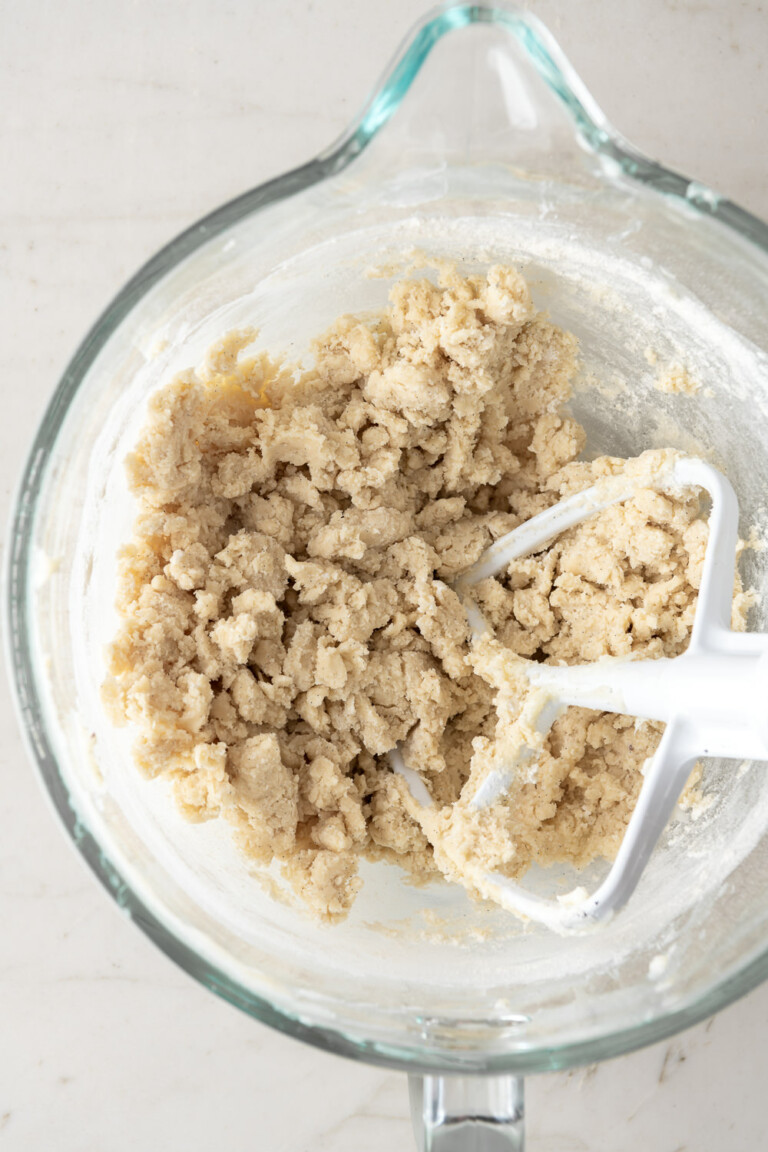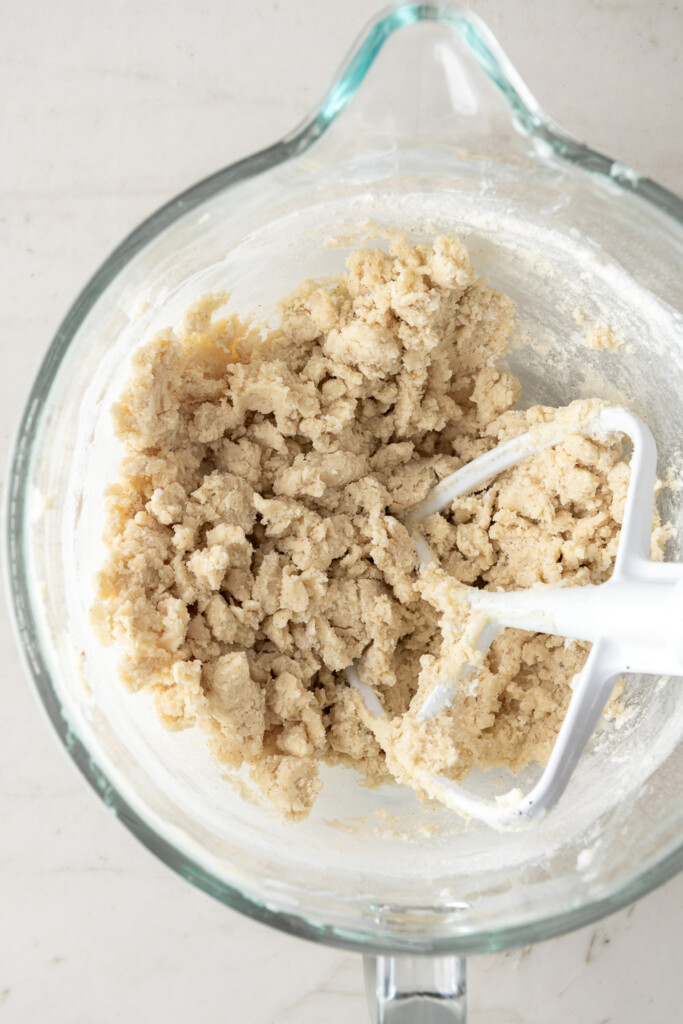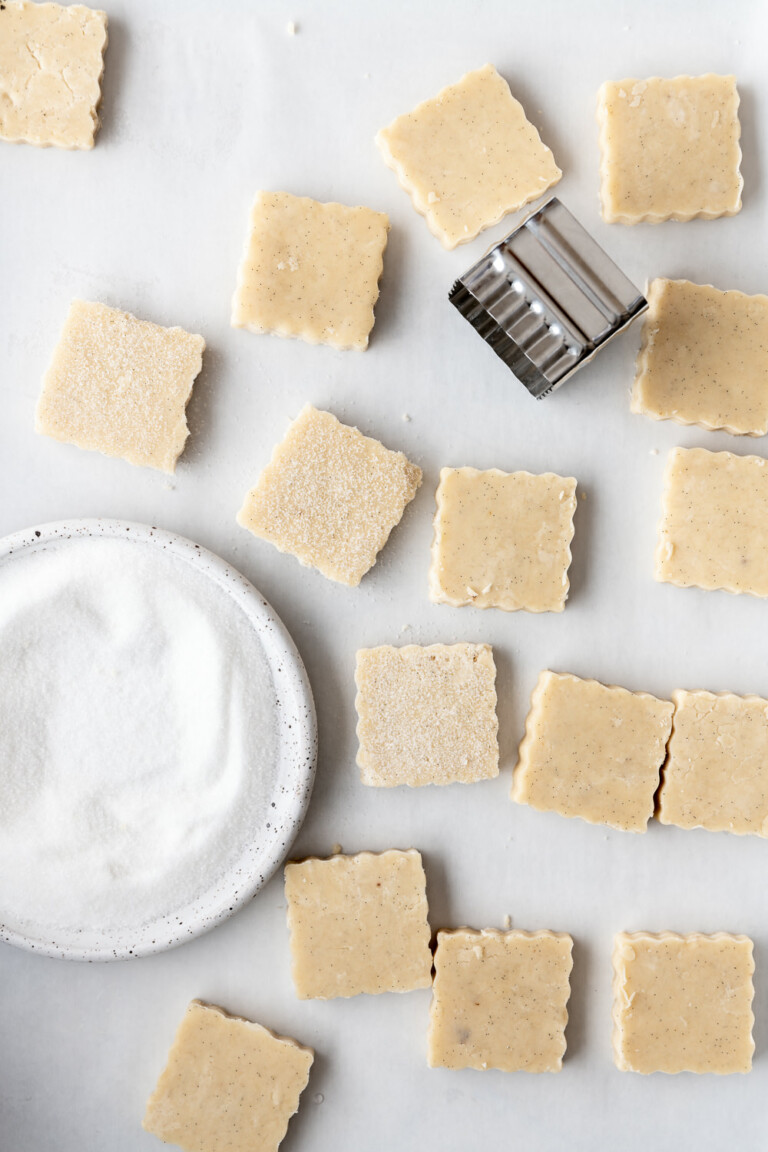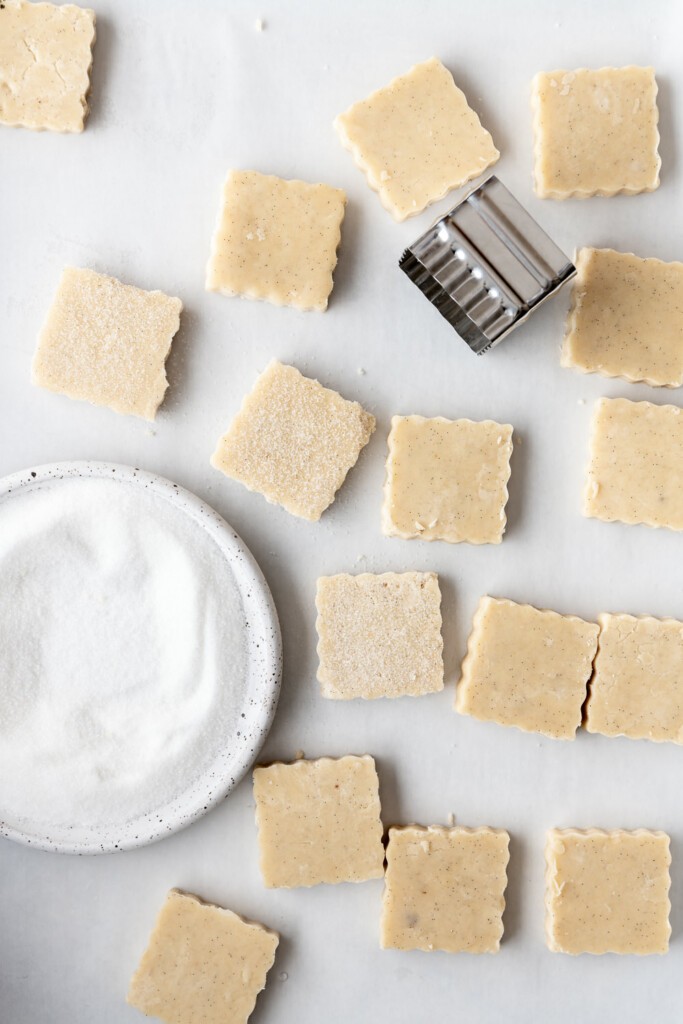 make ahead and storage options:
Get a head start on Christmas cookie baking or just keep a stock-pile of emergency cookies in the freezer. Here are a bunch of ways to make this shortbread cookie recipe ahead of time and how to store the finished cookies.
Chill dough: You can keep the dough slab or cut-out unbaked cookies in the refrigerator for up to 2 days. Keep them covered so they don't dry out.

I DO prefer to roll the dough into a slab while it's at room temperature and store either the slab or cut-out cookies. Once the dough is chilled, it's much harder to roll out and takes a while to soften up to a workable consistency.

Freeze cut-out dough: Freeze unbaked cut-out cookies on a baking sheet. Once frozen, stack them and wrap them tightly in plastic wrap.

Unbaked cookies can be frozen for up to 3 months. Bake them straight from the freezer, adding on a few extra minutes to the bake time.

Storage: Store baked cookies in an airtight container for up to a week.

Cookies can also be frozen, tightly wrapped, for up to 3 months.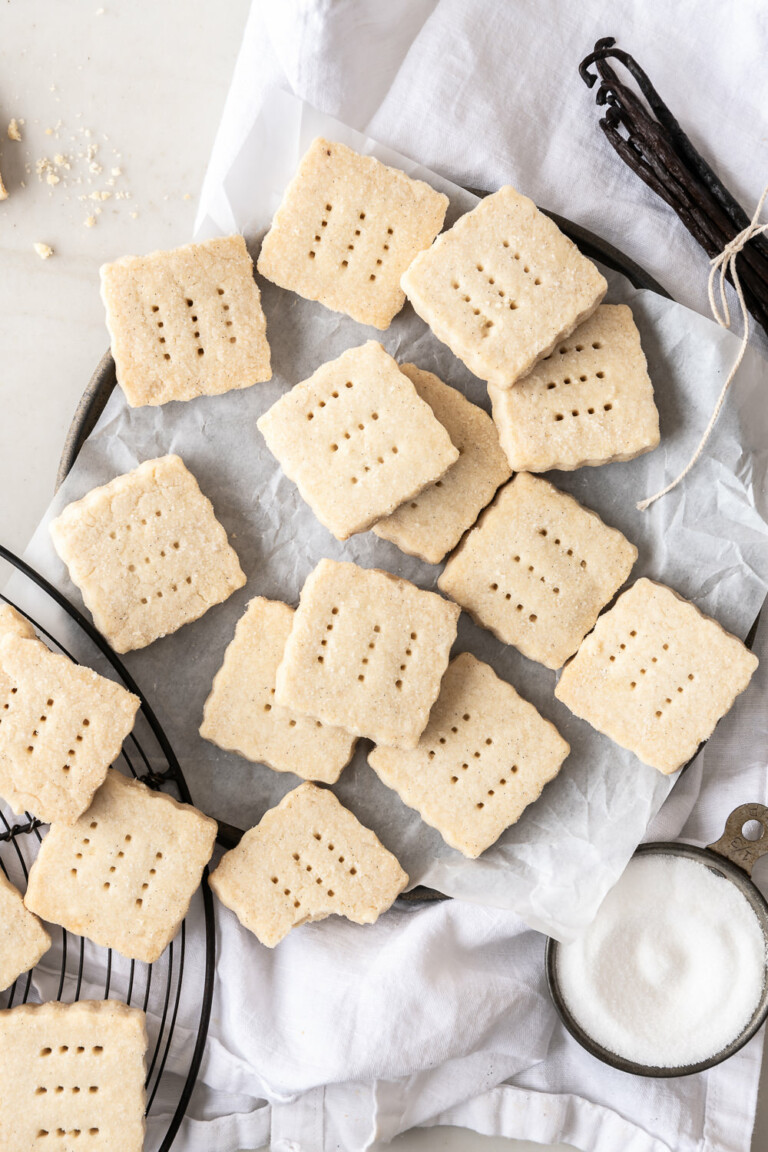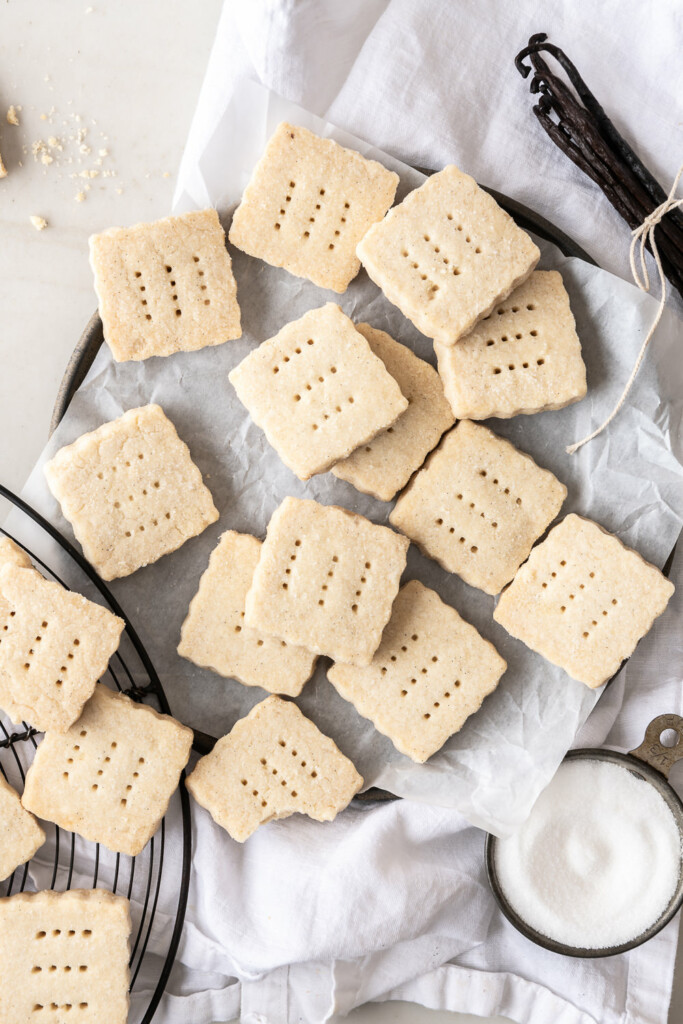 make these shortbread cookies your own!
Here are a few really fun flavor variations to this shortbread cookie recipe. Some ideas a seasonal flair, others are just plain delicious!
Chocolate: mix in finely chopped dark chocolate, drizzle with melted chocolate when cool
Dipped in chocolate: Half in tempered chocolate and sprinkled with chopped nuts, coarse sugar or sprinkles
Caramel: drizzle with melted caramel
White chocolate cranberry: Dip half in tempered white chocolate and sprinkled with minced cranberries and pistachios
Almond: ½ tsp almond extract, omit the vanilla bean
Mint: ½ tsp mint extract and omit the vanilla bean, drizzle with tempered chocolate
Cinnamon: 1 tsp ground cinnamon, coat in cinnamon-sugar before baking
Chai spice: ½ tsp ground cardamom, ½ tsp ground cinnamon, ¼ tsp ground nutmeg, ¼ tsp ground cloves
Christmas spice: ½ tsp ground ginger, ¼ tsp ground cinnamon, pinch of ground cloves, pinch of ground allspice
Espresso: 2 tsp espresso powder + ½ tsp cinnamon
Lavender: Grind 2 tsp culinary lavender in spice grinder and mix in with the flour
Jam: Crumble up 3 cookies. Spread the remaining cookies with your favorite jam and top with crumbled cookies.
Matcha: 2 tsp matcha powder mixed in with the flour, dip cut-out dough in sugar mixed with a teaspoon of matcha.
Citrus: Zest of 1 orange, 1 lemon and 1 lime
Ginger: 1 tsp ground ginger and ⅓ cup finely diced crystallized ginger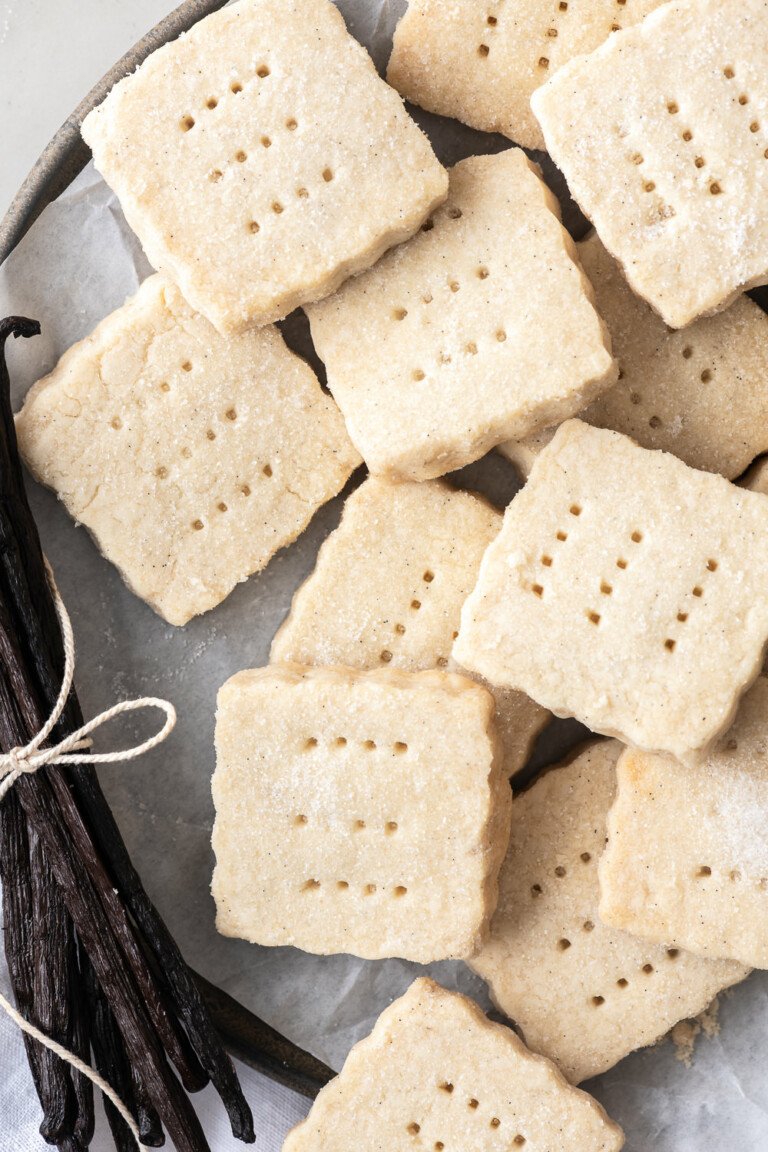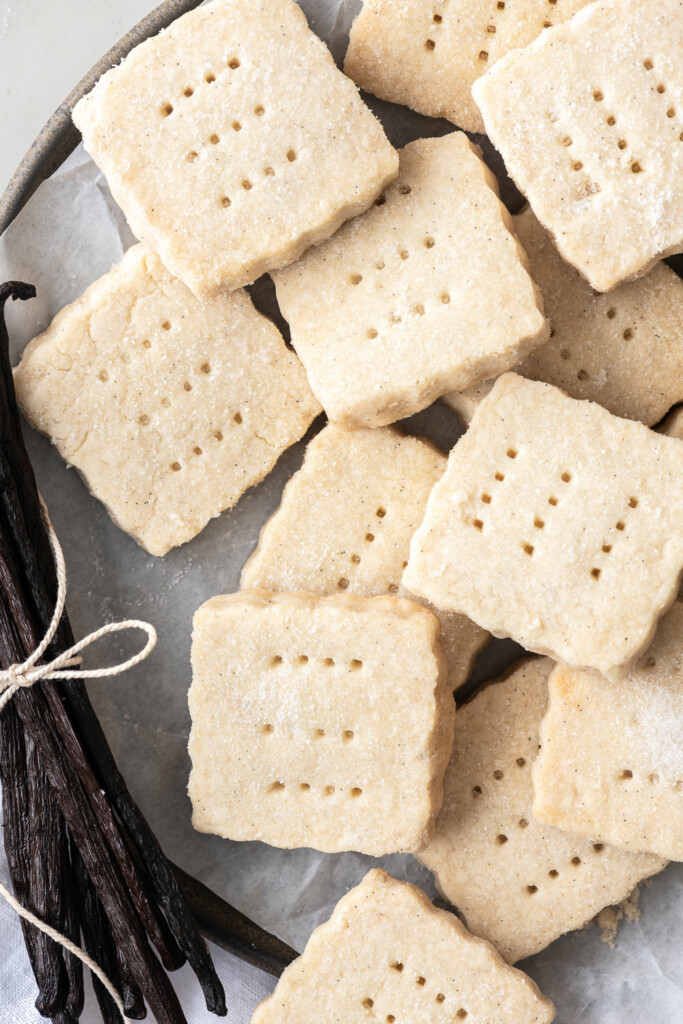 variations in shape:
Roll out and use our favorite cookie cutter or biscuit cutter.
Roll out and cut into fingers.
Roll out and cut into 2-inch circles. Bake in a muffin tin for a perfect shape.
Press into muffin tin for a more rustic look
Press into an 8-inch square or round cake pan (line with parchment paper), let sit 5 minutes out of oven, carefully remove from pan and cut into squares, fingers or wedges. Let cool completely.
Scoop out a generous tablespoon of dough, roll it into a ball and place it on the prepared baking sheet. Stamp it with a cookie stamp or the bottom of a glass until it's about ⅜-inch thick.
Don't forget the docking:
Use a fork to dock the cookies a few times. This helps the steam escape so the cookies don't puff up and bubble. Instead, they bake up dense and firm and deliciously buttery.
To dock, gently press the tines of a fork into the cookie. Don't go all the way through, or the cold dough will probably split. Press the fork about halfway down, going slowly if the dough is really cold. Repeat with the remaining cookies!
More Christmas cookies and shortbread cookie recipes to try!
walnut shortbread cookies with mocha drizzle
pecan shortbread cookies (perfectly buttery and crisp)
butter cookie sandwich with chocolate hazelnut ganache
marbled chocolate peppermint icebox cookies
double chocolate meringue cookies
Watch our Christmas cookie web story here!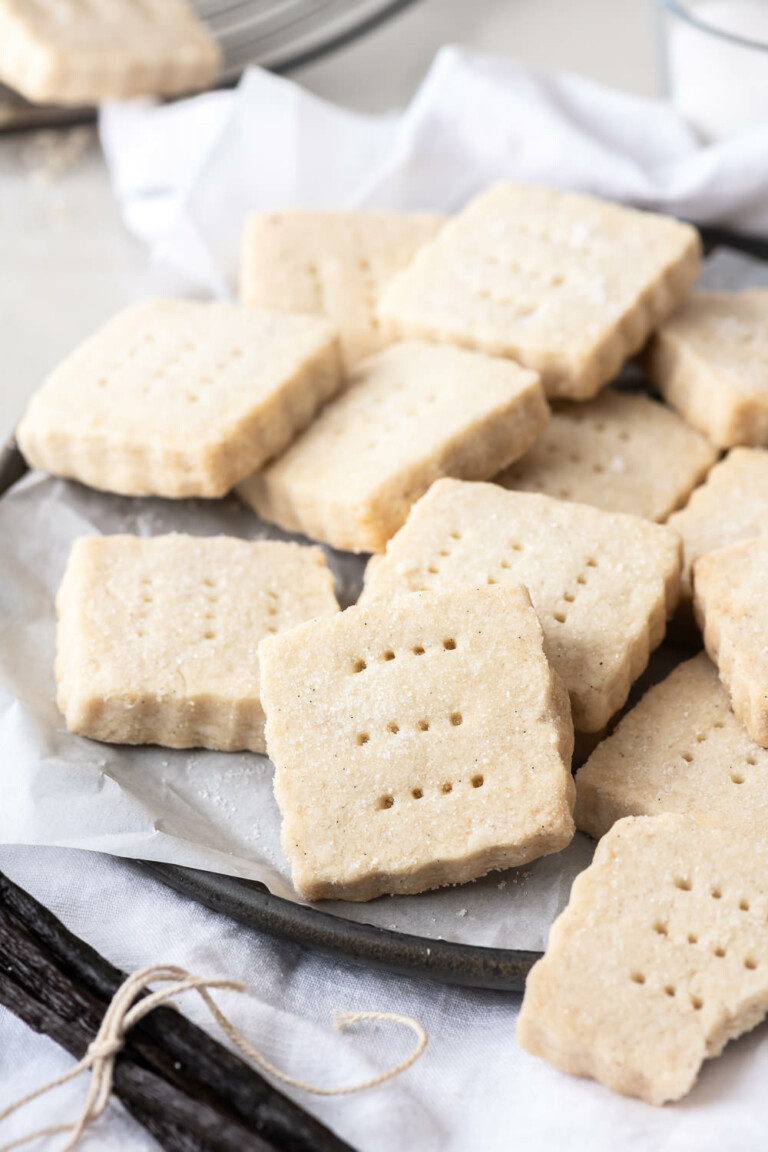 Print
shortbread cookie recipe
These are the best shortbread cookies! They're tender, crisp, and packed with rich butter and vanilla bean flavor. A simple, easy classic.
Author:
Prep Time:

15 minutes

Cook Time:

25 minutes

Total Time:

40 minutes

Yield:

about 12 2-inch squares

Category:

Cookies

Method:

Baked

Cuisine:

American
Ingredients
2

sticks salted butter, room temperature

¾ cup

powdered sugar

½ tsp

fine salt

1

vanilla bean scraped (can substitute

1 tbsp

vanilla bean paste or vanilla extract)

2 ¼ cups

all-purpose flour
granulated sugar, for coating
Instructions
Preheat oven to 325°F.
Place butter in the bowl of a mixer fitted with a paddle attachment. Mix on low speed until butter is softened and broken up, about 20 seconds. Add sugar, salt and vanilla bean seeds (or paste or extract, if using). Mix until smooth, about 1 minute, scraping down bowl as needed.
Add flour and slowly mix until dough just comes together. The dough may seem dry: keep mixing until it comes together, and add up to 1 tablespoon of water if necessary.
Scoop dough onto a piece of parchment paper. Cover with another sheet of parchment and roll out to ⅜-inch thick. Refrigerate for at least 1 hour, or until very firm.
Fill a shallow bowl or plate with granulated sugar. Use a 2-inch cookie cutter to cut out squares from the cookie dough slab, re-rolling scraps as needed. Return dough to the refrigerator to chill if it gets too soft. Store unbaked cookies on a parchment paper-lined sheet pan in the refrigerator.
Dip one side of a cookie round in sugar, pressing down gently to adhere, then transfer to a baking sheet sugared side up. Repeat sugaring remaining cookies, spreading them all about ½-inch apart.
Use a fork to gently dock the cookies (don't go all the way through) and bake for 26-30 minutes depending on the thickness and size of the cookies, or until cookies are just firm to the touch and the edges are a light golden brown.
Let cool on the pan for 5 minutes, then carefully transfer to a rack to cool completely. Repeat baking remaining cookies.
Notes
Nutritional information is only an estimate. The accuracy of the nutritional information for any recipe on this site is not guaranteed.
Keywords: shortbread cookies