These pecan shortbread cookies are perfectly crumbly, crispy, buttery and filled with the rich scent of deeply toasted pecans. You'll want to make these pecan sandies every chance you get!
I developed this recipe to ramp up the pecan flavor in my pecan shortbread cookies. Simply mixing in chopped nuts has always felt a little bland and boring. And artificial butter flavor? No thanks.
The cookies I've made have always been good (how can you not love buttery shortbread?), but they lacked the flavor intensity I always craved. So I developed this recipe to maximize flavor.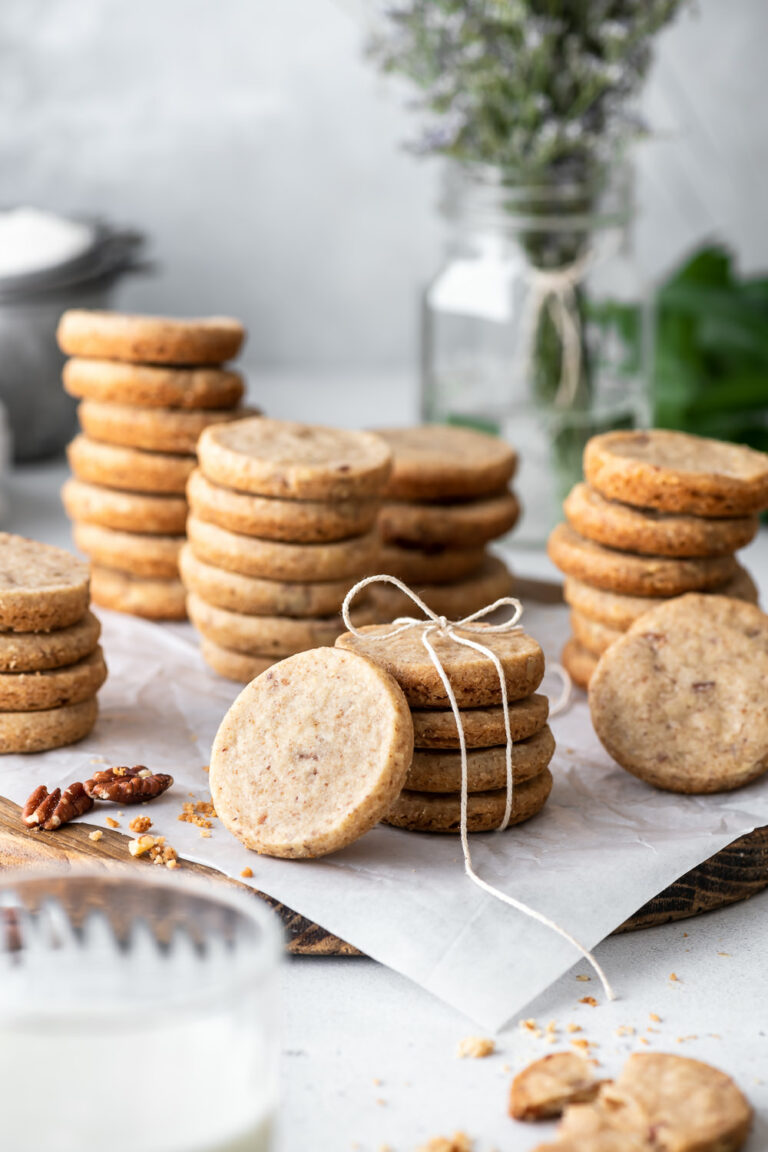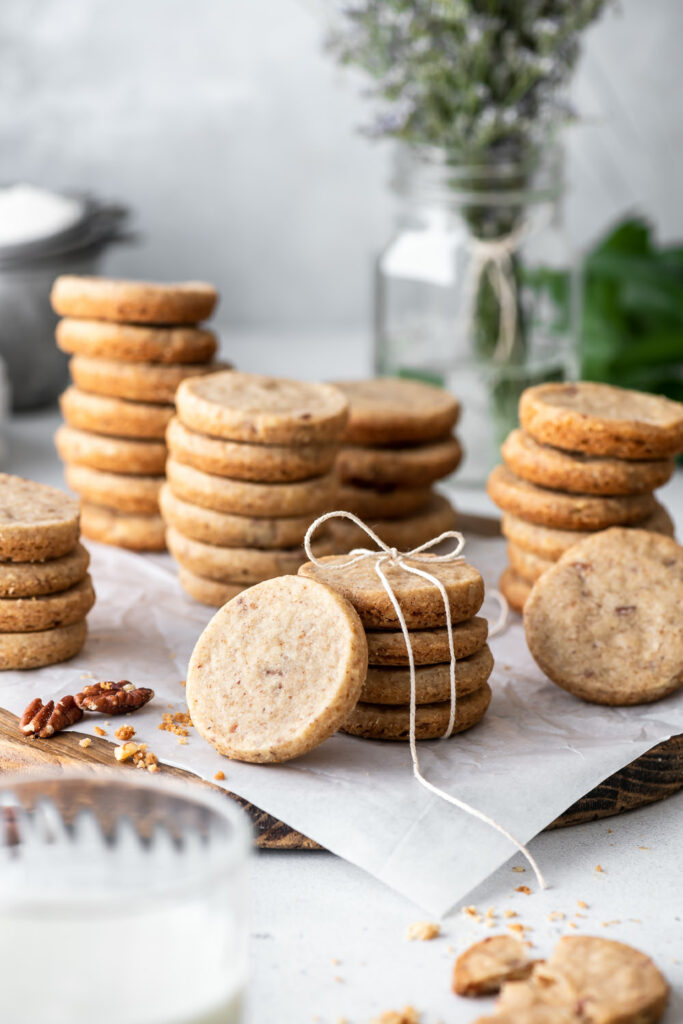 It uses ground pecans and chunks of pecans in the dough to double down on the pecan element and still maintain that beloved nutty crunch. I also channeled Dorie Greenspan, with her infinite sablé wisdom, and adopted the technique of baking shortbread circles in a muffin tin.
The wells of the pan are an ideal mold for a dough that, thanks to all that delectable butter, will always be prone to spreading. With this approach, you get perfectly round and uniform pecan shortbread cookies every time. And it may be shallow, but I'm a total sucker for a perfect stack of cookies.
These shortbread cookies are thick, buttery, crispy, perfectly sweet, nicely salty, tender and, well, sandy. They are unmistakably pecan in flavor and so hard to stop eating! We love to make them as a part of our Christmas cookie baking regimen, but honestly, I make them year around because they're such a favorite!
what you need for pecan shortbread cookies
pecans
powdered sugar
brown sugar
salt
all-purpose flour
butter
food processor
muffin tin for perfect circles (optional)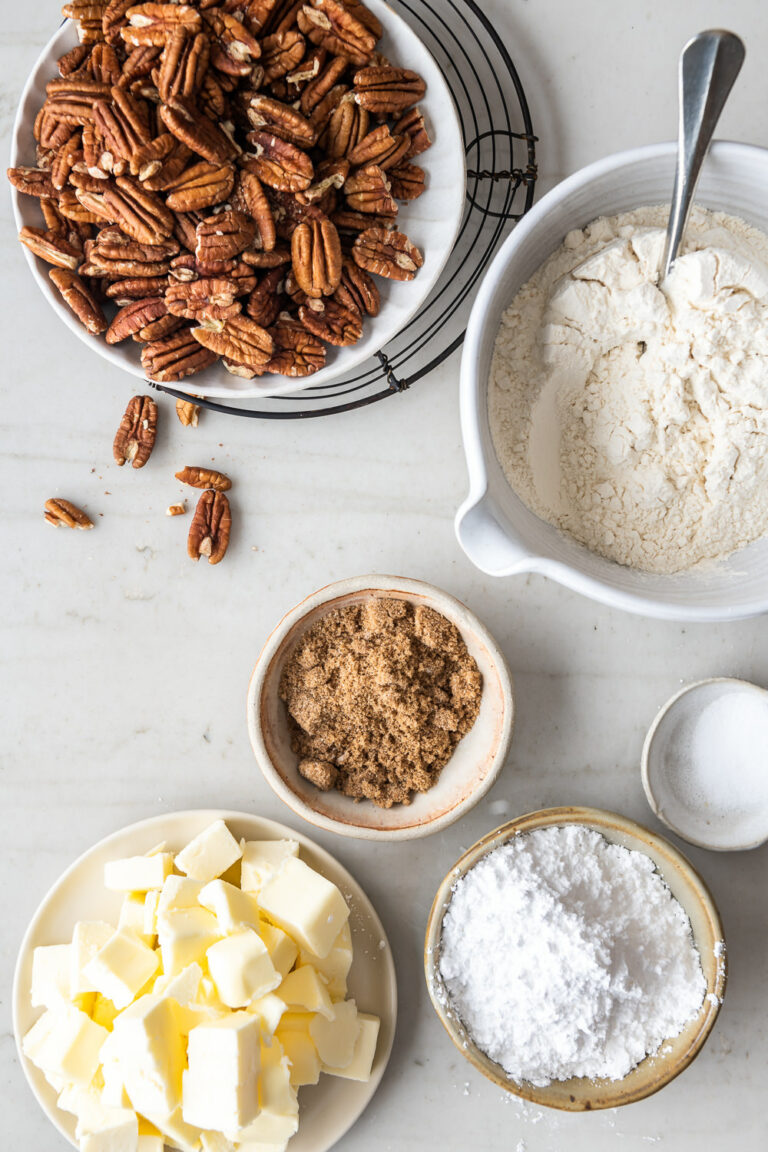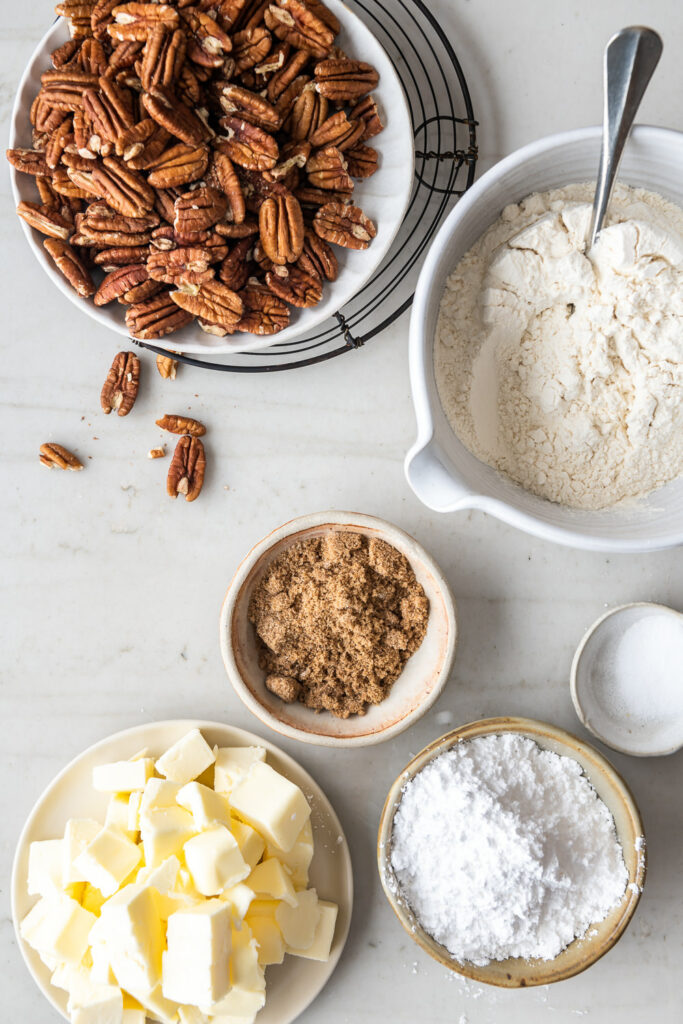 tips for making the best pecan shortbread cookies
Toast the nuts: Don't skip the step of toasting the pecans. It brings out all of the toasty, nutty complexity from the nut, which is a key flavor of these cookies! I prefer to toast nuts in the oven for a more even and richly flavored result. In a pinch, you can toast them in a skillet on the stove, but the direct heat tends to produce uneven results. They're also easier to burn!
Pecans, 2-ways: While folding pecans into shortbread dough is nice, it doesn't exactly make the most flavorful cookie. I wanted pecan shortbread cookies that were packed with the nutty, toasty, sweet notes of pecans. So I blended half of them into the sugar until finely ground, then added the remaining half to the finished dough. Pecan flavor infuses the dough and we get the soft, tender crunch of toasty pecans in every bite.
Great butter: Shortbread cookies are all about the butter. A high quality butter will directly impact the flavor of these cookies. The better the butter, the richer and more tender these cookies will be!
Two sugars: powdered sugar helps give these cookies their characteristic sandy consistency, while a touch of brown sugar enhances the roasty, maple notes of the pecans.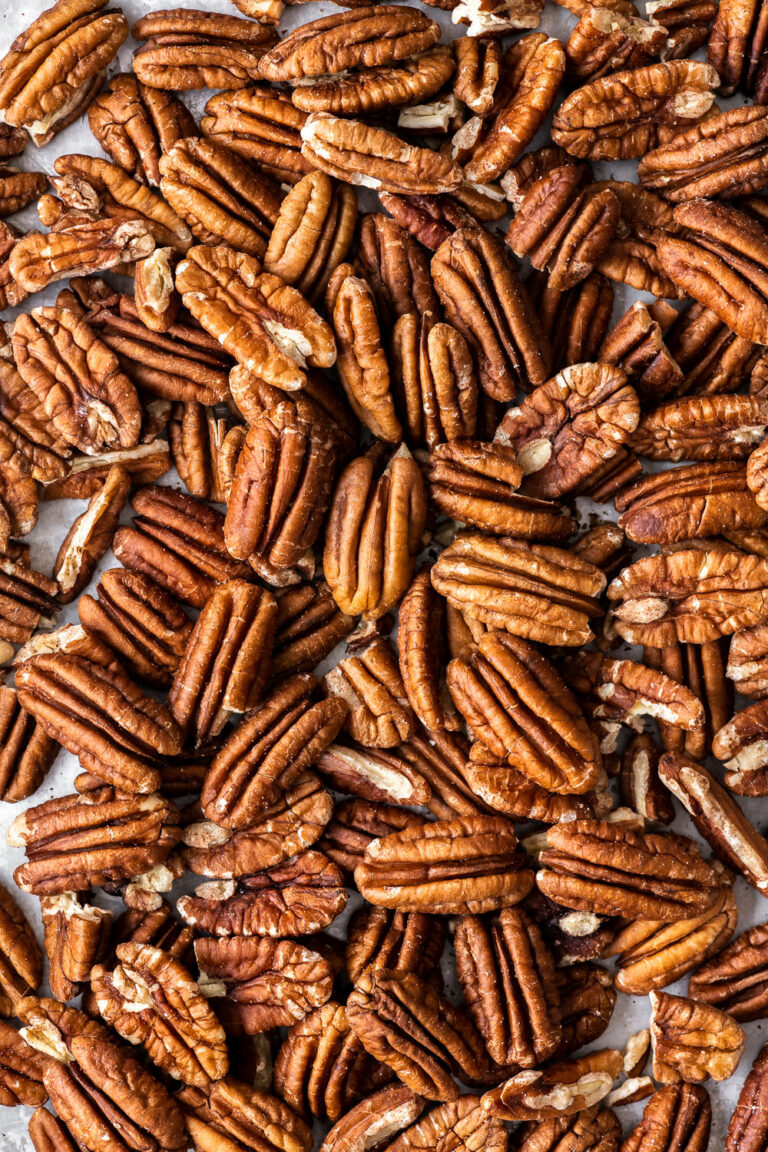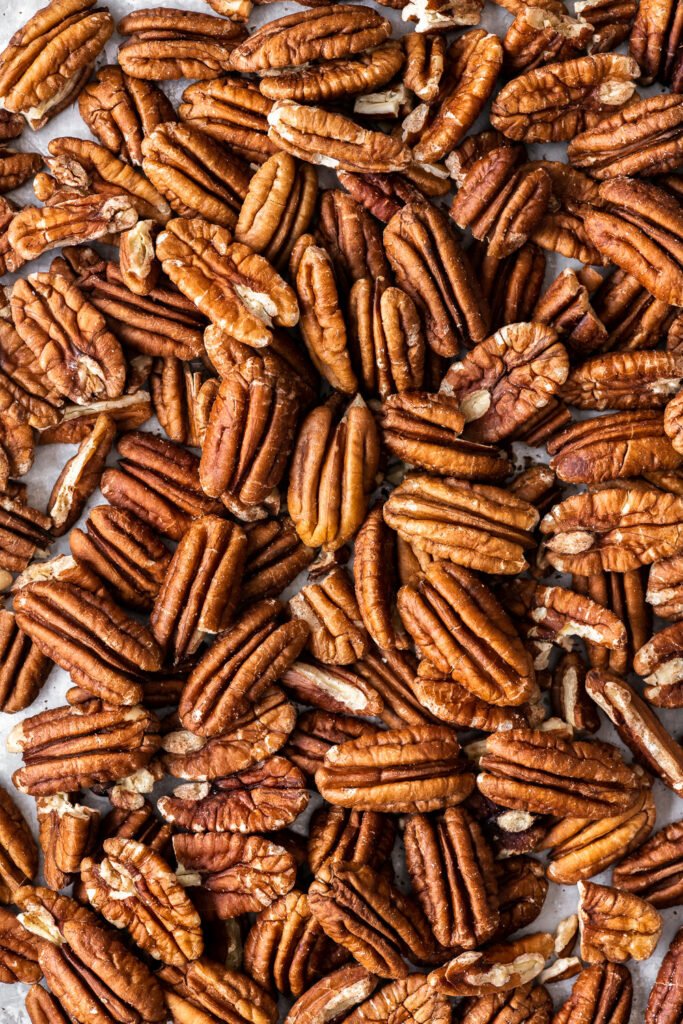 Perfectly round cookies: This is a genius shortbread hack I learned from Dorie Greenspan. Roll out the shortbread cookie dough, chill until firm, then use a 2-inch round cookie cutter to cut out dough rounds. You could stop there and bake them, and they'd be mostly round. But the cookies will still spread, and any thickness variations in the dough will translate into an uneven spread. On the other hand, if you bake them in a muffin tin, the tall edges contain the dough and eliminate that annoying spread. The cookies come out as perfectly round circles, every time! So gorgeous on a cookie platter. I prefer to cut out all of the cookies at once and store the dough circles on a sheet pan in the refrigerator. Then, even if you only have 1 muffin tin, the bulk of the work is done and the "active cooking" is just transferring finished cookies to a cooling rack and dough rounds to the muffin tin. Easy.
Keep it cold: There's a lot of butter in this dough. It gives the shortbread cookies the crumbly, buttery, sandy texture that we all love so much. But the dough can be sticky and hard to work with when it warms up (either from rolling and shaping or from simply sitting at room temperature). So make sure to fully chill the dough slabs and return the dough to the fridge as needed (fairly often) to keep it cold and workable. Store unbaked cookie cut-outs in the fridge, too.
Let the cookies cool: When the pecan sandies come out of the oven, they'll be soft and fragile. Give them 3- 5 minutes to cool in the pan before running a knife around the edge of the muffin cup. This gives cookies a chance to firm up and you won't need to worry about them crumbling or breaking apart.
how to make pecan shortbread cookies
Toast pecans
Roughly chop pecans, set half aside
Process half of pecans with both sugars and salt until finely ground
Mix in flour
Blend in butter until dough clumps and pulls together
Pulse in remaining pecans
Roll out dough to a ¼-inch thick slab and chill
Cut dough into 2-inch circles
Bake in a muffin tin for about 15 minutes at 350°F
Cool and enjoy!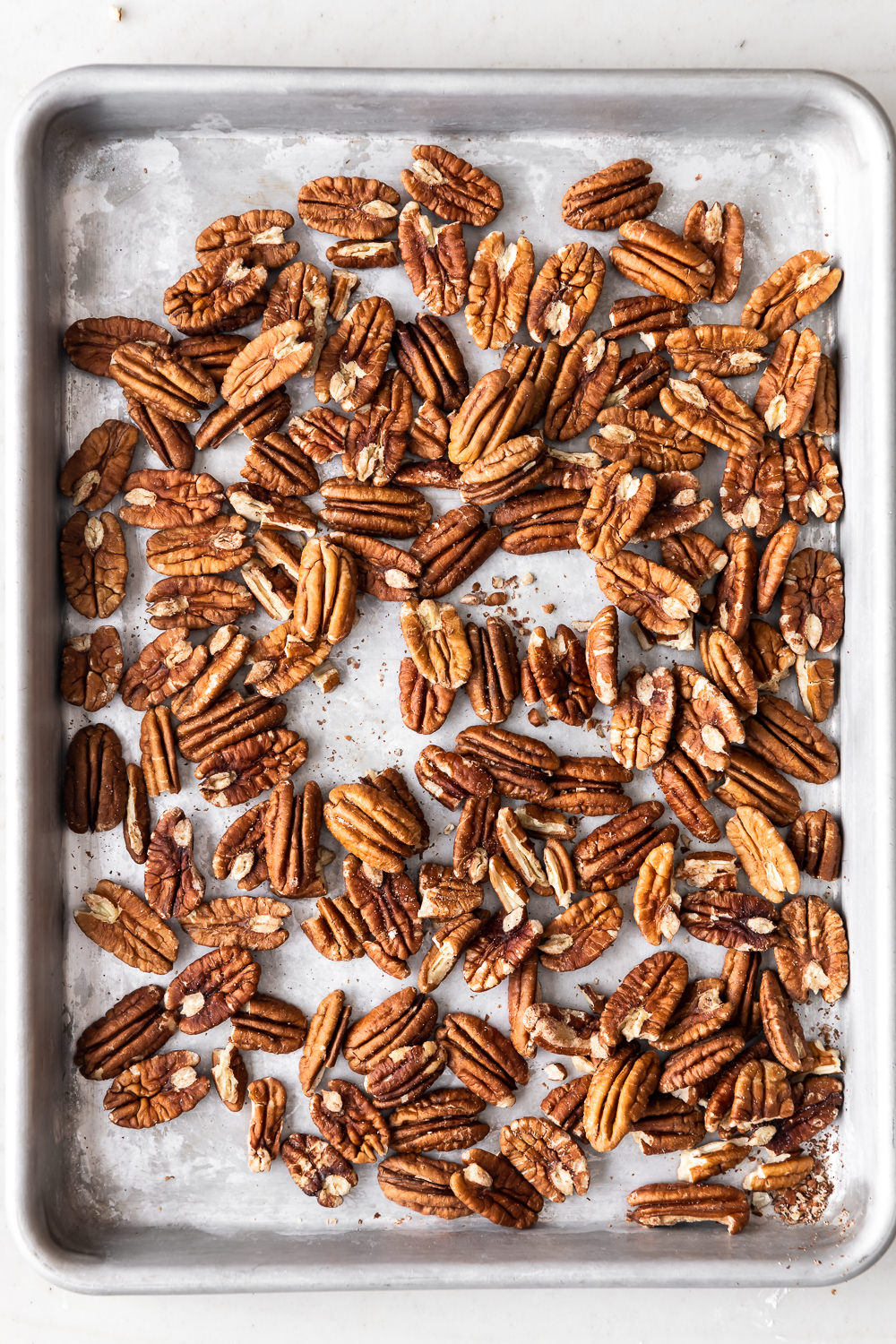 make ahead and storage options for pecan shortbread cookies:
Shortbread cookies are so flexible. Here are a few ways you can make them ahead so they're always available when the need strikes!
Dough slabs (or logs): refrigerate for a few days or freeze for up to 2 months
Cut out, unbaked cookies: refrigerate for a few days or freeze for up to 2 months (this is my favorite way to save the cookies!)

Freeze the unbaked cut-outs on a baking sheet, then transfer to a ziplock bag when frozen.

Baked cookies: store in an airtight container for up to 5 days or freeze for up to 2 months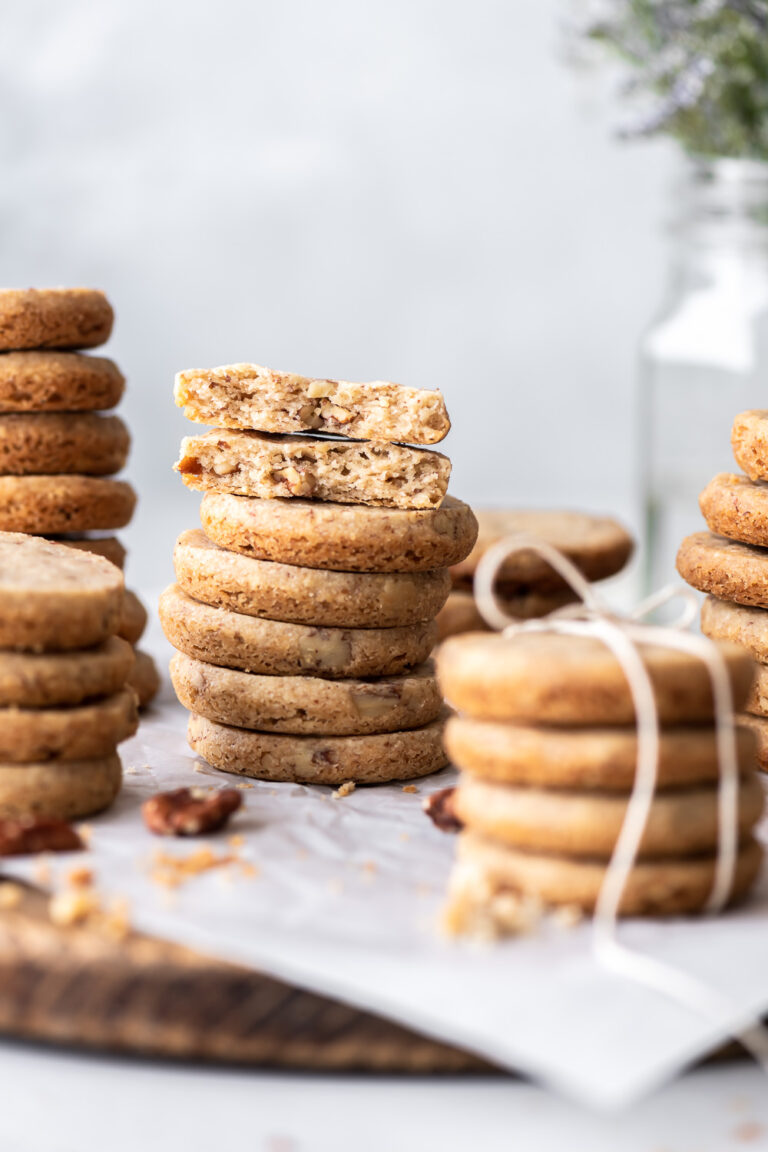 frequently asked questions about pecan sandies:
What's the difference between pecan sandies and pecan shortbread cookies?
Nothing! Sandies and shortbread cookies are one in the same. Sandies get their name from their sandy, crumbly, fine textured crumb. In fact, French shortbread cookies are called "sablé"-- which translates to "sandy" in English.
Some versions of pecan sandies coat the finished cookies in powdered sugar. This is a great option when making these cookies for the holidays. They look extra festive and truly melt in your mouth!
What's the difference between shortbread and shortbread cookies?
Nothing! Traditionally, Scottish shortbread was baked in round pans as part of a winter solstice celebration. The round cookie was cut into wedges to symbolize the sun and its rays. Eventually shortbread shapes expanded into cut-outs, drop cookies, and slice and bake logs, but the essence remains the same. They're a simple cookie made from butter, flour, sugar and salt. The result is a characteristically buttery, crisp, light cookie.
Can I use salted butter instead of unsalted butter?
Yes, you can! In fact, salted butter is generally preferred in shortbread cookies. Salt needs liquid to dissolve in, and the only water in shortbread cookies comes from water in the butter (which is about 16%). So when you add salt to shortbread dough, you'll taste small, undissolved grains of salt in the cookie. In the case of our pecan shortbread cookies, I actually love this. The pop of salt is reminiscent of a handful of salted nuts, and the contrast of buttery sweet cookie and nutty pecans is just so perfect. But for some shortbread cookies, you may prefer to have the flavor enhancement that comes from salt without any of the texture. If that's your preference, simply use salted butter and omit the additional salt called for in the recipe!
How do you toast pecans?
The best way to toast pecans (and all nuts, for that matter) is in the oven. The indirect heat toasts the nuts more evenly and deeply than a hot skillet. Spread them out on a sheet pan and toast in the oven at 350°F for 6- 7 minutes, or until fragrant and darkened in color. Watch them closely-- they can burn quickly! Transfer the pecans off the hot sheet pan to stop the cooking and avoid burning.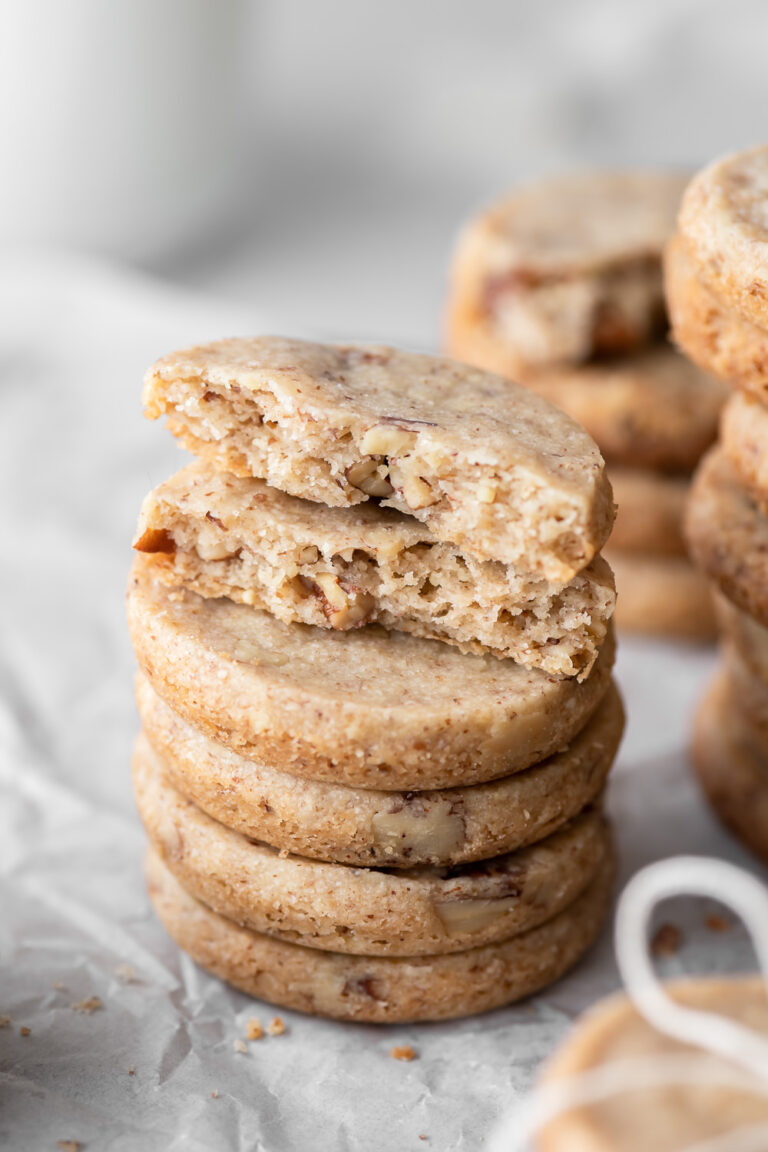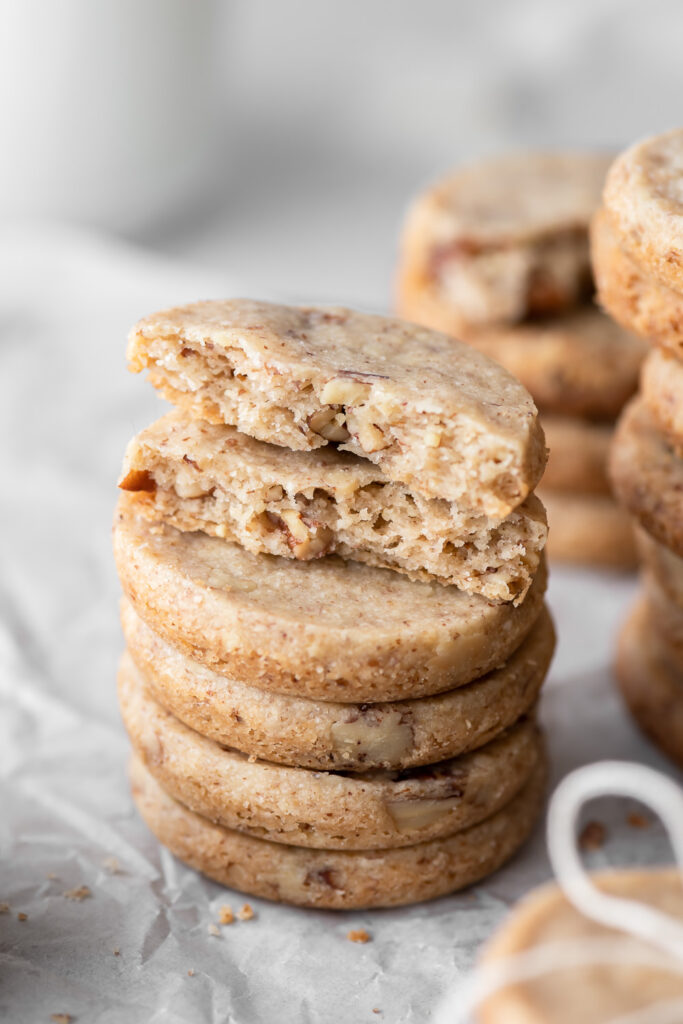 More shortbread and butter cookie recipes to try!
walnut shortbread cookies with mocha drizzle
butter cookie sandwich with chocolate hazelnut ganache
marbled chocolate peppermint icebox cookies
Watch our Christmas cookie web story here!
Print
pecan shortbread cookies
These pecan shortbread cookies are perfectly crumbly, crispy, buttery and filled with the rich scent of deeply toasted pecans. So delicious!
Author:
Prep Time:

20 minutes

Cook Time:

15 minutes

Total Time:

35 minutes

Yield:

4 dozen 2-inch cookies

Category:

Cookies

Method:

Food processor

Cuisine:

American
Ingredients
8 oz

pecan halves (about

2 cups

)

¾ cup

powdered sugar

¼ cup

brown sugar

1 tsp

fine salt

2 cups

all-purpose flour

1 ¼ cups

(

2 ½

sticks) cold unsalted butter, cubed
Instructions
Preheat oven to 325°F.
Spread pecans out on a baking sheet and bake for about 6 minutes, or until fragrant and just beginning to darken. Transfer to a food processor and pulse until roughly chopped. Pull out 1 cup of pecan pieces and set aside.
Add powdered sugar, brown sugar and salt and process until pecans are finely ground, about 20 seconds. Add flour and process until combined. Toss in butter cubes and process until dough begins to come together, about 30 seconds. Pulse in remaining 1 cup chopped pecans, only processing to mix and not chop the nuts further.
Scoop out half the dough on a piece of parchment paper. Cover with another sheet of parchment and roll out to ¼-inch thick. Repeat with remaining dough. Stack slabs of dough on top of each other and refrigerate for at least 1 hour, or until very firm.
Cut out rounds with a 2-inch cookie cutter and transfer to a muffin tin (no need to grease the cups). Re-roll and chill scraps as needed. Store unbaked cookies on a parchment paper-lined sheet pan in the refrigerator. 
Bake for about 15 minutes, or until cookies are firm to the touch and edges are a light golden brown. 
Let cool in the muffin tin for a few minutes, then use a knife or small offset spatula to carefully loosen them from the pan. Transfer to a rack to cool completely. Repeat baking remaining cookies.
Notes
This dough can also be used as a slice and bake cookie. Shape the dough into a log, chill until firm, and then slice into rounds and bake on a parchment-lined baking sheet. The cookies will spread about ¼-inch and won't be perfectly round, but they taste the same!
Nutritional information is only an estimate. The accuracy of the nutritional information for any recipe on this site is not guaranteed.
Nutrition
Serving Size:

1 2-inch cookie

Calories:

104

Sugar:

2.8g

Sodium:

50mg

Fat:

8.2g

Saturated Fat:

3.3g

Unsaturated Fat:

4.5g

Trans Fat:

0g

Carbohydrates:

7.3g

Fiber:

0.6g

Protein:

1g

Cholesterol:

13mg
Keywords: pecan shortbread cookies