Chocolate meringue cookies are intense bites of dark chocolate. The texture is light and crispy, but the bitter cocoa flavor is big and it lingers, begging for a glass of milk!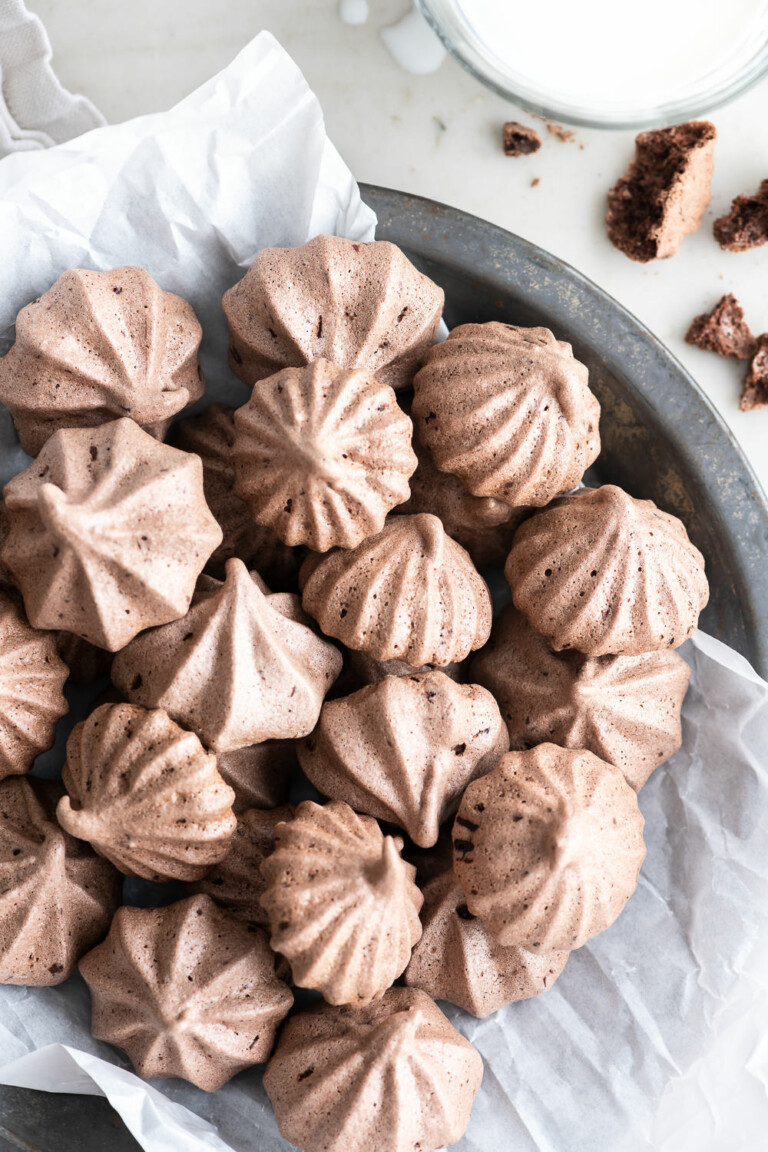 These chocolate meringue cookies are like puffs of pure dark chocolate. They're light, incredibly crisp, and so full of rich chocolate flavor they might catch you off guard.
I use really good cocoa powder and finely chopped dark chocolate to bring intense flavor and deep color.
Then the key to extra crunchy meringue cookies: turn off the oven and leave the cookies in there to dry out for another hour or so. This strategy pulls out all the extra moisture and gives you incredibly light, melt-in-your-mouth meringue cookies.
This post may contain affiliate links. As an Amazon Associate, I earn from qualifying purchases.
what makes these the best chocolate meringue cookies?
Finely chopped chocolate: I love pops of dense chocolate in meringue cookies, but I like to keep them really small. Tiny pieces don't interrupt the pretty shapes of piped meringues and they add great texture without breaking up the cookie.
Rich cocoa powder: I LOVE Cacao Barry Extra Brute cocoa powder, but any great alkalized (Dutch-processed) cocoa will work. Cocoa powder is the main source of chocolate in these cookies, so make sure to use the best quality you can get your hands on. It's the key to a deep, rich, intense cocoa flavor.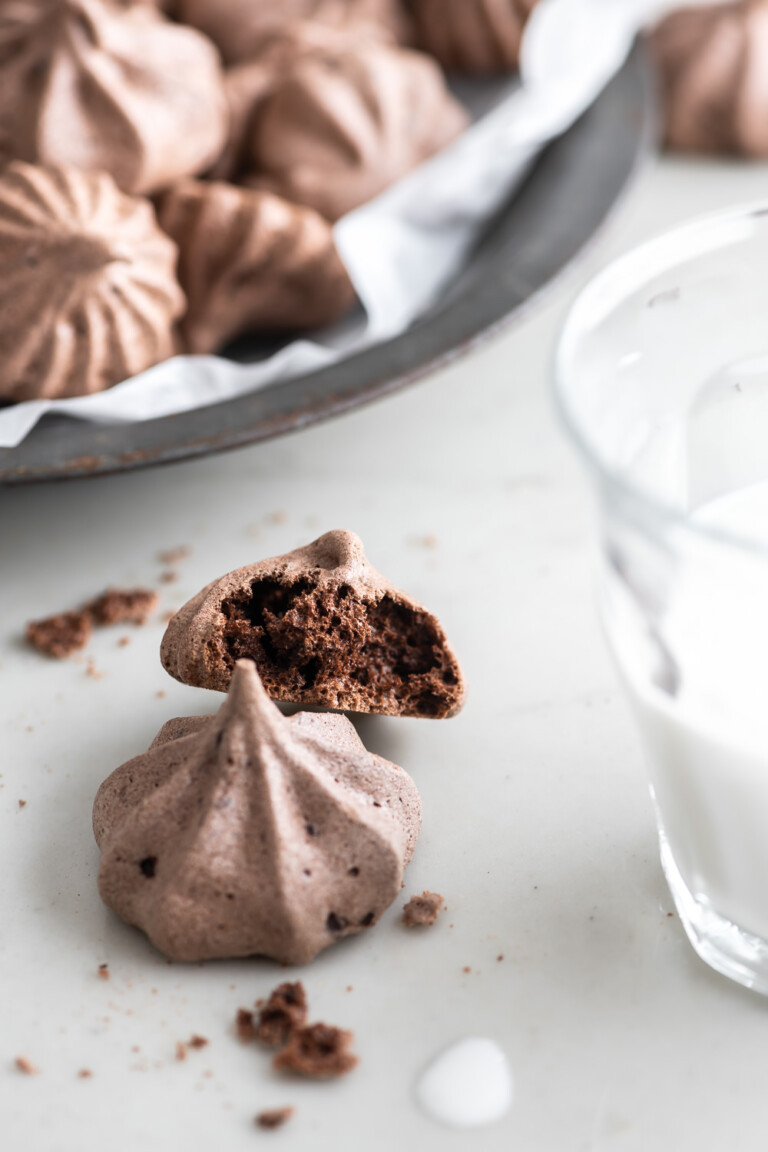 Oven-dried: If you take the meringues out of the oven when the baking time is up, they'll still be soft and chewy. But if you turn off of the oven and leave them in there (without flapping the door a bunch of times), the dry heat will pull the excess moisture out. It's basically dehydrating the meringues until they're super light and crisp!
Strong meringue: An important part of making meringue cookies is going slow with the egg whites. Beat them on medium speed until frothy and loose, then slowly add sugar a tablespoon at a time. Don't rush this stage. Mixing too fast will produce big air bubbles and a collapsing cookie. I also use a pinch of cream of tartar which helps stabilize the meringue. This is extra important because we fold in a lot of cocoa powder, which could deflate the cookies.
what you need for chocolate meringue cookies:
egg whites
dutch-processed cocoa powder
powdered sugar
granulated sugar
cream of tartar
vanilla
bittersweet chocolate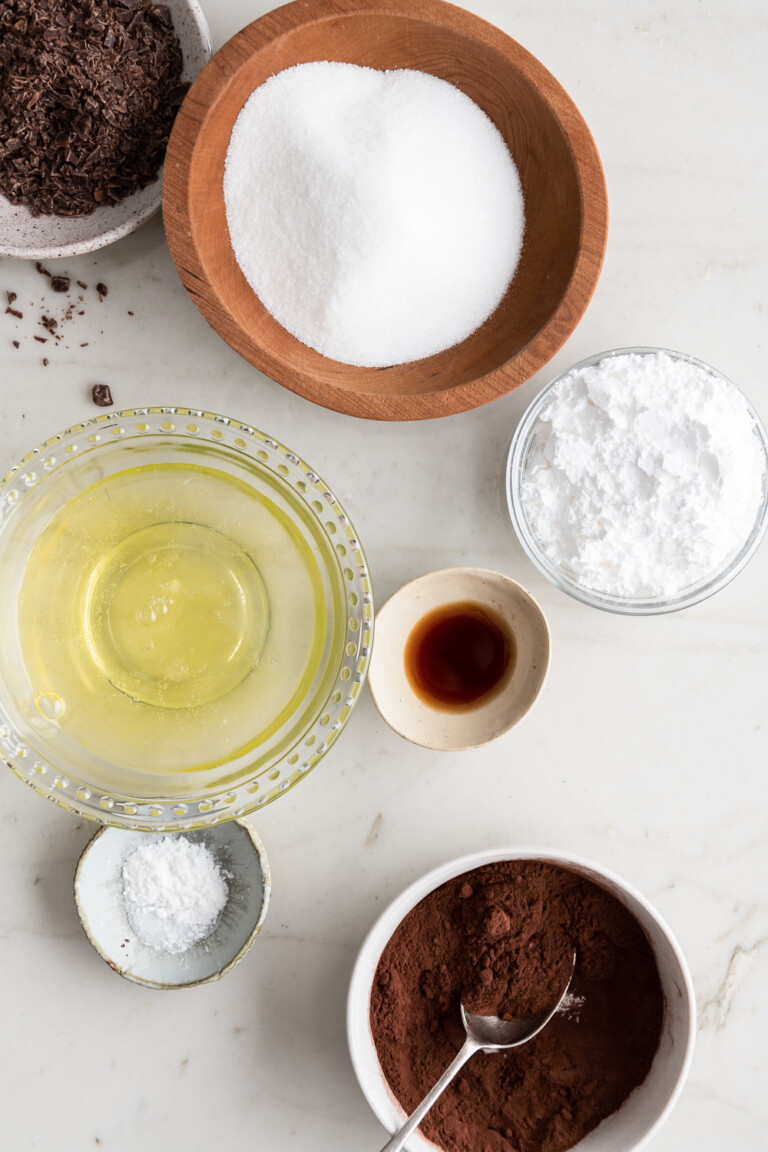 how to make chocolate meringue cookies:
Whisk together powdered sugar and cocoa powder; set aside.
Beat egg whites, cream of tartar and salt until frothy.
Slowly add granulated sugar, beating until egg whites are stiff and glossy.
Beat in vanilla extract.
Gently fold in cocoa powder mixture and chopped chocolate.
Pipe or dollop onto sheet pans and bake until firm and no longer sticky, 1 hour.
Turn off the oven and let meringue cookies dry out for at least another 1 ½ hours.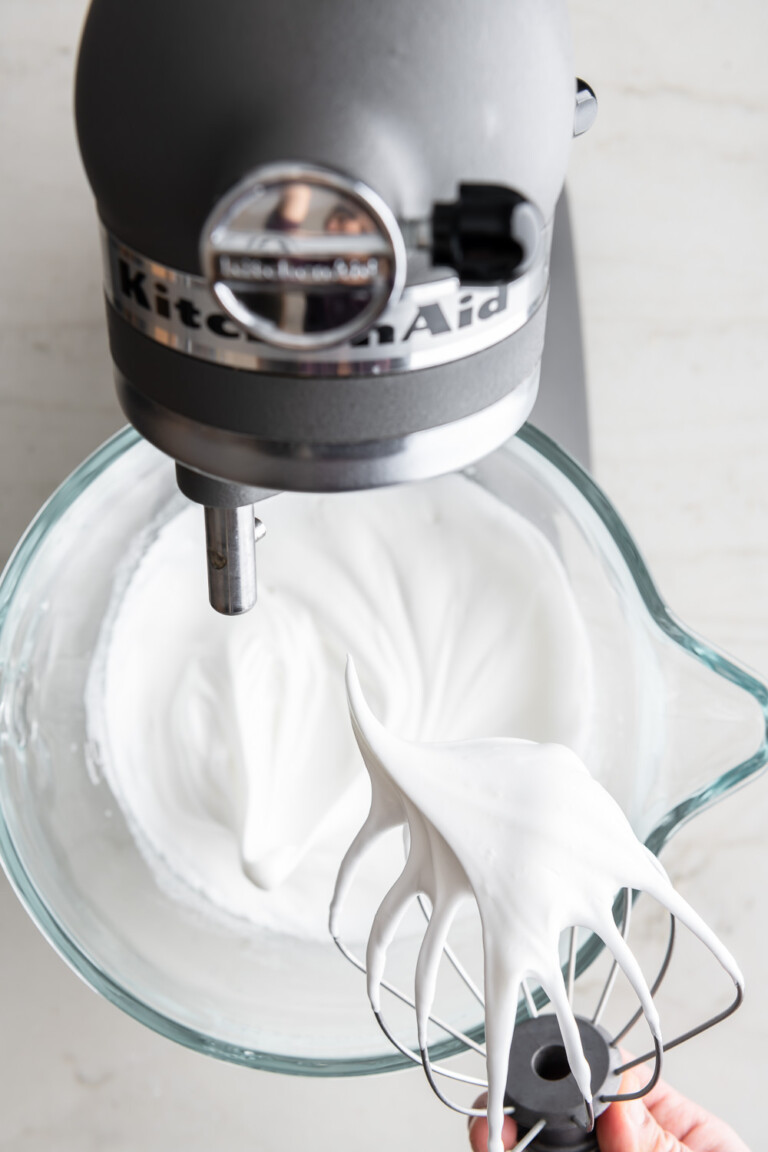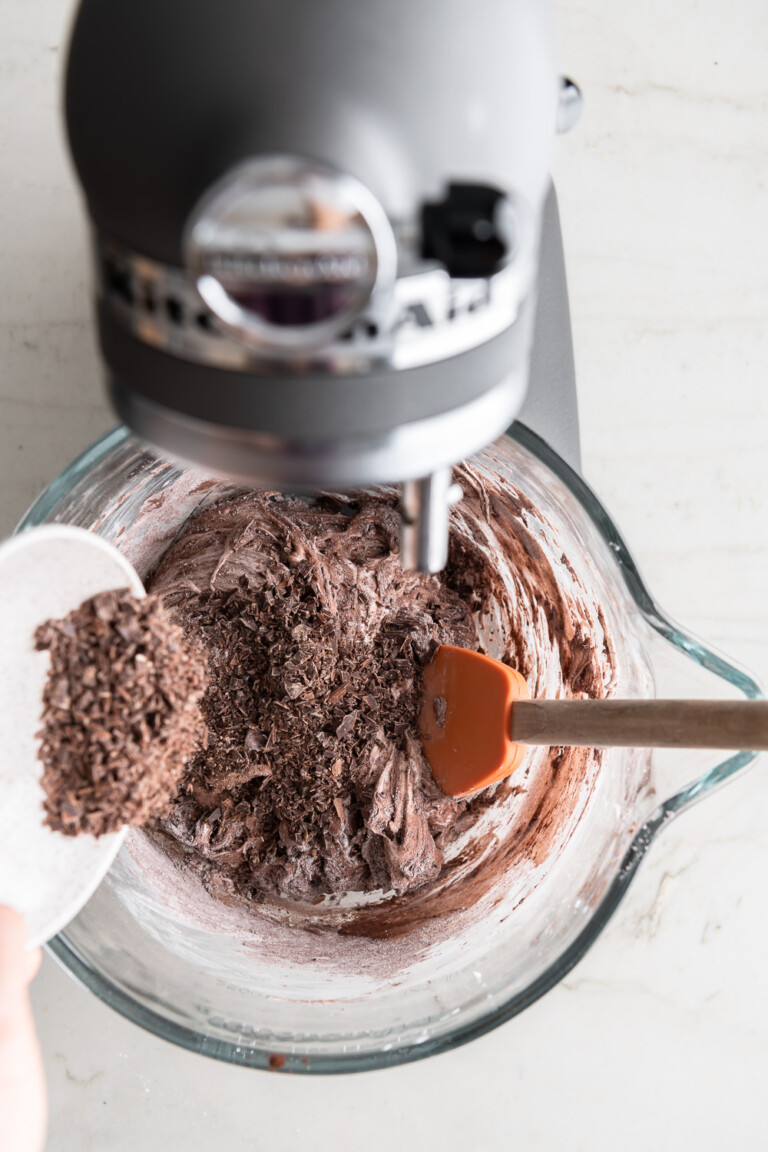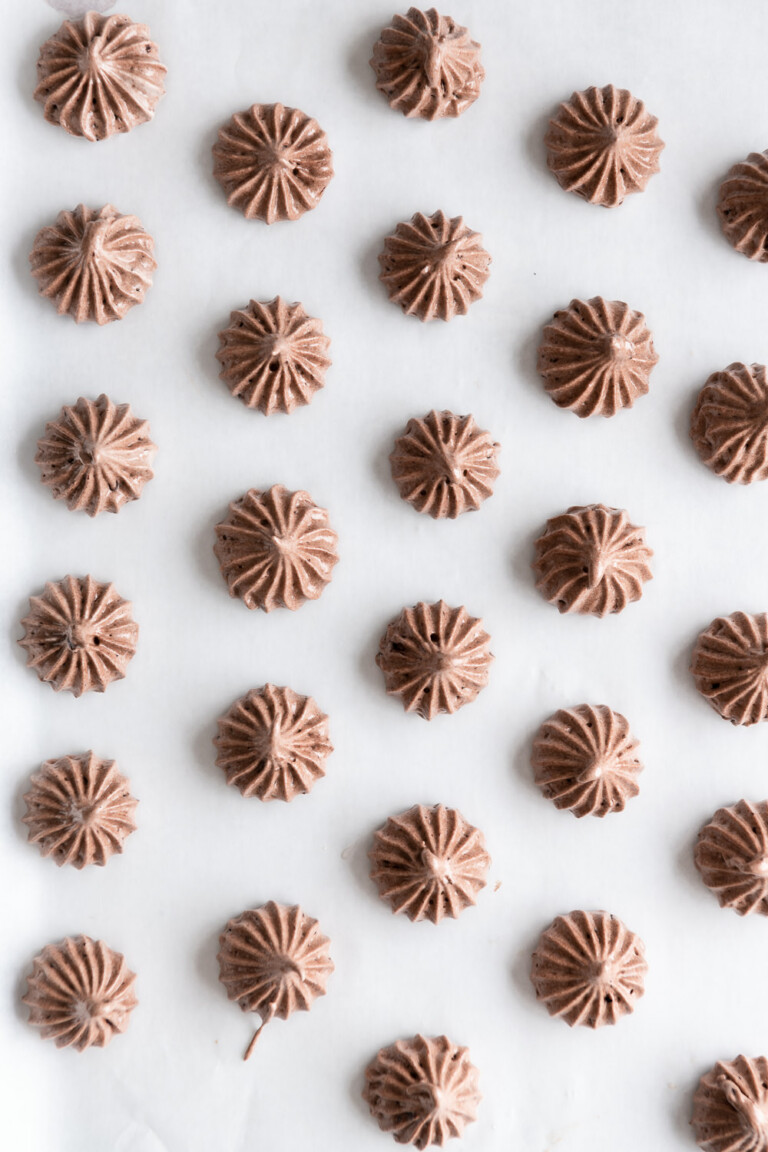 Watch our web story to learn how to make these chocolate meringue cookies!
more tips when making these chocolate meringue cookies:
Clean EVERYTHING that will touch the egg whites with extra soapy water. Any trace of fat on a whisk or mixing bowl can inhibit the foam formation!
Separate the eggs straight from the fridge, then set the whites aside to warm to room temperature. Eggs separate most cleanly when they're cold (lowers the risk of piercing the yolk). But they whip up best when they're loose and at room temperature!
Pay attention to the consistency of the meringue. It will start to drag into a ball and look stringy when it's getting stiff and is ready for the cocoa powder. Stop the mixer and hold up the whisk attachment-- if the peak is strong and stiff, it's ready! Egg whites with a lot of sugar are harder to overbeat but it's still important to watch them closely and notice changes.
Sift the powdered sugar and cocoa. Do them together to simplify the process, but don't be tempted to skip the sifting. Both ingredients tend to have hard clumps in them, and we don't want any clumps in our finished meringues!
Go slow and be very gentle when you fold in the cocoa powder. It will seem like the cocoa will never be fully mixed in-- be patient. I prefer to fold it in a few times, then let the cocoa sit for about a minute to absorb some of the moisture, then continue folding until it's mostly combined. The mixture does not need to be fully uniform!
make these chocolate meringue cookies your own!
Here are a few fun ways to add a flavor twist to these cookies:
Add ¼ tsp peppermint extract for a delicious mint chocolate flavor.
And ½ tsp espresso powder with the cream of tartar for a mocha meringue.
Dip the bottoms in tempered chocolate.
Remove them from the oven after 1 hour for chewy chocolate meringue cookies
Swap chopped chocolate for chopped hazelnuts or pecans
Fold in a few tablespoons sweetened, shredded coconut
more Christmas cookie recipes to try:
walnut shortbread cookies with mocha drizzle
pecan shortbread cookies (perfectly buttery and crisp)
butter cookie sandwich with chocolate hazelnut ganache
marbled chocolate peppermint icebox cookies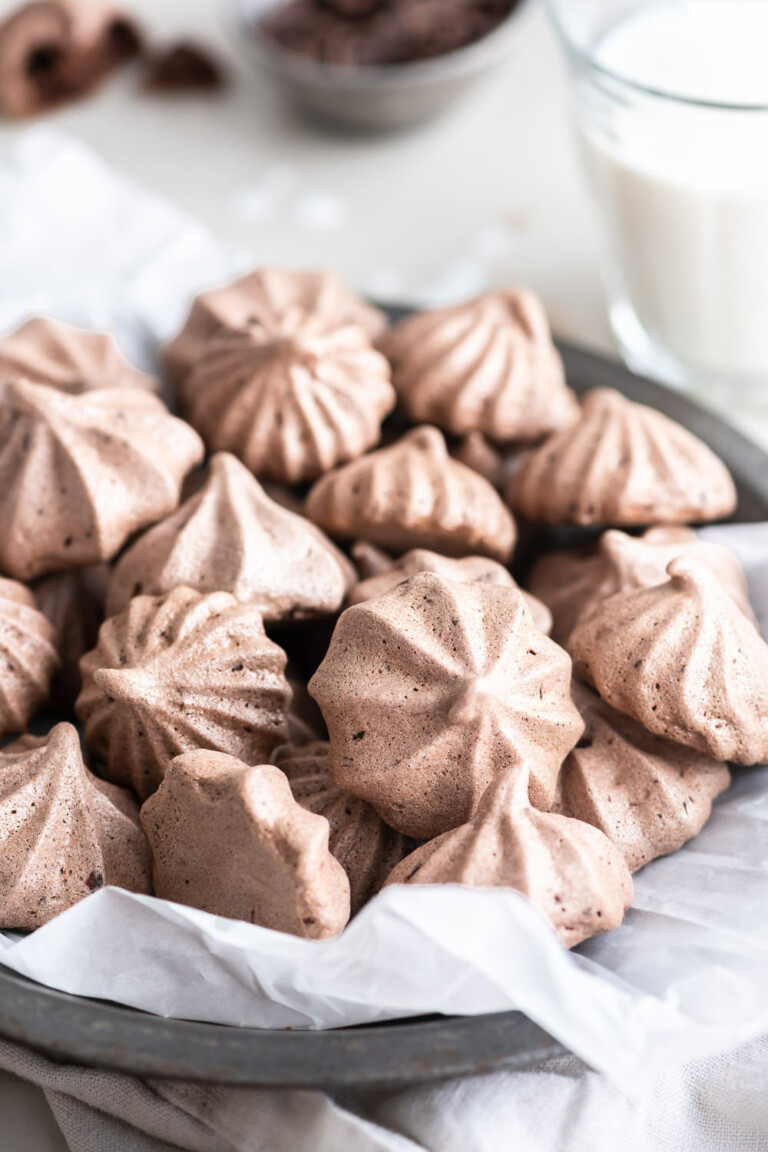 Print
double chocolate meringue cookies
Chocolate meringue cookies are intense bites of dark chocolate. The texture is light and crispy;  the bitter cocoa flavor is big and it lingers, begging for a glass of milk!
Author:
Prep Time:

15 minutes

Cook Time:

1 hour

Total Time:

1 hour 15 minutes

Yield:

80 small cookies

Category:

Cookies

Method:

Baked

Cuisine:

American

Diet:

Gluten Free
Ingredients
½ cup

powdered sugar

¼ cup

Dutch-processed cocoa powder

4

egg whites, room temperature

¼ tsp

cream of tartar

⅛ tsp

fine salt

½ cup

granulated sugar

1 tsp

vanilla extract

¼ cup

finely chopped bittersweet chocolate
Instructions
Preheat oven to 250°F. Line 2 baking sheets with parchment paper. Prep piping bag with a large star or circle tip, if using.
Whisk together powdered sugar and cocoa powder in a medium bowl; set aside.
In the bowl of an electric mixer fitted with a whisk attachment, combine egg whites, cream of tartar, and salt. Beat on medium speed until the whites are loose and foamy, 2- 3 minutes. Increase speed to medium-high and add granulated sugar slowly (1 tablespoon at a time), until egg whites are stiff and glossy.
Mix in vanilla extract. Sift powdered sugar mixture over top. Gently fold in until mostly mixed. Sprinkle chocolate on top and fold in a few times.
Transfer meringue to the prepared pastry bag. Pipe meringue cookies onto prepared sheet pans, keeping them about 1 ½ inches apart. Alternatively, drop cookies on the sheet by the tablespoon.
Bake for 1 hour, then turn off oven and let cookies cool in the unopened oven for 1 ½- 2 hours.
Notes
Nutritional information is only an estimate. The accuracy of the nutritional information for any recipe on this site is not guaranteed.
Nutrition
Serving Size:

2 cookies

Calories:

24

Sugar:

3.9g

Sodium:

13mg

Fat:

0.5g

Saturated Fat:

0.3g

Unsaturated Fat:

0.1g

Trans Fat:

0g

Carbohydrates:

4.5g

Fiber:

0.2g

Protein:

0.6g

Cholesterol:

0mg
Keywords: chocolate meringue cookies