Crispy, crunchy cinnamon hazelnut meringue cookies will delight your friends and family this holiday season. Dip in chocolate for a gorgeous touch.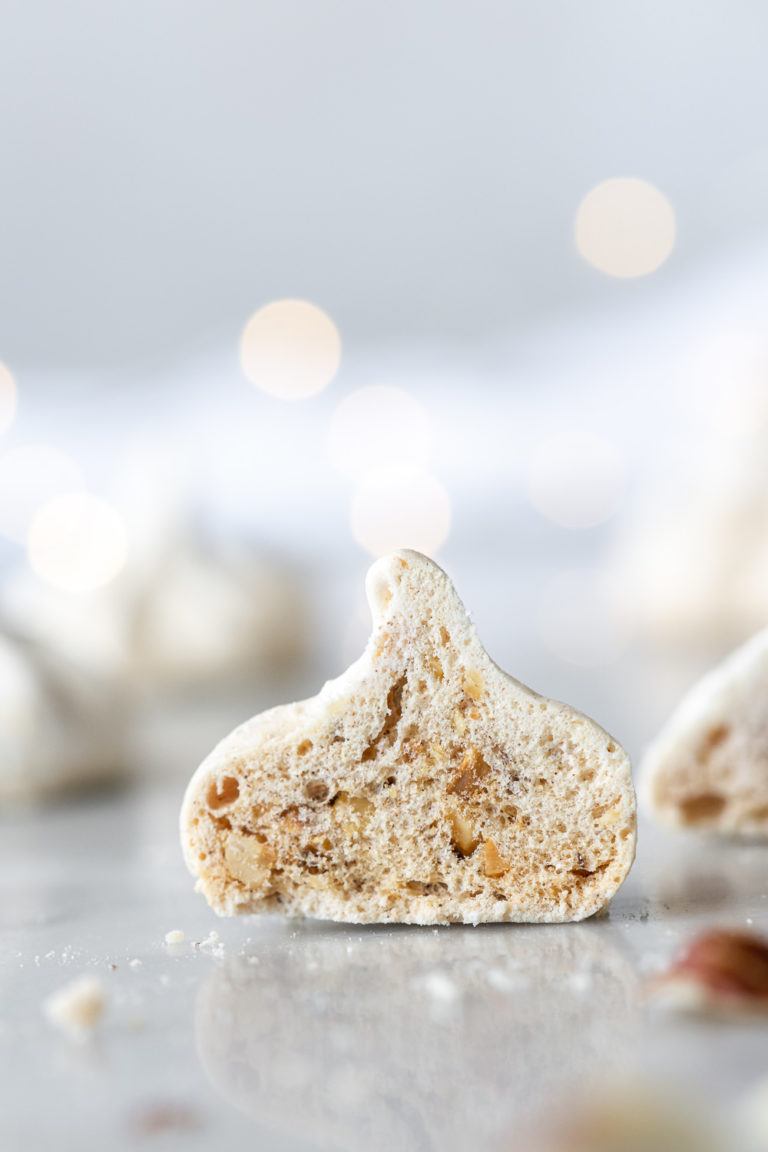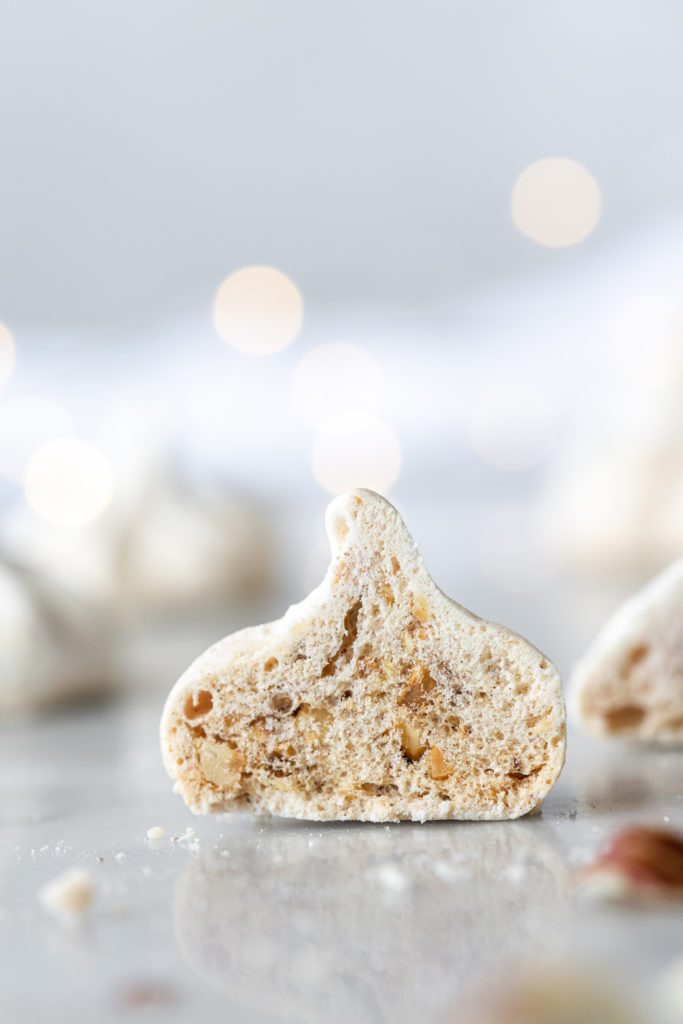 Homemade meringue cookies are a fun and delicious treat. If you've never made them before, you'll be shocked at how easy they are. And your friends and family will be amazed at the gorgeous, crispy morsels. You'll love everything about these meringue cookies: the crispy edge, the melt-in-your-mouth texture, the delicate touch of cinnamon, and the crunch of hazelnuts scattered throughout. They are so much better than the ones you can buy at the store.
Hazelnut meringue cookies are very straightforward to make. While I wouldn't recommend whipping meringue by hand, you're in business if you have a stand mixer or handheld mixer.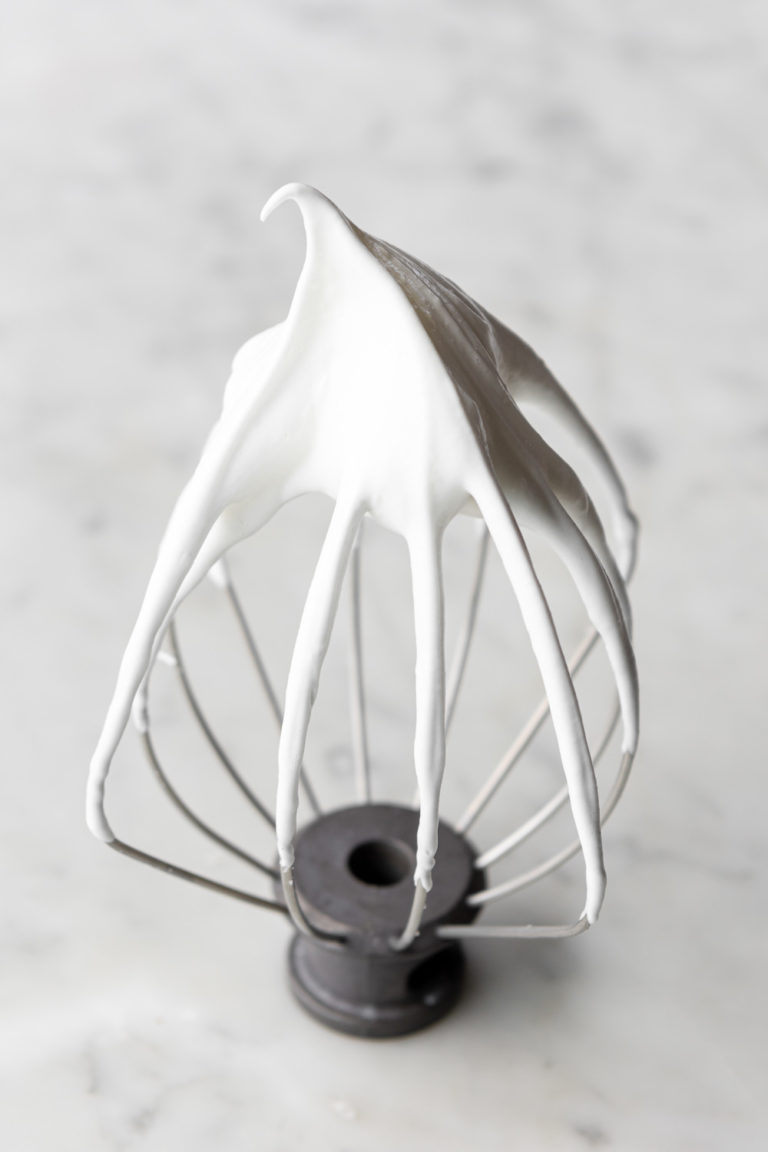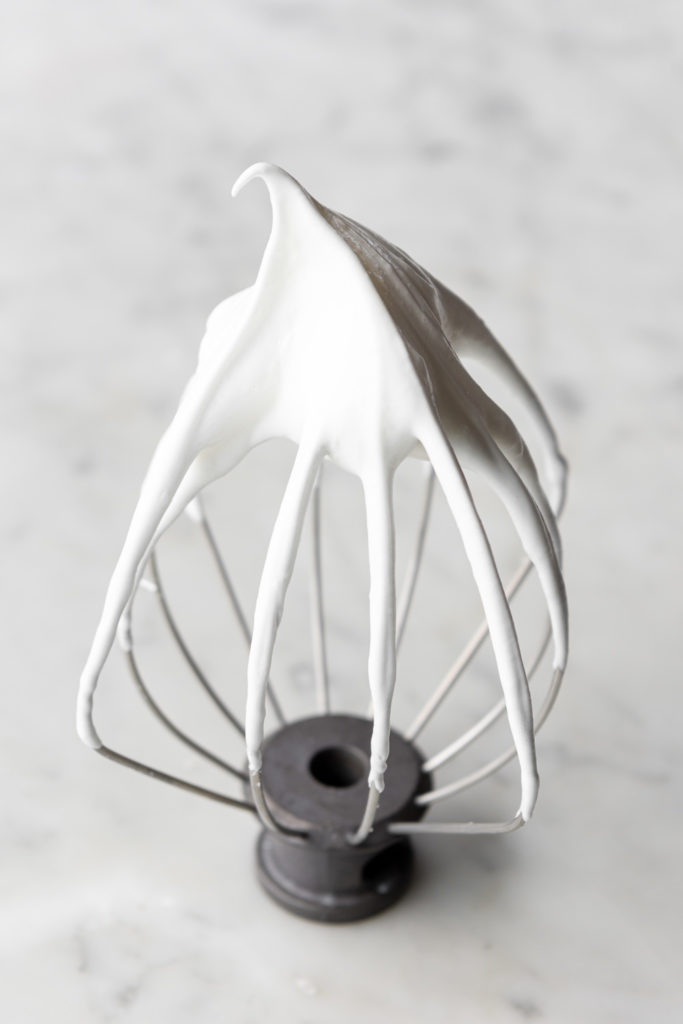 You should also know that humidity is the enemy of a crispy meringue. So if you're thinking of making these in the middle of August, just know they won't have the shelf life of a store-bought meringue. They will get crispy in the oven (though they may need more time to fully dry out when the oven's off), but the outside will get sticky and soft as it sits in a humid environment and absorbs the moisture in the air.
A more rewarding time to make meringues is the winter. The air is dry, and everyone is more relaxed about eating sweets all day— because they won't want to stop with these!
You can substitute your favorite nut if you don't have hazelnuts, but don't skip the nuts! The crunch and rich nutty flavor is one of the best parts of these meringues. Hazelnuts have a unique fragrance that permeates the whole cookie and lifts these cookies from good to exceptional. For an especially festive meringue, dip the bottoms in dark chocolate. The contrast of bitter cocoa with the sweet, crunchy meringue cookie and deeply toasted hazelnuts is sublime.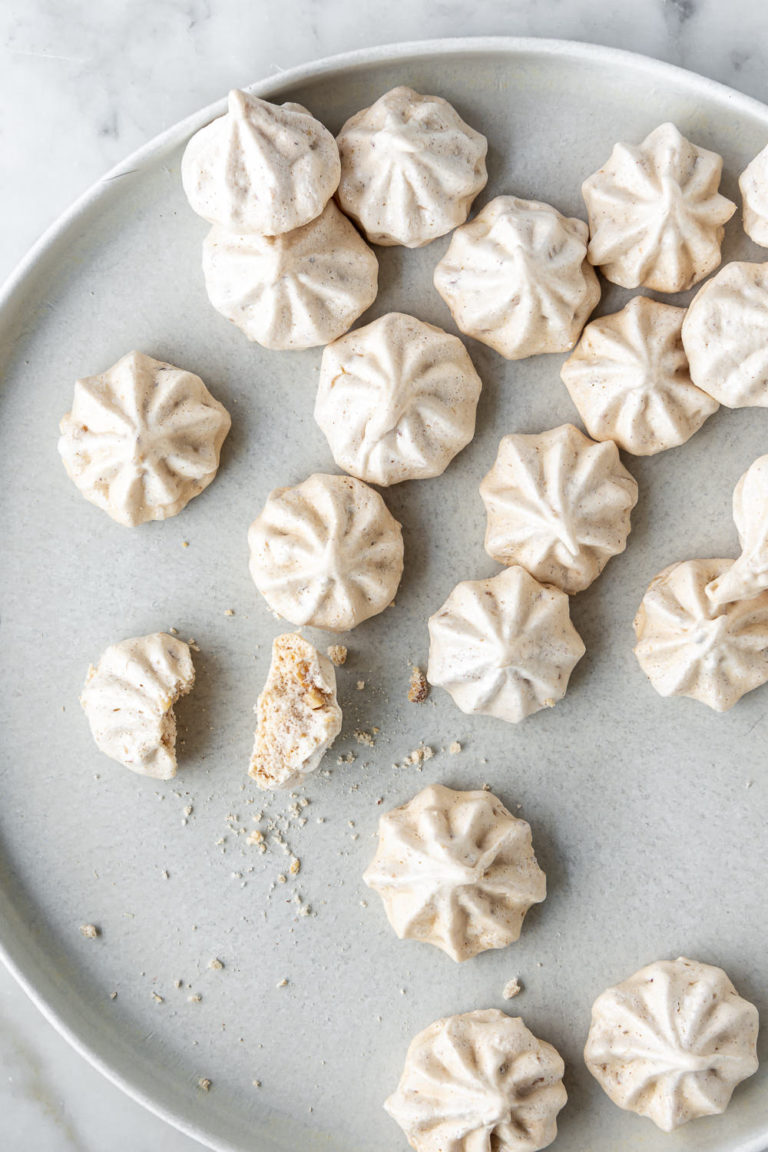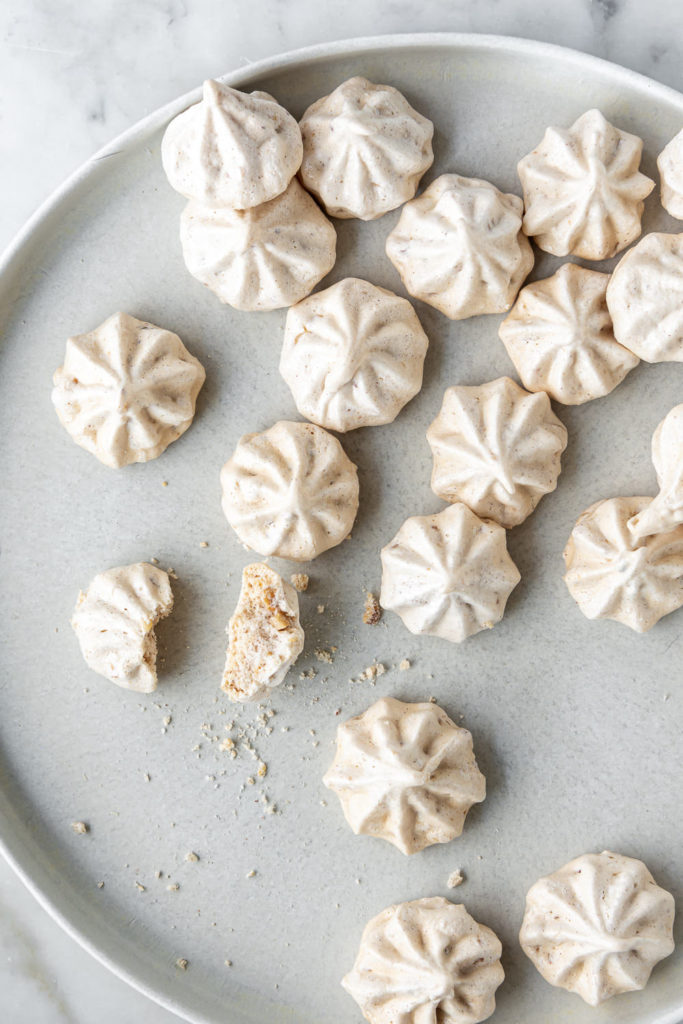 how to roast and skin hazelnuts
Preheat oven to 350°F.
Arrange hazelnuts on a baking sheet and toast for 8- 12 minutes. The skins will darken and look slightly blistered, and the nuts will smell very fragrant.
Carefully transfer hot hazelnuts to a clean kitchen linen, cover and let sit until cool enough to handle, about 5 minutes. This stops the nuts from continuing to toast, and possibly burn, on the sheet pan, and it steams the nuts to loosen the skin.
Rub the towel over the surface of the nuts to remove the skin. Not all of the skin will come off; that's okay.
Transfer clean nuts to a cutting board and chop to ¼" pieces. Let cool completely before using in meringues.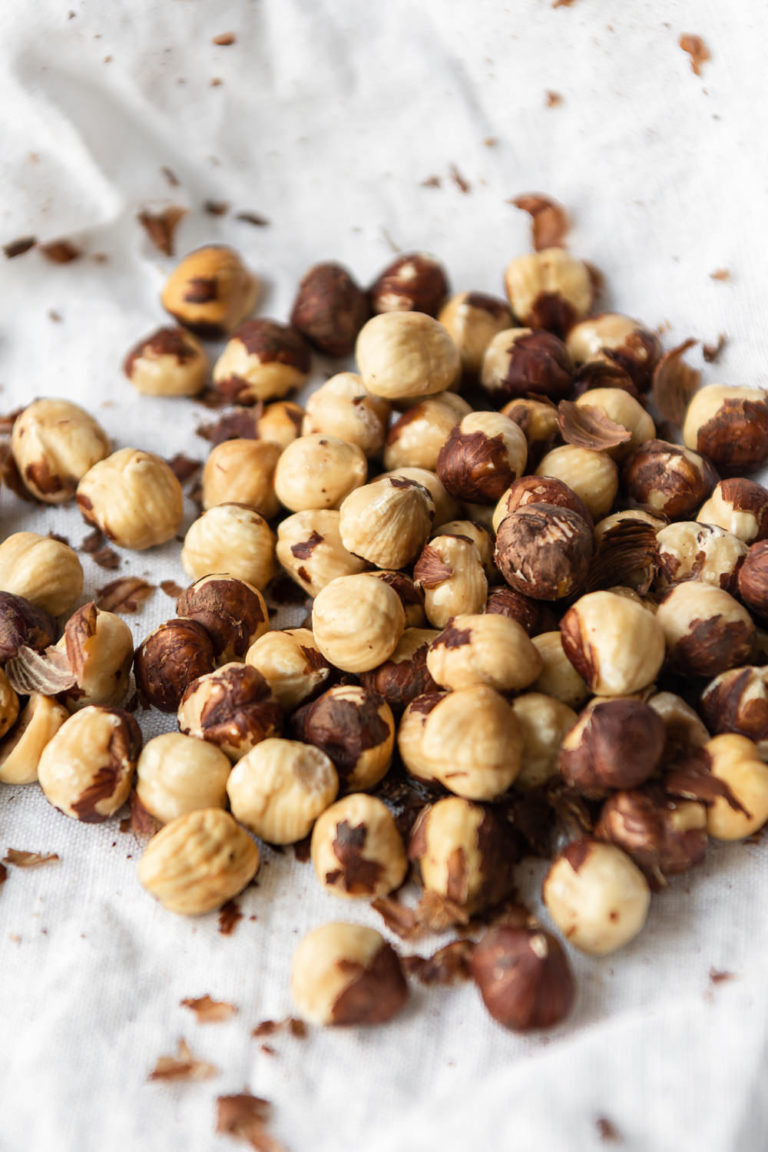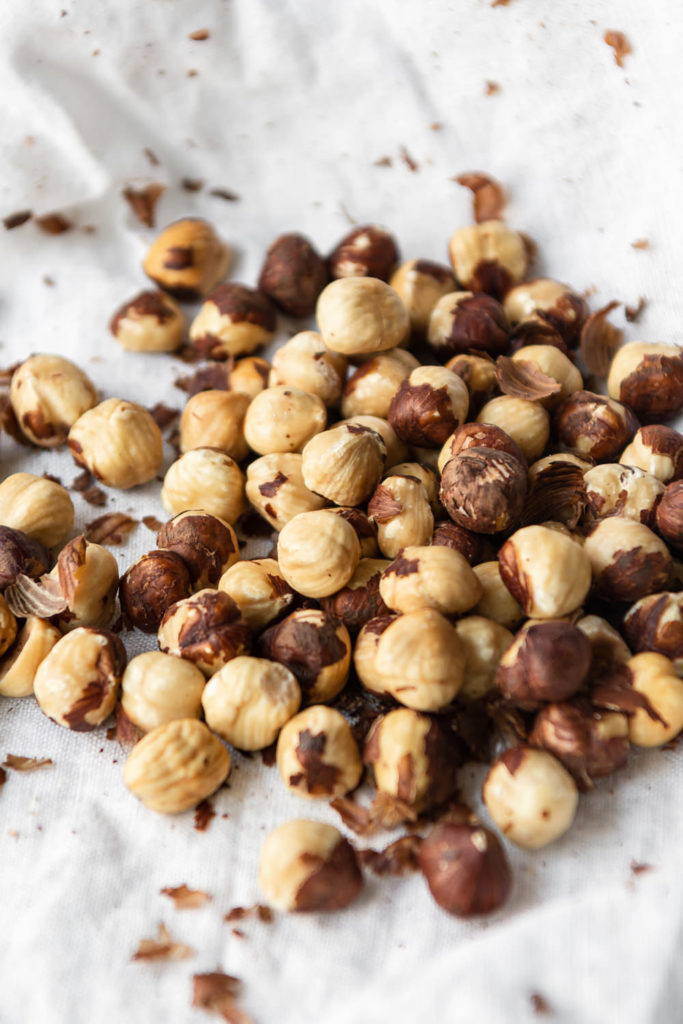 how long do hazelnut meringue cookies keep?
Hazelnut meringue cookies will last up to 2 weeks in a covered container. But if you live in a humid area, the outside will become sticky and soft, and sadly, the shelf life will be much shorter.
If your meringues do become sticky or chewy, you can re-crisp them in the oven at 200°F for 10 minutes.
Leave them in the oven for an hour or so to completely dry out. It works like a charm.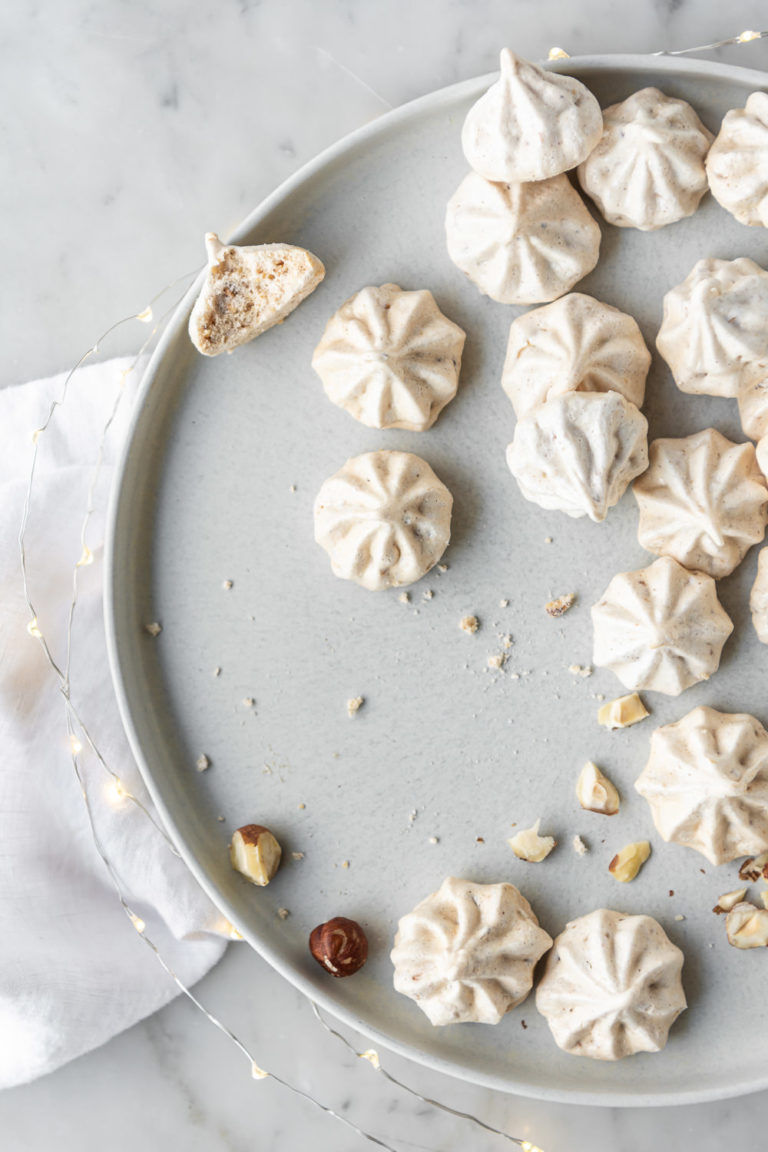 tips for perfect hazelnut meringue cookies:
Wash your mixing bowl and beaters with soapy water before using. This guarantees you have clean, grease-free equipment. Fat inhibits foam formation, so any grease (from your hands, leftover from cooking, or bits of egg yolk) will prevent your egg whites from whipping up to their fullest potential.
Use room temperature egg whites to get the most airy meringues. Cold egg whites don't loosen up and whip as easily as those at room temperature. To minimize risk of a broken yolk (and fat-contaminated white), separate the eggs when they're cold then let the whites sit out for 30 minutes.
Add the sugar very slowly. This will ensure it fully dissolves and produces a silky smooth (rather than gritty) texture.
Leave the meringues in the turned off oven for at least an hour and a half, and even overnight, for the crispiest texture. If you have any humidity in the air, err on the side of longer. And try to minimize how often you open the oven door!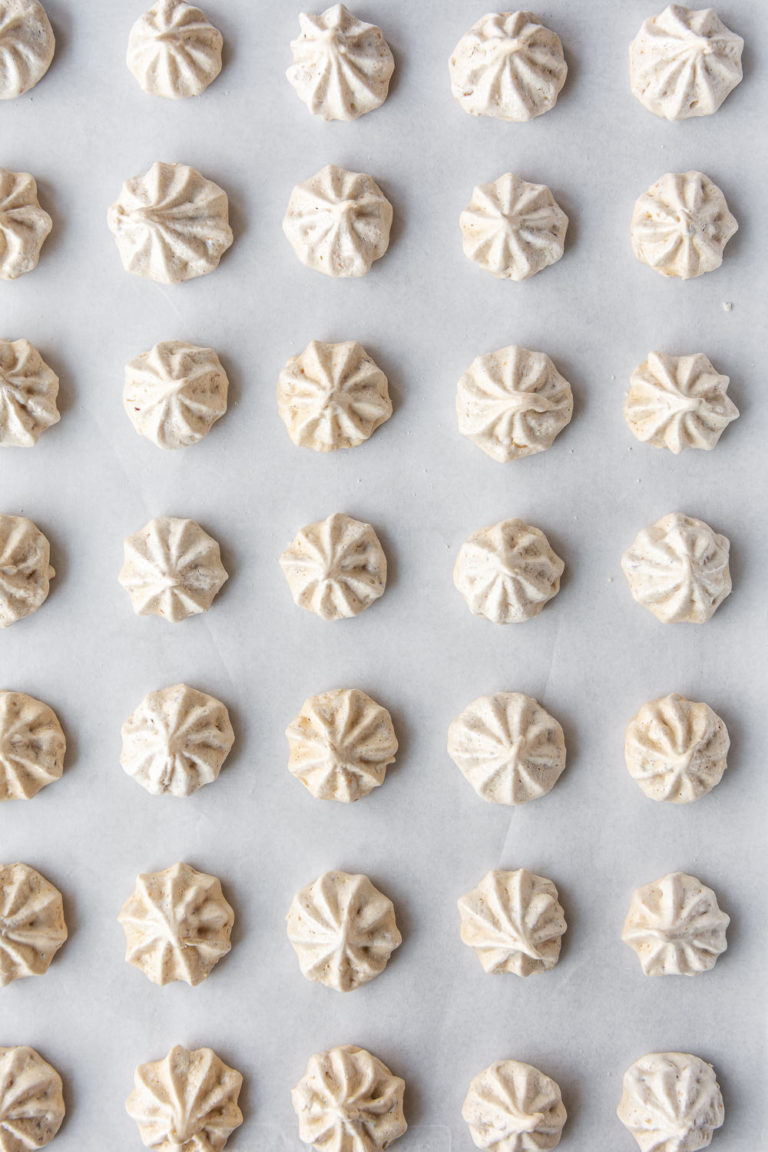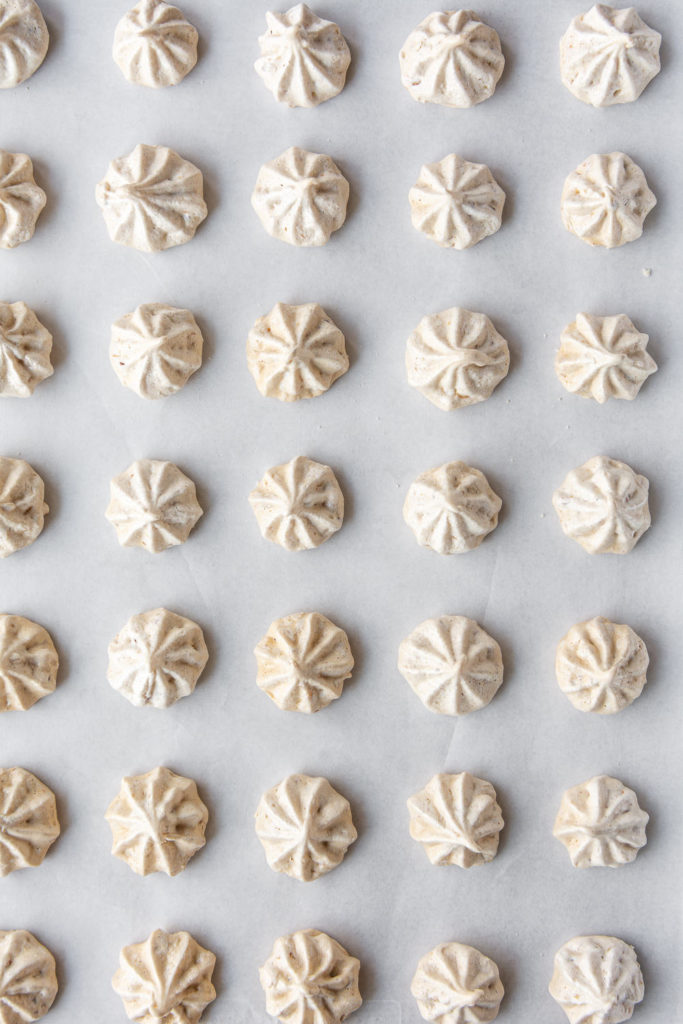 more Christmas cookie recipes:
double chocolate meringue cookies
butter cookie sandwich with chocolate hazelnut ganache
marbled chocolate peppermint icebox cookies
Watch our Christmas cookie web story here!
Print
hazelnut meringue cookies
Crispy, crunchy cinnamon hazelnut meringue cookies will delight your friends and family this holiday season. Dip in chocolate for a gorgeous touch.
Author:
Prep Time:

10 minutes

Cook Time:

1 hour

Total Time:

1 hour 10 minutes

Yield:

about 80 small meringue cookies

Category:

Cookies

Method:

Baked

Cuisine:

American
Ingredients
4

egg whites, room temperature

¼ tsp

cream of tartar

⅛ tsp

fine salt

½ cup

granulated sugar

1 tsp

vanilla extract

½ cup

powdered sugar

½ tsp

ground cinnamon

1 cup

toasted and skinned hazelnuts (about

4 oz

), chopped into pea-sized pieces
Instructions
Preheat oven to 250°F. Line 2 baking sheets with parchment paper. Prep piping bag with a large star or circle tip, if using. Make sure the tip is large enough for chopped nuts to pass through.

In the bowl of an electric mixer fitted with a whisk attachment, combine egg whites, cream of tartar and salt. Alternatively, use a clean metal bowl and a hand mixer. Beat on medium speed until the whites are loose and foamy, 2- 3 minutes. Increase speed to high and add granulated sugar slowly (1 tablespoon at a time), until egg whites are stiff and glossy. 

Mix in vanilla extract. Sift powdered sugar and cinnamon over top. Gently fold in until mostly mixed. Fold in chopped hazelnuts.

Transfer meringue to the prepared pastry bag. Pipe meringue cookies onto prepared sheet pans, keeping them about 1 ½ inches apart. Alternatively, drop cookies on the sheet by the tablespoon.

Bake for 1 hour, then turn off oven and let cookies cool in the unopened oven for 1 ½- 2 hours.
Notes
Nutritional information is only an estimate. The accuracy of the nutritional information for any recipe on this site is not guaranteed.
Nutrition
Serving Size:

2 meringues

Calories:

35

Sugar:

4g

Sodium:

13mg

Fat:

1.8g

Saturated Fat:

0.1g

Unsaturated Fat:

1.5g

Trans Fat:

0g

Carbohydrates:

4.4g

Fiber:

0.3g

Protein:

0.8g

Cholesterol:

0mg
Keywords: hazelnut meringues