This cheese soufflé is light, crisp and full of nutty, salty gruyère flavor. Pour the rich soubise sauce (delicately flavored with sweet onions) inside the steamy soufflé for a creamy, custardy center that won't be around for long. This is an elegant, comforting and deceivingly simple dish, which I prefer to enjoy alongside a light salad and a crisp, lemony glass of Chablis.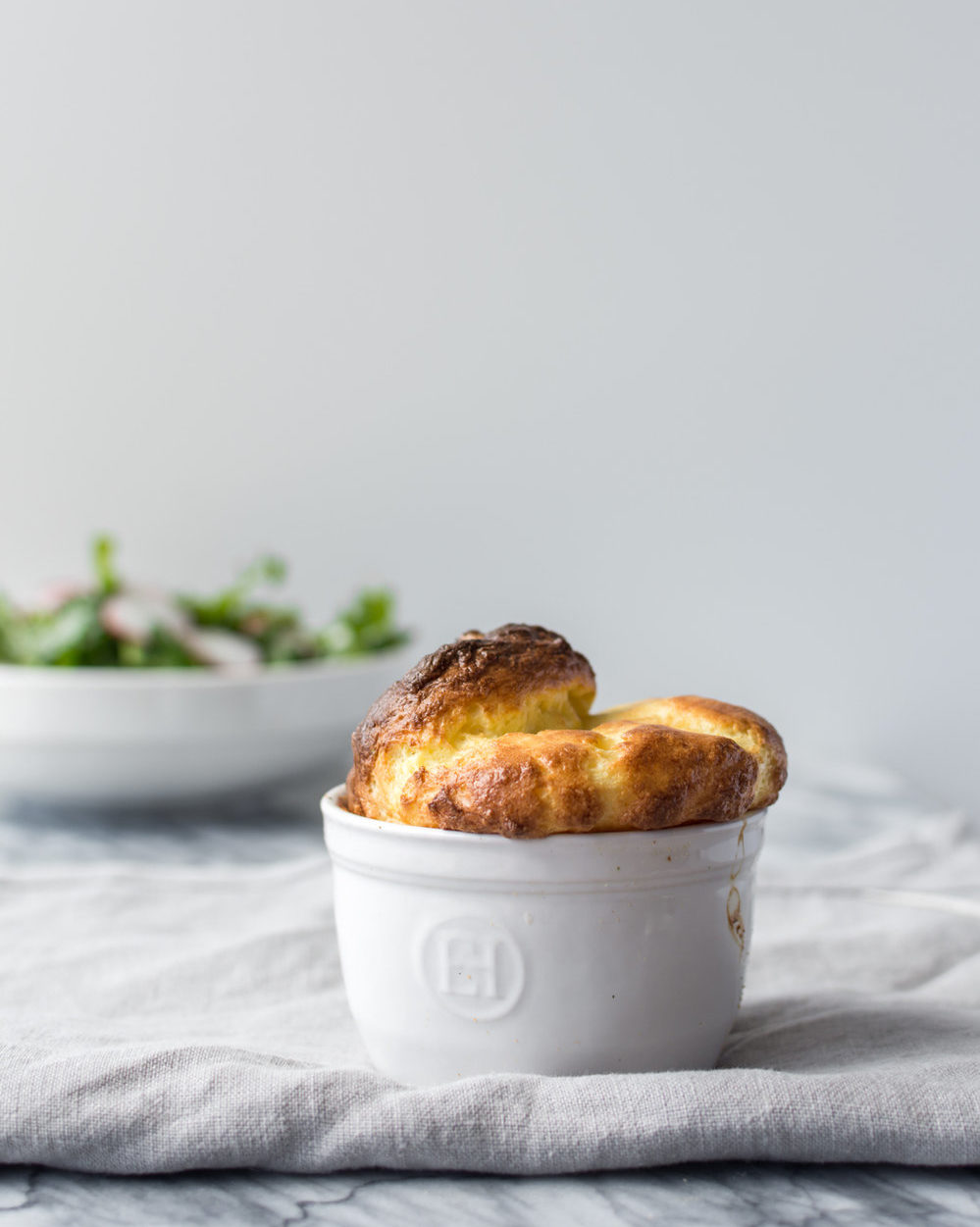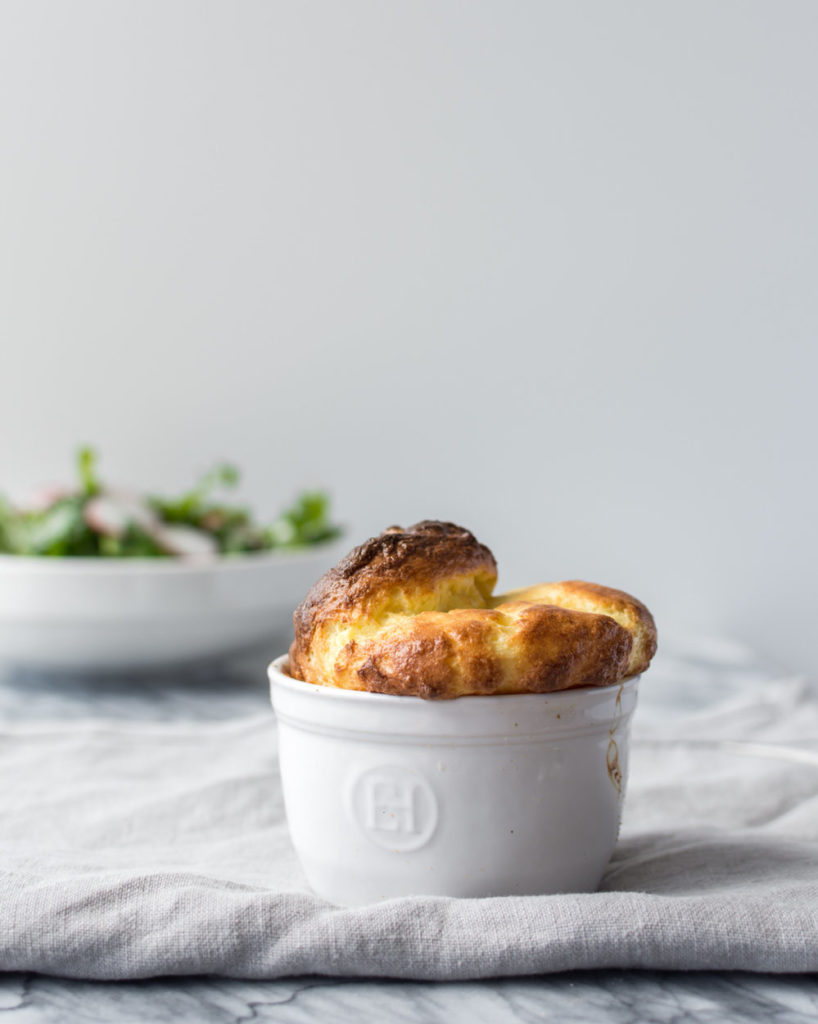 This recipe is for a timeless classic, by the master herself, Julia Child. She shares the importance of a few good cheese soufflé techniques (leave the oven door shut! don't over beat the whites!), and her tips will open your eyes to the ease and versatility of soufflés. Start simple, master the basics, and you'll soon be whipping up a host of soufflés on a whim, using what's in your fridge or at your farmers' market.
That being said, a soufflé is simply a custard that is lightened with stiffly beaten egg whites and baked until it is puffed and browned. To that extent, the flavor possibilities of the flavored sauce are limitless. Experimenting with different herbs, spices, cheeses, meats, and vegetables makes the stuffy, intimidating reputation of a soufflé much more exciting and approachable. And we aren't even talking about sweet soufflés yet-- and all of the delicious sauces that go with them!
other recipes you may enjoy:
roast lobster tail with brown butter hollandaise
creamy lobster chowder with bacon and chives
Print
cheese soufflé with soubise sauce
This cheese soufflé is light, crisp and full of nutty, salty gruyère flavor. Pour the rich soubise sauce (delicately flavored with sweet onions) inside the steamy soufflé for a creamy, custardy center that won't be around for long.
Author:
Prep Time:

20 minutes

Cook Time:

1 hour

Total Time:

1 hour 20 minutes

Yield:

6

Category:

Sides

Cuisine:

French
Ingredients
soubise sauce
1

medium yellow onion, sliced

¼ tsp

salt

3 tbsp

unsalted butter

2 tbsp

all purpose flour

1 cup

milk, hot

3

-

4

tbsp heavy whipping cream
salt and pepper, to taste
pinch of nutmeg

½ tbsp

unsalted butter, room temperature
cheese soufflé
1 tsp

unsalted butter, softened

1 tbsp

gruyere, grated

3 tbsp

unsalted butter

3 tbsp

all purpose flour

1 cup

milk, hot
kosher salt
freshly ground black pepper
a pinch of cayenne pepper
a pinch of nutmeg

4

egg yolks

5

egg whites, at room temperature for about

15

minutes

1

pinch of salt

1 cup

+

1 tbsp

gruyere, coarsely grated
Instructions
soubise sauce
In a medium-sized saucepan, melt butter over medium-low heat. Add onions and salt, toss with butter, and cook slowly, covered for 20 to 30 minutes until very tender but not browned.
Reduce heat to low, add the flour and stir for 3 minutes.
Off the heat, whisk in the hot milk until smooth and lump free. Return the saucepan to the stove, raise heat to medium-high and simmer slowly for 15 minutes, stirring occasionally.
Purée the sauce in a blender until smooth and velvety. Return to saucepan, bring to a simmer, and thin with 3-4 tbsp heavy cream to reach a velvety consistency that just coats the back of a spoon. Season with salt, freshly ground black pepper, and nutmeg to taste. Off heat, and just before serving, stir in the softened butter.
cheese soufflé
Preheat oven to 400°F.
Butter inside of soufflé mold(s) and sprinkle with cheese. Roll the grated cheese around in it for a light and even coating. Turn the mold upside down and knock off excess cheese.
Melt butter in the saucepan. Stir in the flour with a wooden spoon and cook over medium heat until the butter and flour foam together for 2 minutes without browning. Remove from heat, add a small amount of hot milk and whisk until fully combined. Continue to add about ¼ cup of hot milk at a time, whisking until smooth, until all of the milk has been added.
Season with salt, black pepper, cayenne and nutmeg. Return sauce to medium-high heat and bring to boil, whisking constantly, for 1 minute. Sauce will be very thick.
Remove from heat and immediately whisk the yolks into the hot sauce, one at a time, until fully combined. Adjust seasoning to taste. (The soufflé can be prepared ahead to this point. Heat to warm before continuing).
In a medium bowl, beat egg whites with salt to stiff and shiny peaks.
Stir in about ¼ of the egg whites into the sauce to lighten. Stir in all but one tablespoon of the cheese. Delicately fold in the rest of the egg whites, careful not to over mix and stopping when a few streaks of egg white are still visible.
Pour the soufflé mixture into the prepared mold(s), which should be almost ¾ full. Tap the bottom of the mold lightly on the table, and smooth the surface of the soufflé with the back of a spoon. Sprinkle the remaining cheese on top.
Set on a rack in the middle of the oven and immediately turn heat down to 375°F. Do not open oven door for 20 minutes. In 25 to 30 minutes, the soufflé will have puffed about 2 inches over the rim of the mold(s), and the top will be nicely browned. Bake 4 to 5 minutes more to firm it up, then serve at once with warm soubise sauce.
Notes
makes one 6-cup (48 oz) soufflé or six 8oz soufflés and 1 cup of soubise sauce | recipe from

Mastering the Art of French Cooking

, by Julia Child

Once the soufflé mold has been filled and is ready for the oven, you may set it aside in a warm place free from drafts. Cover it with a big empty pot. As long as it is protected, it will not begin to collapse for an hour.
After 25 to 30 minutes in the oven, the center will be creamy but the soufflé is fragile and will sink rapidly. It will collapse less readily after 4 to 5 minutes more. A well cooked soufflé will stay puffed for about 5 minutes in the turned off hot oven. As it cools, it will begin to rapidly sink, so eat it immediately.
Nutrition
Serving Size:

1

Calories:

283

Sugar:

1.3g

Sodium:

407mg

Fat:

22g

Saturated Fat:

13g

Unsaturated Fat:

8g

Trans Fat:

0.1g

Carbohydrates:

12g

Fiber:

0.4g

Protein:

9.7g

Cholesterol:

178mg
Keywords: cheese soufflé, soubise sauce