This creamy burrata crostini is layered with crispy prosciutto, a sweet and tangy blackberry honey sauce and fragrant fried sage leaves. Serve with sparkling wine for the best summer appetizer.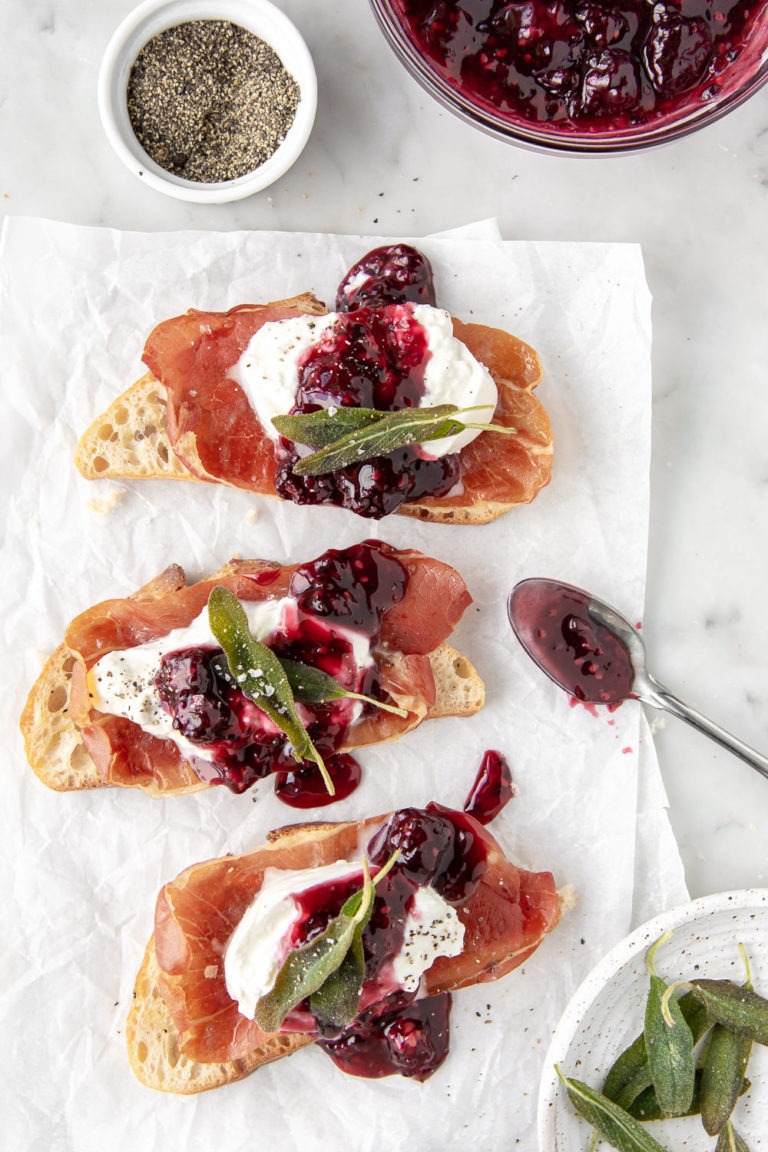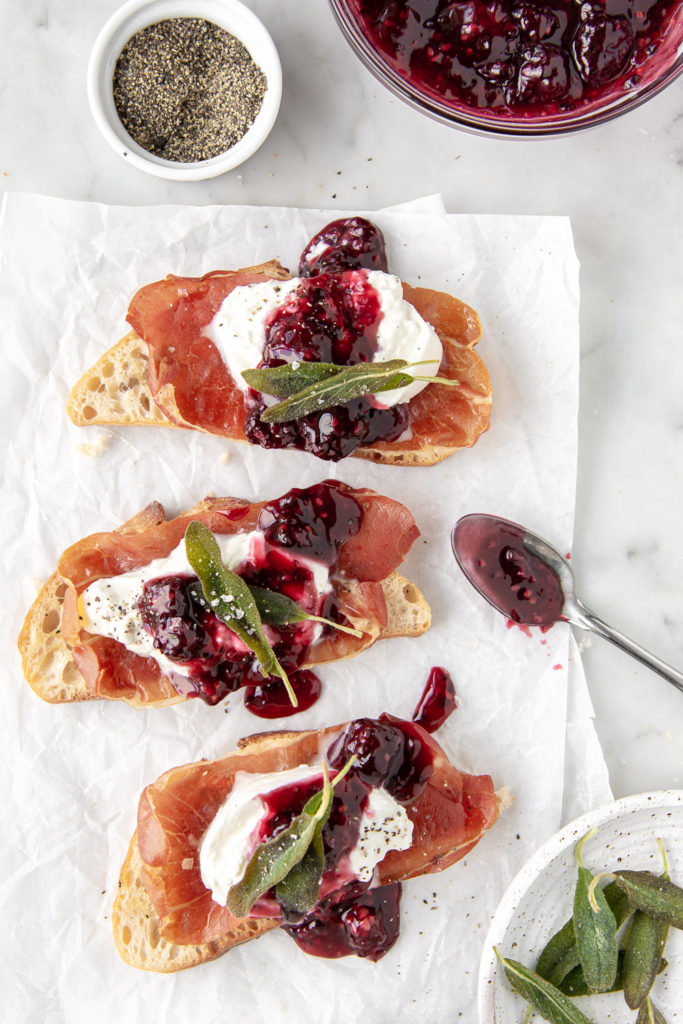 Burrata is one of those universally loved cheeses. With its fresh milky flavor, creamy texture and that beautiful, carefree ooze-- I totally get it. In fact, one of my favorite decadent "dinners" when my husband is out of town (and I'm off the hook for making meals that keep him full for longer than 18 minutes) is a thick slice of burrata slapped on good bread, drizzled with olive and flaky salt. It's easy and quick and totally satisfying to eat on the couch with a big glass of white wine and sleeping kids.
But then there are the extra special ways to treat burrata. For friends, family, parties, and entertaining, I like to dress it up and add flair to the burrata toast. In this case, crispy buttery shards of baked prosciutto. And a thick spoonful of sweet blackberry sauce balanced with a zip of apple cider vinegar. And a few subtle pops of fried sage leaves, which look just as pretty as they taste.
This is a delicious and decadent burrata crostini that your people will talk about all year long. It's a burrata toast that celebrates the end of summer and those juicy blackberries you'll dream of, come February.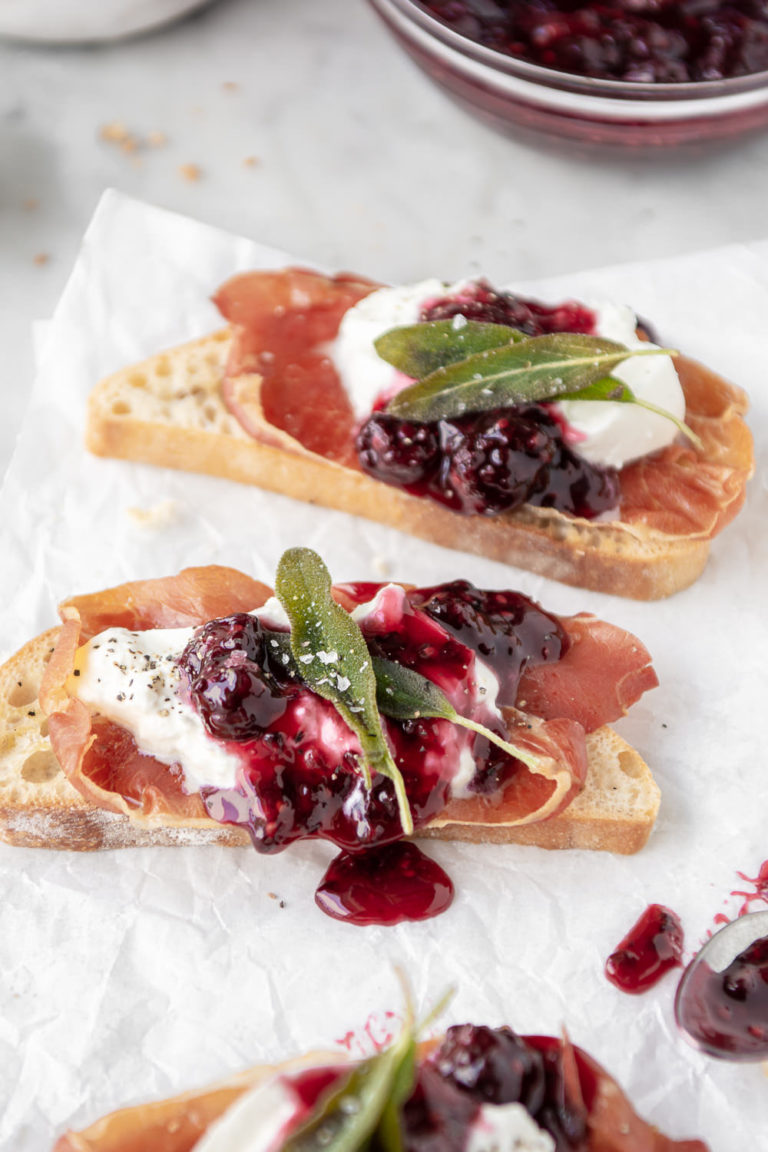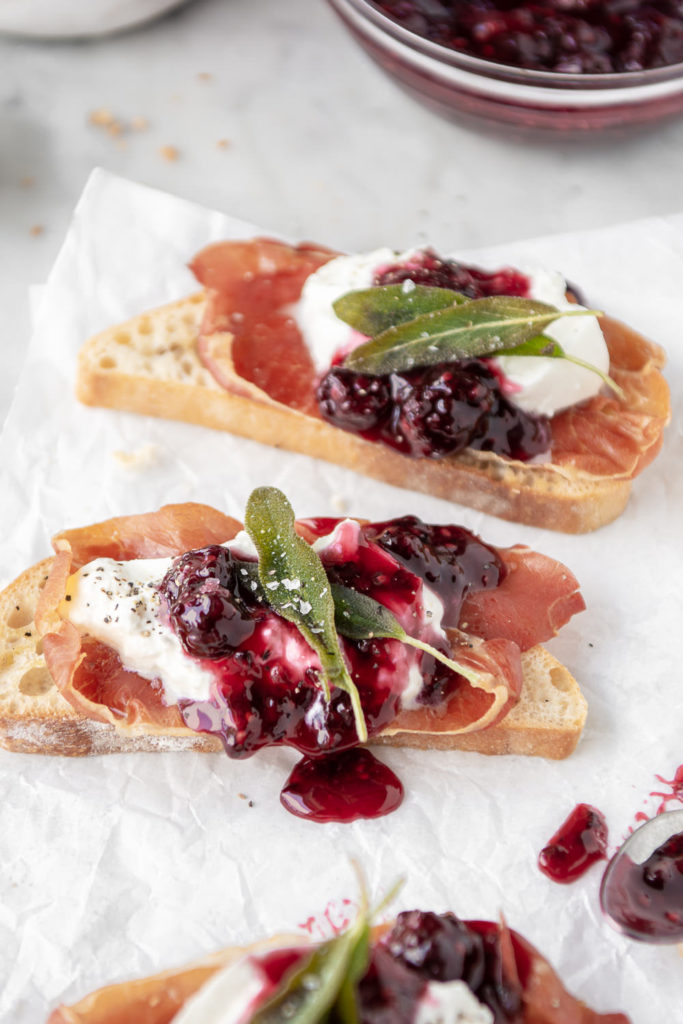 how to make this burrata crostini
Bake prosciutto until crispy, about 15 minutes
Toss bread with olive oil and bake until golden but springy, about 10 minutes
Combine water, cornstarch, blackberries, and honey in a small saucepan. Simmer for about 3 minutes until thickened, remove from heat, stir in apple cider vinegar and let cool
Fry sage leaves
Assemble! Layer toasted bread, prosciutto and burrata. Top with a spoonful of blackberry sauce and a few fried sage leaves.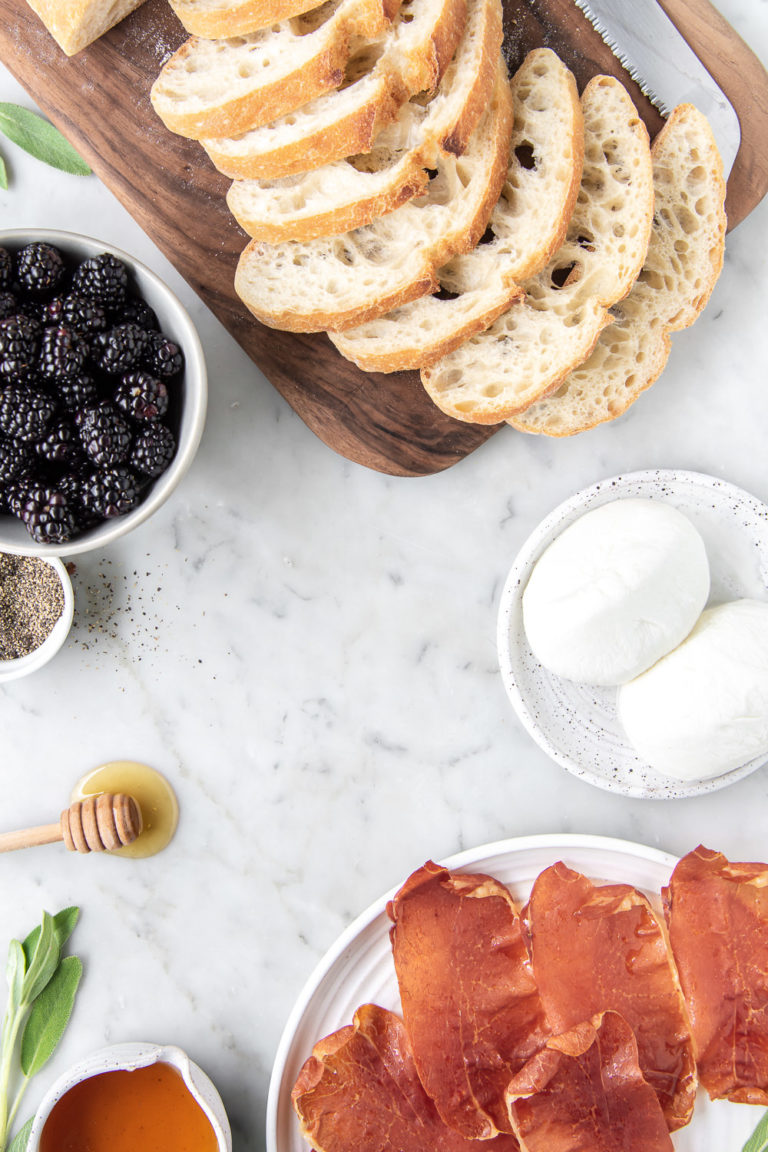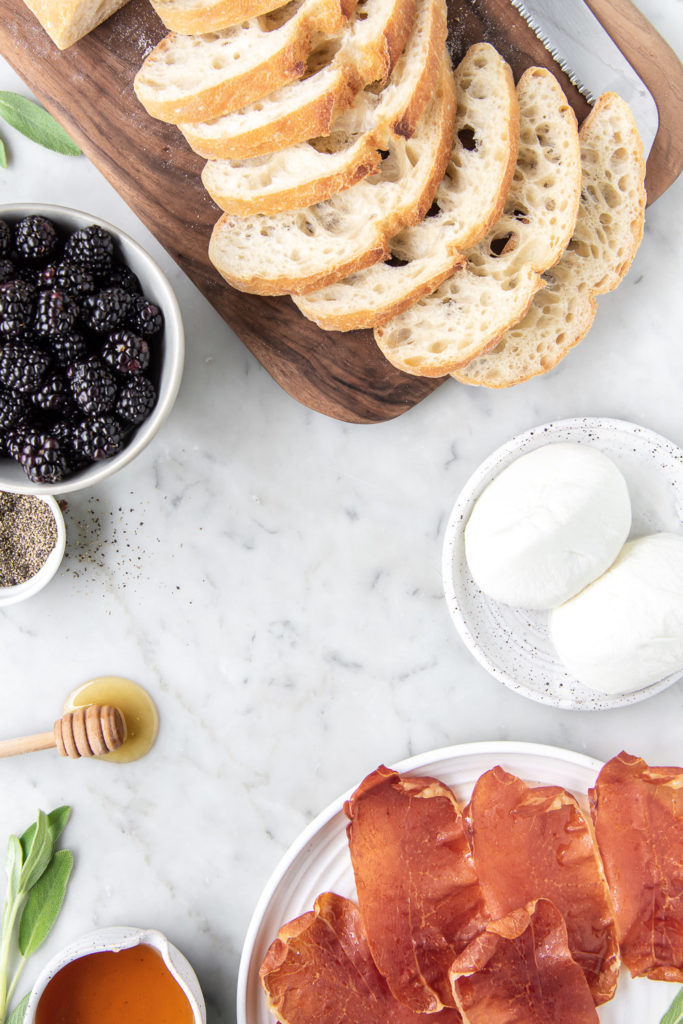 how else can you use this blackberry sauce?
Spooned over ice cream
Stirred into yogurt
Spooned on top of (or below) panna cotta
As a condiment for a cheese and charcuterie platter
A sauce for roasted meats
In a super fancy PB&J
In a decadent grilled cheese (with smoked turkey, white cheddar, and maybe some avocado?)
Dolloped on top of delicate crepes, with a spoonful of ricotta
Served warm over pancakes or waffles
Stirred into chia seed breakfast pudding
Spooned over cheesecake, pound cake or angel cake (to name a few!)
Spread on buttery biscuits or english muffins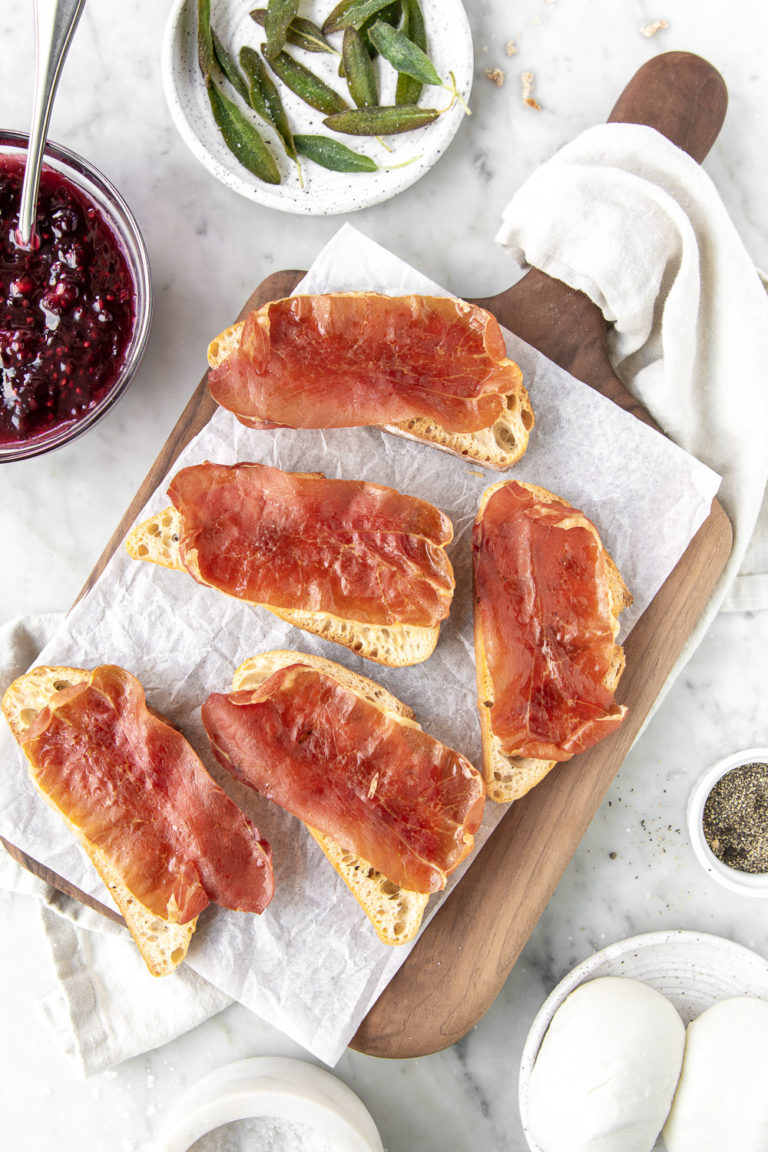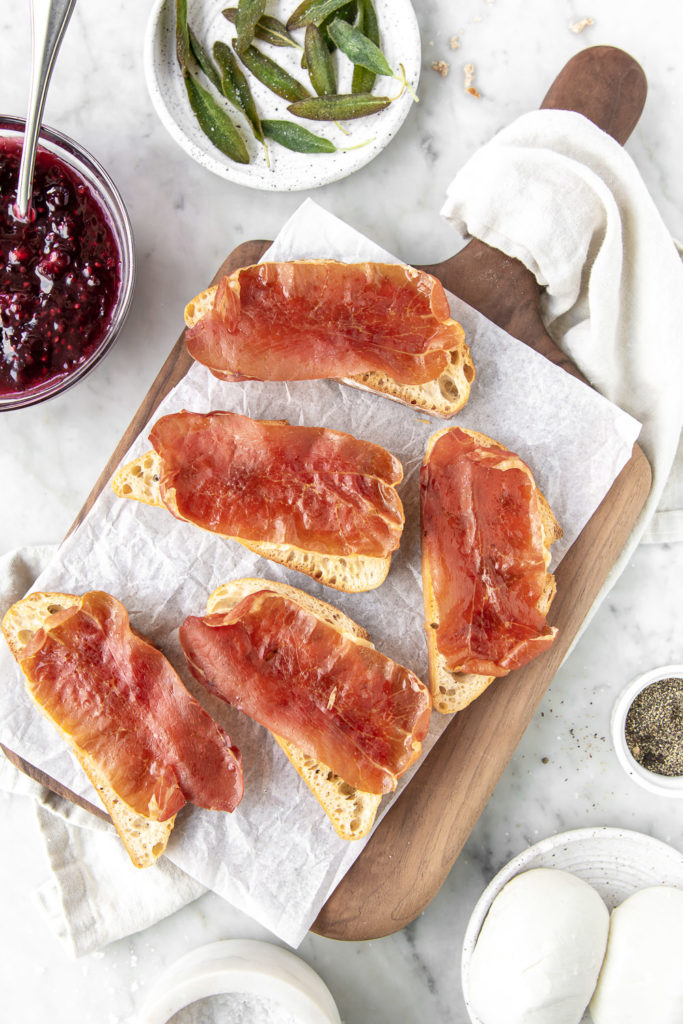 what wine should I drink with this burrata crostini?
I love to drink young, fruity sparkling wines with this burrata toast. Prosecco is a great example. It's fruit forward, bubbly and simple.
Traditional method sparkling wines (like Champagne or Cava) are aged on the lees, which add toasty, nutty complexity that may get lost with this sweet, tart, salty burrata toast. I think the simple, fresh fruit notes of Prosecco or Riesling sekt (or other tank method sparkling wines) lets the crostini shine.
A still rose or zesty white wine (albariño, vinho verde, grüner veltliner) would also be light, simple and refreshing when paired with this burrata toast.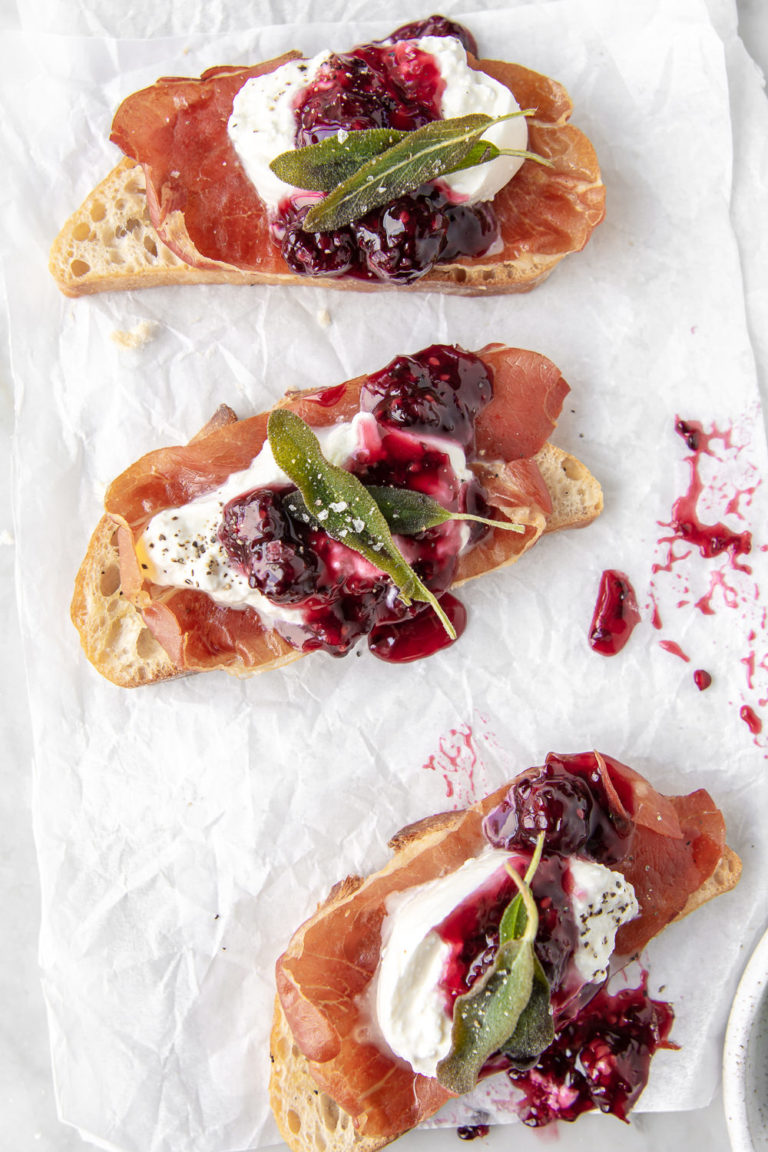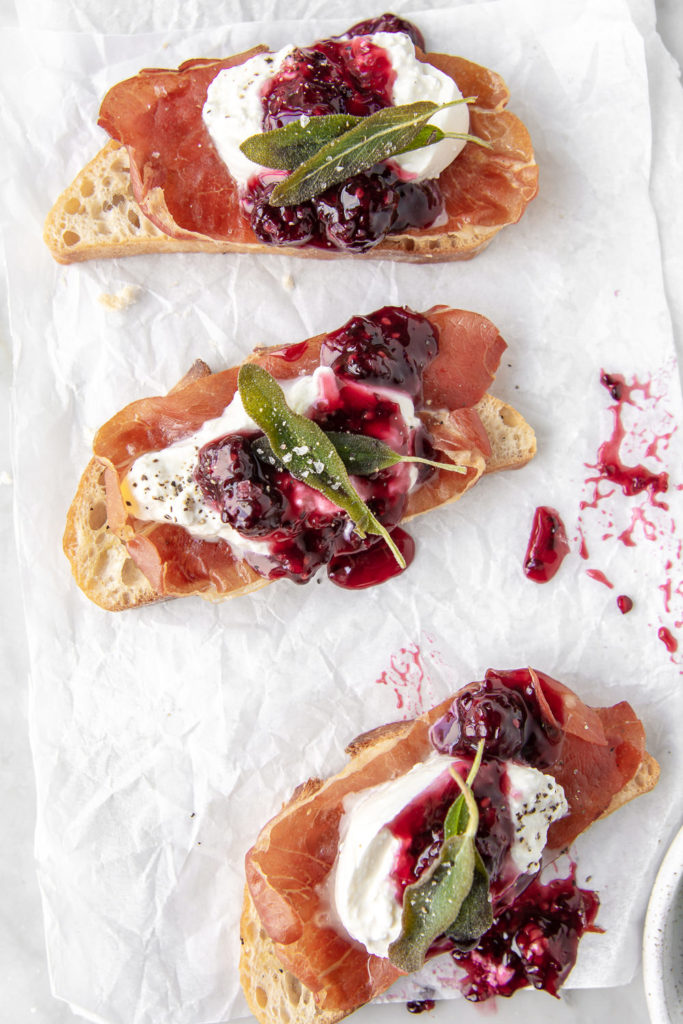 more crostini, bruschetta and toast recipes to try!
prosciutto bruschetta with burrata and fresh chive dressing
greens and giant beans on toast
fava bean toast with ricotta and crispy prosciutto
smoked salmon crostini with creme fraiche
wild mushroom toast with brown butter, ricotta and parsley
Print
burrata crostini with blackberries, prosciutto and sage
This creamy burrata crostini is layered with crispy prosciutto, a sweet and tangy blackberry honey sauce and fragrant fried sage leaves. Serve with sparkling wine for the best summer appetizer.
Author:
Prep Time:

10 minutes

Cook Time:

25 minutes

Total Time:

35 minutes

Yield:

8

Category:

Appetizer

Method:

Baked

Cuisine:

American
Ingredients
4 oz

thinly sliced prosciutto

8

(½-inch) thick slices crusty artisan bread (such as ciabatta or sourdough)

2 tbsp

olive oil

kosher salt

freshly ground black pepper

1 tbsp

cornstarch

8 oz

blackberries

¼ cup

honey

2 tbsp

apple cider vinegar

2 tbsp

canola oil

1

bunch fresh sage

8 oz

fresh burrata, sliced into

8

pieces
Instructions
Preheat oven to 375°F.

Line two baking sheets with aluminum foil. On one sheet, lay out prosciutto slices and bake until golden, browned and beginning to shrivel, 12- 15 minutes. On the remaining sheet, arrange bread slices in an even layer. Drizzle with 2 tablespoons olive oil, season with salt and pepper, and toss to coat. Bake for 8- 10 minutes, or until bread is golden brown on the edges but still springy in the center. 

Meanwhile, make the blackberry sauce. In a small saucepan, whisk to combine 1 tbsp water with cornstarch. Add blackberries, honey and a pinch of salt and toss to coat. Bring to a boil over medium high heat, stirring constantly to prevent scorching, until berries have released their juice and mixture is fairly thick, about 3 minutes. Remove from heat and stir in apple cider vinegar. Let cool while you prepare the rest of the crostini.

Heat 2 tablespoons canola oil in a small skillet until shimmering. Add sage leaves in a single layer and cook until crisp, about 20 seconds. Transfer to a paper towel lined plate and sprinkle with salt. Repeat with remaining sage leaves. 

To assemble crostini, layer a piece of toasted bread with a crispy prosciutto slice. Top with a slice of burrata, spoon blackberry sauce over top and garnish with a few fried sage leaves. Repeat with remaining crostini. Enjoy immediately.
Notes
Cook the blackberries as little as possible to retain their structure and fresh flavor. We just want to thicken the sauce, then turn off the heat!
Blackberry sauce will keep up to 4 days in the refrigerator.

Fried sage leaves are best when made the same day

Prosciutto crisps will keep up to a week in the refrigerator. To recrisp, bake in the oven at 350°F for 5- 10 minutes, or until heated through.

Bread will keep up to 2 days in an airtight tonight at room temperature. To recrisp, bake in the oven at 350°F for 5- 10 minutes, or until heated through.
Nutrition
Serving Size:

1 crostini

Calories:

397

Sugar:

13g

Sodium:

946mg

Fat:

16g

Saturated Fat:

5.2g

Unsaturated Fat:

9.6g

Trans Fat:

0g

Carbohydrates:

46g

Fiber:

3g

Protein:

18g

Cholesterol:

32mg
Keywords: burrata crostini