Homemade maple olive oil granola clusters make the most delicious breakfast or snack. They're crunchy, seedy, chewy and super easy to make.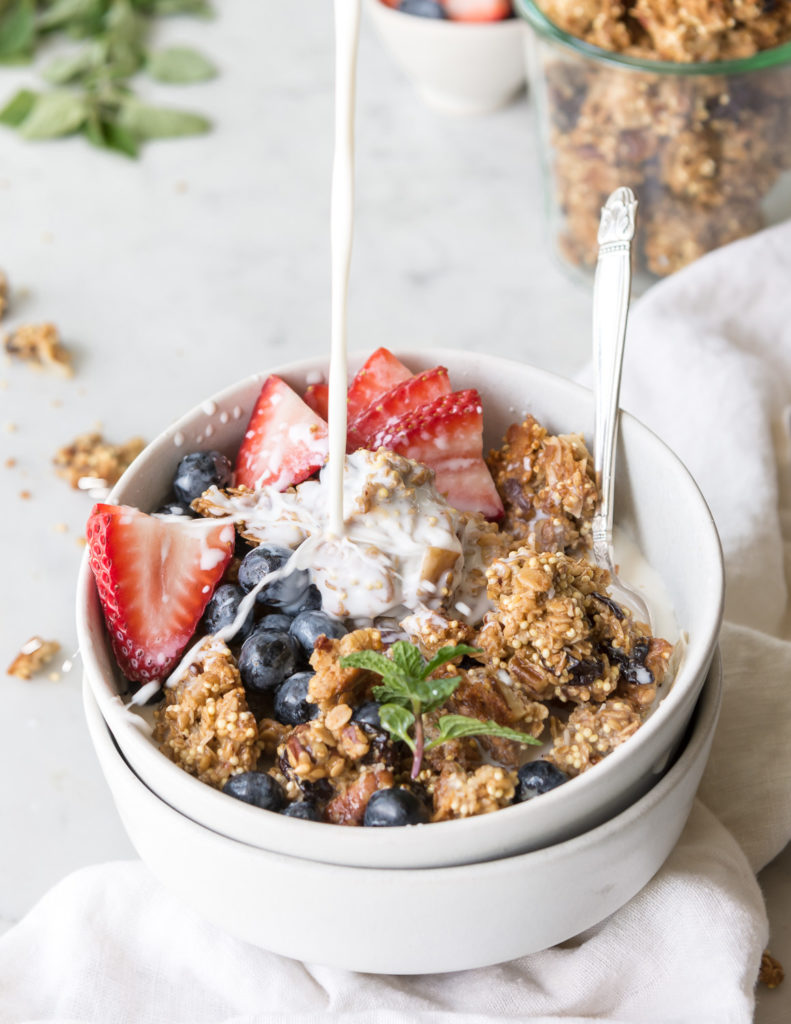 My favorite homemade granola of all time is Nekisia Davis' maple olive oil granola. I just love the way good olive oil and maple syrup go together. The peppery, grassy, herbaceous notes are an unexpected and delicious match with the sweet, rounded flavors of maple syrup. I've become obsessed with this combination and decided to apply it to these chunky homemade granola clusters.
Let me warn you-- when maple syrup and olive oil are caramelized and crunchy on a mess of oats and seeds, it's almost impossible to stop eating.
And that's okay, because these homemade granola clusters are meant for snacking. They're big chunks of oats, nuts, seeds and fruit that can be easily scooped by the handful when the craving strikes. The chunks make it especially easy to eat while driving, hiking, exercising... you get the gist. Little hands also love them.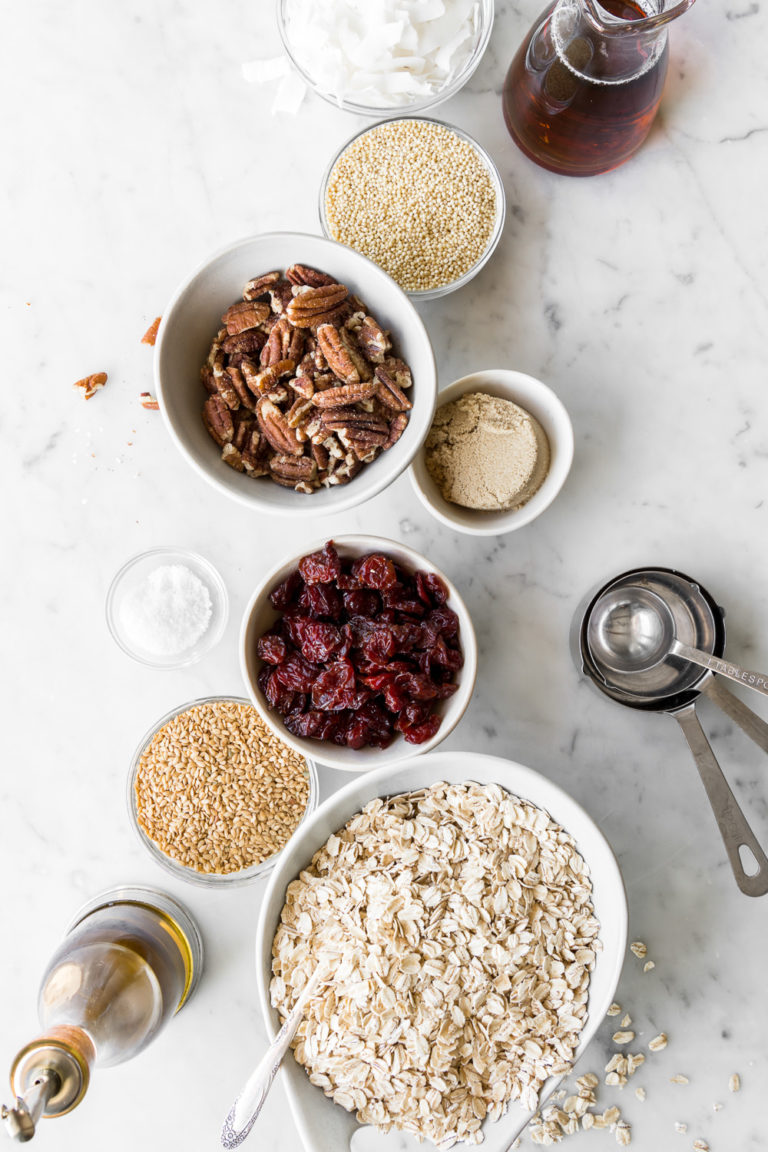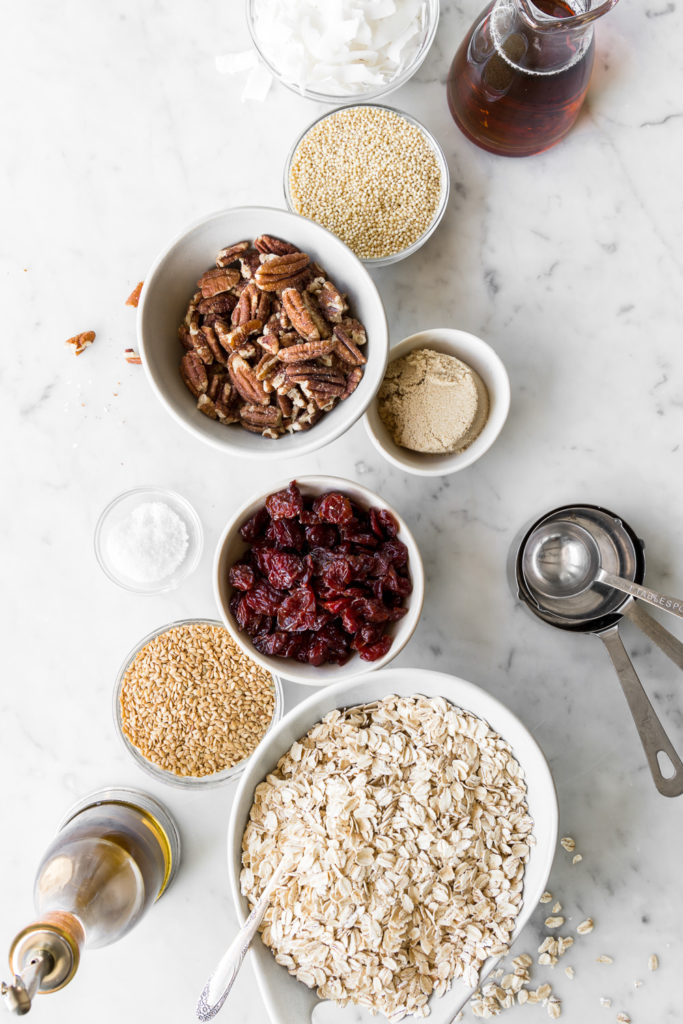 Like any granola, feel free to mix and match the ingredients with what you've got in your pantry. Just try to keep the size or consistency of the substitute as similar as possible, and you'll be good to go (raisins for dried cherries, walnuts for pecans, sesame seeds for flax seeds).
These granola clusters make the most perfect bowl of cereal. They keep their shape and texture, even when soaked in milk, so you get a bowl of crunchy granola and not a soggy bowl of mush.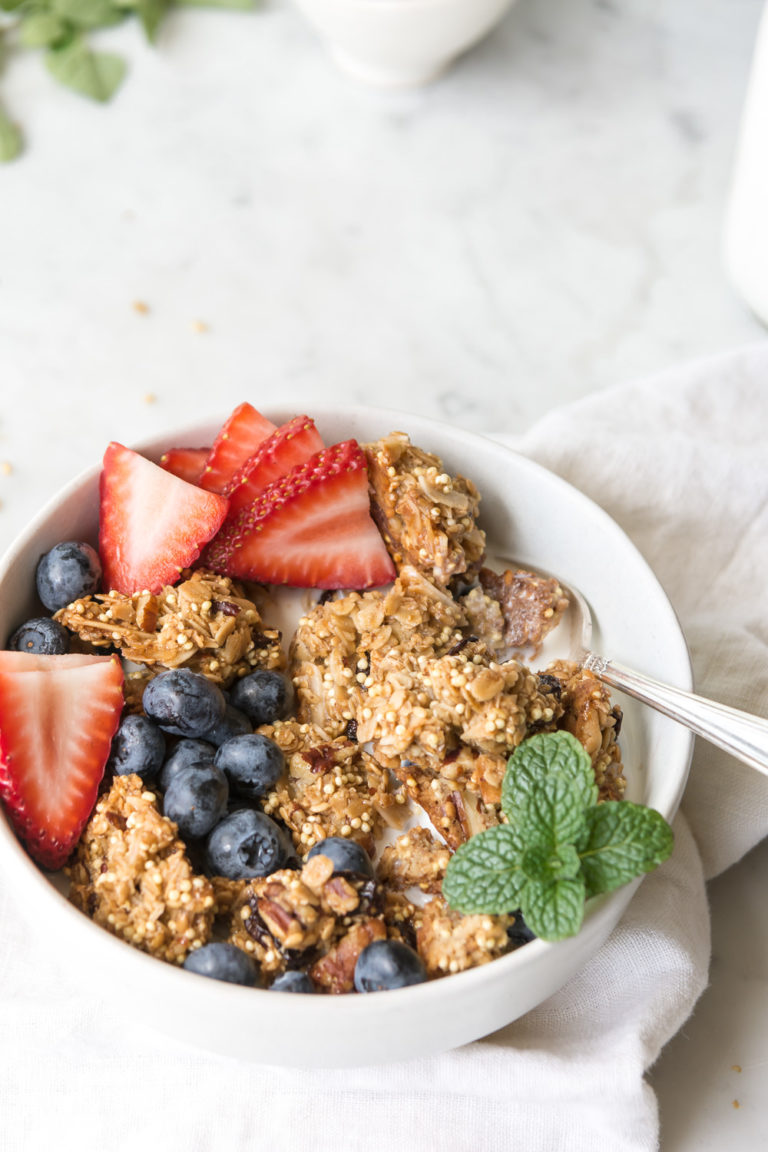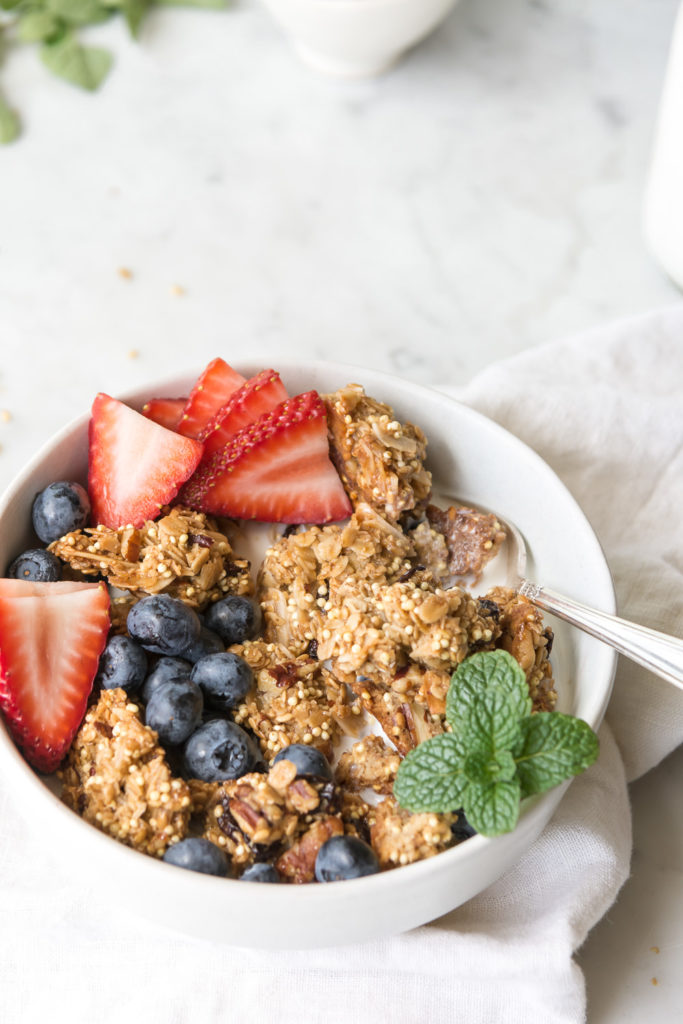 Best of all, this is an easy granola recipe. It may sound cumbersome to individually shape the clusters, but it's just as fast making drop cookies. Use a tablespoon, scoop the granola and plop it onto your sheet pan. Repeat 74 times and you have a huge batch of homemade granola clusters that, in theory, will last for several weeks. But good luck keeping them around that long!
how do you make granola clusters from scratch?
Whisk together egg whites, maple syrup, olive oil, brown sugar and salt, set aside
Grind half the oats to a flour-like consistency,
Coarsely chop the dried cherries and pecans
Combine the wet ingredients with oat flour, remaining whole rolled oats, dried cherries, pecans, coconut flakes, and seeds
Mix completely
Drop tablespoon-sized clusters of granola onto two parchment paper-lined baking sheets
Bake, undisturbed, for 45 minutes or until until browned and somewhat firm
Sprinkle with flaky salt and let cool completely
how do you make homemade granola clusters stick together?
The beauty of this chunky granola recipe is you don't have to do anything special to make the clusters stick together. The magic lies in the combination of maple syrup, brown sugar and egg whites. The gluelike properties of protein and caramelized sugar will keep the clusters intact automatically. Grinding half of the oats to a flour also acts as a "binder" to clump up the clusters.
All you need to do is plop a spoonful on the baking sheet, bake until the edges are golden brown, then let the clusters cool completely. Once the granola has cooled, the clusters will stick together and get extra crunchy.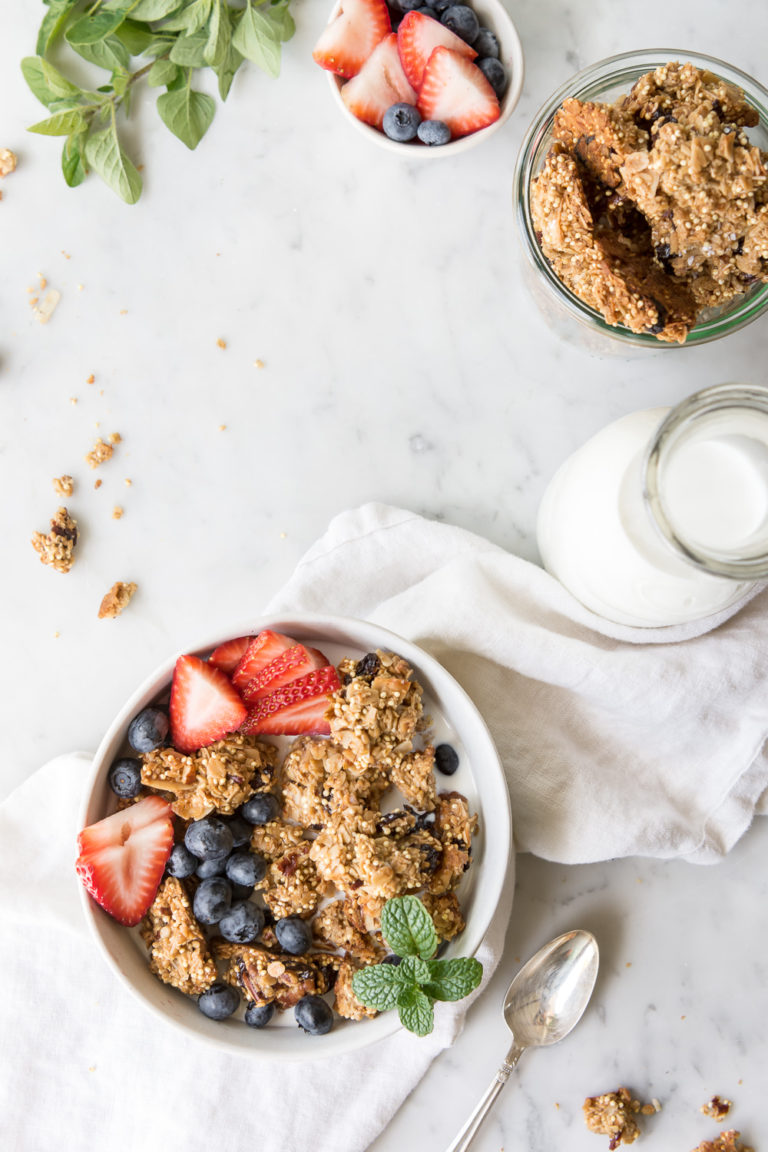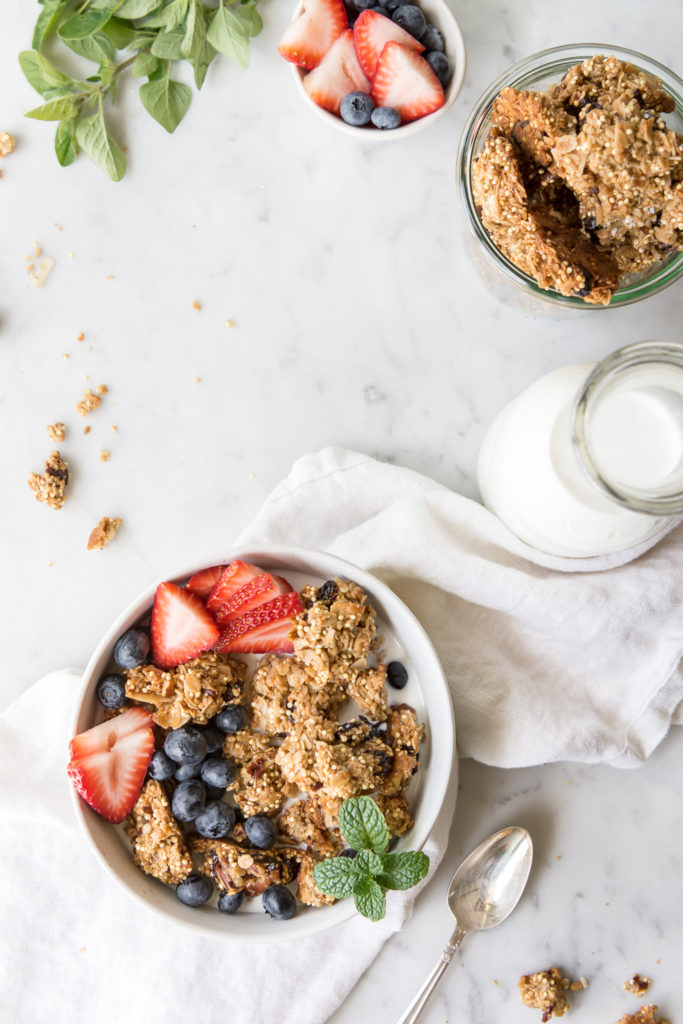 how do you keep granola clusters crunchy?
Make sure you bake them long enough, until golden on the edges and firm to the touch. If you underbake the clusters, they'll be more chewy than crunchy
Let the clusters cool completely. This allows the granola to continue to dry out, which will make them crunchy. It also prevents steaming in a storage container, which will make the granola soggy
Store in an airtight container. A ziplock bag with the extra air squeezed out is your best bet for warding off staleness.
Keep them out of the refrigerator. While this may seem counter-intuitive, storing granola in the refrigerator is the worst place to preserve crunch. That's because the air is actually really humid, and the clusters will soak up the moisture and become soggy and stale very quickly.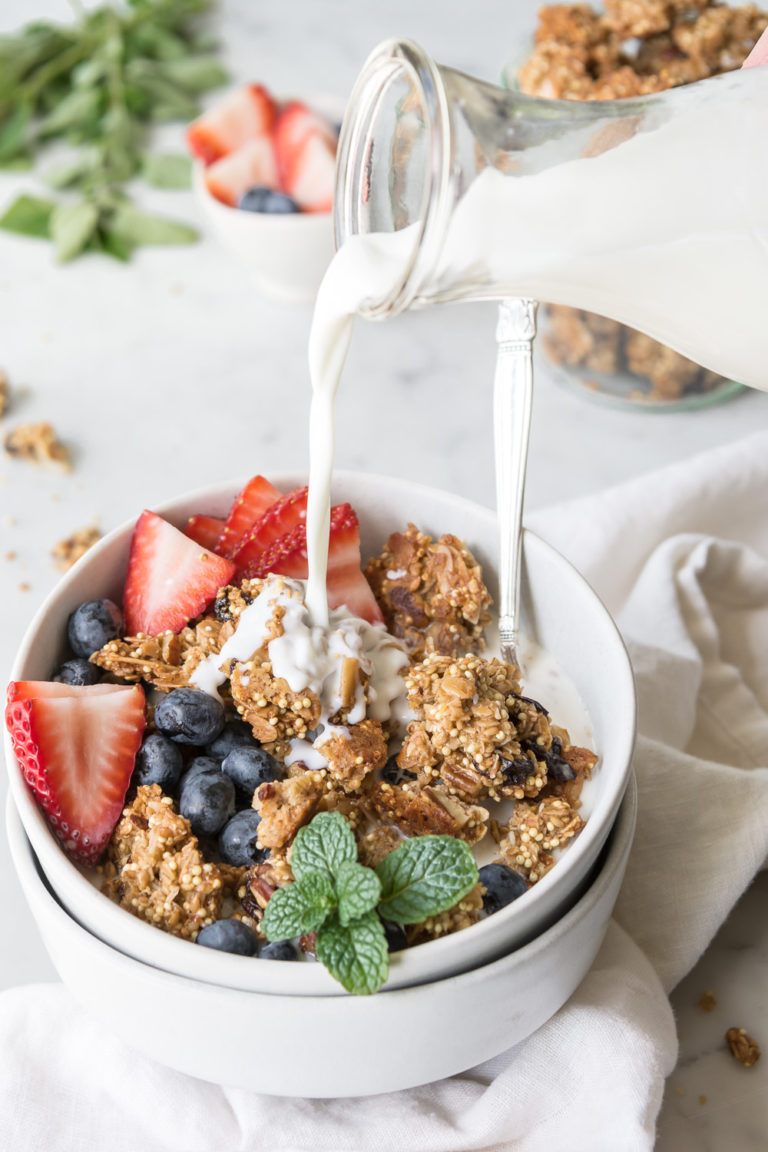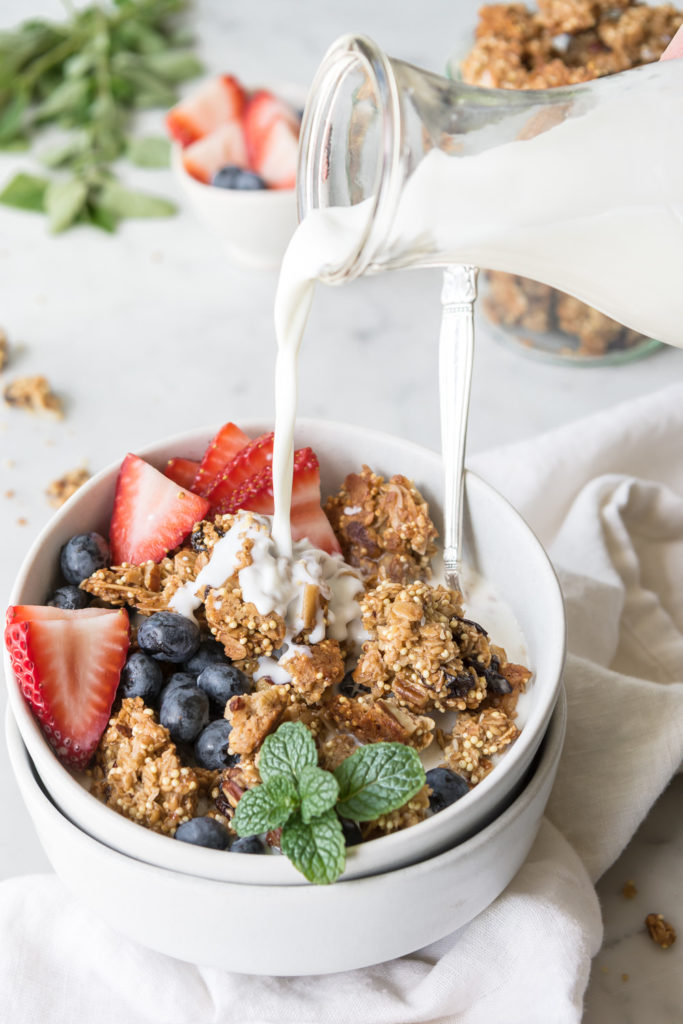 can you revive stale granola?
Depending on where you live, it's only a matter of time before your crunchy granola recipe is no more. In humid conditions, you're fighting an uphill battle of keeping granola crisp and crunchy. No matter how "airtight" your container is, the granola is exposed to more moisture every time the bag is opened. Luckily, you can revive stale granola very quickly and easily.
Lay out the clusters on a parchment paper lined baking sheet
Re-crisp in the oven for about 10 minutes at 300°F
Let cool completely
Store in an airtight container. Repeat as necessary.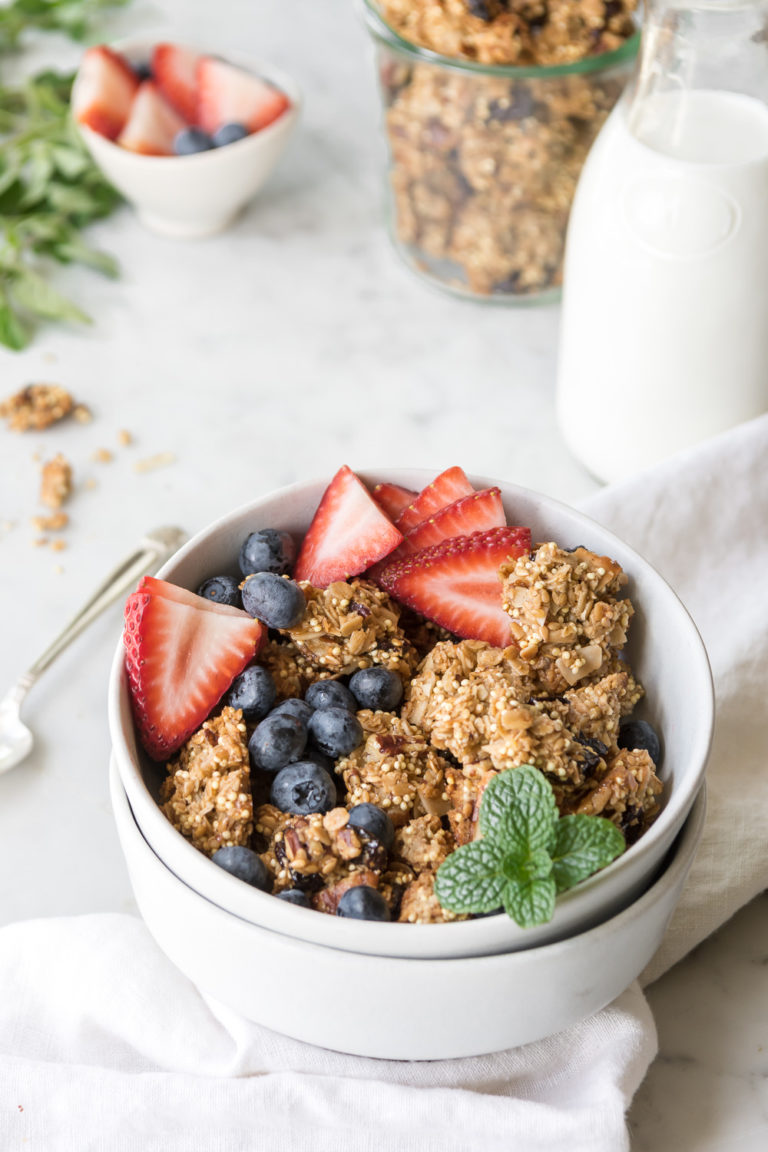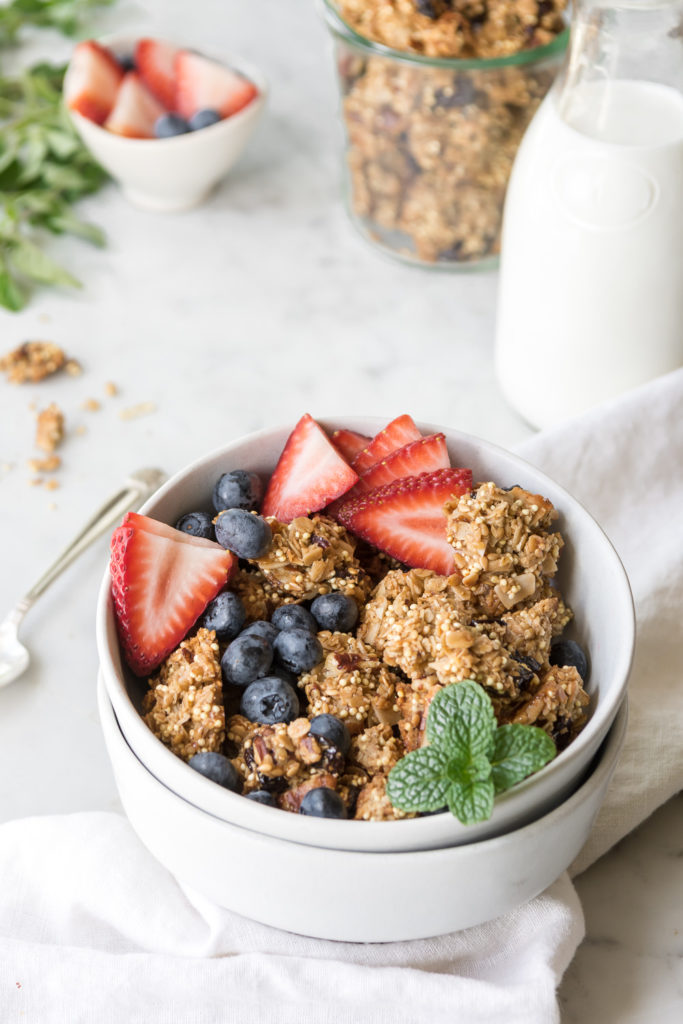 related recipes:
overnight chia pudding with maple butter blueberries
chia bowl with yogurt, cherries and almonds
tahini granola with sesame, golden raisins and chocolate
Print
crunchy homemade granola clusters with olive oil and maple syrup
Homemade maple olive oil granola clusters make the most delicious breakfast or snack. They're crunchy, seedy, chewy and super easy to make.
Author:
Prep Time:

10 minutes

Cook Time:

45 minutes

Total Time:

55 minutes

Yield:

75 clusters (1 tbsp each)

Category:

Breakfast

Method:

Baked

Cuisine:

American
Ingredients
3

large egg whites

¾ cup

maple syrup

½ cup

olive oil

¼ cup

brown sugar

1 tsp

kosher salt, plus more to taste

3 cups

rolled oats

1 cup

pecans

1 cup

dried tart cherries

1 cup

unsweetened coconut flakes

½ cup

millet, quinoa or sesame seeds

½ cup

flax seeds
Instructions
Preheat oven to 300°F. Line two baking sheets with parchment paper and set aside.

In a large bowl, whisk egg whites, maple syrup, olive oil, brown sugar and salt together until combined (the mixture will be thick and gel-like, that's okay). 

Place 1 ½ cups oats in the bowl of a food processor fitted with a blade attachment. Blend for about 20 seconds, or until oats are ground to a coarse flour. Pour on top of the maple syrup mixture. Put pecans, cherries and coconut flakes in the food processor and pulse until coarsely chopped. Transfer to bowl with granola mix. Add remaining 1 ½ cups oats, millet and flax seeds.

Toss granola until everything is well coated, it will be quite wet.

Scoop out tablespoon sized clusters of granola and drop them on the prepared baking sheets, about ¼ inch apart. Bake undisturbed until browned on the top and somewhat firm, about 45 minutes. Remove from oven, sprinkle with kosher salt, and let cool completely. 

Peel clusters off of parchment and store in an airtight container for up to 1 month.
Notes
Granola will keep for at least 1 month in an airtight container. 
Nutrition
Serving Size:

5 clusters

Calories:

309

Sugar:

14g

Sodium:

174mg

Fat:

19g

Saturated Fat:

5.1g

Unsaturated Fat:

13.3g

Trans Fat:

0g

Carbohydrates:

31g

Fiber:

5g

Protein:

5.2g

Cholesterol:

0mg
Keywords: homemade granola clusters