This tomatillo red chili salsa is extra spicy, juicy, fresh and smoky. We blister fresh tomatillos in a hot pan for a roasted flavor, toast the super hot arbol chiles and toss in a little bit of onion and softened garlic. The result is a flavorful, hot, fresh salsa that is dangerously easy to make. And there's no need to turn on the oven!
There's nothing more fun than whipping up a fresh batch of pan-roasted tomatillo salsa for friends and family-- it's better than your local taco shop.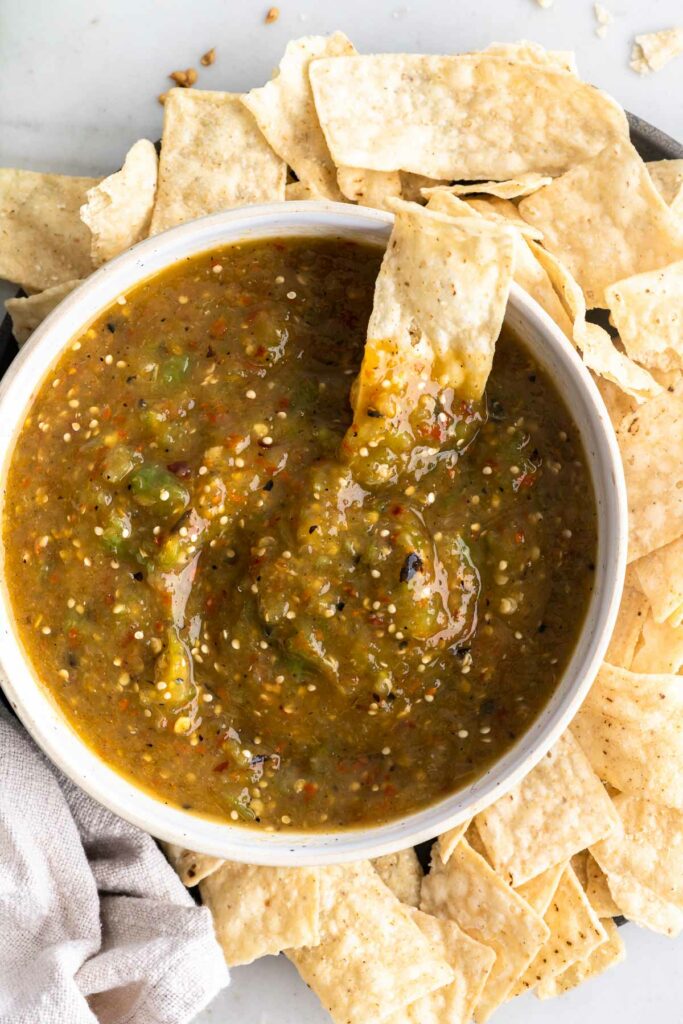 what is tomatillo red chili salsa?
This salsa starts with a base of roasted tomatillos and a generous handful of arbol chiles, then it's blended up with a small chunk of charred onion and some softened garlic. It's tart, spicy, and full of smoky roasted flavors.
This particular recipe is more like a traditional tomatillo red chili salsa, and less like the copycat Chipotle tomatillo red chili salsa. The latter uses dried chile powder, spices and Tobasco hot sauce to achieve a spicy salsa.
what you need to make tomatillo red chili salsa:
Tomatillos
Arbol chiles
Garlic
Onion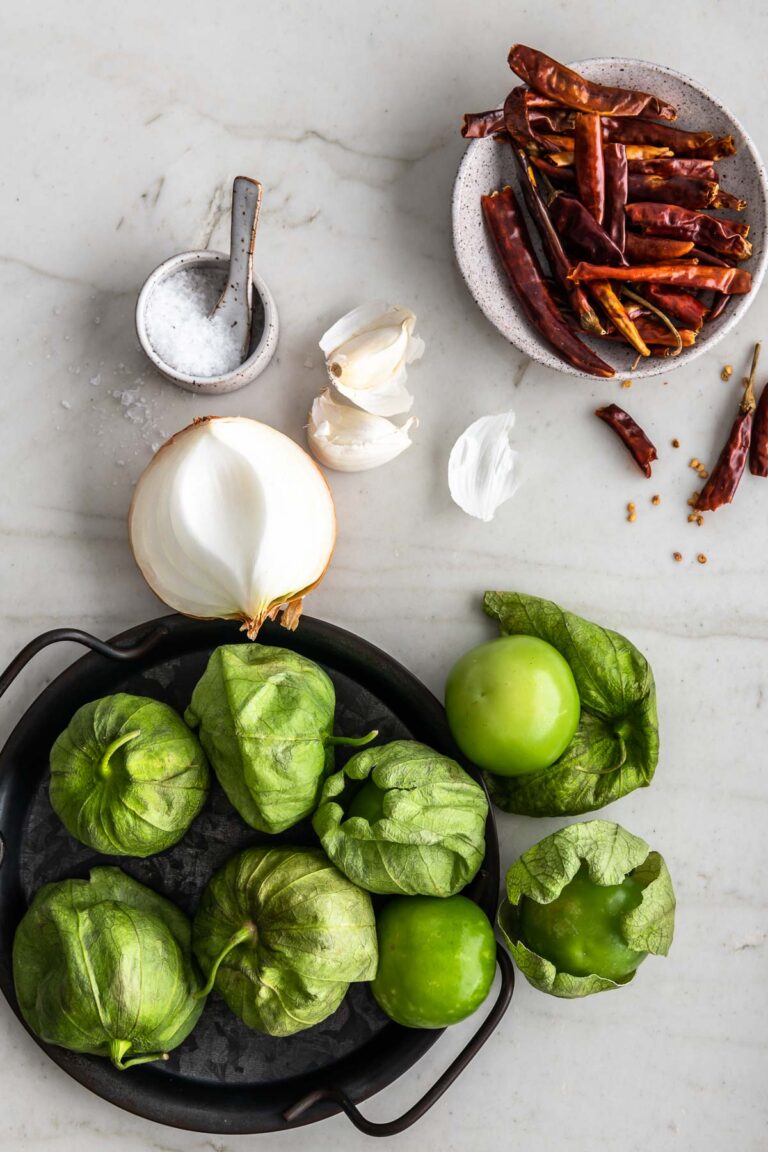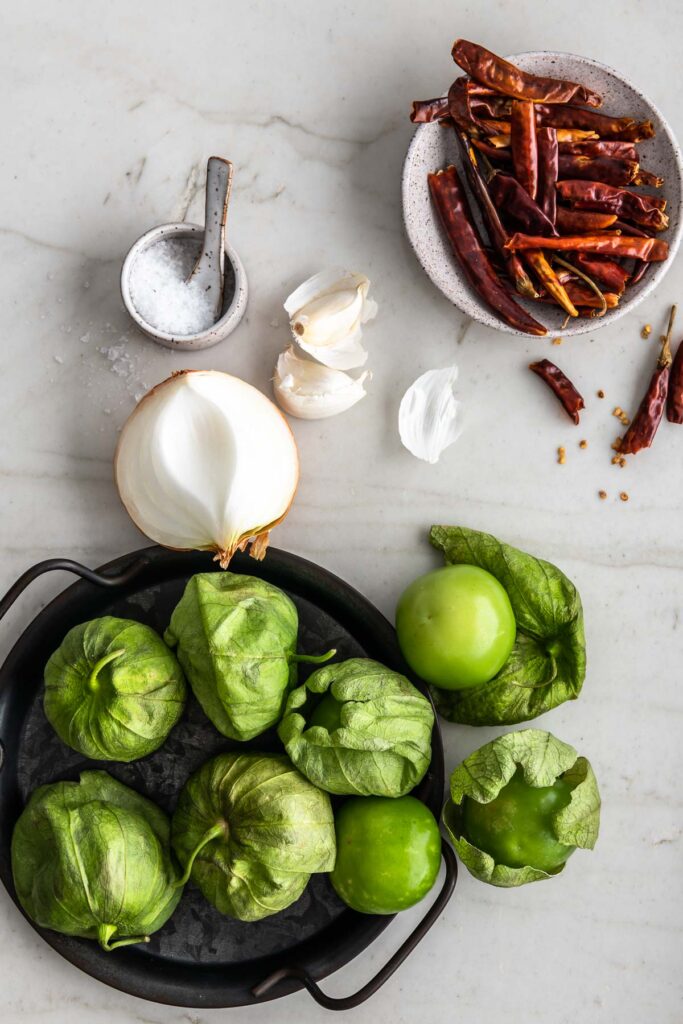 how to make tomatillo red chili salsa:
Quickly toast the arbol chiles until fragrant, about 1 minute
Soak chiles in boiling water until softened
Dry roast unpeeled garlic cloves, a quarter of an onion and the tomatillos in a steel pan. Cook until very soft and blistered.
Blend drained chiles, onion, garlic, salt and half the tomatillos until smooth
Blend in remaining tomatillos until mostly smooth but still a little bit textured
Taste, adjust seasoning and enjoy!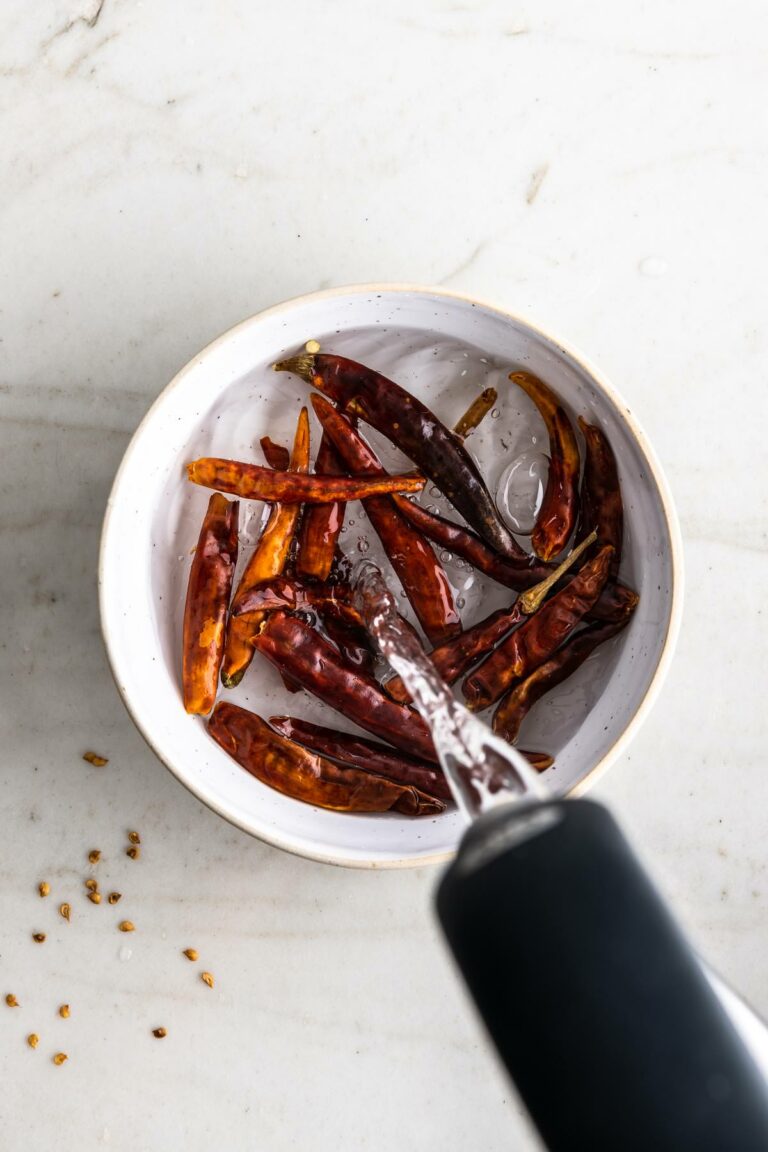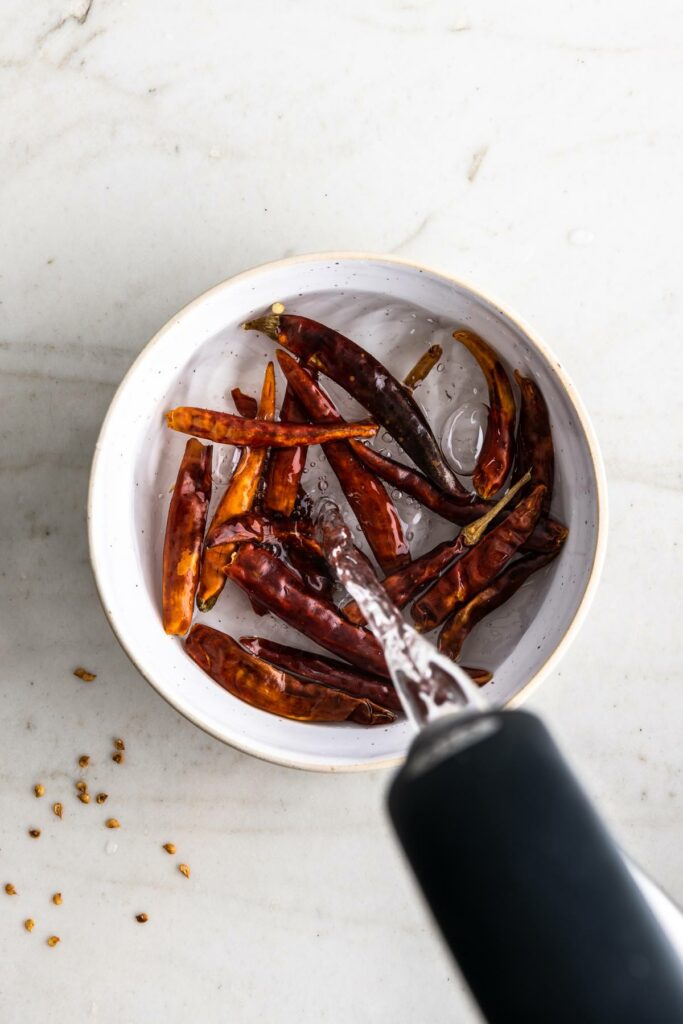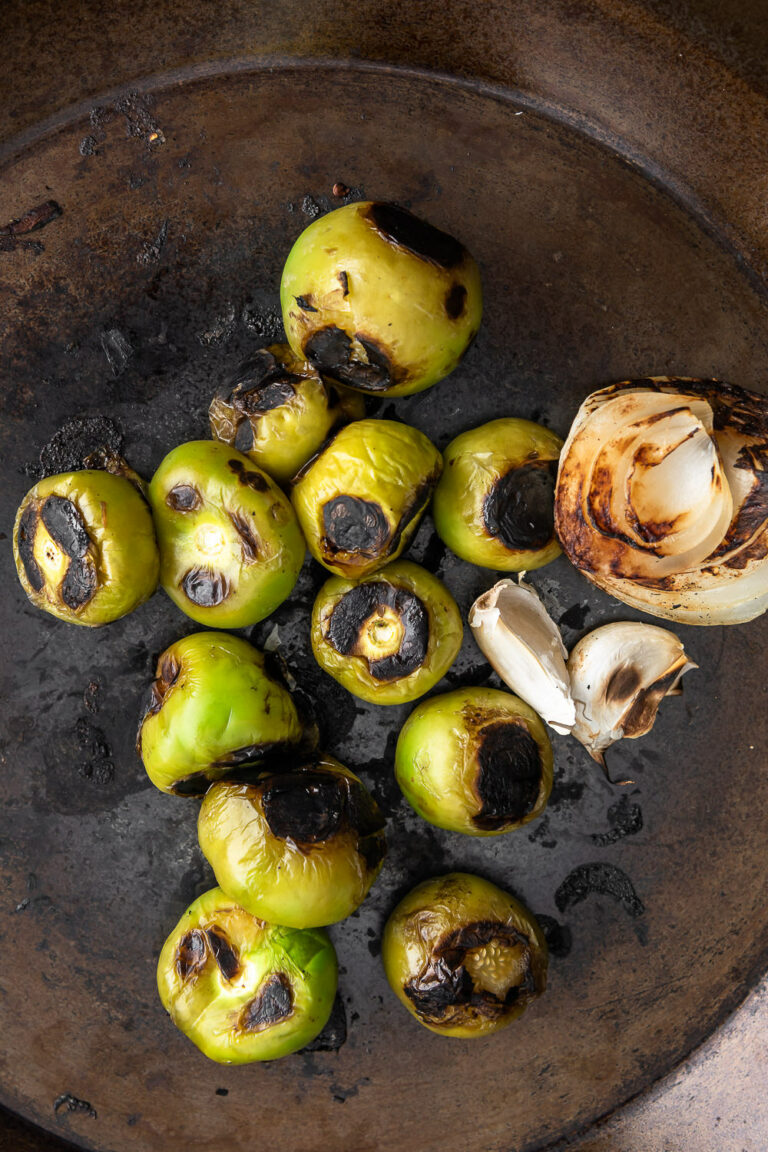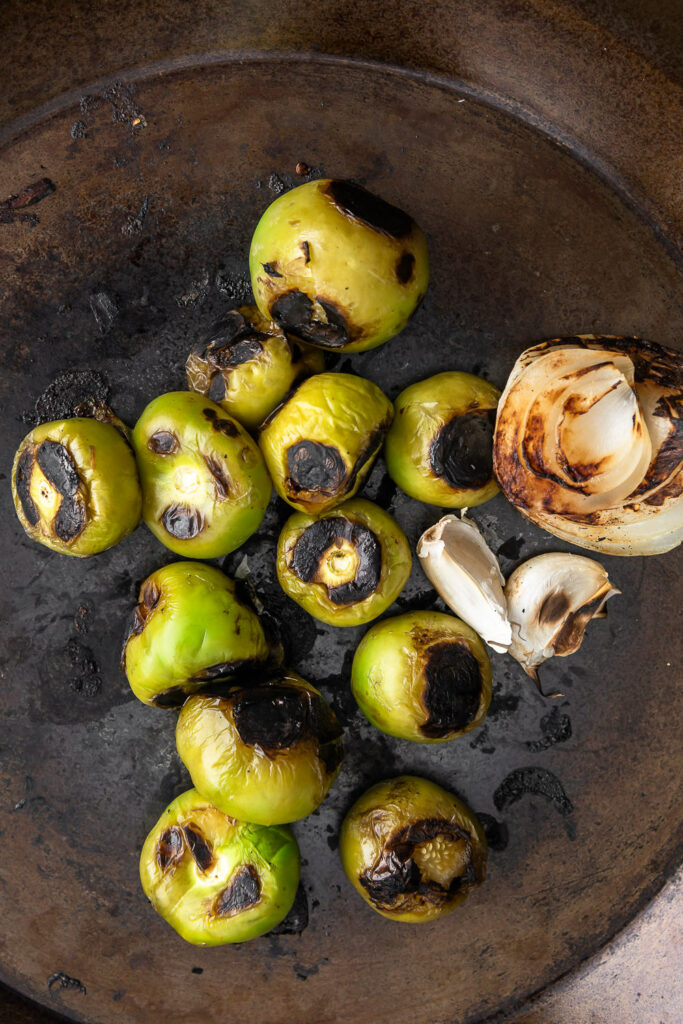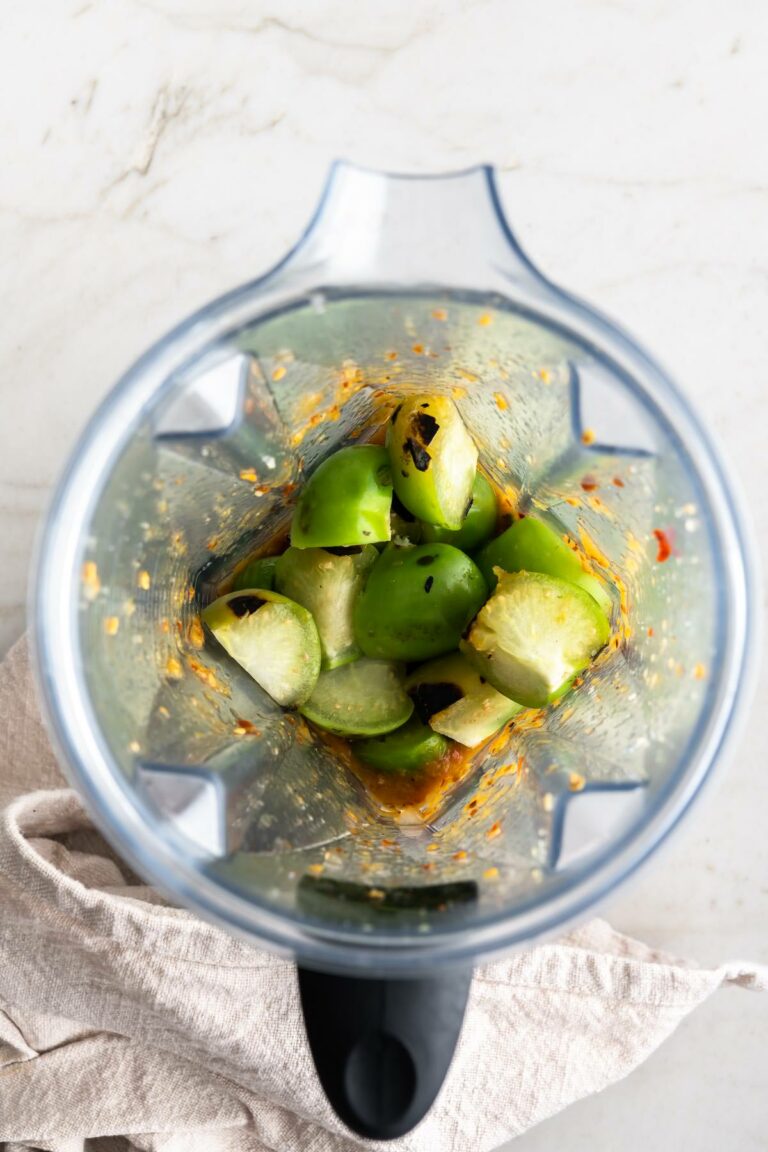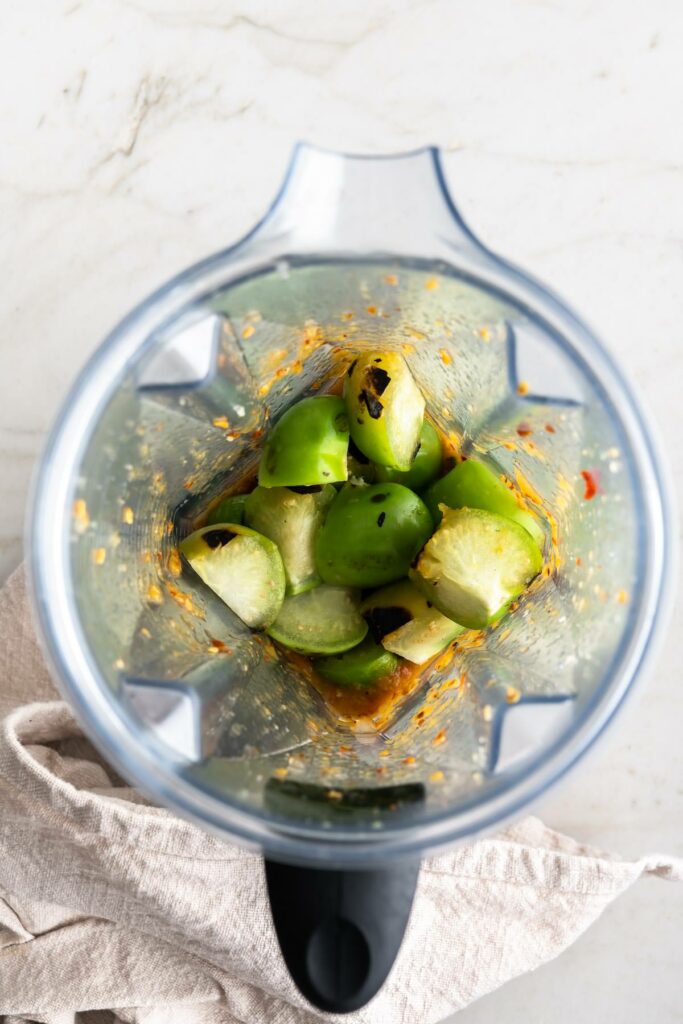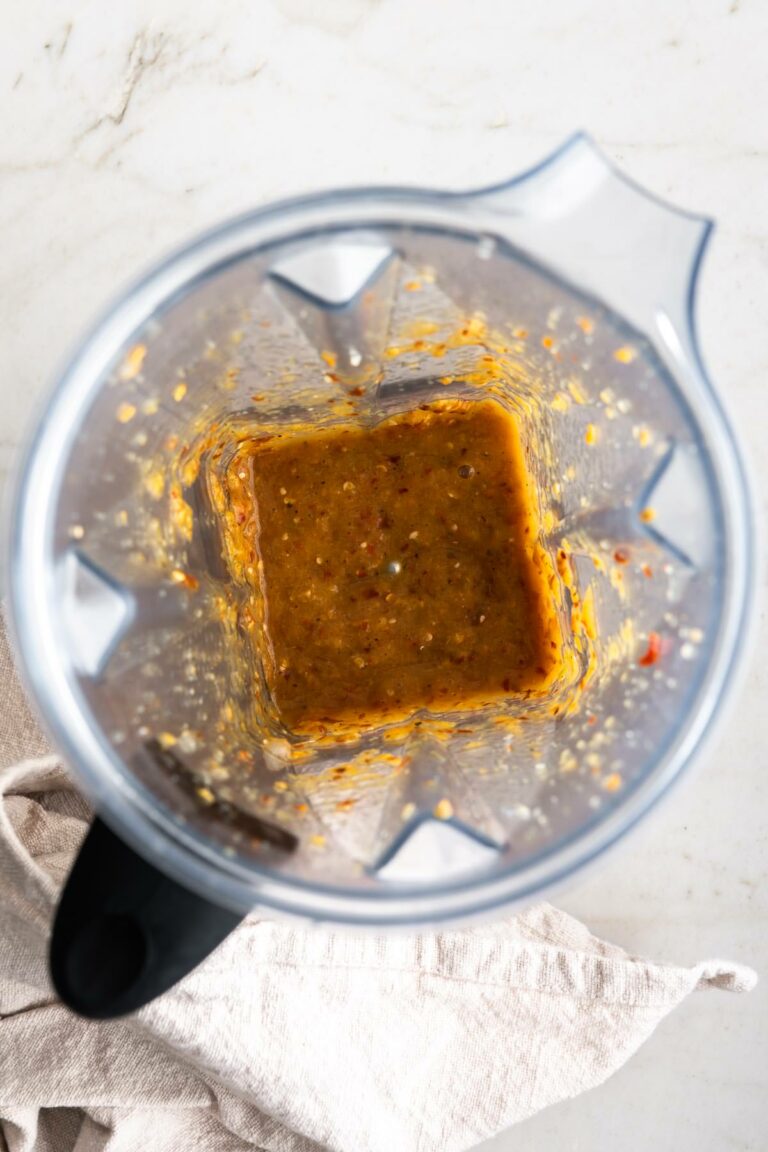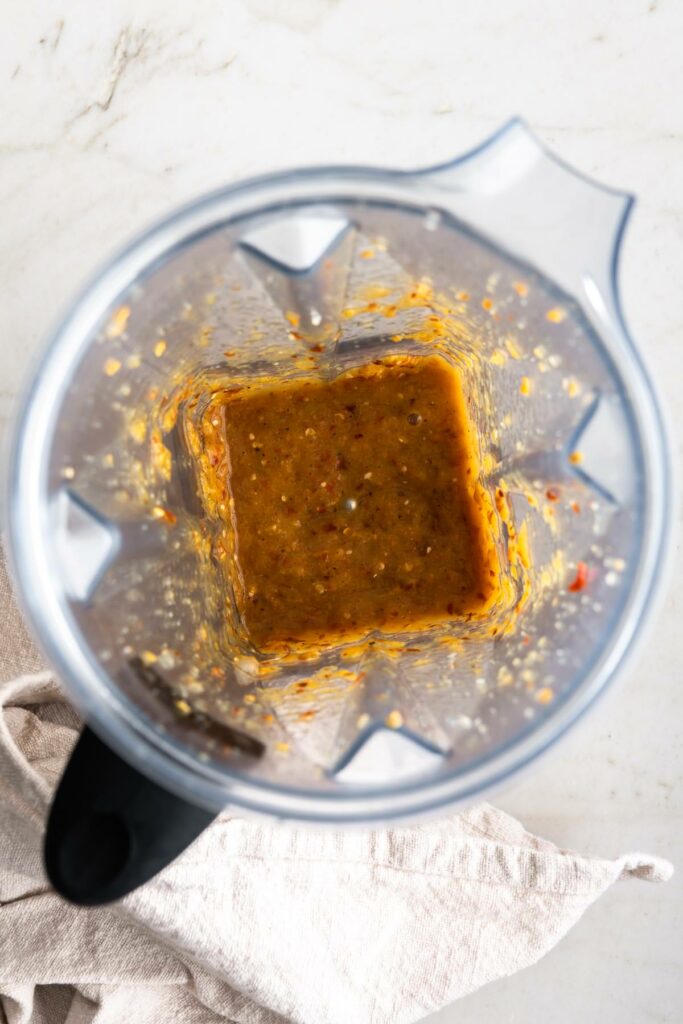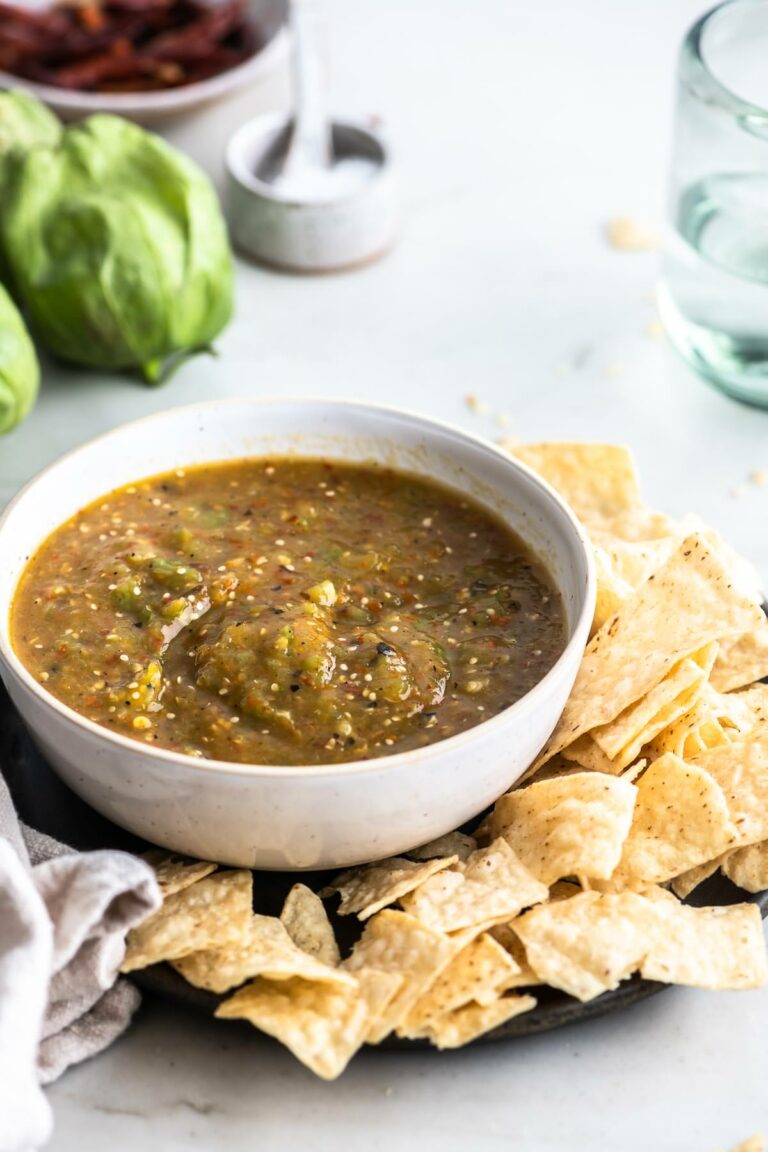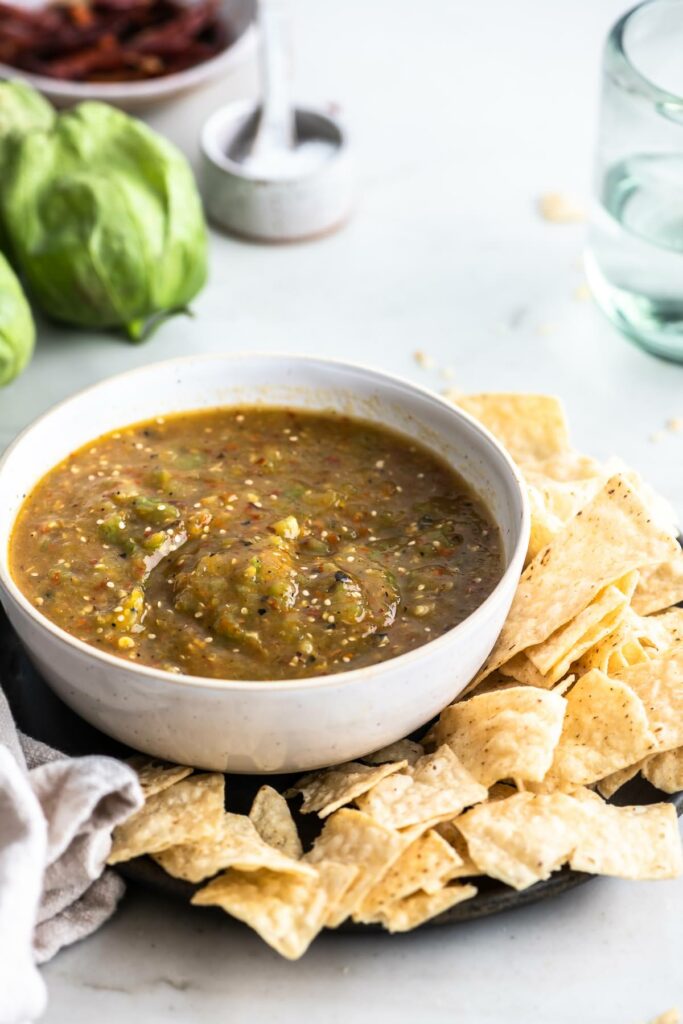 how to make the best tomatillo red chili salsa:
Cook the tomatillos: This part is really important to make a tomatillo salsa that is complex, fresh, but not overly tart. Just blistering the tomatillos will add a bit of smoky flavor, but the salsa will still be almost sour. Cook the tomatillos until their color changes from vibrant green to yellowish. The juices will be bursting out and sizzling, and parts of the skin will be very charred. Taking them this far mellows their natural acidity and creates a salsa that is tangy, almost juicy, but not unpleasantly tart.
Source great arbol chiles: Use high-quality dried chiles for the best flavor. Freshly dried chiles will be pliable and much more flavorful than the dusty bags you find in your local grocery store.
Don't burn the chiles: Chiles de arbol can quickly burn and turn bitter. We toast them on the pan first so you can instantly begin to smell when they're done and pull them off right away. They will smell before you can notice any color changes, so don't wait until you see them darkening to pull them off the heat. Cover them in boiling water to help soften the skins-- no one likes tough pepper skins in their salsa!
Keep it textured: I like to hold back half of the roasted tomatillos until the very end of blending. This way, I can really crank up the blender to break down the leathery pepper skin. Once they are small and manageable, I toss in the remaining tomatillos and blend them until the salsa is mostly smooth but a little textured. Stop at your desired consistency-- but I'd suggest erring on the side of a little more chunky. You can always toss it back in the blender!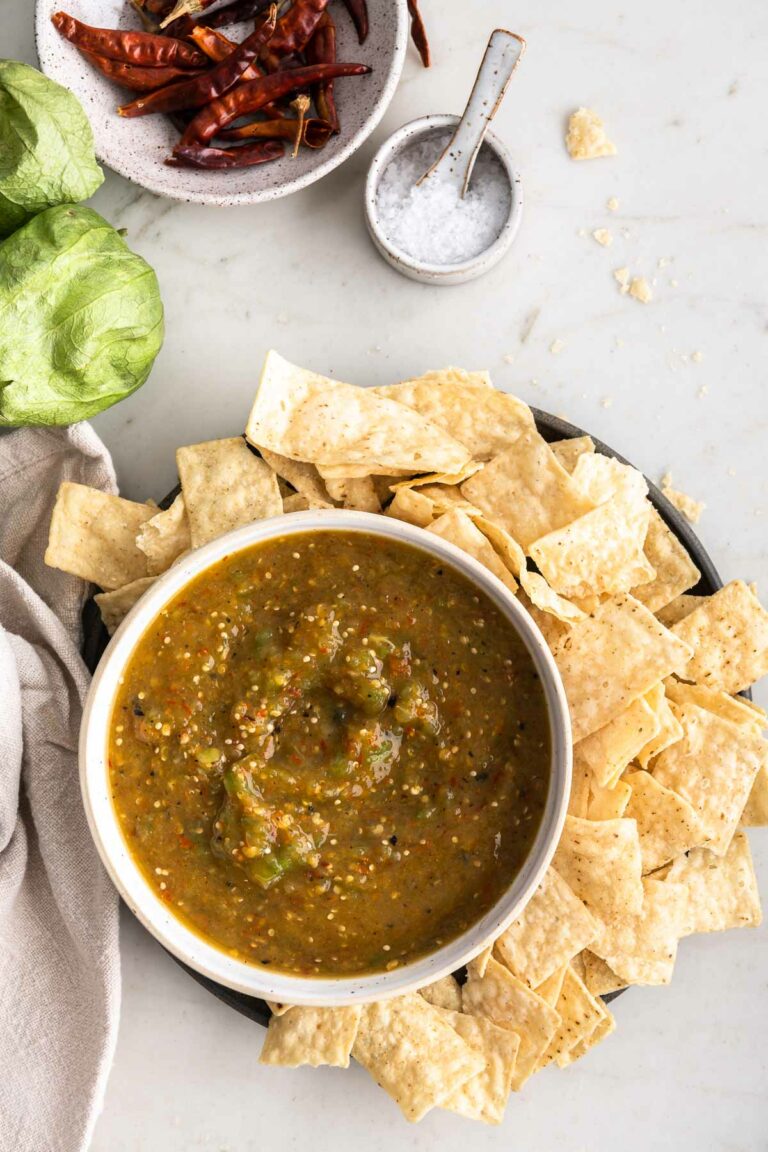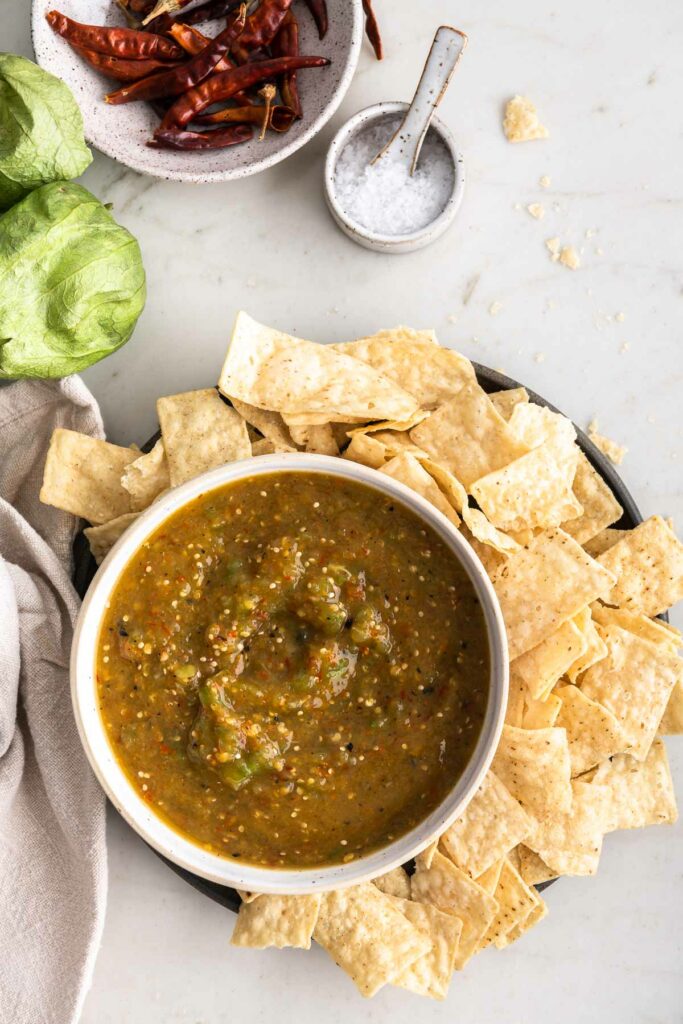 what are arbol chiles?
These dried chiles are also known as chile de arbol ("tree chile" in Spanish), bird's beak chile or rat's tail chile. They are small, thin chiles that are very hot and have a straightforward chile flavor. They're about 6 times hotter than a jalapeño pepper and, aside from salsas, are commonly used in pickles, homemade hot sauces and Thai curries.
is tomatillo red chili salsa hot?
Yes, it's fairly hot. If you like spicy salsa and hot sauces, I'd say this is about a moderate level. It's pleasantly hot-- you get a long, slow burn from the arbol chiles and you're still able to enjoy the rest of the flavors of the chiles and tomatillos. If you prefer less hot salsas, it's an easy fix! Just halve the number of arbol chiles and go from there. Want it hotter? Just add more chiles!
roast the tomatillos in the oven:
You could roast the tomatillos, onion and garlic cloves on a sheet pan in the oven instead of the stovetop.
Adjust a rack in the oven to be 6- 8 inches below the heater element, then preheat the broiler. Roast for about 5 minutes, until blackened in spots and soft, then flip and return to the oven for another 4- 5 minutes.
When ready, the tomatillos will have yellowed in color and their juices will be bursting out of the charred skin.
Note: I still recommend quickly toasting the chiles on the stove where you can closely monitor their progress and pull them off the heat before they burn and get bitter.
more salsa recipes to try!
homemade restaurant-style salsa
Print
tomatillo red chili salsa
Tomatillo red chili salsa is extra spicy, fresh, and smoky. Dry roast tomatillos and arbol chiles, then blend them into a mouthwatering salsa.
Author:
Prep Time:

5 minutes

Cook Time:

20 minutes

Total Time:

25 minutes

Yield:

1 ½ cups

Category:

Salsa

Method:

Blended

Cuisine:

Mexican

Diet:

Gluten Free
Ingredients
15

chiles de arbol

2

garlic cloves, unpeeled

¼

white onion, peeled

¾

lb tomatillos (

5

-

6

large), husked, washed and patted dry
kosher salt
Instructions
Heat an ungreased skillet over medium heat. Add chiles and toast, stirring, for about a minute until fragrant. Transfer to a bowl and cover with boiling water. Let soften for at least 20 minutes.
Add garlic, onion and tomatillos to the same skillet and reduce heat to medium low. Roast, turning occasionally, until blackened in spots and tomatillos are very soft and their vibrant green color has yellowed; 20- 25 minutes.
Roughly chop the onion and peel the garlic; toss in a blender with half the tomatillos. Drain peppers, discard any stems and add to blender with ½ teaspoon kosher salt.
Blend on high until smooth. Add remaining tomatillos and blend until mostly smooth, but still textured. Transfer to a bowl and stir in water if needed, a tablespoon at a time, until the salsa is thick but fluid. Taste and add more salt if needed.
Notes
Nutritional information is only an estimate. The accuracy of the nutritional information for any recipe on this site is not guaranteed.
Nutrition
Serving Size:

¼ cup

Calories:

66

Sugar:

8.4g

Sodium:

10mg

Fat:

0.1g

Saturated Fat:

0g

Unsaturated Fat:

0g

Trans Fat:

0g

Carbohydrates:

1.2g

Fiber:

0.3g

Protein:

0.2g

Cholesterol:

0mg
Keywords: tomatillo red chili salsa