This homemade salsa is like the best restaurant salsa you've ever had. Fresh, bright, and so easy! Best of all: you can make it as spicy as you want.
This homemade salsa is so fresh and bright. We use fresh cilantro, jalapeños, a squeeze of lime, and tomatoes (canned or fresh!) for the absolute best salsa. I've been making versions of this salsa for almost 15 years and have honed in on a few key techniques to make the most delicious, balanced, and simple restaurant-style salsa. Keep reading for all of my homemade salsa tips!
This post may contain affiliate links. As an Amazon Associate, I earn from qualifying purchases.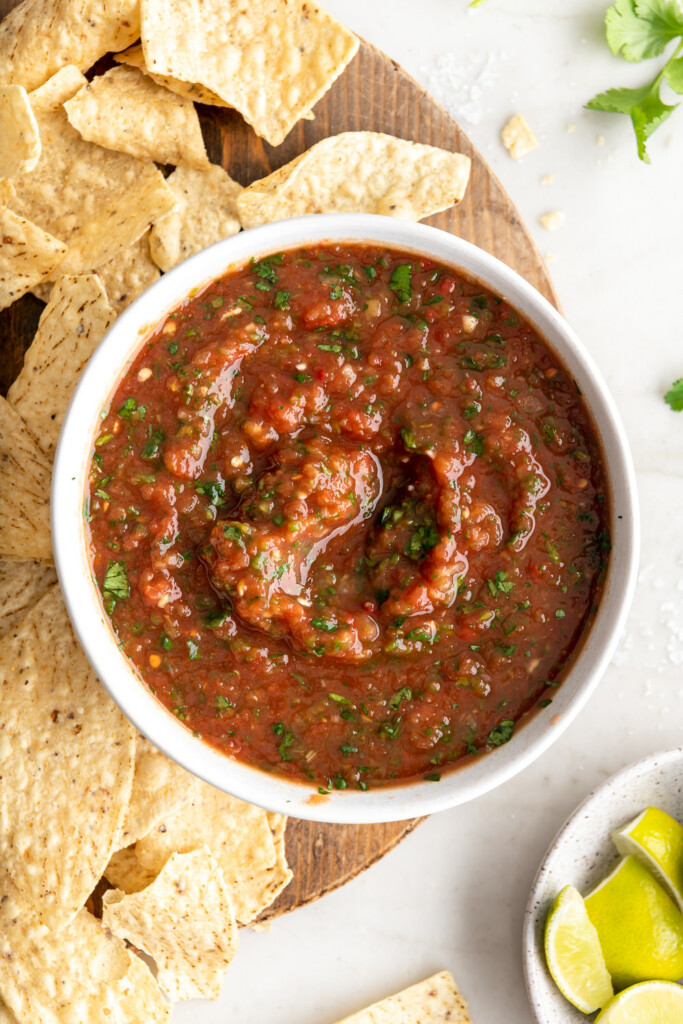 why this is the best homemade salsa recipe:
Fresh or canned tomatoes: Use whatever you've got on hand! This recipe is so flexible. Canned tomatoes are super easy to use right away, and perfectly ripe plum tomatoes packed with flavor-- you can't go wrong. Read more below for how to use both!
Rinsed onion: I love the texture and flavor of raw onion in salsa, but I don't like when it's too sharp and it detracts from the salsa. To soften the bite, I rinse the chopped onion under cold water for a minute or two. The result is an almost sweet, mellow onion with the perfect raw crunch.
Fresh lime: Acid is usually the missing piece to making homemade salsa taste like restaurant salsa. Tomatoes, like any fruit, vary in their sweetness and acid levels. I start with a few teaspoons of lime juice and add more, to taste, depending on the acidity of the tomatoes. This adds so much freshness to your salsa!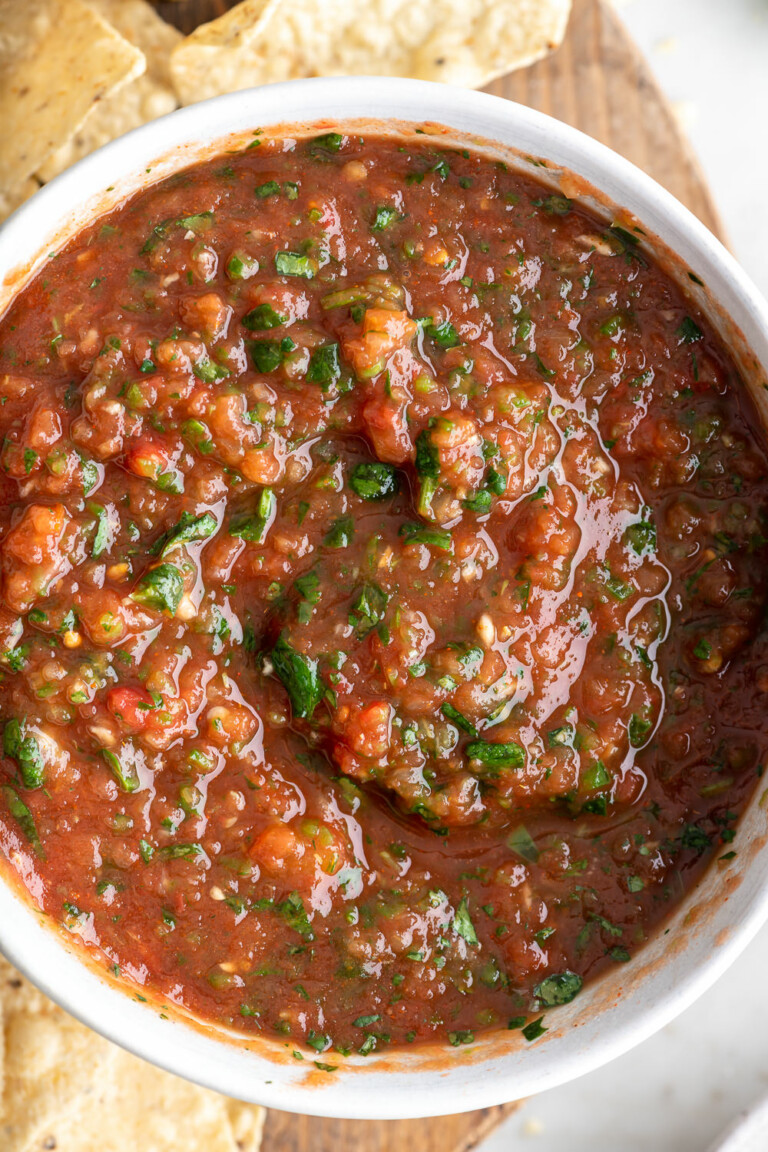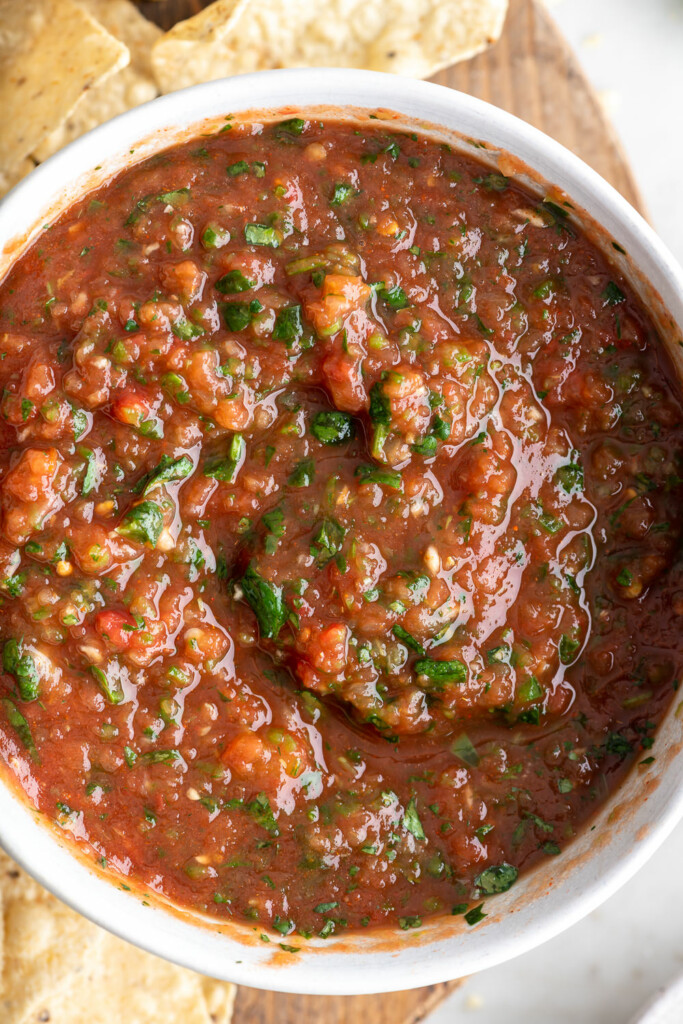 Textured: I like to add the chopped tomatoes at the end of blending. This way, I can chop up the jalapeños, onions, and garlic to fine pieces without worrying about over-processing tomatoes (and getting that annoying salsa foam). Once I add the tomatoes and cilantro, I blend on and off until the salsa is mostly smooth but a little textured. Stop at your desired consistency-- but I'd suggest erring on the side of a little more chunky. You can always toss it back in the blender!
Cayenne: This is super non-traditional, but it's my favorite spicy salsa hack. While jalapeños bring great flavor, they're notorious for having unpredictable spice levels. I stir in cayenne, a pinch at a time, to easily add heat-- in a controlled way-- without introducing any other flavors or textures.
salsa ingredients:
canned or fresh plum tomatoes
jalapeños
onion
garlic
limes
cilantro
cayenne
salt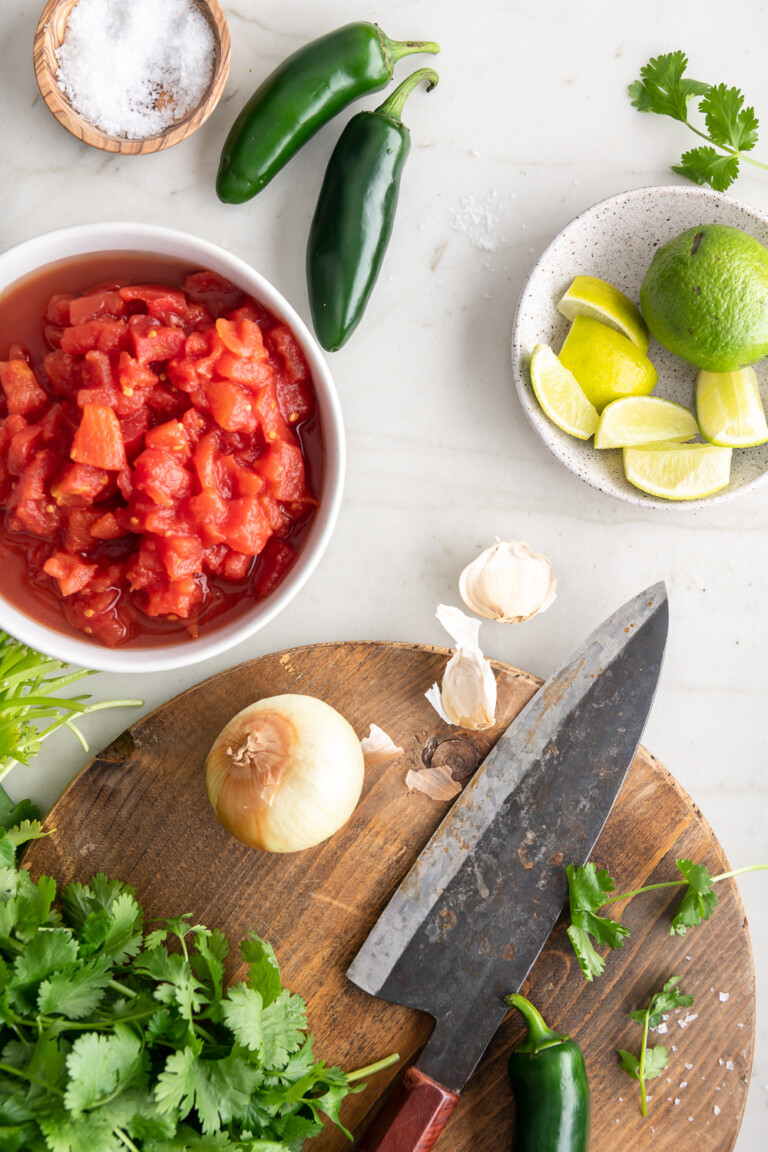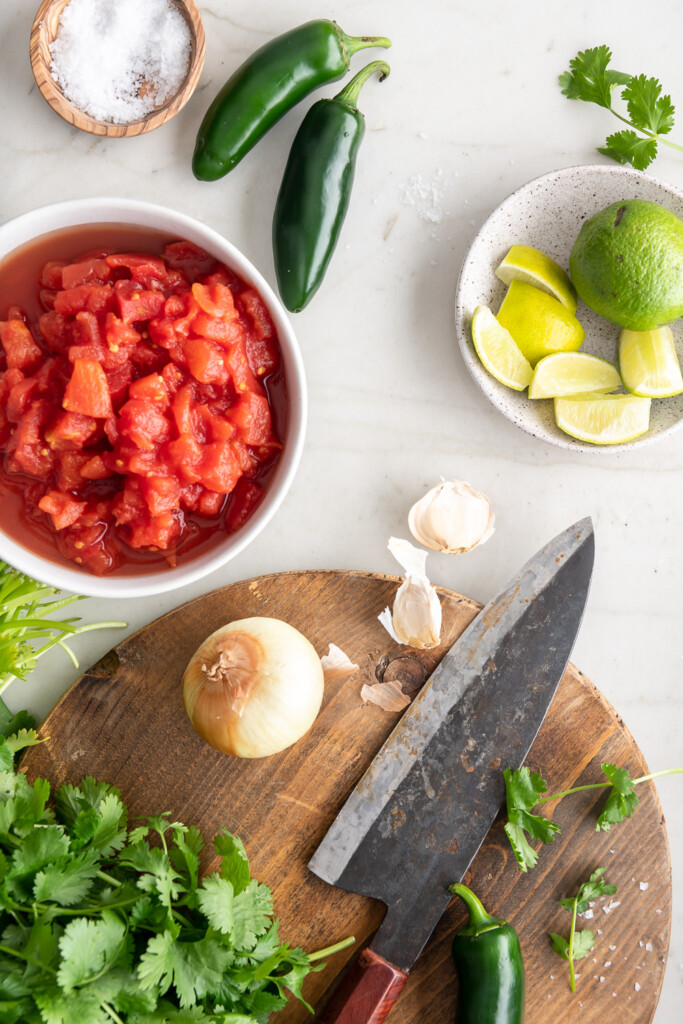 how to make homemade salsa:
Rinse onion under cold water, drain.
Blend onion, garlic, jalapeño, lime and salt in a food processor.
Add tomatoes and cilantro, pulse until smooth but texture.
Add more lime or salt, if needed.
Stir in cayenne for more heat, if needed.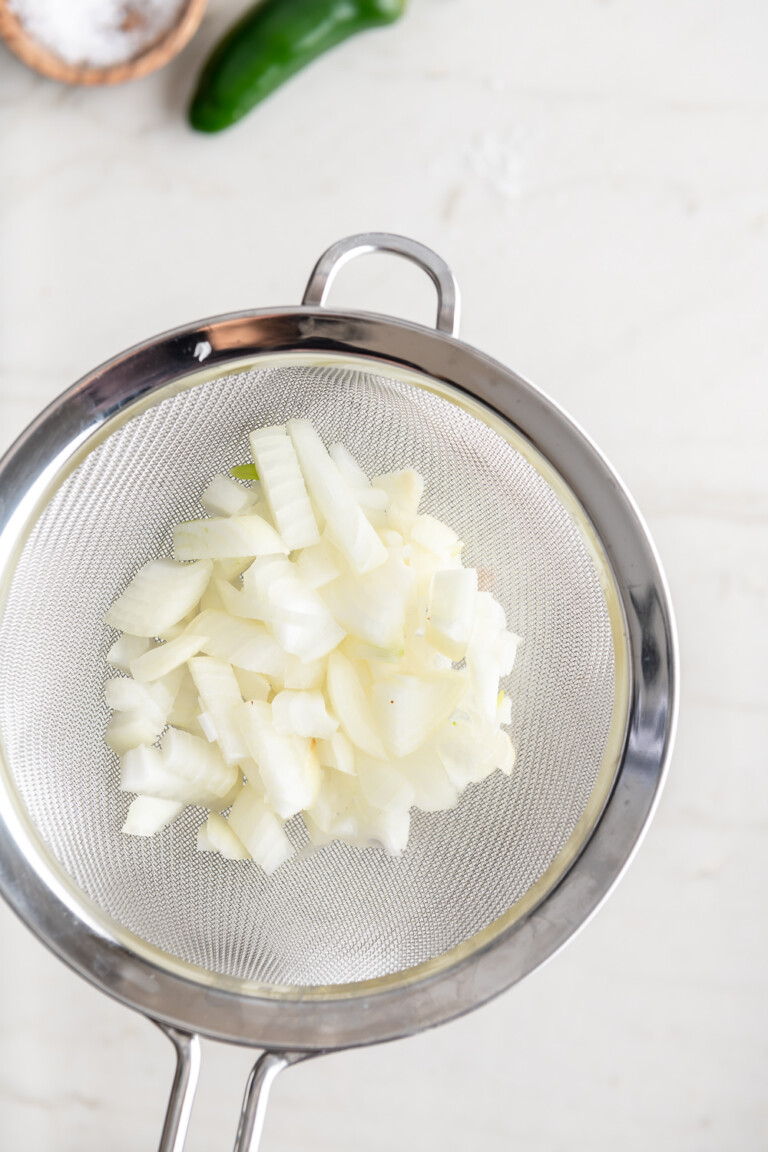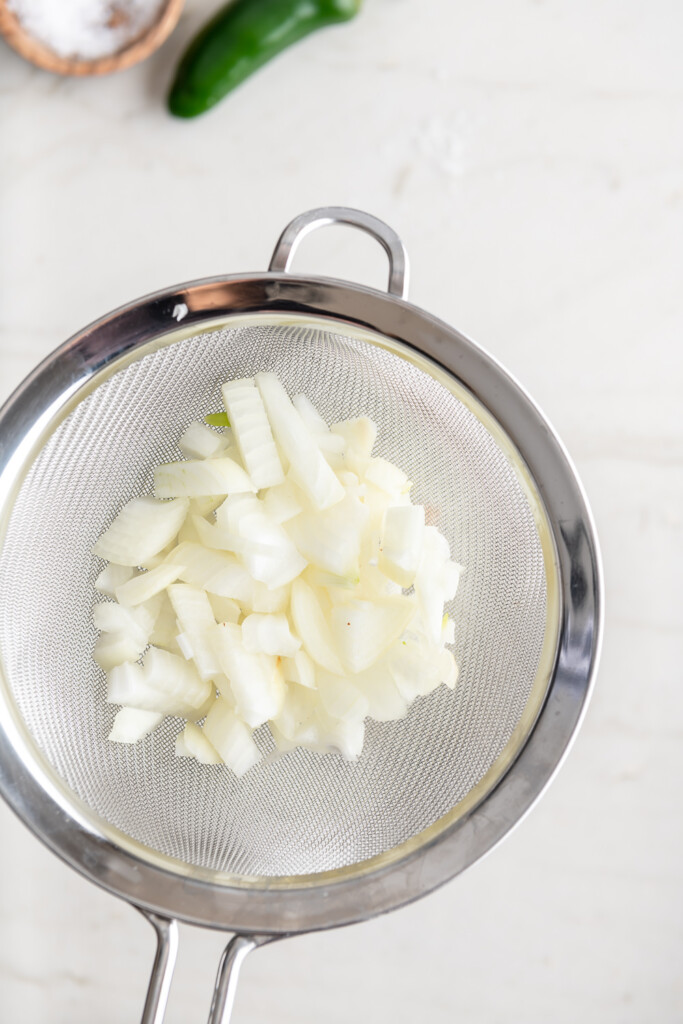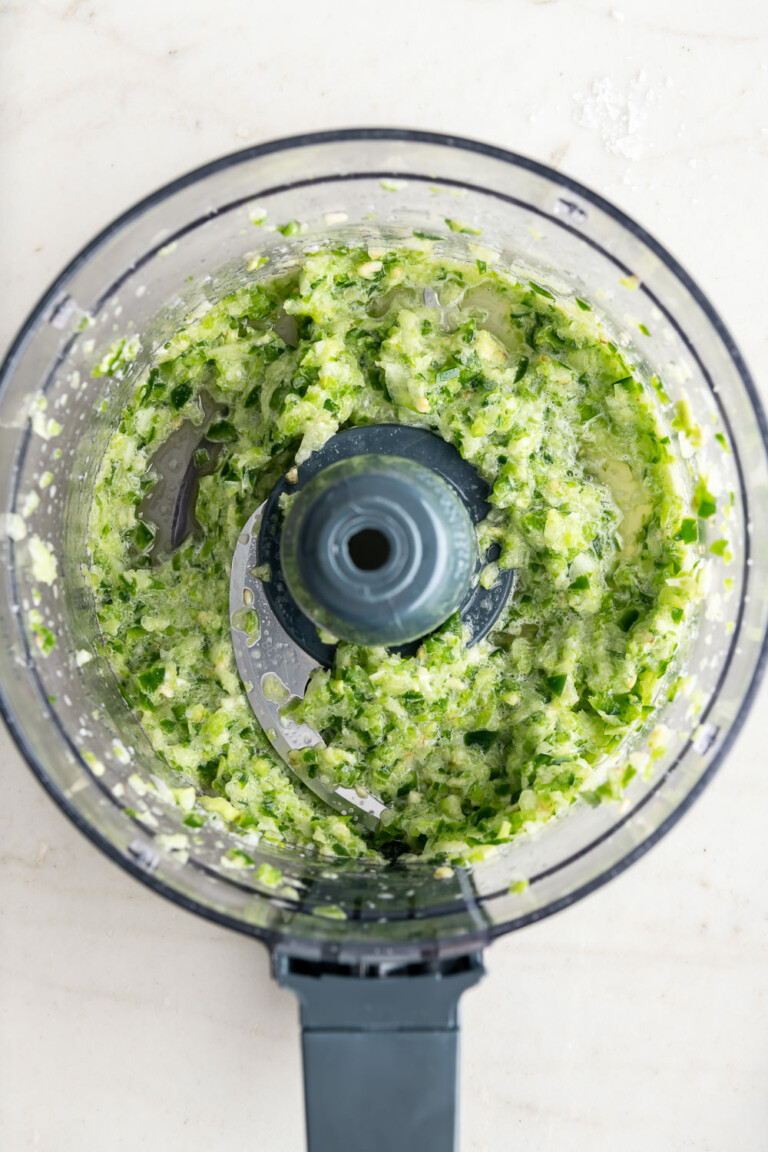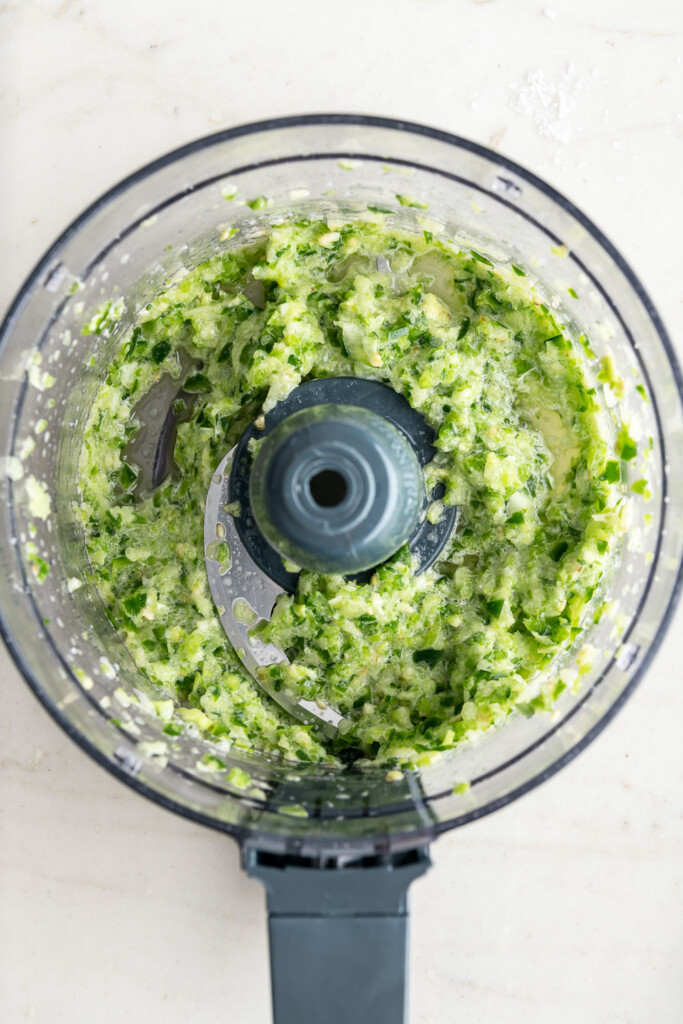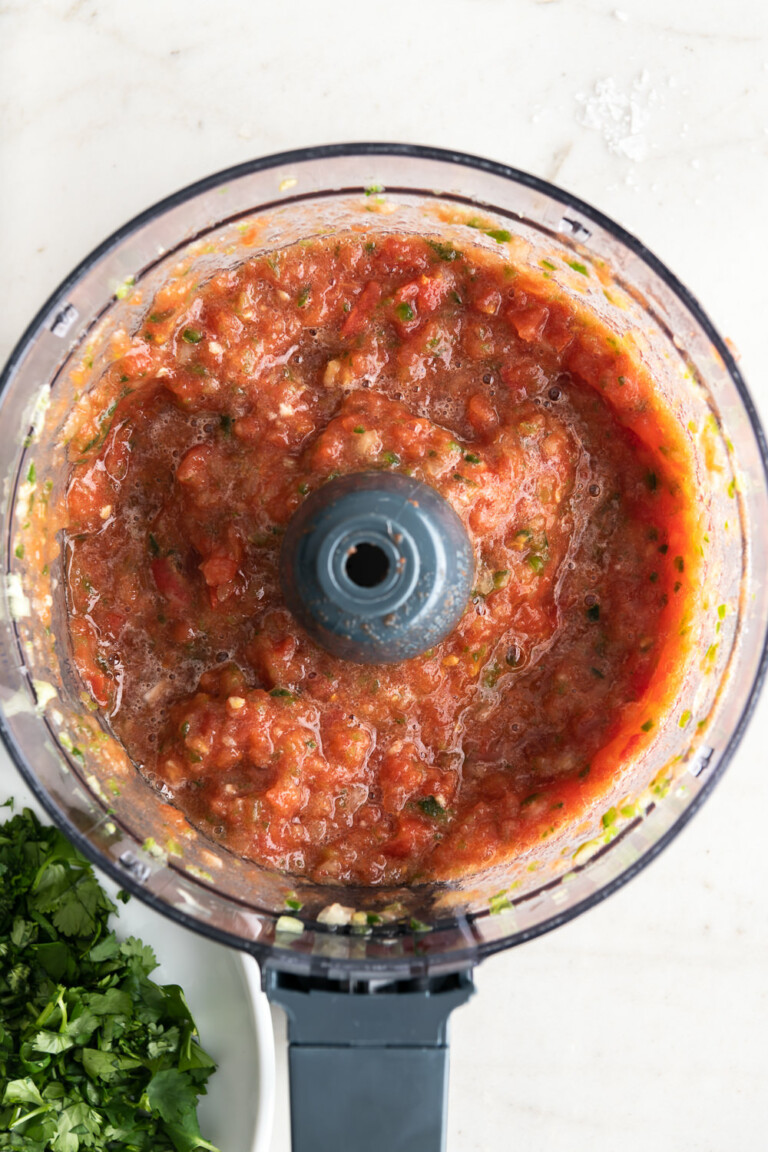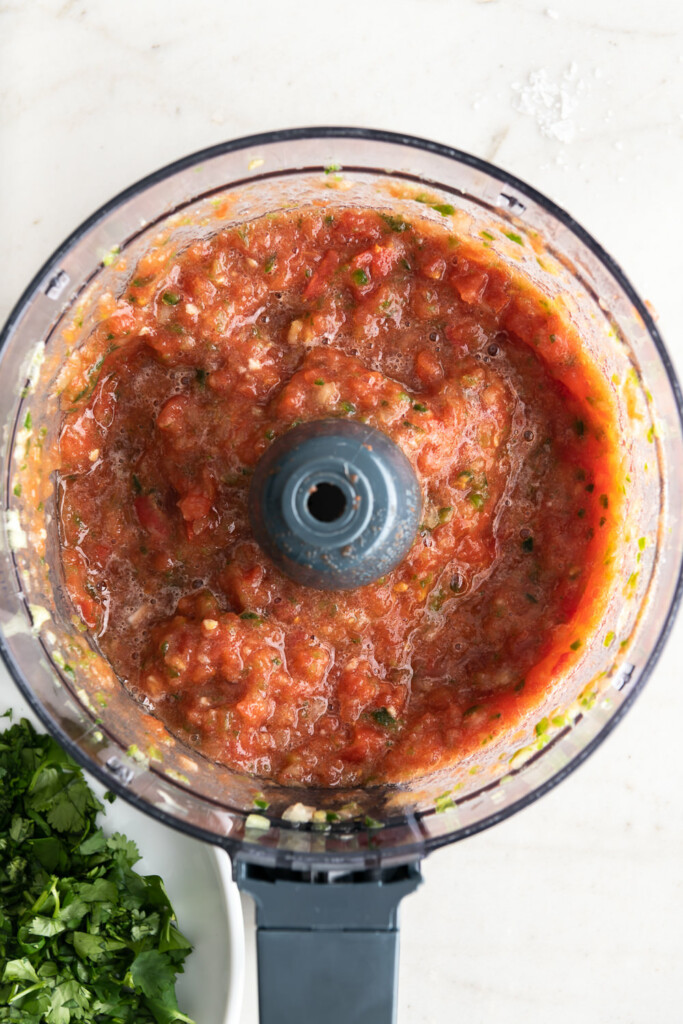 should I use canned tomatoes or fresh tomatoes for salsa?
This is going to sound non-traditional, but I prefer canned tomatoes for my restaurant style salsa. They're already blanched and peeled which dramatically cuts down on prep time, and if you get a good brand then the tomatoes are picked and processed at their peak of ripeness. This means juicy, rich tomato flavor-- not always what you get from tomatoes at the store.
Canned tomatoes also mean you can make the best tasting salsa year around. I don't know about you, but fresh salsa is all I want come February!
To make this homemade salsa recipe with fresh tomatoes:
Use 2 pounds plum tomatoes (I love to use Roma tomatoes in salsa): about 16 small plum or Roma tomatoes.
Score an "X" on the bottom of each tomato.
Add to a pot of boiling water, cook 30- 45 seconds, or until the skin just begins to curl and peel away from the "X".
Transfer to ice water to stop the cooking.
Drain and peel off the skin.
Discard the skin, roughly chop tomatoes and transfer to food processor and continue with Step 3 of the recipe.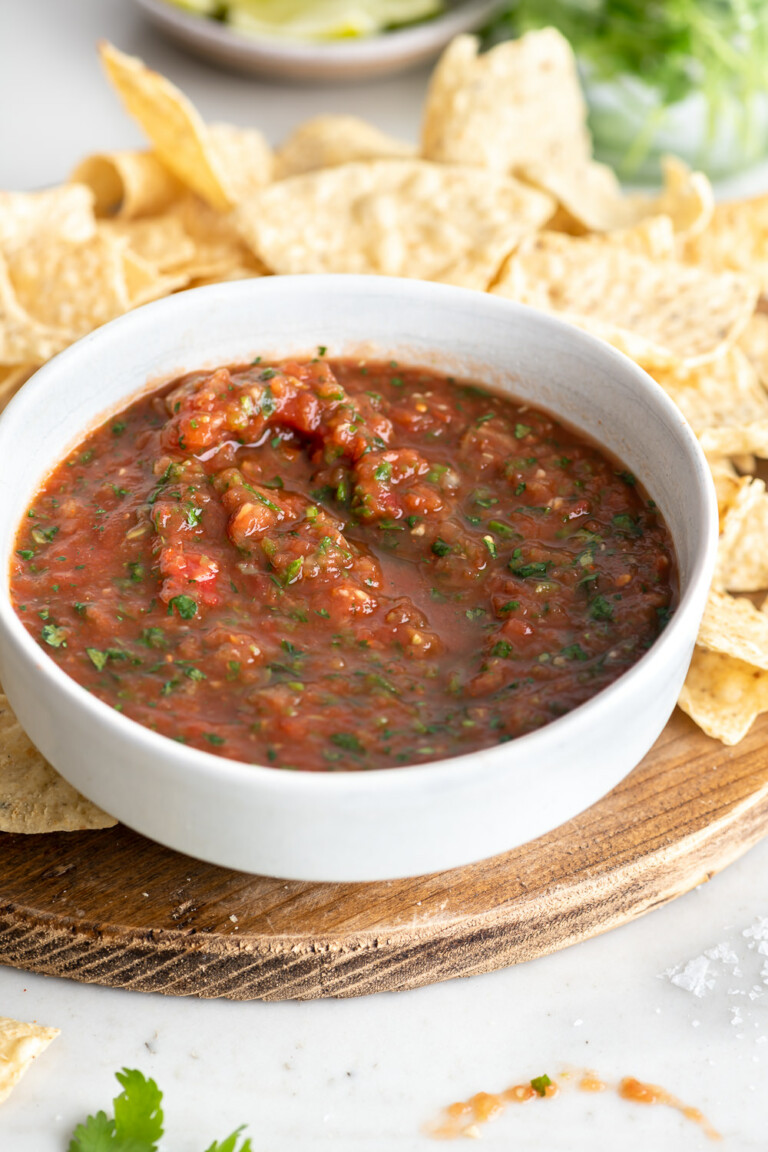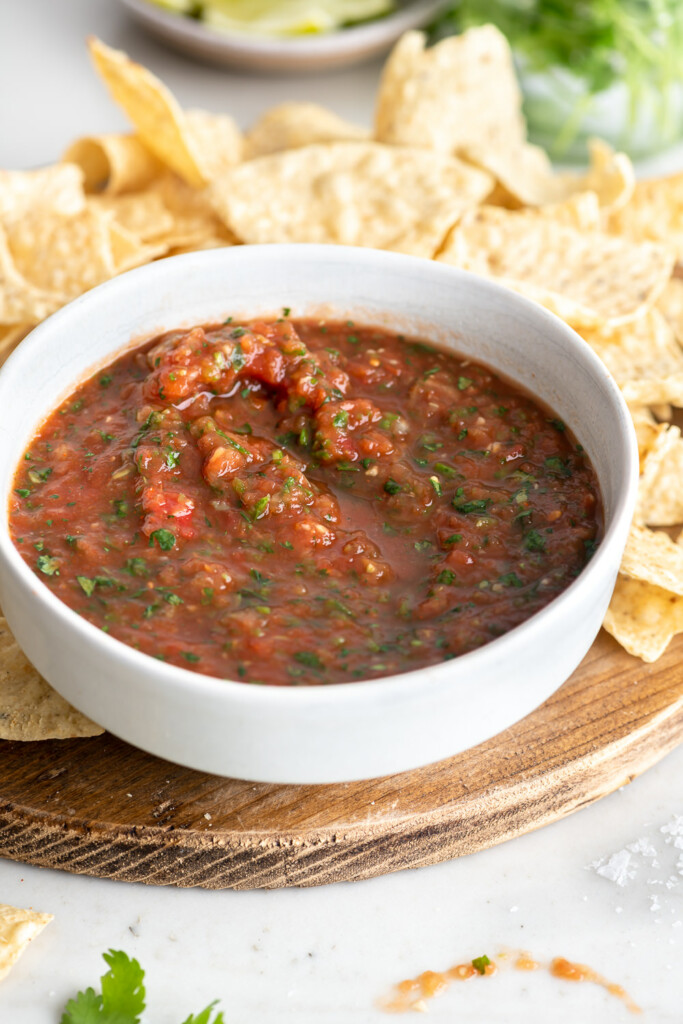 how to thicken up homemade salsa
If you're using canned tomatoes and forget to drain them, or if you're using extra juicy fresh tomatoes, sometimes your salsa can come out a little watery. Don't worry!
Just pour the salsa into a fine mesh sieve, set over a bowl, and strain out some of the excess liquid.
Return your salsa to a bowl and check the consistency. If needed, return some of the strained liquid back until you get your ideal thickness.
how to store homemade salsa:
I love to keep homemade salsa in a mason jar. We prefer plastic mason jar lids (the rusty metal ones don't go great with acidic tomatoes!). You can also store it in any glass container.
how long does salsa last in the fridge?
This homemade salsa recipe will keep in the fridge for 4- 5 days. We prefer to enjoy it within a day or two when the flavors are the freshest.
can you freeze homemade salsa?
It is safe to freeze salsa for up to a year, and the flavors will stay mostly intact. I prefer to freeze it for no longer than 2 months.
That said, the texture does change a bit and it's not my favorite. To minimize textural changes, you can drain off excess liquid and freeze it separately from the solid parts of the salsa.
Store them in an airtight container with at least 1-inch of head space (room for expansion when freezing). You can also try freezing it in a zip-top bag with air squeezed out or vacuum-sealed bag.
Thaw overnight in the fridge and recombine the liquid and solids. If desired, stir in more fresh, chopped cilantro to brighten the flavors!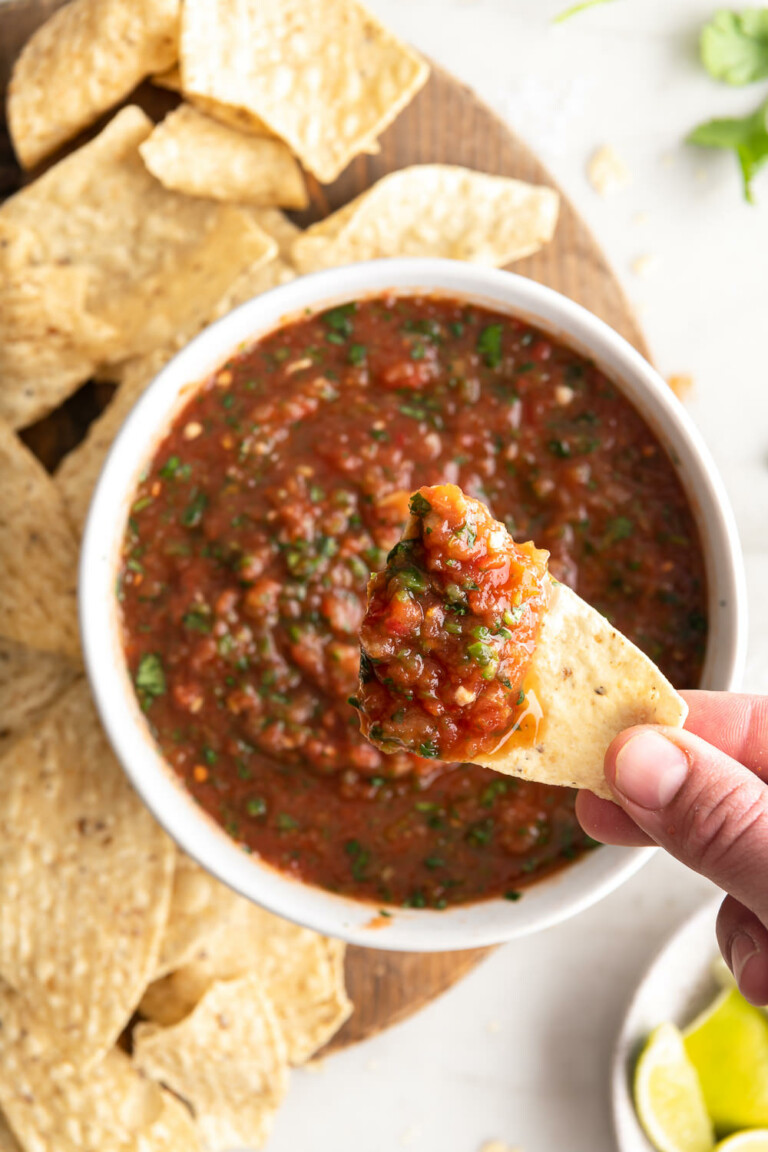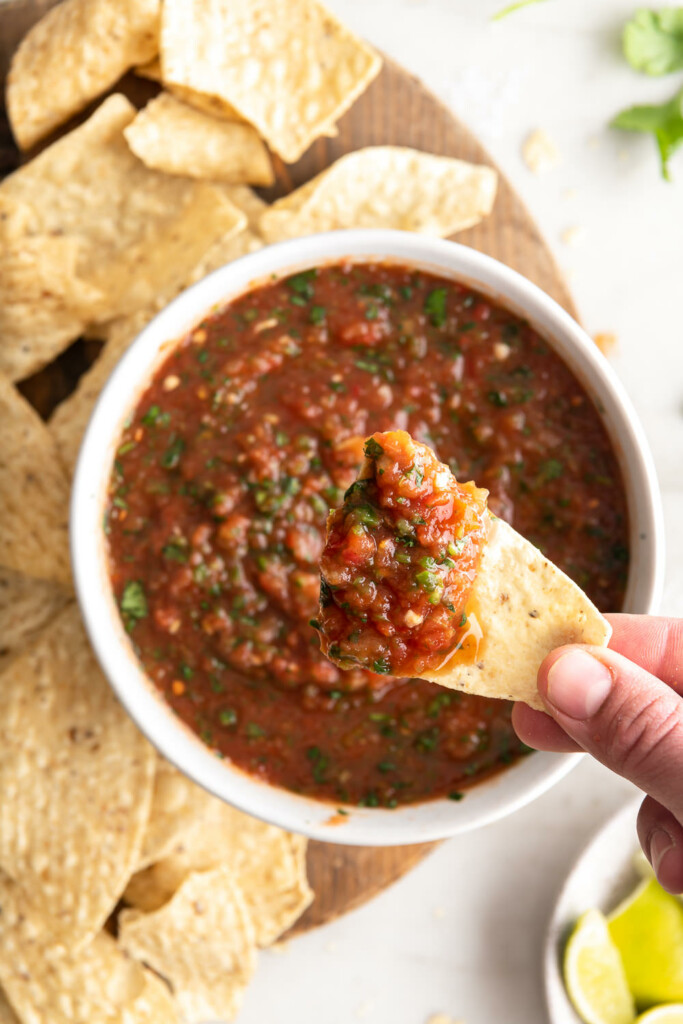 how to can homemade salsa:
This is tricky, and you shouldn't use a how water bath to can all types of salsa.
The acid levels of salsa can vary a LOT, not just with the use of low-acid ingredients like onions and peppers but also with the tomatoes themselves.
The pH of your specific salsa needs to be below 4.6 in order to safely can it in a hot water bath. If it's higher, you need to pressure can it.
The only way to really know, other than following a recipe recommended by the USDA, is to use pH strips. Luckily-- Amazon has everything we could ever need.
If the pH is above 4.6, you can stir in more lime juice to increase the acidity.
more homemade salsa recipes to try: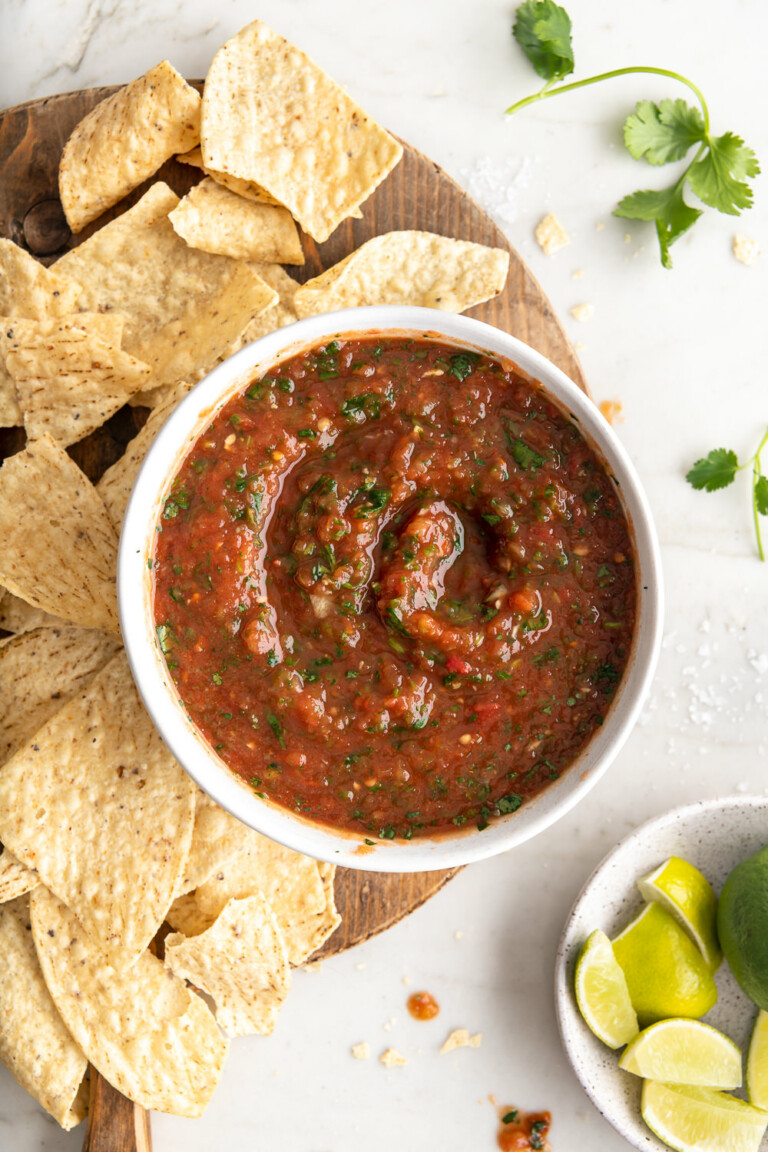 Print
homemade restaurant-style salsa
This homemade salsa is like the best restaurant salsa you've ever had. Fresh, bright, and so easy! Best of all: you can make it as spicy as you want.
Author:
Prep Time:

10 minutes

Total Time:

10 minutes

Yield:

8

Category:

Salsa

Method:

Blended

Cuisine:

Mexican

Diet:

Gluten Free
Ingredients
¼

onion, chopped

1

garlic clove, chopped

1

-

2

jalapeños, chopped

2 tsp

lime juice, plus more to taste
kosher salt

1

28-ounce can diced tomatoes (can use

2

lbs ripe plum tomatoes, see note*), drained

½

bunch cilantro, chopped
cayenne (optional), to taste
Instructions
Place onions in a strainer and rinse under cold water, tossing around, for about a minute. Shake off excess water and transfer to a food processor or blender.
Add garlic, jalapeño, lime juice, and ¾ teaspoon salt. Pulse until mostly smooth and free of big chunks.
Add tomatoes and cilantro and blend until mostly smooth, but still textured. Taste and stir in more lime or salt, if needed. Stir in cayenne, a pinch at a time, to reach desired spice. Serve with tortilla chips.
Notes
Nutritional information is only an estimate. The accuracy of the nutritional information for any recipe on this site is not guaranteed.
*Blanch, peel and roughly chop 2 lbs fresh plum tomatoes in place of canned. See blog post above for more details.
Nutrition
Serving Size:

1

Calories:

20

Sugar:

2.9g

Sodium:

188mg

Fat:

0.3g

Saturated Fat:

0g

Unsaturated Fat:

0g

Trans Fat:

0g

Carbohydrates:

4.3g

Fiber:

2.1g

Protein:

0.9g

Cholesterol:

0mg