This habanero salsa is hot! It's so fresh, flavorful, quick, and HOT.
But if you're reading this, you probably love spicy food: I think it's fair to assume only certain people search for homemade habanero salsa recipes!
I find the heat of a habanero really special. It's sharp and intense, and it almost has a fruity and floral flavor to it.
They're so different from jalapeños which, let's be honest, are almost never hot anymore. And serranos are spicy, but they seem to have a more persistent heat and definitely a green flavor to them.
I keep this salsa recipe super simple and do a few things on purpose to make the absolute best, and most reliable, salsa. Keep reading to learn more!
This post may contain affiliate links. As an Amazon Associate, I earn from qualifying purchases.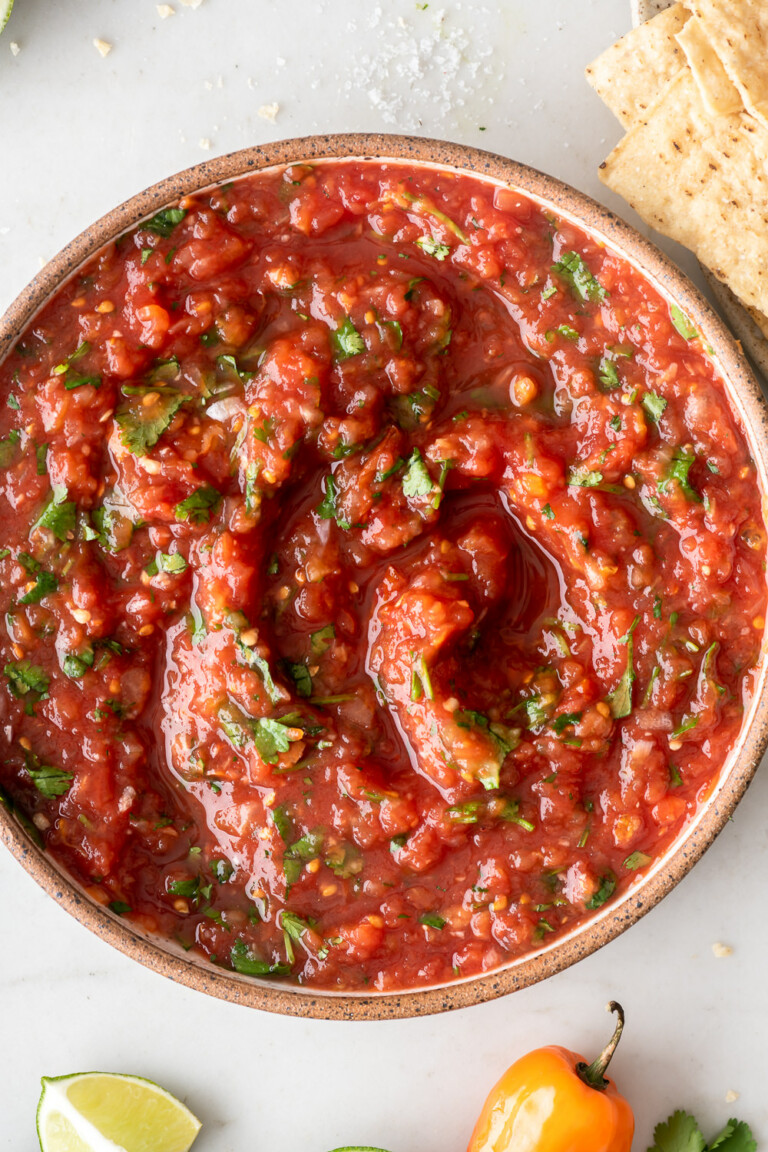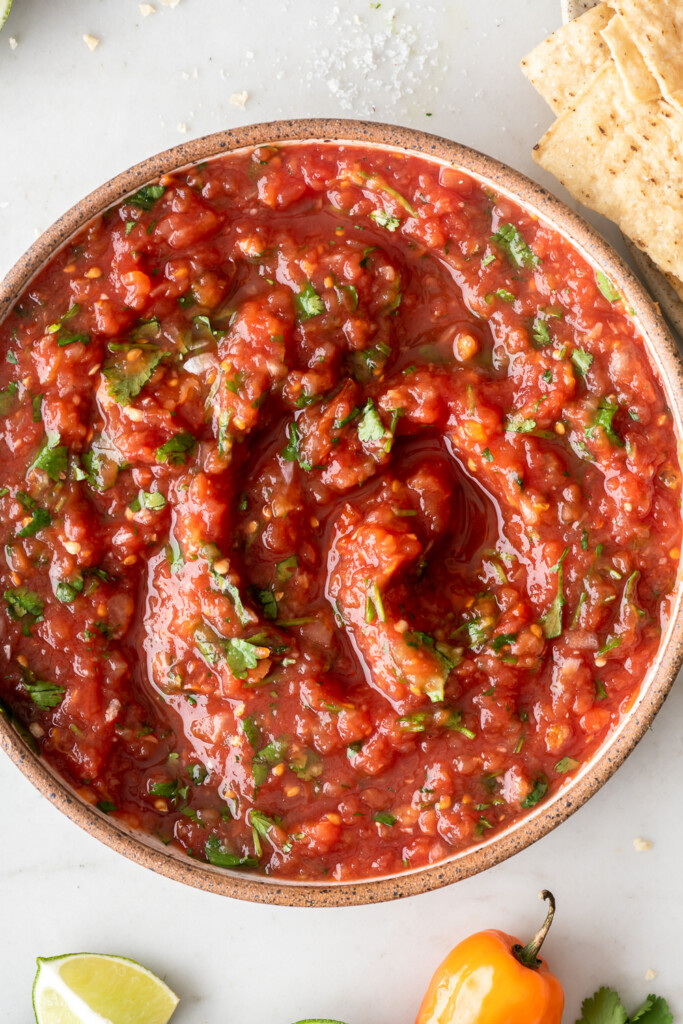 keys to the best habanero salsa:
Canned tomatoes: I know this sounds weird. Fresh salsa… with canned tomatoes? But here's the thing. High-quality canned tomatoes are the ideal canvas for salsa. They're picked at perfect ripeness and they come peeled and ready to go. We know they'll be flavorful any time of year. No mealy texture, no watery foam, no pale pink salsa that tastes like a green stem. No blanching and peeling. I prefer diced or whole peeled-- whatever you use, make sure to drain them first.
Rinse the onion: A cold water rinse will take away the pungent bite of the onion. You'll have a clean flavor and crisp texture without the sharpness. Run your roughly chopped onion under cold water for about a minute for the best results.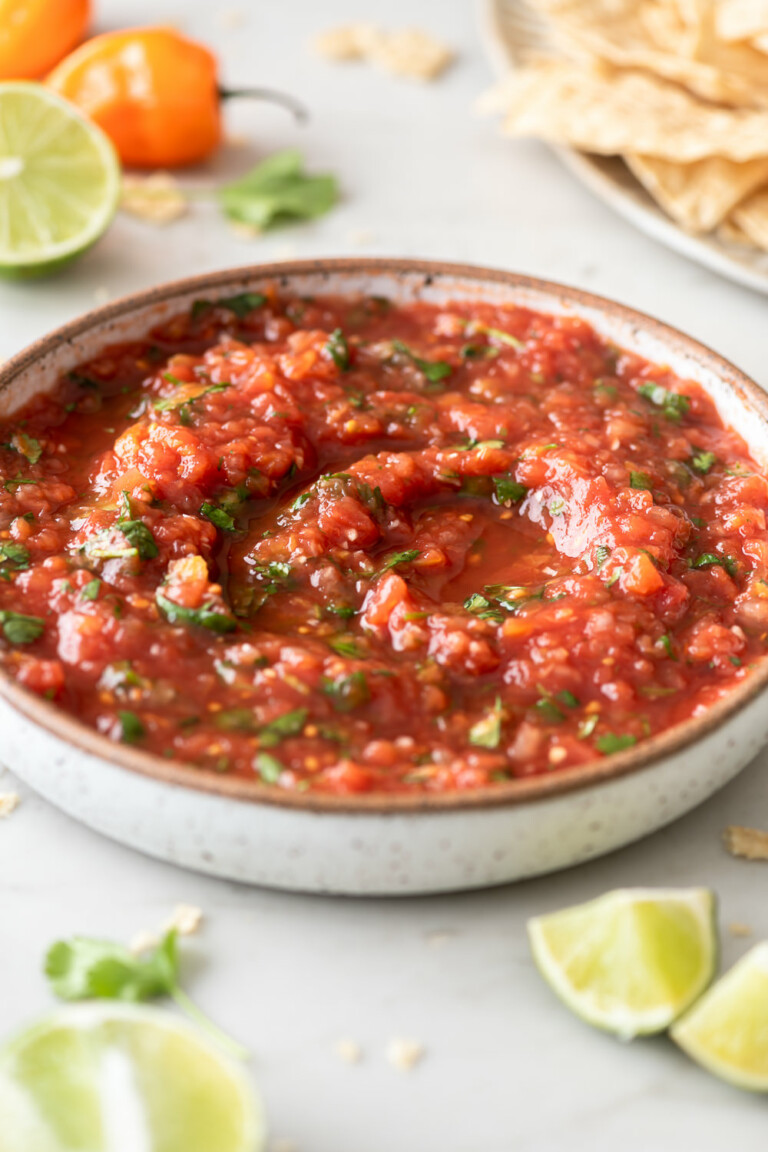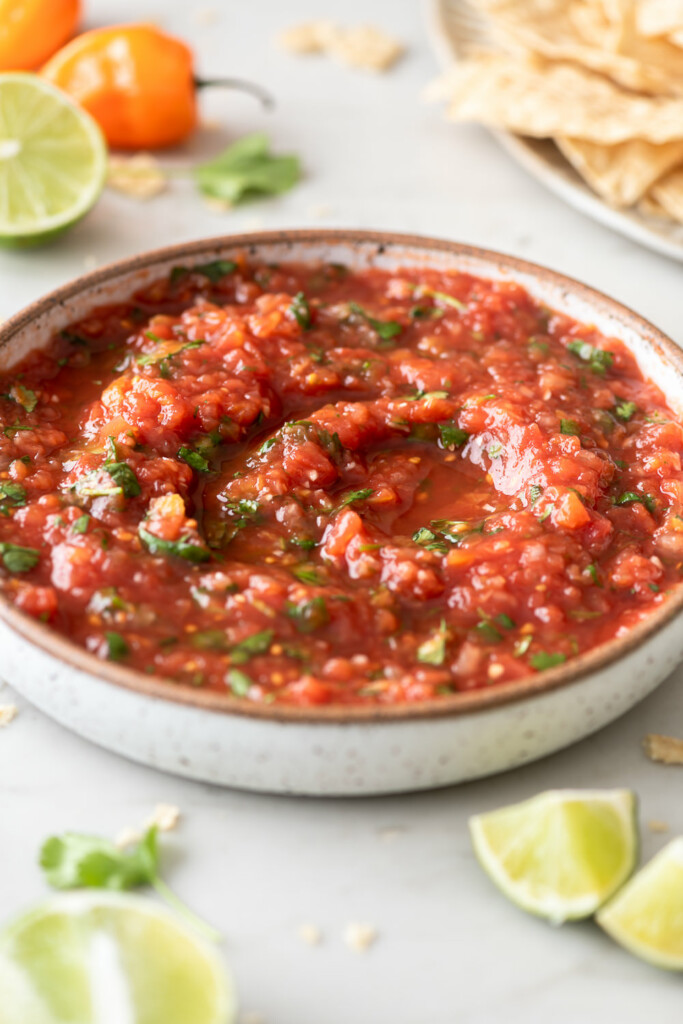 Blend in stages: Blend the onions, garlic, habanero, and lime until mostly smooth. This prevents over-processing the tomatoes, which can get foamy and too liquidy if you're not careful. Add the tomatoes and cilantro at the end and pulse to get your desired texture.
Fresh lime juice: This is key for balancing salsa! All tomatoes are different: their sugar/ acid balance depends on the tomato variety, where they're grown, and when they're picked. Start with 2 teaspoons of lime juice and stir in more until the flavors pop. Canned tomatoes are extra sweet and will often need more lime juice to balance them out.
habanero salsa ingredients:
tomatoes
habañeros
onion
garlic
lime
cilantro
salt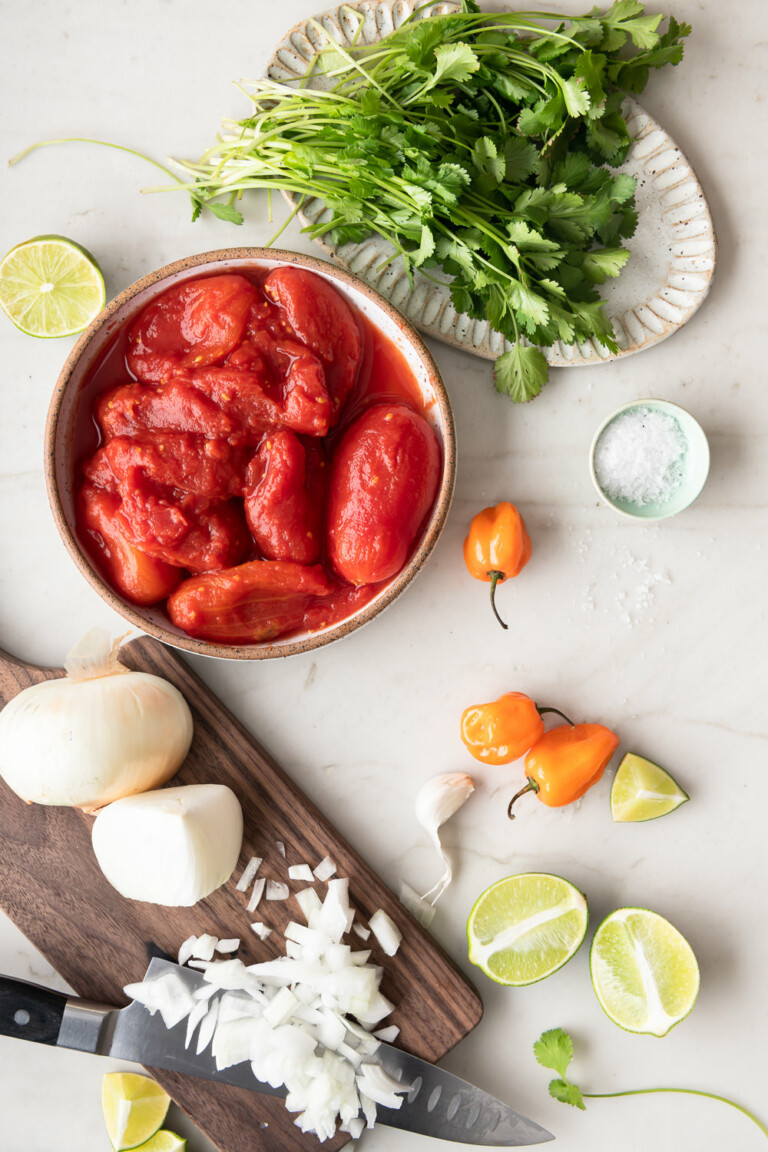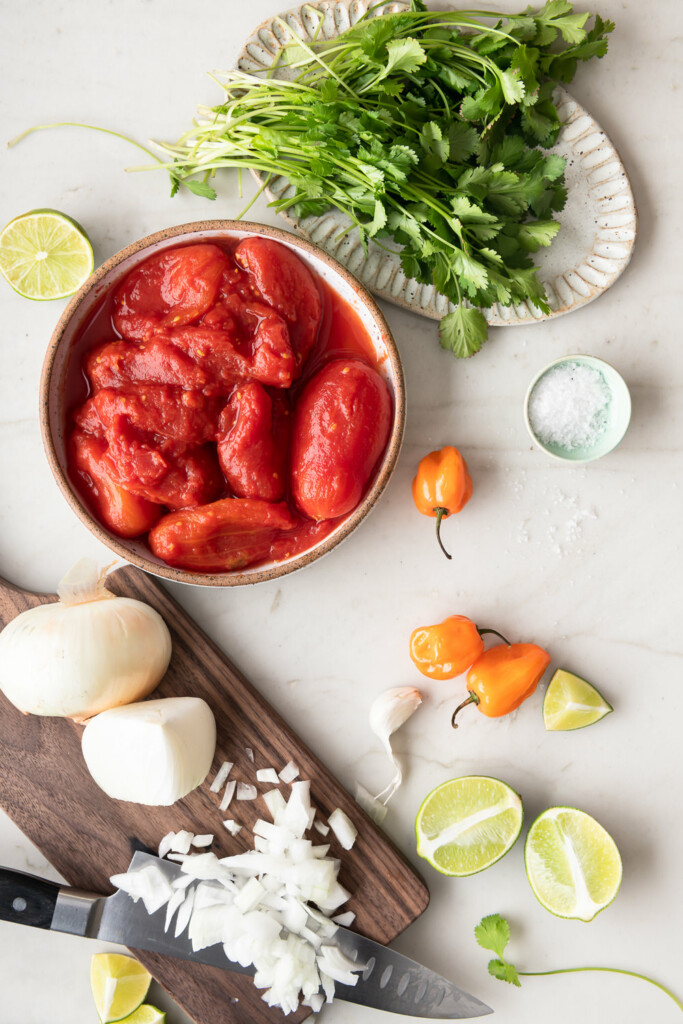 how to make habanero salsa:
Roughly chop everything.
Rinse chopped onion under cold water for 1 minute; drain.
Blend onion, garlic, habanero, lime juice and salt in a food processor or blender.
Add tomatoes and cilantro; pulse until mostly smooth but still textured.
Taste and stir in more salt or lime, if needed.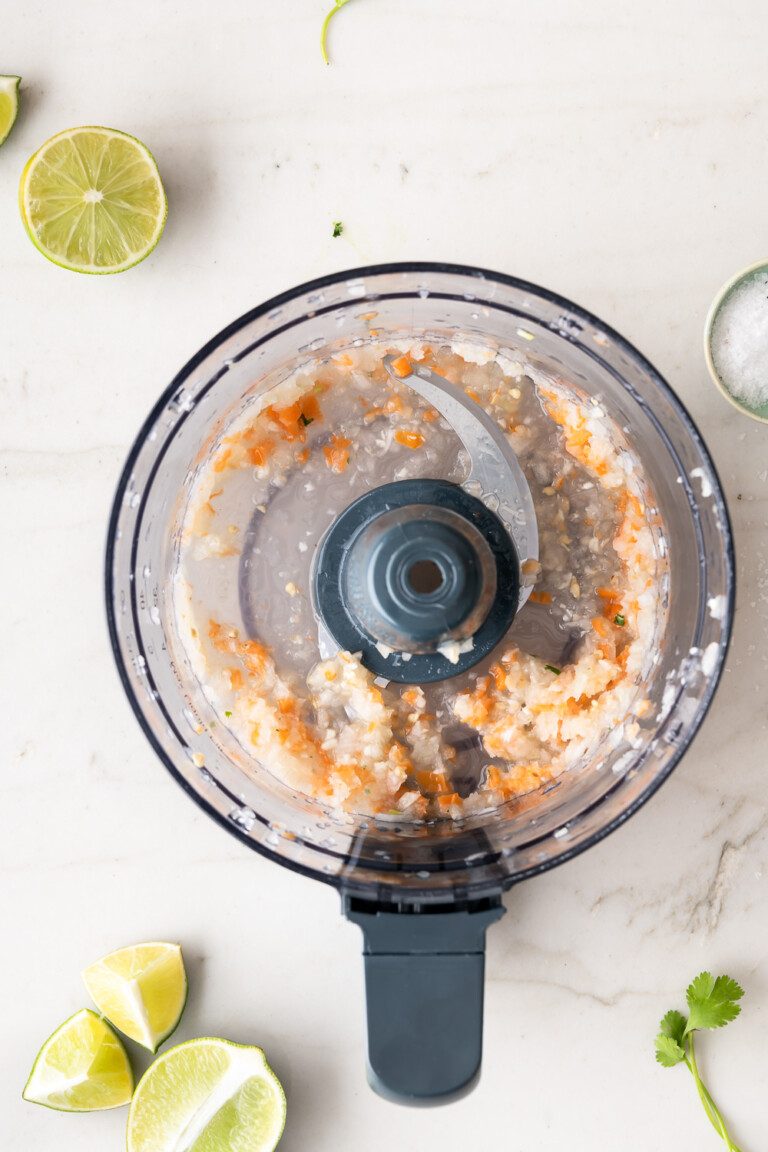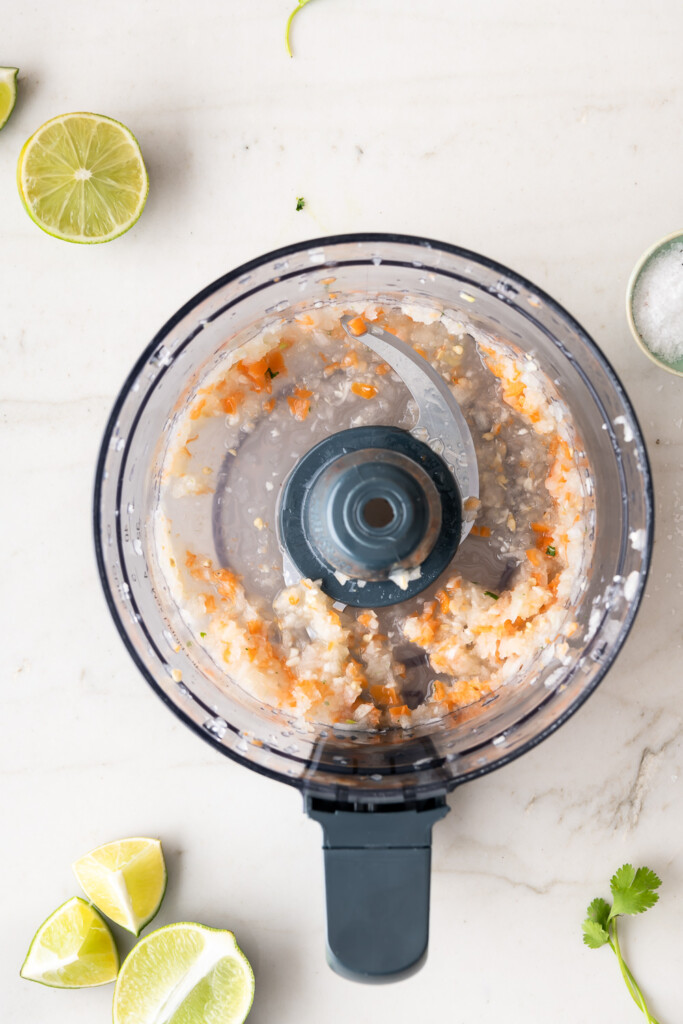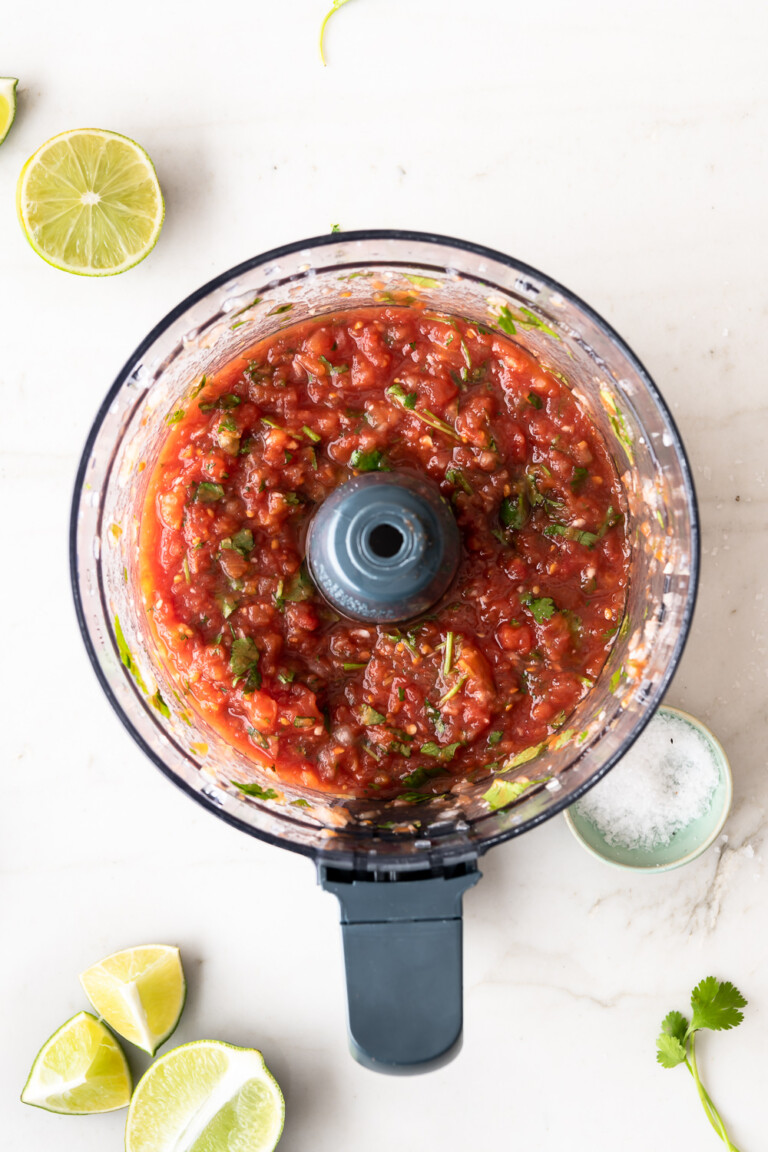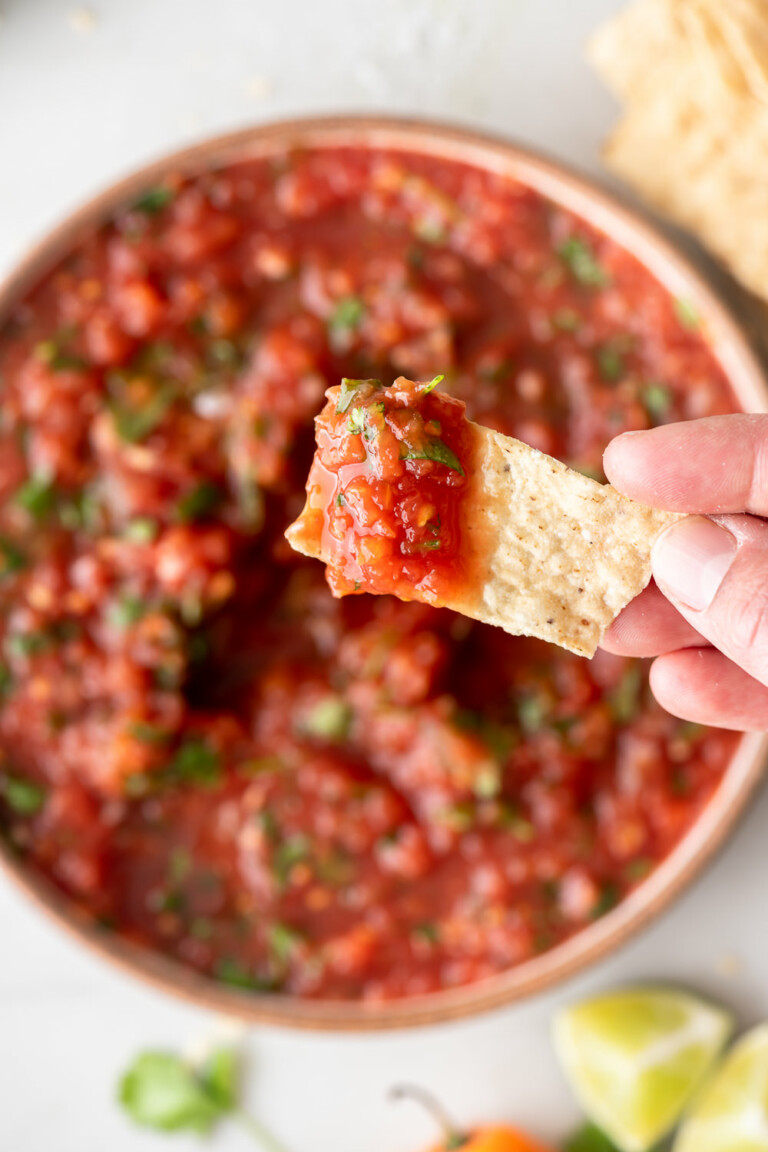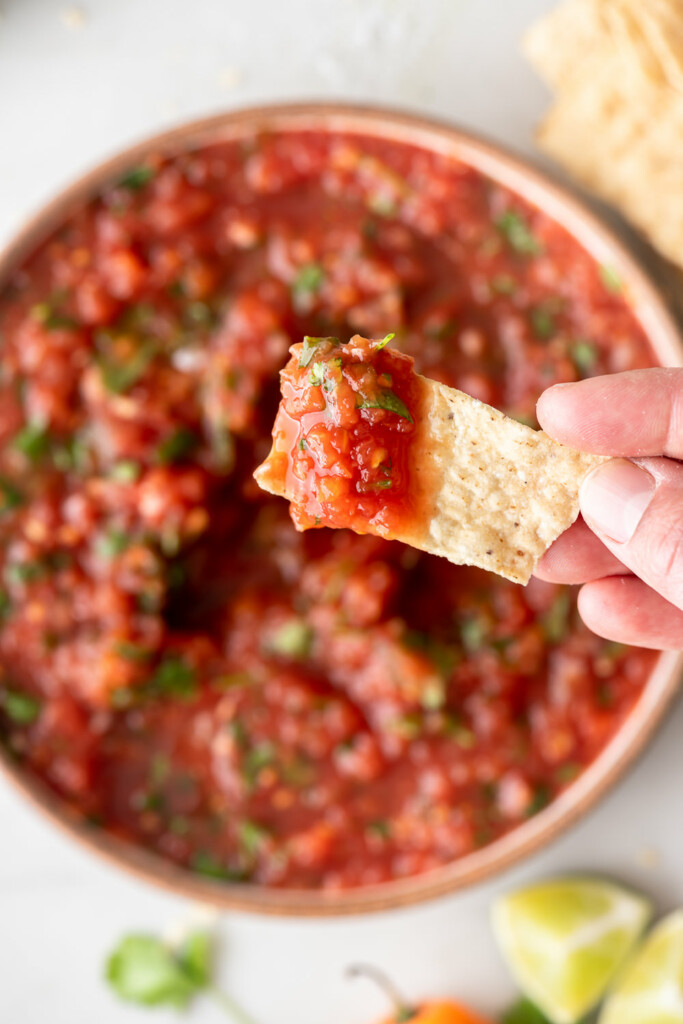 how to make habanero salsa for canning:
The key to canning any salsa in a water bath is to make sure the pH is low enough (low pH means high acidity). Get pH strips and test your salsa, stirring in lime juice, until it reaches 4.6 or lower. Otherwise, you'll need to pressure can the salsa.
You can buy specific pH test strips here! https://amzn.to/3LthRMy
make this a roasted habanero salsa:
Substitute 1 lb ripe plum tomatoes for the canned tomatoes.
Add tomatoes, unpeeled garlic cloves, habaneros and quarter of an onion (don't chop and rinse) to an un-greased skillet.
Roast over medium heat, turning occasionally, until blackened in spots and tomatoes are very soft, about 20 minutes.
Peel skin off tomatoes, peel garlic, discard habanero stems. Blend everything up as written!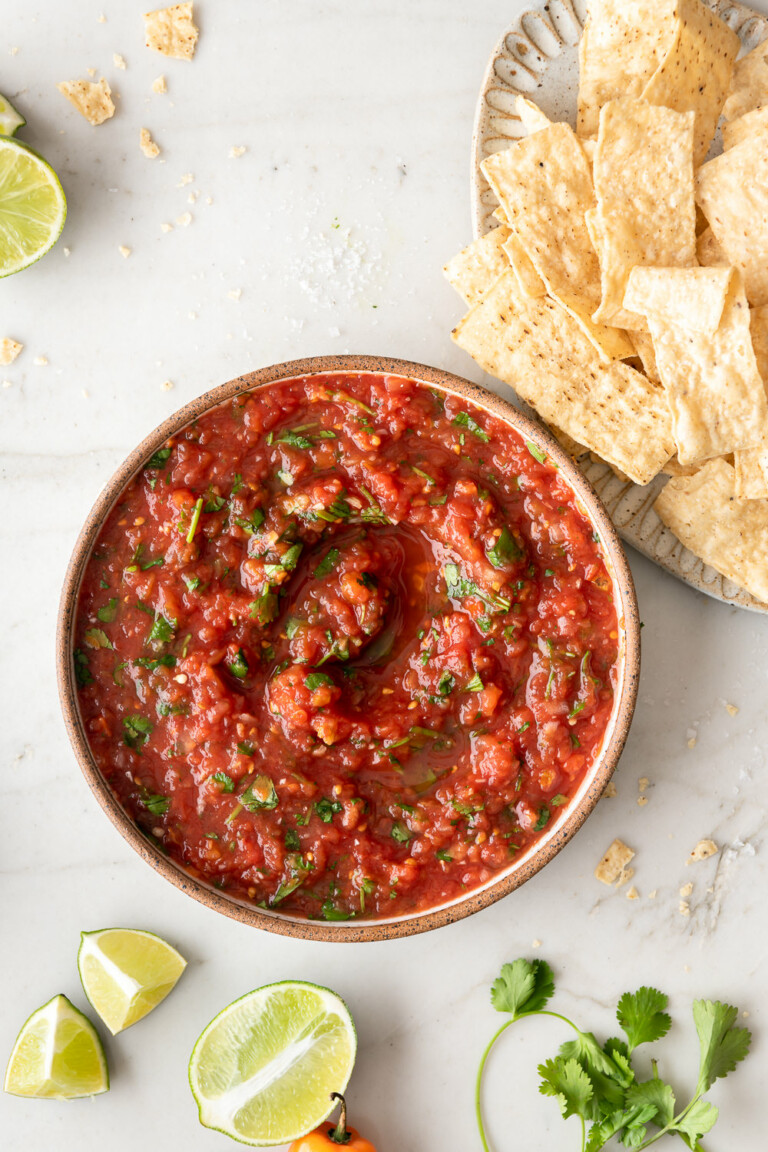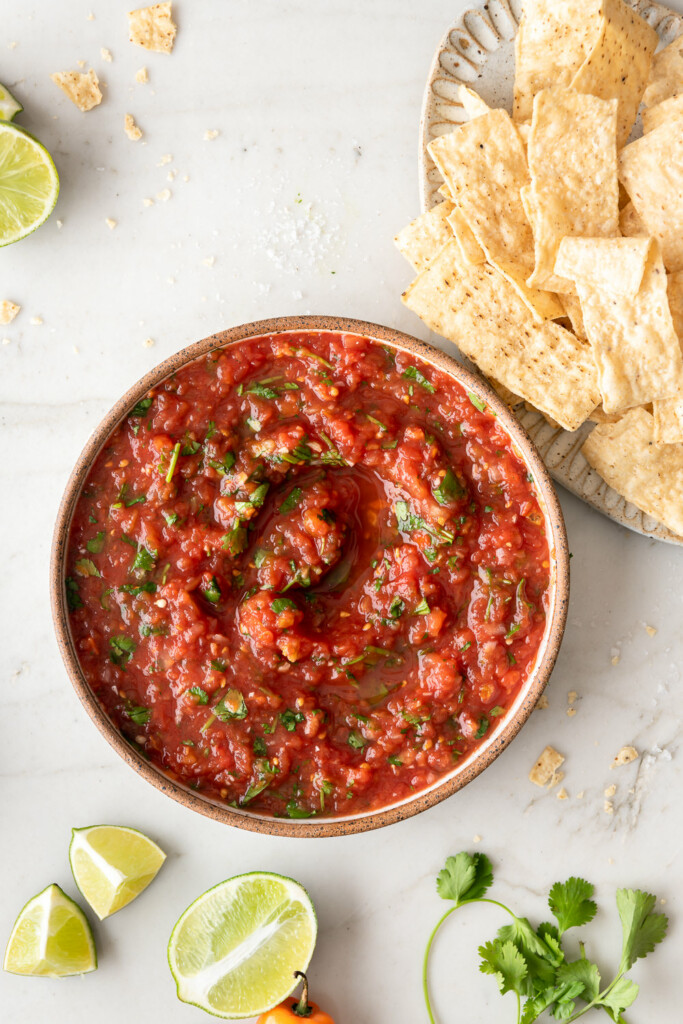 more tips for the best salsa:
Make sure to drain off excess liquid from your canned tomatoes! If you use whole peeled tomatoes, strain the juice and then roughly chop before transferring to your food processor.
On that note, roughly chop everything before putting it in your food processor! This helps everything stay an even, uniform size. No one really wants a big habanero chunk on their chip!
If you touch tend to touch your eyes or face or have small kids, consider wearing gloves when you work with the habaneros. Capsaicin is oil-soluble (versus water-soluble) and it doesn't wash off well with water. So even after you rinse your hands, or even scrub them with soapy water, the spicy oils can stick around and burn your eyes, nose and mouth if you touch them. This is important because habañeros have about 30 times more capsaicin than jalapeños!
Start with one habañero if you're nervous, and pulse in another one if you want more heat.
more salsa recipes to try:
homemade restaurant-style salsa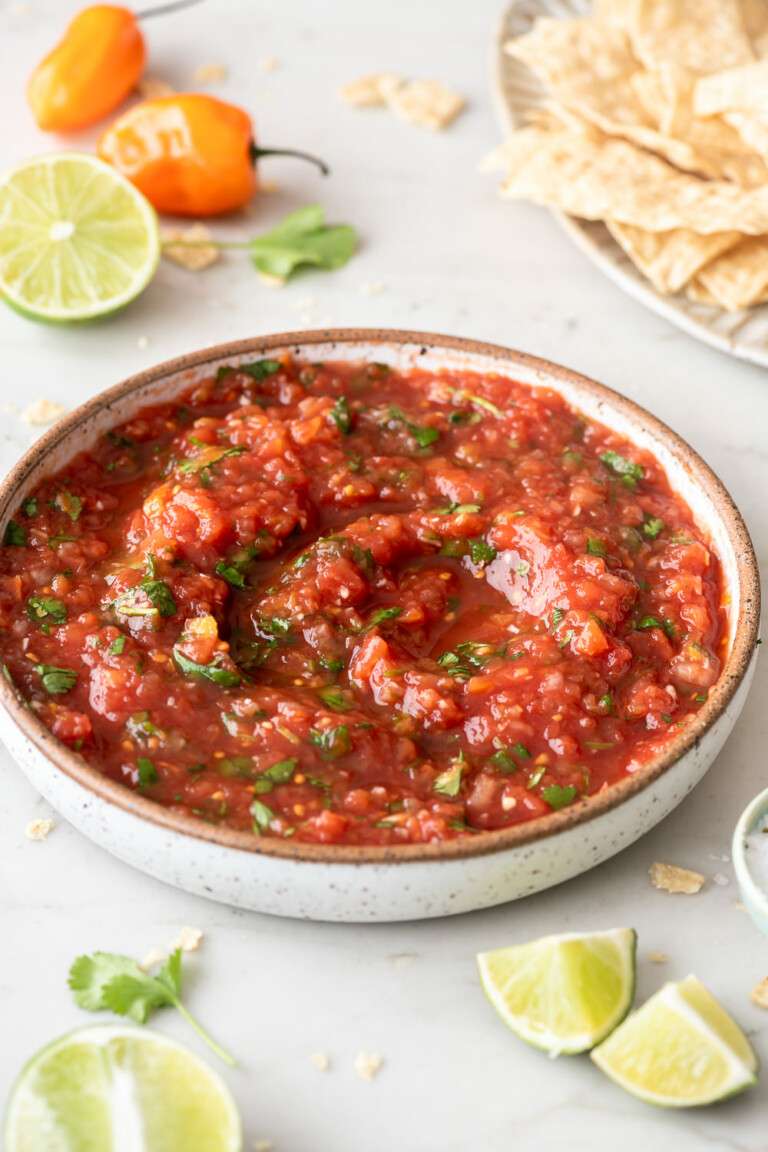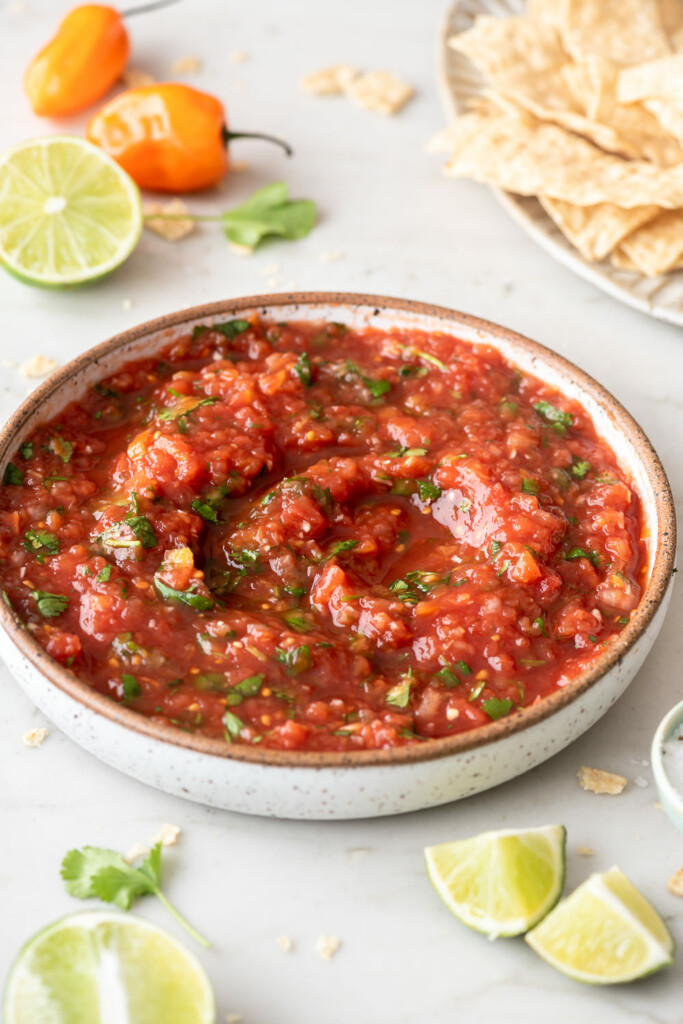 Print
habanero salsa
This habanero salsa is hot! We blend up ripe canned tomatoes, onion, garlic and fresh cilantro for a spicy and delicious homemade salsa.
Author:
Prep Time:

10 minutes

Total Time:

10 minutes

Yield:

8

Category:

Salsa

Method:

Blended

Cuisine:

Mexican

Diet:

Gluten Free
Ingredients
¼

onion, chopped

1

garlic clove, chopped

2

habañeros, chopped

2 tsp

lime juice, plus more to taste
kosher salt

1

28-ounce can whole peeled tomatoes, drained and roughly chopped

½

bunch cilantro, chopped
Instructions
Place onions in a strainer and rinse under cold water, tossing around, for about a minute. Shake off excess water and transfer to a food processor or blender.
Add garlic, habañeros, lime juice, and ¾ teaspoon salt. Pulse until mostly smooth and free of big chunks.
Add tomatoes and cilantro and blend until mostly smooth, but still textured. Taste and stir in more lime or salt, if needed. Serve with tortilla chips.
Notes
Nutritional information is only an estimate. The accuracy of the nutritional information for any recipe on this site is not guaranteed.
Nutrition
Serving Size:

1

Calories:

25

Sugar:

3.4g

Sodium:

46mg

Fat:

0.3g

Saturated Fat:

0g

Unsaturated Fat:

0.1g

Trans Fat:

0g

Carbohydrates:

5.5g

Fiber:

1.5g

Protein:

1.2g

Cholesterol:

0mg