This tahini mousse takes the classic flavors a peanut butter cup and ramps them up to the next level. It's a dessert that is simultaneously rich and light, and it's packed with nutty tahini flavor. I love the fluffy, whipped texture of the mousse and how it slowly melts on your tongue into a rich and decadent custard.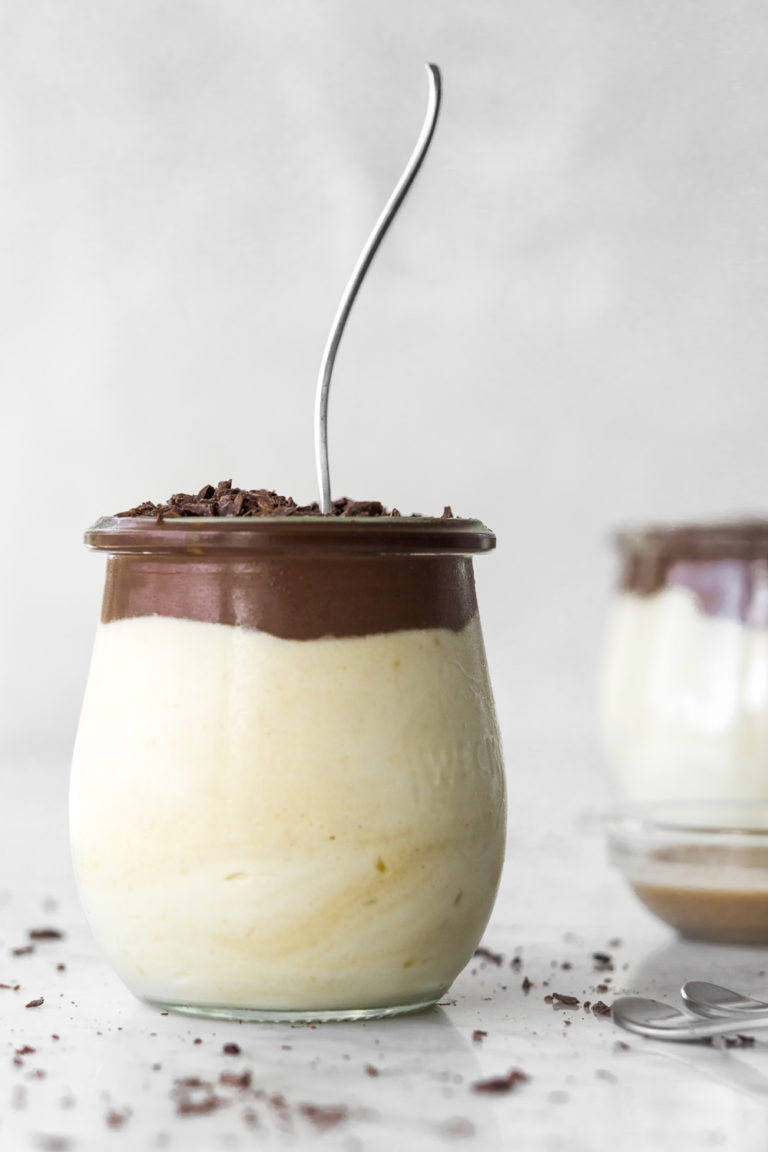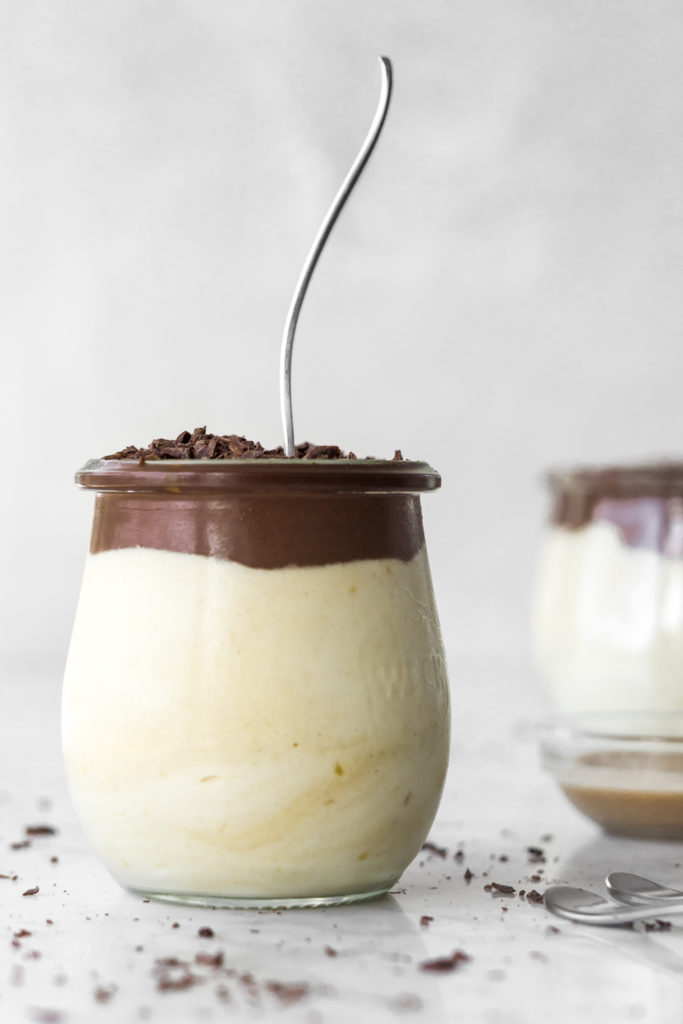 If that weren't enough, it's topped with a thick layer of bittersweet chocolate ganache. The fudgy chocolate balances the creamy tahini and makes this mousse one of my favorite fall desserts.
Best of all, they're made in individual jars for a dessert that's ready whenever you are. There's honestly nothing better than having a few of these tahini mousse cups hanging around in your fridge!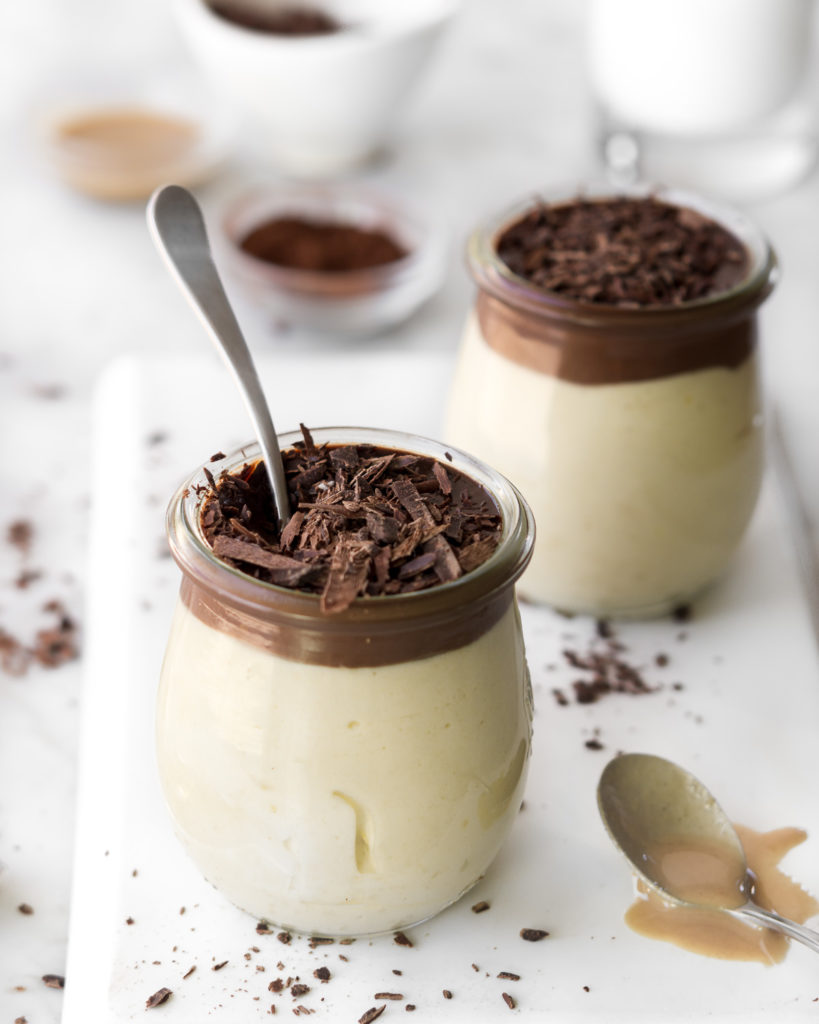 what is mousse made of?
Traditionally, mousse is made up of a base that's lightened with whipped cream or whipped egg whites (or both).
Depending on what the base is, the mousse may or may not need to be set with gelatin to prevent it from slowly deflating.
In the case of chocolate mousse, the chocolate firms up enough when cool that no gelatin is needed. If it's simply a fruit puree or custard base, it will need gelatin to stay fluffy. The base, in this case, is a tahini custard (sans milk) with egg yolks and sugar.
Since tahini is still mostly liquid when cold, I use a pinch of gelatin to hold up the airy structure of the whipped cream. This is why the mousse stays so light, so don't skip it!
The amount of gelatin also depends on the how the mousse will be used. If it's going to be un-molded and served as a stand alone dessert, it will need more gelatin to provide structure. In our case, however, the mousse will be eaten out of the jars so only a small amount of gelatin is needed.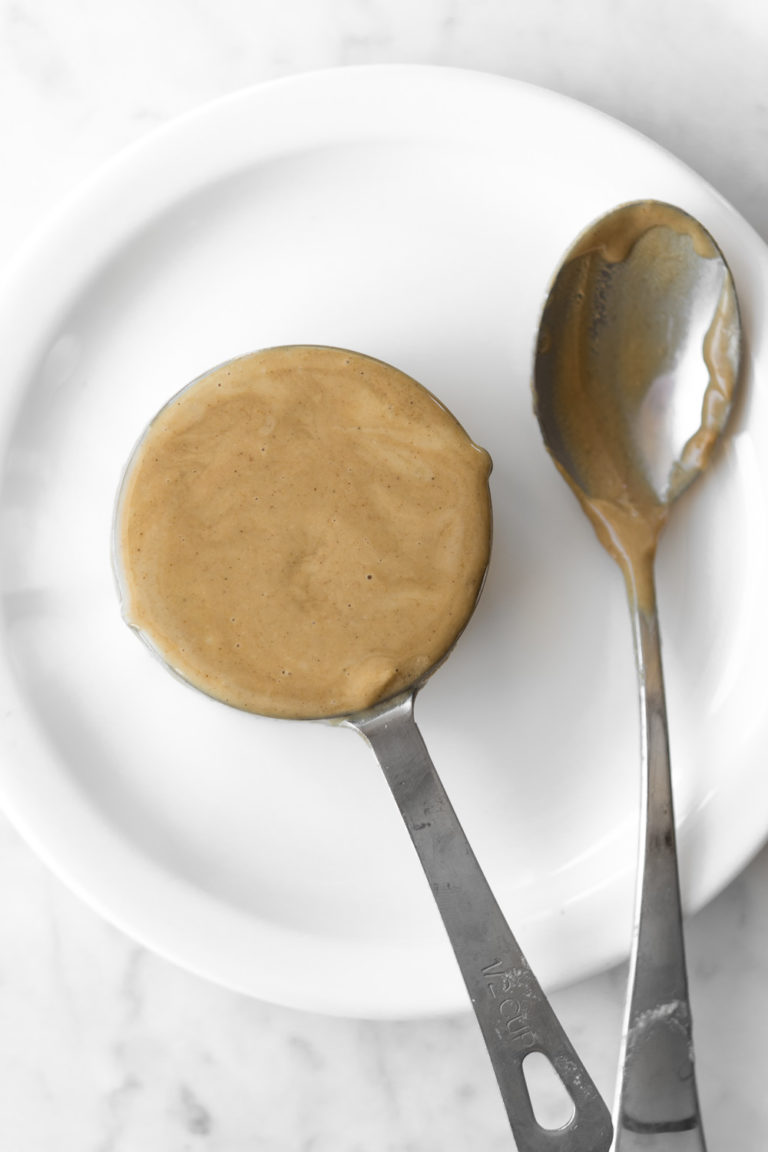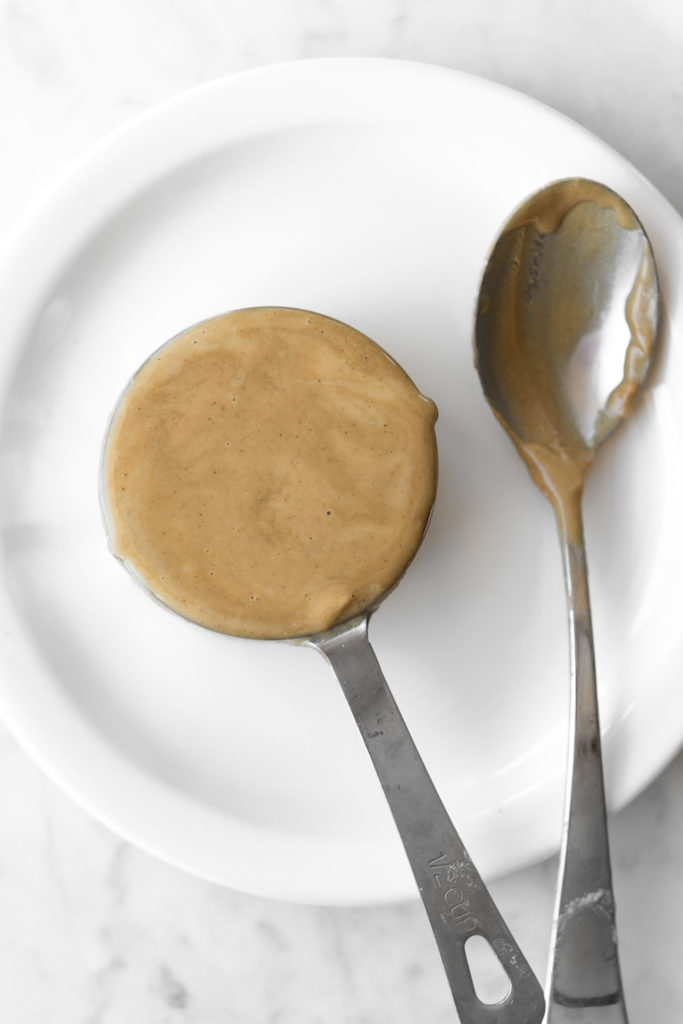 The result is a deliciously rich, flavorful, fluffy tahini mousse.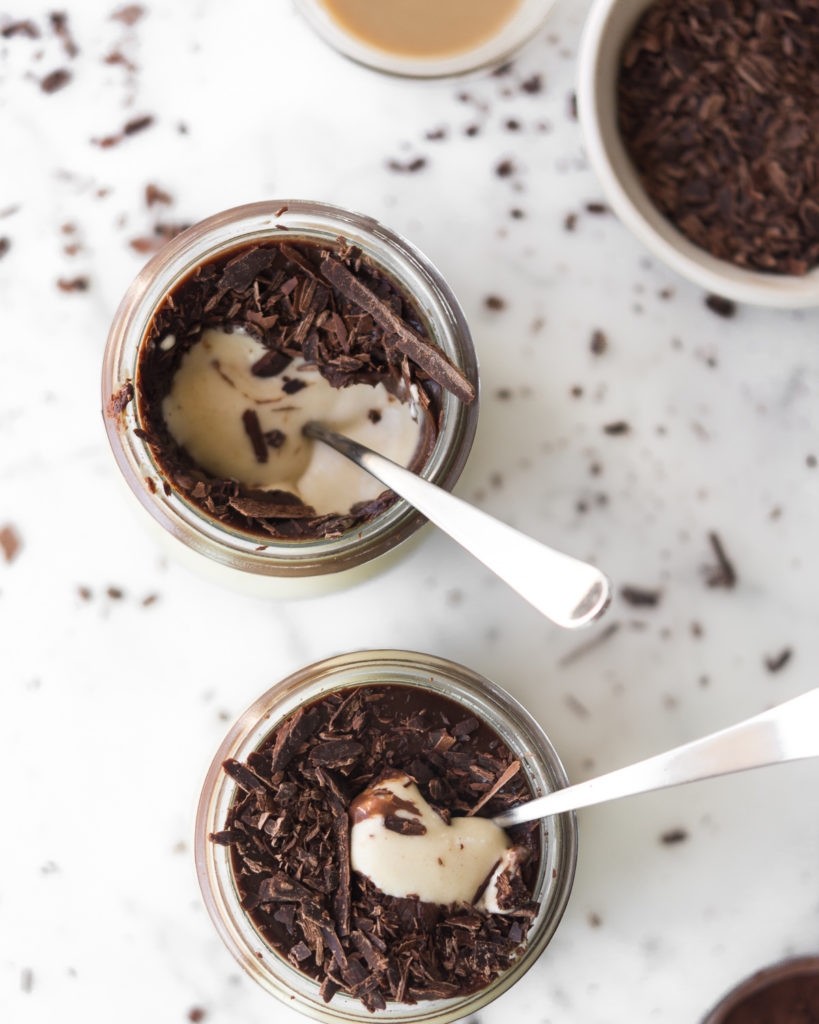 more pudding and mousse recipes to try:
dark chocolate coconut pudding
chocolate panna cotta with sugared pine nuts
double chocolate mousse parfait
chocolate budino with espresso cream and flake salt
Love mousse? Try this dulce de leche mousse by Jenn over at Cook What You Love!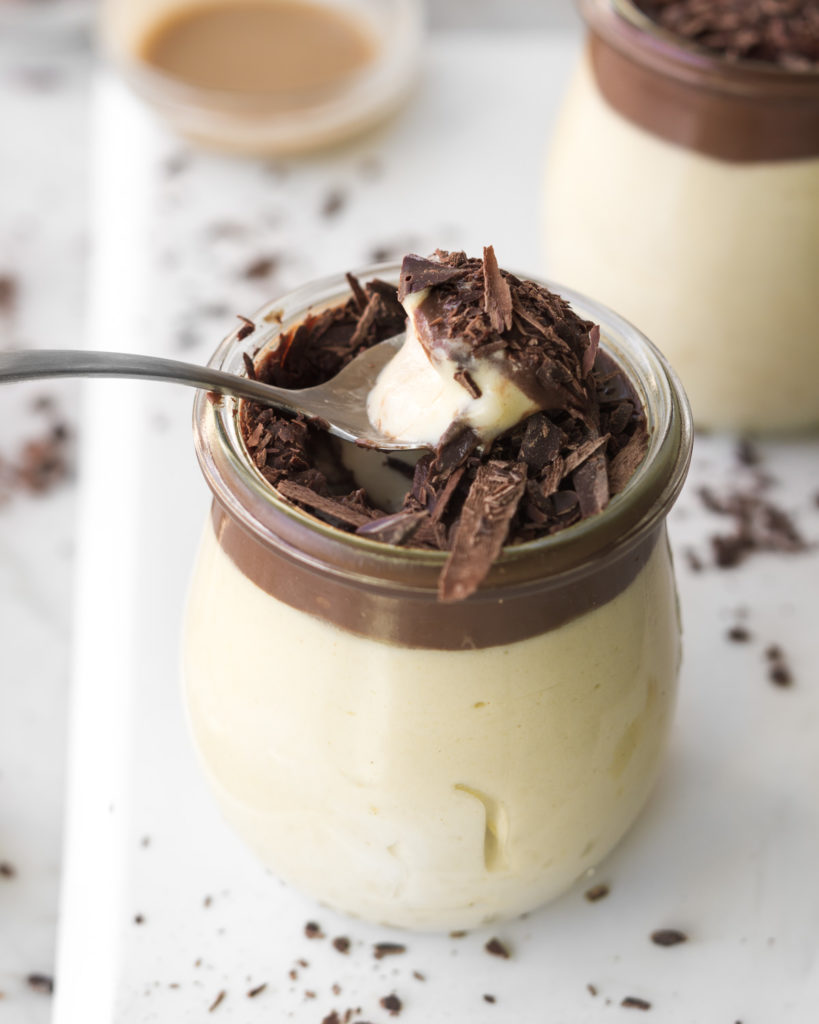 ---
Print
tahini mousse with chocolate ganache
This is a decadent dessert recipe for a fluffy, airy, rich tahini mousse. It's filled in individual jars, layered with a fudgy layer of bittersweet chocolate ganache and topped with chocolate shavings.
Author:
Prep Time:

10 minutes

Cook Time:

10 minutes

Total Time:

4 hours 20 minutes

Yield:

7

Category:

Dessert

Cuisine:

American
Ingredients
2 tbsp cold water

½ tsp gelatin

2 cups heavy cream

6 large egg yolks

½ cup sugar

½ tsp kosher salt

½ cup tahini, well mixed

1 tsp vanilla

¾ cup bittersweet chocolate, finely chopped

¾ cup heavy cream

chocolate shavings, for garnish
Instructions
Place water in a small glass bowl then sprinkle gelatin evenly over the surface. Set aside to bloom.

In the bowl of a stand mixer fitted with a whisk attachment, beat heavy cream until it holds soft peaks. Place the bowl along with the whisk attachment (tossed in the bowl) in the refrigerator until the base is ready, at which point you'll whip it very briefly to medium peaks.

To make the ganache, place chocolate in a heatproof bowl. Heat cream in a small saucepan over medium heat until small bubbles appear along the edges of the pan (just before it fully simmers). Pour the hot cream over the chocolate. Let stand for 2 minutes, then whisk until melted and completely smooth. Set aside to cool while you make the tahini base.

Fill a small saucepan with a few inches of water, bring to a boil and reduce to a gentle simmer. Set a heatproof bowl over the saucepan, making sure it doesn't touch the water, then add egg yolks, sugar and salt. Whisk the mixture constantly until the sugar has dissolved, the yolks have lightened, and the mixture reaches

160°F, about 5 minutes. Remove from heat and whisk in the bloomed gelatin, tahini and vanilla. Strain through a fine mesh sieve to remove any pieces of cooked egg, and set aside briefly.

Take the cream out of the fridge and whip it up to medium stiff peaks, about 20 seconds. 

Scoop about a cup of whipped cream into the tahini base and stir gently to lighten the mixture. Use a wide spatula to gently fold a third of the whipped cream into the tahini base. Repeat two more times until all of the whipped cream has been incorporated and no streaks remain. 

Use an ice cream scoop or spoon (or piping bag if you're feeling fancy) to divide mousse among seven 8-ounce jars or ramekins. Briefly whisk the chocolate ganache to loosen, then pour on top of each mousse. Cover with plastic wrap, and refrigerate at least 4 hours until cold and set.

When ready to eat, garnish with chocolate shavings and serve.
Notes
Mousse can be kept for up to 4 days, covered, in the refrigerator.
Nutrition
Serving Size:

1

Calories:

637

Sugar:

17g

Sodium:

263mg

Fat:

55g

Saturated Fat:

29g

Unsaturated Fat:

22.6g

Trans Fat:

1.2g

Carbohydrates:

25g

Fiber:

3.2g

Protein:

14g

Cholesterol:

292mg
Keywords: tahini mousse, chocolate tahini mousse