This chocolate panna cotta is one of the richest, smoothest forms of chocolate you can make! It's thick, decadent and luscious-- made with dark chocolate and milk chocolate for the perfect mix of silky texture and cacao flavor.
It's also incredibly simple. Heat the cream and sugar, stir in the chocolate to melt, add gelatin and pour into small ramekins, jars, shot glasses-- you name it. The vessel really doesn't matter (and read on for my opinion about unmolding). The panna cotta is just so good.
For topping, I love to sprinkle the custards with sugared pine nuts. They add a buttery, toasty crunch and a distinct fragrance that is such a fun accent to the chocolate panna cotta. If you don't have pine nuts on hand, substitute blanched almonds or cashews. Or stay extra simple with this panna cotta and serve it with a dollop of fresh whipped cream and shaved chocolate. You really can't go wrong.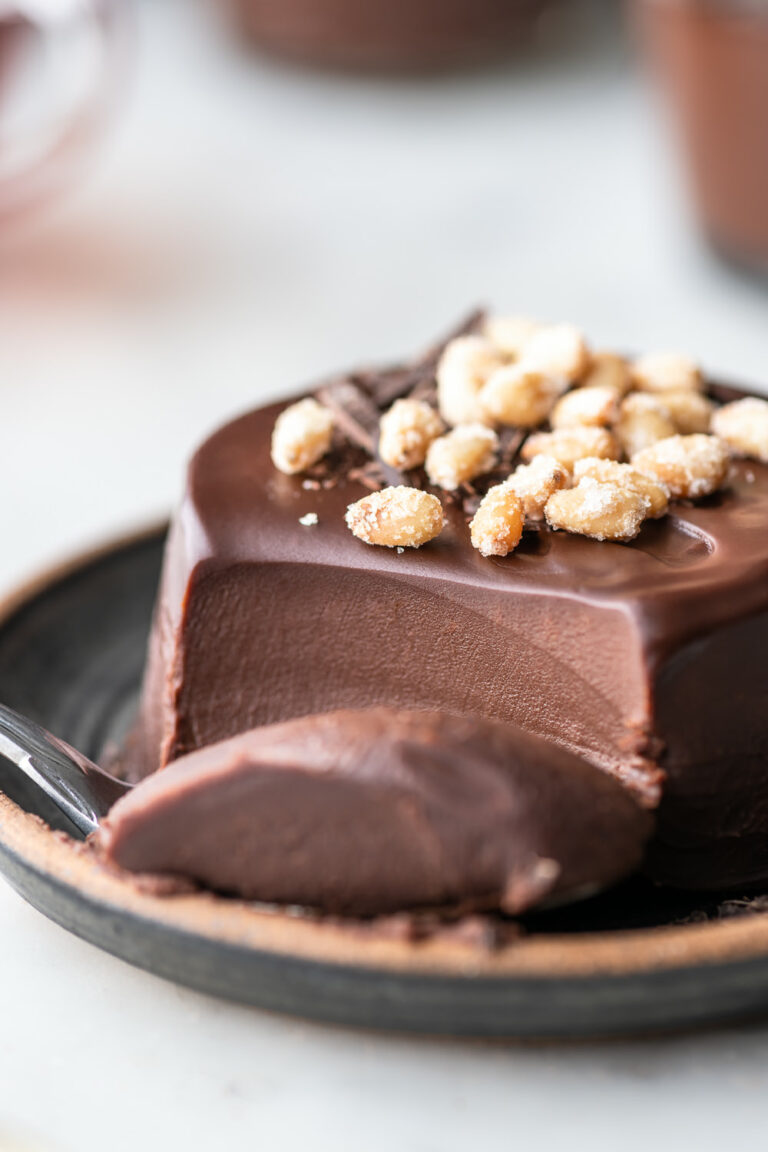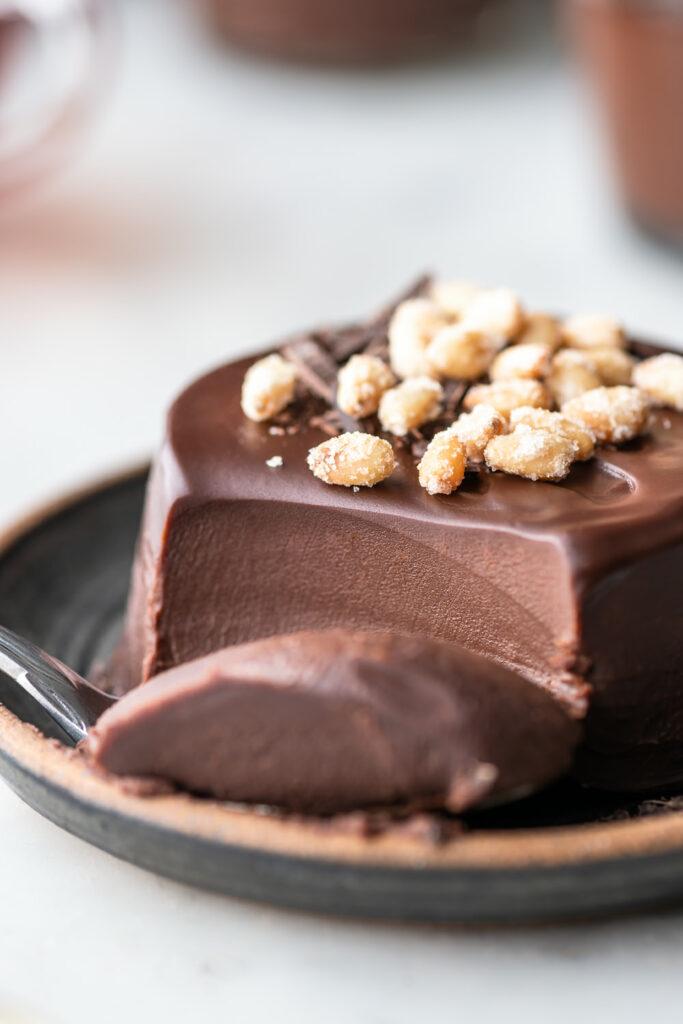 what you need for this chocolate panna cotta recipe:
heavy cream
milk
gelatin
sugar
salt
bittersweet chocolate
milk chocolate
vanilla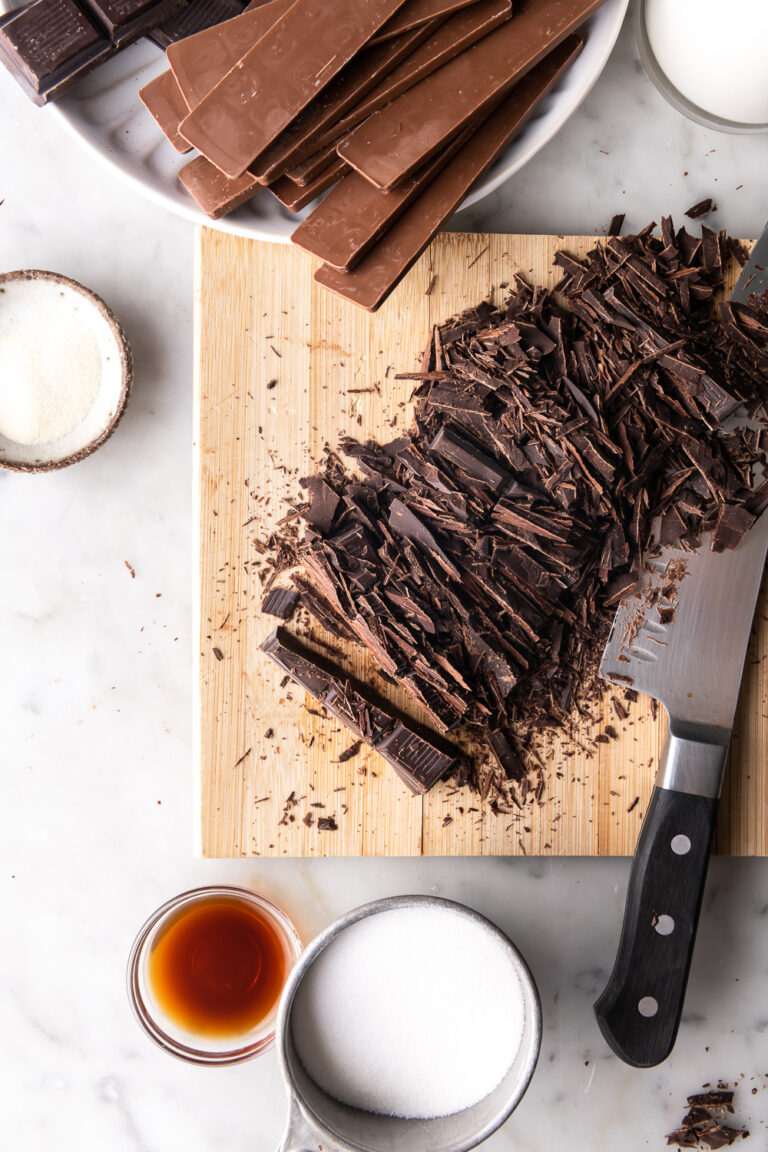 how to make chocolate panna cotta:
Bloom the gelatin in milk
Heat cream, sugar and salt
Add chocolate, stir until melted
Stir in gelatin and vanilla
Divide mixture across eight 4-oz ramekins
Chill until set, at least 3 hours
Serve with sugared pine nuts and/or whipped cream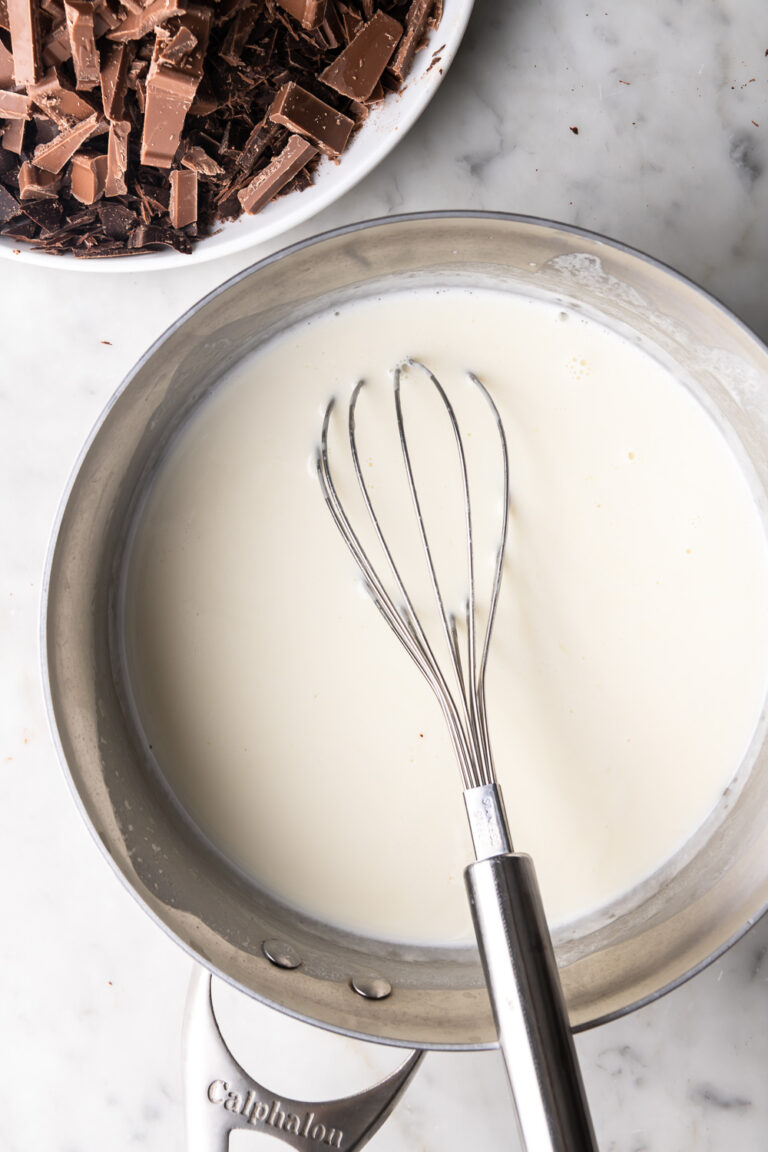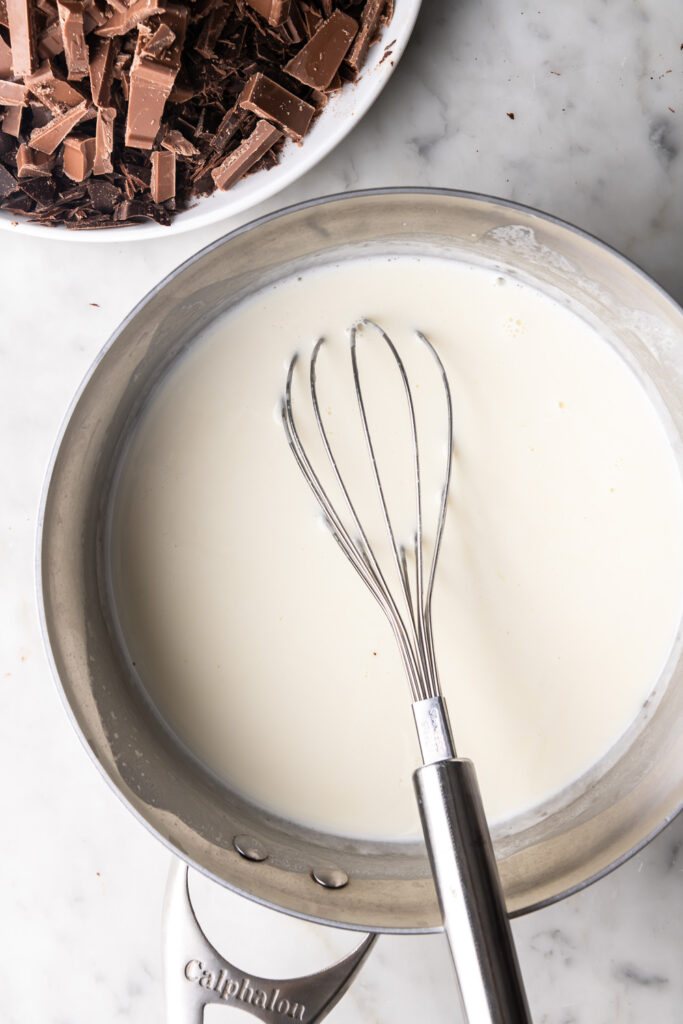 what is panna cotta?
Panna cotta is an Italian cream-based dessert that is set with gelatin. Cream and sugar are heated ("panna" means cream and "cotta" means cooked in Italian) and then bloomed gelatin is stirred in and melted. The cream mixture is poured into molds and chilled until the gelatin sets, about 3 hours. The panna cotta can be unmolded or served straight from the ramekin.
The cream can be flavored any which way (extracts, infusions, spices, chocolates) and it can be enhanced with other dairy products (creme fraiche, sour cream, yogurt) to create an enormous range of panna cotta styles. It's a delicate, creamy, smooth dessert that couldn't be easier to make!
what does chocolate panna cotta taste like?
Straight out of the fridge, this chocolate panna cotta is fudgy and firm, like the filling of a truffle. If you let it sit out for about 20 minutes, the texture softens and becomes much softer. It's a luxurious dessert, no matter what temperature you serve it at.
It will be firmer than most traditional (non-chocolate) panna cottas, thanks to the chocolate which is solid at room temperature and even harder when chilled. But don't worry about the texture-- I promise, it's perfect.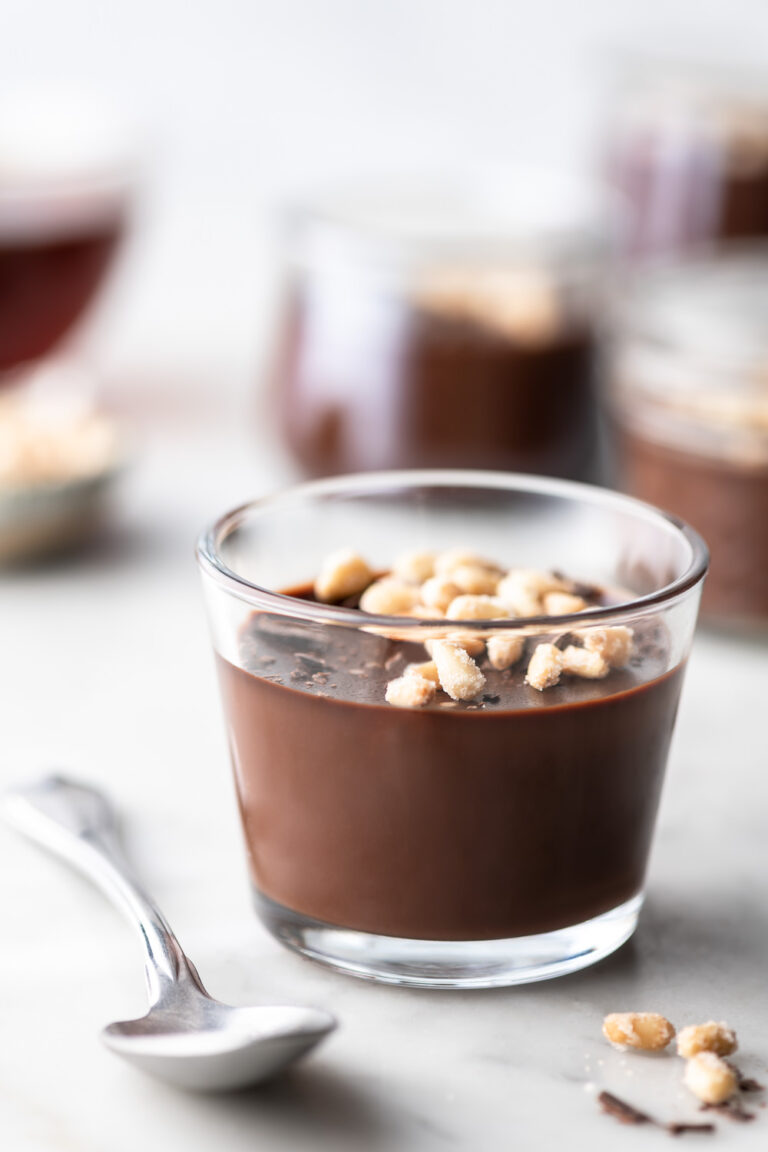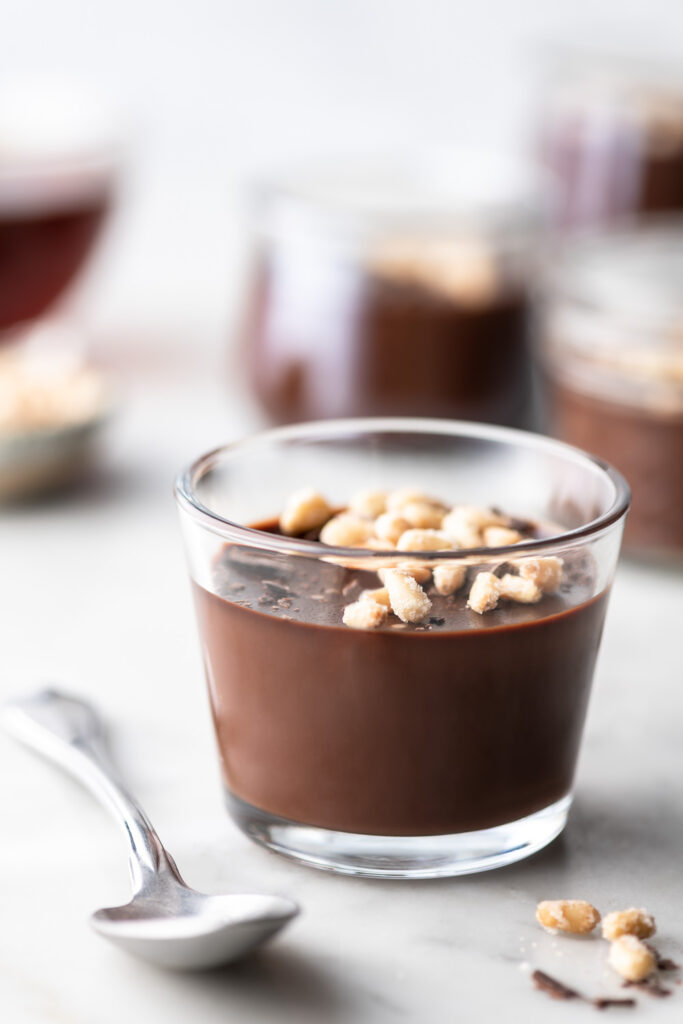 can I unmold chocolate panna cotta?
You can unmold chocolate panna cotta, but not as easily as regular panna cotta recipes. The best technique is the same as any panna cotta:
Lightly grease the mold before-hand
Once the gelatin has set, run a knife around the edge of the ramekin to loosen the seal
Set the panna cotta in a bowl of hot water for about 15 seconds to melt the chocolate and gelatin, so the custard will slip out
Unfortunately, the chocolate throws a kink in the mix and can stick to the ramekin despite your best greasing efforts. You can get the edge really soft, and it's still difficult to get the panna cotta out without damaging the shape.
I have found running a heat gun or a kitchen torch gently over the surface of an inverted panna cotta mold helps more than the hot water dip, but it's easy to overheat and melt more of the panna cotta than you'd like. There's no good way to get them out.
For this reason, I strongly recommend not worrying about unmolding. Serve them straight from the ramekins, or add in some whimsy and collect your favorite glass jars, tea cups, espresso cups-- any cute and small vessel that can safely contain food. It's a super easy dessert, so let's just keep it that way.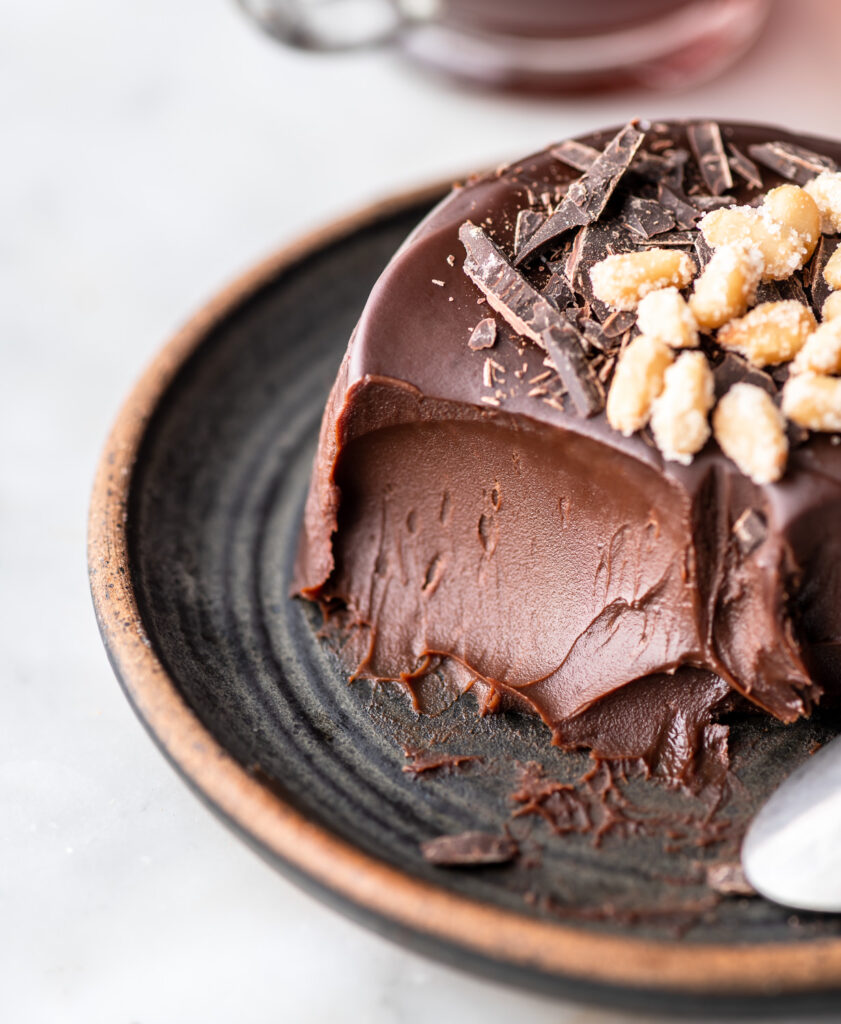 more panna cotta and chocolate pudding recipes to try:
sour cream panna cotta with black pepper strawberry jam
creme fraiche panna cotta with ginger roasted rhubarb
chocolate budino with espresso cream and flake salt
double chocolate mousse parfait
dark chocolate coconut milk pudding
Print
chocolate panna cotta
Chocolate panna cotta is a decadent and luscious dessert. We use dark chocolate and milk chocolate for the perfect mix of silky texture and cacao flavor. It also couldn't be easier!
Author:
Prep Time:

10 minutes

Cook Time:

15 minutes

Total Time:

25 minutes

Yield:

8 4-oz ramekins

Category:

Dessert

Method:

Stove

Cuisine:

American
Ingredients
chocolate panna cotta
¼ cup

cold milk

1 tsp

powdered gelatin 

2 ¼ cups

heavy cream

¼ cup

sugar
pinch of salt

10 oz

bittersweet chocolate, chopped

8 oz

milk chocolate, chopped

2 tsp

vanilla extract
sugared pine nuts (recipe below), for garnish

shaved chocolate, for garnish
sugared pine nuts
2 tbsp

water

½ cup

sugar, divided

¾ cup

pine nuts (could substitute blanched almonds, chopped)
flaky salt
Instructions
chocolate panna cotta
Place eight 4-oz ramekins on a sheet pan. Lightly spray ramekins with cooking spray if you plan to unmold the panna cotta when set. Set aside.
Place milk in a small bowl and sprinkle gelatin over the surface. Set aside to bloom and soften.
Heat cream, sugar and a pinch of salt in a medium saucepan over medium heat. Cook, stirring, until sugar dissolves and bubbles just begin to form at the edges of the pan. Add the chocolate and stir until melted. Remove from the heat; stir in gelatin mixture until dissolved. Stir in vanilla. 
Ladle mixture into ramekins, let cool for 5- 10 minutes. Cover loosely with plastic wrap and refrigerate until set, about 3 hours if enjoying straight from the ramekins or at least 6 hours if unmolding.
Serve in the ramekins, garnished with shaved chocolate and sugared pine nuts. To unmold, dip ramekin in hot water for 15 seconds, run a sharp knife around each ramekin and invert onto a plate.
sugared pine nuts
Preheat oven to 325°F.
Combine 2 tbsp water and ¼ cup sugar in a small pot over medium heat, stirring until sugar has dissolved. Alternatively, heat in a glass measuring cup in the microwave. Let cool. 
Place pine nuts in a medium bowl and toss with 1 ½ tsp syrup until fully coated. Add remaining ¼ cup sugar and a pinch of flaky salt and toss to coat. Spread in an even layer on a parchment-lined baking sheet and bake, stirring occasionally, until golden brown, 8- 10 minutes. Let cool completely. Store in an airtight container for up to 2 weeks.
Nutrition
Serving Size:

4 oz

Calories:

639

Sugar:

24g

Sodium:

53mg

Fat:

51g

Saturated Fat:

32g

Unsaturated Fat:

16g

Trans Fat:

0.8g

Carbohydrates:

35g

Fiber:

6.8g

Protein:

9.6g

Cholesterol:

83mg
Keywords: chocolate panna cotta