There's nothing quite like the smell of this savory pumpkin pot pie in the oven on a cool Fall evening. The mix of smoky bacon, sauteed shallots and sage fills the house with the coziest smell. It's dishes like this that (almost) make me wish I didn't work from home, just so I can walk in and get hit with the glorious smell of pumpkin pot pie. It's the smell of a home.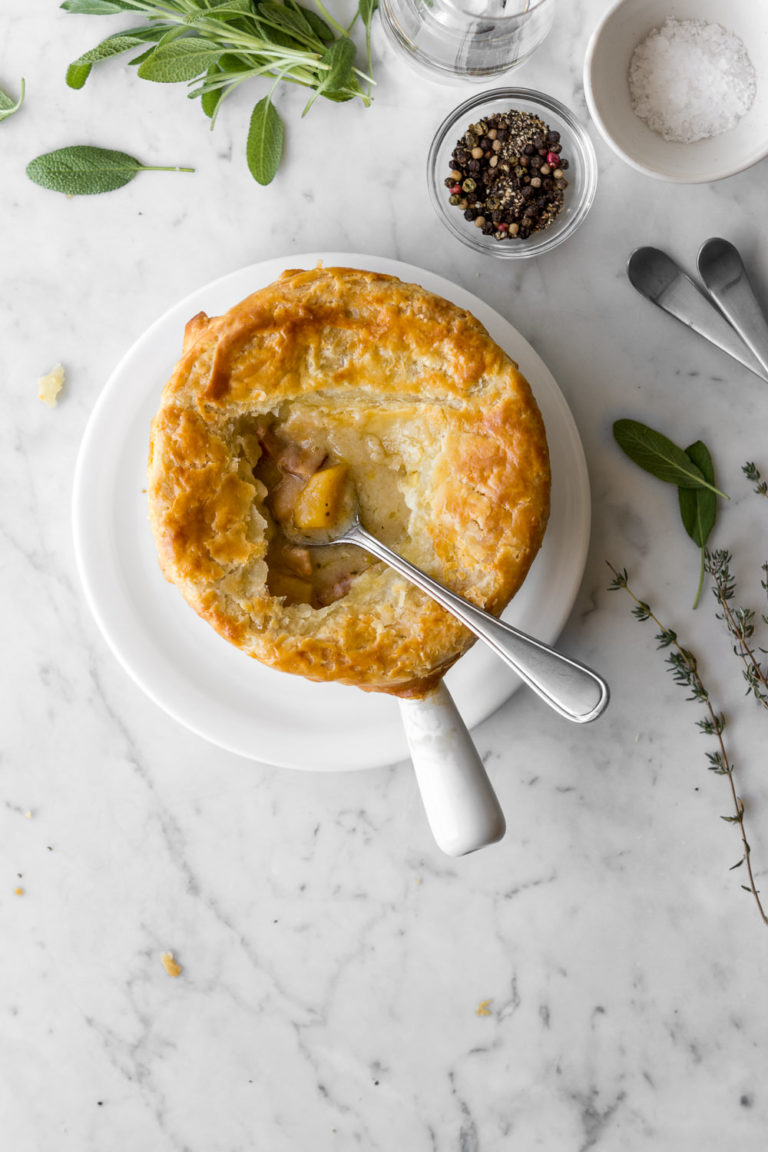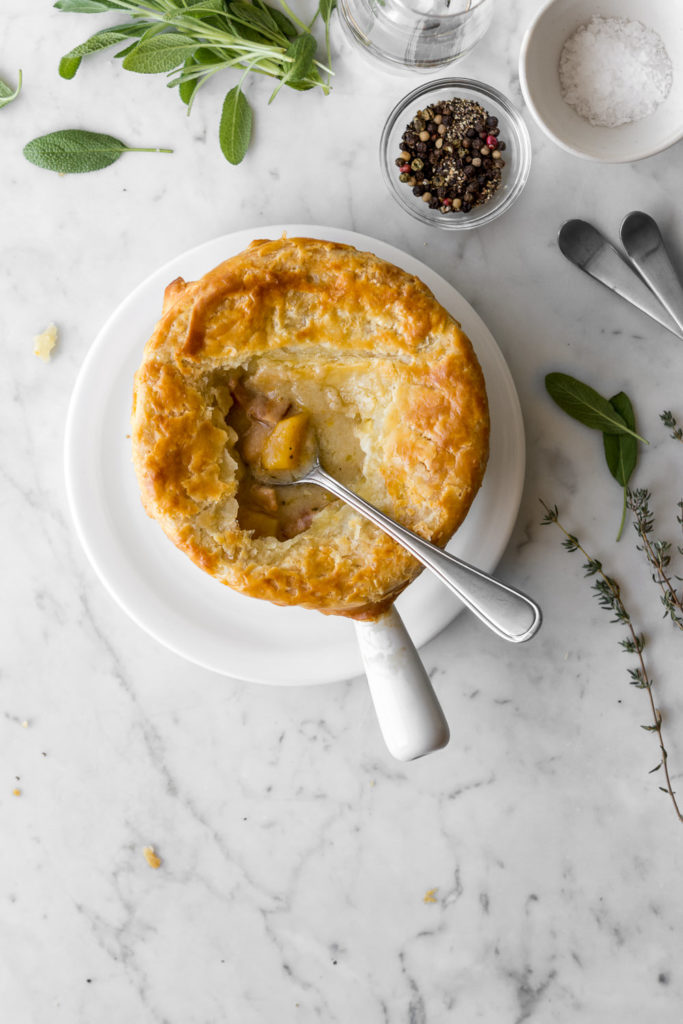 I think about aromas and nostalgia a lot when I'm cooking. I think it stems from my past as a winemaker, where a large part of the job is to always be thinking about and noticing aromas (and geeking out on them). But I really think about the nostalgia aspect now that I have a one year old (what?! how?! when?!) assistant toddling around. There's something about becoming a mom that has made me hyper aware of the passage of time.
And these dishes that I cook every day-- they'll be the smells of his childhood. The smells that one day may transport him back to standing on a stool, stirring a pot with his mom.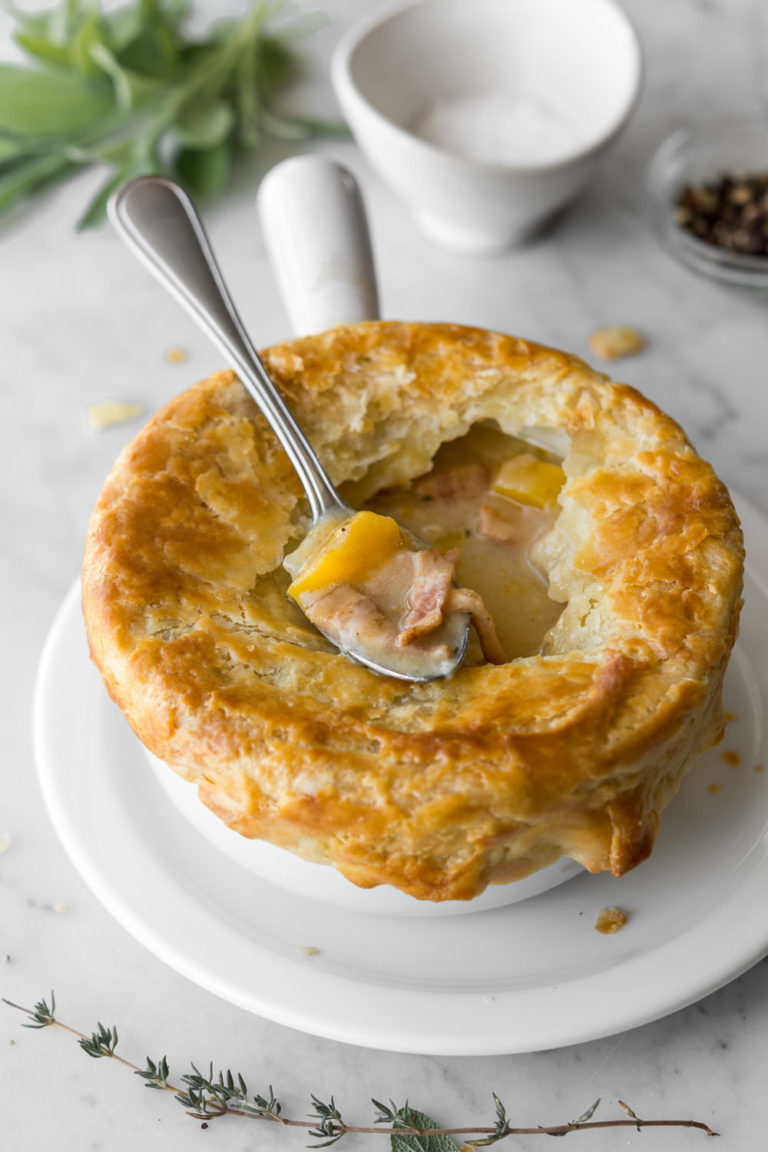 One of my favorite memories of my own mom was one evening, after what felt like the longest day of my life, when I finally came home and she hugged me. I'll never forget how comforted I felt, how at home, with the smell of sautéed onions and celery in the background.
Ever since that day, I've always wanted to be able to create that sense of comfort and home for my own family. To be honest, it's one of the reasons I learned to cook. It's so often overlooked, but the smells we create in the kitchen are incredibly impactful. They shape emotions, moods and memories. It may be subtle, but these smells are one of the many ways we, as home cooks, enrich the lives of others.
So enough sap (another new trait of becoming a mom)-- let's talk about this pumpkin pot pie.
It's filled with roasted pumpkin, smoky chunks of bacon, cannellini beans and topped with a super flaky pastry lid. The luscious sauce, scented with fresh sage and garlic, pulls everything together and begs to be eaten with the torn pastry edges. Serve this savory pot pie with a soft full bodied red wine. A meaty Syrah comes to mind-- aromatic and flavorful, with delicate tannins.
Finish your night with baked apples to really get the smell of Fall wafting through the house.
notes on the pumpkin pot pie:
be patient with the sauce. I always panic when I make a veloute sauce, but it always works. The first few additions of broth get thick very fast (and look very lumpy), but stick with it and keep whisking until smooth. If you do feel panicked, just remove the pot from the heat while you whisk in the broth. Once you've added about half of the broth, the sauce will be loose enough to add the rest of the broth without worrying about lumps.
feel free to substitute butternut squash or sweet potato in for the pumpkin!
the apple cider vinegar in the pastry dough adds a subtle tang that I love with the richness of the pot pie. If you have a favorite dough, don't hesitate to use that.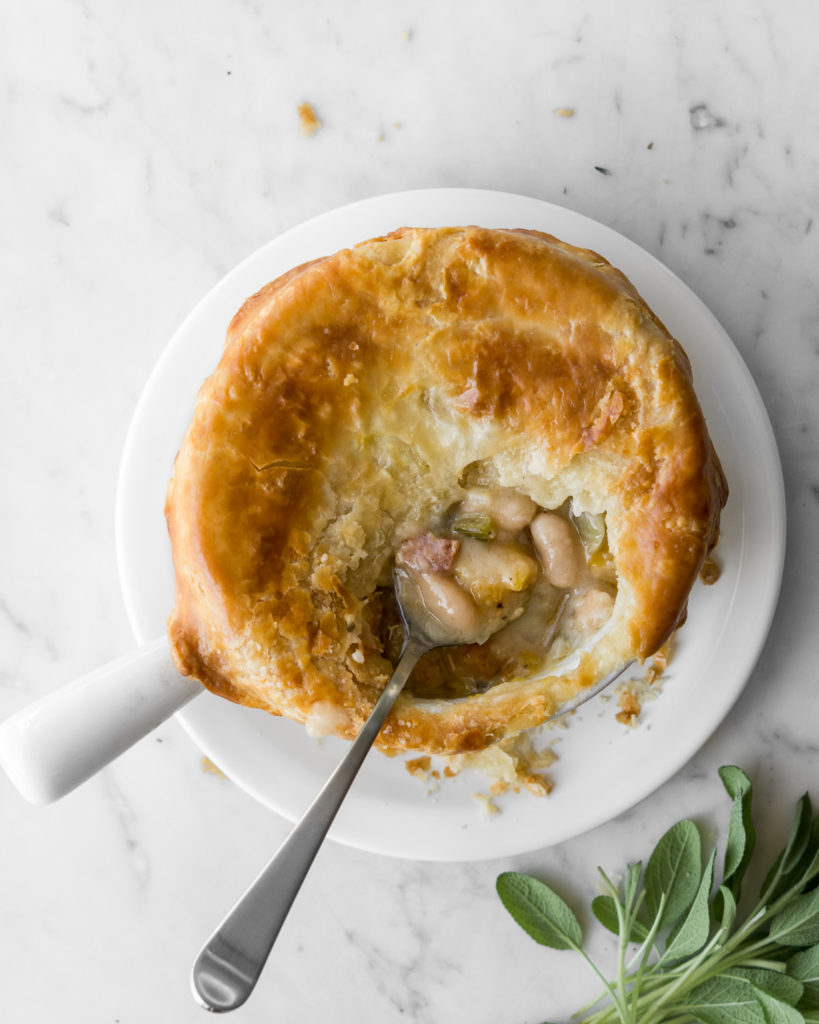 related recipes:
wine-braised mushroom beef pie
butternut squash rolls with brown butter
kabocha squash soup with cauliflower and leeks
Print
pumpkin pot pie with white beans and bacon
This pot pie is filled with roasted pumpkin, smoky chunks of bacon, cannellini beans and it's topped with a super flaky pastry lid. The luscious sauce, scented with fresh sage and garlic, pulls everything together and fills the house with the smell of Fall.
Author:
Prep Time:

25 minutes

Cook Time:

1 hour 10 minutes

Total Time:

1 hour 35 minutes

Yield:

4

Category:

Entree

Cuisine:

American
Ingredients
pastry
½ cup cold water

2 tbsp cider vinegar

½ cup ice

1 ⅔ cups unbleached all-purpose flour

½ tsp kosher salt

2 tsp granulated sugar

11 tbsp cold unsalted butter, cut into ½-inch pieces
pumpkin pot pies
8 oz pumpkin or butternut squash, cut into ½" cubes (about 2 cups)

2 tbsp extra virgin olive oil, divided

kosher salt

freshly ground black pepper

8 oz thick cut bacon, raw (about 4 slices)

2 shallots, finely chopped (about ½ cup)

2 celery stalks, diced

2 garlic cloves, minced

1 tsp fresh sage, chopped

6  tbsp butter

6 tbsp all- purpose flour

4 cups (one 32-oz carton) low sodium chicken broth

1 (15-oz) can cannellini beans, drained and rinsed

1 egg, beaten, for egg wash
Instructions
pastry
Combine water and vinegar with ½ cup ice and set aside to chill.

In a large bowl, whisk to combine flour, salt and sugar. Add butter, toss to coat in flour, then use your fingers or a pastry blender to cut the butter into pea sized pieces.

Add 6 tablespoons of the cold water mixture and stir until a shaggy dough forms. Bring the dough together with your hands, adding a few more tablespoons of water if still crumbly. Turn dough out onto a floured work surface, pat into a fat disk, and wrap in plastic wrap. Refrigerate for at least 2 hours and up to 3 days.
white bean and pumpkin filling
Preheat oven to 400°F.

Line a baking sheet with aluminum foil. Combine the pumpkin and 1 tablespoon of olive oil on one end of the baking sheet, season with salt and freshly ground black pepper and toss to coat. Lay out bacon strips on the other end. Roast for about 20 minutes, or until the pumpkin is just tender and beginning to brown and the bacon is crispy. If necessary, carefully pour off extra grease midway through roasting. Transfer pumpkin to a large bowl and set aside. Let bacon cool, then coarsely chop and add to pumpkin. Reduce oven to 375°F. 

Heat 1 tablespoon olive oil in a large saucepan over medium heat. Add shallots and celery, season with salt and freshly ground black pepper, and cook until softened and just beginning to brown, 8- 10 minutes. Stir in garlic and sage and cook another minute. Transfer vegetables to the bowl with the pumpkin. Add beans to the same bowl.

Melt butter in the large saucepan over medium low heat. Whisk in flour and cook, whisking and scraping up the brown bits, for about 2 minutes. Whisk in the broth, ½ cup at a time, until it is fully absorbed and the sauce is smooth before adding more. When half of the broth has been added this way, the rest can be poured in and whisked to combine. Bring sauce to a boil, reduce to a simmer and season with salt and freshly ground black pepper. Cook over low heat, whisking frequently to prevent scorching, for about 10 minutes.

Pour sauce over vegetables and toss to combine.
pot pie assembly
Arrange four ovenproof ramekins on a baking sheet and divide filling into each.

Divide pastry into 4 pieces and roll out each piece into a circle that is about 1 inch larger in diameter than the ramekins. Brush edge of each ramekin with egg wash, top with pastry circle, and gently push pastry onto the edge to secure. Brush the top of the pastries with egg wash then use a sharp knife to cut a few vent slits in each. Bake until tops are golden and filling is bubbling, about 30 minutes. 

Let cool slightly and serve.
Notes
For best results, roll out pastry lids and assemble pot pies just before baking. 

Pastry can be wrapped in plastic wrap and stored in the refrigerator for up to 2 days or frozen for up to 1 month. 

Filling can be stored in an airtight container and refrigerated for up to 4 days or frozen for up to 2 months.
Nutrition
Serving Size:

½ pot pie

Calories:

586

Sugar:

3.1g

Sodium:

851mg

Fat:

39g

Saturated Fat:

20g

Unsaturated Fat:

17.4g

Trans Fat:

0.4g

Carbohydrates:

40g

Fiber:

4g

Protein:

20g

Cholesterol:

93mg
Keywords: pumpkin pot pie