Homemade lobster stock is a flavor-rich broth and a resourceful way to use up leftover lobster shells. Sauté a ton of aromatic vegetables, sweat the shells, then gently simmer with white wine and water for less than an hour to get a sweet, fragrant stock. It's your secret weapon to lobster chowder, bisque, lobster risotto and more!
Continue reading to learn how to make lobster broth from scratch, what you need, how long it lasts and-- most importantly-- a ton of ideas of how to use it!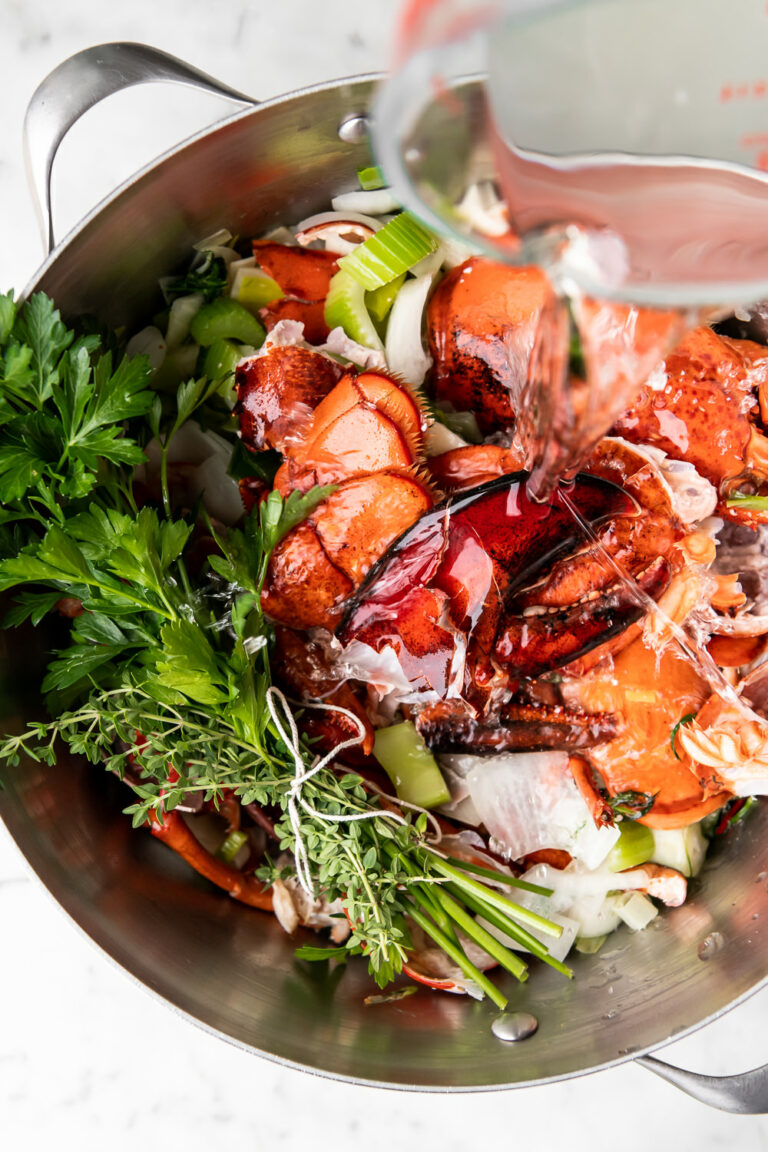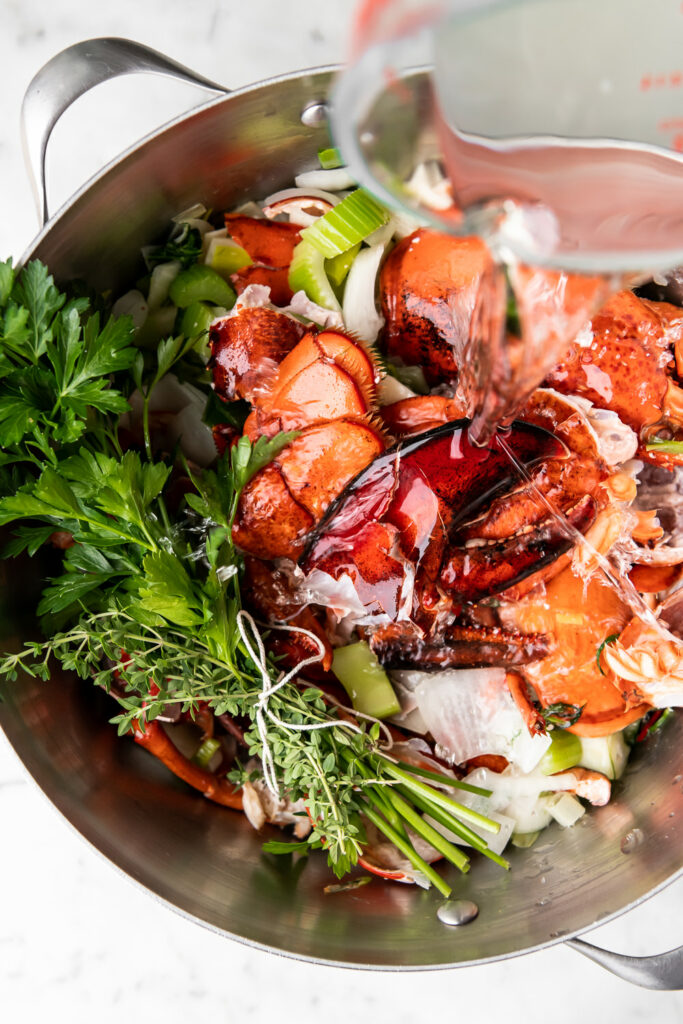 what makes this lobster stock so great?
Aromatics: Fennel, leek, onion, celery and garlic bring a ton of flavor to this lobster shell stock. We stay away from carrots to avoid discoloring the stock and to keep the flavor extra fresh. Make sure to toss in the fennel fronds and use more of the green leek than usual-- both add so much flavor!
Resourceful: Lobster is a true luxury. When we cook it at home, it's so important to maximize the pricey little crustaceans as much as possible! The cooked shells (bodies, tails, legs, heads-- all of it!) are packed with flavor and are a shame to throw away unused.
Quick: It doesn't take long to make this lobster stock recipe. Sauté the vegetables and shells, then simmer for about 45 minutes. It's one of the quickest stocks to make, and it fills the house with the sweet smell of fennel and lobster!
Briefly strained: The majority of us don't need a crystal clear stock for consommé, so there's no reason to go overboard with straining and removing solids. I don't mess with cheesecloth here and neither should you. Plus, the more you strain and filter, the more flavor and body you strip out. Get the fragments of lobster shells out with a fine mesh strainer and call it good!
Water: Use just enough liquid to barely cover the shells. It's tempting to completely submerge them, but we want a flavorful stock and too much water will simply make a watery stock. If needed, break up the shells into small pieces to compact it all down into the liquid.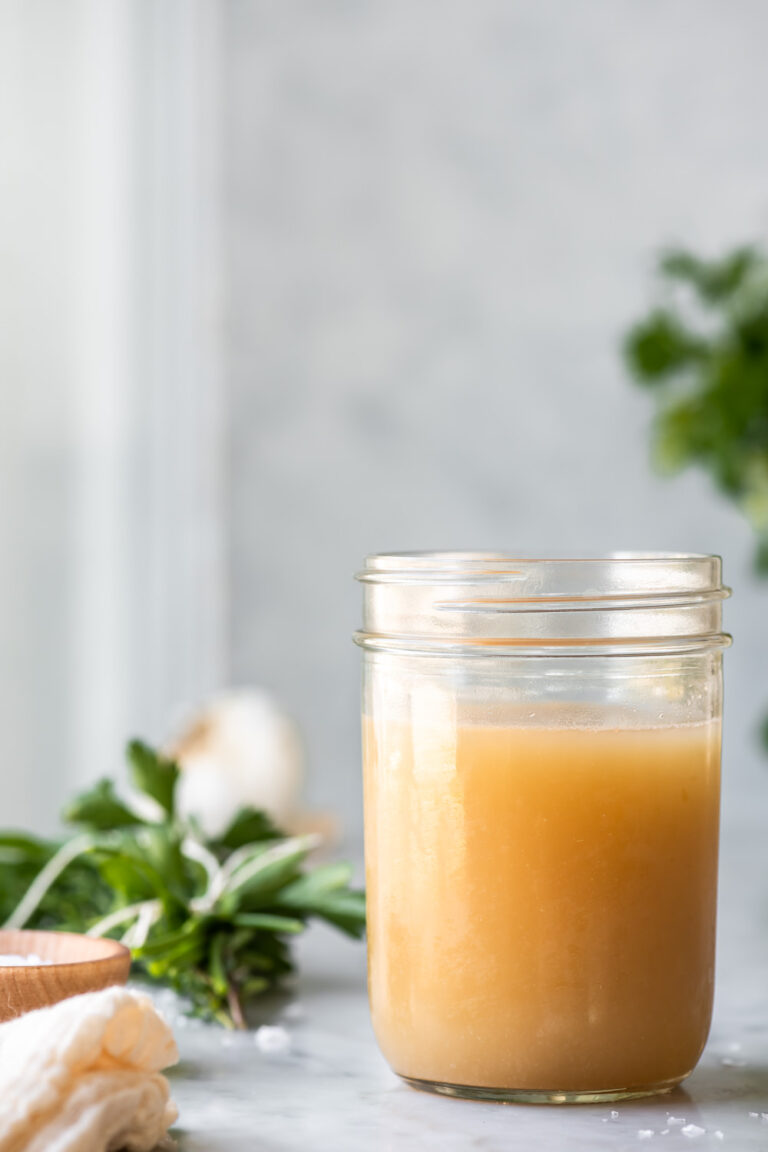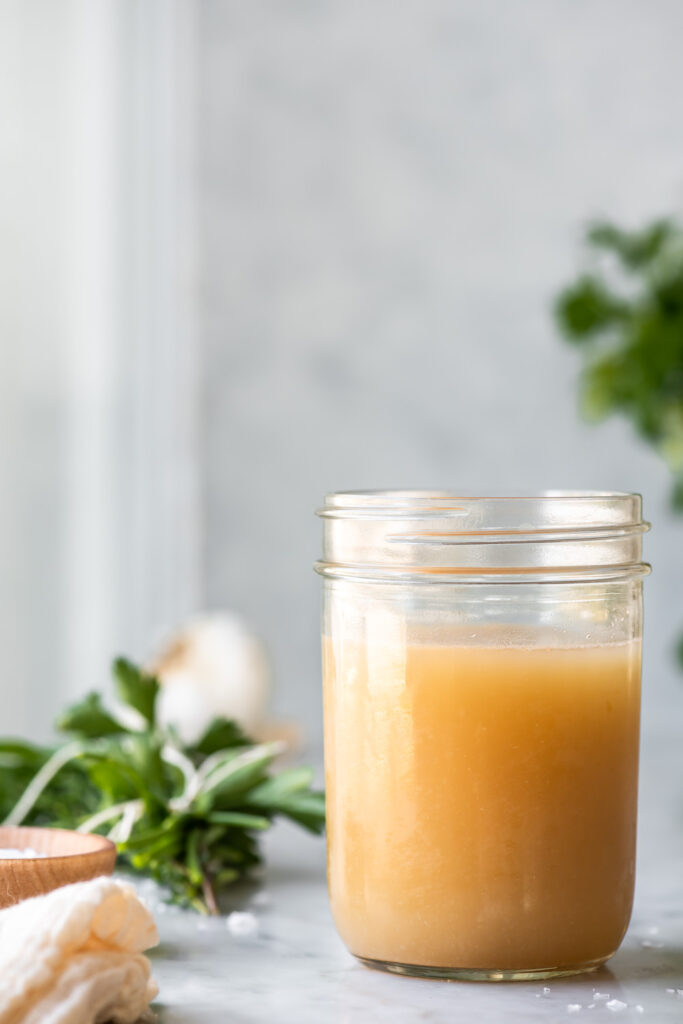 what you need:
butter
lobster shells (from 2 lobsters)
onion
fennel
leek
celery
garlic
white wine
herbs (bay leaf, parsley, thyme)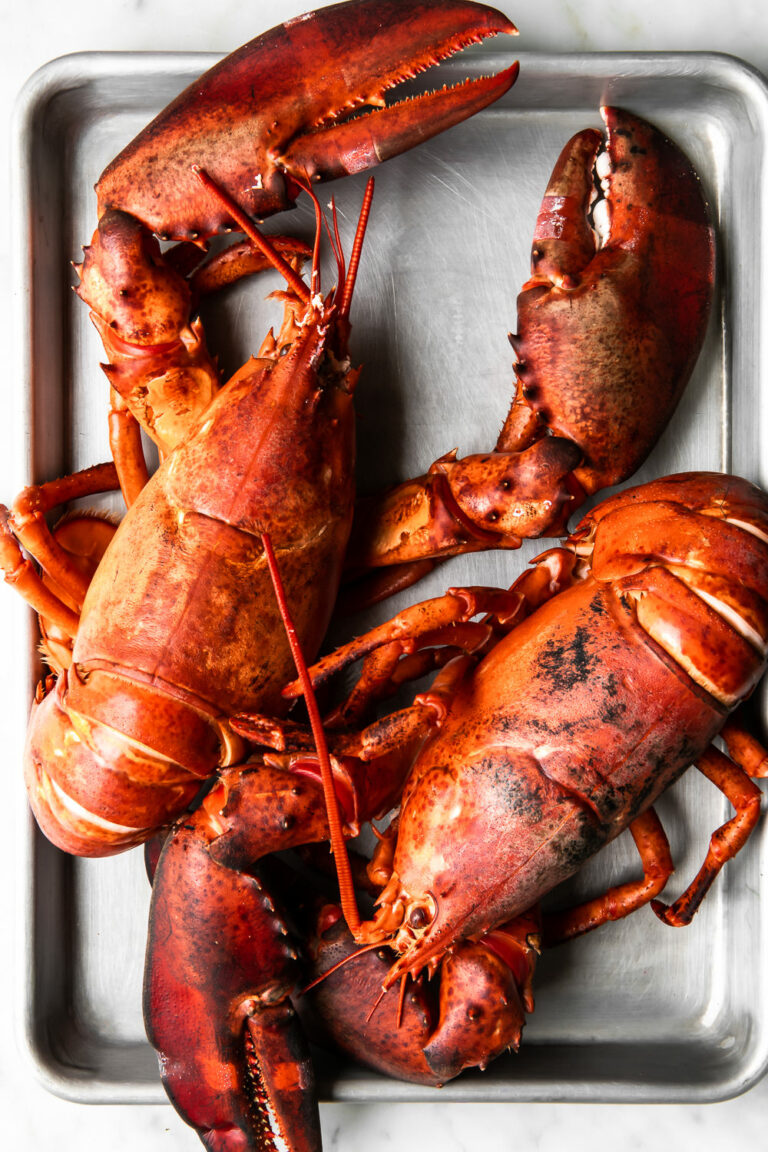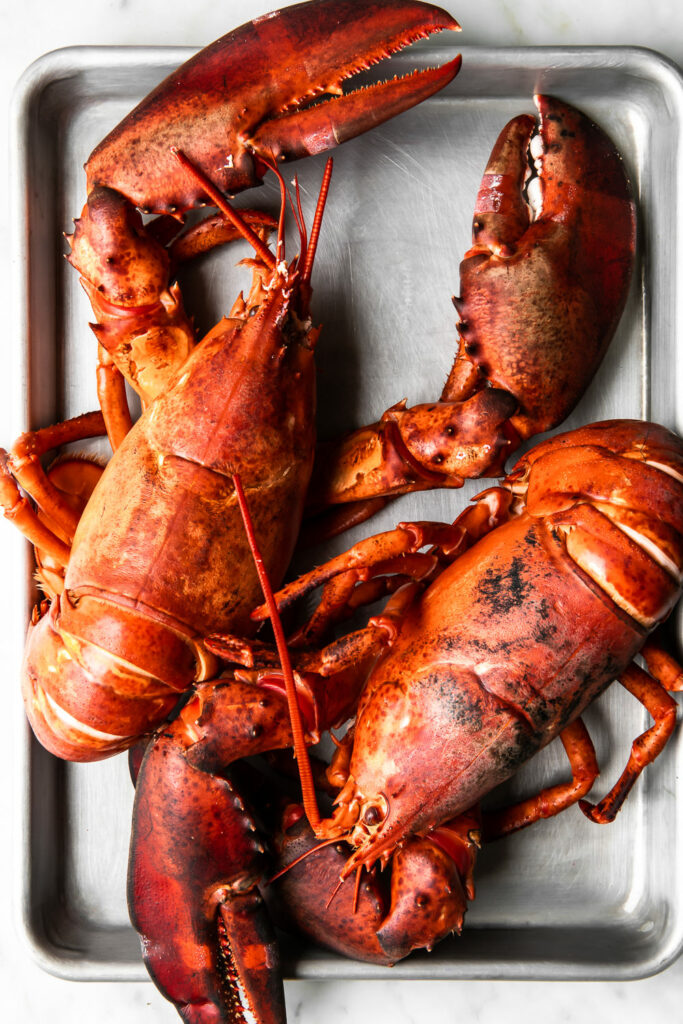 how to make lobster stock from scratch:
Sauté the aromatics in butter
Add the lobster shells and sweat until fragrant
Add wine, water and herbs
Gently simmer, skimming solids as needed, for about 45 minutes
Strain off and discard solids
Use, refrigerate or freeze! (details below)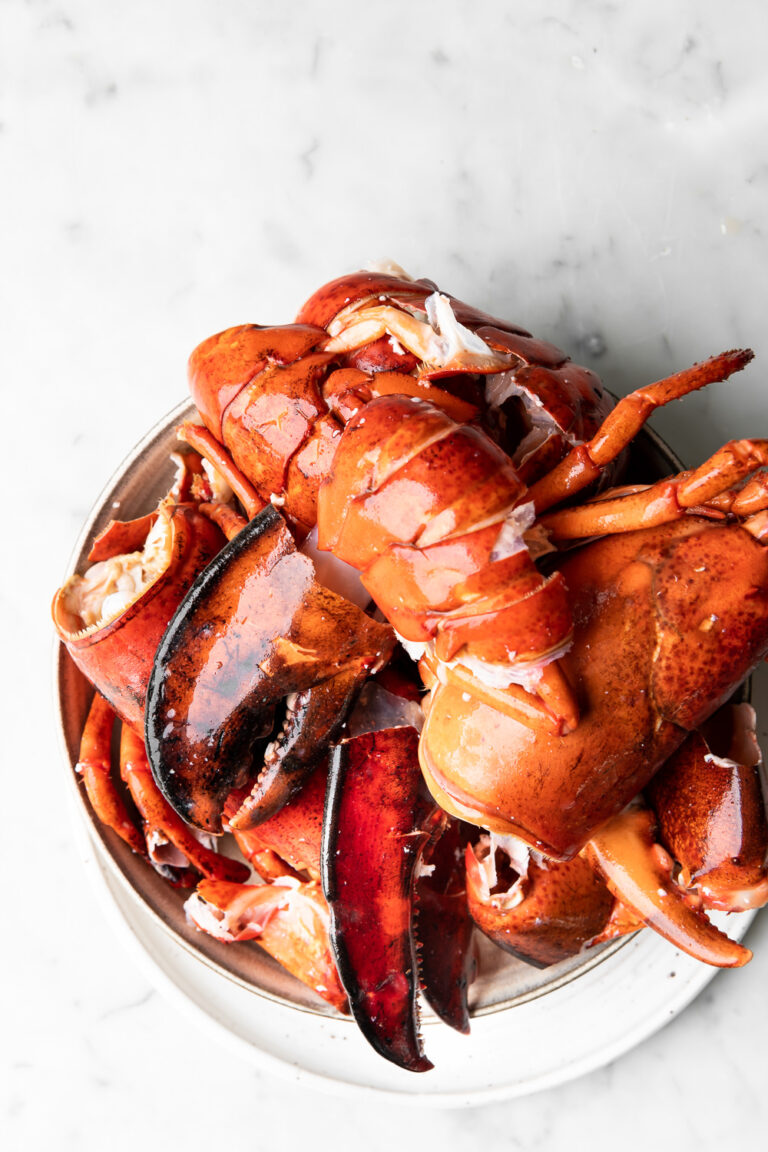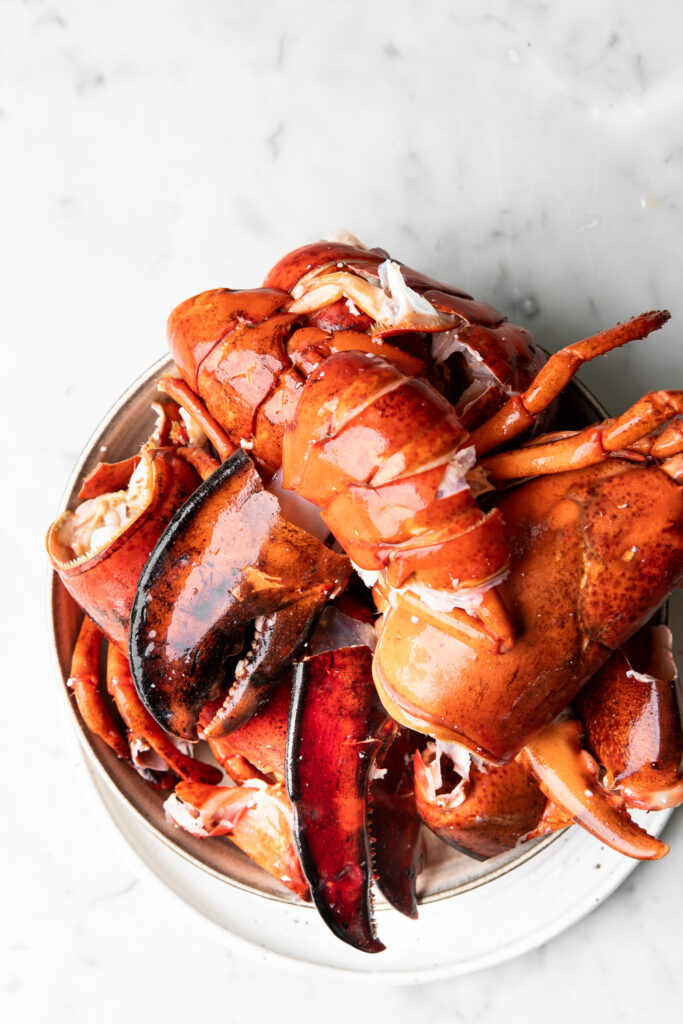 how to make lobster stock in an instant pot:
It's super easy to make this stock in an instant pot!
Turn on the instant pot and press SAUTE.
Follow the recipe through Step 1.
Add wine, water and herbs.
Cover with the lid, lock into position and seal the release valve. Press PRESSURE COOK (or MANUAL) and adjust time for 20 minutes.
When the time is up, wait for the pressure to release naturally. Open the lid, let cool enough to safely handle, then strain out solids and divide into jars.
what to do with lobster stock:
There are so many different and delicious recipes you can make with lobster stock. From the obvious bisque to elegant sauces, this seafood stock is the secret weapon to taking these dishes to the next level. Here are some ideas!
Lobster bisque
Manhattan clam chowder
Seafood or lobster risotto
Seafood paella
Any seafood rice or grain dish, as a substitute for cooking water
Seafood pot pie (make a velouté with the lobster stock)
Flavorful broth for steaming clams or mussels
Base for bouillabaisse or cioppino
Gumbo or shrimp étouffée
Flavorful sauce for drizzling on lobster, crab cakes, calamari (for example, reduce the stock to a demi-glace consistency, whisk in chilled butter, a squeeze of lemon juice and fresh herbs)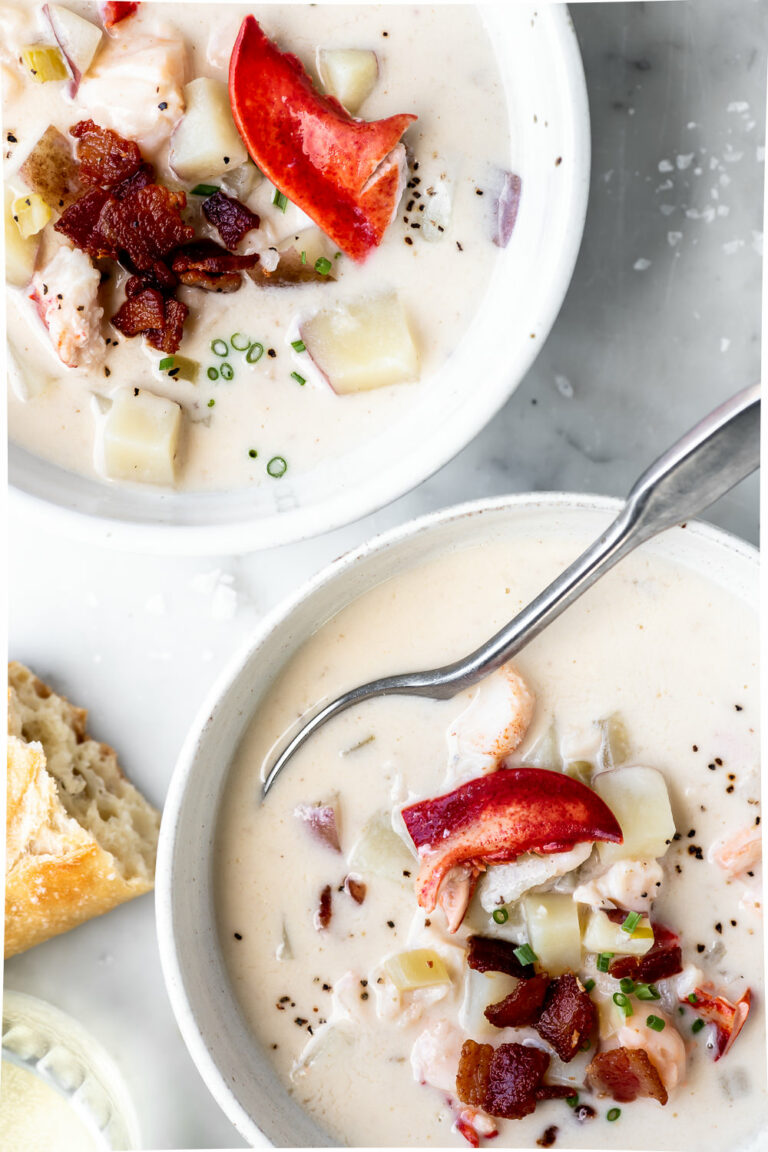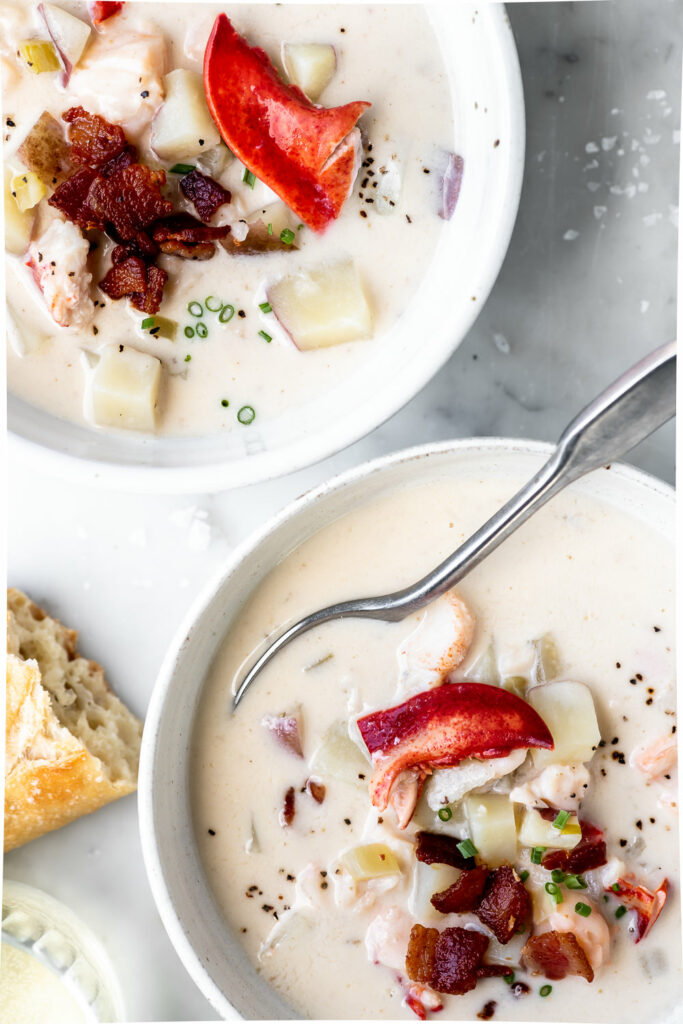 Answers to frequently asked questions about lobster stock:
What does lobster stock taste like?
Lobster shell stock is a delicate broth that is lightly flavored with sweet, mild lobster and fragrant vegetables like fennel, leek and celery. It's not fishy, like you might think.
It's a great way to add a touch of lobster flavor to a variety of dishes (see ideas above).
What kind of white wine for lobster stock?
I love to use a simple, fresh, un-oaked white wine for seafood stock.
Sauvignon Blanc and Pinot Grigio are great varieties that are typically unoaked and can be found for $7- 10.
I wouldn't go cheaper, mainly because those wines tend to have more residual sugar in them to mask harsh flavors. And there's no need to go more expensive-- we're simmering it for 45 minutes. Nuance and mouthfeel will be lost.
Steer clear from Riesling, Chenin Blanc, and Gewurztraminer, which can be sweet and wouldn't work well in the stock (unless you know they're dry, then they'd be great).
Seasoning your lobster stock:
As you make this lobster broth, think about your main plans for it (I share ideas here!). If it's mainly for soup, season with salt as usual. But if you plan on reducing it to make a sauce, be careful with the salt and consider leaving it unsalted until the end.
Stock reductions can quickly become too salty and it's often a good practice to wait until you've reached your desired thickness before seasoning.
How long do you cook lobster stock?
Lobster shell stock is one of the quicker stock recipes out there, and it only takes about 45 minutes to 1 hour to make!
It's a light and delicate broth; we want to extract the flavor from the lobster shells and aromatic vegetables and then stop the cooking to keep the flavors fresh and clean.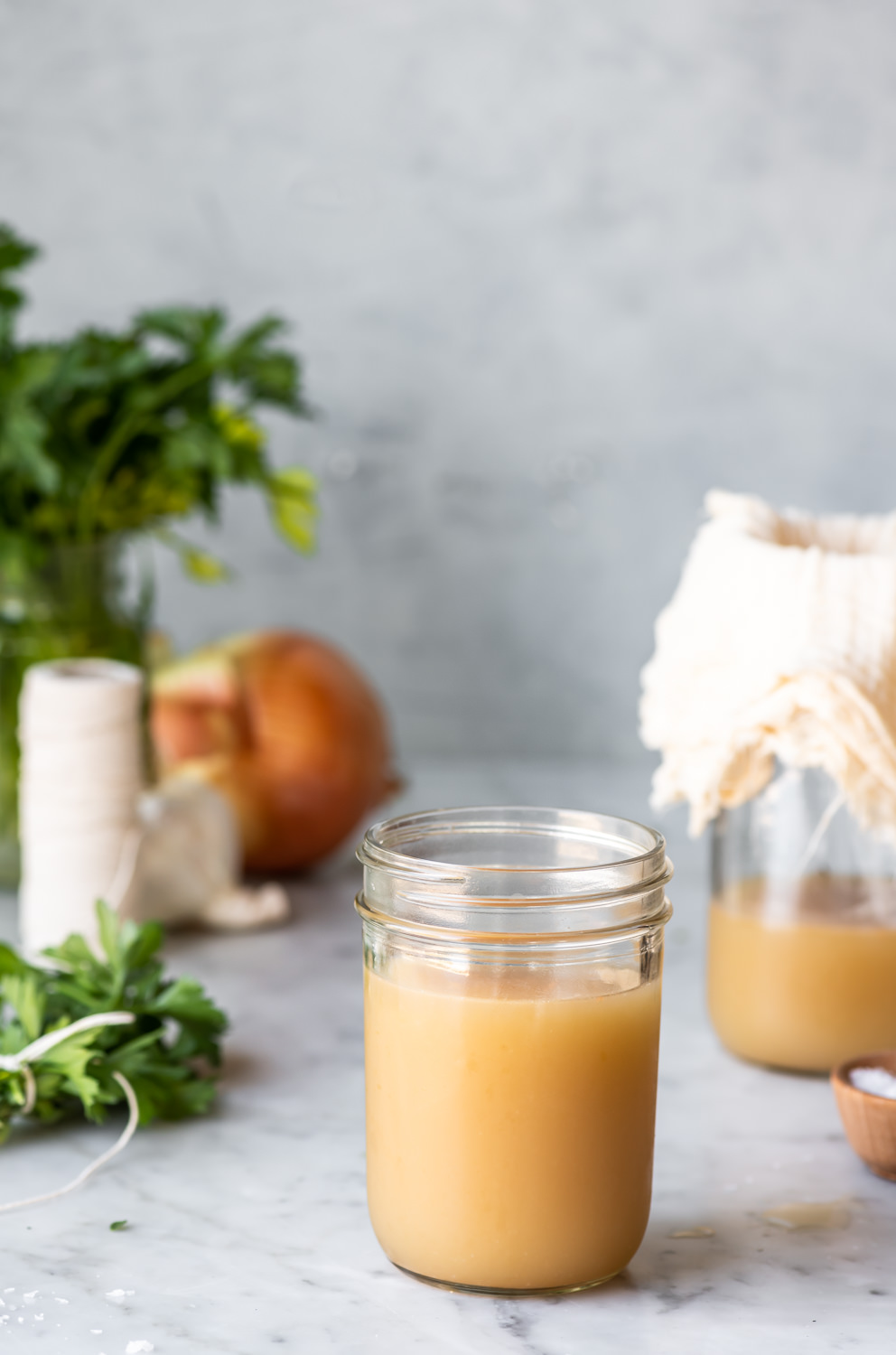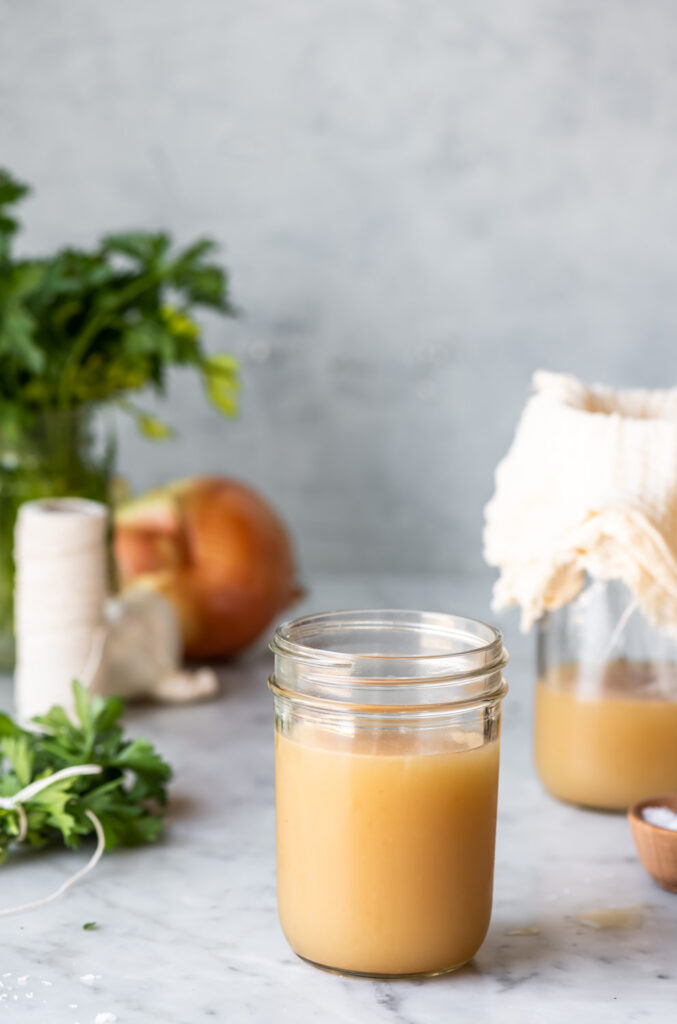 How long does lobster stock last?
Lobster stock is best used within 3 days of making it.
Store it in the refrigerator (I prefer glass mason jars for simplicity) and use it while it's fresh and flavorful. Don't panic if you can't use it that quickly-- just freeze it.
How long to keep frozen lobster stock:
Lobster stock can be frozen for up to 3 months.
If I don't have plans for the lobster stock within a day or so, I prefer to just freeze it. This buys me time to figure out a great use for the precious liquid and it minimizes the risk of it getting weird in the fridge.
tips for freezing lobster stock:
For ease of access and to make the best use of your freezer space, you can freeze the stock in a muffin tin or large ice cube molds. Pop out the large cubes and store them in a ziplock bag in the freezer.
This not only takes up less space in your freezer, but it also makes it so easy to grab a pre-portioned cube or two of frozen stock and use it in a variety of dishes!
Alternatively, you could pour it into a large freezer bag (seal it all the way!) and freeze in a flat sheet. It takes up virtually no space at all and thaws really quickly in a hot water bath.
more lobster and seafood recipes:
roast lobster tail with brown butter hollandaise
creamy lobster chowder with bacon and chives
five spice grilled shrimp with sweet and sour sauce
Print
lobster stock
e lobster stock is a flavor-rich broth and a resourceful way to use up leftover lobster shells. It's your secret weapon to lobster chowder, bisque, lobster risotto and more!
Author:
Prep Time:

5 minutes

Cook Time:

45 minutes

Total Time:

50 minutes

Yield:

7 cups

Category:

Stock

Method:

Stovetop

Cuisine:

American

Diet:

Gluten Free
Ingredients
2 tbsp

butter

1

small onion, roughly chopped

1

fennel bulb, roughly chopped

1

leek, white and green, sliced

2

celery stalks, chopped

2

garlic cloves, smashed and peeled

2

lbs lobster shells and heads (from

2

lobsters), broken into small pieces

1 ½ cups

white wine

8 cups

cold water

3

bay leaves

10

sprigs fresh parsley (with stems)

10

sprigs fresh thyme
kosher salt
freshly ground black pepper
Instructions
Melt butter in a large pot over medium-low heat. Add onion, fennel, leek, celery and garlic and gently cook until soft and translucent, but not browned, about 5 minutes. Add lobster shells and sauté another 5 minutes, until very fragrant.
Add wine, water, and herbs (tied in a bouquet garni, if desired). Season with salt and pepper. Bring to a gentle simmer and cook for 45 minutes- 1 hour, skimming off any solids that float to the top every so often.
Strain stock through a fine mesh strainer, pressing on the solids to release as much liquid as possible. Strain again through cheesecloth, if desired. Use as a base for soups and sauces.
Notes
Store in the refrigerator for 3 days, or freeze for up to 3 months.
Nutritional information is only an estimate. The accuracy of the nutritional information for any recipe on this site is not guaranteed.
Nutrition
Serving Size:

1 cup

Calories:

56

Sugar:

0.5g

Sodium:

206mg

Fat:

1.6g

Saturated Fat:

1g

Unsaturated Fat:

.05g

Trans Fat:

.01g

Carbohydrates:

1.3g

Fiber:

0g

Protein:

0.1g

Cholesterol:

4.4mg