These pickled watermelon rinds are a sweet, spiced treat with an addictively tart bite from apple cider vinegar.
how do you make pickled watermelon rinds?
While some versions include long soaks in lime water to ensure an extra crisp product, this recipe makes rind pickles with a soft, chewy texture— almost like firm gummies. This is because the rind is boiled until tender, rather than simply soaked in hot syrup. I prefer this softer texture; it soaks up the sweet spiced syrup, it's bursting with flavor and it's more like a candy than your everyday pickle.
The worst part of this recipe is that it takes 3 days for the watermelon rind pickles to be ready. The good news is once you've survived peeling the green skin off the rind, the rest of the work takes less than 5 minutes each day.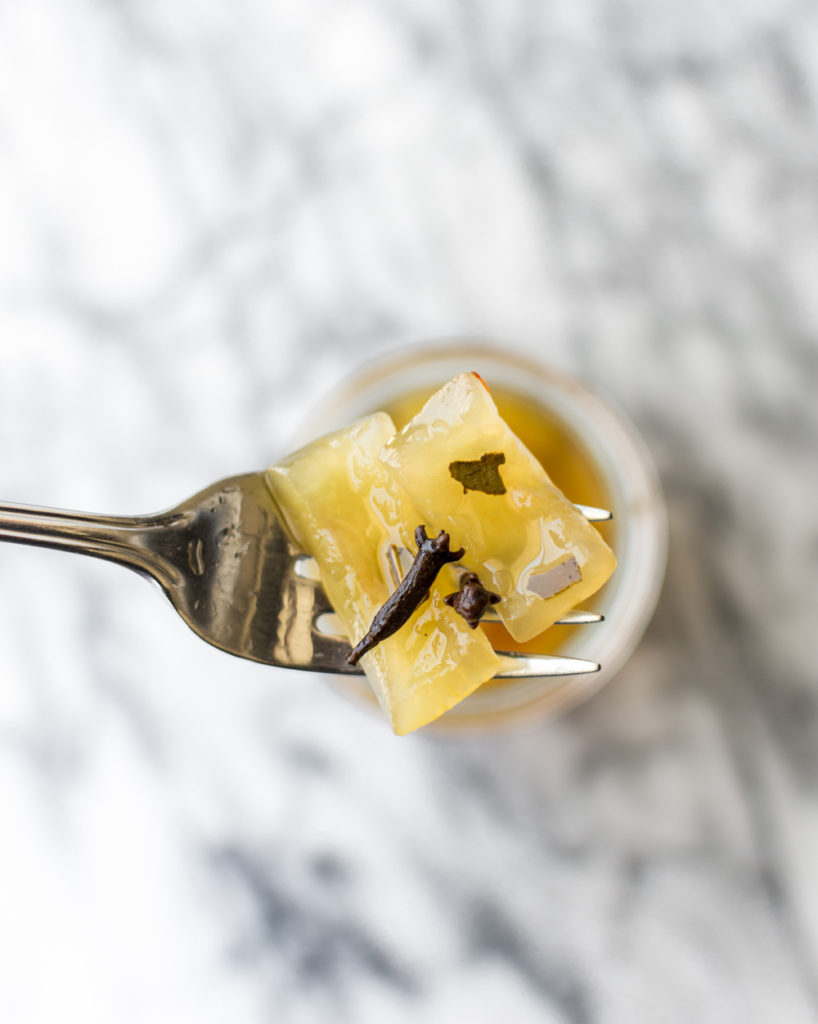 For prepping the rinds, the sequence of chopping and peeling is entirely up to you. I always tend to chop the rind into small pieces and then proceed to carefully cut off the green peel. This probably isn't the easiest or most efficient way, but once you get into the rhythm of peeling it's not so bad. Bottom line: peel the rind whichever way is the fastest and safest for you.
These pickled rinds are a delicious summer snack and a fun, extremely cheap tradition to take up year after year. Best of all, no canning is involved in the making of these watermelon rind pickles! They're a quick pickle meant for a few weeks in the fridge (though ours never stick around for that long).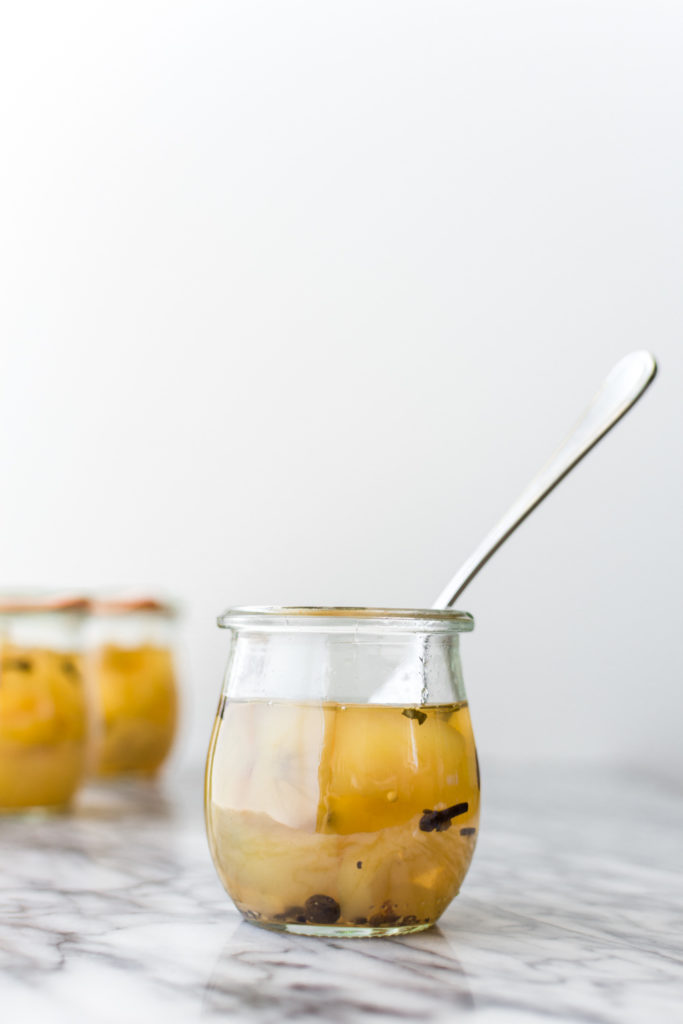 what do you eat with the rinds?
We prefer them straight out of the jar as a sweet snack, but there are a bunch of different ways to use them!
a condiment to meats (fried chicken, braised pork, grilled steak)
on a charcuterie platter with hard, salty cheeses and cured meats
chopped up in a fresh salad (arugula and pecorino come to mind, or a crunchy cabbage slaw)
a compote over a sweet pound cake
wrapped in bacon and baked until crispy
in sandwiches or wraps
Enjoy them all summer long!
Print
pickled watermelon rind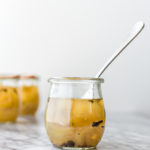 Sweet, spiced pickled watermelon rinds make a delicious and thrifty summer snack. The sweet, tender rinds are bursting with tart apple cider vinegar and the warmth of cloves, cinnamon and peppercorns.
Author:
Yield:

3 1/2 cup

s

1

x
Category:

Appetizer

Cuisine:

American
Scale
Ingredients
one

4

-pound watermelon, quartered

8 cup

s water

2 tablespoon

s plus 2 teaspoons coarse salt

2 cup

s sugar

1 1/4 cup

s apple cider vinegar

8

whole cloves

8

whole black peppercorns

2

cinnamon sticks

1/4 teaspoon

crushed bay leaf

1/4 teaspoon

mustard seed

1/4 teaspoon

ground coriander

1/4 teaspoon

ground allspice

1/4 teaspoon

ground ginger
Instructions
Remove rind from watermelon flesh, leaving a small amount of pink on rind if desired (to make the pickled rinds look pretty). Cut rind into 1″ x 1/2″ pieces for a final volume of about 4 cups. Using a sharp butcher's knife, carefully slice off green skin from each rind piece and discard skin.
In a large pot, bring 8 cups water and 2 tbsp kosher salt to a boil. Add rind pieces and boil 5 minutes, or until tender. Strain and transfer to a large metal bowl.
In a large saucepan, bring remaining 2 tsp salt, sugar, vinegar and spices to a boil, stirring until the sugar fully dissolves. Pour pickling syrup over rinds and set aside for 10- 15 minutes to cool. Find a plate with a diameter slightly smaller than the metal bowl and place it into the bowl to weigh down the rinds and submerge them in the pickling syrup. Cover the bowl with plastic wrap and refrigerate at least 8 hours or overnight.
Strain liquid from rinds into a large saucepan and bring to a boil. Pour hot pickling liquid over rinds, let cool 10- 15 minutes, and again place a small plate inside the bowl to submerge rinds. Cover and refrigerate at least 8 hours or overnight. Repeat entire process one more time, straining and boiling syrup. This time, distribute the rinds into glass jars, pour the hot syrup over them, and set aside to cool 10- 15 minutes. Cover with lids and store in the refrigerator.
Notes
makes about 3 1/2 cups | recipe from

Bon Appetit

, August 1998
watermelon rind pickles are best consumed within 2 weeks but can last up to a month in the refrigerator.
Keywords: pickled watermelon rinds, what do you eat with pickled watermelon rinds