These spicy refrigerator pickles are crunchy, vinegar-y, salty and filled to the brim with fresh dill.
If you've never made a quick pickle, you'll be pleased to learn they're true to their name and are super quick to make. It takes longer to pull out all the spices than it does to make these spicy pickled cucumbers! All you do is chop the cucumbers, pack them in jars, heat the brine and pour it over the cucumbers.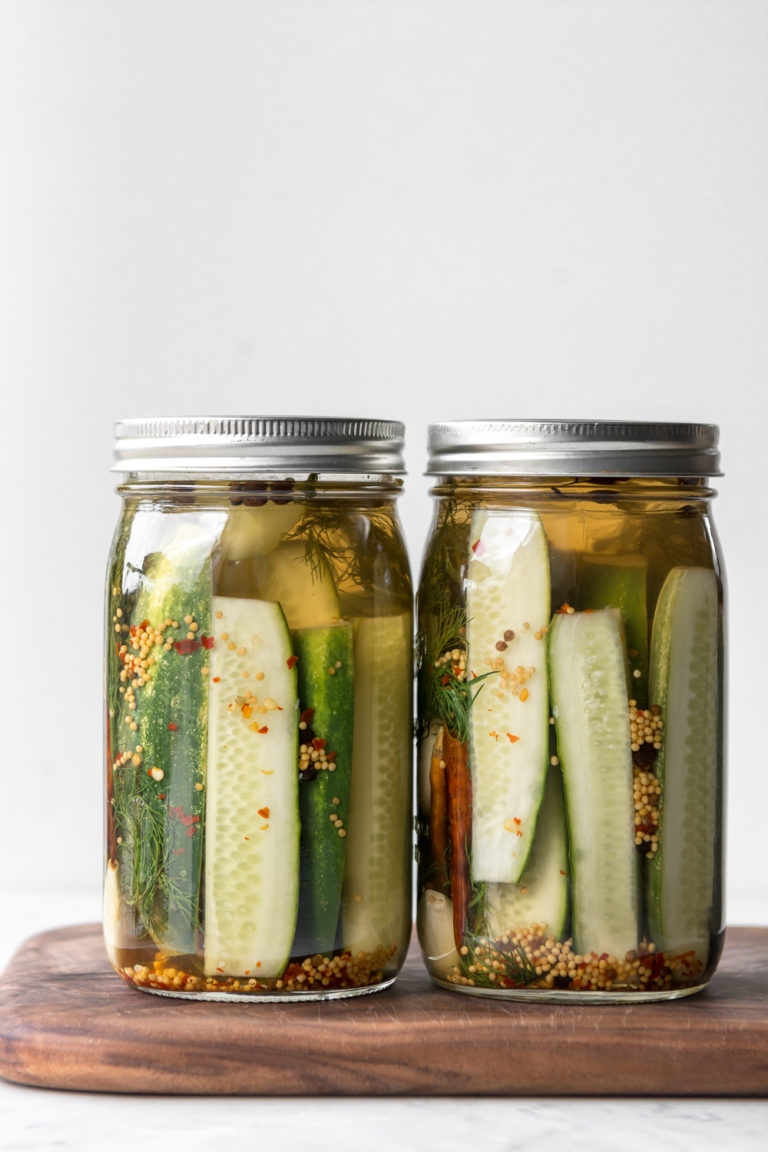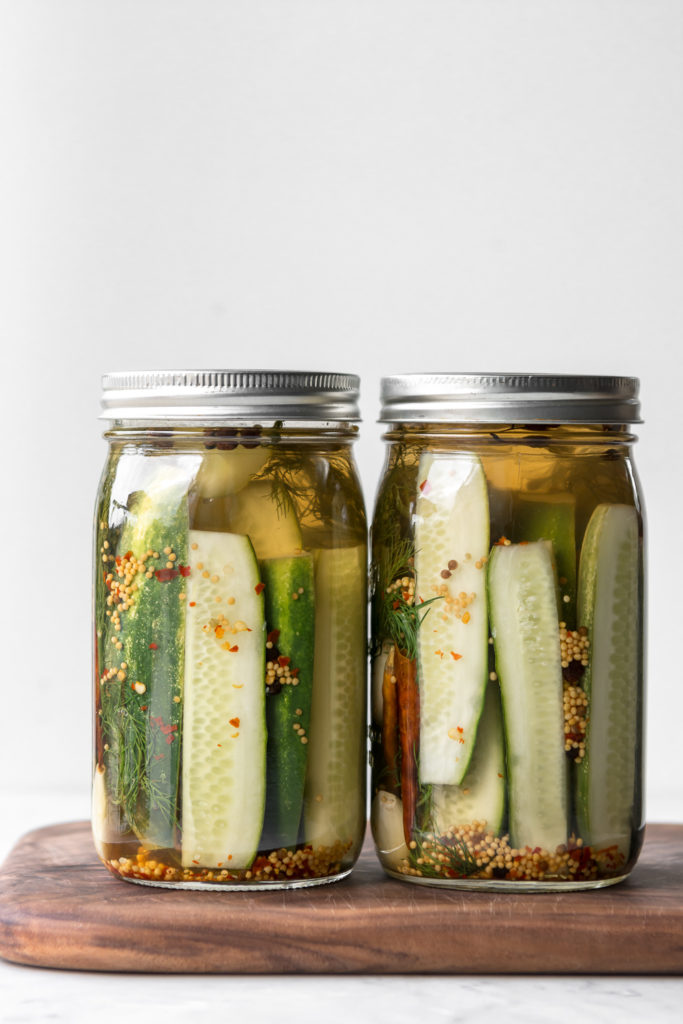 This post may contain affiliate links. As an Amazon Associate, I earn from qualifying purchases.
The hardest part is waiting for the cucumbers to turn more pickle than cucumber. We've noticed this tends to happen after 3 days in the refrigerator. It's a lifetime when you're craving pickles, I know, but these spicy spears are so worth the wait. 
My husband and I are pickle obsessed, so I tend to keep a jar of these in our fridge all summer long. When you see how quick, easy and addictive they are, you'll get why!
Flavor-wise, this is a traditional dill pickle recipe. It's got an edge of garlic, layers of fresh dill, classic pickling spices and a bright vinegar base. I ramp it up with a few dried red chilis and some red pepper flakes, but feel free to skip those if you'd prefer less of a bite.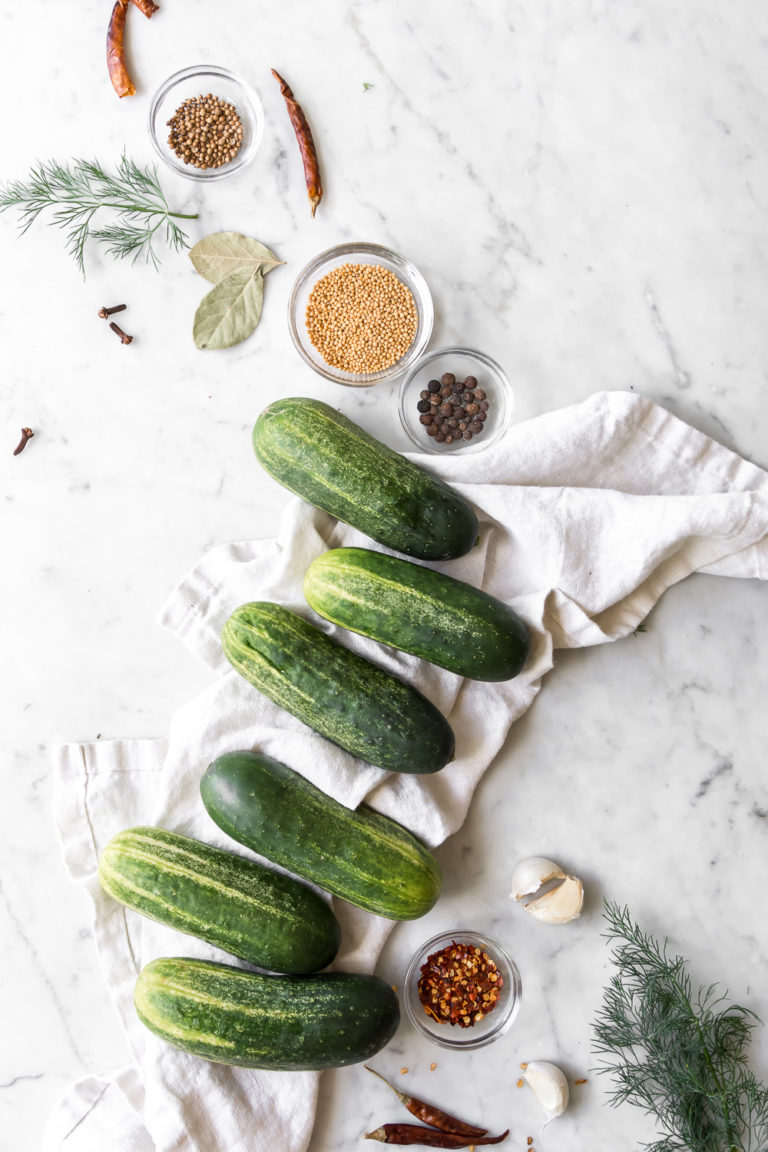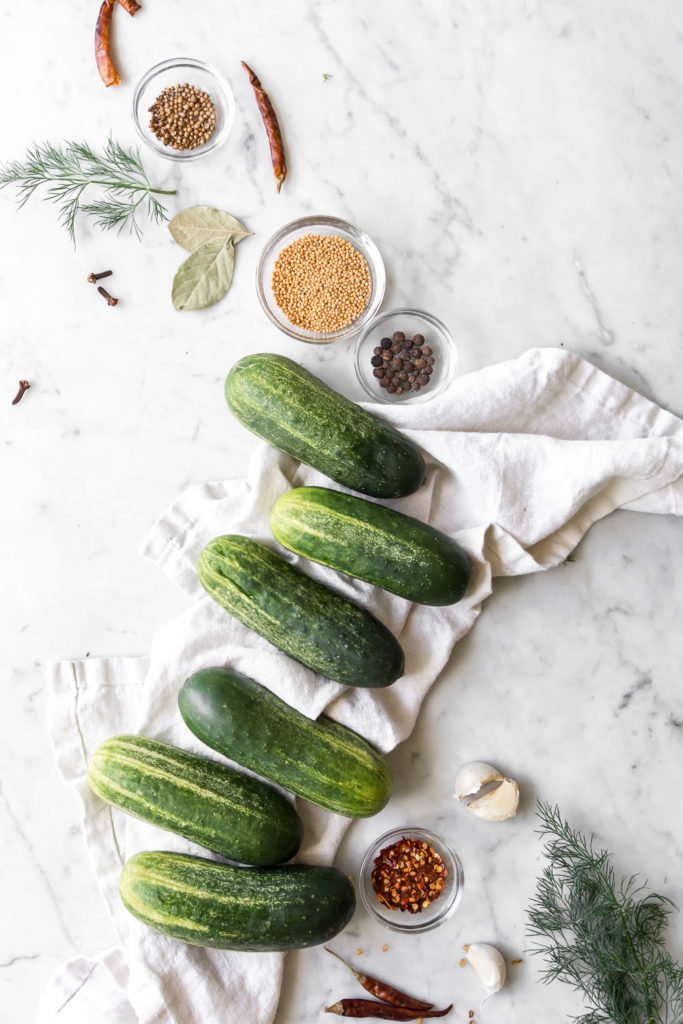 how long does a refrigerator pickle last?
Quick pickles will keep for at least 2 months in the refrigerator. Longer than that, and these spicy pickled cucumbers may start to lose their crunch and become mushy.
how do you pickle vegetables?
Cut the vegetables into spears or sticks
Pack vegetables, herbs and garlic into clean glass jars and set aside
Bring vinegar, water, sugar, salt and spices to a boil
Pour hot brine over vegetables, put lids on jars and cool to room temperature
Store in the refrigerator
For best results, wait at least 3 days before eating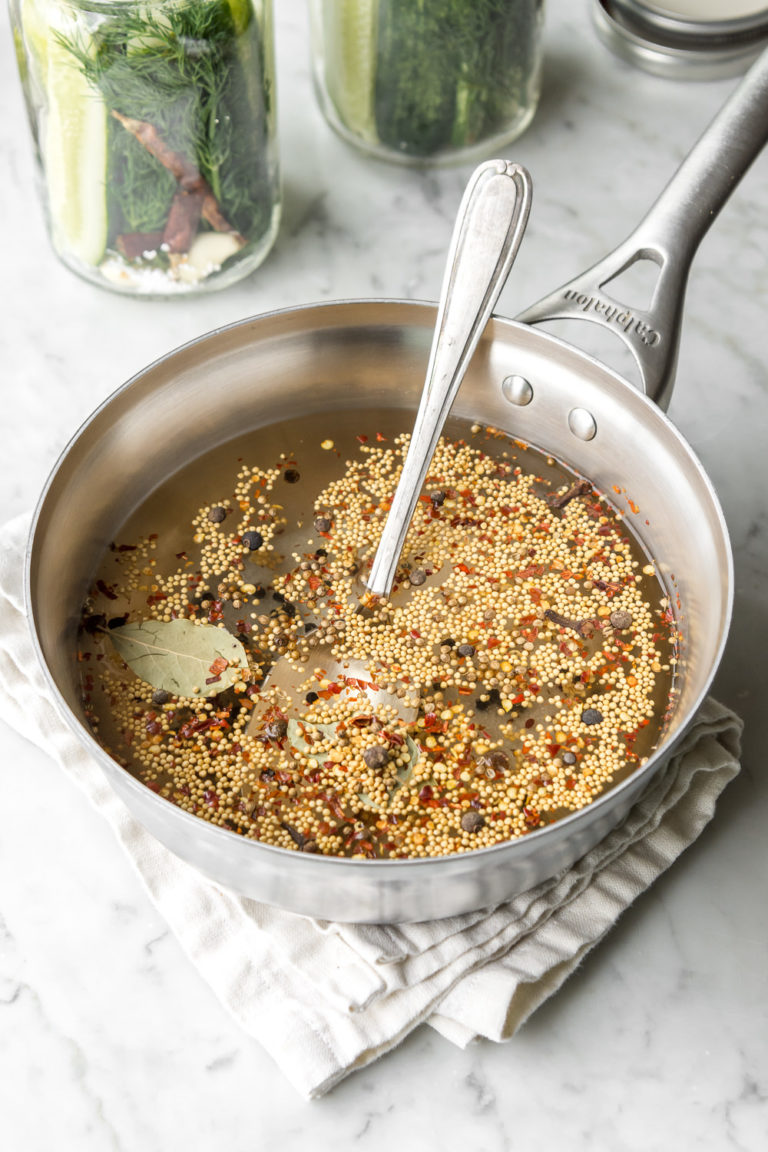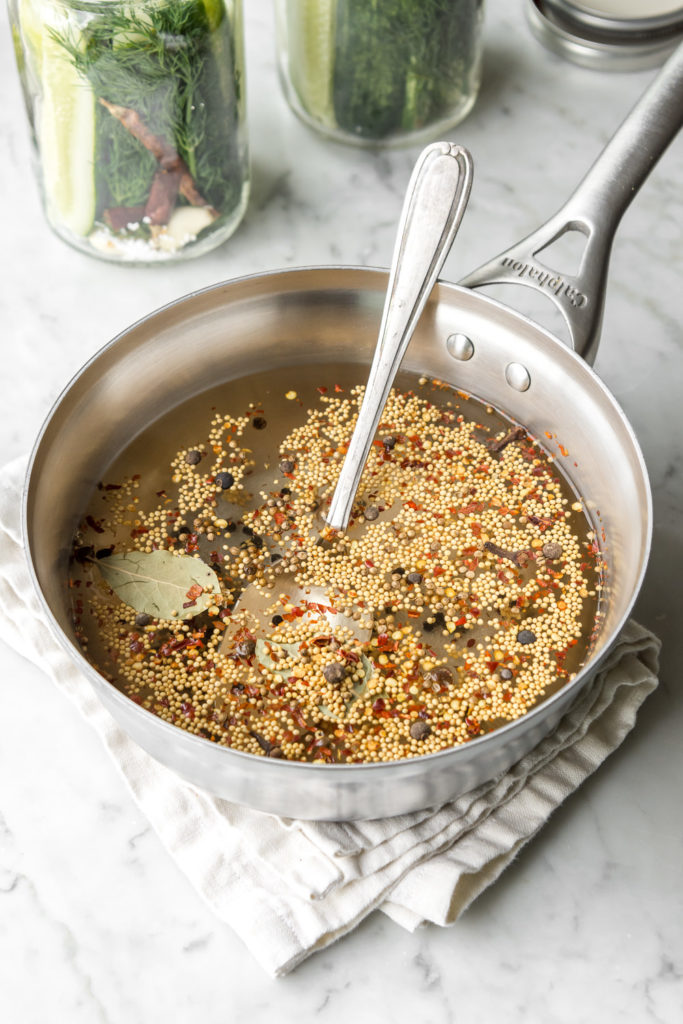 what else can you pickle?
Believe it or not, you can pickle almost anything. But there are some vegetables (and fruits!) that stand up to the process better than others.
In general, crunchy and firm vegetables do best in the hot vinegar brine. If the vegetable is too soft, it will just get mushier when pickled. Here is a list to help you brainstorm what to make into refrigerator pickles. It's by no means exhaustive!
Apricots
Asparagus
Beets
Blueberries
Carrots
Cauliflower
Grapes
Green beans
Mangoes
Onions
Peaches
Peppers (bell peppers, jalapeños, serranos, banana peppers, etc)
Plums
Radishes
Raisins (and other dried fruit)
Rhubarb
Strawberries
Summer squash
Swiss chard stems
Winter squash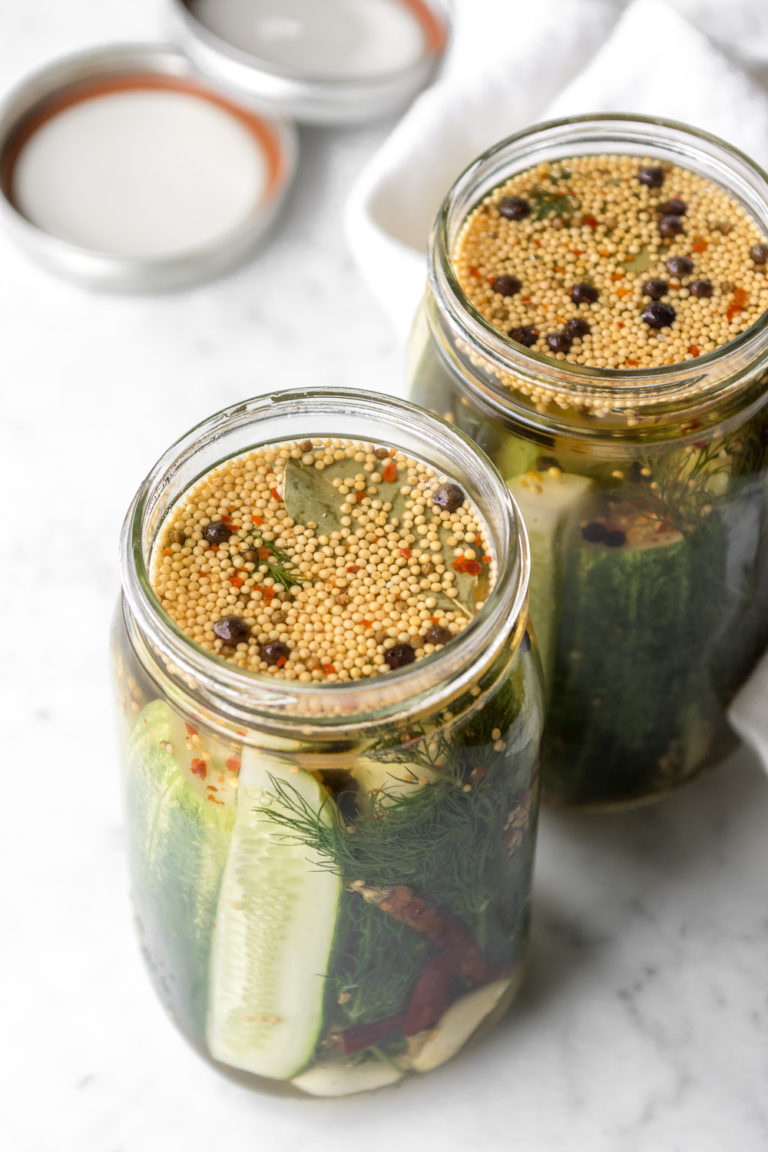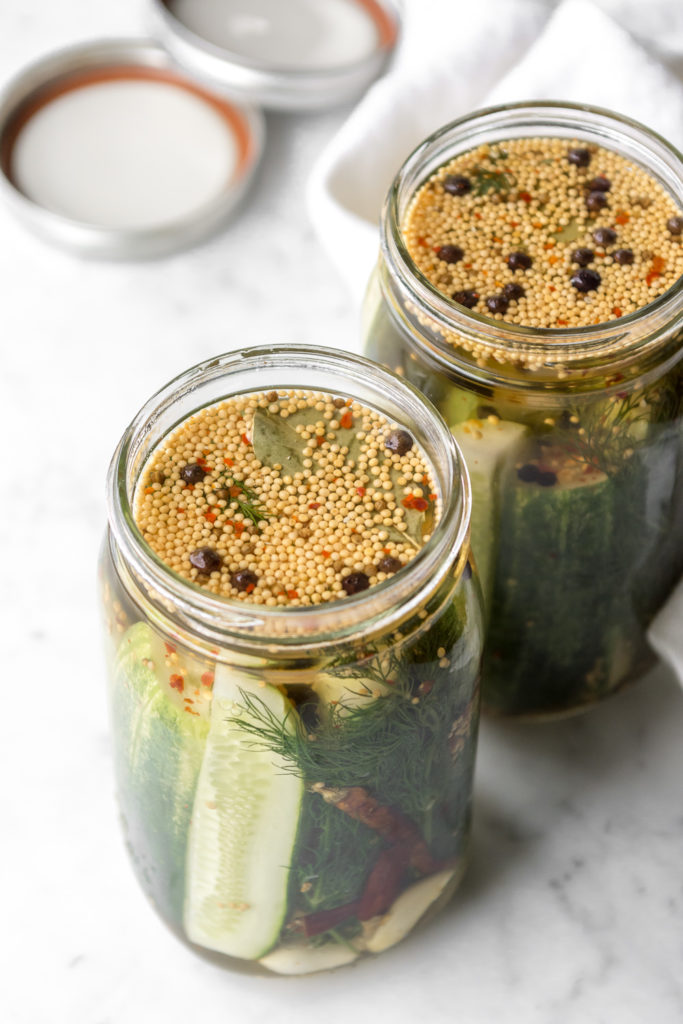 what's the difference between a quick pickle and a canned pickle?
The main difference between a quick pickle and a canned pickle is whether or not the cans are boiled, or "processed", to seal them. This allows the jar to be stored (unopened) at room temperature for up to a year.
And generally, in order to store the sealed jars in a cupboard, the vinegar brine needs to be stronger to ensure microbial stability. The low pH prevents growth of pathogens (like Clostridium botulinum), so make sure you follow the recipe closely if you're canning!
Quick pickles, on the other hand, are refrigerated. You can tweak the brine as much as you want because its main role is flavor, not preservation.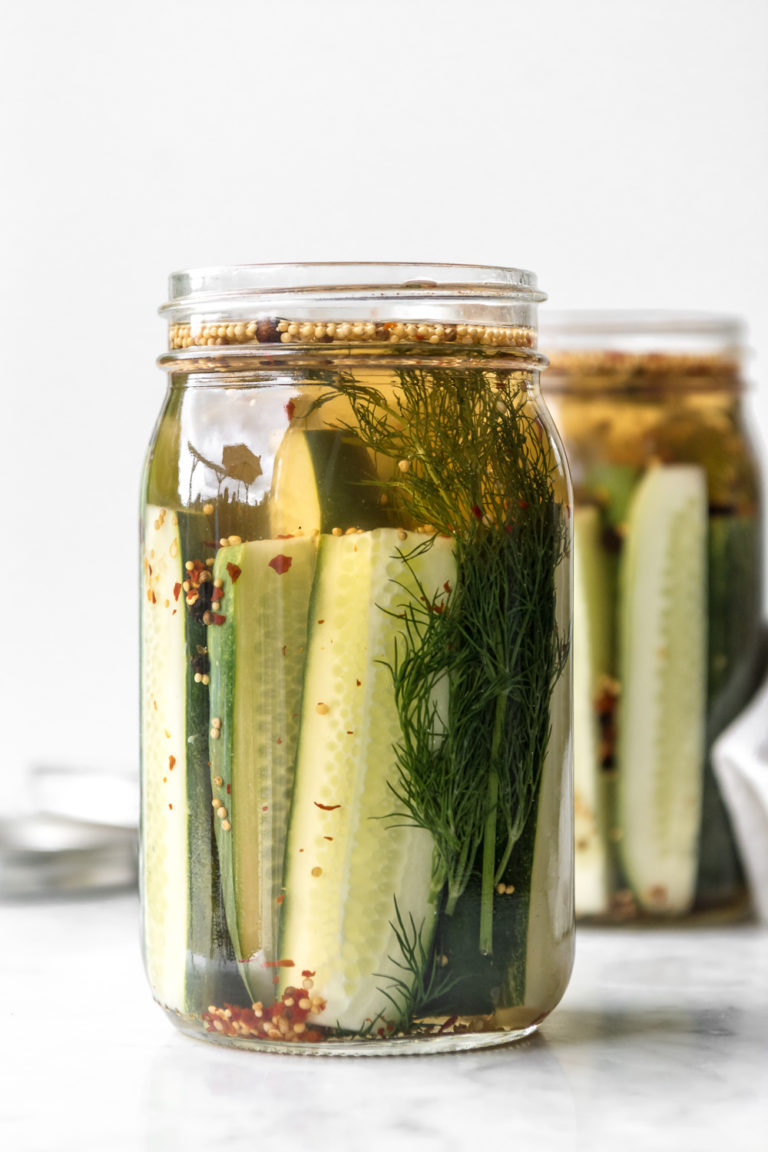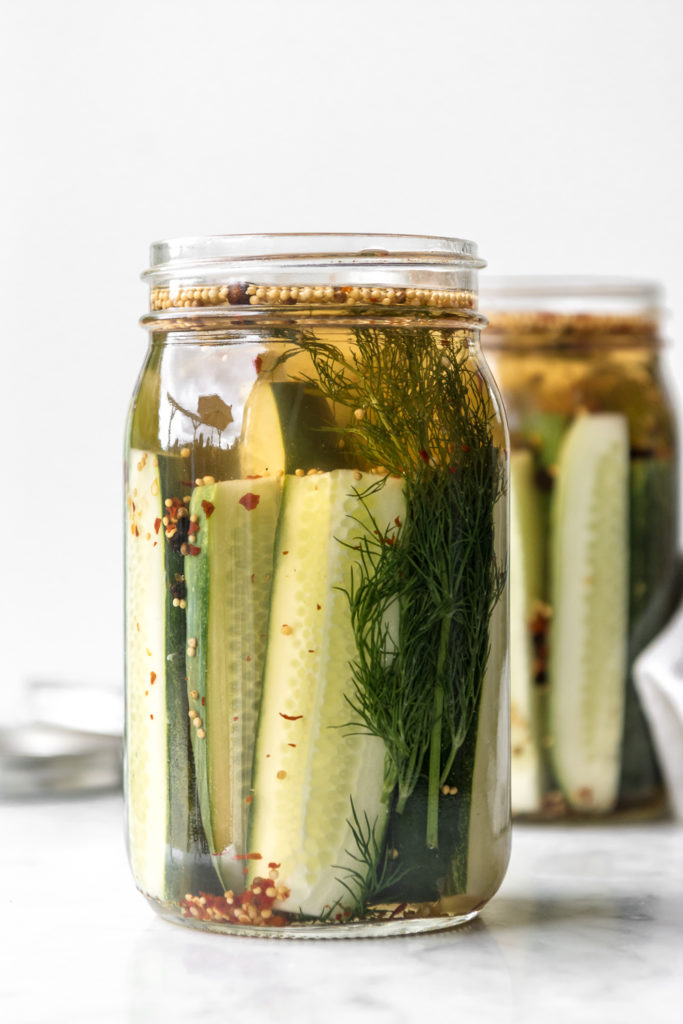 A by-product of processing is texture. Refrigerator pickles tend to be crunchier and fresher tasting since they aren't boiled in the jar for 15 minutes. But there are a lot of ways of keeping the crunch of canned pickles, so don't write them off!
To keep all cucumber pickles crunchy, I swear by calcium chloride. You can find it in the canning section of most grocery stores, under the name Pickle Crisp.
Note: these spicy refrigerator pickles have a strong enough acid component to be safely canned and stored, unsealed, for up to one year.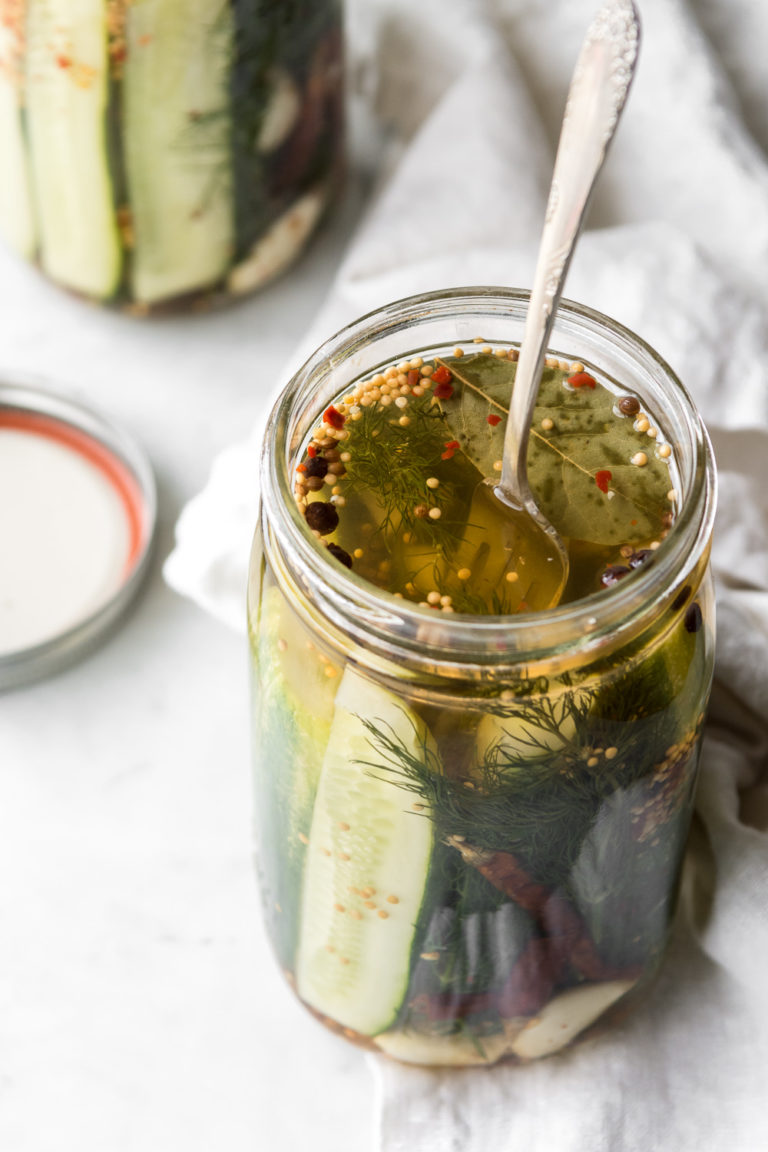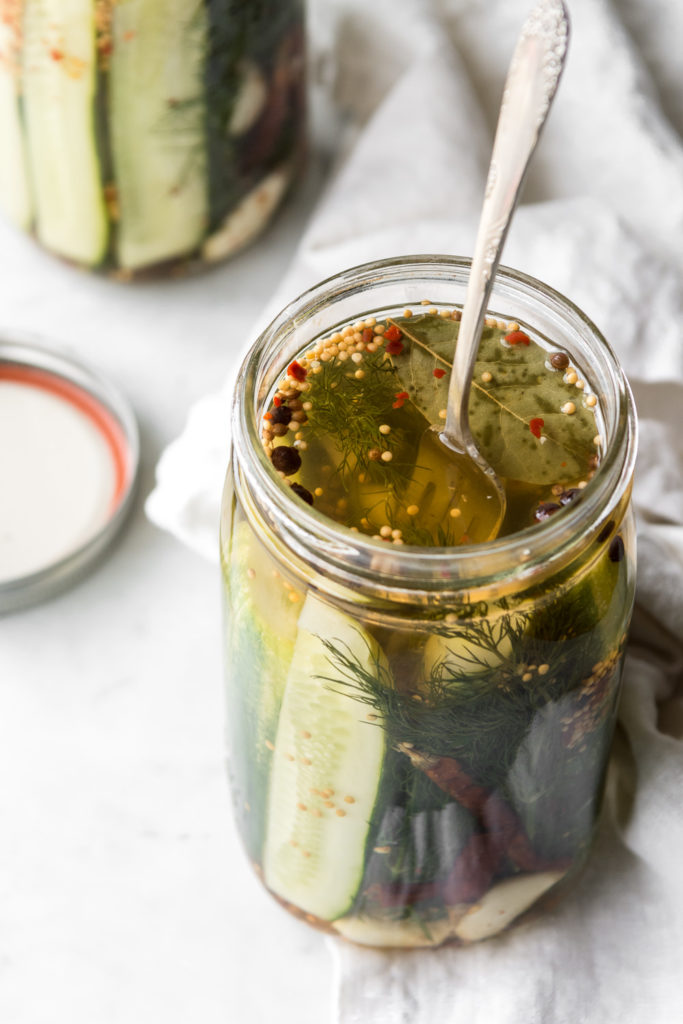 more pickle recipes to try!
pickled cherries with black pepper and thyme
Print
spicy refrigerator pickles
Learn how to make spicy refrigerator pickles! This is a traditional dill pickle recipe, ramped up with dried chilis and red pepper flakes. Quick and easy!
Author:
Prep Time:

10 minutes

Cook Time:

5 minutes

Total Time:

15 minutes

Yield:

two 1-quart jars

Category:

Pickles

Method:

Hot pack

Cuisine:

American

Diet:

Vegetarian
Ingredients
4

garlic cloves, peeled

½ tsp

calcium chloride granules (such as Pickle Crisp), optional

4

dried red chilis (such as Arbol)

2

lbs (about

6

) pickling cucumbers (such as Kirby), ends trimmed and quartered

10

sprigs of fresh dill

1 ½ cups

distilled white vinegar

3

tbsp kosher salt

1 tbsp

sugar

2 cups

water

1 tbsp

whole mustard seeds

1 tsp

whole coriander seeds

3

cloves

2

bay leaves, crumbled

1 tsp

whole allspice berries

1 tsp

red pepper flakes

1 tsp

black peppercorns
Instructions
Divide garlic cloves, calcium chloride (if using) and chilis into two clean 1-quart glass jars. Pack jars tightly with cucumbers and dill. Set aside.

In a saucepan, combine vinegar, salt, sugar, water, mustard, coriander, cloves, bay leaves, allspice berries, red pepper flakes and black peppercorns. Bring to a boil, simmer for a minute, then remove from heat. 

Pour the hot brine over the cucumbers, leaving ½ inch of headspace. Wipe the edges clean and cover with lids. If desired, proceed to process jars. Otherwise for quick pickles, let cool completely then store in the refrigerator. For best results, refrigerate for 3 days before eating.
Notes
Quick pickles will keep for several months in the refrigerator.

These cucumber pickles can be processed in boiling water and will last up to 1 year, as long as the lids remain vacuum sealed.

Make sure to use sterile jars (boil for 10 minutes) and process according to your elevation (anywhere from 15- 25 minutes for raw packed quart jars).

Store in a cool, dark place.



Nutrition
Serving Size:

1 spear and ½ tsp brine

Calories:

10

Sugar:

0.2g

Sodium:

146mg

Fat:

0g

Saturated Fat:

0g

Unsaturated Fat:

0g

Trans Fat:

0g

Carbohydrates:

2g

Fiber:

0.2g

Protein:

0.3g

Cholesterol:

0mg
Keywords: spicy refrigerator pickles