Crispy butternut squash fritters are filled with buttery leeks and fresh thyme for a simple and delicious Fall meal. Your family and friends will be obsessed with the crunchy edges and flavor-rich center!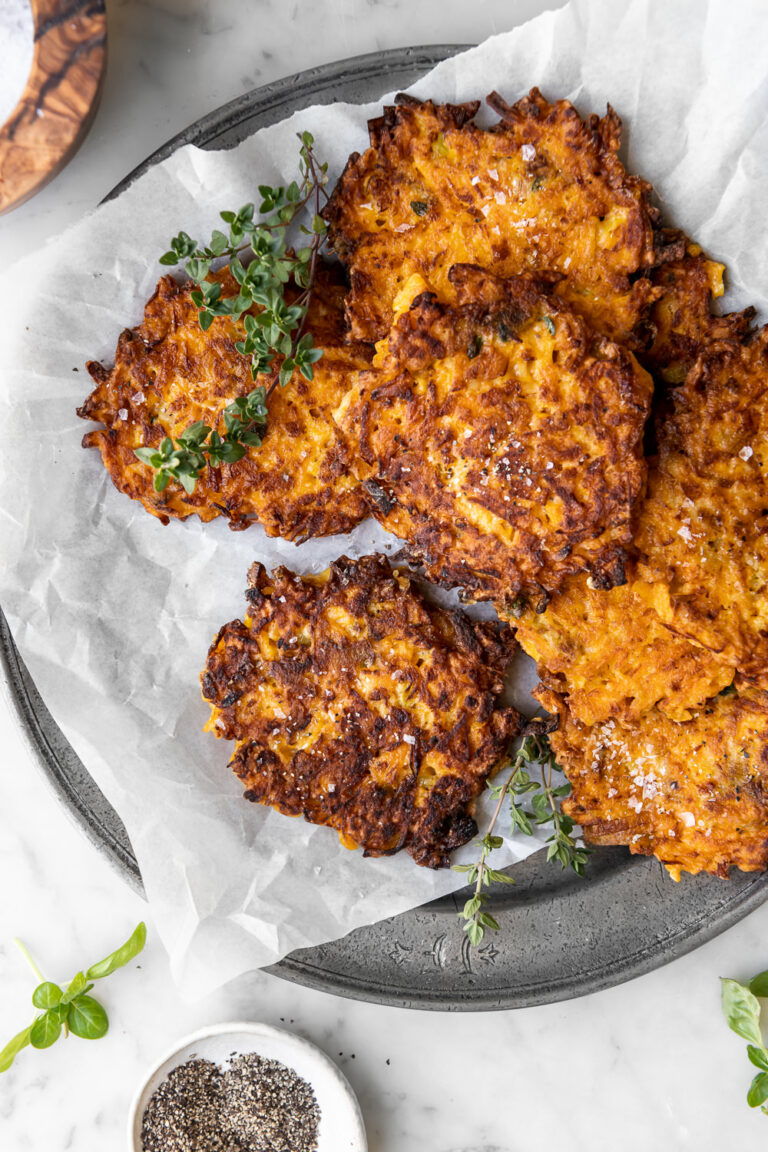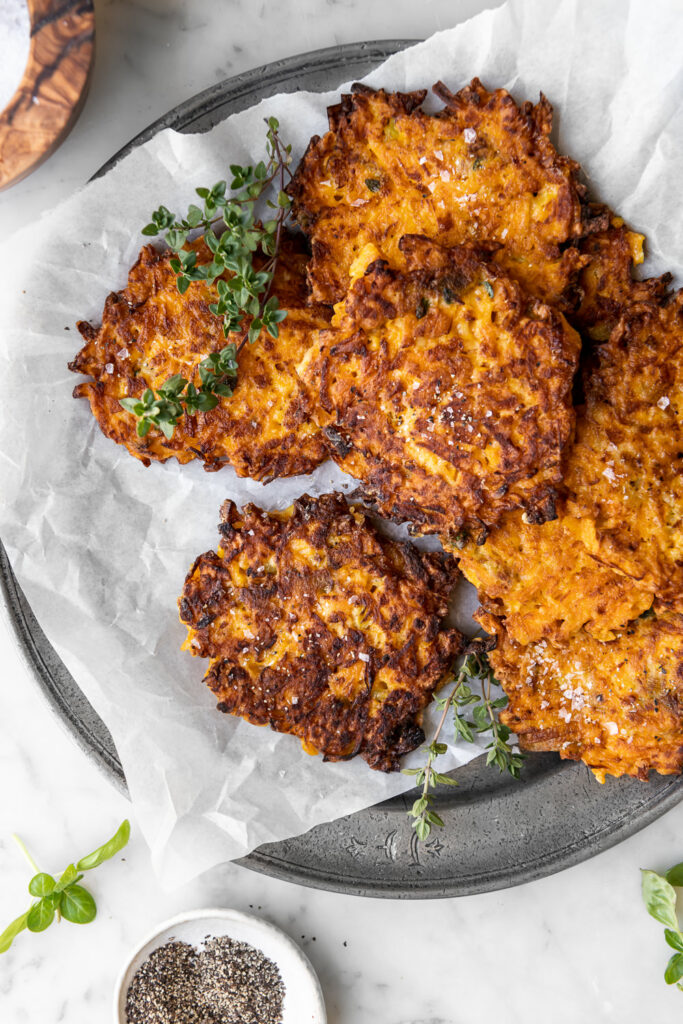 These butternut squash fritters are soon to be your new favorite butternut squash recipe. They're complete with lacy-crisp edges, buttery sweet leeks, and plenty of fresh thyme.
There's nothing special or complicated here— just some solid latke techniques and classic flavors. The result is addictively sweet and salty butternut squash fritters with crispy shreds and soft centers. The leeks and thyme perfume the whole patty with so much flavor— they only really get better with a drizzle of creme fraiche. Butternut squash has found its true calling in these fritters.
I love these butternut fritters for a number of reasons. My family is obsessed— the kids inhale them and my husband calls them crack cakes. I can do a lot of the prep in the morning, then toss the batter together and fry at dinner time with minimal stress (see make ahead steps here). They're a delicious riff off of potato latkes and are a great way to embrace all the Fall flavors. So branch out from the butternut squash soups and give these butternut squash cakes a try!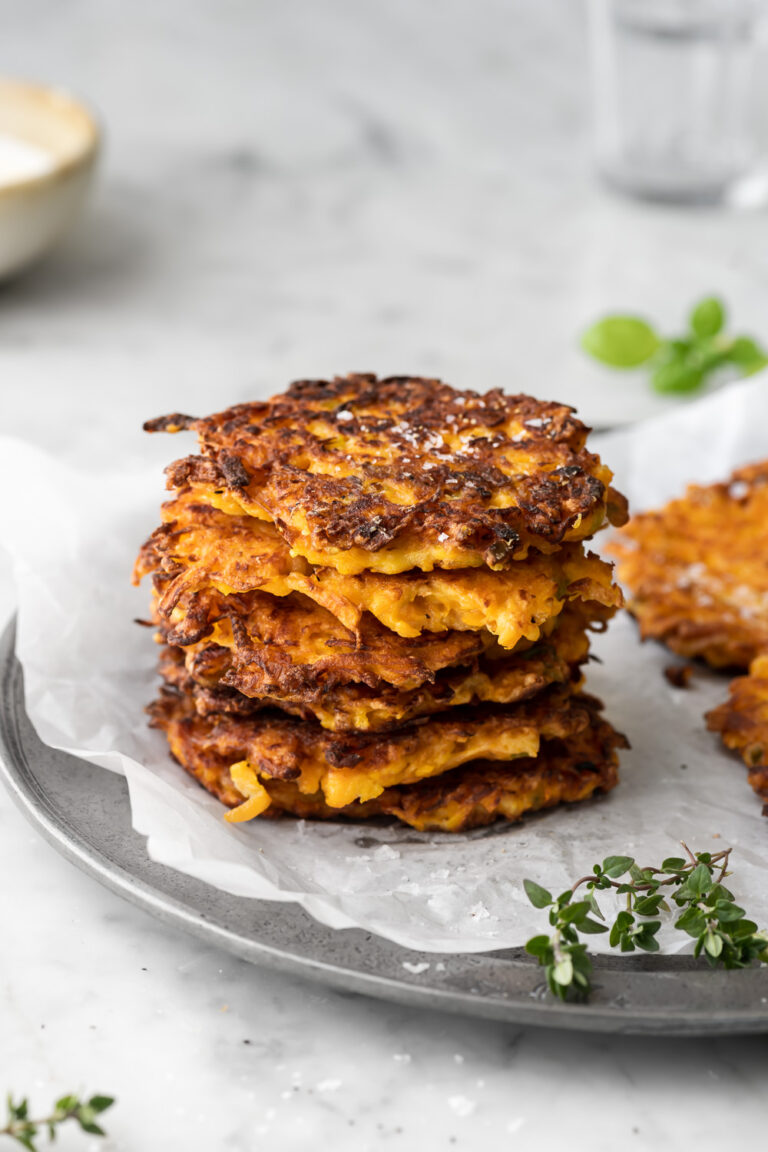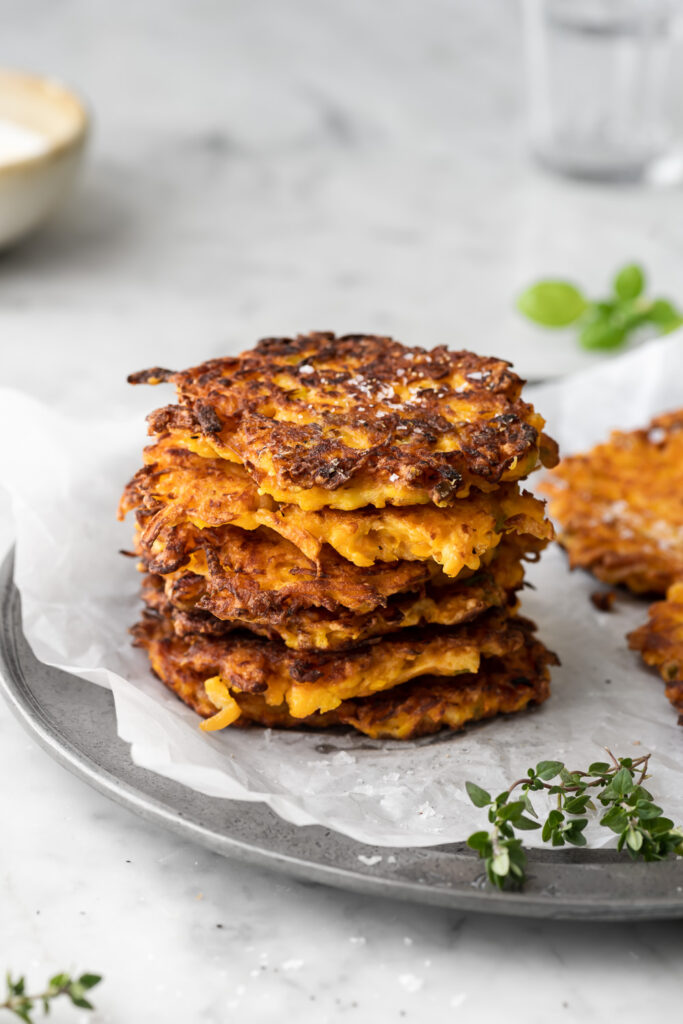 what you need to make butternut squash fritters:
butternut squash
leeks
butter
all-purpose flour
baking powder
fresh thyme
eggs
coconut oil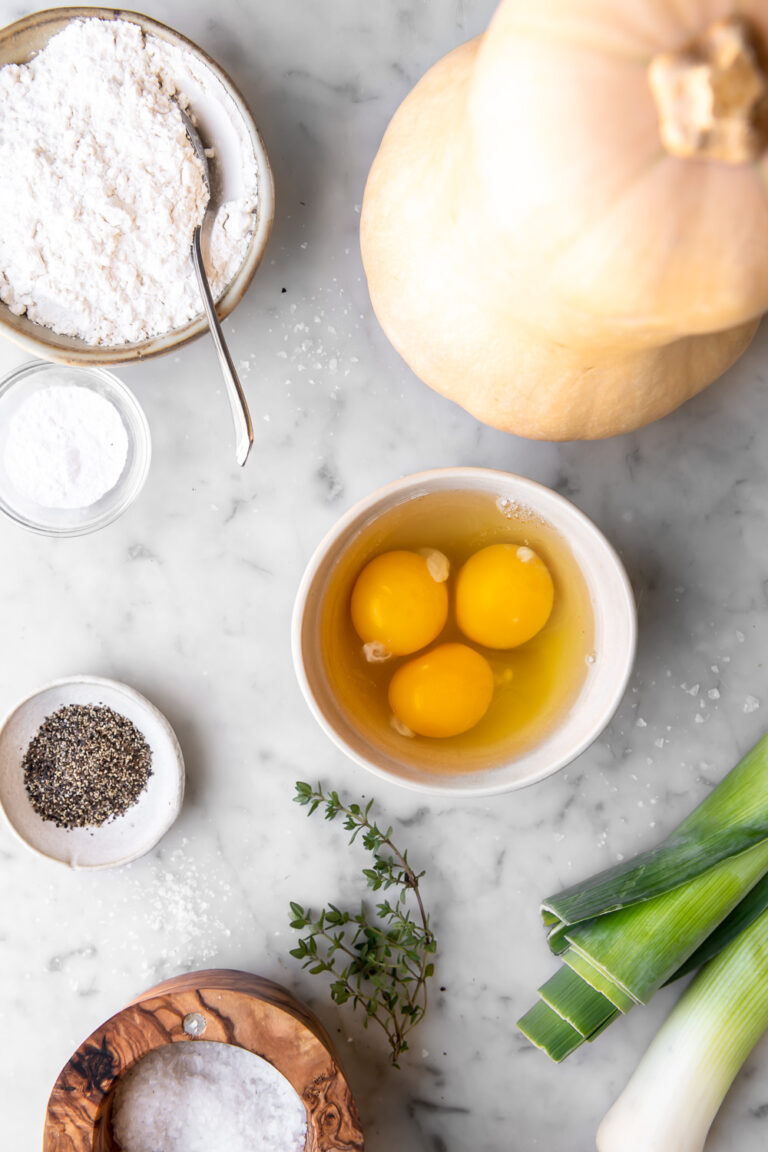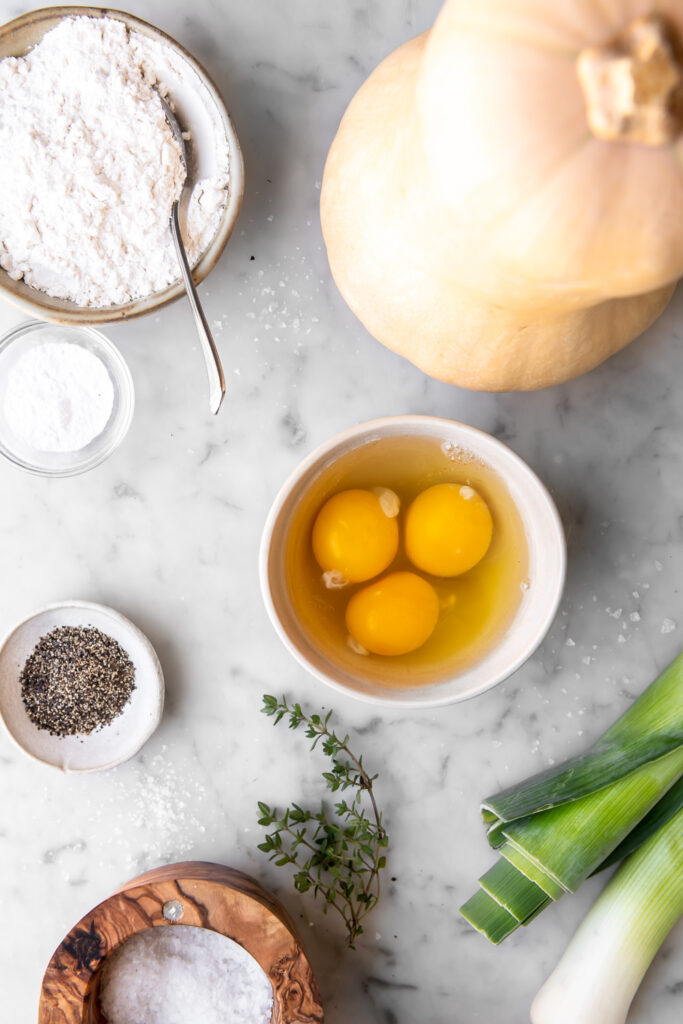 how to make butternut squash fritters
Shred the butternut squash
Sauté leeks in butter
Whisk together flour, baking powder, salt, pepper and thyme in a bowl
Mix in eggs and leeks
Fold in butternut squash
Fry fritters until crispy and cooked through
Serve with flaky salt and a drizzle of creme fraiche
how to shred butternut squash:
The easiest way to grate a butternut squash is with a food processor fitted with a grating disc (sometimes called a shredding disc or grater blade). Here's how to do it:
Peel and chop the butternut squash into rectangles. Make sure they are narrow enough to fit into the feed tube on the lid.
Place the bowl on the food processor and fit the grating disc on top. Use the disk with the largest holes.
Lock the lid onto your food processor and add 1- 2 pieces of butternut squash. Turn it on and use the pusher to press the squash down against the rotating grater blade. Butternut squash is hard, so it will be loud. At the end of a piece, squash stubs usually get caught between the disc and the blade, so every few rounds you will need to remove them. I usually just feed those to my dog. Continue until you've shredded all of the butternut squash!
Alternatively, you can always use a box grater.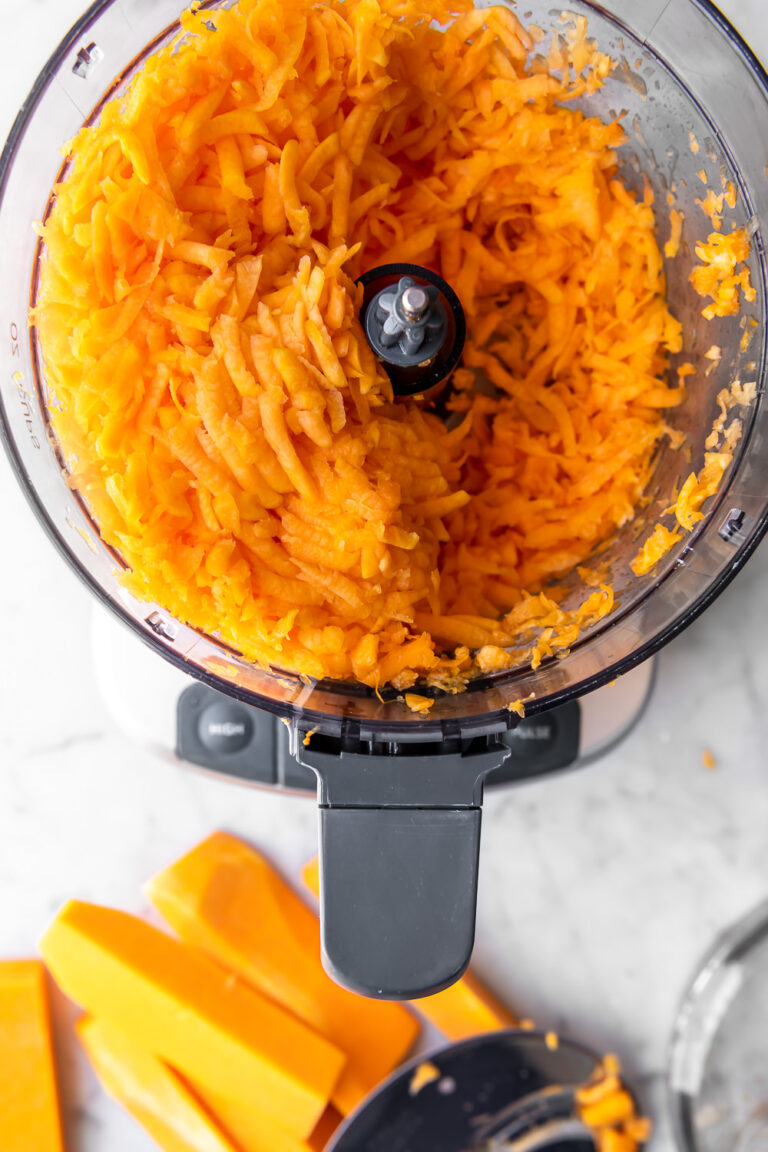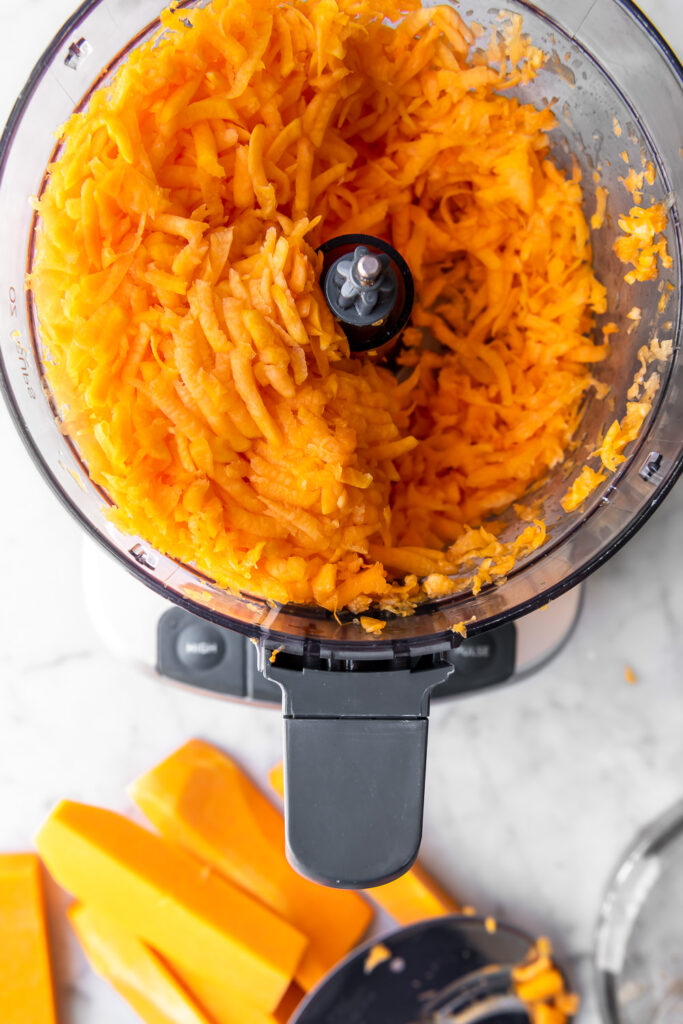 how to shape butternut squash patties:
This is a wet batter, so I prefer to shape each fritter as I go. It's slightly messy, but very effective. I call it the spatula-smash. Make sure your oil is hot— it's ready when a piece of shredded squash sizzles when plopped in the oil.
Use a ¼ cup measuring cup, scoop up the batter and smoosh it down into the cup. Sometimes it helps to spray some non-stick spray into the measuring cup.
Invert the cup over the spatula and shake it to release the batter.
Smash the batter against the spatula until it's about ½-inch thick. Carefully slide the fritter into the hot oil. Repeat with 2 or 3 more fritters, depending on the size of your pan.
Wash your goopy hands, flip the fritters, drain on paper towels and repeat with another batch.
If you have a hard time scooting the raw fritter off the spatula, you can spray the spatula with some non-stick spray as well.
best oil for frying fritters:
We shallow fry these butternut fritters, so it's important to use a good oil with a relatively high smoke point. Refined avocado oil has one of the highest smoke points and it's a great option, but it can be pricey.
My favorite oil for frying (shallow or deep) is refined coconut oil. Its smoke point is higher than olive oil and a little lower than canola oil, but the finish is always perfectly non-greasy. And that's the game changer for me. It is also fully saturated, so it can also be reused multiple times without fear of oxidation and free radicals.
Make sure to use refined coconut oil so the flavor has been removed (although virgin coconut oil does make your kitchen smell great).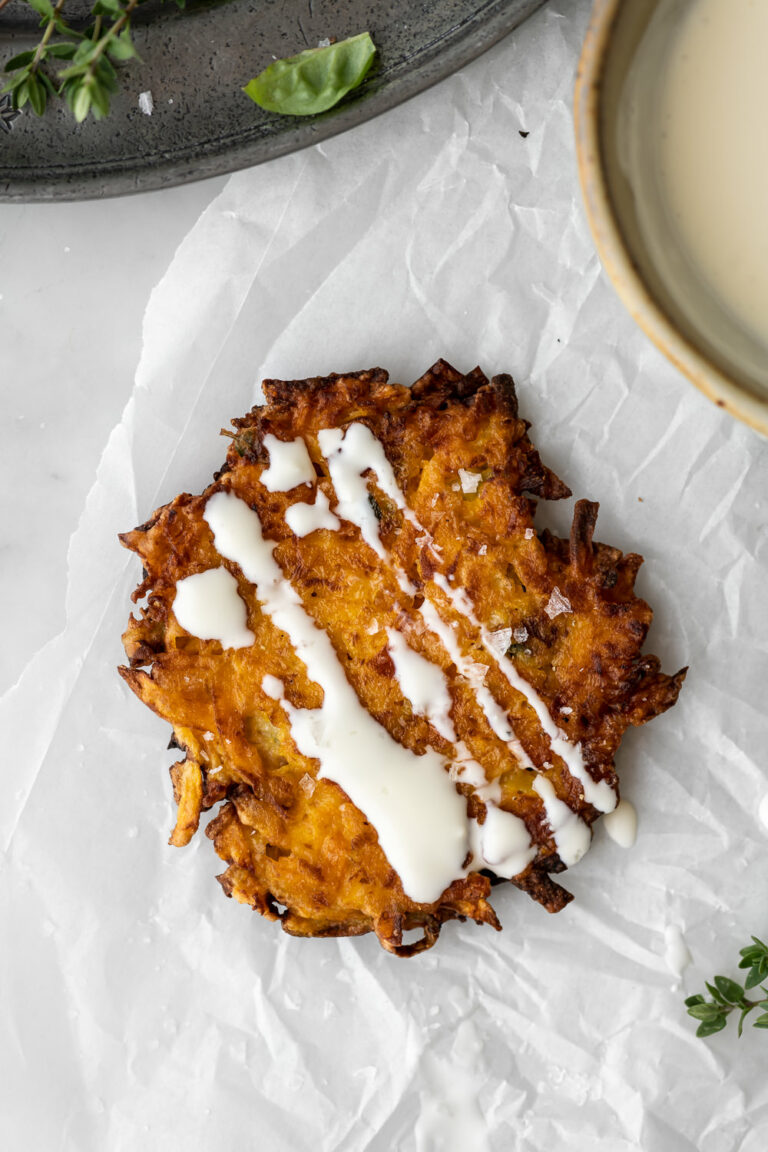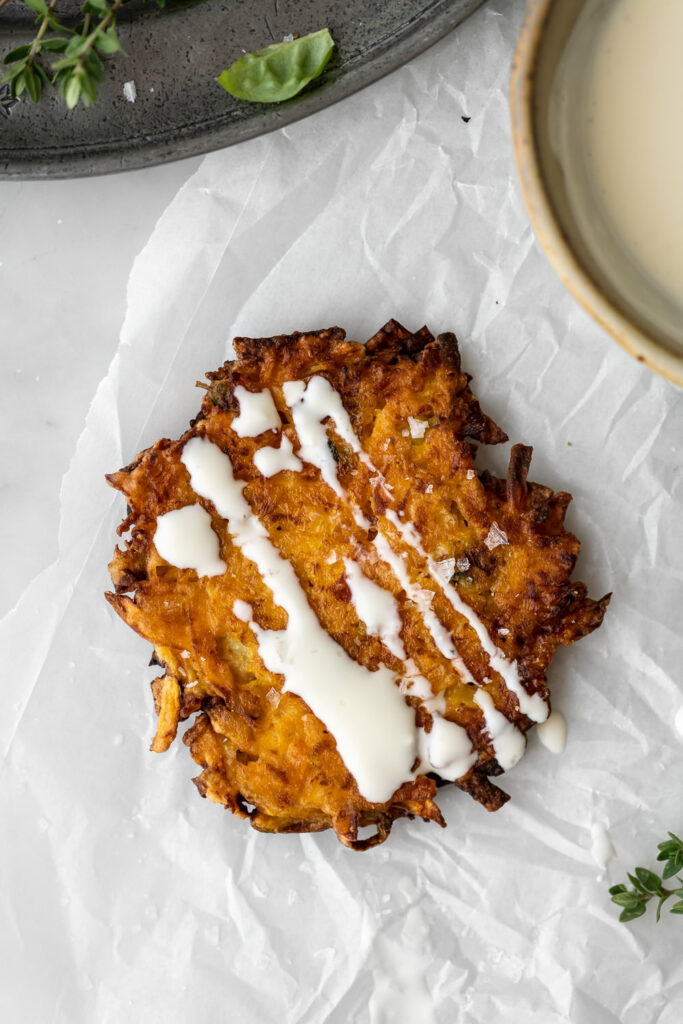 what do you serve with butternut fritters?
I love to serve these butternut squash fritters with a fresh, crunchy salad (like this creamy pistachio wedge salad) and a simple roast chicken. For an appetizer, try this wild mushroom toast with brown butter and ricotta.
Pair the dinner with a plush and fragrant Viognier (we love the ones from the Northern Rhone) or a velvety soft California Merlot.
more fritter tips:
Feel free to substitute sweet potatoes, pumpkin, acorn squash or kabocha squash in place of the butternut squash.
The most annoying part of this recipe (and really every recipe with butternut squash) is the peeling and chopping of the squash. To bypass that nonsense, you can absolutely use fresh cubed butternut squash here. Just toss the cubes in your food processor (fitted with a grater disc) and you're golden.
Can you make the butternut fritters ahead of time?
A lot of the process of butternut squash fritters can be done ahead of time, so all you have to do is mix the batter and fry. I do recommend frying just before serving to avoid soggy fritters.
Peel, chop and grate the butternut squash. Can be done up to 2 days in advance.
Slice and sauté the leeks. Can be done the day ahead.
Mix all of the dry ingredients and store in a bowl or zip-top bag. Can be done anytime, really.
When you're ready to fry, combine the eggs and dry ingredients. Fold in the shredded squash. Heat up the oil and fry!
How to reheat butternut fritters:
The best way to reheat these butternut squash fritters is in the oven, then finished under the broiler:
Preheat the oven to 400°F.
Place the patties on a foil-lined baking sheet.
Reheat in the oven for about 5 minutes, or until heated through.
Move the pan so it is about 6 inches below the heater element and broil for 2- 3 minutes, or until crispy.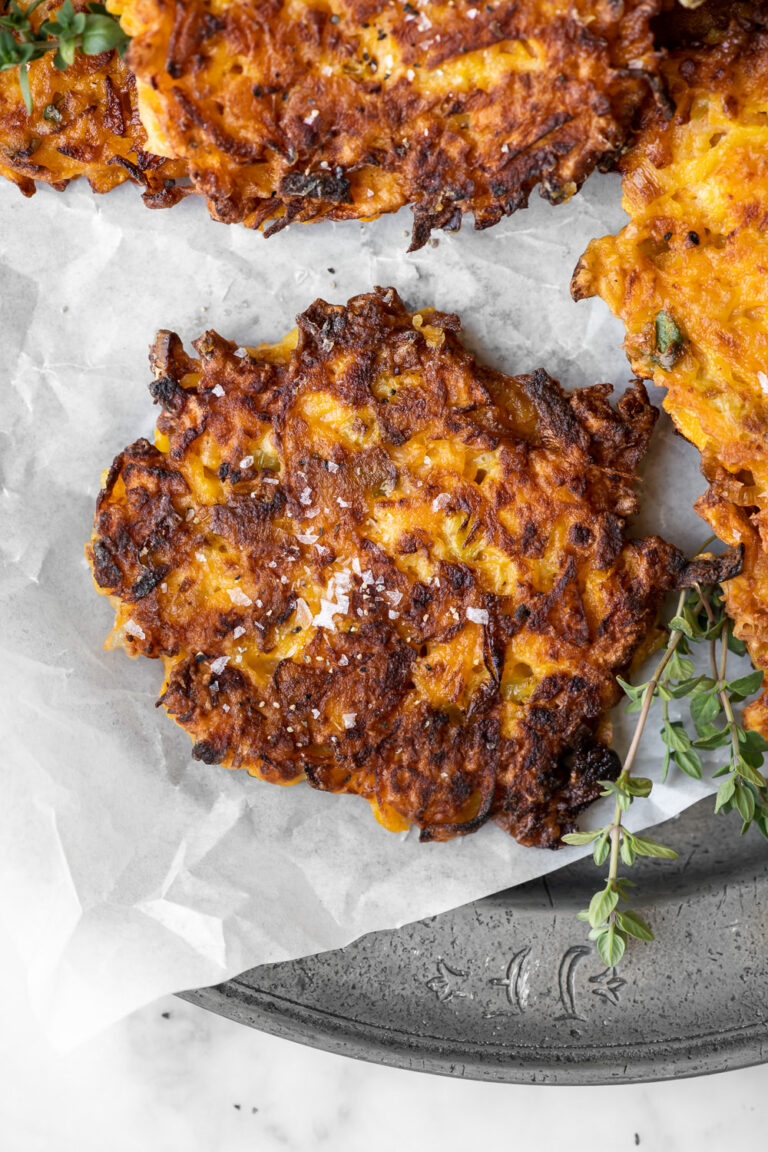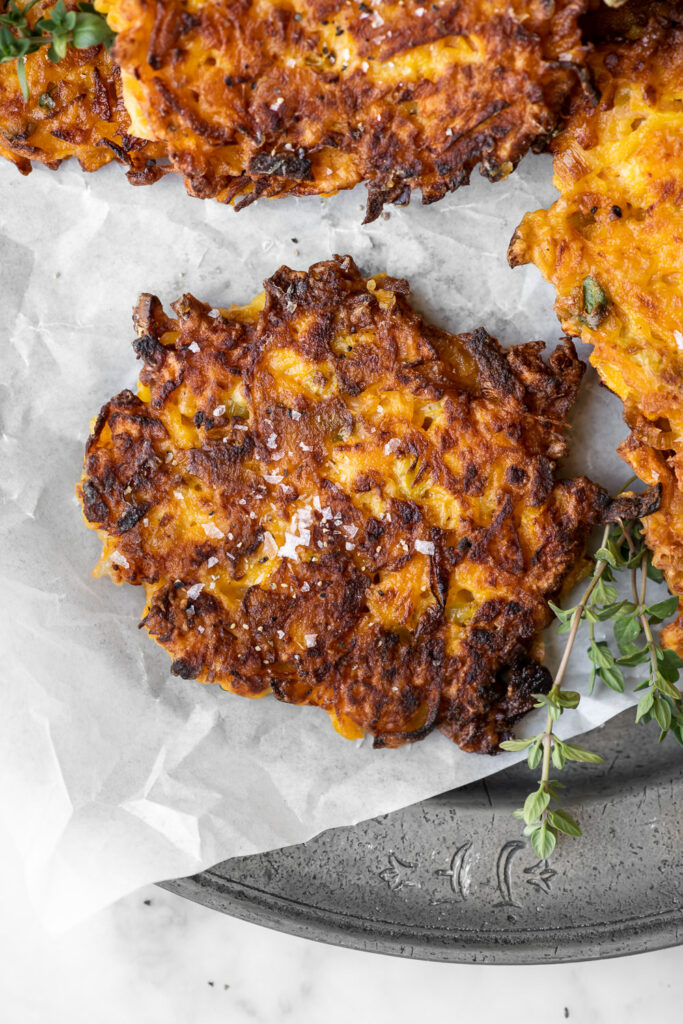 more winter squash recipes to try!
butternut squash rolls with brown butter
butternut squash salad with roasted grapes and farro
kabocha squash soup with cauliflower and leeks
pumpkin pot pie with white beans and bacon
For another crispy potato side, try these air fryer smashed potatoes by Shruthi at Urban Farmie!
Print
butternut squash fritters
Shredded butternut squash fritters are filled with buttery leeks and thyme, then pan-fried for extra crisp edges. Drizzle with creme fraiche!
Author:
Prep Time:

15 minutes

Cook Time:

30 minutes

Total Time:

45 minutes

Yield:

16 fritters

Category:

Side

Method:

Fry

Cuisine:

American

Diet:

Vegetarian
Ingredients
1 tbsp

unsalted butter

2

leeks, thinly sliced into half moons
kosher salt
freshly ground black pepper

⅔ cup

all-purpose flour

¾ tsp

baking powder

1 tbsp

fresh thyme leaves

3

eggs, beaten

5 cups

grated butternut squash (from

3

lbs squash)
refined coconut oil, for frying (best non-greasy oil)
flaky salt, for serving
creme fraiche or sour cream, for serving
Instructions
Preheat oven to 300°F. Line a sheet pan with parchment paper, place a cooling rack over top and set aside.
Melt butter in a small pan over medium heat. Add leeks, season with salt and pepper, and cook until softened, about 5 minutes. 
Place the flour, baking powder, 1 ½ tsp kosher salt, black pepper, thyme and eggs in a large bowl. Whisk until well combined. Mix in the butternut squash.
Place a few spoonfuls of coconut oil in a large, heavy bottomed skillet over medium-high heat. When melted, it should be about ¼-inch deep. A piece of batter will sizzle immediately when the oil is hot enough. Scoop ¼ cup of mixture onto a flat spatula and flatten into a 4-inch patty. Gently slide the fritter off the spatula and into the oil. Repeat to make enough fritters to fill, but not crowd, the pan.
Cook 4- 5 minutes per side, or until golden brown and crispy, adjusting heat as needed. Transfer to paper towels to drain and season with salt. Keep fritters warm on the prepared baking sheet in the oven. Repeat shaping and frying the fritters until all of the mixture has been used.
Serve with a sprinkle of flaky salt and drizzle of creme fraiche.
Notes
Nutritional information is only an estimate. The accuracy of the nutritional information for any recipe on this site is not guaranteed.
Nutrition
Serving Size:

1 fritter

Calories:

130

Sugar:

1.6g

Sodium:

158mg

Fat:

8.5g

Saturated Fat:

6.4g

Unsaturated Fat:

1.4g

Trans Fat:

0g

Carbohydrates:

12g

Fiber:

2.4g

Protein:

2.4g

Cholesterol:

37mg
Keywords: butternut squash fritters