Don't be fooled by what looks like a recipe for a boring, humble wedge salad. This is one of the best salad dressings I've ever had, and I even forgot half of the herbs the first time I made it. Part of what makes it so memorable is the use of three different types of acid: creme fraiche (lactic acid), lemon juice and white vinegar. They add dimension and layers of freshness that you just don't get from simply using vinegar. Couple that with the delicate punch of shallots, the richness from homemade aioli and an array of fresh herbs. You can see how this dressing will become something you'll want to whip up all summer.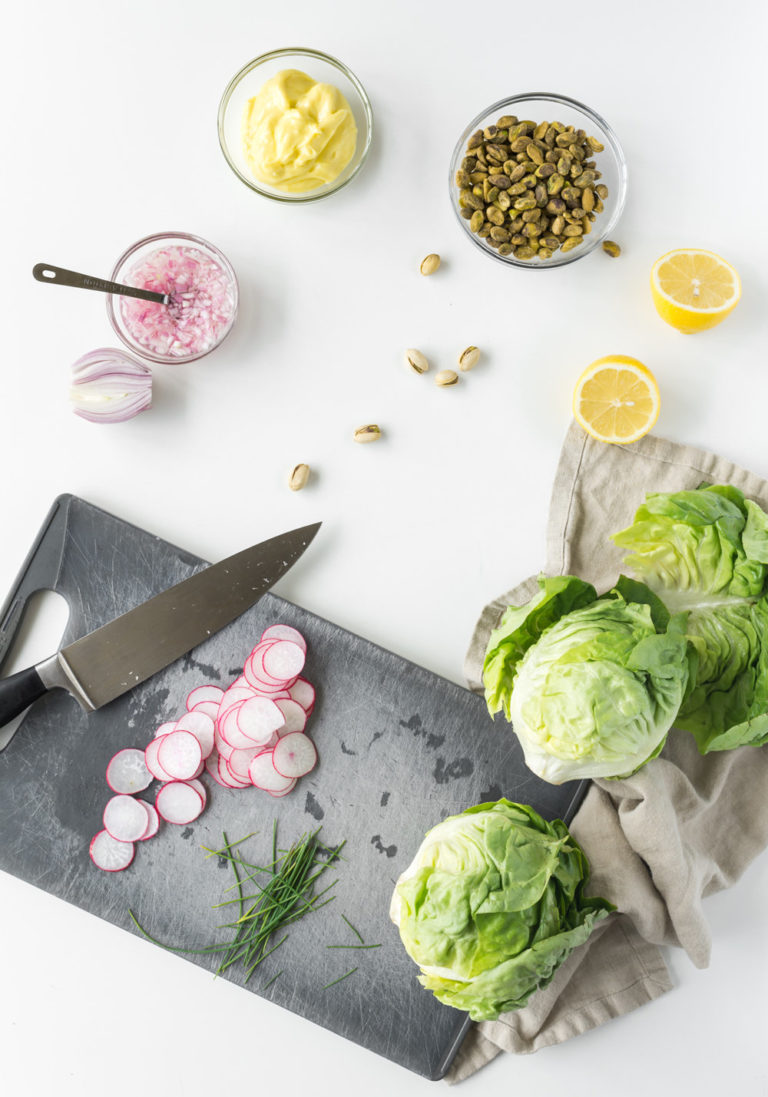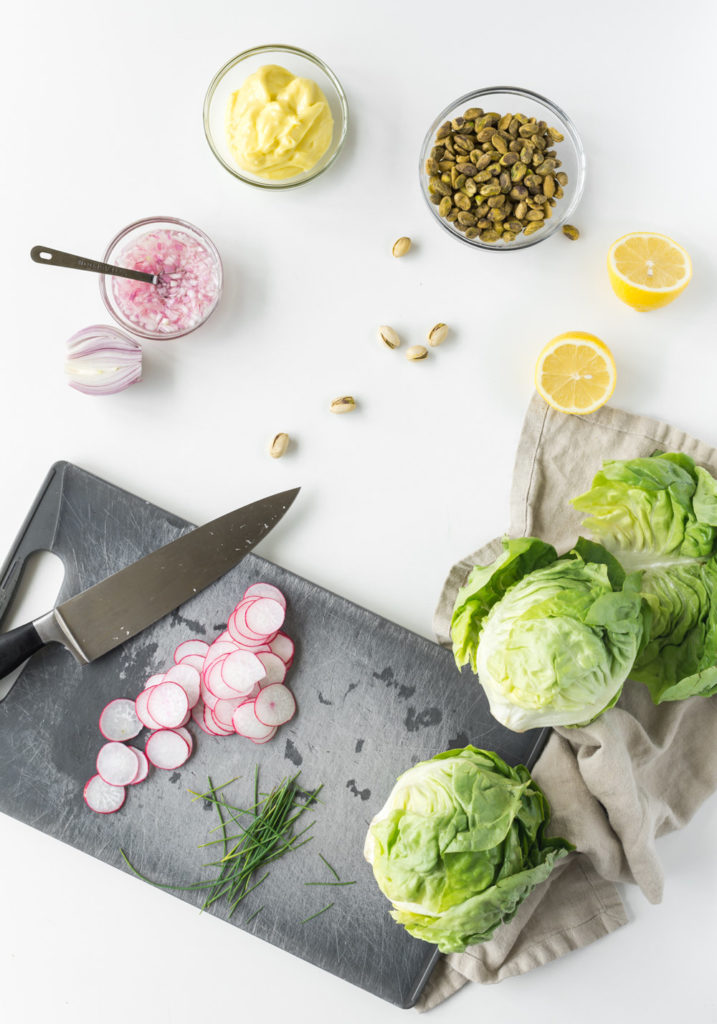 For simplicity's sake, you can always substitute store-bought mayonnaise for the homemade aioli. While it is easier, the depth of flavor from homemade aioli is so worth the 20 minutes of oily whisking. Plus, like Naomi put it, aioli making is a wonderful kitchen skill to master.
And there's something so special about wedge salads. They embody summertime: fresh, bright, simple and in this case, dolloped with a tangy, herb-filled dressing. I never thought I'd say this, but this salad rivals my all-time favorite wedge salad, by Ashley Rodriguez, with the tangy buttermilk blue and thick cut bacon. This is a deeply satisfying salad (uhh my husband chose it as a late night snack over an ice cream sandwich?!) and I can't help but picture it alongside a juicy grilled flank steak and a bottle of light, fragrant pinot noir.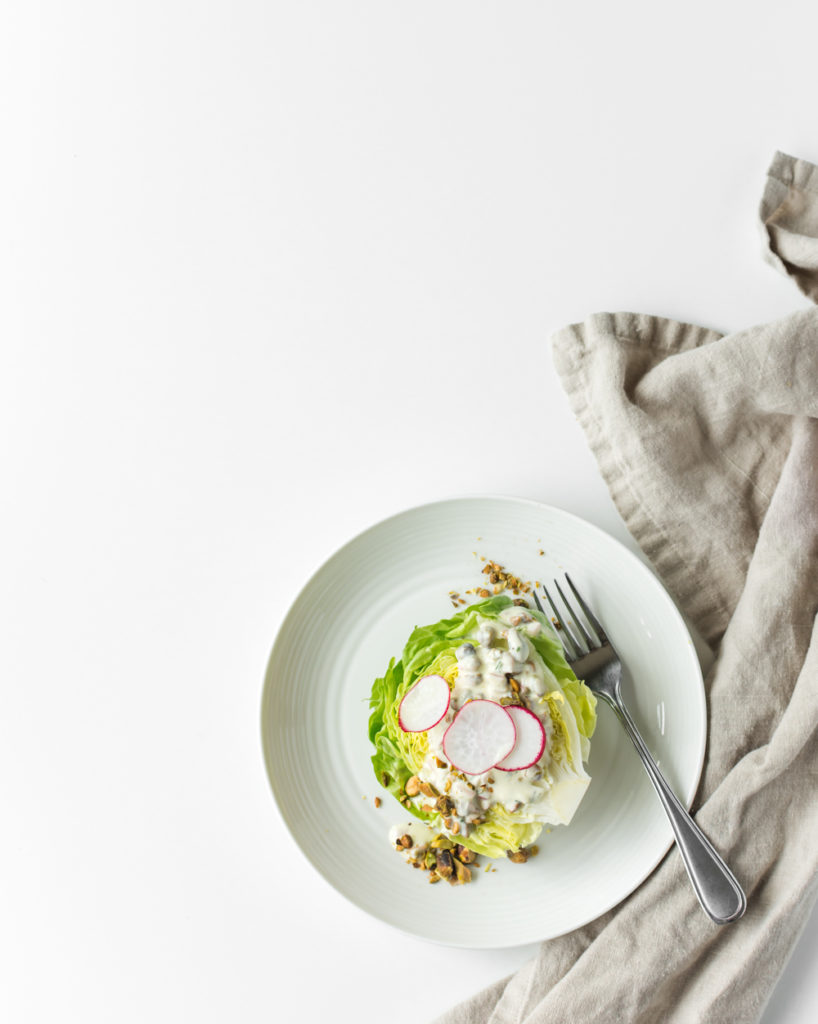 what to do with the leftover homemade aioli?
a dip for charred artichoke leaves
a dip for blanched or roasted vegetables
a thick smear on crusty bread or a flaky croissant
tossed with shredded roasted chicken, fresh herbs and diced celery for the best chicken salad you've ever had
a dip for french fries, sweet potato fries or fried fish
a dip for shrimp cocktail or steamed lobster
in an amazing egg salad
a dollop on vegetable soup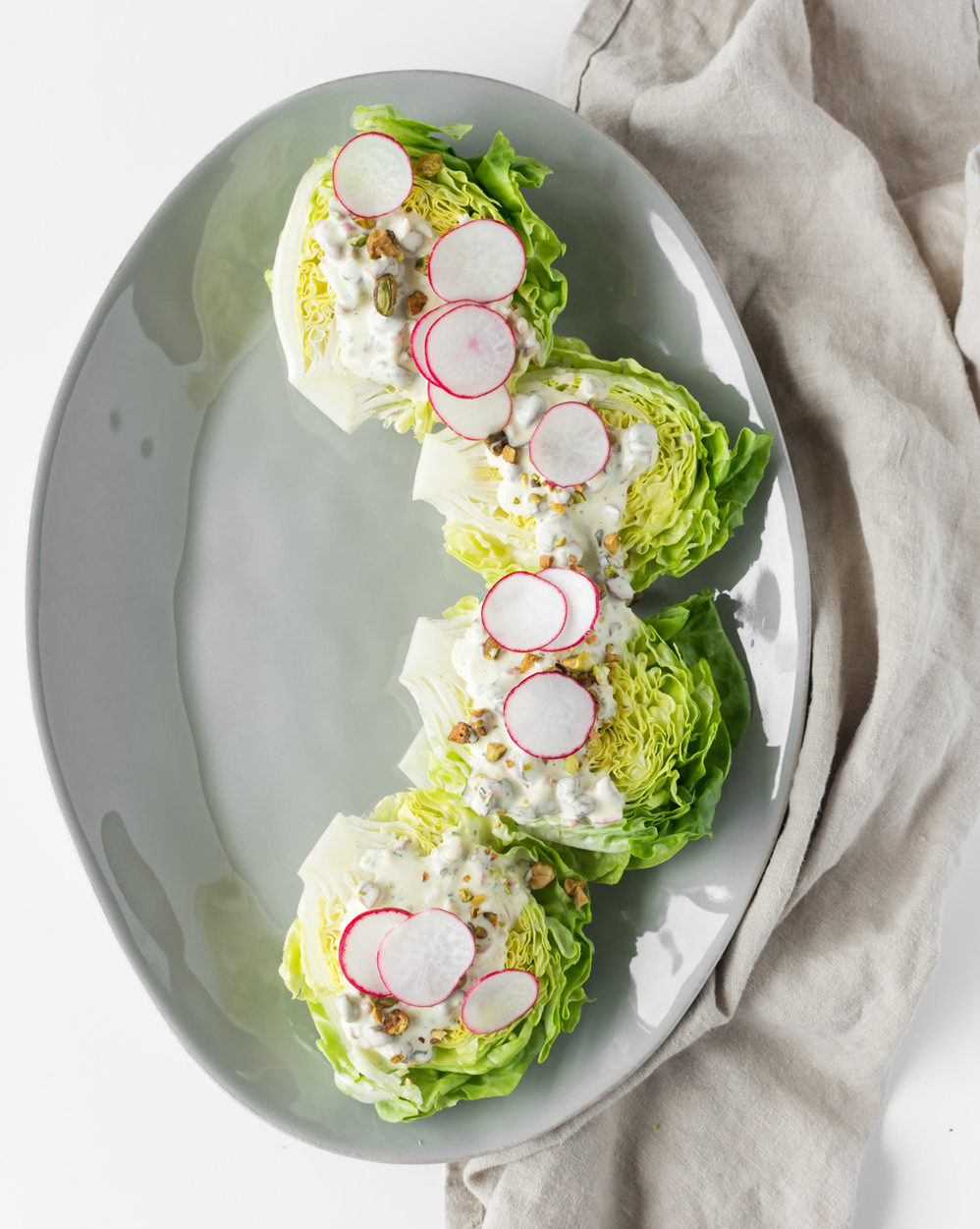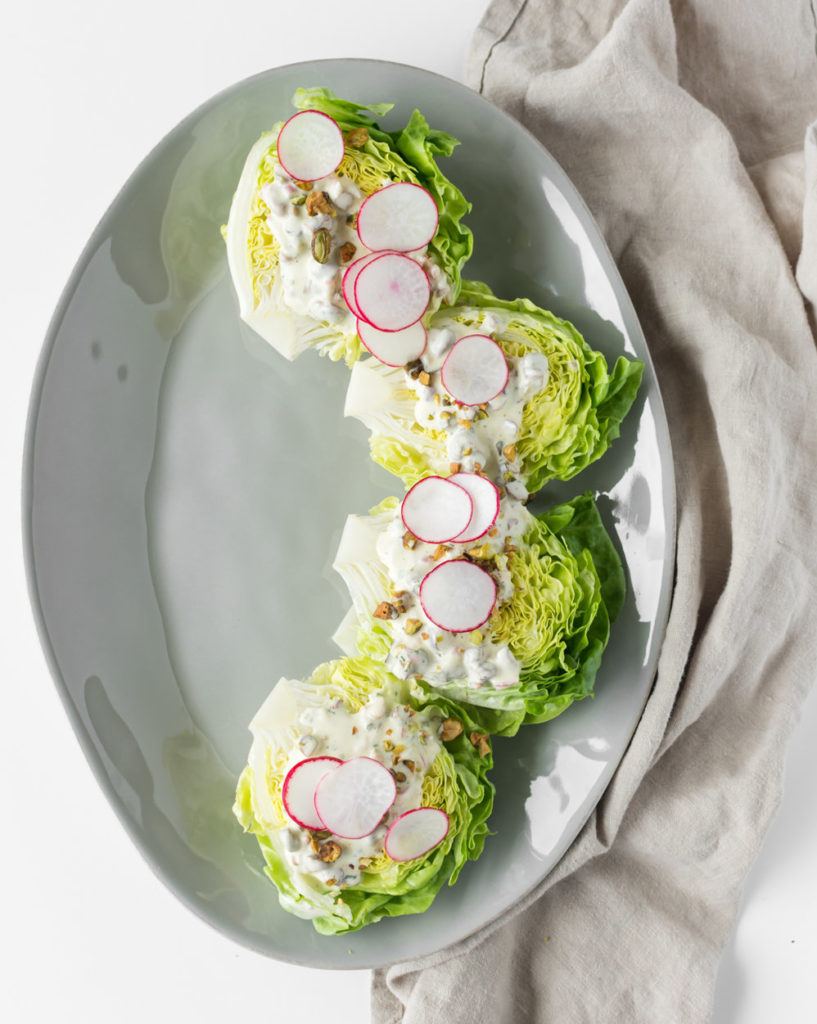 Print
butter lettuce and creamy pistachio wedge salad
The tangy, herb filled dressing has a delicate punch of shallots, a richness from homemade aioli, and a crunch from toasted pistachios. It's slathered over fresh butter lettuce and crisp radishes for a salad you'll want to eat every day this summer.
Author:
Yield:

4

Category:

Salad

Cuisine:

American
Ingredients
aioli (makes 1 cup)
1

egg

½ cup

extra virgin olive oil

½ cup

neutral oil (such as canola or grapeseed)

1 ½ tsp

lemon juice mixed with 2 tsp room temperature water

½ tsp

minced garlic, mashed and scraped into a paste

¼

to

½

tsp salt
dressing
3 tsp

minced shallot

1 tbsp

+

2 tsp

white wine vinegar

1 ¼ tsp

salt

¾ cup

raw, unsalted shelled pistachios

½ tsp

lemon zest

1 ¼ tsp

lemon juice

⅓ cup

homemade aioli (can sub in store-bought mayonnaise)

3 tbsp

olive oil

⅓ cup

creme fraiche or sour cream

1 ½ tsp

minced tarragon

3 tsp

minced chives

3 tsp

minced chervil or flat leaf parsley

¾ tsp

freshly ground black pepper

¼ tsp

sugar
salad
2

heads butter leaf lettuce

2

radishes
flaky finishing salt
freshly ground black pepper
Instructions
aioli
In a small heatproof bowl, place whole egg and cover with boiling water. Let sit for 1 minute to minimize bacteria on the shell and begin to cook the proteins, which will help with the emulsification. Separate the egg, place the yolk in a clean bowl and discard the white.
Using a handheld mixer with a whisk attachment, break up the yolk and whisk until smooth. Alternatively, use a handheld whisk.
Combine oils in a glass measuring cup or plastic squeeze bottle, if available, to allow for slow and controlled pouring. With the mixer running, start adding the oils very slowly, a few drops at a time, and eventually progressing to a slow, fine stream. Every now and then, stop adding oil completely and whisk the mixture to ensure it is fully emulsified. If you accidentally add too much oil at once, whisk rapidly for a few seconds to combine and then proceed with more oil in a slow, steady, very patient manner. After about ½ cup oil has been added, the aioli may have a stringy or taffy-like appearance which indicates the egg yolk is reaching saturation (or a "tight" emulsion). At this point, whisk in ½ tsp of diluted lemon juice to loosen the mixture. Continue adding more oil, whisking constantly, until the tightness reappears, then add a scant 1 tsp diluted lemon juice and the garlic paste. Continue this process of slowly whisking in the oil and adding the diluted lemon juice when tight until all the oil and lemon juice have been added.
Stir in the salt, adjusting amount to taste, cover with plastic wrap and refrigerate for up to 2 days.
dressing
Preheat oven to 325°F.
In a small bowl, cover shallot with vinegar and ½ tsp salt, and macerate for 10 minutes.
Spread the pistachios on a small baking sheet and bake until lightly toasted, 3 to 4 minutes. Cool, roughly chop and divide into two groups of ½ cup and ¼ cup, and set aside.
Whisk together macerated shallot and its soaking vinegar, remaining ¾ tsp salt, lemon zest and juice, the aioli, olive oil and creme fraiche (or sour cream if substituting). Whisk in the herbs and ½ cup of chopped pistachios, taste, and adjust seasoning as needed.
salad
Trim off the brown end of the base of each lettuce, but leave the head intact. Peel off old, outer leaves and cut each lettuce in half vertically. Wash lettuce by submerging heads in water, dry in a salad spinner, and set aside.
Slice radishes to the thickness of a dime, using a mandoline or a sharp knife, and submerge in a small bowl of ice water. About 5 minutes before serving, remove the radishes from the water and dry well in a salad spinner.
To serve family style, put about ⅔ cup of the vinaigrette on a serving plate and arrange the lettuce halves on top. Spoon the remainder of the vinaigrette over the top of the lettuce. Top with the radish slices, the remaining chopped pistachios, a sprinkle of finishing salt, and freshly ground black pepper.