Flavorful, juicy brandied cherries are the perfect garnish to your favorite cocktail! They're quick to make, lightly spiced, and deliciously balanced. They also make a luxurious addition to your favorite ice cream or cake!
We use unsweetened cherry juice as the base of the syrup, with a touch of star anise and vanilla bean, to make cocktail cherries that are packed with flavor but versatile for your choice of food or drink. I prefer to use VS or VSOP Cognac for this brandied cherry recipe, but use whatever brandy you wouldn't mind in a cocktail.
Let them soak for at least a week in the refrigerator— it's the hardest part of this recipe!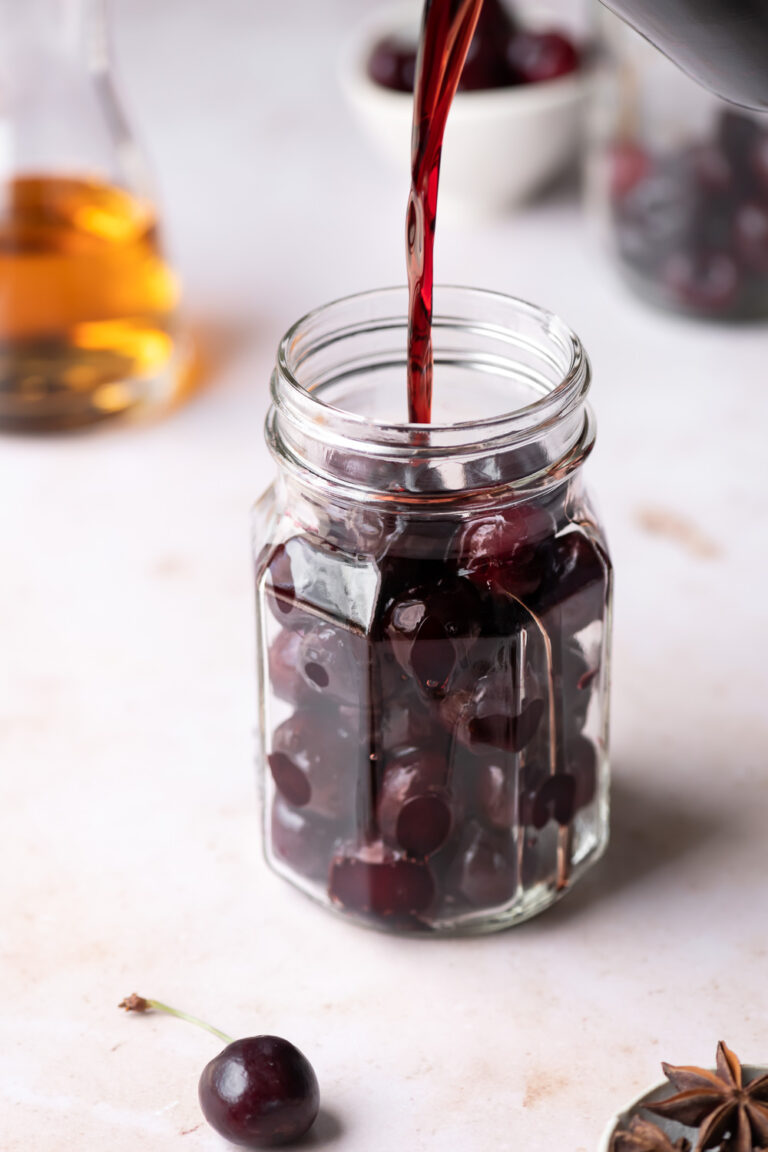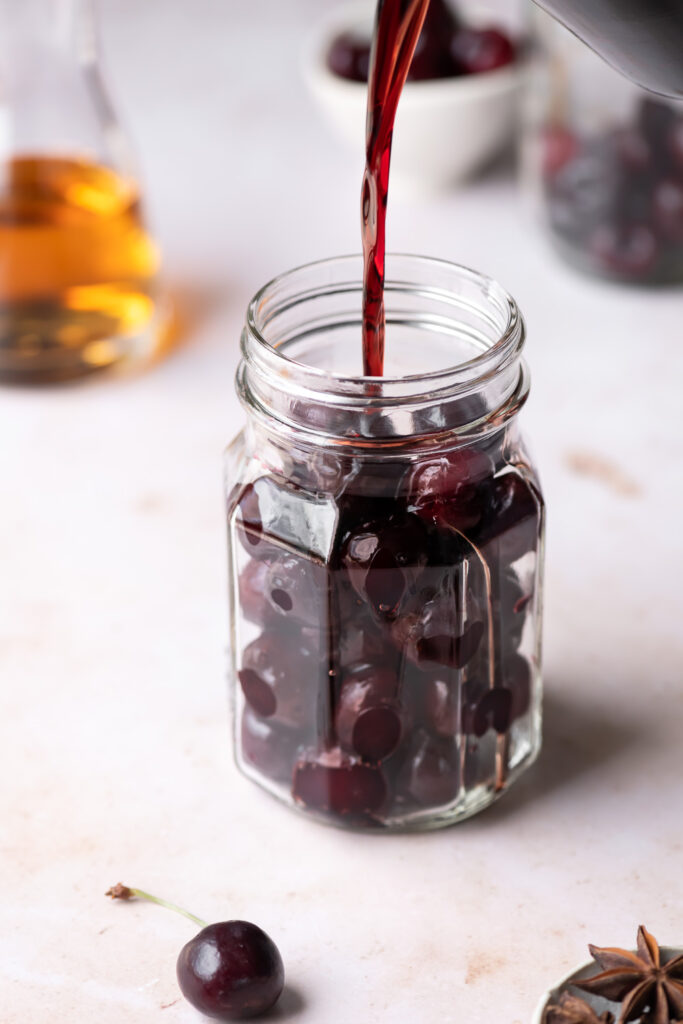 Why are these the best brandied cherries?
Fresh pitted cherries: This maximizes the flavor in each cherry, since the brine can infuse the fruit from the inside out. The whole process happens much faster, so in a week or two you'll have a flavorful brandied cherry (versus several months for cherries with pits). You can use frozen or canned cherries in a pinch, but the brandied cherries will be much softer and less "juicy".
Juice-based syrup: Unsweetened cherry juice is the base of the syrup in this brandied cherry recipe. It maximizes the cherry flavor, and it so good in cocktails! The flavor and acid in the juice balance the syrup and smooth out the brandy. The result is a perfectly balanced cocktail cherry.
Lightly spiced: We use a touch of vanilla and star anise in these brandied cherries, and then we stop. It's tempting to add all the baking spices to the brine, but don't do it. The goal is a flavorful cocktail cherry, not a gingerbread cookie. The spices add depth, but they keep the focus on the cherries and the brandy. It should enhance the cocktail (or dessert)-- not overpower it.
Good brandy: Use a fruity, flavorful brandy you'd be happy to mix in a cocktail. Don't go crazy with premium brandies (like XO Cognac or above), but definitely make sure it comes in a glass bottle.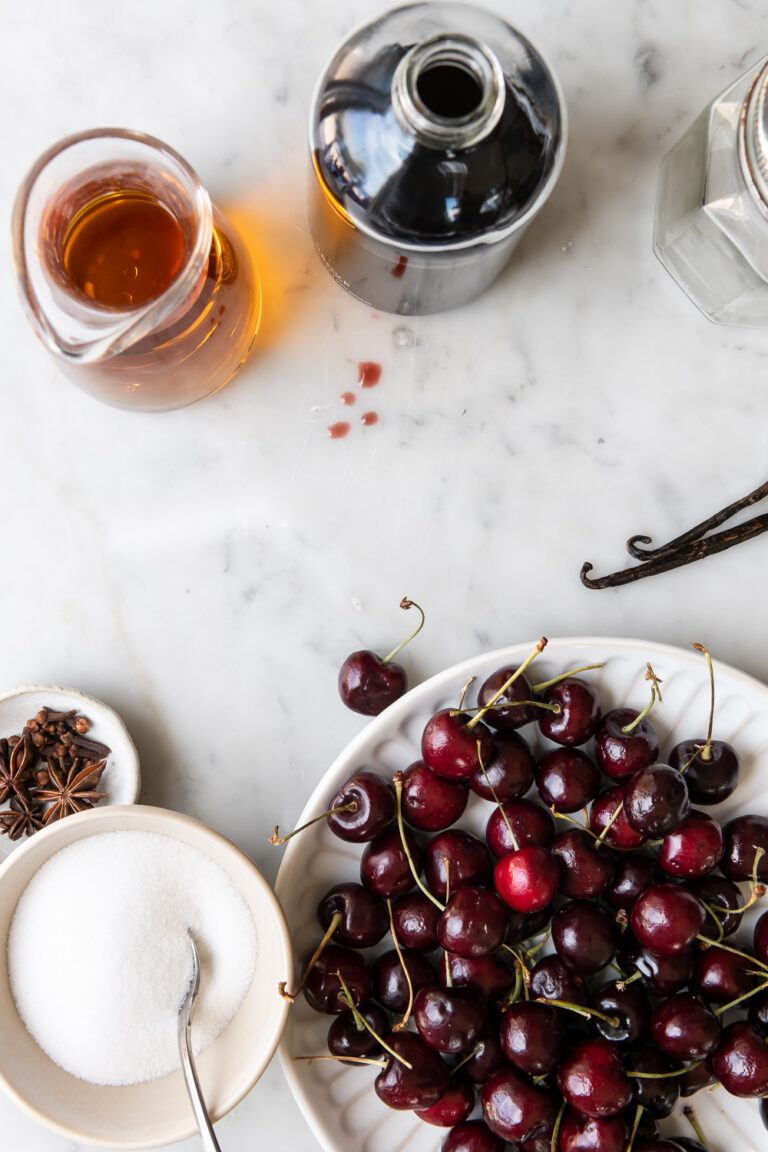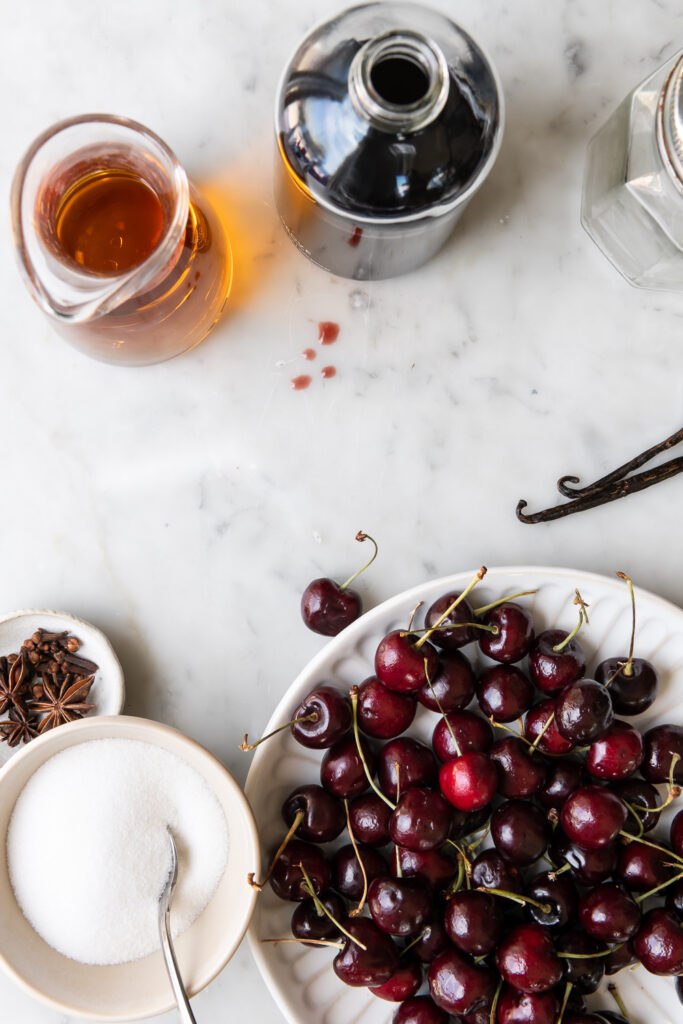 what you need for brandied cherries:
fresh cherries
unsweetened cherry juice
sugar
brandy
vanilla bean
star anise
cloves
how to make brandied cherries:
Simmer cherry juice and spices until reduced by half.
Stir in sugar until dissolved.
Let cool 10 minutes, stir in brandy.
Pack cherries in clean jars, pour syrup over top.
Let cool completely.
Refrigerate at least a week and up to 1 year.
what to do with brandied cherries:
Drop them into your favorite cocktail (perfect in a Manhattan or Old Fashioned, but worth a try in a Piña Colada too!)
Plop on a boozy milkshake
Top your favorite cake (with whipped cream, of course)
Include in a cheese and charcuterie platter
Spoon them onto ice cream (they would be so perfect on this oatmeal sour cherry ice cream)
Dip them in dark chocolate— the best gift!
Fold them into fruitcake or quick breads
Serve on top of pancakes, yeasted waffles or crepes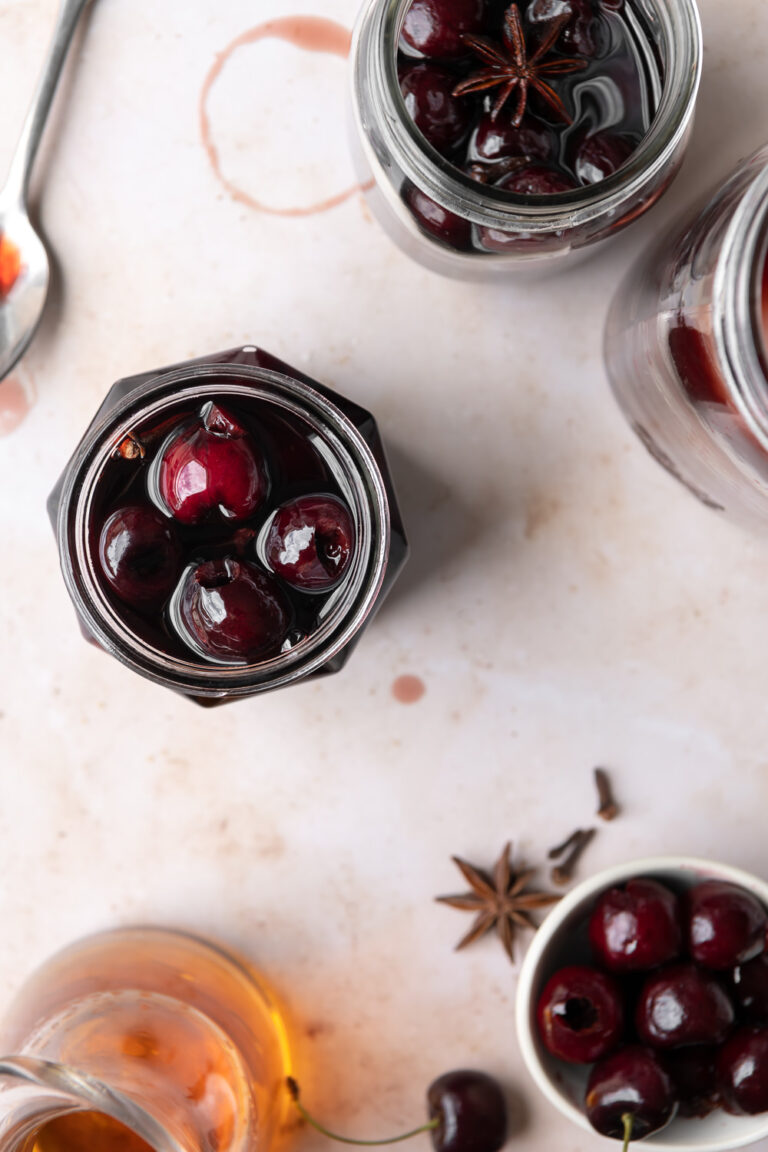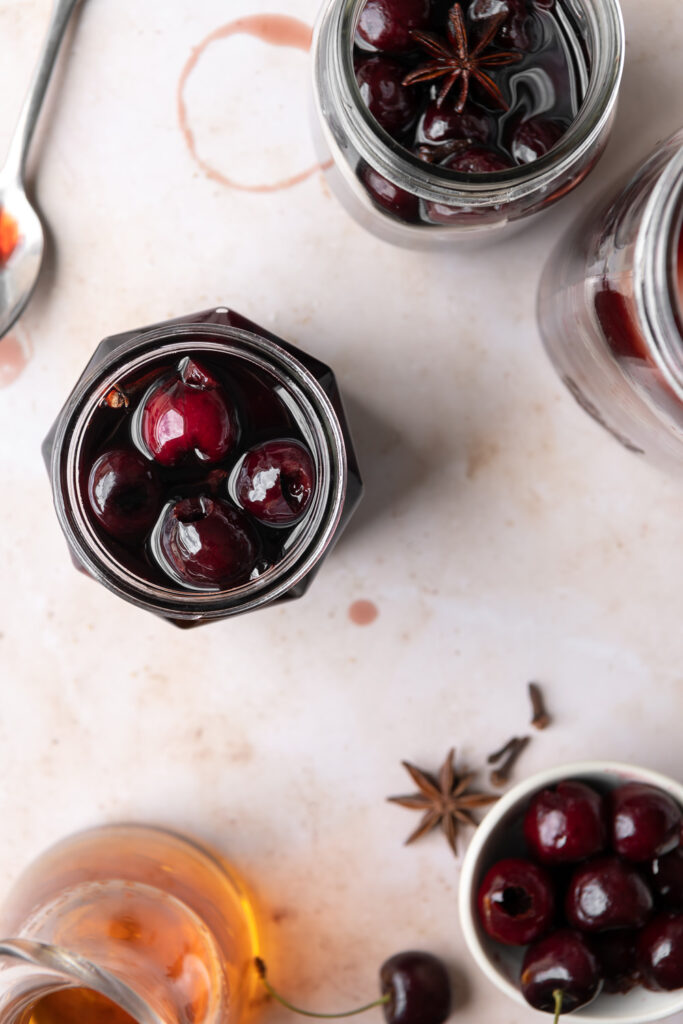 Commonly asked questions about brandied cherries:
What type of cherries to use for brandied cherries?
Any fresh cherry you can find will be delicious in this brandied cherry recipe. We tend to use sweet red cherries, but that's simply what we have access to.
If you can find fresh sour cherries (Morello), that would be ideal! The balance of sweet spiced syrup and tart fruit is so delicious— and will be most similar to the brandied cherries you buy at the store. Unfortunately, sour cherries have a very short window of ripeness and are hard to find fresh. Marasca cherries (a type of Morello) are the variety used in the gold standard cocktail cherry— the Luxardo cherries. Note: Luxardo are not brandied cherries. But they're absolutely luxurious and perfect without alcohol.
You can also use canned Morello cherries (I love the ones at Trader Joe's). The texture will be a little softer, but the tart flavor (and no pitting required) is worth it.
What brandy to use for cocktail cherries?
Use a brandy you'd be happy to drink in a cocktail. It doesn't need to be a premium tier brandy— the nuances will get lost in the sweet syrup and spices. But it should be a brandy you'd want to drink.
We love to use VS or VSOP Cognac, as they're almost always fruity and lively. It's okay if the brandy is a little fiery, it'll smooth out in the cherry syrup.
Should I pit the cherries?
There is a lot of debate about whether or not to pit the cherries. After testing both methods, we prefer the texture and deeper flavor that comes from pitted cherries.
The syrup infuses the cherries from the inside and the whole fruit becomes a juicy brandy bomb. They are also much more convenient to eat and garnish in cocktails— no one enjoys pitting a sticky, slippery cherry when they're trying to garnish a drink.
That being said, if you do plan on canning these cocktail cherries and want a firmer texture, it may be worth leaving the pit and ¼-inch of the stem. This will help them stand up to the water bath processing.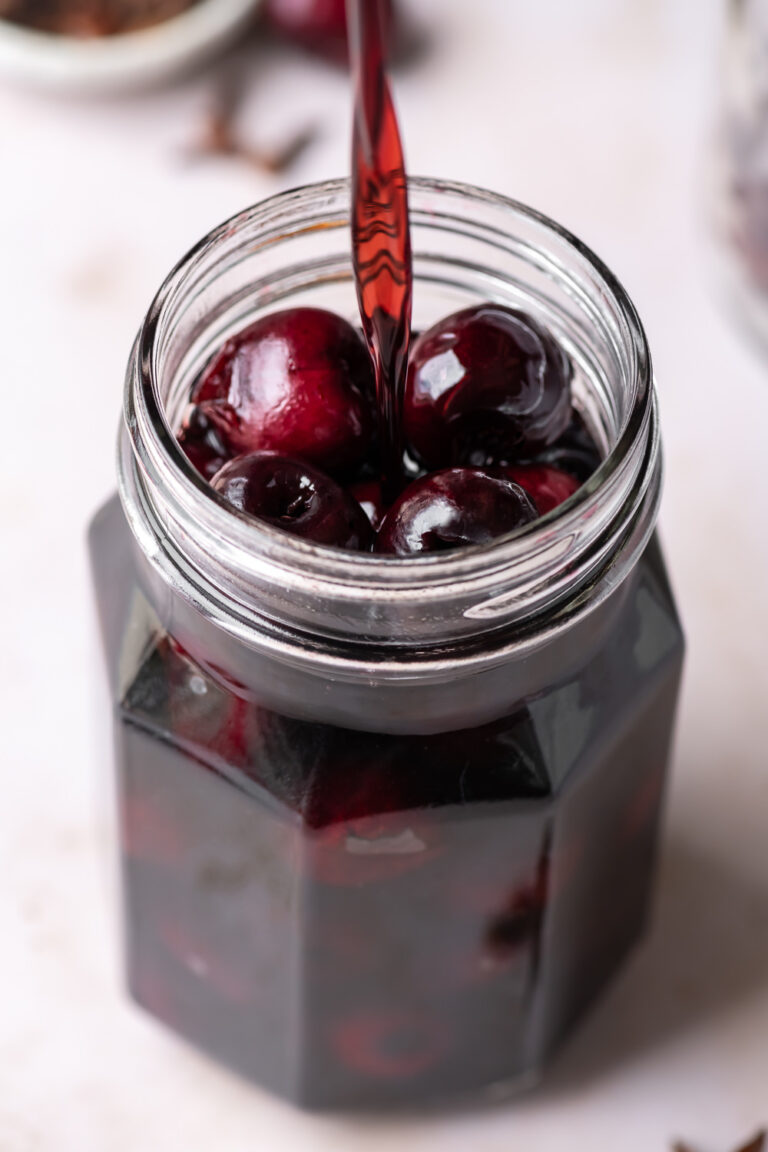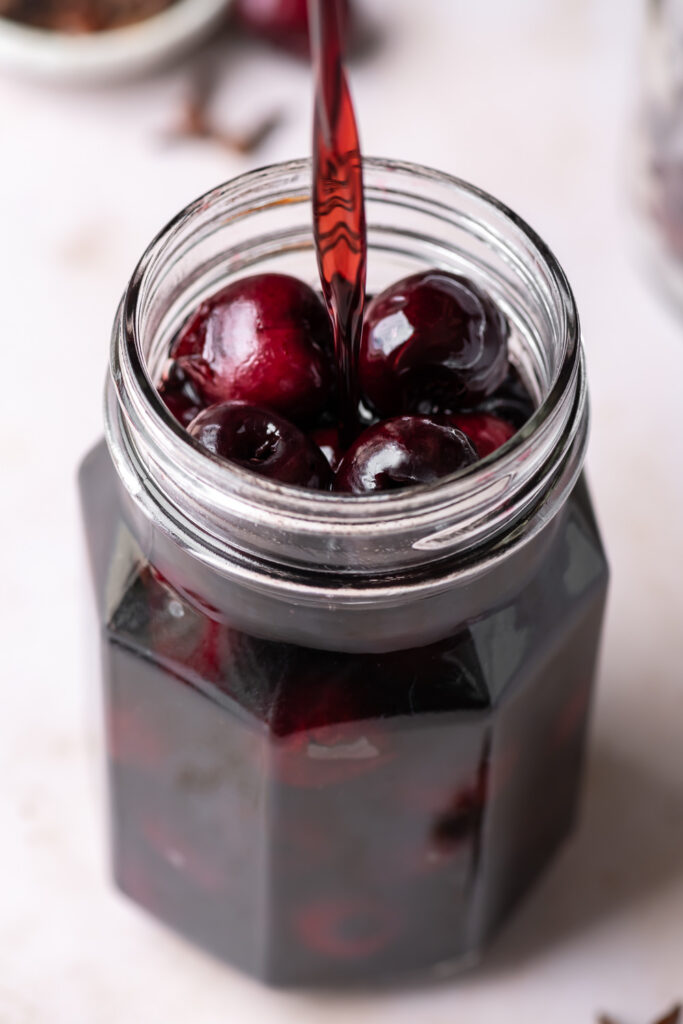 how long do brandied cherries last?
The combination of alcohol, sugar and acid (from the cherry juice) in this syrup will help preserve the brandied cherries for a long time— at least 6 months in the refrigerator, but likely a year or more.
While they won't spoil if refrigerated for longer than a year, the texture will continue to soften and the cherry flavor may fade.
how to store brandied cherries:
Store these brandied cherries in the refrigerator for up to 1 year. If canned, they will keep just as long in a cool, dark room.
how to can brandied cherries:
To safely can these brandied cherries, add ½ cup lemon juice to the syrup (necessary to lower the pH), use sterilized jars and process in boiling water for 10 minutes. Let cool to make sure the jars have sealed, then store in your pantry.
If you're new to water bath canning, check out this reference page to get straight on the proper canning procedure.
related recipes
pickled cherries with black pepper and thyme
holiday whiskey punch with cherries and champagne
caramelized white chocolate cherry bread
Print
brandied cherries (for cocktails and desserts!)
Juicy brandied cherries are the perfect cocktail garnish! Deliciously balanced with fresh cherries, cherry juice, vanilla bean and star anise.
Author:
Prep Time:

10 minutes

Cook Time:

5 minutse

Total Time:

0 hours

Yield:

3 pint jars

Category:

Pantry

Method:

Stovetop

Cuisine:

American

Diet:

Gluten Free
Ingredients
2 cups

unsweetened cherry juice

½

vanilla bean, halved lengthwise, seeds scraped

1

star anise

3

whole cloves

1 cup

granulated sugar

1

lb fresh cherries, stemmed and pitted

1 cup

brandy
Instructions
Combine cherry juice, vanilla bean and seeds, star anise, and cloves in a large pot over medium heat. Bring to a gentle simmer and cook until reduced by half, about 5 minutes. 
Add sugar and cook, stirring, until dissolved. Remove from heat and let cool 10 minutes. Stir in brandy.
Pack cherries into clean jars. Pour syrup over top, making sure cherries are submerged. Let cool, then refrigerate at least 3 days before eating.
Notes
Cherries will keep several months in the refrigerator. 
Nutritional information is only an estimate. The accuracy of the nutritional information for any recipe on this site is not guaranteed.
Nutrition
Serving Size:

2 tbsp

Calories:

36

Sugar:

6.6g

Sodium:

6.1mg

Fat:

0g

Saturated Fat:

0g

Unsaturated Fat:

0g

Trans Fat:

0g

Carbohydrates:

7g

Fiber:

0.2g

Protein:

0.1g

Cholesterol:

0mg
Keywords: brandied cherries