This mezcal sour with strawberries and ginger is about to be your new favorite spring drink. It's velvety smooth and filled with jammy, spicy, smoky flavors.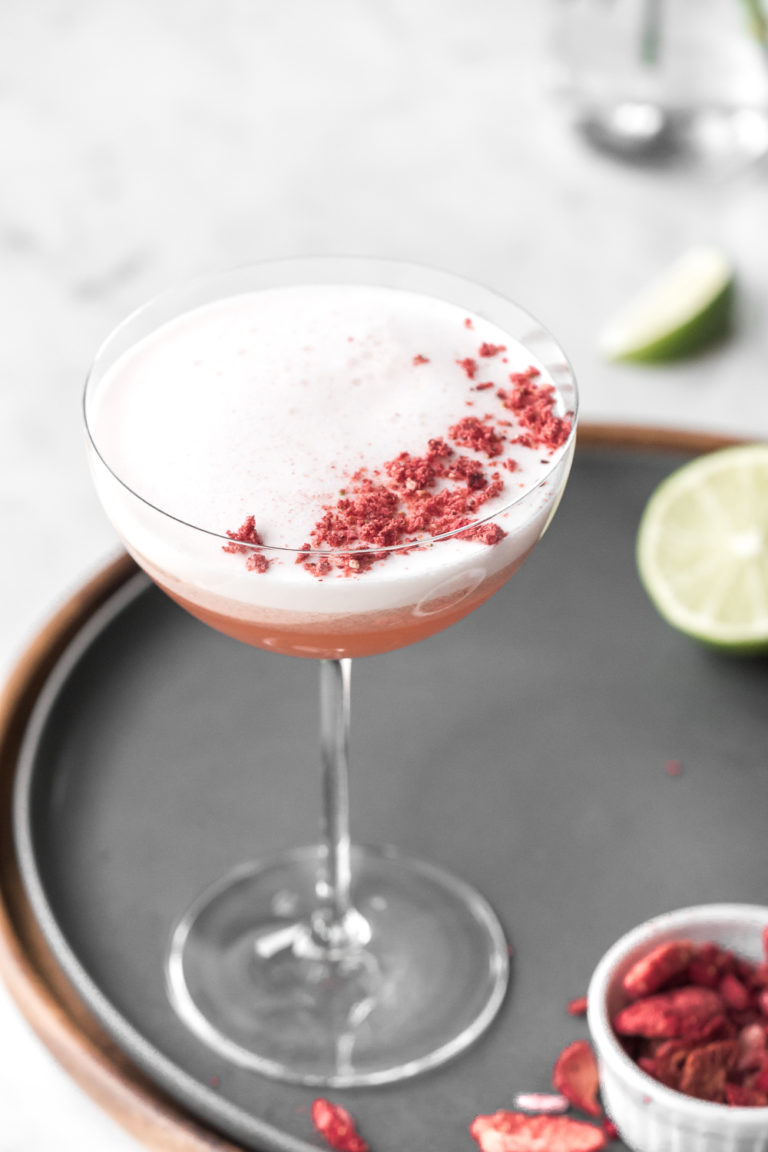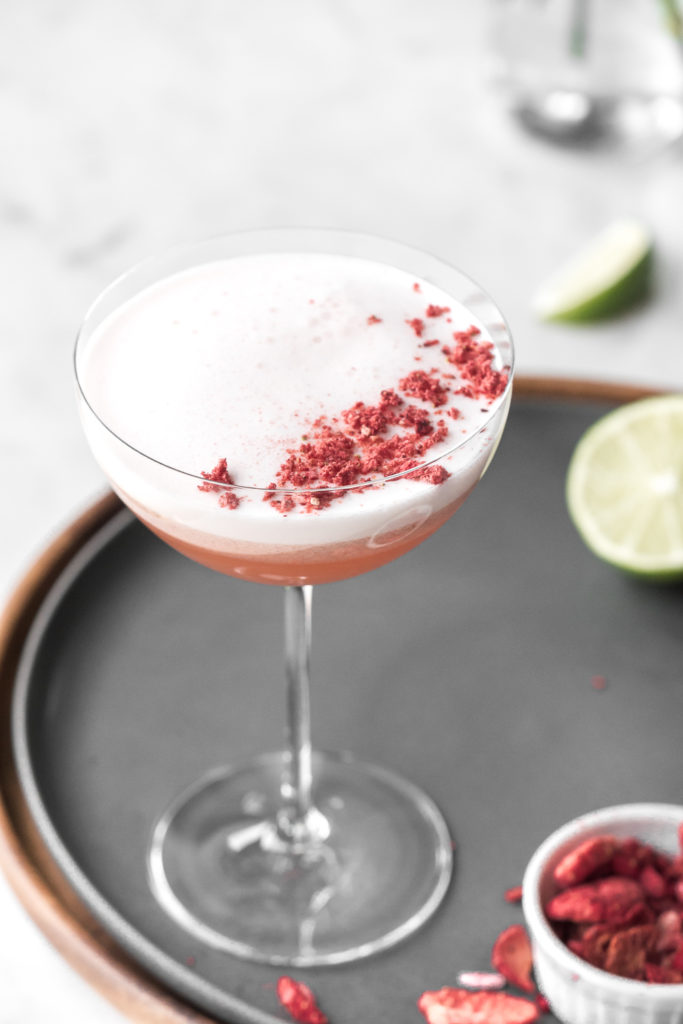 Mezcal can be a tricky alcohol to work with. It's made in a similar process to tequila, except for one major difference. The heart of the agave plant is roasted before fermenting and distilling it, which imparts an intense smokiness to the final spirit. And that smoky flavor can overpower a lot of flavors.
But in this mezcal sour, I use the sweet, ripe fruit flavors of strawberry jam to compliment and tame the smoke. Fresh lime brightens the drink and a silky egg white foam takes it from good to downright decadent. The foam also softens the mezcal and pulls all of the flavors together.
I especially love the use of strawberry preserves here, which brings an intense strawberry flavor you just can't get from muddled strawberries. For fun variations, try apricot, peach or raspberry preserves in place of the strawberry!
If you can't get your hands on mezcal, any 100% agave blanco tequila will work. You just won't have that smoky complexity that is so fun.
Read on to learn our fool proof method for getting the thickest foam ever in this mezcal cocktail. Egg white foams are notorious for being unpredictable and disappointing. But this new technique will give you a thick, silky, stable foam without breaking a sweat.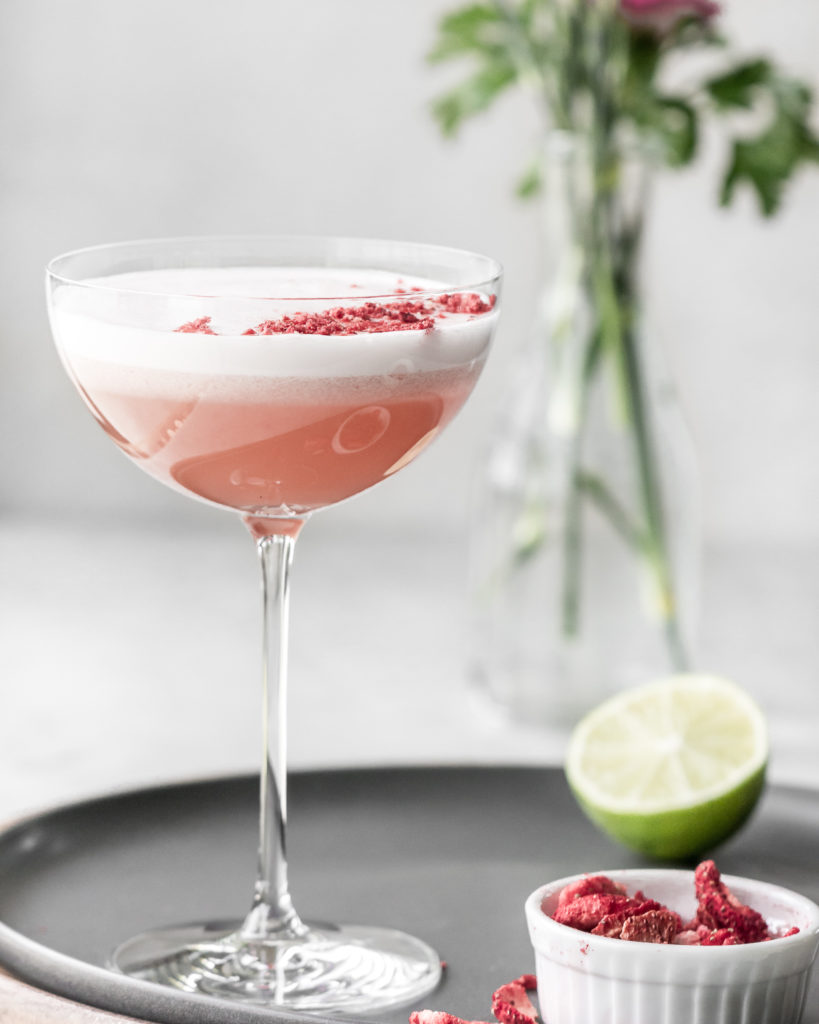 what is the difference between tequila and mezcal?
There are a few big differences between tequila and mezcal. For one, tequila must be made from the blue agave species of agave plant. Mezcal, however, can be made from a variety of agave species (though the most commonly used is the Espadin variety).
For tequila, the heart of the agave plant (known as the pina) is steamed to soften the pina and convert the starch to fermentable sugars. With mezcal, this is achieved by roasting the pinas in a smoky pit in the ground. This smoke is the most defining feature of mezcal. It gets distilled and is present in the final spirit.
Finally, the worm. A bottle of mezcal may contain a worm (moth larvae) that is found on the agave plant. This has traditionally been used to indicate the spirit in the bottle is from the agave plant. But it's not required and is not found in all mezcal bottles. These days, it's generally used as a marketing technique.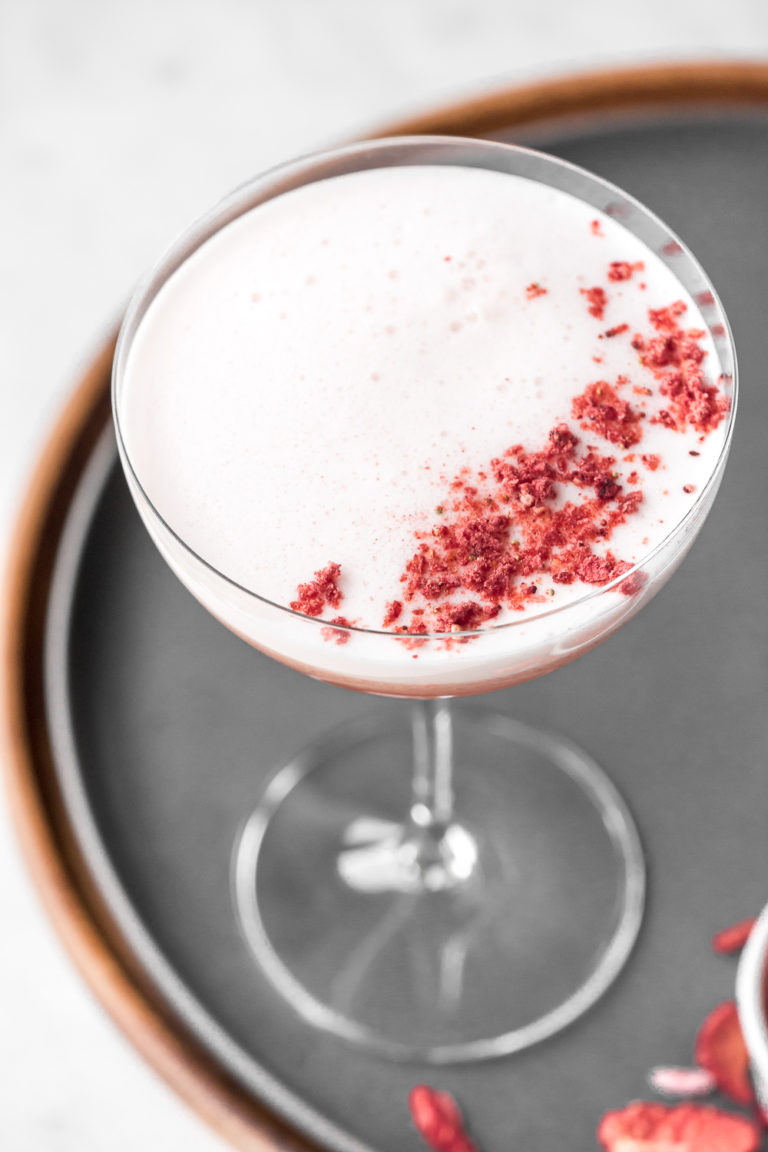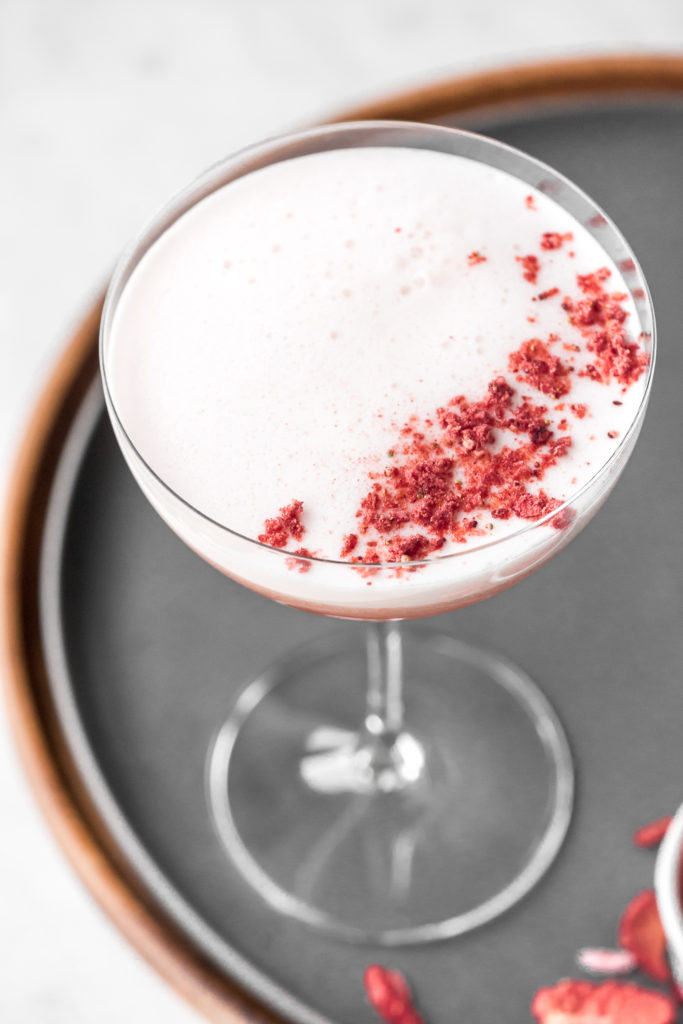 how do you make egg white foam for drinks?
My favorite method for making a thick egg white foam in this mezcal sour is a variation on the dry shake, involving an immersion blender.
The normal dry shake involves combining all of your ingredients in a cocktail shaker and shaking until light and foamy, about 45 seconds. This step breaks up and aerates the egg whites without diluting the drink. Then you add ice and shake an additional 20- 30 seconds to chill the cocktail. Strain off the ice and into your glass.
My husband and I have modified this technique, however, to make it super easy and foolproof. Because sometimes, you just don't shake the mezcal cocktail hard enough and your foam is lackluster. It's a waste of time and ingredients.
So we use an immersion blender to assist the dry shake. Simply place your immersion blender in the open cocktail shaker and blend for 20- 30 seconds, or until the drink mixture is frothy and light. Then fill two-thirds with ice, cover, and shake until chilled, about 20- 30 more seconds. Strain off the ice and into your glass.
Your foam will be crazy thick, deliciously smooth, and very long lasting. Of course, this is a non-traditional method that bartenders will scoff at. But it gets the results we want and your arms will thank you, so who cares!
how to make a mezcal sour:
Muddle ginger with mezcal and lime juice
Remove ginger slices
Add strawberry jam and egg white
Shake (or blend!) until light and foamy
Add ice and shake until well chilled
Strain into coupe and garnish with crushed freeze dried strawberries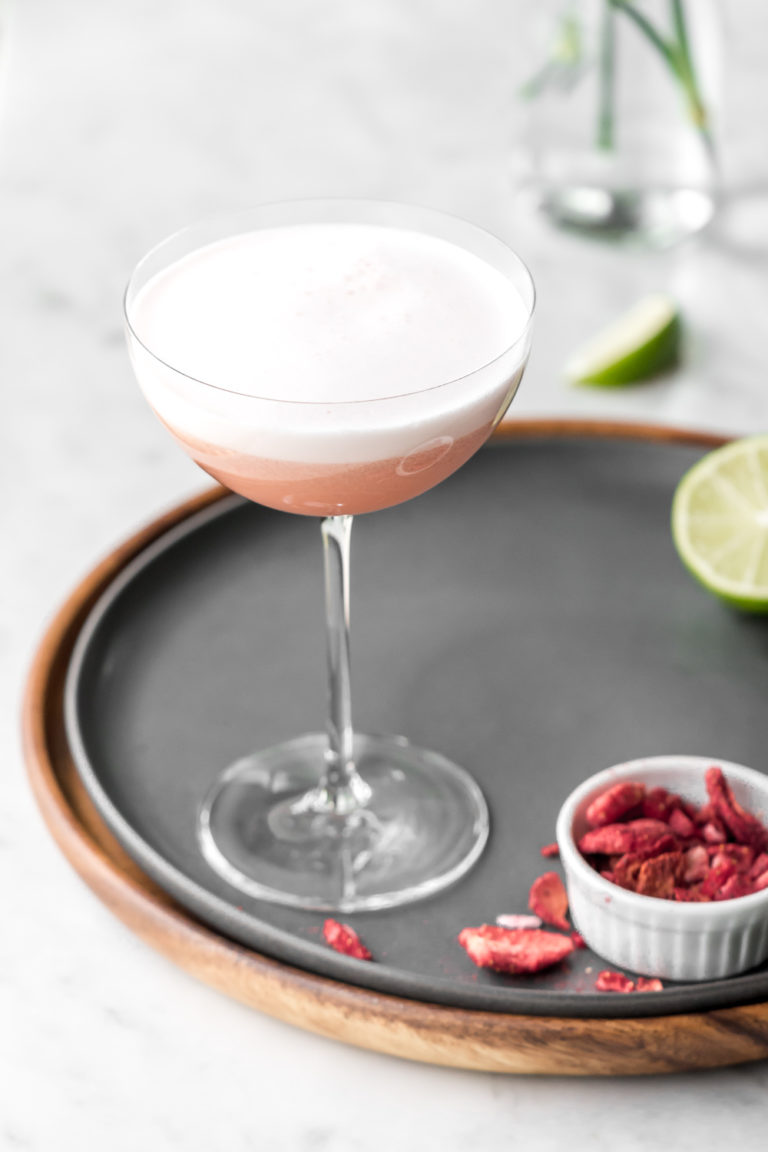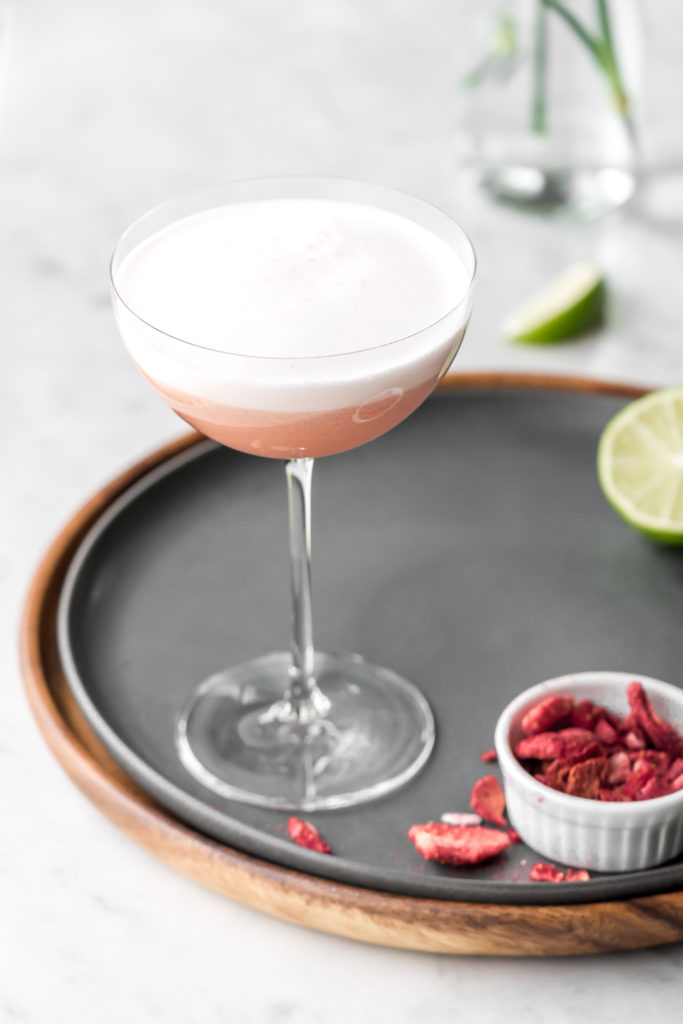 related recipes
blackberry ginger whiskey sour
strawberry smash with amaretto and rum
blackberry tequila spritzer with red wine float
Print
mezcal sour with strawberries and ginger
This mezcal sour cocktail is jammy, spicy and smoky. It's balanced with lime, fruity strawberries and a silky egg white foam. The perfect summer cocktail!
Author:
Prep Time:

5 minutes

Total Time:

5 minutes

Yield:

1

Category:

Drink

Method:

Shaken

Cuisine:

American
Ingredients
1

" piece ginger, sliced into coins

2 oz

mezcal

¾ oz

fresh lime juice

1

rounded tbsp strawberry preserves

1

egg white

crushed freeze dried strawberries, for garnish
Instructions
Muddle ginger, mezcal and lime juice in a cocktail shaker. Use a fork to fish out and discard ginger slices. 

Add strawberry preserves and egg white. Place an immersion blender in the open cocktail shaker and blend for 20- 30 seconds, or until light and foamy. Alternatively, put the lid on the shaker and vigorously shake for 45 seconds.

Add ice and shake for 30 more seconds. Strain into a coupe or small cocktail glass. 

Sprinkle the surface with freeze dried strawberry powder and serve.
Nutrition
Serving Size:

1

Calories:

217

Sugar:

11g

Sodium:

64mg

Fat:

0.2g

Saturated Fat:

0g

Unsaturated Fat:

0g

Trans Fat:

0g

Carbohydrates:

18g

Fiber:

0.6g

Protein:

4g

Cholesterol:

0mg