This lychee mojito is a sweet, floral take on the every day mojito. I use lychee fruit and the syrup from canned lychees to add an exotic spin to this summer time cocktail.
If you've never had lychees before, they have an intense and distinct flavor. As a former winemaker, the aroma reminds me so much of Muscat and Gewurztraminer and, to be super specific, linalool. It's a floral-scented terpene found in aromatic grapes, flowers, fruit, and I'm willing to bet there's a ton of it in lychees.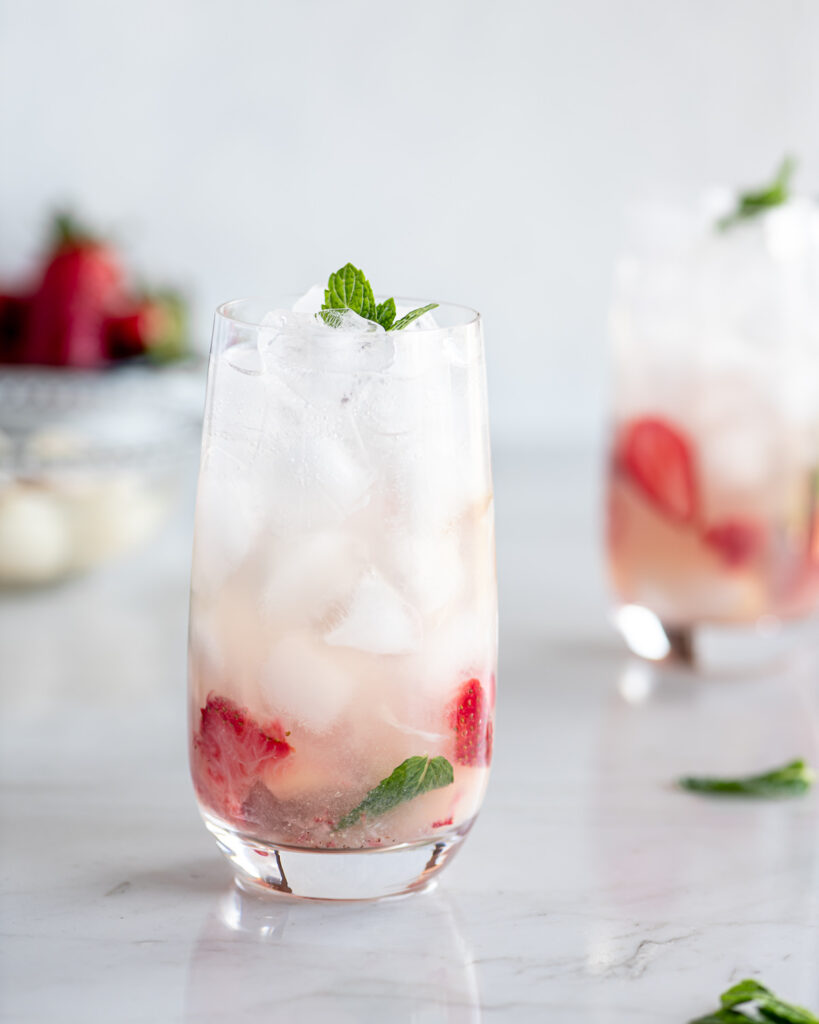 In this cocktail, I play off of those super fragrant notes with a touch of fresh strawberries and rose water. It's important to keep the rose water very subtle here-- more than a few drops can quickly turn this lychee mojito into a glass of perfume. But the tiniest splash lifts the floral notes and adds depth. Muddled strawberries add a beautiful pinkish hue and tasty bites of fruit in the bottom of your glass.
If you can get your hands on fresh lychees, definitely use them. Their flavor is fresher and so much more complex. If you have them, read on below for modifications to the mojito recipe. Unfortunately, fresh lychees can be tricky to find, so I've written this lychee mojito recipe using canned lychees. These can be found online or at most Asian groceries. I find the canned flavor (that is sometimes overpowering in the fruit) fades away in the drink, and we get the added bonus of a fragrant lychee syrup to mix into the cocktail.
what you need for a lychee mojito
Canned or fresh lychees
Strawberries
Mint
Sugar
Limes
White rum
Rose water
Soda water
how to make this lychee mojito
Separate lychee syrup from canned lychees
Muddle the syrup with mint, lychees and a strawberry in the bottom of your glass
Mix in simple syrup, lime juice, rum and a tiny splash of rose water
Top with crushed ice and a splash of soda water
Garnish with fresh mint and enjoy!
No muddler? Use a wooden spoon, instead, to mash the lychees, mint and strawberries in the bottom of your glass.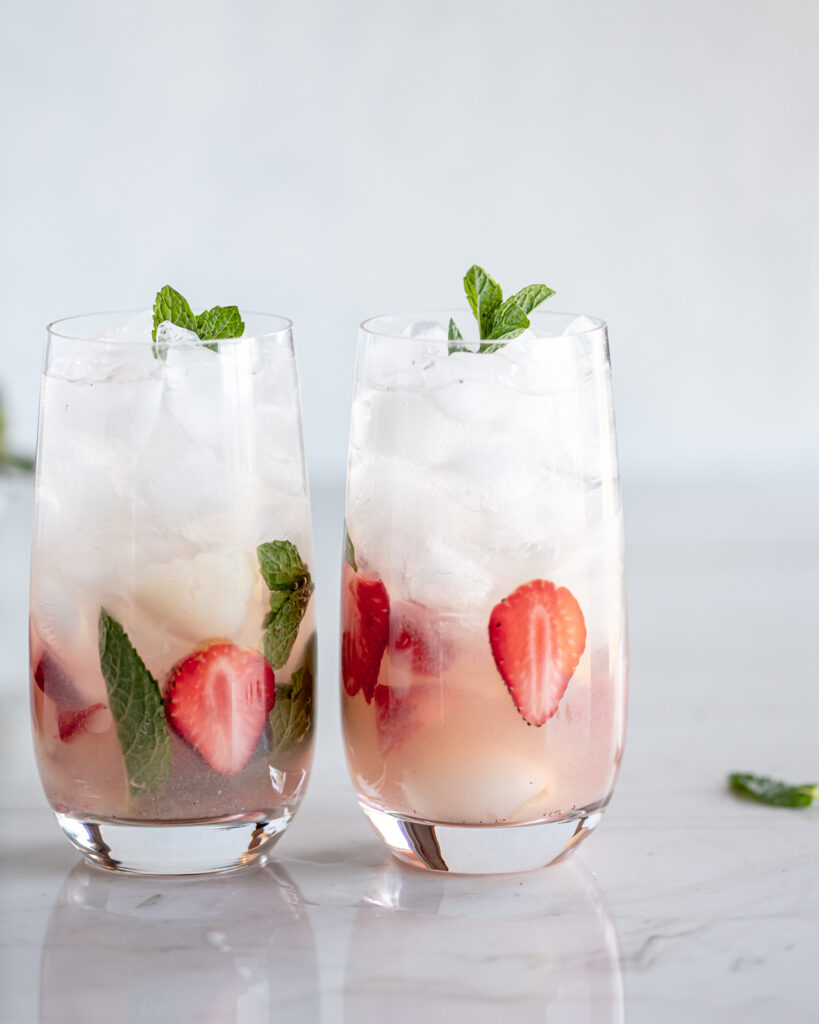 modifications for a fresh lychee mojito
Make a lychee simple syrup in place of the canned lychee syrup:
Combine 5- 6 peeled lychees in a pot with 1 cup water and 1 cup sugar.
Bring to a simmer to dissolve sugar, then remove from heat. Gently mash lychees into the syrup. Let cool completely.
Strain and store in a glass jar, refrigerated, for up to 2 weeks.
Use 2 oz of this lychee simple syrup in place of the canned syrup (1 ½ oz) and simple syrup (½ oz)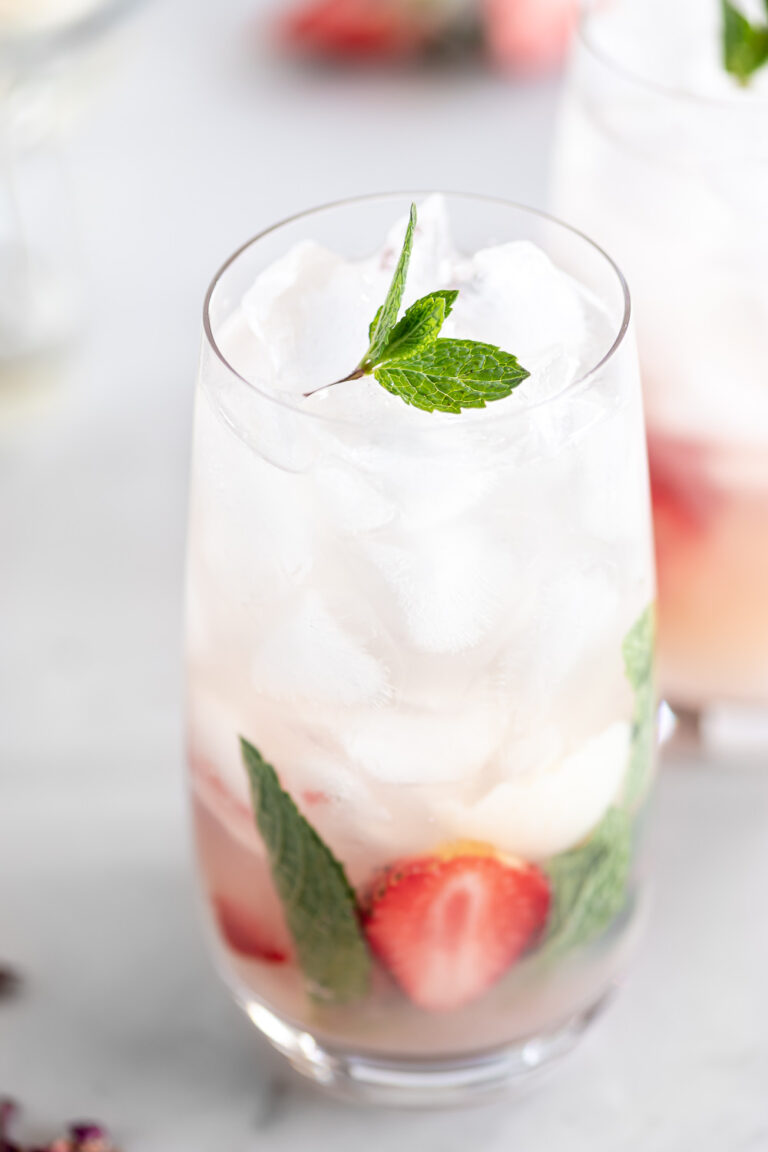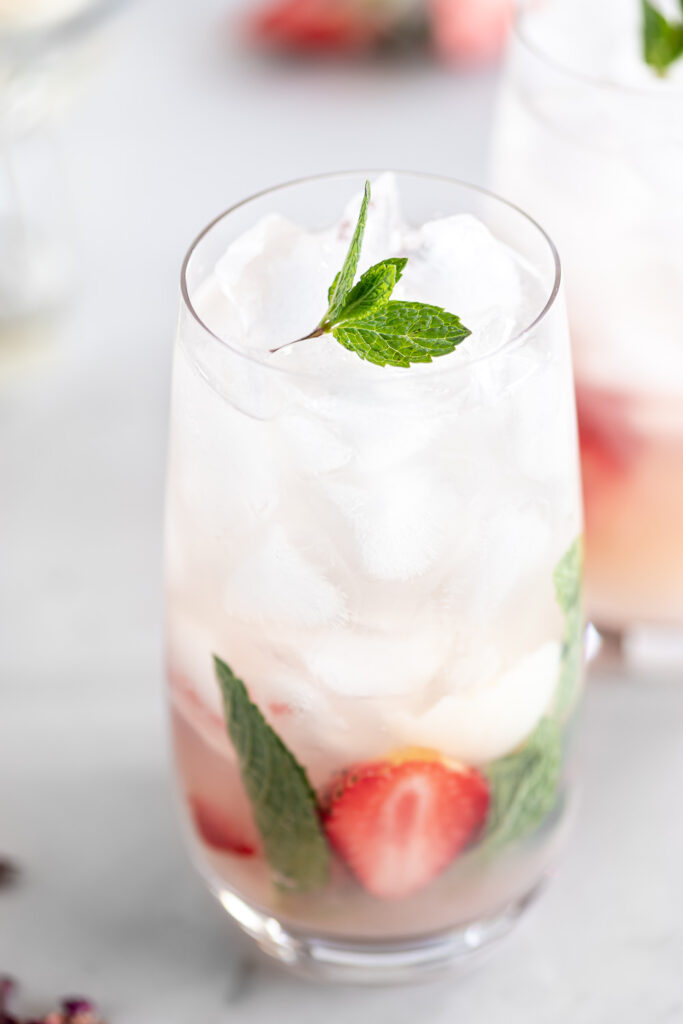 lychee mojito variations:
Plain and simple lychee mojito: Leave out the strawberries and rose water
Basil, strawberry, lychee mojito: Use basil in place of mint and skip the rose water
Peach lychee mojito: swap out strawberries for fresh peaches
Vodka mojito: use vodka instead of rum for a super clean flavor
make a pitcher of lychee mojitos:
Here are the quantities for 8 servings-- make sure to taste and adjust with more simple syrup or lime juice, as needed!
2 cups lychees, halved
1 cup strawberries, hulled and quartered
A handful of fresh mint sprigs, plus more for garnish
1 ½ cups lychee syrup (from canned lychees)
½ cups simple syrup
2 cups white rum
1 cup fresh lime juice
1 tsp rose water
soda water, for topping
what's the best rum for mojitos?
I love a clean and simple white (silver) rum for mojitos. There's no need to break the bank with a super premium brand, but it shouldn't be harsh and bottom of the barrel, either. Use a smooth, well-made rum that you enjoy. Here are a few mid-tier white rums that are a fantastic value and would be a great fit in this lychee mojito:
Brugal Especial Extra Dry Rum
Mount Gay Silver Rum
Plantation 3 stars Artisinal Rum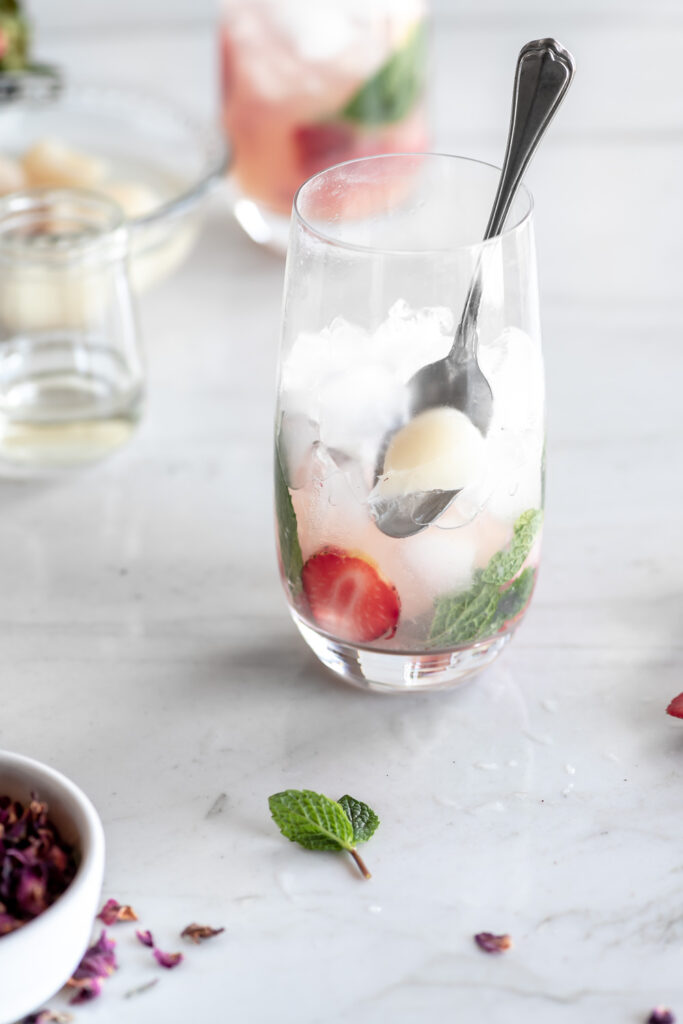 more cocktails you may love:
watermelon vodka cocktail with cucumber and basil
pineapple rum fizz with rosemary and lime
mezcal sour with strawberries and ginger
Print
strawberry rose lychee mojito
This lychee mojito is an exotic, floral take on the every day mojito. Filled with lychees, strawberries, a splash of rose water and white rum.
Author:
Prep Time:

5

Total Time:

5 minutes

Yield:

1

Category:

Drink

Method:

Stirred

Cuisine:

American
Ingredients
2

lychees, halved

1

strawberry, hulled and quartered

2

-

3

fresh mint sprigs, plus more for garnish

1 ½ oz

lychee syrup (from canned lychees)

½ oz

simple syrup

2 oz

white rum

1 oz

fresh lime juice

⅛ tsp

rose water

soda water, for topping
Instructions
In a highball glass, muddle lychee, strawberry, mint and lychee syrup. Add the simple syrup, rum, lime juice and rose water and stir to combine.

Fill with crushed ice and top with soda water. Gently stir. Garnish with a sprig of fresh mint and serve.
Nutrition
Serving Size:

1

Calories:

242

Sugar:

27g

Sodium:

1.9mg

Fat:

0.1g

Saturated Fat:

0g

Unsaturated Fat:

0g

Trans Fat:

0g

Carbohydrates:

30g

Fiber:

0.5g

Protein:

0.3g

Cholesterol:

0mg