These fried cinnamon sugar donuts are light and fluffy on the inside, crispy on the outside and smothered in finger-licking amounts of crunchy sugar topping. When they're warm, straight from the oil and sugar dredging, it's impossible to eat just one.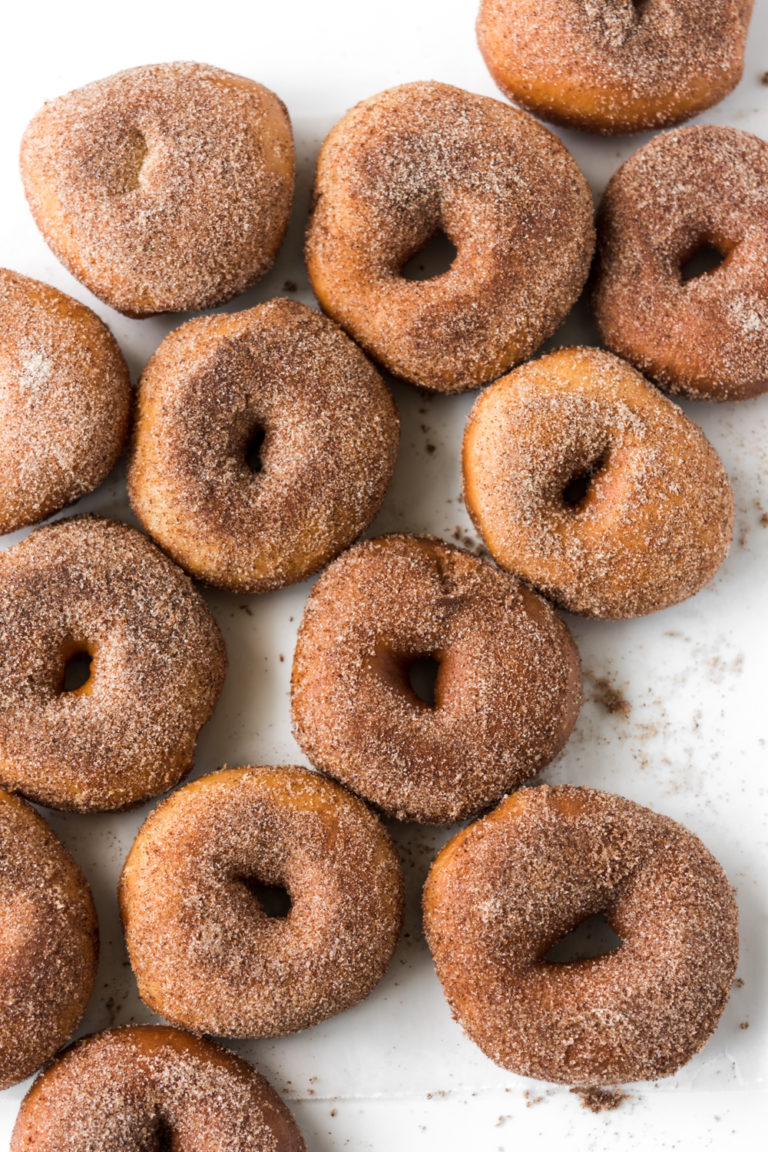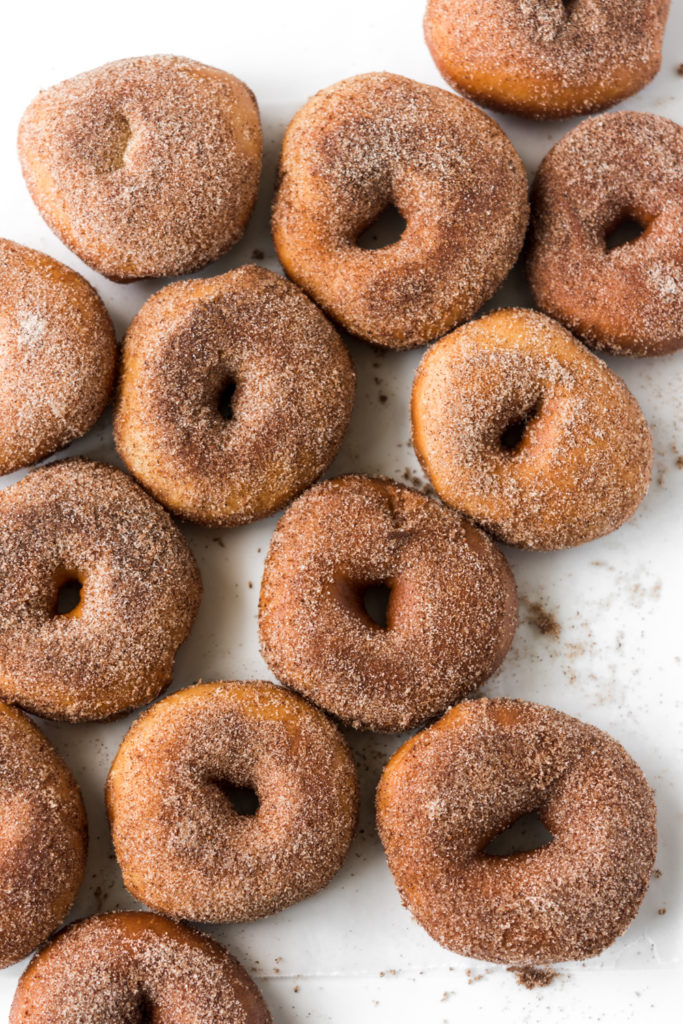 There are a few reasons why these fried cinnamon sugar donuts are so special:
the yeast gives the donuts a light texture and more complex flavor
the potato keeps them tender and fluffy
frying in refined, neutral coconut oil gives them a wonderfully crisp, non-greasy crust.
It's the making of a perfect doughnut. Just note-- it's probably a health hazard to make these while pregnant. I ate three without even realizing it (and definitely without caring).
Homemade, freshly fried yeast doughnuts are such a rare treat-- enjoy them while they're hot, fluffy and radiating the smell of rich cinnamon.
A few notes about the donuts...
Don't skip the grated cinnamon! I've never even thought to grate cinnamon sticks, and it's incredible what a flavor boost you get from doing it. The freshly grated cinnamon adds so much aroma and spice to the mixture, it really takes these doughnuts to the next level (and it makes your kitchen smell like Fall).
If you're interested in switching up the topping, straight powdered sugar would be phenomenal, while other combinations such as maple sugar, vanilla bean sugar, sugar with a bit of cocoa powder, or tossing in some orange zest to the cinnamon sugar mix would all be fun to experiment with. I'm a sucker for the granulated sugar toppings, but any type of glaze is fair game as well!
frying:
I know it's a pain, but it's worth it for real doughnuts— baked versions don't even begin to compare.

Whenever possible, I fry outside on our grill which has a small separate burner attached to it. Sometimes it struggles to get to 360°F, but I'd rather wait a few more minutes for it to get hot than deal with splattering oil and the lingering smell of a carnival inside. If you have the option, definitely give it a try.

As Stella notes in her book, the light texture, clean flavor and non-greasy feel of these doughnuts hinge on the use of refined coconut oil for frying. Other oils are not guaranteed to produce the same results.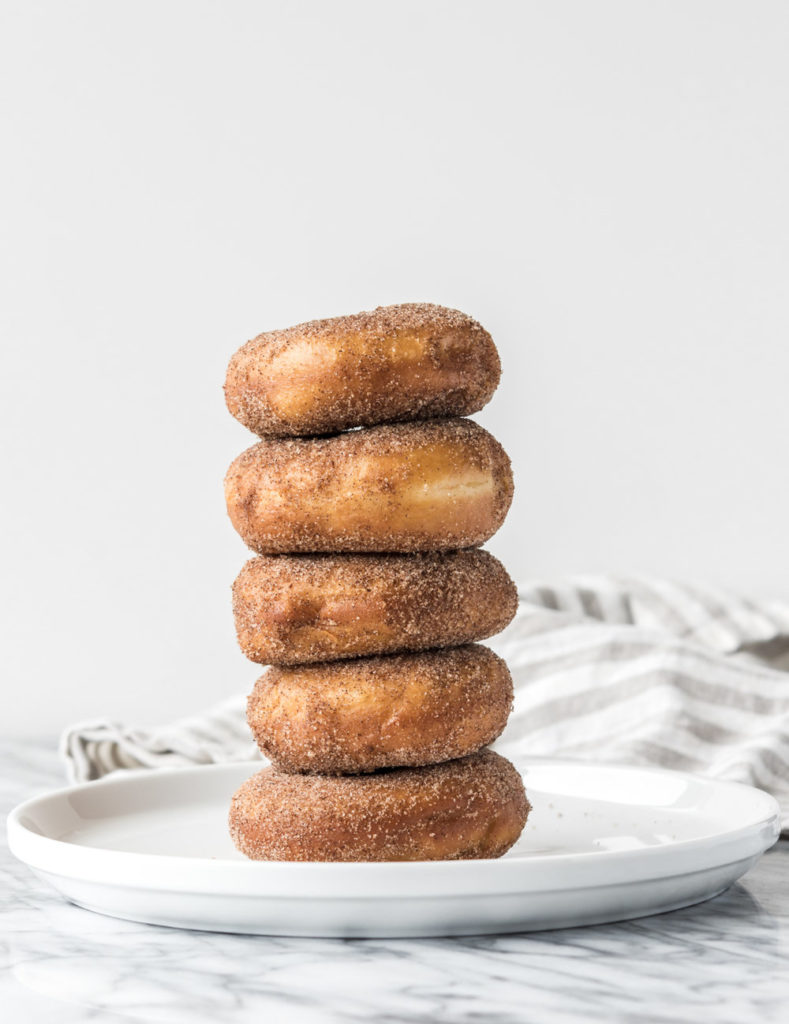 related recipes:
chai spiced breakfast buns (cruffins)
buttermilk donuts with raspberry glaze
basic sourdough crepes with pistachio cinnamon sugar
Print
fried cinnamon sugar donuts
These yeast- raised, potato doughnuts are light and fluffy on the inside, crispy on the outside and smothered in finger licking amounts of cinnamon and sugar. Enjoy them while they're hot, fluffy and radiating the smell of rich cinnamon.
Author:
Prep Time:

3 hours 45 minutes

Cook Time:

25 minutes

Total Time:

4 hours 10 minutes

Yield:

16

Category:

Breakfast

Cuisine:

American
Ingredients
donuts
1

medium russet potato

1 ½ tsp

active dry yeast

½ cup

milk (any percentage is fine), warm

4 tbsp

unsalted butter, melted and warm

1

large egg, cold

2 ¾ cups

all-purpose flour, plus more for kneading

¼ cup

granulated sugar

1 ½ tsp

kosher salt

½ tsp

grated nutmeg

¼ tsp

baking soda

2 quarts

refined coconut oil, for frying
cinnamon sugar
¼ cup

granulated sugar

2 tsp

ground cinnamon

2 tsp

grated cinnamon
Instructions
prep
Cook potato until soft, in whichever manner you prefer (steam, boil, bake, microwave). When cool, peel and rice the potato. Gently scoop into a measuring cup to measure ¾ cup cooked potato (3 oz) and set aside.
make dough + first rise
Sprinkle yeast over warmed milk with a pinch of sugar, stir and let sit until foamy, about 5 minutes. Whisk in butter, egg and prepared potato.
Combine flour, sugar, salt, nutmeg and baking soda in the bowl of a food processor fitted with a metal blade, and pulse until well combined. Add liquid ingredients and mix until the dough is smooth, about one minute. Alternatively, knead by hand or with a stand mixer fitted with a dough hook (on low) for 10-15 minutes.
Transfer dough to a lightly greased bowl and let rise in a draft-free area until puffy, but not necessarily doubled in size, about 75 minutes. The dough is ready when it partially springs back after touching it. If it rapidly bounces back, let it rise another 10-15 minutes.
shape dough + second rise
Line a baking sheet with parchment paper, lightly grease, and set aside.
Gently deflate the dough, place on a lightly floured surface and cut into 16 pieces. Take one piece, round into a ball and gently flatten it. Using your index finger and thumb, pierce through the center of the dough, then gently stretch into a 3" ring. Place on prepared baking sheet and repeat shaping process with remaining pieces of dough.
Cover loosely with plastic wrap, or a clean dishcloth, and let rise in a draft-free area for about 75 minutes, or until doubled in size. At this point, the shaped doughnuts can be refrigerated overnight, then brought to room temperature before frying.
fry donuts
Fill a large, heavy-bottomed pot 2 inches deep with coconut oil (warmed in the microwave, if needed, to liquefy). Attach a thermometer to the pot and heat oil over medium-high heat to 360°F.
As the oil heats up, line a baking sheet with two layers of paper towels and set aside. Mix the sugar, ground cinnamon and grated cinnamon in a shallow bowl or large plate and set aside.
When the oil reaches 360°F, carefully slip a few doughnuts into the hot oil, making sure not to crowd the pan. Fry for about 2 minutes, flipping once, until the doughnuts are a deep golden brown. Using tongs or a slotted spoon, carefully remove doughnuts and briefly drain on paper towel-lined pan. Dredge in cinnamon sugar mixture, place on a rack to cool, and repeat with remaining doughnuts. Make sure to wait for oil to reheat to 360°F before frying each new batch. Eat immediately!
Notes
makes sixteen 2 ½" doughnuts | recipe from Bravetart by Stella Parks
Nutrition
Serving Size:

1

Calories:

271

Sugar:

6.4g

Sodium:

249mg

Fat:

17g

Saturated Fat:

13g

Unsaturated Fat:

2.4g

Trans Fat:

0g

Carbohydrates:

26g

Fiber:

1.3g

Protein:

3.4g

Cholesterol:

20mg
Keywords: fried cinnamon sugar donuts