These creamy red skin mashed potatoes are the simplest mashed potato recipe out there! One pot, no special equipment-- just the magic combination of butter, cream and red potatoes. They're buttery, packed with flavor and perfectly chunky.
I make these mashed potatoes with skin; we love the texture and pop of color (and speed!) that it lends the dish. The chunky smashed skin adds charm and interest, and is a fun change from silky smooth mashed potatoes.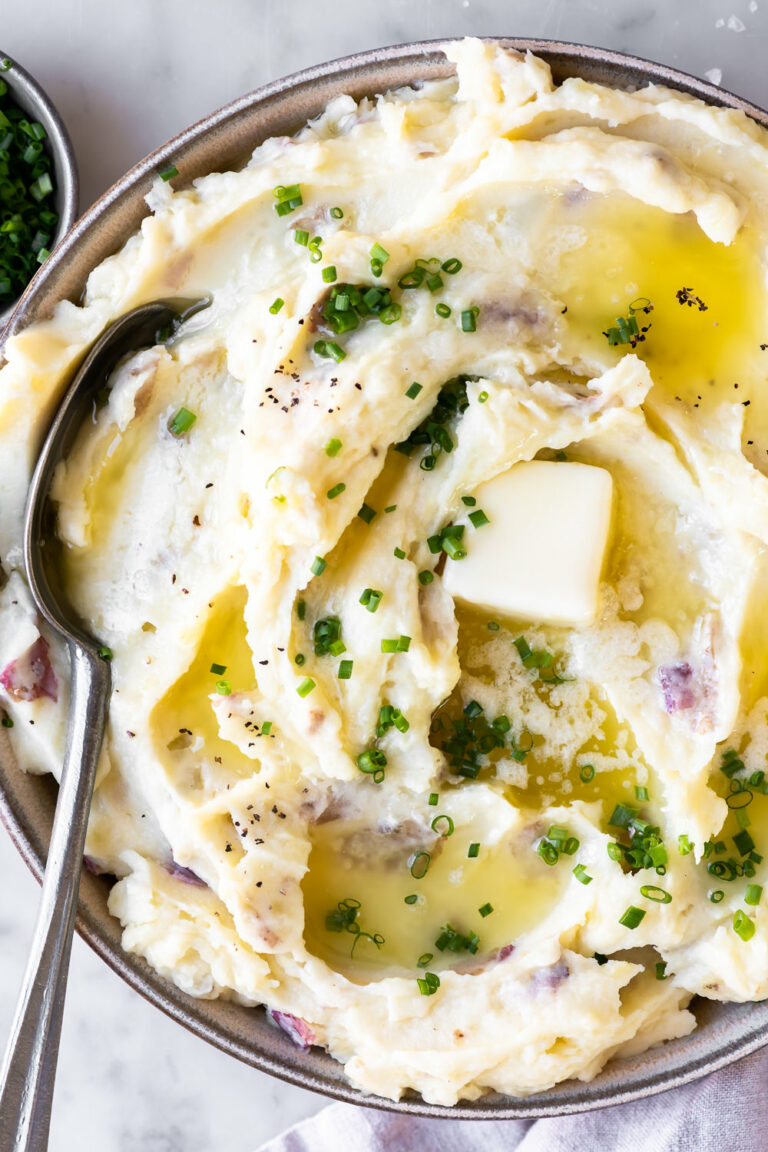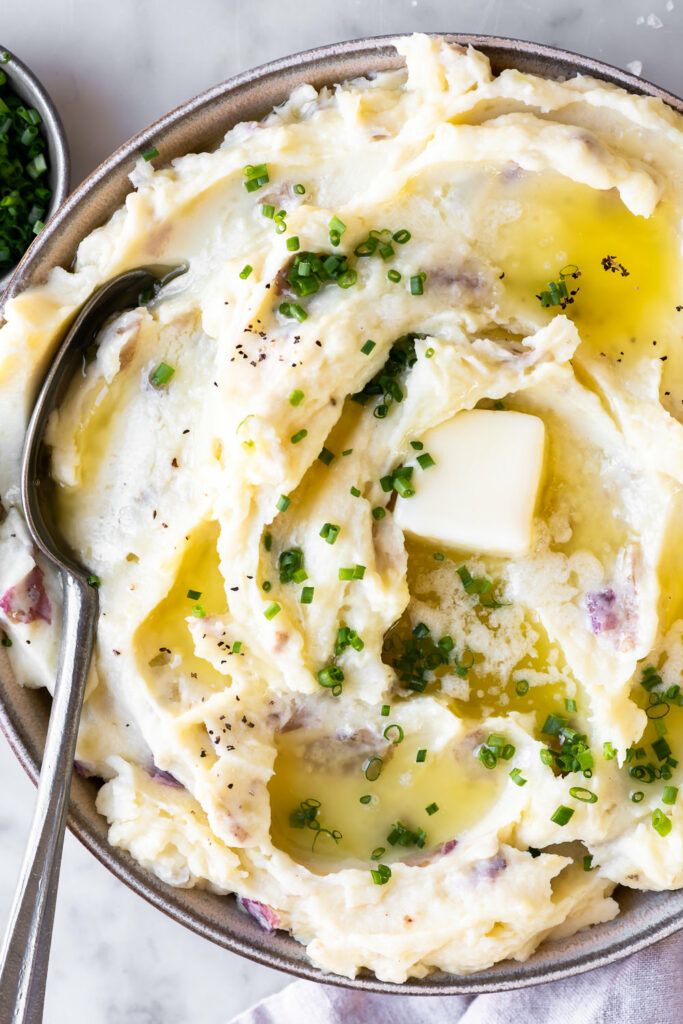 This recipe is the perfect base to bounce off more creative flavors, or adapt to your own tastes. Just keep the ratio of ingredients the same and mix in the butter first-- those two things key.
I learned the butter trick from Diane Morgan via Food52 Genius recipes. The idea is simple and effective: when you stir in the butter by itself, it coats the starch particles with fat to maximize the buttery flavor. Then you add the cream to pull it all together into rich, delightfully chunky mashed red potatoes.
Once you've tried these mashed red potatoes, you won't be stressed about making and timing them again-- whether that's for the perfect Thanksgiving mashed potatoes or a simple weeknight dinner.
Read on for ideas of mix-ins, troubleshooting tips and make-ahead options.
what makes these the best mashed red potatoes?
No peeling: These mashed red potatoes are so simple to make. Cut the potatoes into chunks, toss them in a pot of cold water and you're on your way!
No special equipment: All you need is a potato masher for these red skin mashed potatoes. Ricers, food mills, beaters and processors are all great tools, but there's something really liberating about a one-pot-one-tool kind of recipe.
Quick: These mashed red potatoes can be on your dinner table in 20 minutes. The majority of that time is hands-off cooking while the potatoes simmer on the stove. And if you use a microwave to melt the butter and warm the cream, these potatoes just got even quicker.
3 ingredients: We stay super simple here and stick with the basics: cream, butter and red potatoes. Technique and high quality ingredients are what will separate your mashed potatoes from the rest! Sprinkle with chives if you're feeling fancy.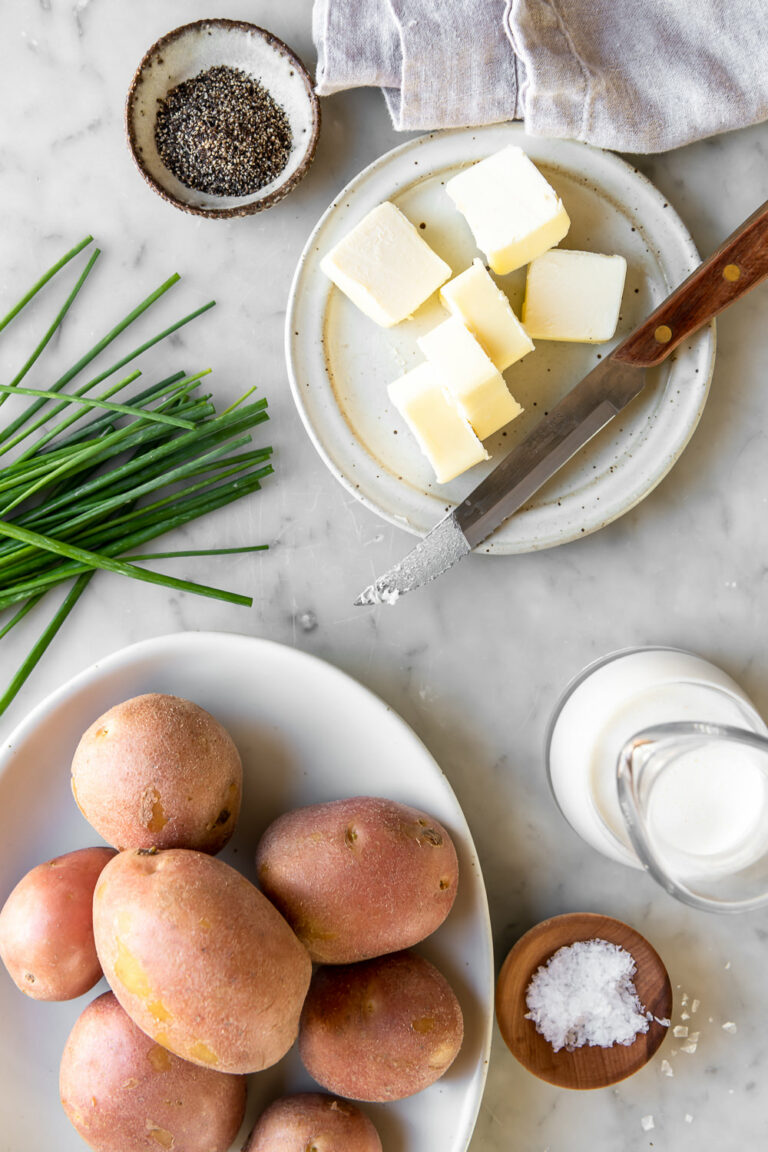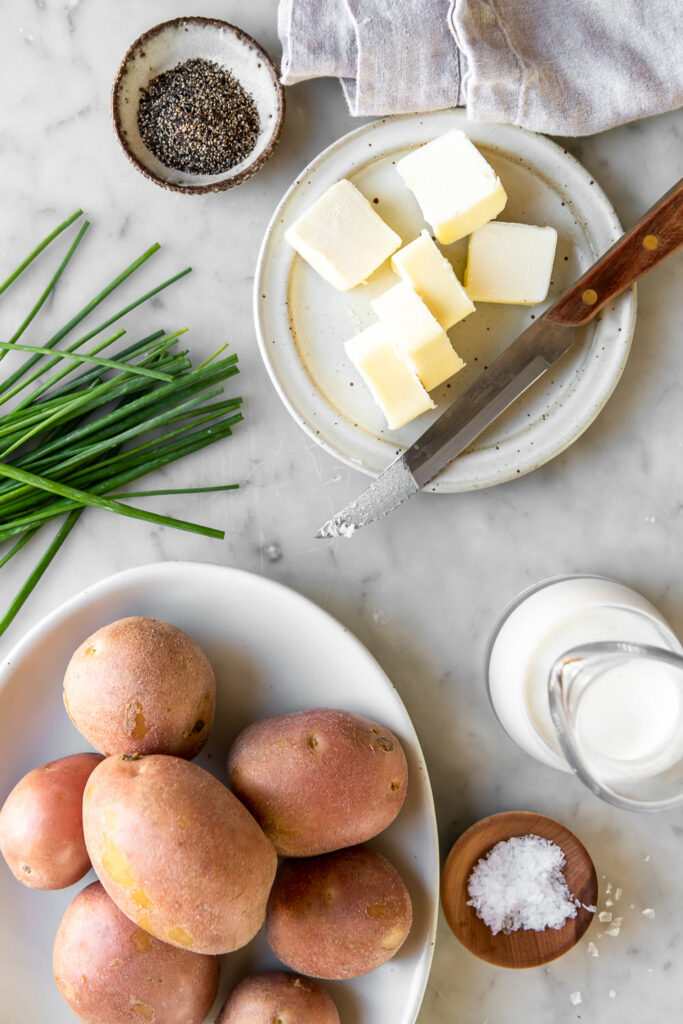 what you need for red skin mashed potatoes
Red skin potatoes
Butter
Heavy cream
Salt
Pepper
Chives
how to make red skin mashed potatoes:
Cut potatoes into chunks
Place in a pot of cold water
Stir in salt, bring to a gentle simmer
Cook until tender; drain
Heat on stove to evaporate excess water
Smash in pot
Mash in melted butter
Stir in cream, salt and pepper and serve
Don't overmash or overmix, or they can turn gummy!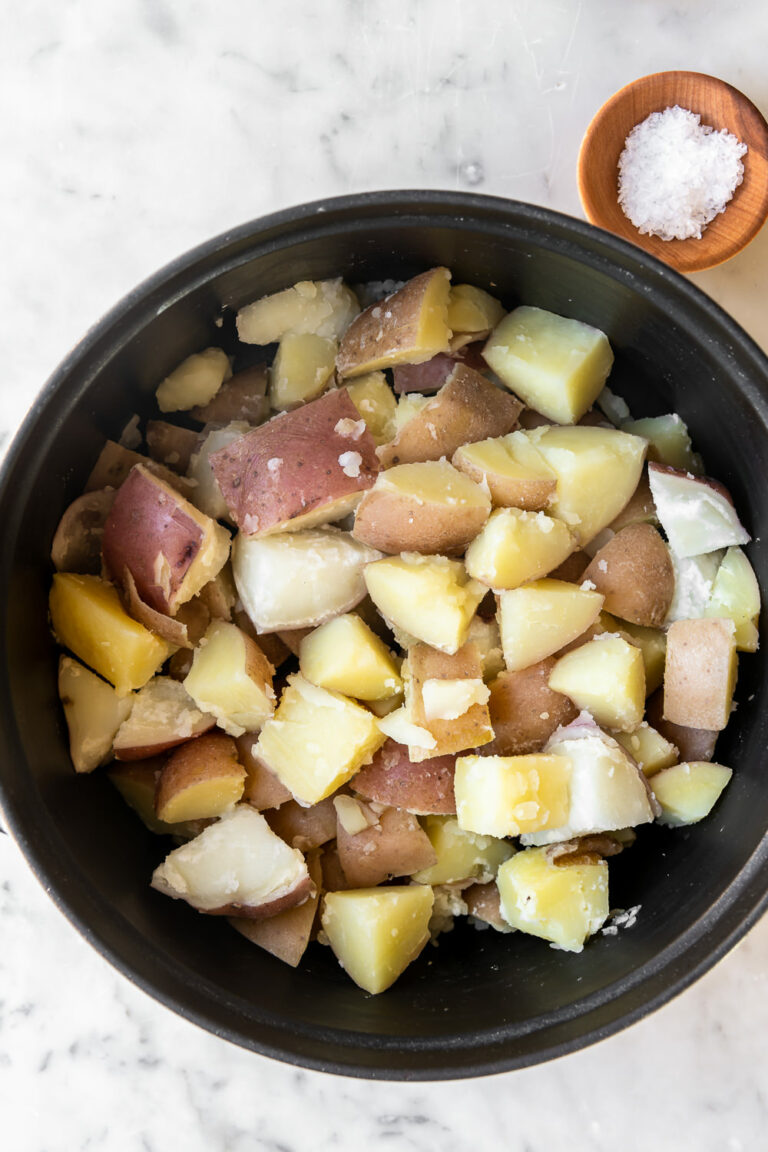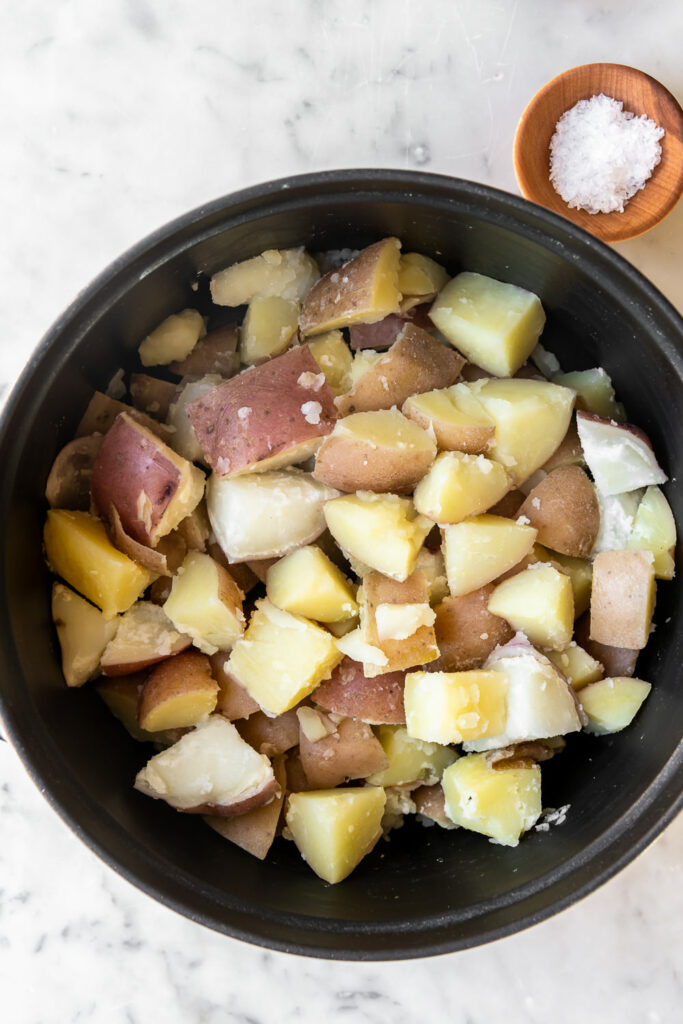 what to add to mashed red potatoes for extra flavor
Roasted garlic
Parmesan
Shredded cheddar
Bacon bits
Brown butter
Minced herbs (chives, rosemary, parsley)
Chopped green onions
Fried shallots
waxy potatoes vs starchy potatoes:
There's a lot of debate over the perfect mashed potato-- specifically, which type of potato to use. Some say you should only use russets (a high starch, floury potato) for mashed potatoes and save the waxy reds for potato salad and roasts. The reality is both types work just fine-- they're simply different.
Starchy potatoes will make a fluffy and light mash. They absorb a lot of water, so they're more likely to get watery.
Waxy potatoes are creamier, denser and lower in starch than russets. They make mashed potatoes with a buttery texture and a fuller potato flavor. The dense flesh makes them perfect for chunky mashed potatoes, which can taste too mealy when done with russets. Plus, if you use thin-skinned red potatoes, you can smash in the skin for extra texture and rustic charm!
how to thicken mashed potatoes:
This is a hard one! The best strategy is to start slowly with the liquid and prevent them from getting too thin in the first place. If you do need to thicken your mashed potatoes, the best solution is to mix in more cooked potatoes.
Unfortunately, if you don't have potatoes, you're left with thickeners as your options. These will change the texture and mouthfeel of the potatoes, but they work as a last resort.
Cornstarch and flour with both get the job done. Start with a tablespoon at a time and heat the potatoes after the addition to let the starch thicken before you add more.
While it feels intuitive to just simmer off the extra liquid, be careful. Overcooked potatoes can become gummy and sticky with too much stirring, agitation and heat.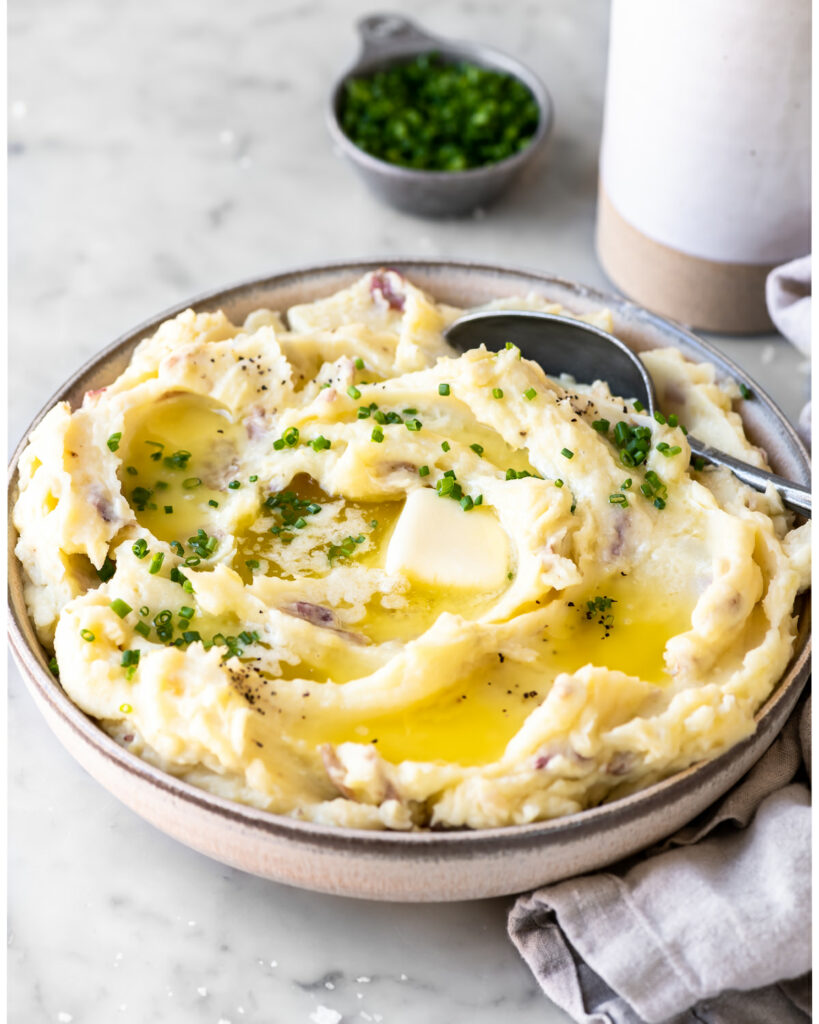 how to reheat mashed potatoes:
Microwave: The best way to reheat mashed red potatoes is in the microwave. Heat on half power for 1 minute intervals, stirring well in between, until heated through. If they seem dry, stir in a splash of cream and butter.
Oven: This is the most hands-off method. Preheat oven to 350°F. Transfer your potatoes to a baking dish, mix in extra melted butter and cream to keep them moist (the starches will continue to absorb liquid as they slowly heat in the oven), cover with foil. Warm for 10- 15 minutes, or until heated through. Taste and add more cream and butter, if needed.
Just don't reheat them on the stove! The mashed potatoes can burn and turn gluey.
how to keep mashed potatoes warm:
Double boiler: You can make these mashed red potatoes ahead and hold them for up to 1 hour by using a double boiler set-up. Cover the pot of mashed red potatoes with plastic wrap and set it over a larger pot filled with a few inches of gently simmering water.
Crockpot: Even simpler, transfer them to your crock pot and keep them warm on the counter-- they'll keep just fine for up to 4 hours on LOW.
Sous vide: If you want to nerd out with your sous-vide, this is your chance! Transfer the hot mashed potatoes to a large zip top bag, plop it in a pot or bucket, and set the sous vide to 135°F. This will keep them warm and creamy for up to 6 hours.
what goes with mashed potatoes?
For every day meals, we love to serve these mashed red potatoes with a simple seared steak or roast and fresh salad. For a simple and quick protein, serve them with this Instant Pot Italian Chicken by Jenn at Cook What You Love.
They're also go great with our shredded kale brussels sprout salad and porcini crusted roast beef tenderloin!
I also love to serve them for Thanksgiving or Christmas dinner-- the simplicity of the recipe makes it incredibly low stress, when you're juggling so many other dishes in the kitchen.
more mash recipes to try!
creamy mashed rutabaga with olive oil, lemon and herbs
parsnip puree with brown butter dijon drizzle and fried shallots
Love potatoes? Try this cheesy tater tots recipe by Sherry at From Michigan to the Table!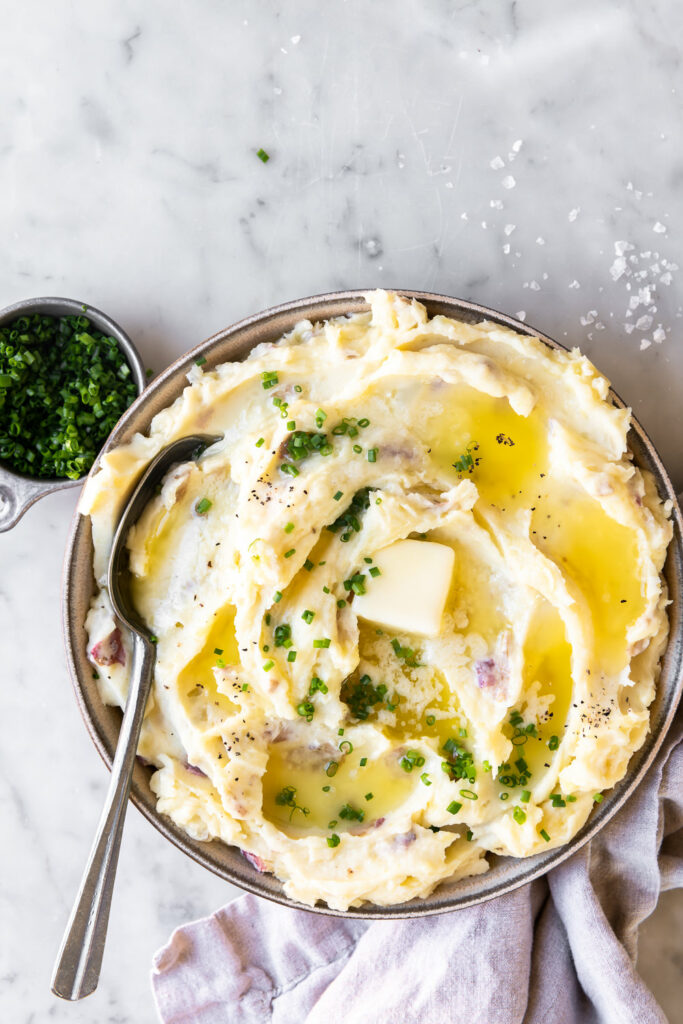 Print
red skin mashed potatoes
These creamy red skin mashed potatoes are the simplest mashed potato recipe out there! They're so buttery, creamy and delightfully chunky.
Author:
Prep Time:

5 minutes

Cook Time:

15 minutes

Total Time:

20 minutes

Yield:

6

Category:

Side

Method:

Mash

Cuisine:

American

Diet:

Gluten Free
Ingredients
2

lbs red skin potatoes, scrubbed well, unpeeled and cut into

2

" chunks
kosher salt

6 tbsp

salted butter, cubed, plus more for serving

½ cup

heavy cream, plus more if needed
freshly ground black pepper

2 tbsp

minced fresh chives
Instructions
Place potatoes and 1 tablespoon kosher salt in a large pot. Fill with enough water to cover the potatoes by 1 inch. Bring to a boil, reduce to a gentle simmer and cook until potatoes are fork tender, 12- 15 minutes.
Towards the end of the cook time, melt butter and warm cream in two separate containers, using the microwave or the stove.
Drain potatoes and return to pot. Heat over low heat, tossing around for 1 minute, to evaporate excess water. Use a potato masher to mash potatoes mostly smooth. Add butter, ¾ teaspoon kosher salt and black pepper and mash until completely mixed. Stir in heavy cream, taste and add more salt, pepper or heavy cream, if needed, to reach desired consistency. Careful not to over mix or mash, or the potatoes can get gluey.
Transfer to a large serving bowl. Use a spoon to create swirls in the surface and top with more melted butter and chives.
Notes
Nutritional information is only an estimate. The accuracy of the nutritional information for any recipe on this site is not guaranteed.
Nutrition
Serving Size:

⅙th of recipe

Calories:

304

Sugar:

2.8g

Sodium:

272mg

Fat:

19g

Saturated Fat:

12g

Unsaturated Fat:

5.6g

Trans Fat:

0.7g

Carbohydrates:

30g

Fiber:

2.7g

Protein:

4.2g

Cholesterol:

53mg
Keywords: red skin mashed potatoes