These braised artichokes are tender, crispy on the edges and infused with garlic, shallots and the meaty flavor of pancetta.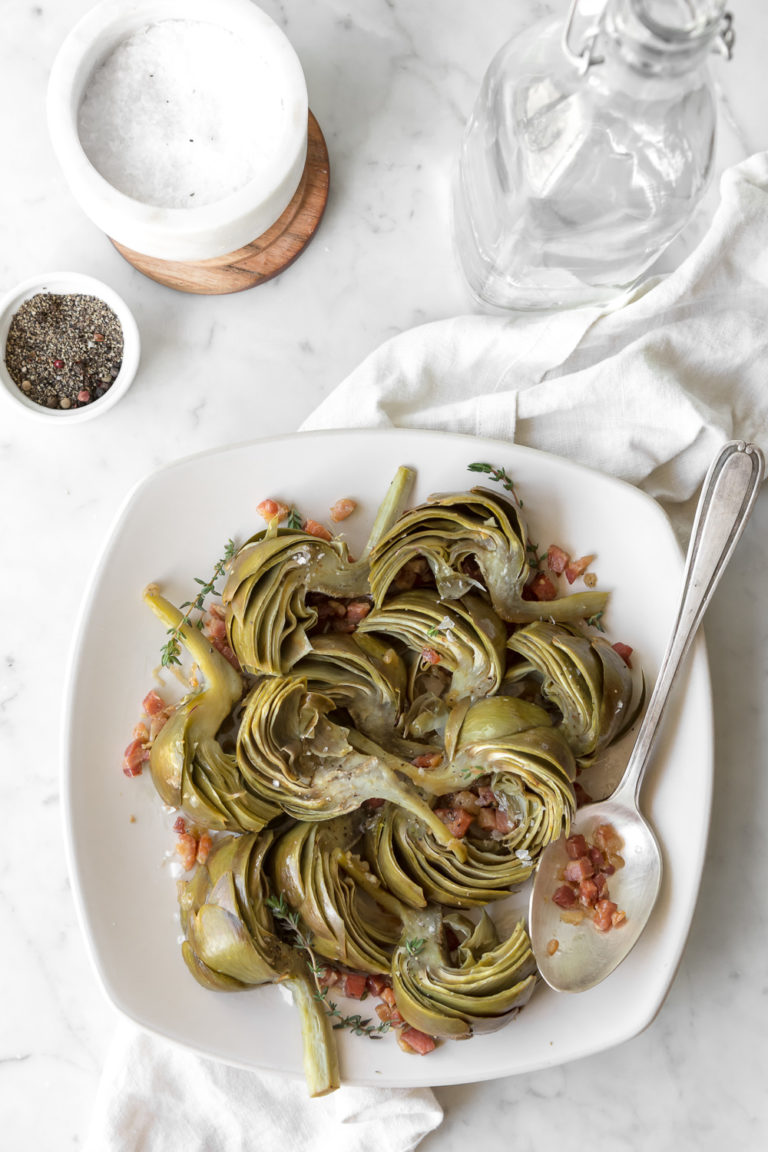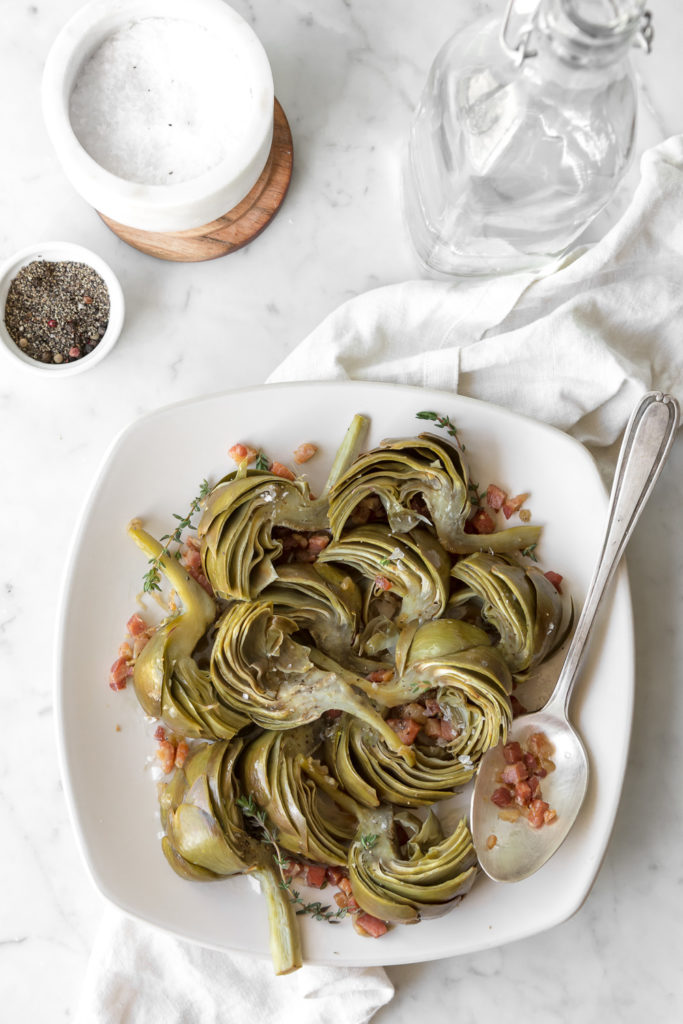 I adapted this beautiful technique from Marcella Hazan, queen of Italian cooking and artichoke whiz. Her cookbooks are filled with different ways to prep, cook and serve artichokes. But the braising technique is one of my favorites. It's easy and the results are incredibly flavorful.
Why steam or boil an artichoke in plain water when you can slowly simmer it in a rich broth? It's a no-brainer. As you can expect, prepping and cleaning the artichokes takes the most time. But once you get them in the pan, these braised artichokes are a hands-off technique that delivers maximum flavor.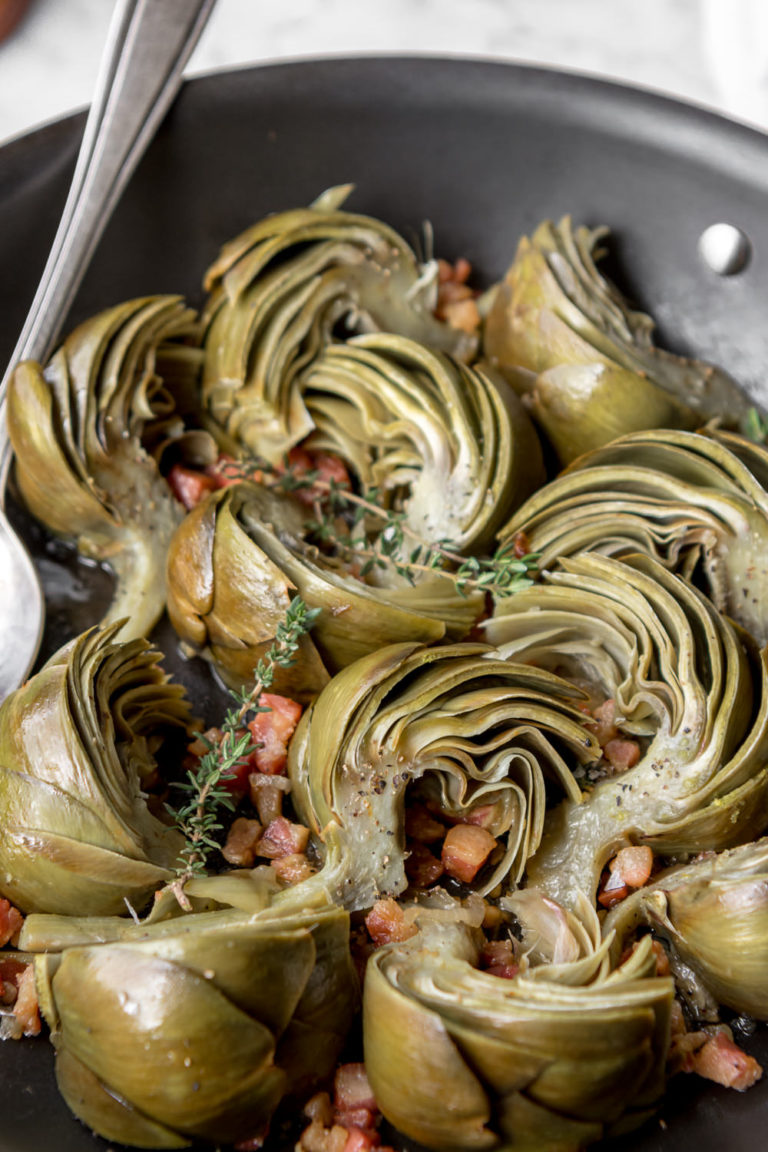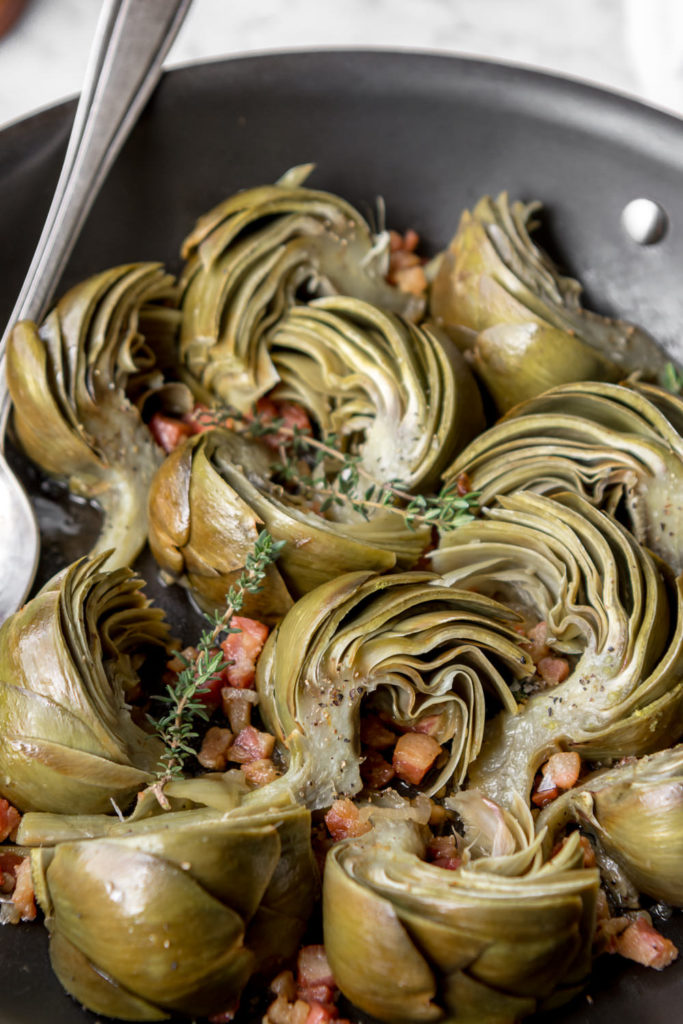 how do you prepare an artichoke?
Remove the tough outer leaves near the base
Slice 1 inch off the top
Snip off the thorns from the top of each leaf
Trim and peel the stem
Cut artichoke in half lengthwise, then scrape out the fuzzy choke
Submerge in water with lemon juice to minimize browning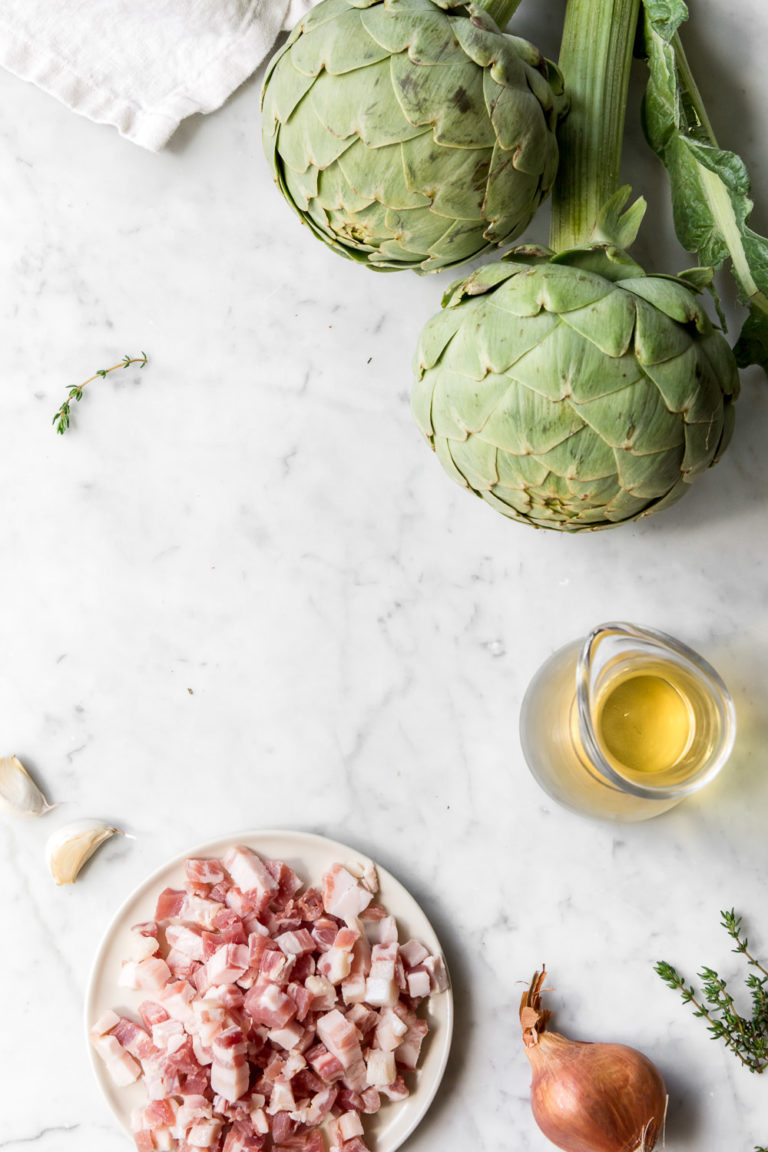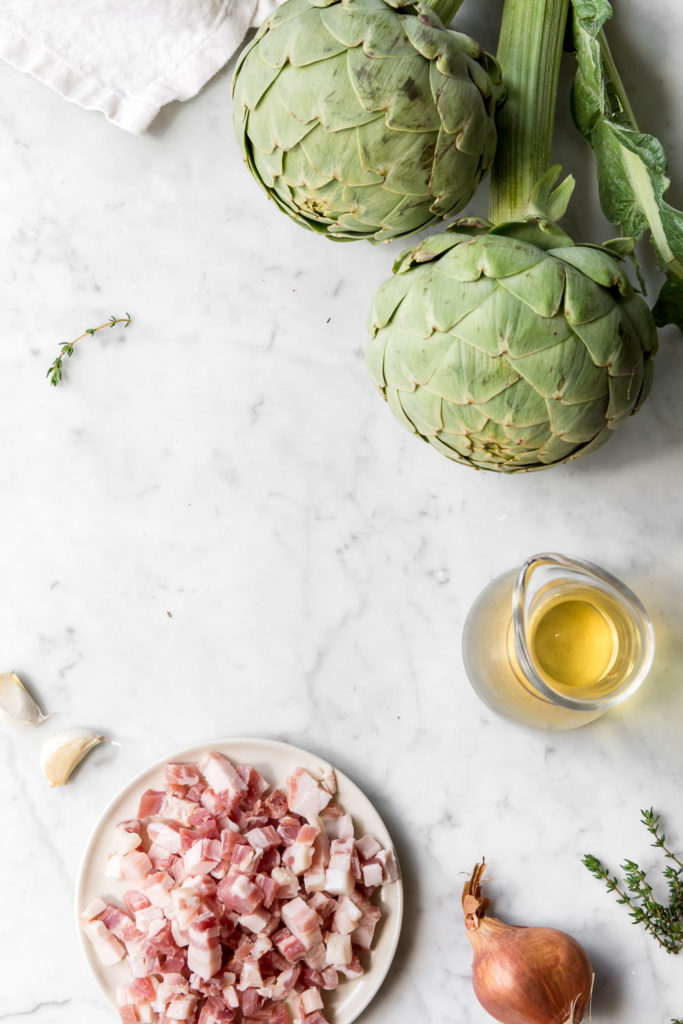 how do you make braised artichokes?
Sauté pancetta, shallots and garlic
Add artichoke wedges to pan, cook a few minutes
Add wine and chicken stock, reduce to a very gentle simmer
Cover and cook for 25- 30 minutes, or until tender
Eat!
how do you eat braised artichokes?
Eat these braised artichokes just as you would eat any artichoke. Pull off an outer leaf, scrape the meat off with your teeth, and toss the spent leaf. Continue eating and scraping the leaves until you reach the heart, then eat that whole.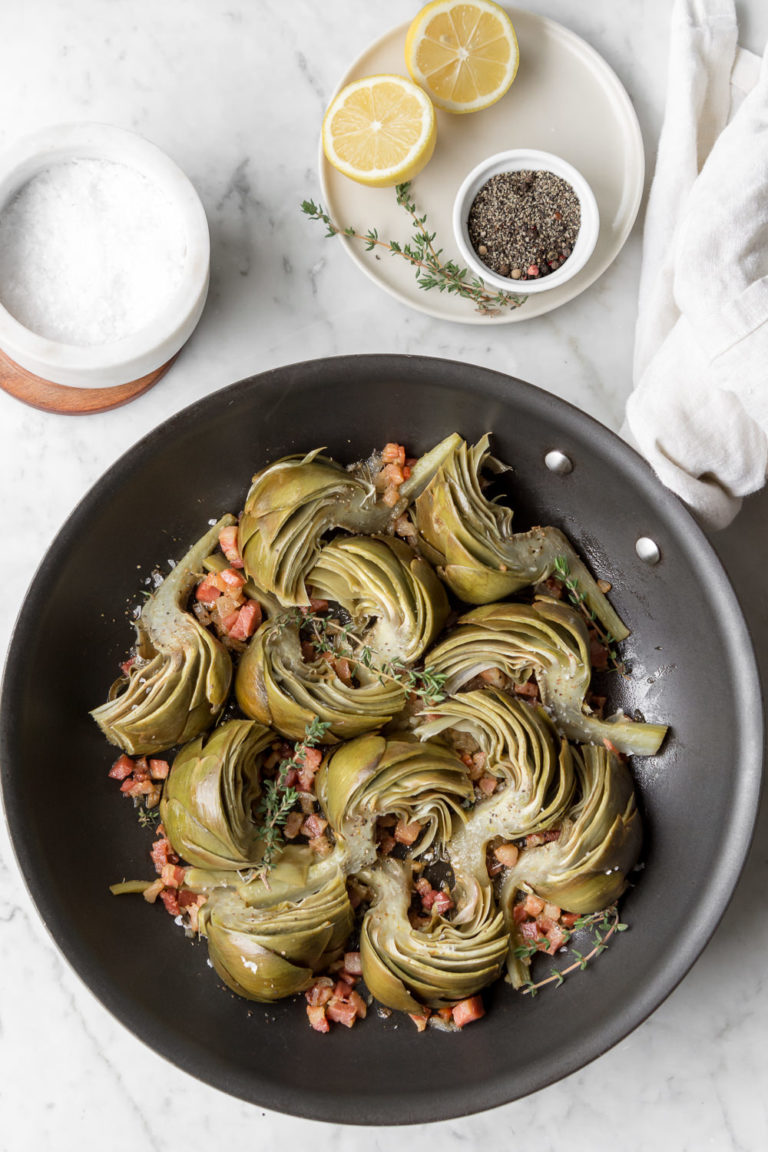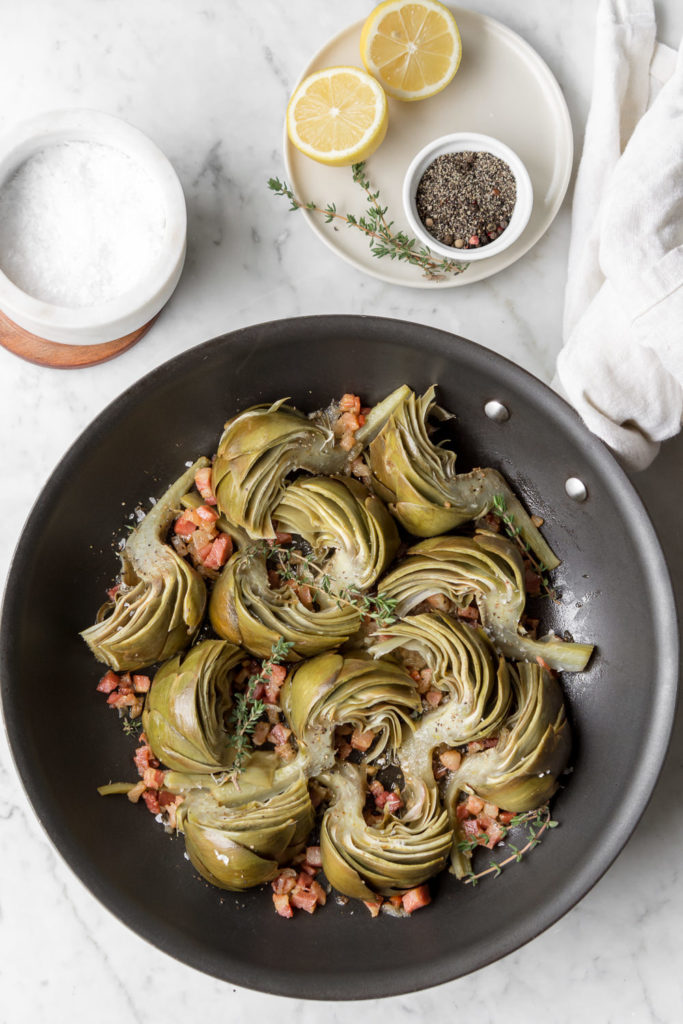 how do you know when braised artichokes are ready?
The braised artichokes are ready to eat when an outer leaf pulls off easily. You can also insert a fork into the heart or base of the artichoke. If it pierces the meat without resistance, the artichoke is fully cooked and tender enough to eat.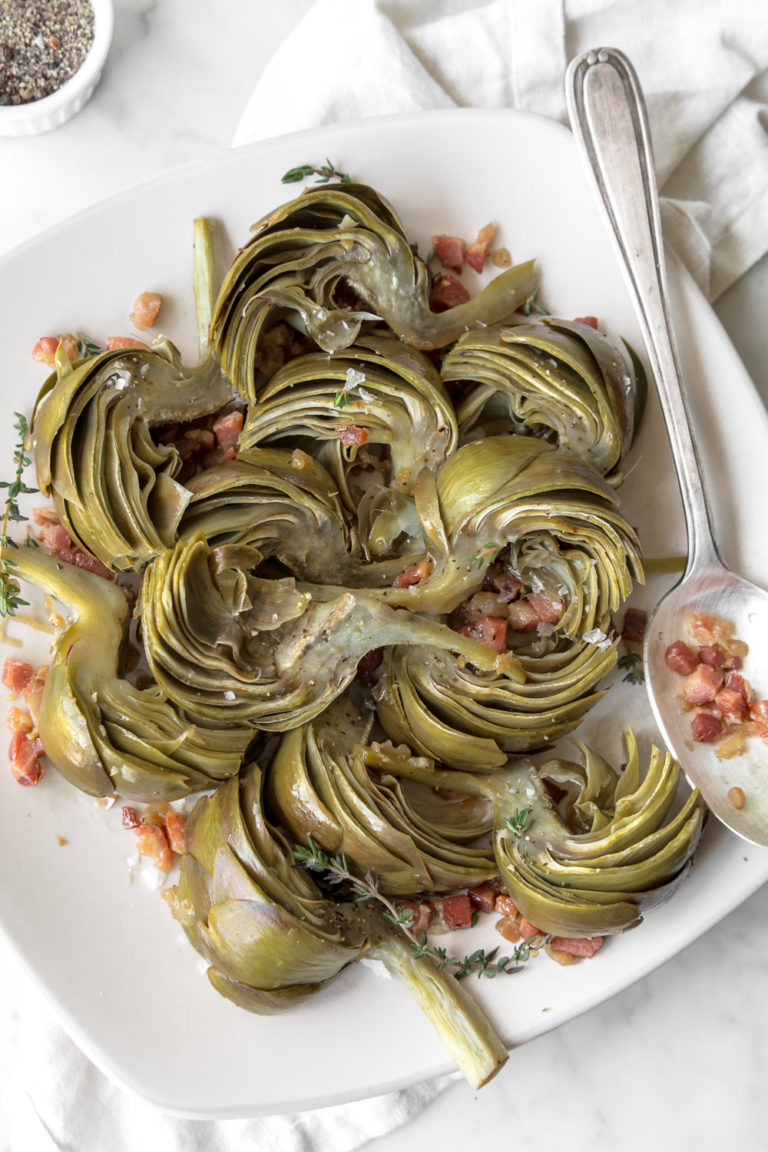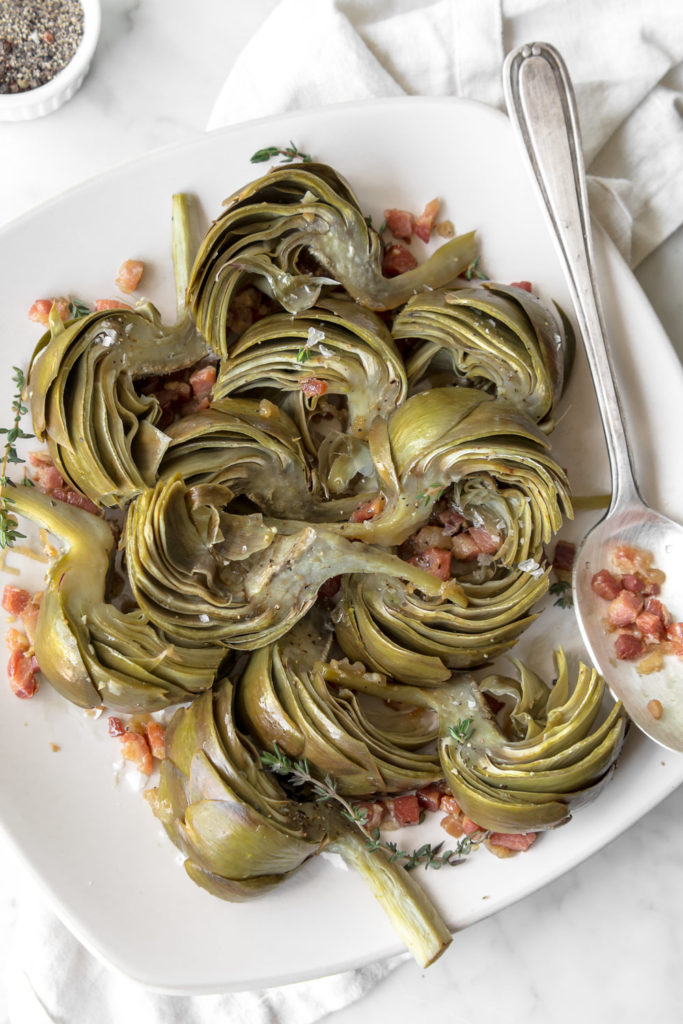 a few notes on these braised artichokes:
Watch the salt here! The pancetta can add a lot on its own, and all of the liquid cooks off and concentrates into the artichokes. So go easy on salting. It's easy to over do it.
If you don't have or can't find pancetta, it's totally fine to use bacon instead. Look for the thickest cut bacon you can find, then cut the slices crosswise into ¼ inch thick strips.
Use the largest pan you have! If you have large artichokes, it can be hard to squeeze all of the wedges into a medium size pan. If necessary, stack a few on top of each other. The top wedges will steam more than braise, but they'll still taste great.
related recipes
roasted artichokes with creamy chive dipping sauce
root vegetable hash with apples and pancetta
fennel confit with tarragon and lemon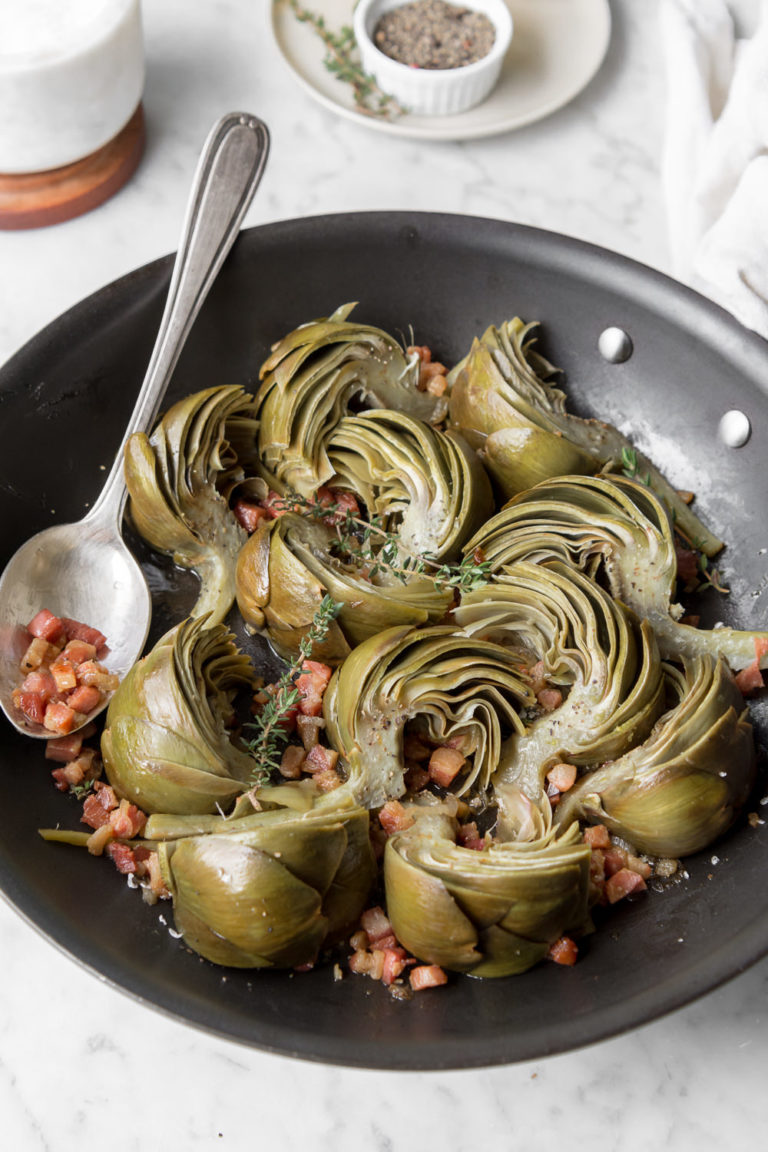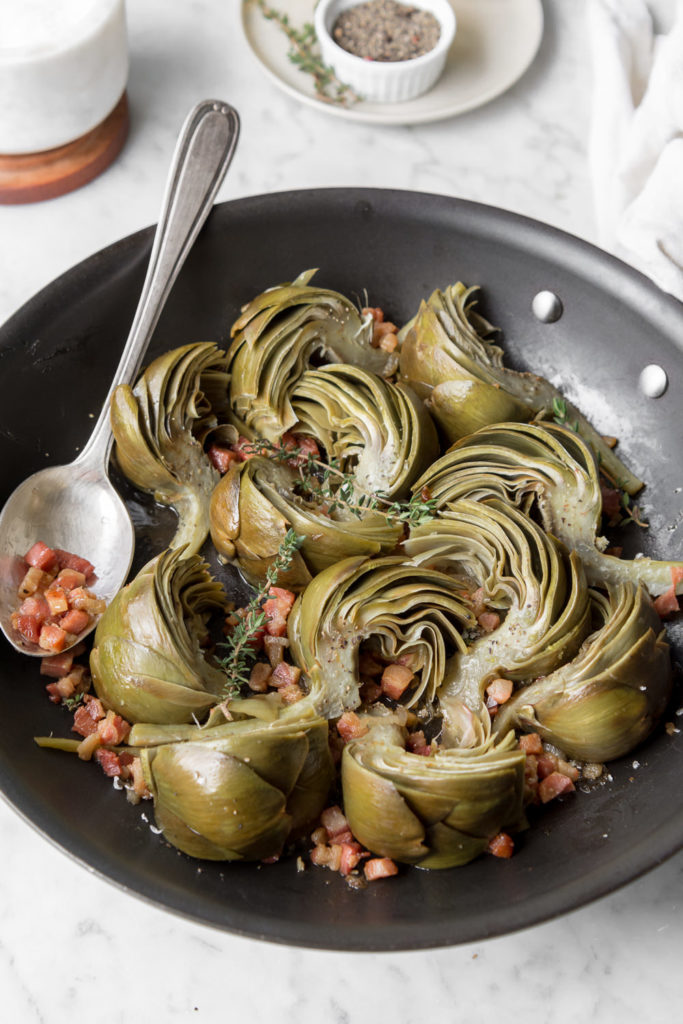 Print
braised artichokes with pancetta, shallots and thyme
These braised artichokes are tender, crispy on the edges and infused with garlic, shallots and the meaty flavor of pancetta. They're the easiest artichokes!
Author:
Prep Time:

10 minutes

Cook Time:

30 minutes

Total Time:

40 minutes

Yield:

4

Category:

Side

Method:

Braise

Cuisine:

American
Ingredients
2

small artichokes
Juice of

1

lemon

1 tbsp

olive oil

5 oz

pancetta, cubed

1

shallot, sliced

2

garlic cloves, minced

½ cup

dry white wine

¼ cup

low-sodium chicken broth

3

-

4

sprigs fresh thyme
Instructions
Working one artichoke at a time, remove the tough outer leaves near the base. Trim the stem and slice 1 inch off the top. Use kitchen shears to remove the sharp points from each leaf. Use a paring knife to trim the base and peel the stem. Cut artichoke in half lengthwise, then use a spoon to scrape out and discard the fuzzy choke and any sharp, small leaves. Slice each half into 4 wedges and place them immediately in a bowl of cold water and lemon juice.
Place olive oil and pancetta in a large, cold skillet and turn heat to medium. Cook, stirring occasionally, until the pancetta is beginning to brown and get crispy, 5- 7 minutes.
Add shallot and cook, stirring occasionally, until soft and translucent, about 2 minutes. Stir in garlic. Remove artichokes from lemon water, pat dry, and arrange in an even layer in the pan. Season with salt and black pepper and cook for a few minutes. Flip wedges and nestle into pancetta and shallots. Pour in wine and chicken stock and bring to a simmer.
Tuck thyme sprigs around artichoke wedges. Reduce heat to medium- low, cover and cook for 25- 30 minutes, or until artichokes are tender when pierced with a fork.
When artichokes are done, uncover and increase heat to cook off any extra liquid. Adjust seasoning if needed and serve.
Nutrition
Serving Size:

¼ of recipe

Calories:

282

Sugar:

1.7g

Sodium:

200mg

Fat:

22g

Saturated Fat:

7.4g

Unsaturated Fat:

13.5g

Trans Fat:

0g

Carbohydrates:

10g

Fiber:

3.8g

Protein:

5.7g

Cholesterol:

26mg
Keywords: braised artichokes