These double chocolate cookies are rich, super chocolatey, and perfectly chewy. They're finished with big flakes of salt for a delicious crunch and balance to the bittersweet cocoa.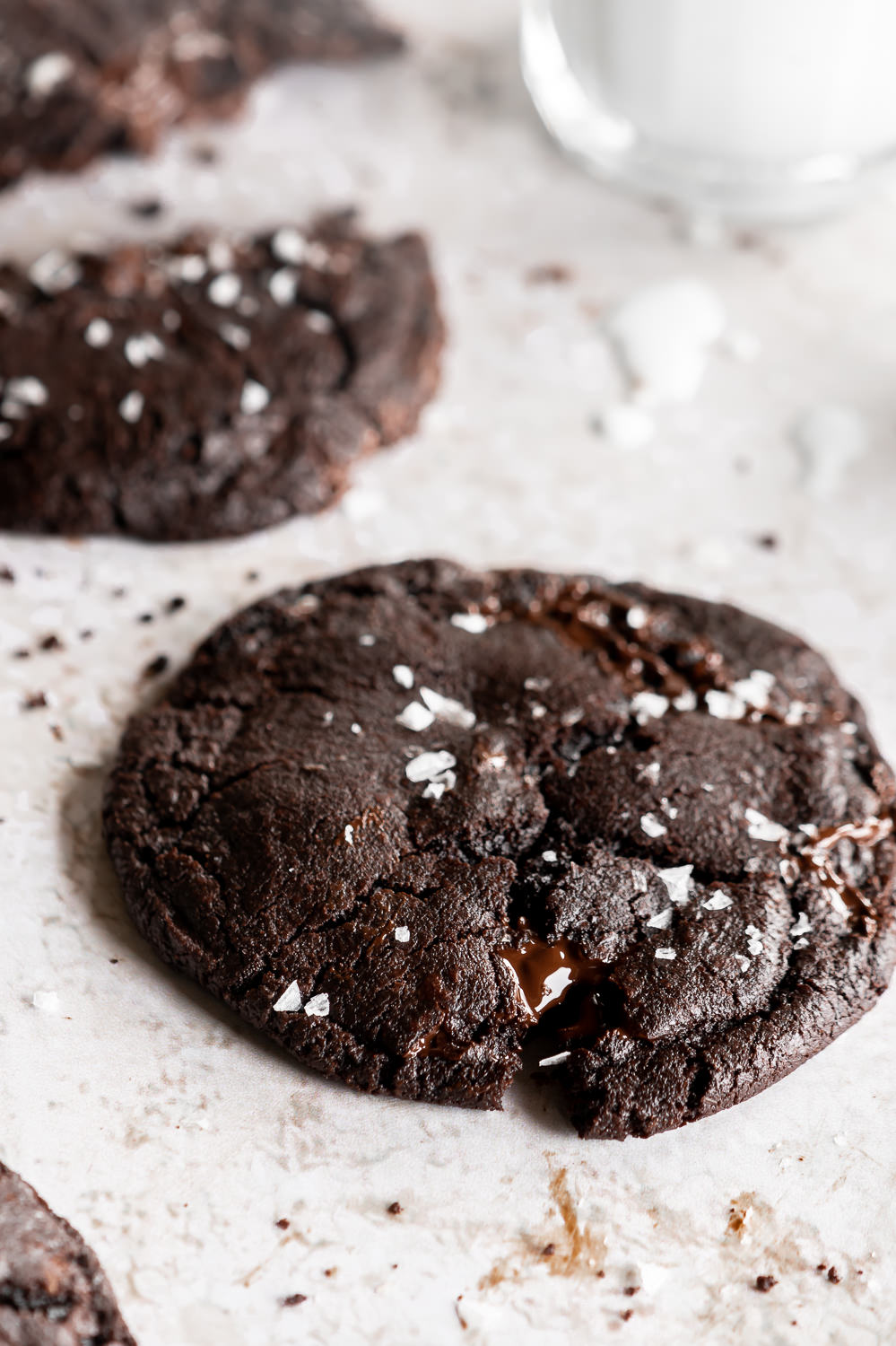 I love to scour cookbooks and the internet for recipes like this: simple and really, really good. Over the years, I have gathered hundreds of scraps of paper, notes and Evernote pages devoted to scribbled down recipes. They're filled with names of recipes, cookbooks, chefs and blogs that have been on my radar to try and hopefully share.
There are so many fantastic recipes in the world, a huge part of the cooking struggle is finding a great one in the plethora of the average.
And these salted double dark chocolate cookies are so good, I'm upset I didn't get to them sooner. The cookies have a deep, dark, addictively rich flavor-- especially if you use the best cocoa powder in the world.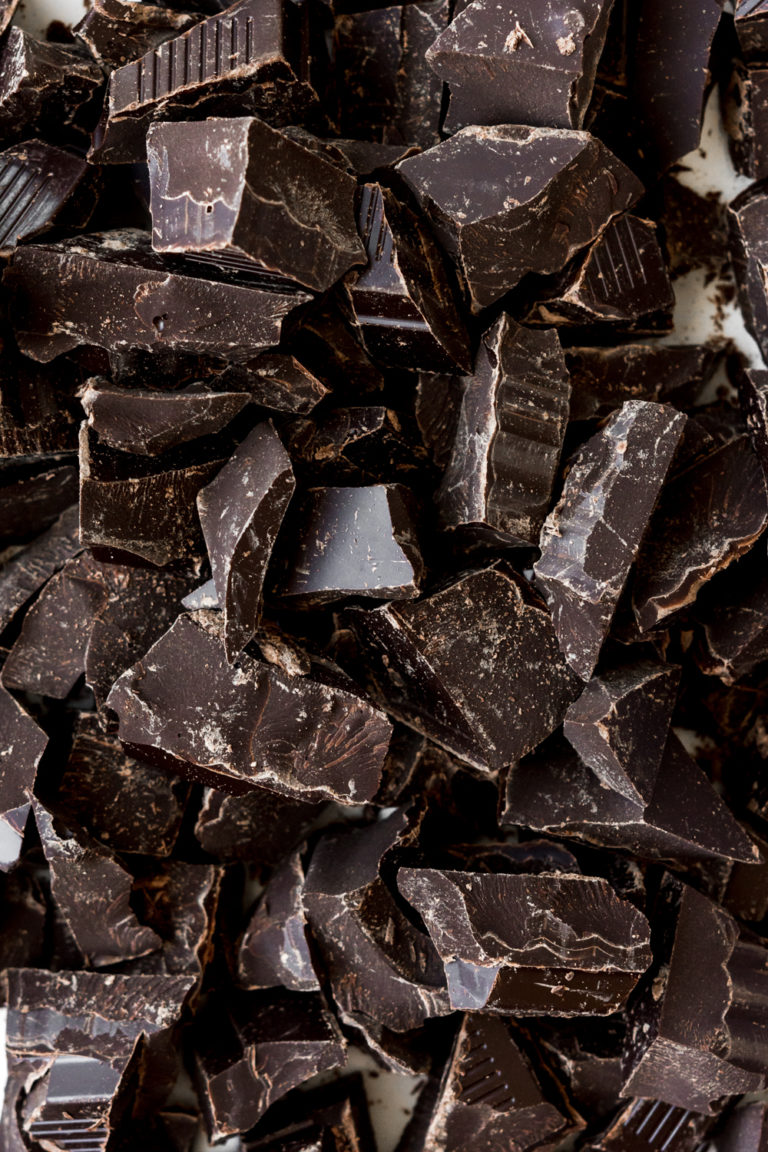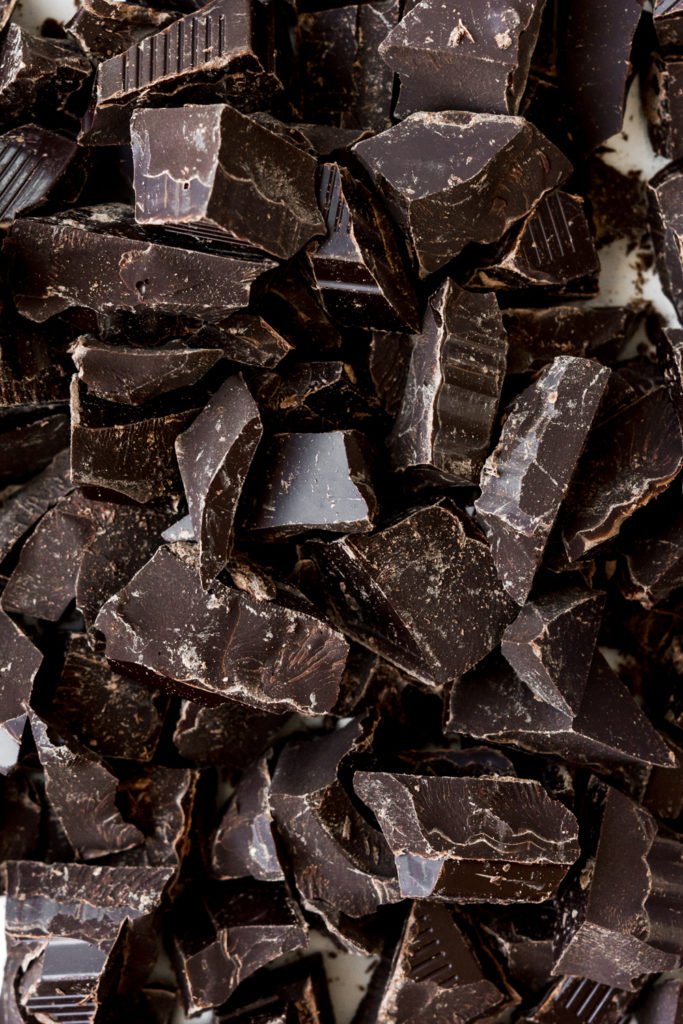 This recipe recommends refrigerating the dough for 24- 36 hours. This helps the dough fully hydrate, relax and chill for the most uniformly chewy- crispy texture. But to be honest, I usually skip it. I don't notice enough of a difference to wait a full day to bake a batch of these chocolatey cookies. That being said, I do recommend scooping the dough and popping it in the freezer while the oven preheats. This will help to lessen the spread while baking.
do cookies need salt?
Yes. In fact, all desserts need salt. Even just a small amount enhances the flavor and makes the chocolate taste so much more intense and rich.
I love to go a step further and sprinkle these dark chocolate cookies with flaky salt. The delicate sea salt highlights the chocolate flavor and give these cookies an irresistible edge.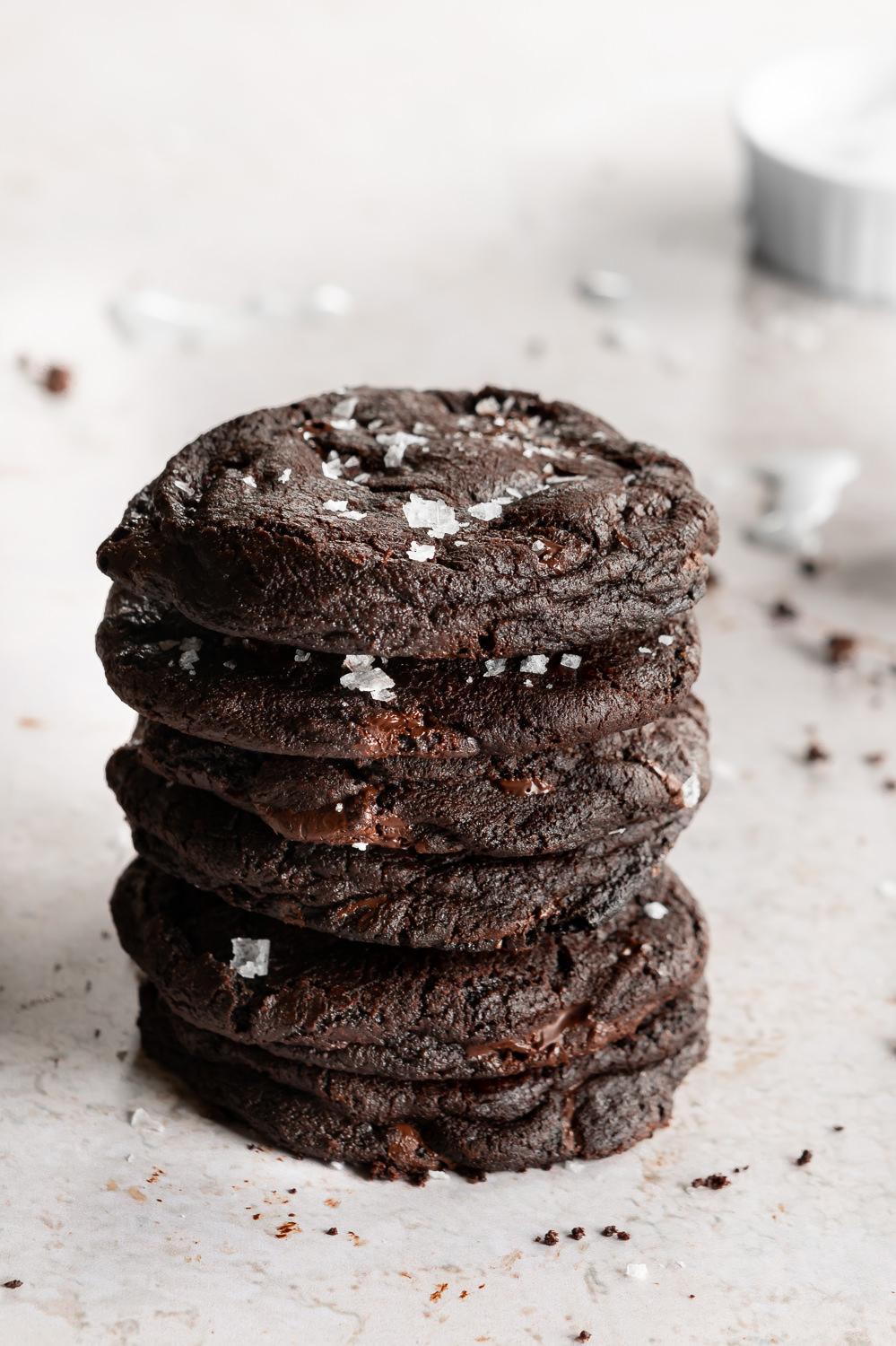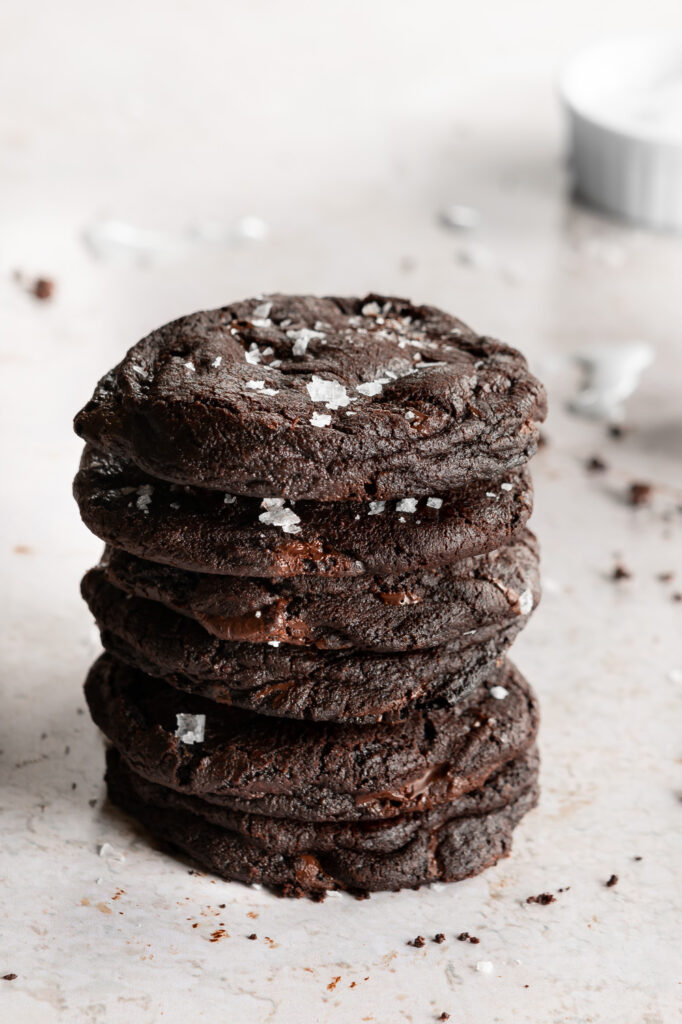 what kind of salt do you use for cookies?
The best kind of salt to use for baking is fine grained table salt. It disperses most evenly throughout the dough. That being said, I tend to use coarse kosher salt for convenience-- it's readily available and easy. Either way, these double chocolate cookies always turn out fantastic.
This recipe is written using kosher salt, so reduce the amount to a total of ½ tsp if you use table salt.
And for those gorgeous salt flakes on top? There's no better option than Maldon sea salt!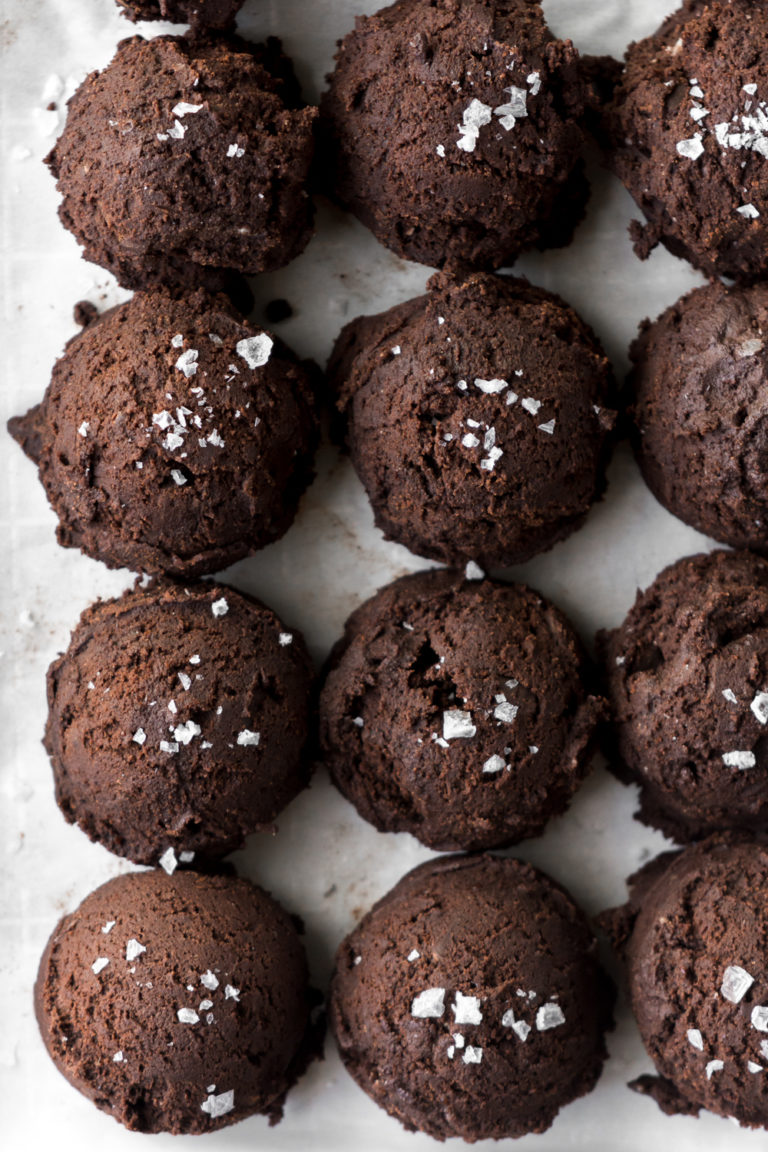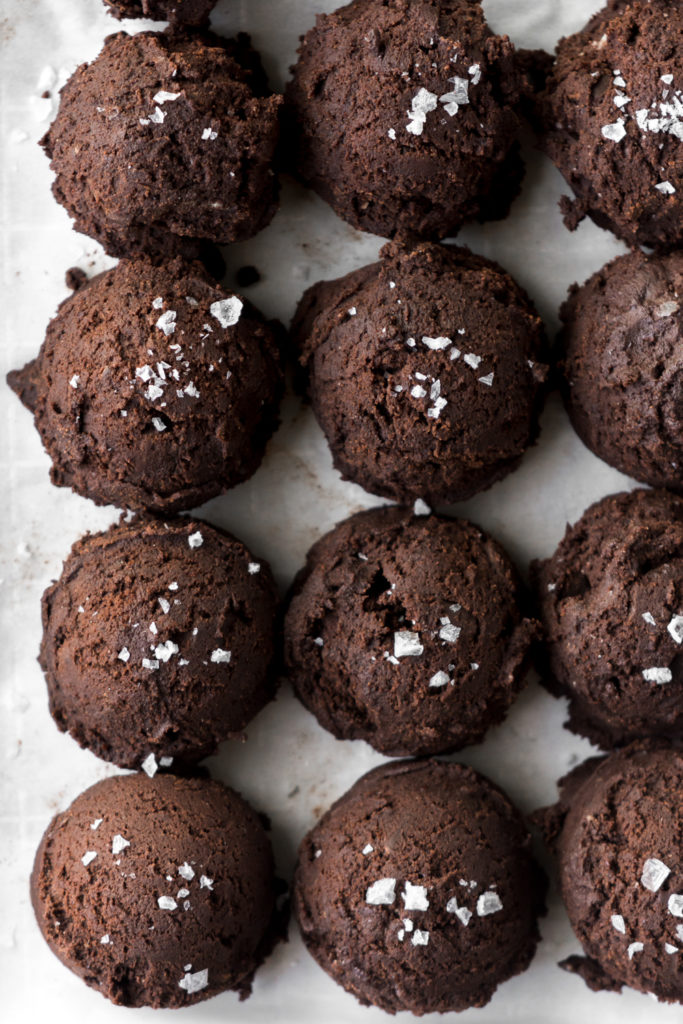 how do you know when dark chocolate cookies are done?
The easiest way to tell when these double dark chocolate cookies are done is the finger test. Carefully touch the edge of a cookie with your finger. The edge should be firm and it will remain intact when the cookies are done. If the edge falls in or indents, the cookies need a little more time. The centers will be soft.
Though it's hard to tell with dark chocolate cookie dough, you can also notice a slight darkening on the edge of the cookies if you look closely enough.
I love my cookies to be chewy, so I tend to err on the side of less time in the oven. You can leave them in for a few extra minutes if you want them to be crunchier. Just be sure to get them out before they burn!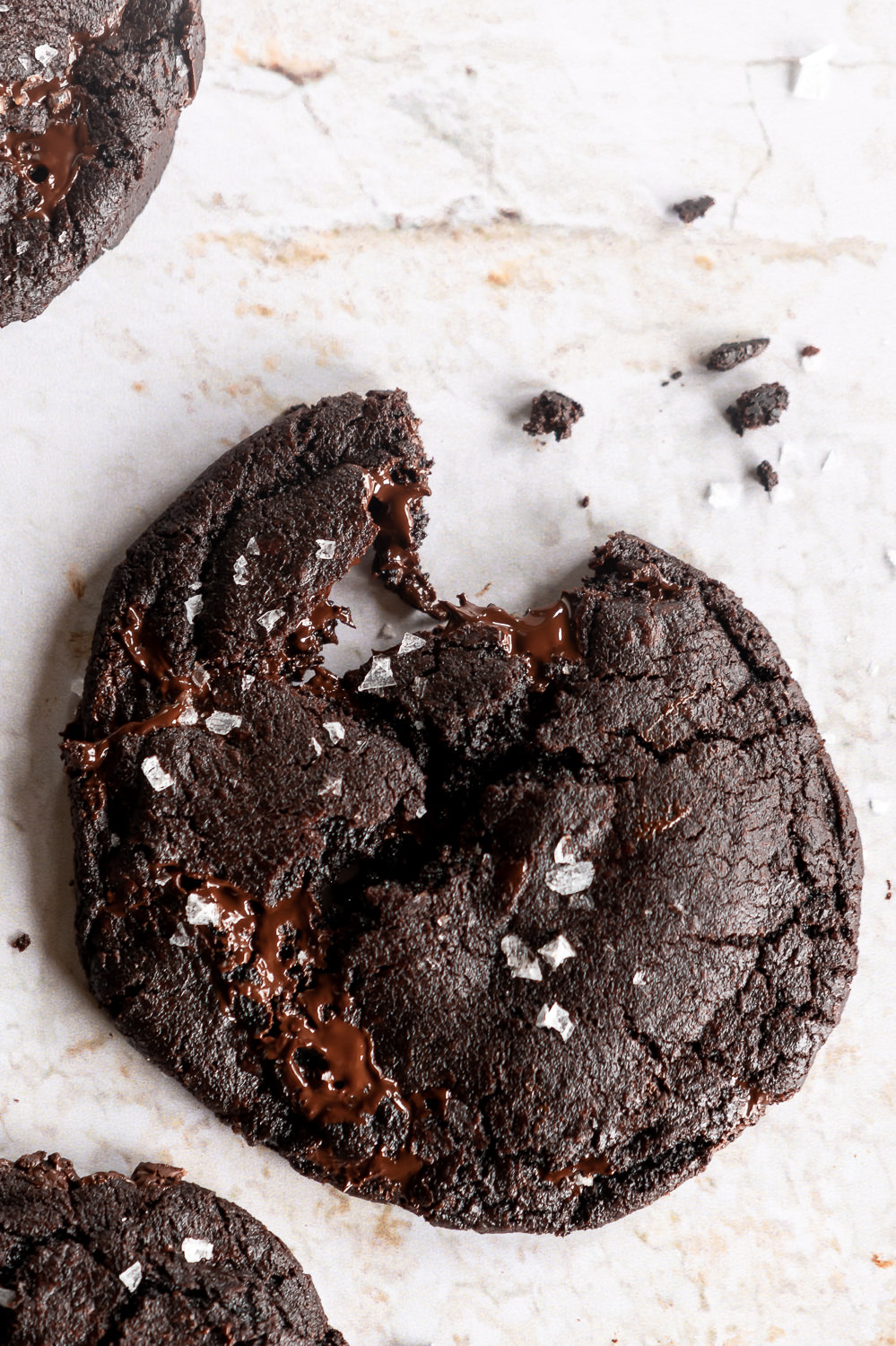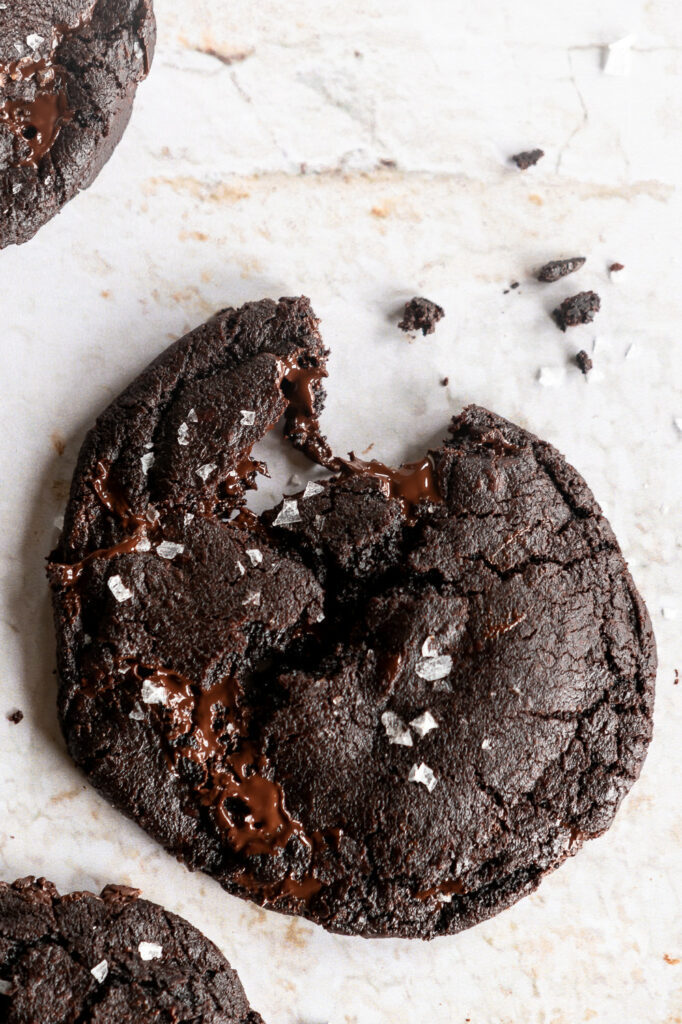 more tips on how to make this double chocolate cookie recipe:
The better the cocoa powder and chocolate, the better the cookie. Ever since I learned about Cacao Barry Extra Brute cocoa from Stella Parks, I've been obsessed with it.

The flavor is so deep and rich, it makes an incredible difference in the final cookies. The cocoa powder is pricey, but I figure if I'm going to make and eat cookies, they might as well be as delicious as possible.

I love the 72% cacao dark chocolate "pound plus bar" from Trader Joe's, but any good dark chocolate will work great.
Chop the chocolate as small or as large as you'd like. I love big chunks of chocolate in my cookies, chopped about ½-inch large. Just ,ake sure the chocolate pieces aren't larger than the amount of dough you're using (or if using a cookie scoop, make sure they fit inside).
If you rest the dough overnight, pre-scoop and chill it on the baking sheet. It's not fun to hack out scoops of rock hard cookie dough, and warming it up defeats the purpose of chilling it overnight.
If you bake these cookies the day of, make sure to pop the baking sheet of scooped dough into the freezer for 15 minutes before baking.
I make these cookies in all sizes, but prefer the 3 ½ tbsp size (using scoop size 16), which yields about 14 cookies.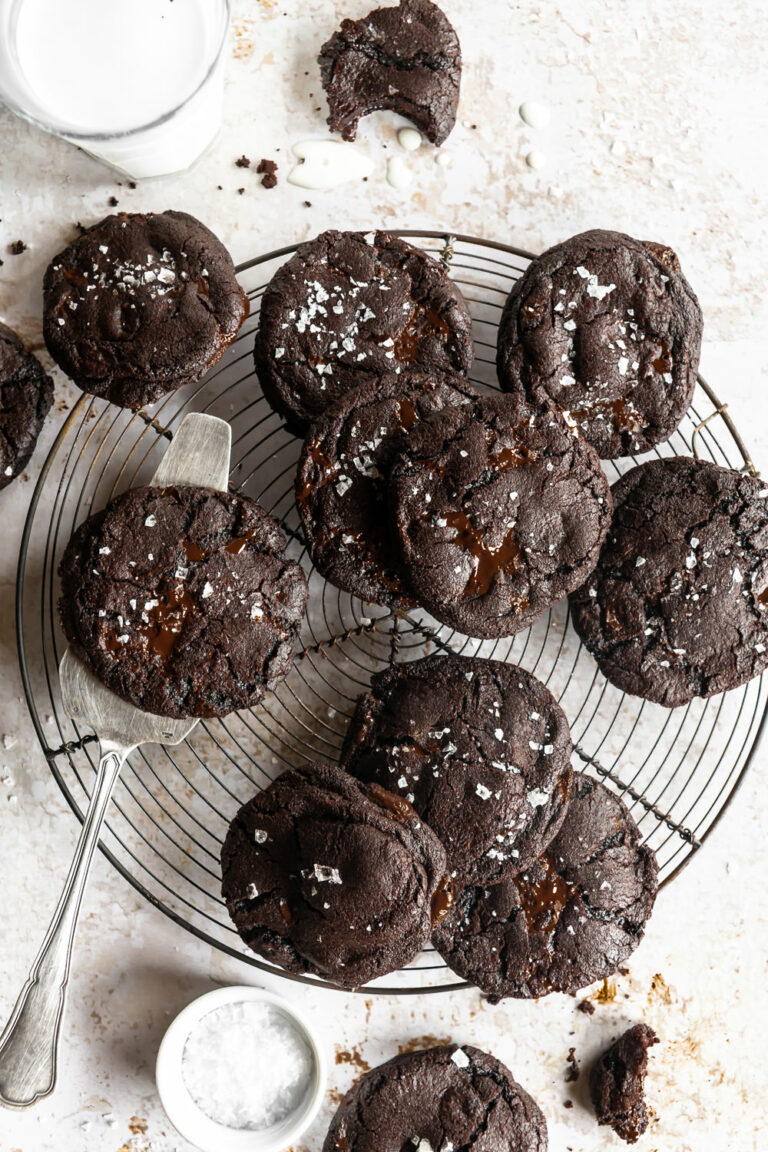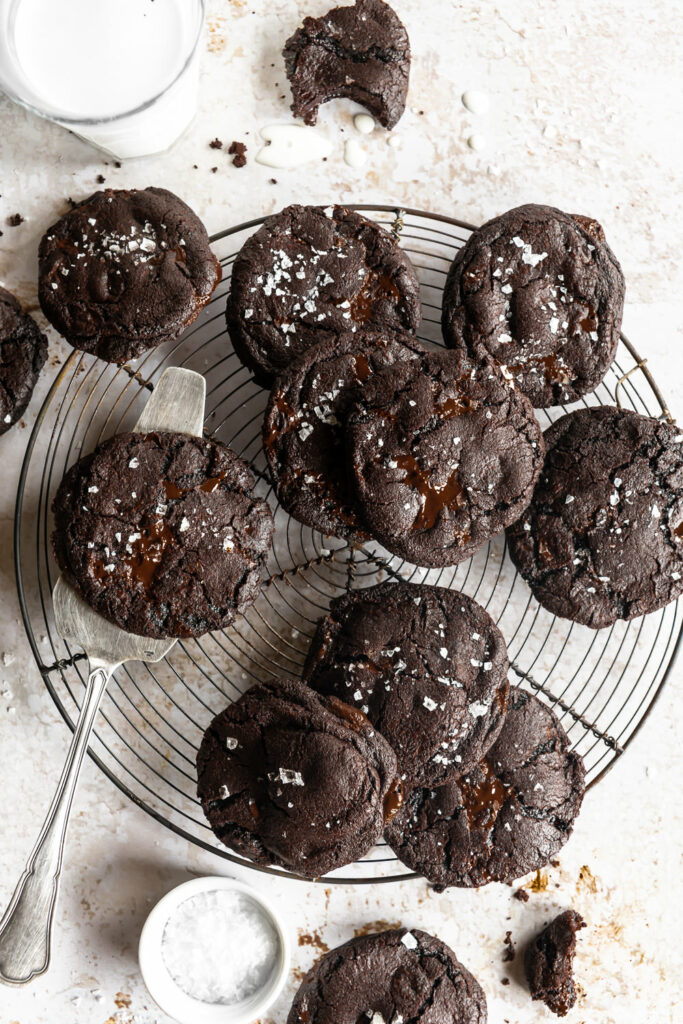 related recipes:
coconut chocolate chip cookies
chocolate budino with espresso cream and flake salt
ganache-stuffed chocolate guinness cupcakes with espresso buttercream
marbled chocolate peppermint icebox cookies
chocolate chunk bread pudding with vanilla bean sauce
baked chocolate tart with candied orange slices
fallen chocolate espresso cake with boozy whipped cream
Print
salted double dark chocolate cookies
The cookies have a deep, dark, rich flavor and chunks of bitter chocolate scattered throughout. The chewy, chocolatey cookie is sprinkled with delicate flakes of sea salt that enhance the flavors of this irresistible treat.
Author:
Prep Time:

10 minutes

Cook Time:

15 minutes

Total Time:

25 minutes

Yield:

14

Category:

Dessert

Method:

Baking

Cuisine:

American
Ingredients
1 cup

all-purpose flour

¾ cup

Dutch-process cocoa (use Cacao Barry Extra Brute for the most insanely chocolatey cookies ever)

¾ tsp

kosher salt

½ tsp

baking powder

½ tsp

baking soda

10 tbsp

unsalted butter, room temperature

¾ cup

dark brown sugar

⅔ cup

granulated sugar

1

large egg

2 tsp

pure vanilla extract

2 cups

(about

11 oz

) bittersweet chocolate, chopped into ½" chunks
flaky sea salt (such as Maldon), for finishing
Instructions
Whisk together flour, cocoa powder, salt, baking powder, and baking soda in a bowl and set aside.
Cream butter, brown sugar and granulated sugar in a stand mixer fitted with the paddle attachment, until very light and fluffy, about 5 minutes. Add egg and vanilla and beat until combined.
Add the dry ingredients and slowly mix until combined. Add the chocolate chunks and mix until just combined. Scoop the dough into 3 ½ tbsp sized balls and place on a parchment paper lined baking sheet. Sprinkle with flaky salt.
If resting dough for 24 hours, cover sheet with plastic wrap and chill until ready. If baking right away, preheat oven to 350°F and place baking sheet in freezer until the oven is ready.
Bake the cookies until set, making sure to remove them from the oven when still soft in the center, 15- 18 minutes. Transfer the cookies to a rack to cool.
Nutrition
Serving Size:

1

Calories:

325

Sugar:

19g

Sodium:

201mg

Fat:

19g

Saturated Fat:

11g

Unsaturated Fat:

6.2g

Trans Fat:

0g

Carbohydrates:

34g

Fiber:

0.5g

Protein:

5g

Cholesterol:

35mg
Keywords: double chocolate cookies, dark chocolate cookies