Fennel confit is a luscious and incredibly fragrant way to cook fennel. The slices are submerged in olive oil and slowly cooked with lemon zest, garlic and fresh herbs.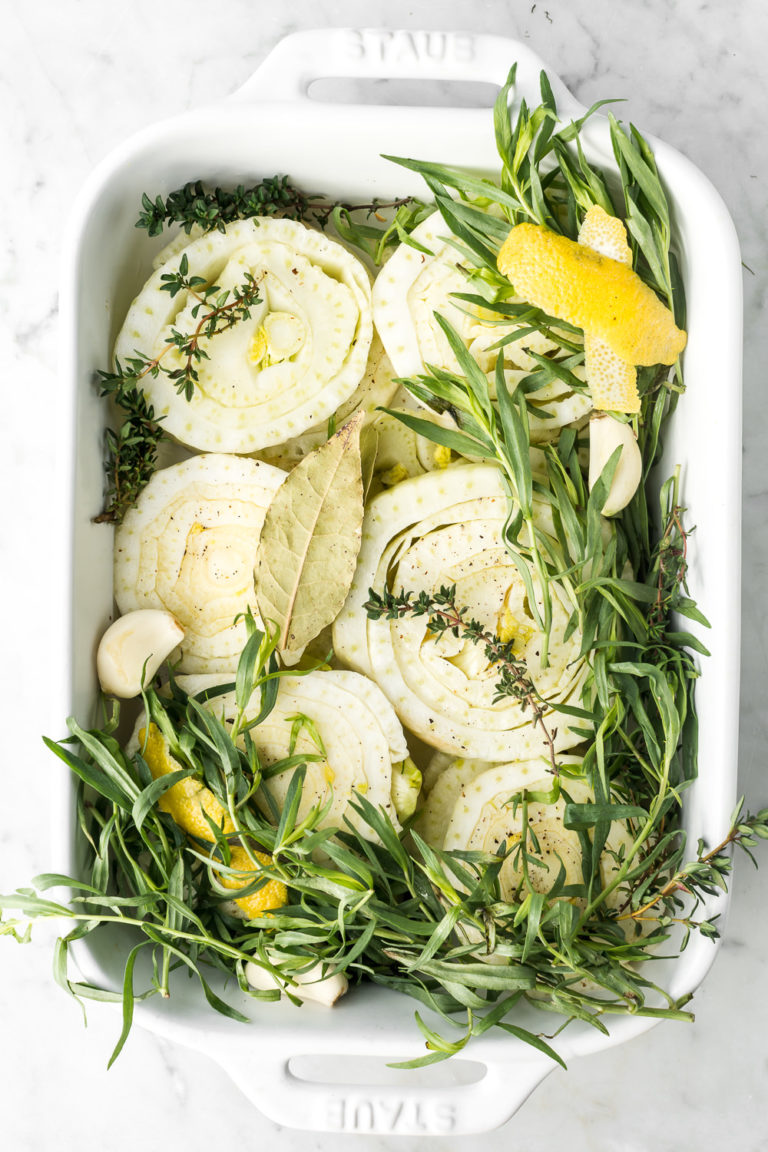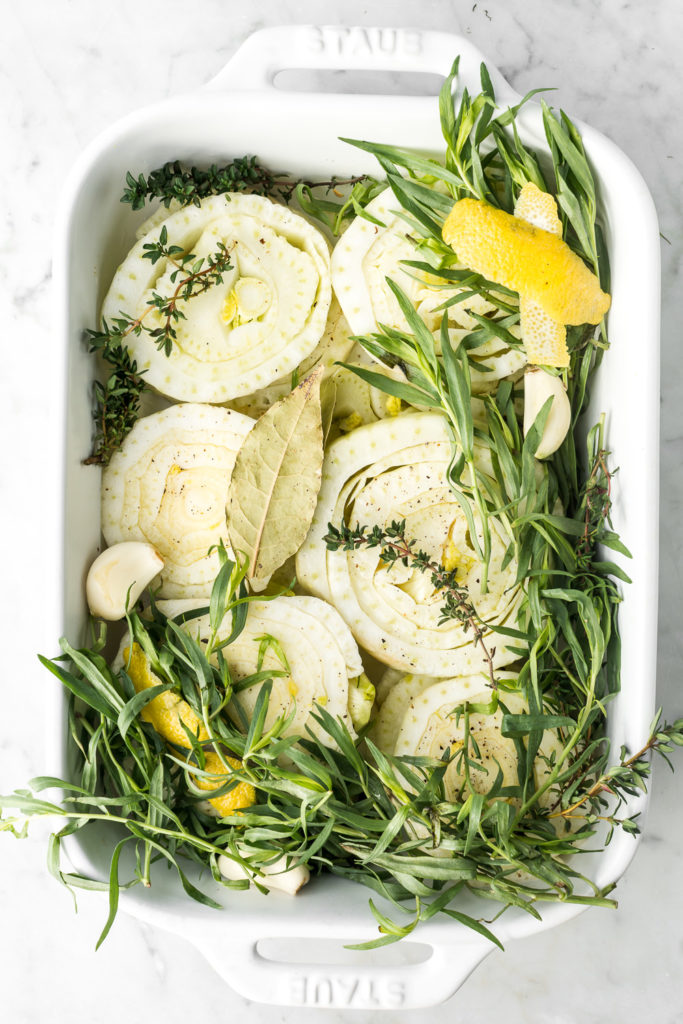 If you've never made vegetable confit, now is the time to change that. It's a low and slow cooking method that produces food with a silky texture and concentrated flavor.
And it also makes a richly flavored olive oil as a by-product. Fennel confit is an elegant, unique and hands off side dish that is perfect for entertaining. Best of all, your house will be perfumed with the rich notes of anise, lemon and roasted garlic.
In this recipe, I brush fennel slices with a touch of honey to enhance the sweetness and caramelized flavors. Several handfuls of fresh tarragon amplify the anise notes and add a gorgeous green hue to the olive oil. Lemon zest, garlic and bay leaves add depth of flavor and a hefty sprinkling of flaky salt tops it all off with the perfect crunch.
The fennel comes out silky, caramelized and incredibly delicate. It's a vegetable side dish that no one can resist-- not even a 14 month old!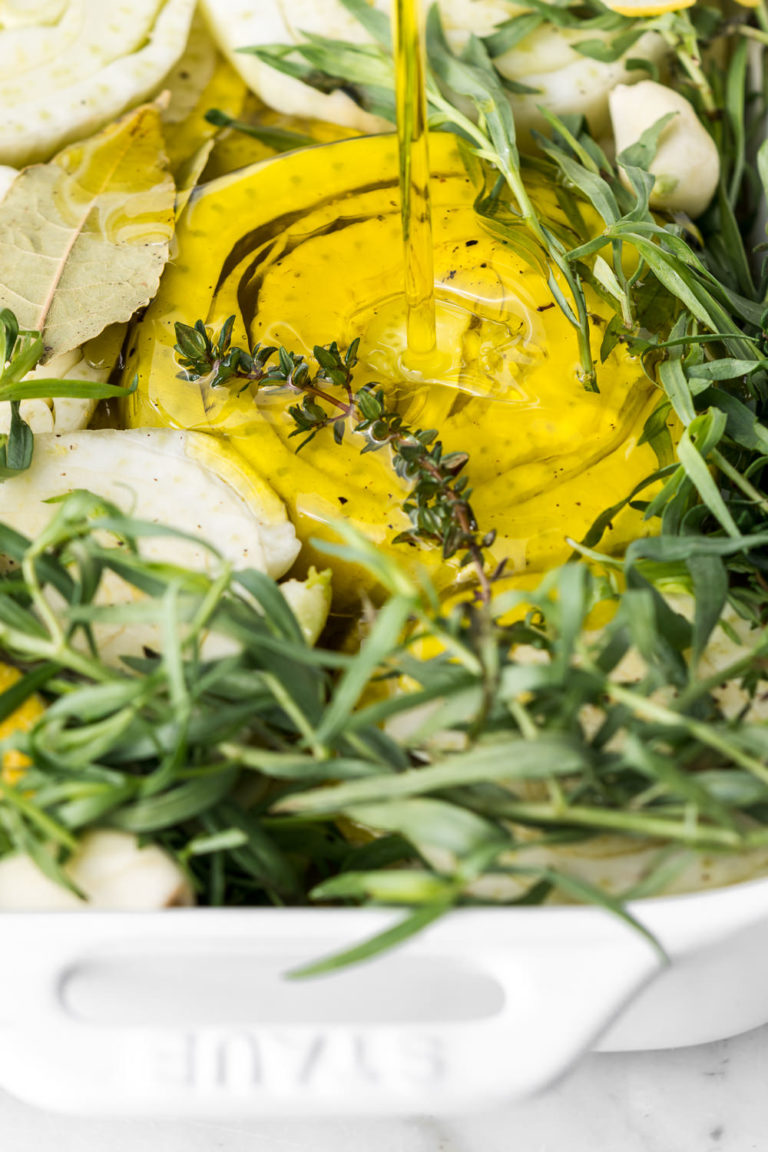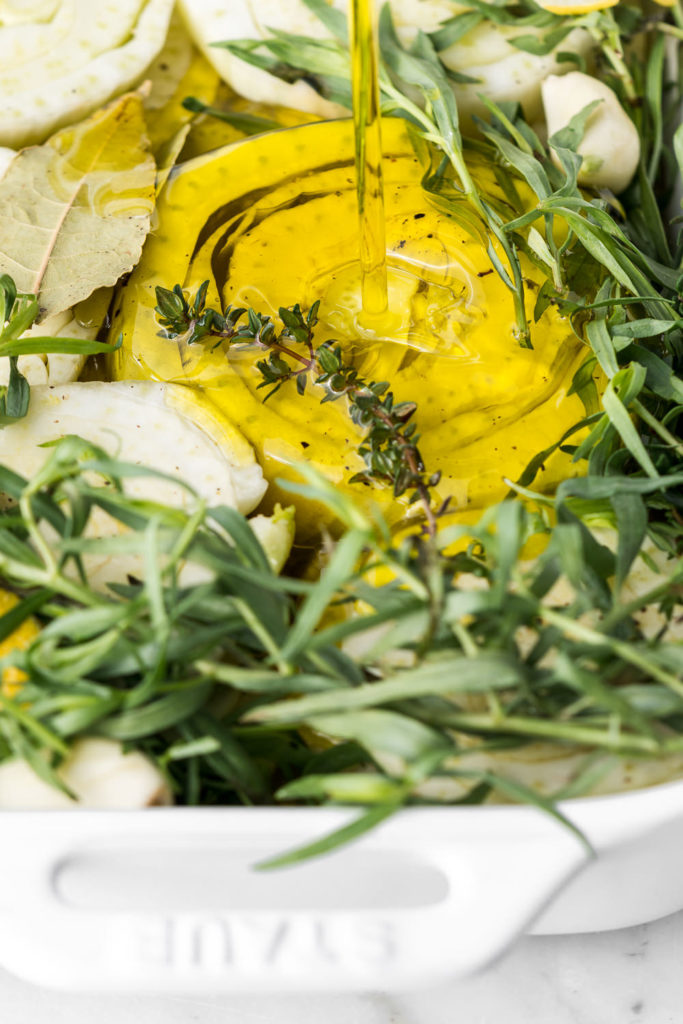 how to use leftover confit oil
I get it. Fennel confit uses a ton of olive oil. It's painful to watch your precious bottle of EVOO get drained into the baking dish (until you taste the finished product, that is). The great news is there are a ton of ways to use this new, richly flavored olive oil.
The leftover confit oil is a delicious by-product of vegetable confit so don't even think about tossing it. It's a lemony, herbaceous, anise flavored oil that is incredibly versatile.
Here are a few ideas to get you started!
Reused for a second batch of confit
As a finishing oil, drizzled over grilled vegetables, meat and seafood
In homemade pesto
In homemade dips (tapenade, hummus, white bean, etc)
Swirled into soup
In a salad dressing or drizzled over greens
Blitzed into homemade mayonnaise or aioli
Tossed with fresh pasta and parmigiano
Used in a marinade for vegetables, seafood or meat
Mixed with a splash of balsamic vinegar as a dip for crusty bread
Used in place of any extra virgin olive oil for added flavor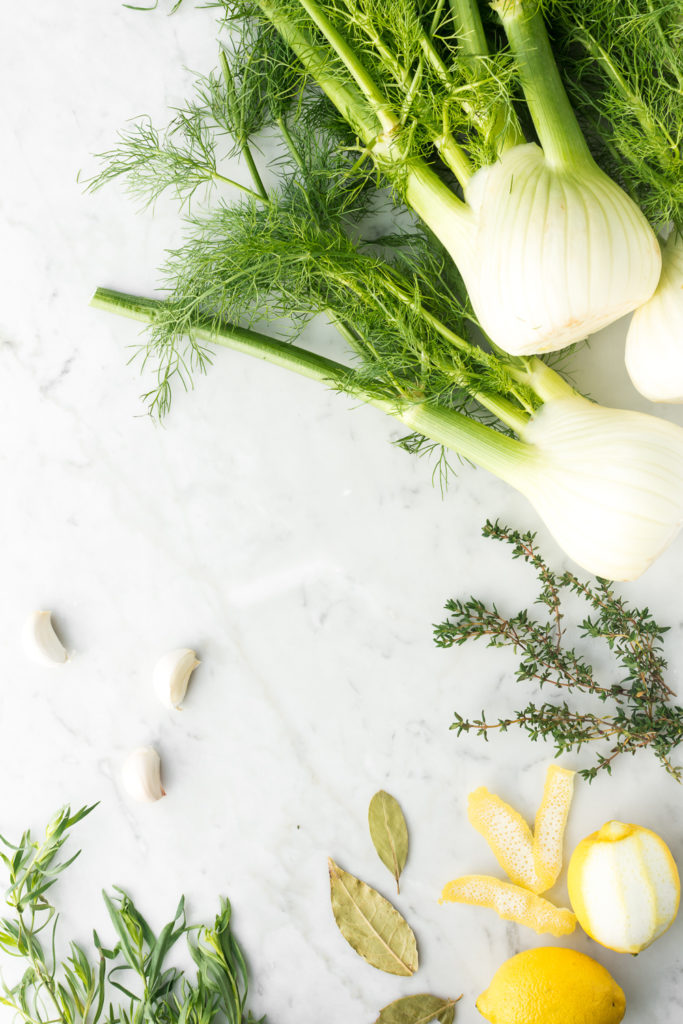 how to use fennel confit
As a side dish, sprinkled with flaky salt, fresh tarragon, and a squeeze of lemon
In sandwiches (grilled chicken, roasted bell peppers, fennel confit and brie, anyone?)
On pizzas (like spicy sausage, fennel confit and arugula)
Chopped up and tossed in salads, grains or pasta dishes
On a crostini (goat cheese and fresh herbs, for example)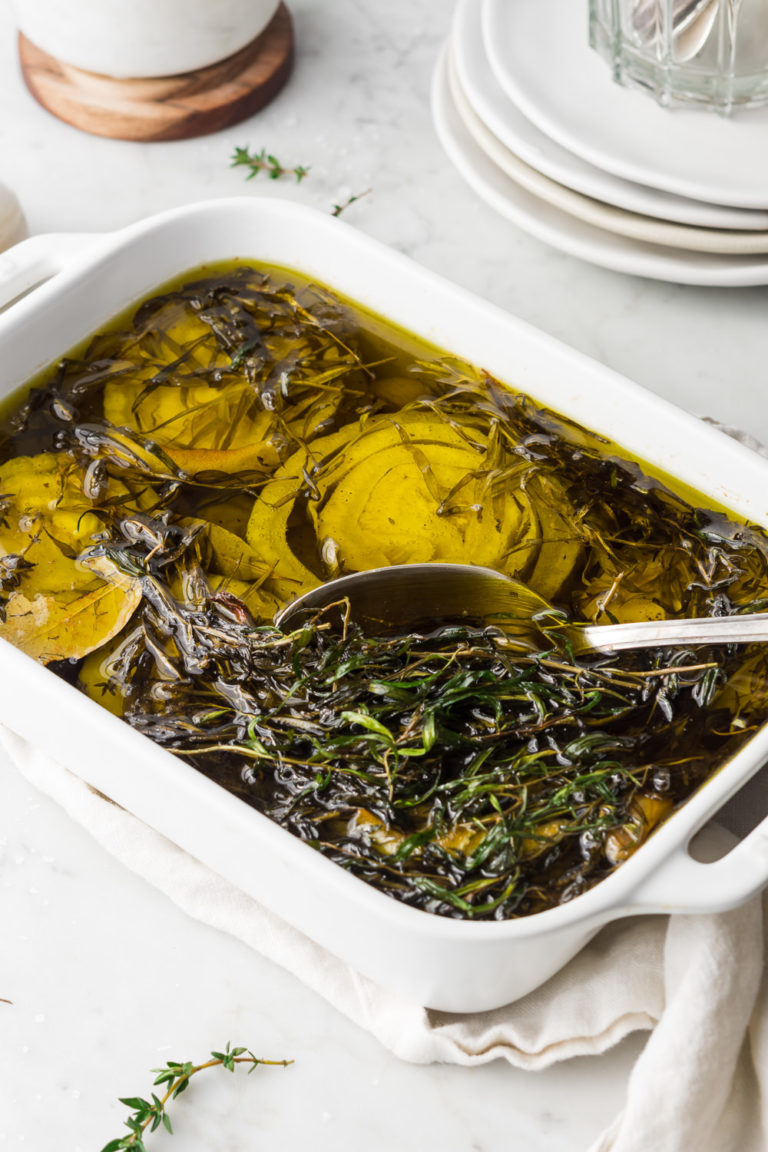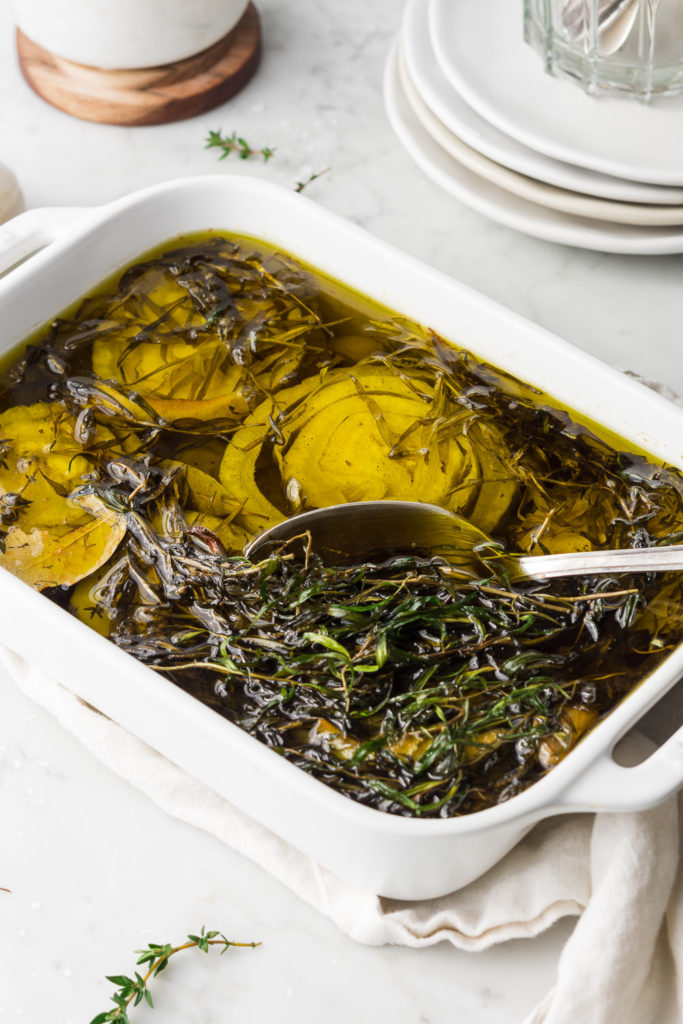 how to make fennel confit:
Brush fennel slabs with honey and season with salt and pepper
Top with herbs, garlic, lemon zest and bay leaves
Cover with olive oil
Cook at 300°F for about an hour, or until tender and caramelized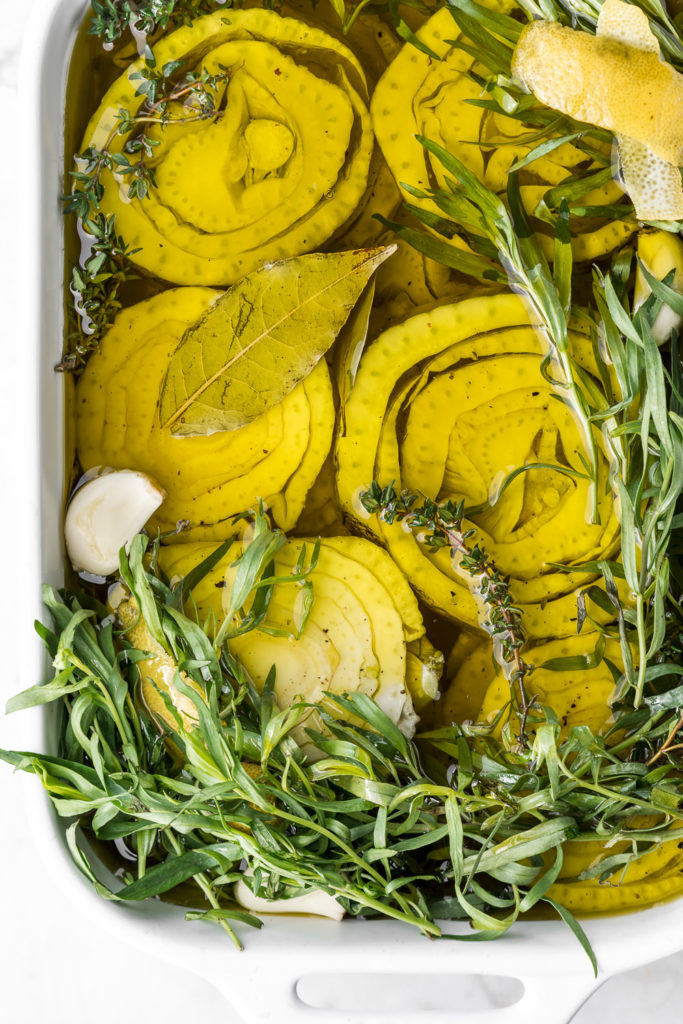 what vegetables can you confit?
I prefer to use the confit method with firm, dense vegetables that can withstand the long cooking times. Below are some examples:
Winter squash (butternut, honey nut, acorn, pumpkin, kabocha)
Carrots
Rutabaga
Turnips
Parsnips
Beets
Mushrooms (king trumpet cooked this way are incredible)
Potatoes
Artichokes
Sunchokes
Cauliflower
Fennel
Onions and shallots
Garlic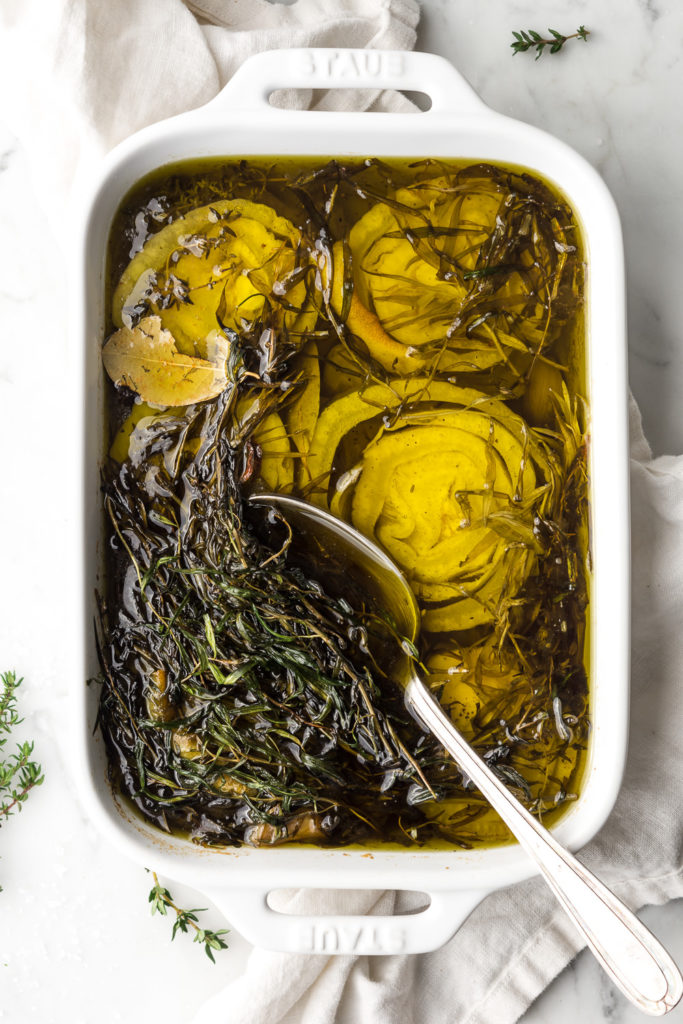 related recipes:
arugula fennel salad with pickled cherries and burrata
gigante bean, salami and fennel salad
pound cake with roasted strawberry fennel compote
---
Print
fennel confit with tarragon and lemon
Fennel confit is a luscious and incredibly fragrant way to cook fennel. The slices are submerged in olive oil and slowly cooked with fresh herbs.
Author:
Prep Time:

5 mintues

Cook Time:

1 hour

Total Time:

1 hour 5 minutes

Yield:

4

Category:

Vegetable

Method:

Confit

Cuisine:

American
Ingredients
4

fennel bulbs, cut lengthwise into

½

" thick slices

2 tbsp

honey

kosher salt

freshly ground black pepper

4

(2-inch) strips of lemon zest

3

garlic cloves, smashed and peeled

2

bunches tarragon

4

sprigs fresh thyme

2

bay leaves

3 cups

extra virgin olive oil, plus more if needed

flaky salt
Instructions
Preheat oven to 300°F.

Warm honey in the microwave for about 10 seconds, or until thin and runny. Lay half of the fennel in a 2-quart baking dish. Brush surface with half of the warm honey then season well with salt and black pepper. Layer with remaining fennel slabs and repeat brushing with honey and seasoning. Scatter lemon zest, garlic, tarragon, thyme and bay leaves over top. Pour in enough olive oil to fully submerge fennel.

Cook in the oven until fennel is very tender but not falling apart, about 1 hour. Let cool briefly, then discard lemon zest, garlic, herbs and bay leaves. Transfer fennel to a serving platter. To serve, drizzle with a few spoonfuls of oil and sprinkle with flaky salt.
Notes
Strain oil through a fine mesh sieve into an airtight container. Store, refrigerated, for up to one month.  
Fennel confit will keep, refrigerated, for up to 3 days.
Nutrition
Serving Size:

1 fennel bulb and 2 tbsp of olive oil

Calories:

307

Sugar:

12g

Sodium:

193mg

Fat:

27g

Saturated Fat:

3.8g

Unsaturated Fat:

23g

Trans Fat:

0g

Carbohydrates:

17g

Fiber:

3.3g

Protein:

1.6g

Cholesterol:

0mg