This fig and anise bread is filled with the honeyed flavor of dried figs, sweet undertones of anise and chewy specks of bulgar. Enjoy with good butter!
It feels like a lifetime ago, but there was a time when I worked as a "sous chef" for a catering company. I started as a server, working the parties and passing tray after tray of appetizers and drinks. Once they discovered I knew how to chop an onion (and enjoyed it a lot more than schmoozing the party guests), I was quickly transitioned to the back of house.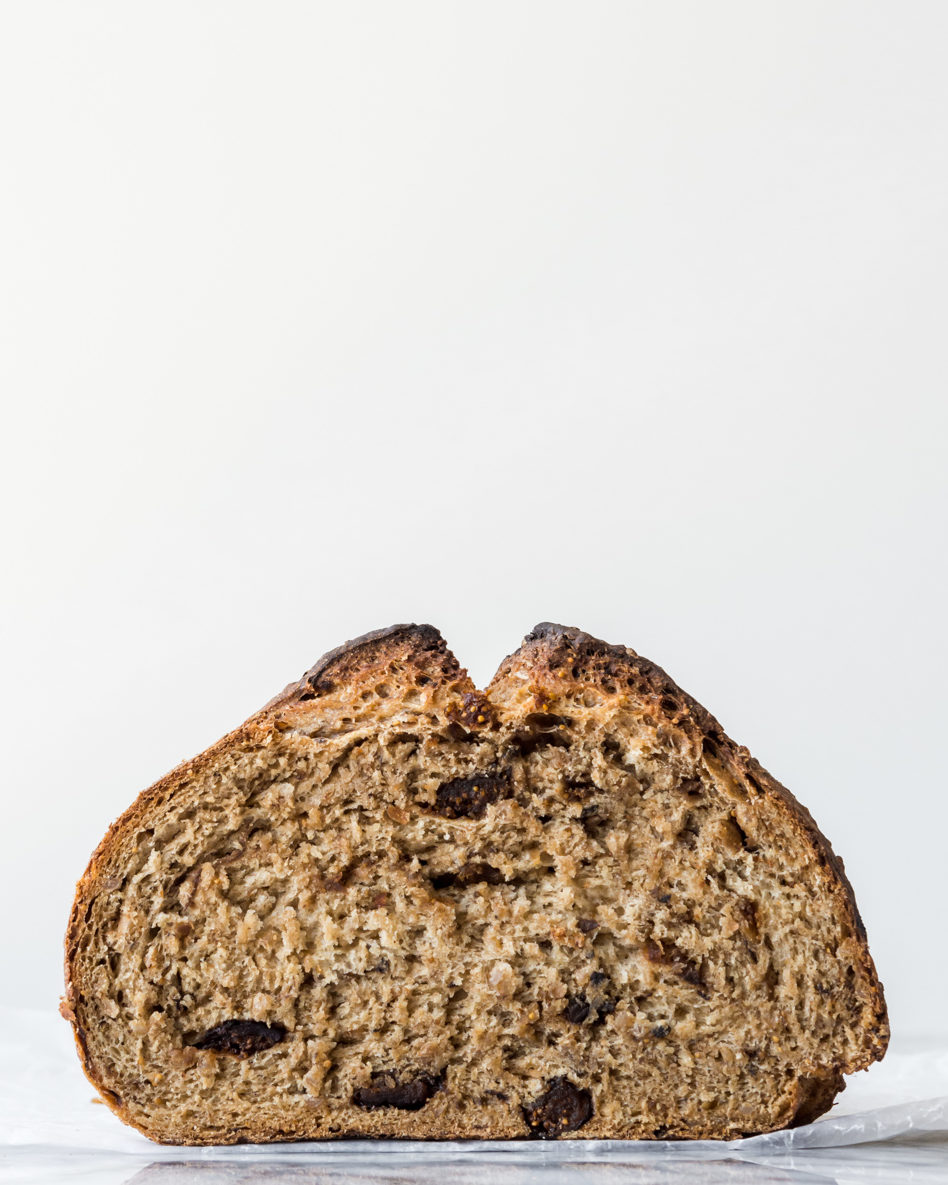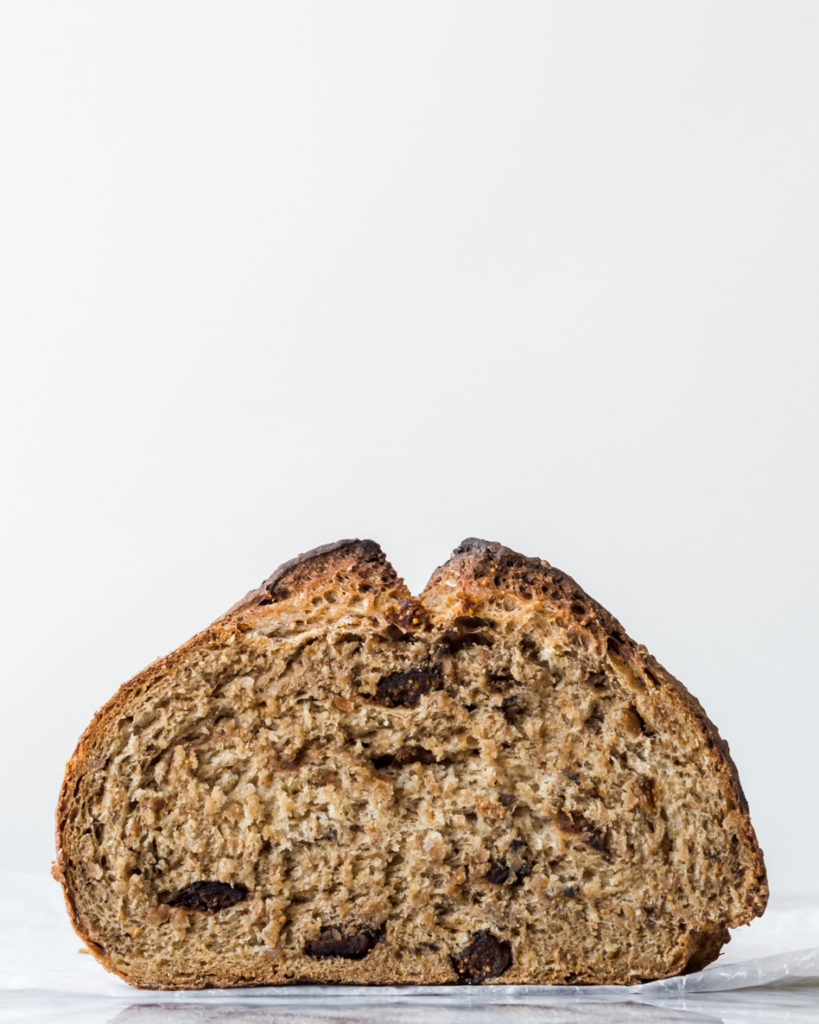 I learned so much working in that kitchen— first and foremost, I learned how hard it is to be on your feet chopping vegetables for a solid 8 hours and how little you feel like cooking for yourself at the end of the day.
I also learned how to plan and prep for a party, which is a skill I subconsciously pull on even today. But most importantly, I learned a ton of really great flavor combinations and cooking techniques.
We used to do a lot of cheese and fruit platters, and we sourced our bread from a local bakery. One of my all-time favorite breads was a fig and anise bread that we served with the cheese. Give me a loaf of that sweet, aromatic fig bread piled with smears of tangy goat cheese, and I'll hang out all night to clean the dishes.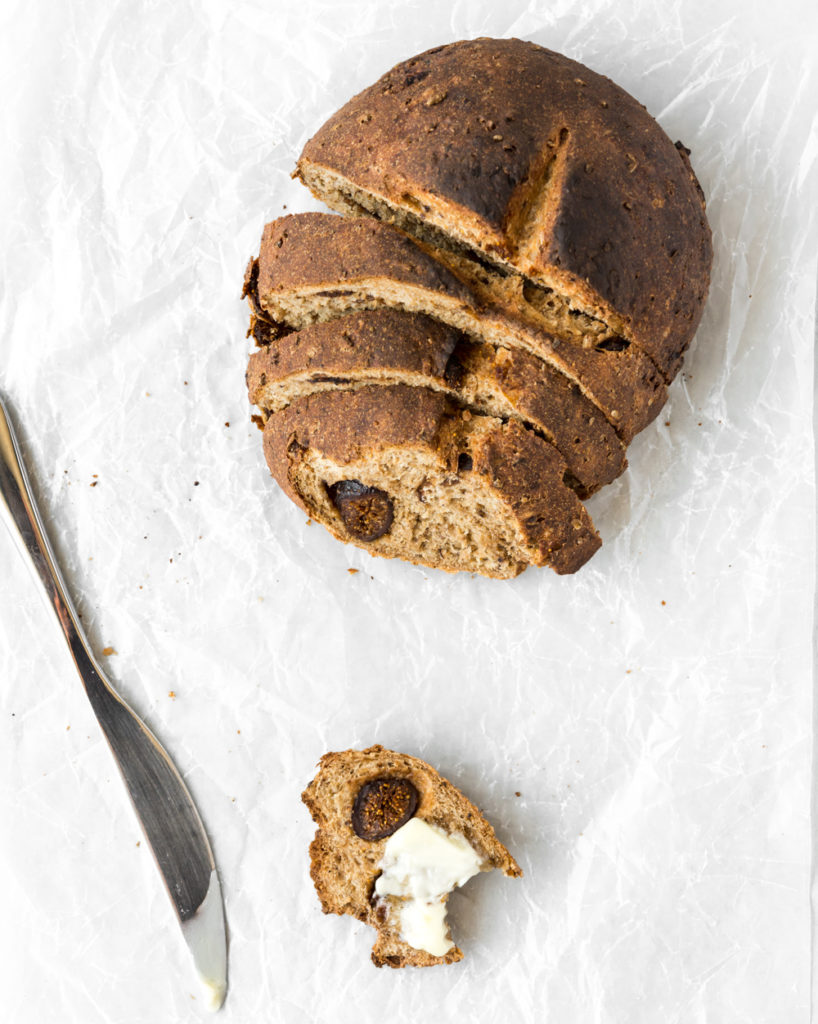 I've never forgotten that beautiful flavor duo of anise and figs and have finally found a way to reproduce it myself.
This hearty bread is filled with the honeyed flavor of dried figs, sweet undertones of anise and chewy specks of bulgar. The crust is thick and crunchy (don't skip the steam in the oven!) and while it's impossible to stop after one slice when the fig bread is fresh from the oven, it's pretty hard to argue with toasted leftovers and a pat of melting butter.
This hearty bread, with its sweet, seedy figs and radiating flavor of anise will be your new favorite bread this winter. Enjoy!
a few notes on the fig and anise bread:
the preferment and cracked wheat must be started at least 12 hours ahead of time, so plan accordingly!
it's a fairly stiff preferment, and it may seem like there's not enough water. Don't add more, just keep kneading it until all of the flour comes together, then stop. It doesn't need to be smooth.
related recipes:
spelt banana bread with brown butter
chai spiced breakfast buns (cruffins)
caramelized white chocolate cherry bread
Print
fig and anise wheat bread
This hearty fig and anise bread is filled with the honeyed flavor of dried figs, sweet undertones of anise and chewy specks of bulgar. The crust is thick and crunchy (don't skip the steam in the oven!) and absolutely addictive with a pat of melting butter.
Author:
Prep Time:

20 hours

Cook Time:

40 minutes

Total Time:

20 hours 40 minutes

Yield:

2

Category:

Bread

Cuisine:

American
Ingredients
preferment
1 cup

+

1 tablespoon

all-purpose flour

6 tbsp

white whole wheat flour (or whole wheat flour)

½ cup

lukewarm water

1 tbsp

ripe (fed) sourdough starter or

¼ tsp

instant yeast (active dry works fine as well)
soaker
6 tbsp

water

½ cup

+

1 tbsp

cracked wheat
dough
1 ¾ cups

white whole wheat flour (or whole wheat flour)

1 cup

all-purpose flour

1 tsp

instant yeast (active dry works fine as well)

1

scant cup room-temperature water (about 70°F)
all of the preferment (above)
a scant

2 ½ tsp

salt
all of the soaker (above)

7 oz

(about

1 ¼ cup

) dried Mission figs, stemmed and chopped slightly larger than marble size (if very dry, soak in boiling water for 30 minutes)

1 ½ tsp

anise seed, toasted in a skillet until lightly browned
Instructions
preferment
Mix the flour, water, and sourdough starter until thoroughly combined. Cover with plastic wrap and let rest at room temperature for 12 to 16 hours; the dough will be nice and bubbly (as much as 24 hours ahead works fine).
soaker
Toast the cracked wheat in a skillet set over low heat until the grains are lightly browned, and smell toasty. Combine the wheat and water, and let rest overnight.
dough
In a large bowl, combine the flours and yeast, then stir in the water, mixing until no dry bits remain. If you're using a stand mixer, this may take up to 3 to 4 minutes at low speed.
Let the dough rest in the bowl, covered, for 20 minutes.
Add the preferment, soaker, and salt, mixing until fully incorporated. Mix for 6 to 7 minutes at medium-low speed; the dough should be smooth (aside from the cracked wheat) and elastic.
Add the fig and anise seed, mixing on low speed until evenly distributed. The dough may be quite stiff; that's OK. (It may feel impossible that you'll incorporate the figs, especially if you soaked them and they're slippery, but stick with it and they'll knead in eventually. Sometimes, I stop the machine and knead the dough by hand a few times to tuck any lose figs into the dough, then start it again at low speed).
Check the dough temperature; it should be between 75°F and 80°F. This is the optimum temperature for rising dough, so try to find a spot that's around that temperature.
Cover the bowl, and let the dough rise for 15 minutes. Give the dough its first fold by reaching into the bowl and pulling a corner of dough up, folding it back toward the middle, and pushing it down. Repeat, working your way around the dough ball, for a total of 4 to 6 times. This will both de-gas the dough, helping the yeast to work; and strengthen the dough's structure.
Repeat folding the dough after another 15 minutes (at the 30-minute mark since it started rising), and once more at the 45-minute mark.
Let the dough rise for 90 to 120 minutes, or until it's noticeably puffy, though perhaps not doubled in bulk.
Gently deflate the dough, and divide it into two pieces about 560g each. Gently pre-shape the pieces by gathering the corners of the dough and folding them to the center to form a loose ball. Place the balls, seam-side down, on a very lightly floured surface, cover, and let rest for 10 to 15 minutes.
Working with one piece of dough at a time, shape as a batard with tapered points. Tuck one end underneath to create a teardrop shape. Place seam-side up on a flour-dusted couche or smooth cotton towel. Repeat with the second piece of dough. Need help shaping? See our

tips for shaping a batard

video. (Alternatively, shape into two balls like I did).
Gently cover the loaves, and let them rise for about 60 minutes, until they're puffy. While the loaves are rising, preheat your oven to 450°F, with a baking stone on the middle rack. Place a cast iron pan on the oven's lowest rack; you'll use it to create steam.
To bake on a stone: Roll the proofed loaves, seam-side down, onto a peel dusted with semolina or whole wheat flour. If you aren't using a stone, roll them onto a parchment-lined baking sheet, seam-side down.
Score the dough with a baker's lame or very sharp knife, cutting an arc from the midpoint of the tip to the midpoint of the base.
Add 1 cup boiling water to the cast iron pan. Quickly use the peel to load the loaves onto the stone (or place the pan in the oven), and close the door.
Bake the loaves for 32 to 37 minutes, or until they're a rich mahogany color. The top crust will feel firm, and the bottom crust will be robust, but not burned. If you have a digital thermometer, the loaf's center temperature should be about 200°F.
Remove the loaves from the oven, and transfer them to a rack to cool.
Nutrition
Serving Size:

⅙th of loaf

Calories:

130

Sugar:

2.8g

Sodium:

487mg

Fat:

0.8g

Saturated Fat:

0.1g

Unsaturated Fat:

0.4g

Trans Fat:

0g

Carbohydrates:

28g

Fiber:

3.3g

Protein:

4.4g

Cholesterol:

0mg
Keywords: fig anise bread, anise wheat bread