This lemon olive oil cake is a rich, incredibly moist cake that's bursting with intense citrus flavors. Olive oil adds a grassy flavor and luscious, velvety crumb. The fragrance is out of this world. Yet despite all of the olive oil, the cake is wonderfully light and melts in your mouth. It might be one of my favorite cake recipes of all time-- and it's dangerously simple.
I adapted this recipe from an olive oil cake recipe from Maialino Restaurant in New York City, via Genius Recipes. But I made a big change. I ramped up the citrus flavor by blending a full lemon and some orange-- zest, flesh and all. This is the longest part of the recipe, blending the citrus chunks and straining it to be mostly smooth. But the flavor intensity is so, so worth it. There's so much more flavor in a lemon than what is just found in the juice and a few shavings of zest. Don't skip it!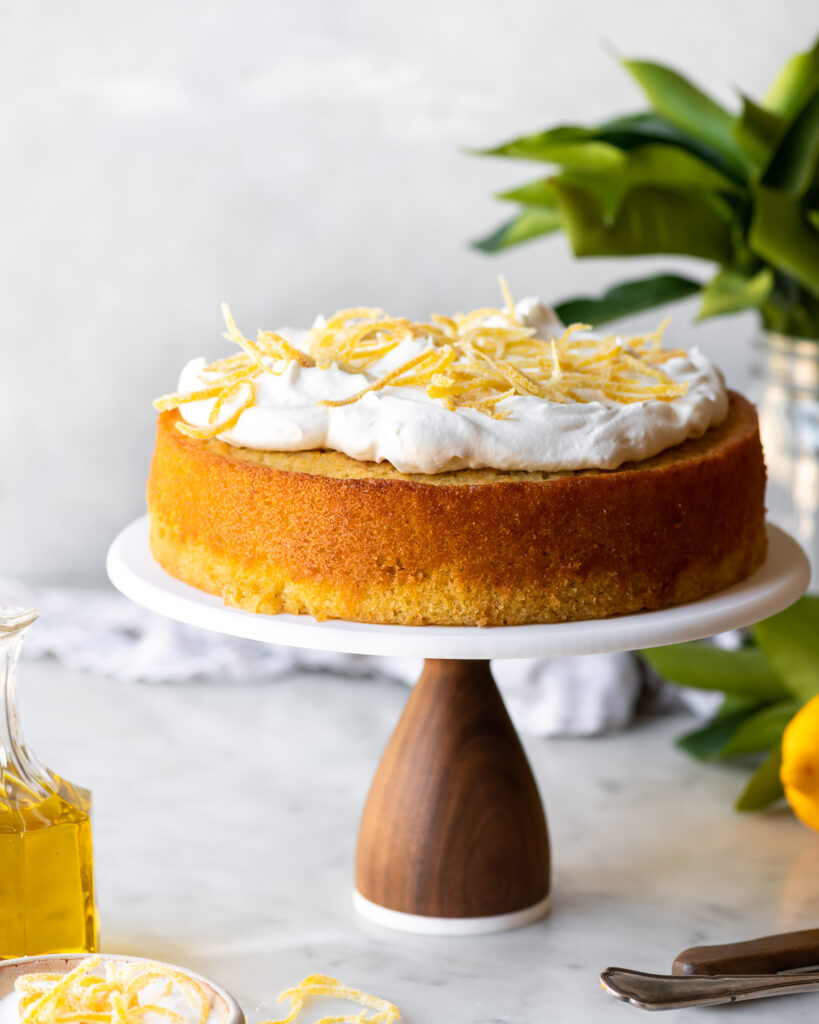 what is olive oil cake?
Olive oil cake is one of the simplest cakes to make. Instead of butter or vegetable oil as the fat, we use 100% olive oil. In general, oil in cakes produces a crumb that is much more moist and tender than butter (it can easily coat every granule of flour and minimize gluten formation). But the trade-off is flavor. Canola oil has nothing on butter!
When you substitute olive oil, though, the flavor impact is dramatic. Plain olive oil cake can be almost too overpowering, with the grassy and herbaceous nature of olive oil taking over the cake. But with fresh citrus fruit mixed in, that intense olive oil flavors is tamed with a bright, zesty fragrance. The result is a perfect lemon olive oil cake: fantastically moist from olive oil and wonderfully balanced with lemon.
Olive oil cake is a simple cake in terms of process. Whisk together wet ingredients, then dry ingredients, then combine and bake in a deep round cake pan!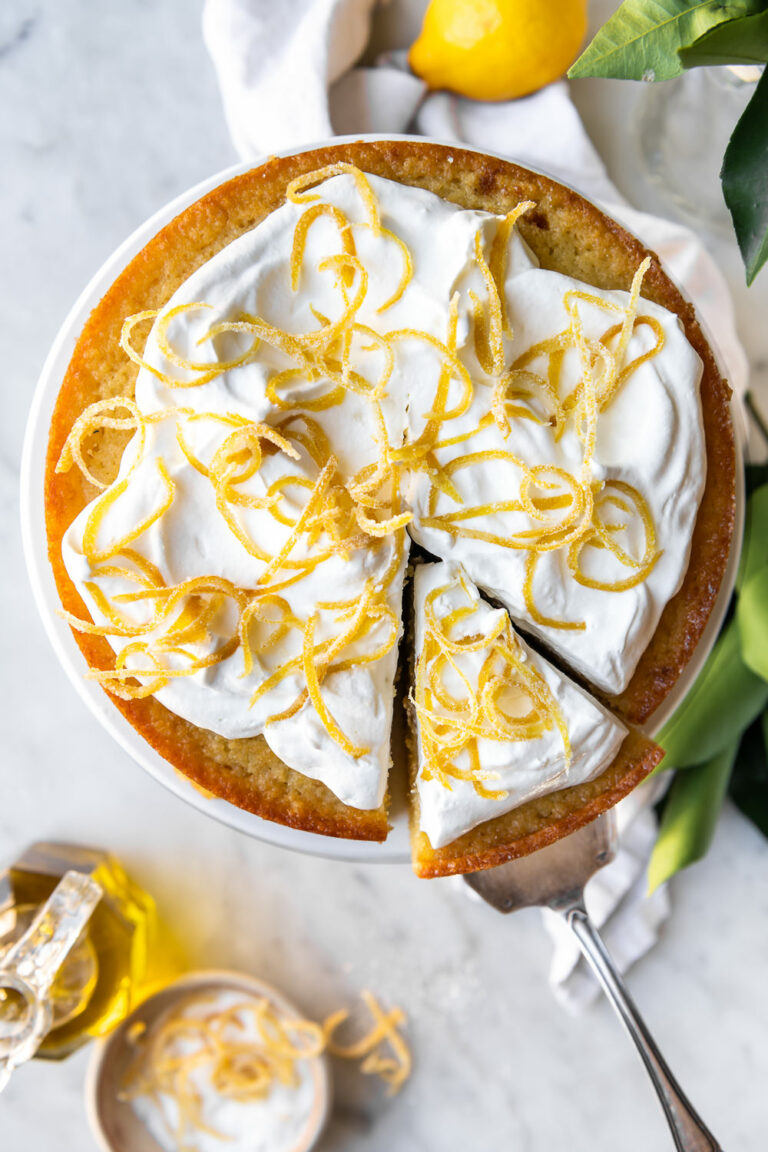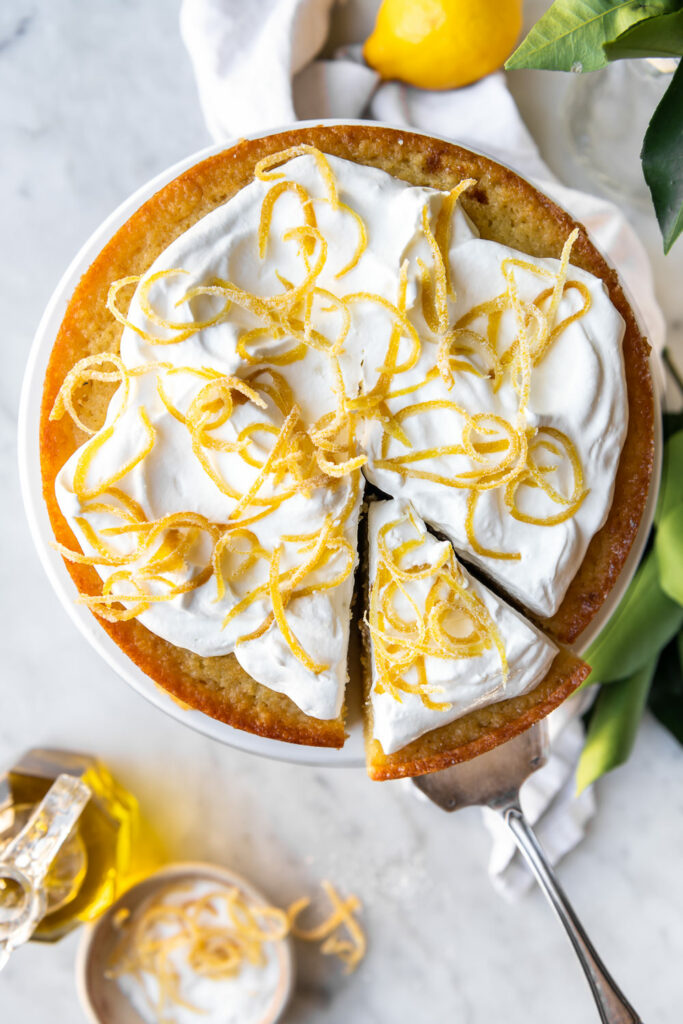 what does olive oil cake taste like?
Olive oil cake is a rich and moist cake with grassy, herbal notes and a ton of citrus flavors. Depending on the olive oil you use, the flavors can range from fruity and buttery, to peppery, herbaceous, and floral. The cake is sweet and tender, and doesn't need much more to make it pop!
what you need for lemon olive oil cake:
all-purpose flour
baking powder
baking soda
lemon
orange
sugar
salt
olive oil
whole milk
eggs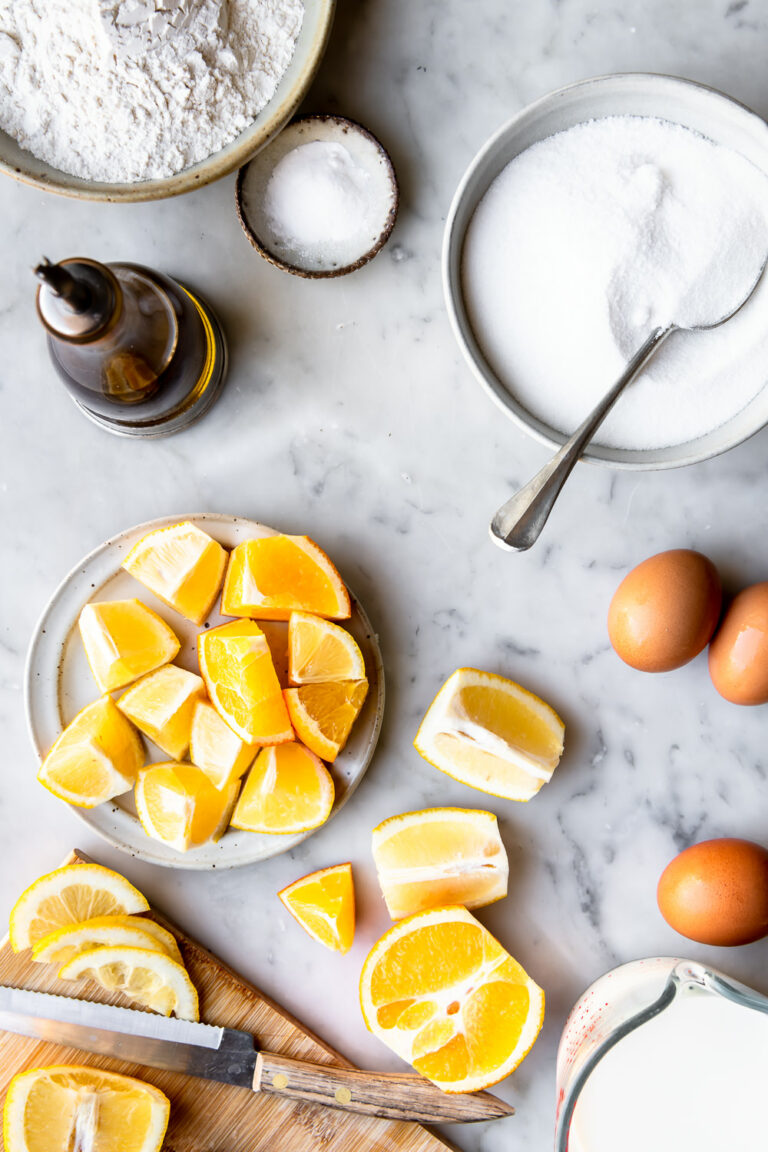 how to make olive oil cake
Blend up whole lemon and orange until mostly smooth; strain through a coarse strainer and discard solids
Whisk together dry ingredients (flour, baking powder, baking soda)
Whisk together citrus puree, olive oil, milk, eggs, salt and sugar
Combine wet and dry; transfer to a deep 9-inch cake pan and bake for about an hour
Serve olive oil citrus cake with whipped cream and candied lemon zest
how to make the candied lemon zest
I've simplified the process of candied lemon zest here, by skipping the normal blanching which is usually done 3 times! With tiny strips of zest, I didn't feel it mattered that much for the enormous hassle factor. And the small amount of bitterness left in the zest was a nice contrast to the sweet, rich olive oil cake.
Zest thick strips of lemon zest, then use a chef's knife to slice them into thin slivers
Simmer in a simple syrup into translucent and deep yellow in color, about 15 minutes
Drain on a plate then transfer to a bowl of granulated sugar and toss to coat
Spread out on a large plate or baking sheet and let dry, at least 30 minutes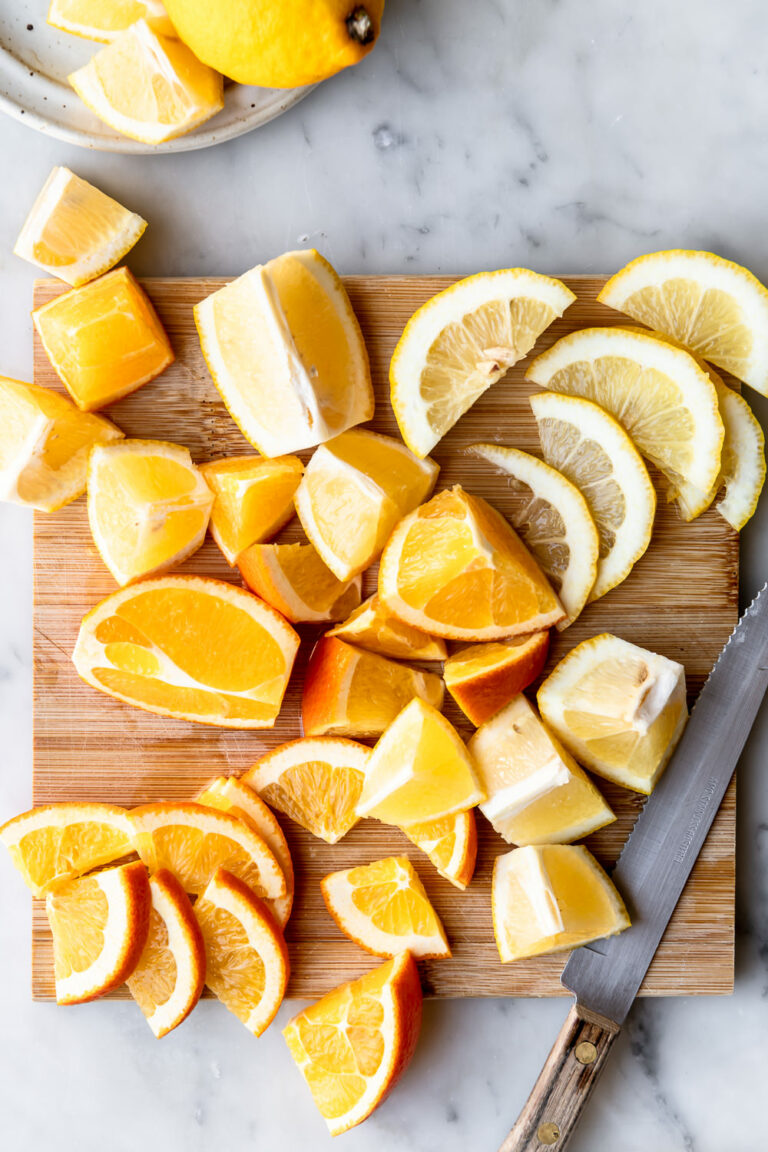 what to serve with olive oil cake:
There are a ton of ways to serve this lemon olive oil cake.
To dress it up, top with a fluffy mound of freshly whipped cream and candied lemon zest.
For summertime, cook down fresh berries (blackberries or cherries!) with some sugar into a quick compote and spoon it on top.
Dust it with powdered sugar and sprinkle it with sliced almonds for an elegant and simple approach.
To be truly decadent, serve a slice of citrus olive oil cake with a big scoop of lemon gelato!
If you're looking for a dessert wine or liqueur to pair with this lemon olive oil cake recipe, here are a few fun pairings to try!
Riesling Eiswein (Ice wine): crisp, fresh fruit flavors and racing acidity will be absolutely delicious with this lemon olive oil cake. The best quality ice wines come from very cold climates, like Canada, Germany or Austria!
Gewurztraminer Vendange Tardive (late harvest) from Alsace: Incredibly flavorful and fragrant dessert wines. Gewurztraminer VT are filled with aromas of grapefruit, lychee, spice, and they have a luscious full-bodied texture that will be in perfect harmony with the cake.
Limoncello: this Italian lemon liqueur is packed with flavor. It's lemony, sweet, and strong, so you'll only need a tiny glass to enjoy with this cake.
A sgroppino cocktail: Basically prosecco and lemon sorbet (try our rosemary lemon sgroppino)-- it's frothy, sweet and refreshing!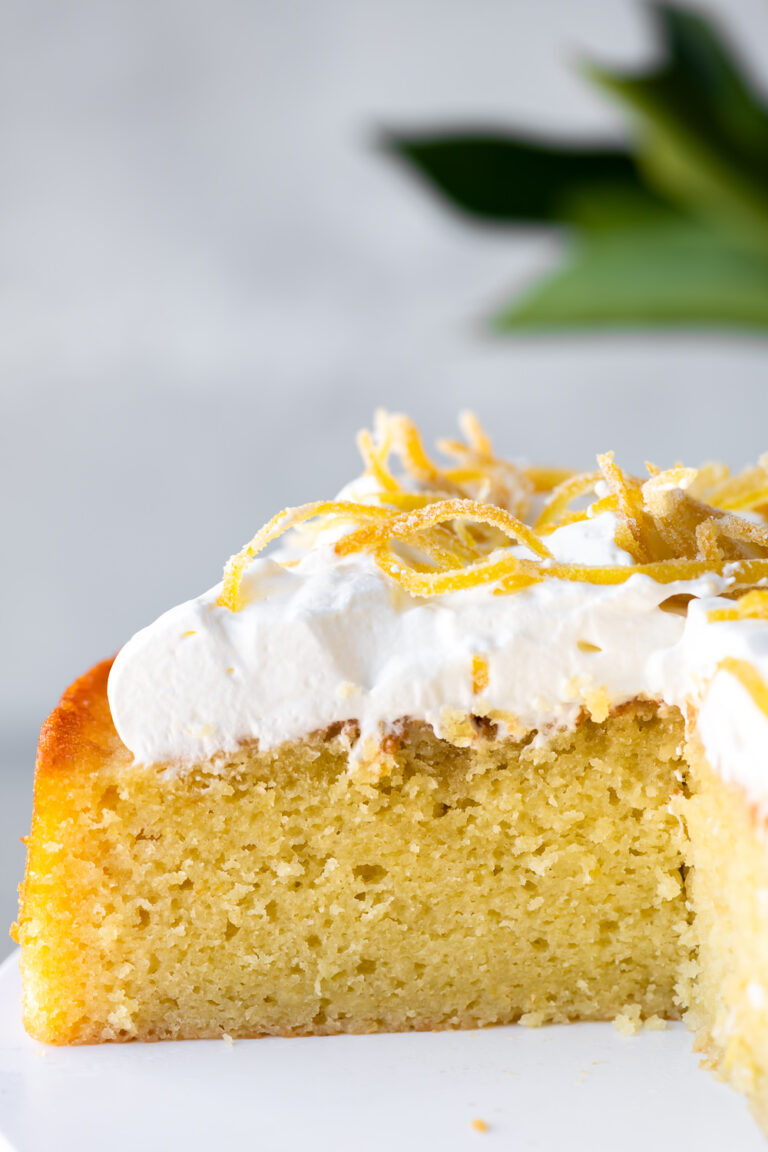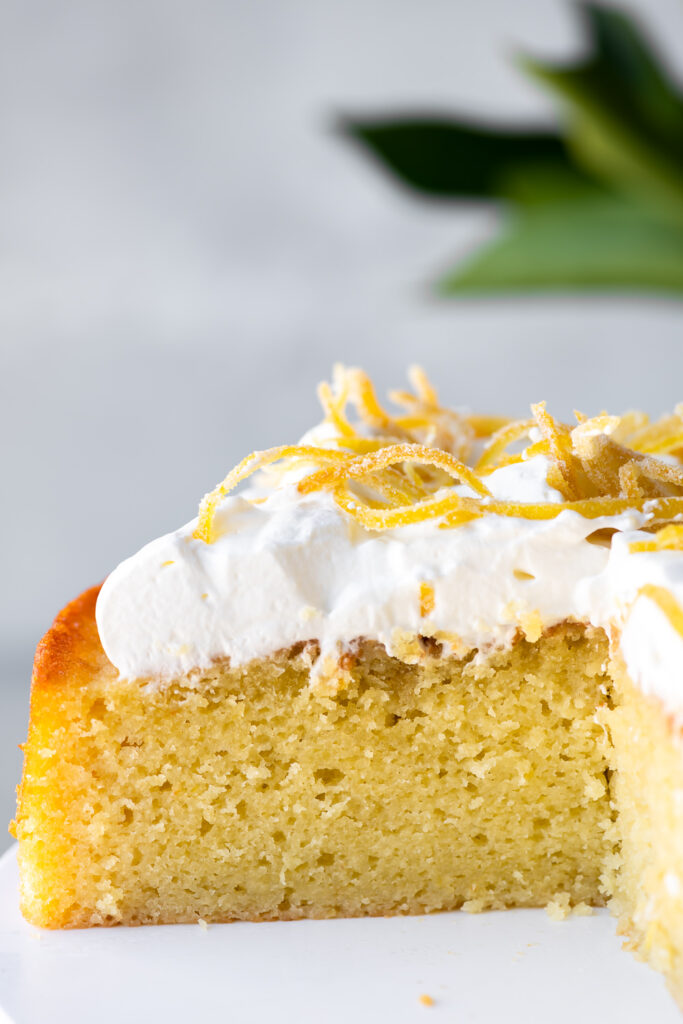 a few more tips for the lemon olive oil cake:
Passing the citrus puree through a sieve can be tedious, but it's an important step in this lemon olive oil cake. Small pieces of lemon and orange rinds can be left after blending, and we don't want that crunchy texture in our cake! The pulpy consistency is good-- it's just the tough stuff we want to remove. Save yourself a lot of time (and sweat), and make sure to use a coarse mesh sieve, not a super fine one!
Use a 9-inch cake pan that is at least 2 ½ inches deep. If you don't have one, just split the batter between two standard 9-inch cake pans. If you don't have two, split it between one 9-inch cake pan and some muffins! The bake time will be shortened with each of these changes, so start to check the cakes or muffins after 20 minutes and gauge the baking time from there. You could also try an 8 or 9-inch springform pan! I've never done it with this recipe, but it could be worth a try in a pinch.
Use the leftover lemon syrup from the candied zest in cocktails, just like a simple syrup!
other lemon cakes to try!
lemon pistachio cake with mascarpone frosting
triple berry creme fraiche cake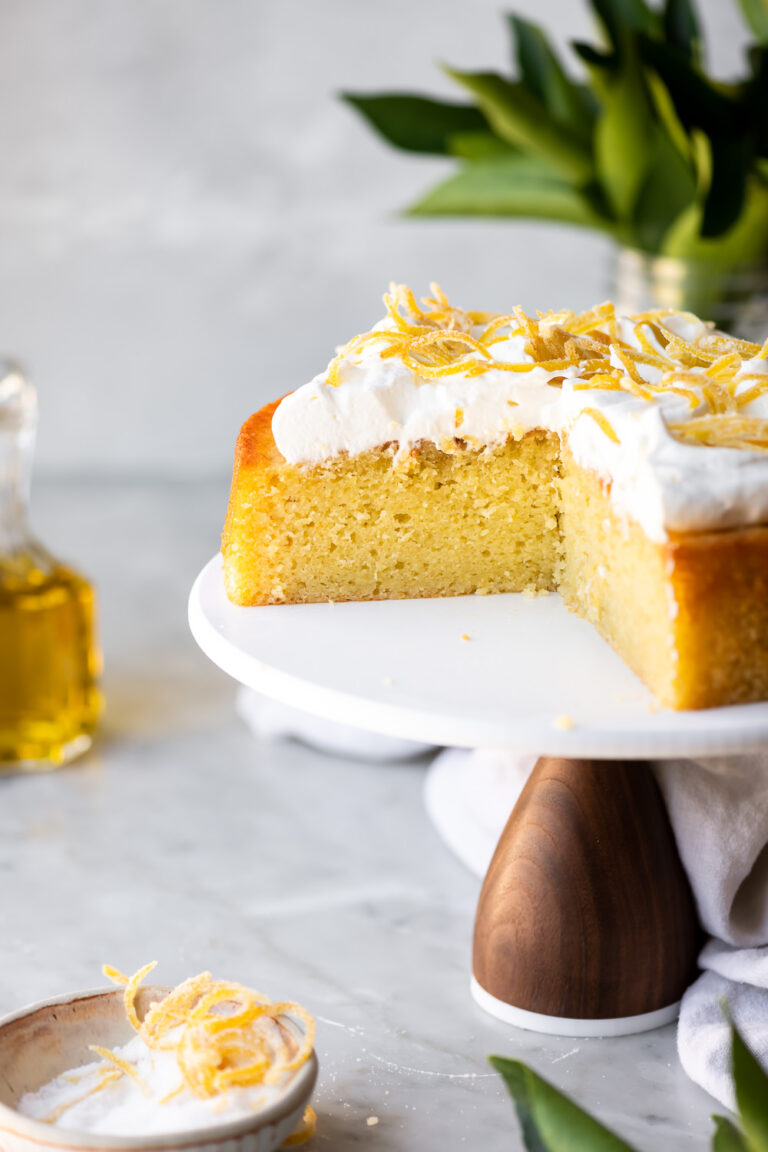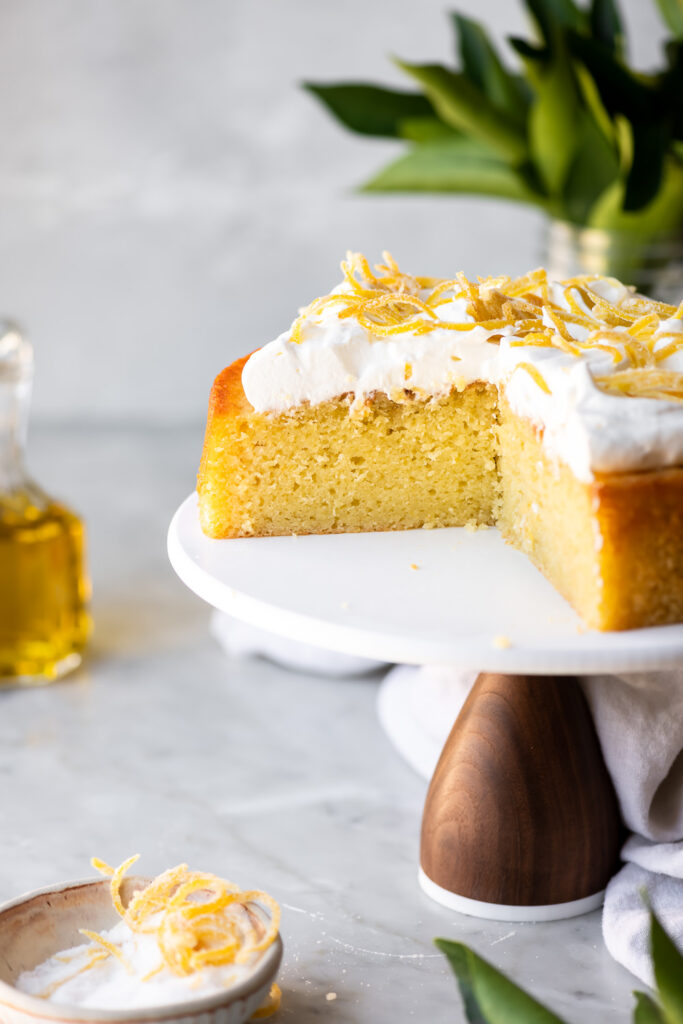 Print
lemon olive oil cake (rich and moist!)
This lemon olive oil cake is bursting with the fragrance of grassy olive oil, lemon and fresh orange. It has a luscious, velvety crumb and is so simple to make!
Author:
Prep Time:

20 minutes

Cook Time:

1 hour

Total Time:

1 hour 20 minutes

Yield:

1 9-inch cake (about 12 slices)

Category:

Cake

Method:

Oven

Cuisine:

American
Ingredients
candied lemon zest
2

lemons

1 ¼ cups

sugar, divided

¾ cup

water
lemon olive oil cake
2 cups

all-purpose flour

½ tsp

baking powder

½ tsp

baking soda

1

lemon
Half an orange

1 ¾ cups

sugar

1 ½ tsp

kosher salt

1 ⅓ cups

olive oil

1 ¼ cups

whole milk

3

large eggs
whipped cream, for serving
candied lemon zest, for garnish
Instructions
candied lemon zest
Use a vegetable peeler to remove thick strips of zest from the lemons. Slice into thin matchsticks with a chef's knife and set aside.
Bring ¾ cup sugar and ¾ cup water to a gentle simmer in a small pot, stirring to help sugar dissolve. Add zest slivers and simmer until zest deepens in color and turns somewhat translucent, about 15 minutes.
Use a fork or slotted spoon to transfer to a plate to drain, then quickly transfer to a bowl of remaining ½ cup sugar. Toss to fully coat the zest strands. Transfer to a baking sheet and spread out to dry, at least 30 minutes.
lemon olive oil cake
Preheat oven to 350°F.
Butter one deep 9-inch cake pan (at least 2 ½ inches deep) or two standard 9-inch cake pans. Line the bottom with a parchment paper round and grease edges of the pan.
Whisk together flour, baking powder and baking soda in a medium bowl and set aside.
Cut off and discard ends of lemon and orange half, then cut into quarters and roughly chop. Remove and discard any large seeds. Place in a high-powered blender with 2 tablespoons water and process until smooth, 3- 5 minutes. Transfer to a coarse mesh sieve and use a rubber spatula to stir and smash the puree against the side and bottom of the sieve. Remove as much juice as possible, scraping bottom of sieve as needed.
Measure out ½ cup citrus puree and scrape into a large bowl.Add sugar, salt, olive oil, milk and eggs and whisk until smooth. Add dry ingredients and whisk until just combined. Pour batter into prepared pan and smooth the top.
Bake until golden on top and firm and springy to the touch, about 1 hour. Let cool 30 minutes in the pan, then run a knife around the edge, invert to a plate and transfer to a cake stand. Top with whipped cream and candied lemon zest, for garnish.
Notes
Cake will keep, tightly wrapped, for up to 3 days at room temperature or 5 days in the refrigerator.
Zest will keep in an airtight container at room temperature for up to 2 weeks.
Nutritional information is only an estimate. The accuracy of the nutritional information for any recipe on this site is not guaranteed.
Nutrition
Serving Size:

1

Calories:

439

Sugar:

31g

Sodium:

260mg

Fat:

26g

Saturated Fat:

4.2g

Unsaturated Fat:

20.9g

Trans Fat:

0g

Carbohydrates:

48g

Fiber:

0.9g

Protein:

4.7g

Cholesterol:

49mg
Keywords: lemon olive oil cake