For me, some of the best recipes are those that teach a new technique. Whether it's a small tweak on a standard practice or a completely new approach that turns everything we know on it's head, new techniques improve your cooking and keep you engaged. And that's exactly what this asparagus velouté will do for you.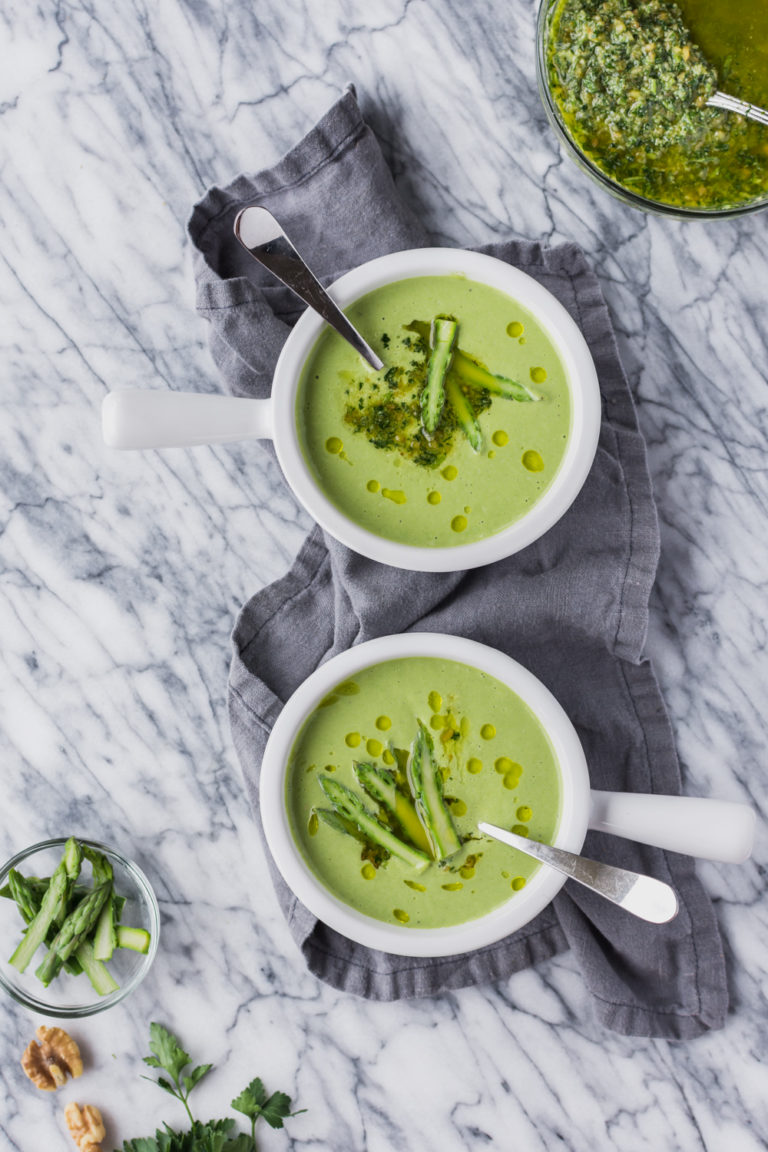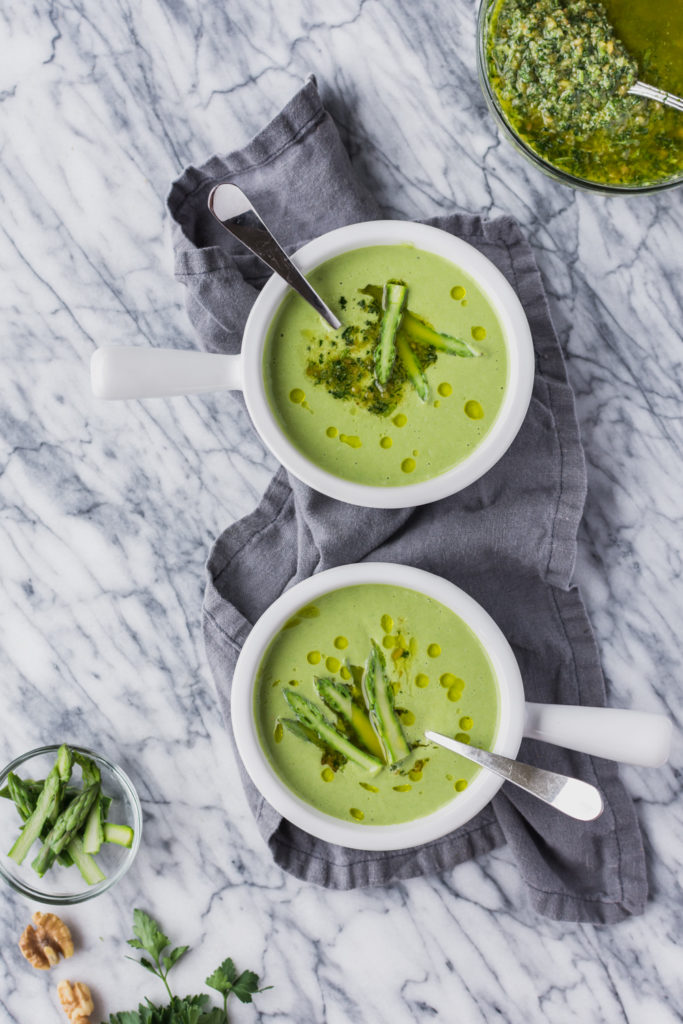 This asparagus velouté recipe taught me one of the coolest cooking tricks I've learned in a while, and I knew that I had to share it. The technique addresses the sickly, unappealing yellow- green color of asparagus when cooked for a long period of time. And unfortunately for the aesthetics, long cooking is how you make soup. This recipe takes advantage of the depth of flavor that comes from simmering everything for 30 minutes, but here's the genius: it uses a spinach "dye" technique to amp up the green color. And I like to think it amps the nutrition level too (remind yourself of this when you're pouring in the heavy cream).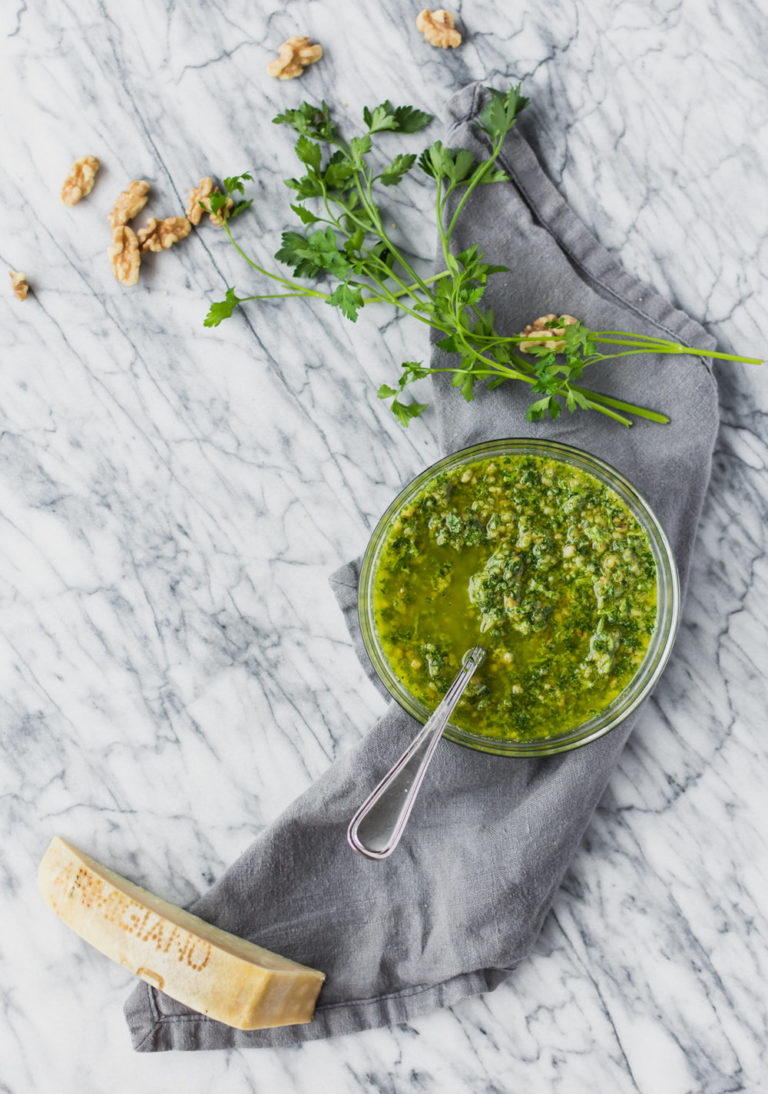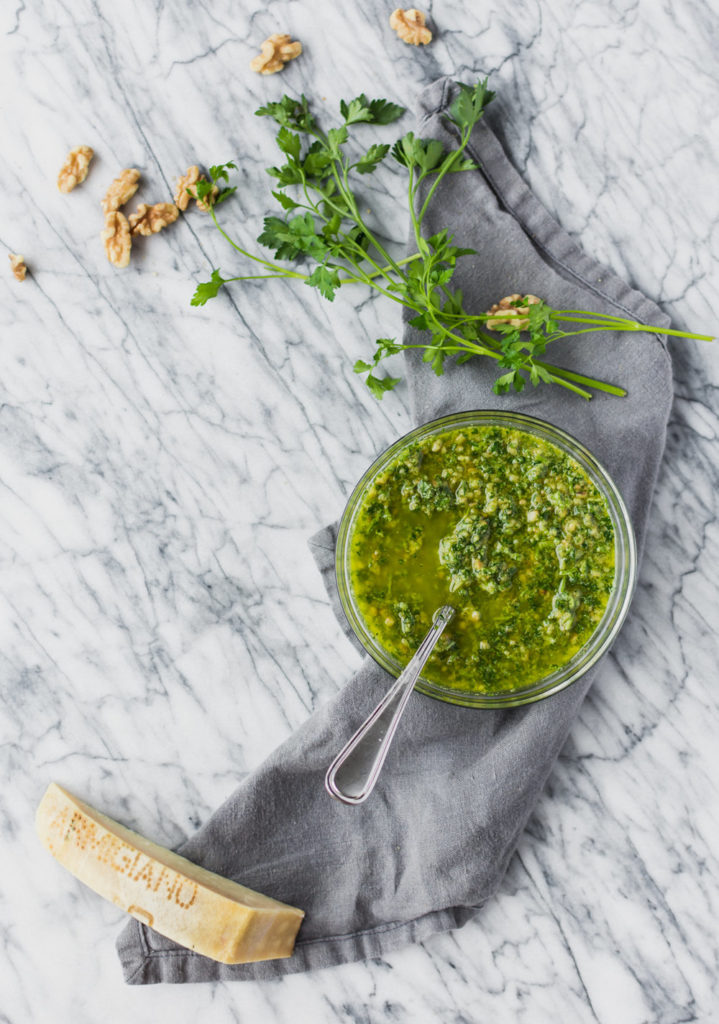 Basically, the spinach is blanched in boiling water, shocked in ice water to lock in the color and puréed to create the dye. Once the soup is fully cooked and puréed, the spinach dye is stirred in to add a vibrant, beautifully fresh green color. And no, this isn't petty and don't skip it because as we all know, we eat with our eyes.
Don't skip the walnut parsley pistou either! It's simply a French version of pesto, and it adds freshness and a crunch that is even better than homemade croutons. If you want to take this soup to the next level, cover it with puff pastry and bake it for a crispy, buttery, dunkable top. And enjoy it with a glass (or two) of herbaceous, grassy and tropical New Zealand Sauvignon blanc.
related recipes:
roasted whole carrots with pistachio dukkah
braised artichokes with pancetta, shallots and thyme
Print
asparagus veloute with walnut parsley pistou
A velvety smooth asparagus soup is topped with a crunchy walnut parsley pistou and drizzled with fruity olive oil. This soup is fresh, vibrant and beautifully green, thanks to a fun technique you've probably never used.
Author:
Yield:

4

Category:

Soup

Cuisine:

French
Ingredients
walnut parsley pistou
½ cup

walnut halves

½ cup

extra virgin olive oil

½ cup

finely chopped flat leaf parsley

¼ cup

Parmigiano- Reggiano, finely grated

1

garlic clove
kosher salt and freshly ground black pepper, to taste
asparagus velouté
8 oz

fresh spinach

1

lb asparagus, ends snapped off at natural breaking point, tips of 8 spears reserved and remaining stalks cut into

¼

" thick slices

4 tbsp

butter

3 cups

finely diced yellow onion

4

cloves garlic, thinly sliced
kosher salt and freshly ground black pepper, to taste

2 cups

whole milk, plus more if needed to thin

1 cup

heavy cream

4

-

12

tbsp walnut parsley pistou (see above), for garnish
extra virgin olive oil, for garnish
Instructions
walnut-parsley pistou
Preheat oven to 325°F. Spread the walnuts on a small baking sheet and toast for 3 to 5 minutes, until lightly fragrant but not overly toasted. Set aside to cool, about 10 minutes.
Place the oil in a small bowl and add the parsley immediately upon chopping to prevent browning.
Crush the garlic clove, roughly chop it and sprinkle ¼ tsp of kosher salt on top. Run the flat side of the knife back and forth over the garlic, applying pressure with your hand to massage the salt into the garlic and make a fine paste.
In a food processor, pulse the walnuts 3 to 4 times to break them into small pieces. Add the cheese and garlic paste and pulse another 5 to 10 times. Combine the nut mixture and the parsley with its oil in a bowl and stir to mix. Taste and adjust the seasoning.
asparagus velouté
Bring a large pot of water to a boil. Fill a mixing bowl with ice water and set aside for blanching. Add spinach to the boiling water, remove when wilted, about 15 seconds, and transfer immediately to ice water to stop the cooking. Repeat the blanching with the asparagus tips and set aside for garnishes.
Transfer spinach and ½ cup of the blanching water to a blender and blend on high until the mixture is very smooth, about 1 minute. Set aside spinach puree.
Melt the butter over medium heat in a large saucepan. Add the onions and cook for about 5 minutes, then add the garlic and cook until fragrant, about 30 seconds. Add the asparagus, salt, and pepper and cook until the asparagus is bright green, about 5 minutes.
Add the milk and cream and turn down the heat to medium-low. Bring to a simmer and cook, stirring occasionally, until asparagus is soft and can be easily squished, about 30 minutes.
Carefully add half of the hot soup to the blender. Remove the plastic insert from the lid of the blender and replace it with a kitchen towel to allow some steam to escape. Purée the soup until completely smooth, about 1 minute, then transfer to a clean saucepan. Repeat with the remaining half of the soup.
Set the pot of soup over medium heat and stir constantly to avoid scorching the bottom. As soon as the soup is hot, and just before serving, add the reserved spinach puree and stir to mix. Add this puree as close to serving as possible, as the bright green color will fade with heat. Taste and adjust the seasoning as necessary.
To serve, ladle soup into 4 bowls and spoon 1 to 2 tbsp walnut parsley pistou on top of each. Place 2 of the sliced asparagus tips, cut side up, on top of the pistou. Drizzle the olive oil on top and serve immediately.
Keywords: asparagus veloute, asparagus soup