Some call this the world's best chocolate cake, some the world's easiest, or even the most versatile. While I agree on all three accounts, I tend to think of it as the perfect everyday chocolate cake. It's straightforward and reliable. It's the recipe you'll pull out over and over again when all you want is a good, simple chocolate cake. It's not fussy, and while it can be dressed up with ganache, it is perfectly delicious on its own. The cake is light, moist, and filled with a deep chocolate flavor. When I made this recipe, I was dying to use my new mini bundt pan. If you do the same, be sure to watch it very closely in the oven! They bake faster than a large cake, but they turn out adorable, addicting, and perfectly gift-able.
---
makes one 9″ cake | recipe from sweet by Yotam Ottolenghi and Helen Goh
Print
everyday chocolate cake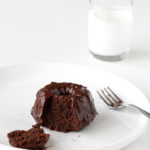 This is the perfect everyday chocolate cake. It's straightforward and reliable. It's the recipe you'll use when all you want is a good, simple chocolate cake. It's light, moist, and filled with a deep chocolate flavor.
Yield:

1

1

x
Category:

Dessert

Cuisine:

American
Scale
Ingredients
chocolate cake
2

sticks plus 1 1/2 tablespoons, room temperature and cut into 3/4-inch cubes (plus extra for greasing the pan)

7 ounce

s dark chocolate, chopped into

3/4

-inch pieces

1 1/2 tsp

instant coffee granules, dissolved in 1 1/2 cups boiling water

1 ¼ cup

s granulated sugar

2

large eggs, lightly beaten

2 teaspoon

s vanilla extract

1 3/4 cup

s plus 2 tablespoons (or

1 3/4 cup

all-purpose flour +

2 3/4 tsp

baking powder)

1/3 cup

dutch-processed cocoa powder, plus 1 1/2 teaspoons for dusting

1/4 teaspoon

salt
chocolate ganache (optional)
7 ounce

s dark chocolate, broken or chopped roughly into

3/4

-inch pieaces

3/4 cup

heavy cream

1 tbsp

light corn syrup

1 tbsp

unsalted butter, room temperature
Instructions
chocolate cake
Heat oven to 350F. Grease a 9-inch springform pan with butter and line with parchment paper, then set aside. (I used a mini bundt cake pan and the leftover batter went into a muffin pan, both pans were rubbed with butter and then floured)
Make the cake: Place butter, chocolate and hot coffee in a large heatproof bowl and mix well until everything is melted, combined and smooth. Whisk in sugar by hand until dissolved. Add eggs and vanilla extract and whisk again until thoroughly combined and smooth. Sift flour, cocoa powder and salt together into a bowl and then whisk this into the melted chocolate mixture. The batter here is liquid, but don't think you have missed something; this is how it should be.
Pour batter into the prepared pan and bake for 1 hour, or until the cake is cooked and a skewer inserted into the center comes out clean or with just a few dry crumbs attached. The top will form a crust and crack a little, but don't worry, this is expected. Leave the cake to cool for 20 minutes before removing from the pan, then set aside until completely cool. (If you want to use a mini bundt cake pan, check the cakes after 10 minutes! Mine were perfectly done after about 15 minutes, and they slid right out of the pan without issues.)
chocolate ganache
Make the chocolate ganache, if desired: place chocolate pieces in a food processor, process until fine and set aside.
Combine cream and corn syrup in a small pan and place over medium-high heat. As soon as bubbles begin to appear (just before it comes to a boil), remove from the heat.
Get the food processor running again, with the chocolate still inside, and pour in the hot cream in a steady stream. Process for 10 seconds, then add butter. Continue to process until mixture is shiny and smooth. (You can also make the ganache by hand; just make sure the chocolate is chopped fairly finely before adding the cream mixture. Stir with a wooden spoon until almost melted, then add the butter. Stir again until the ganache is smooth.)
Use a rubber spatula to scrape the ganache into a bowl and cover with plastic wrap, with the plastic actually touching the top of the ganache. Set aside until it has set to the consistency you want. If you want a thin layer to spread over the cake, it can be poured over while liquid so that you get an even, light and shiny coating. For a thicker ganache with a spreading consistency, leave it for about 2 hours at room temperature. (The ganache can be stored at room temperature, providing it's not too warm, for 3 days or kept in the fridge for up to 2 weeks. It can also be frozen, although it will lose a bit of its shine when defrosted.)
Peel the parchment from the cake and discard. Transfer to a serving platter and spread the ganache, if using, on top of the cake. Slice into wedges, divide the cake among plates and, if using, spoon the mascarpone cream alongside. With or without icing, the cake will keep well for 4 to 5 days in an airtight container.
Keywords: chocolate cake, ottolenghi, dark chocolate, chocolate ganache, simple cake