This is a sweet, tart and aromatic gin cocktail. Orange, lemon and grapefruit zest are made into an oleo-saccharum, combined with citrus juice and vinegar to make a shrub, then shaken up in a delicious fall cocktail.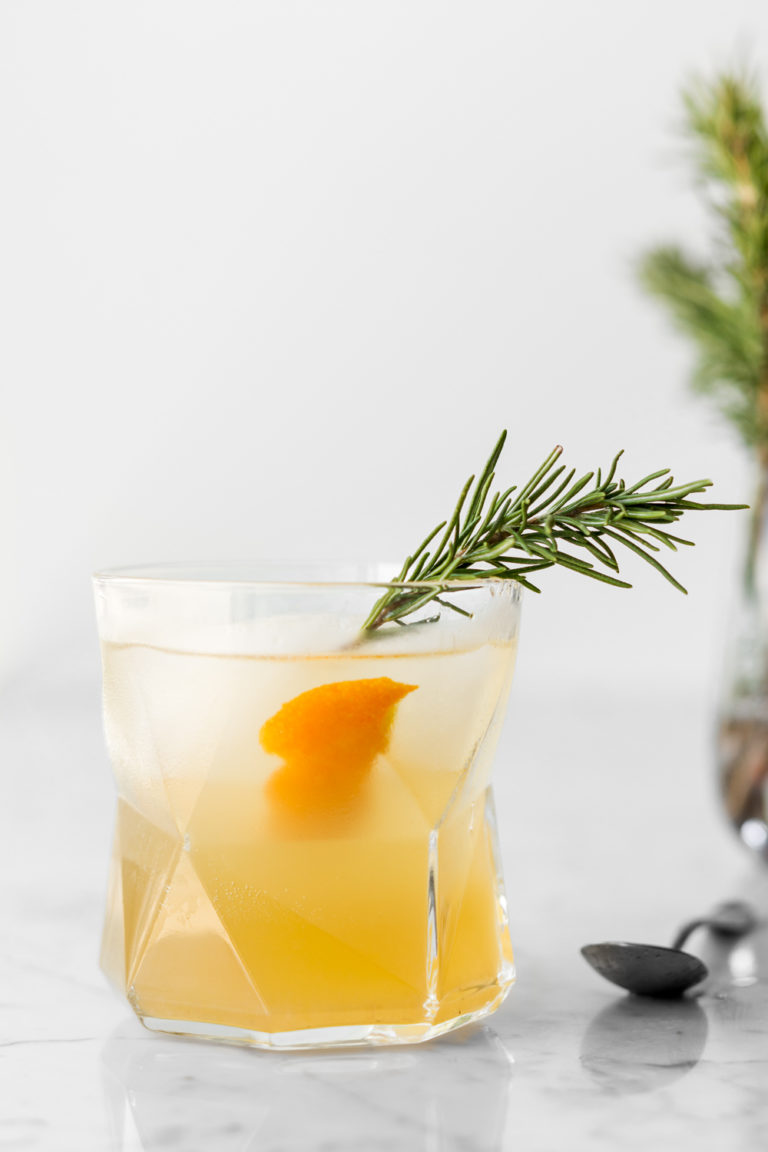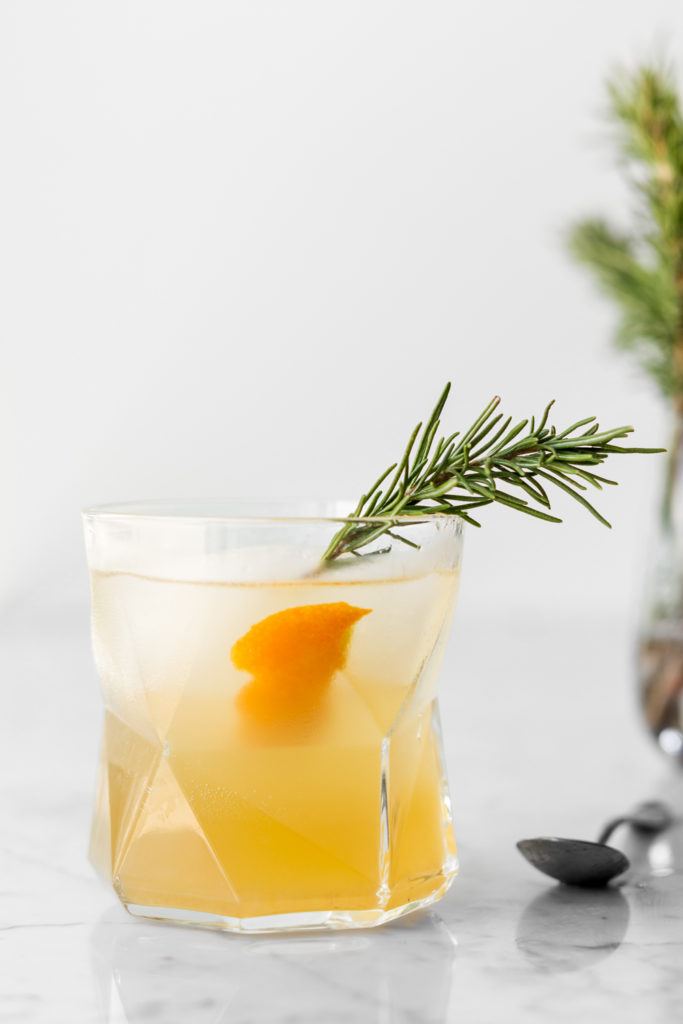 Fall is right around the corner. It's so close, I can smell the pumpkin spice lattes from here. It's my all time favorite season-- I love the colors, the lighting, the cool brisk air and pumpkin patches. And the anticipation for the holidays. I love everything about it.
But unfortunately, it's mid September, and that pretty much means hot and muggy weather for a little while more. It means fighting the urge to dive into hearty stews, cheesy baked pastas and mulled wine and savoring the last of the berries, tomatoes, figs and summer grilling (although who am I kidding, we grill year around here).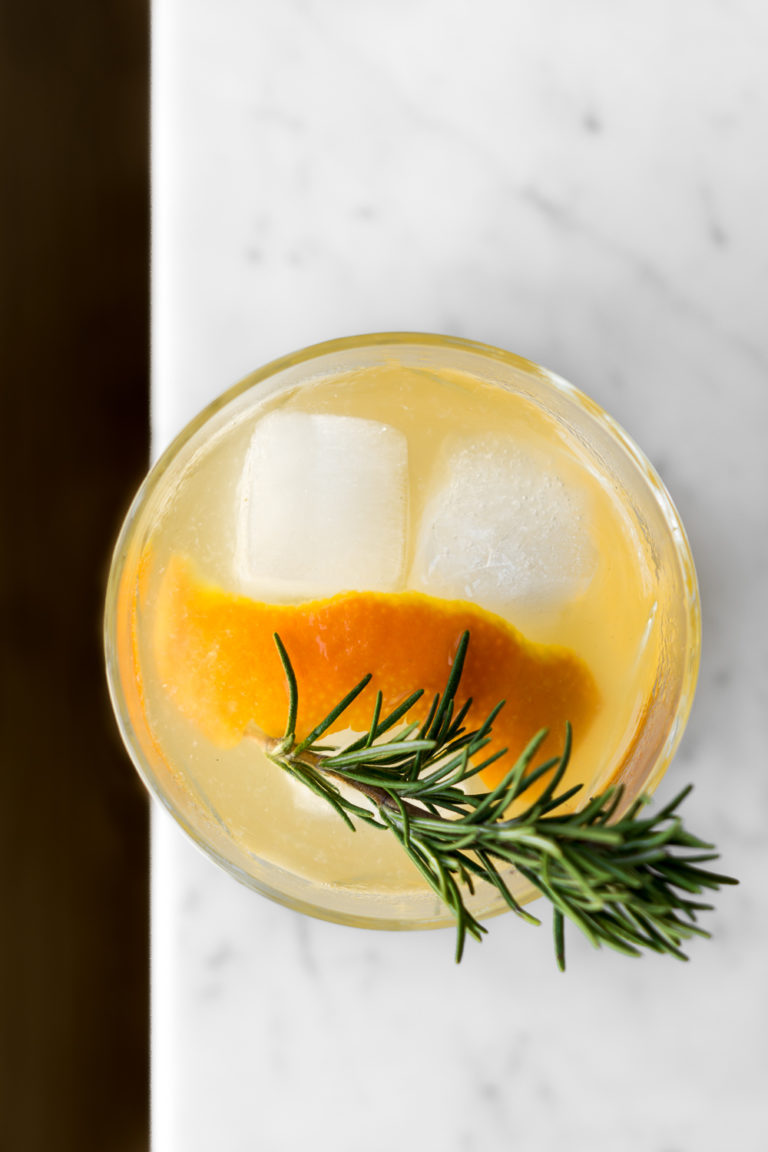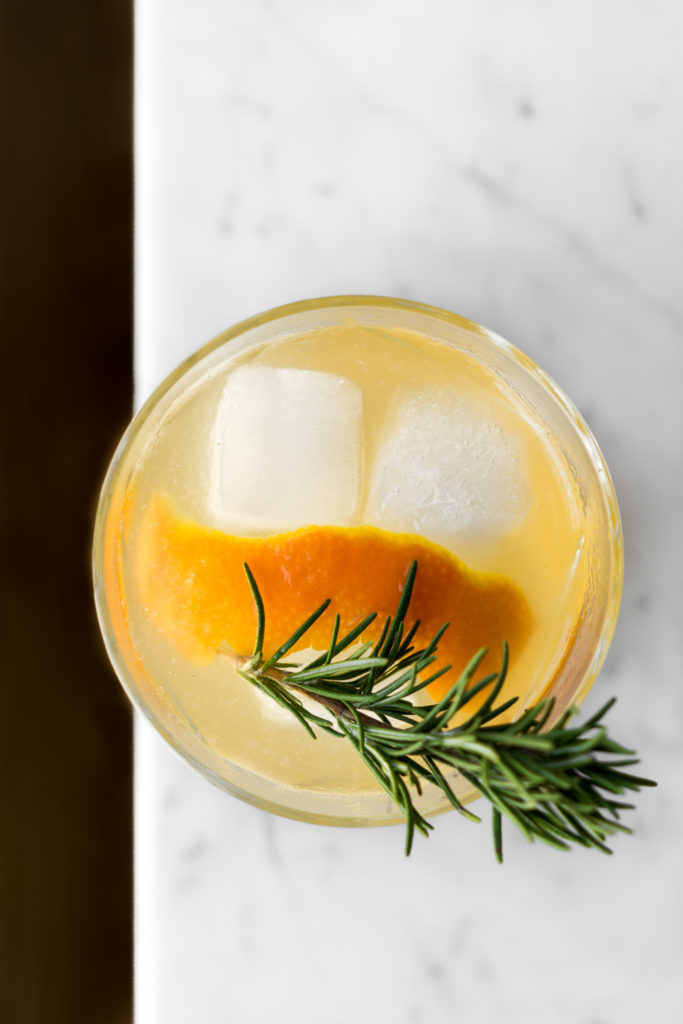 So I developed this rosemary citrus shrub cocktail as a limbo drink. The aromatic citrus zest and wintery rosemary pull us into the cooler months, while the bright vinegar and citrus juice keep it insanely refreshing on a hot day. I especially love the layers of citrus here-- from the oleo-saccharum, the triple-citrus juice, and the Grand Marnier. The citric acid, paired with the apple cider vinegar, gives so much dimension to the final cocktail.
so what is an oleo-saccharum?
Oleo-saccharum means oil-sugar. It's essentially a flavored sugar syrup.
Sugar, citrus zest and a few rosemary sprigs are tossed together, muddled to break up the oil cells in the zest, then left to sit. I prefer to let the sugar and zest sit overnight to maximize the flavor extraction, but you could let it sit for as little as a few hours.
The oleo-saccharum is made thanks to the basic principles of osmosis, where the sugar pulls water out of the citrus zest. That liquid then dissolves the sugar to produce a syrup, and the syrup helps to extract the essential oils from the skin of the zest. The process, by the way, is the best air freshener money can buy. Your house will smell amazing.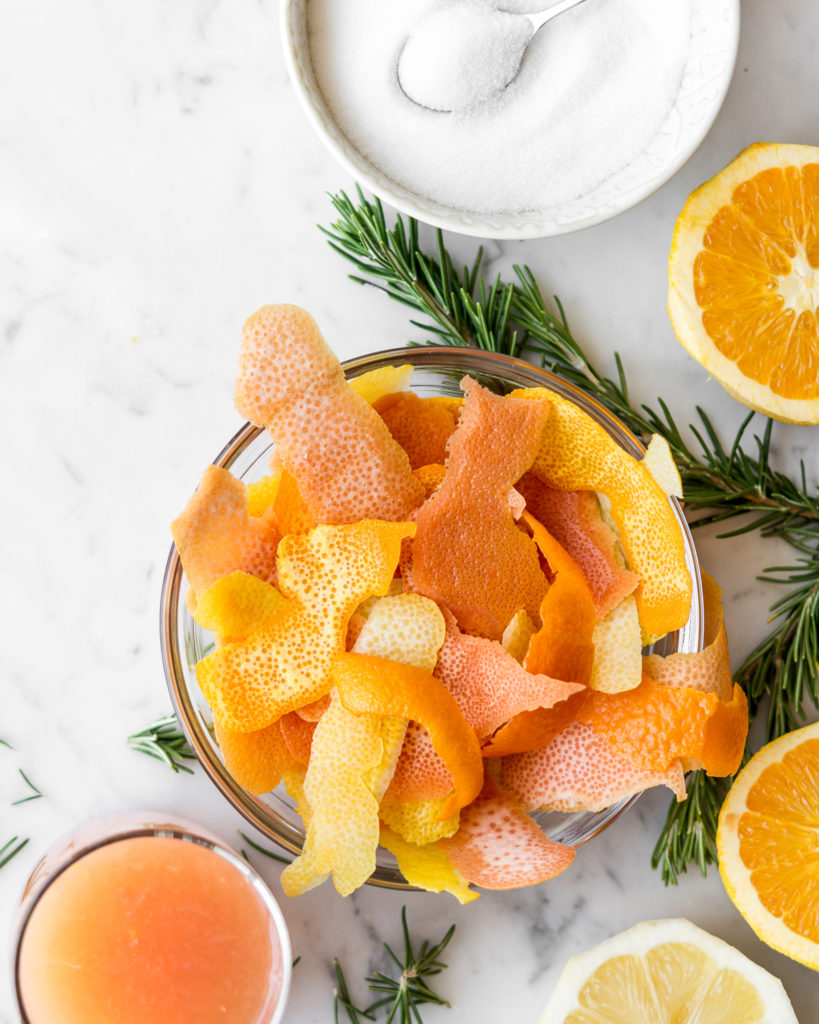 An important tip to making this oleo-saccharum is to remove as much pith from the zest as possible (see above photos). Many people find this is easiest with a vegetable peeler. I prefer a paring knife to remove the zest as cleanly as possible, then I go back and slice off the excess pith. It sort of feels like filleting a fish. Either way, just get the pith off the zest or your oleo-saccharum will be really bitter.
You could stop there and use this aromatic sugar syrup (oleo-saccharum) in drinks and desserts to replace sweeteners, such as honey or simple syrups, for an extra boost of flavor. But I went a step further and made a citrus rosemary shrub out of the oleo-saccharum.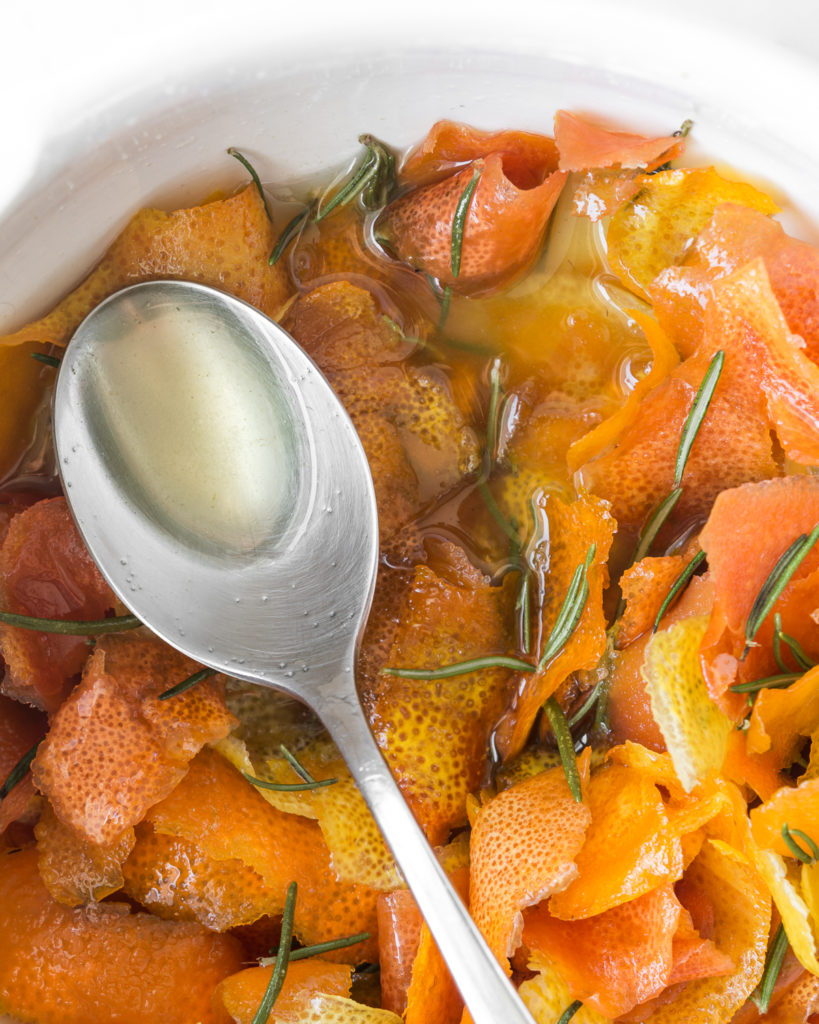 how do you make a citrus shrub?
Once you have the citrus oleo-saccharum, the hard part is over! To make the shrub, simply stir in citrus juice and apple cider vinegar to balance out the sugar, strain and discard the zest, then let the mixture marry for at least a few hours (but preferably a few days).
Depending on the ripeness of the citrus fruit, your juice will have varying levels of sweetness. Add juice first, then adjust the amount of vinegar to taste. Be cautious here-- you can always add more, but it's much harder to balance out too much vinegar. On that note, if you do add too much vinegar, you can always add more sugar or citrus juice (if you have any left), but you'll be diluting the rich flavors of the oleo-saccharum.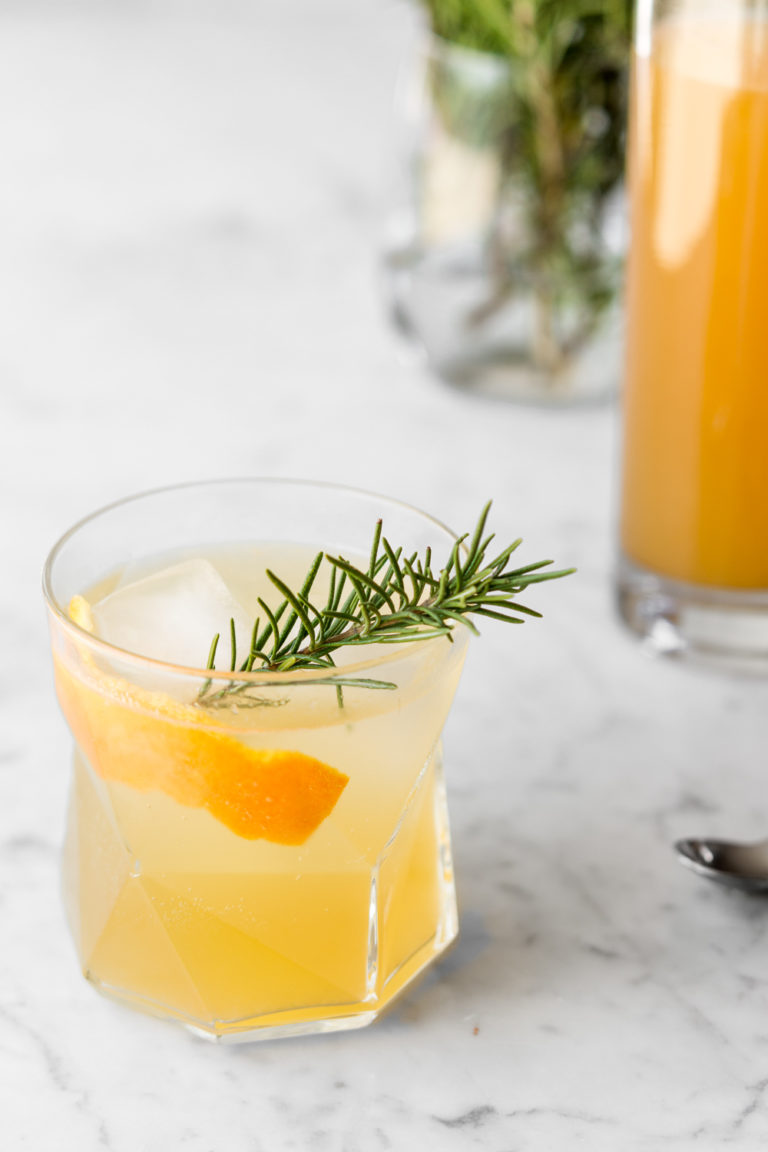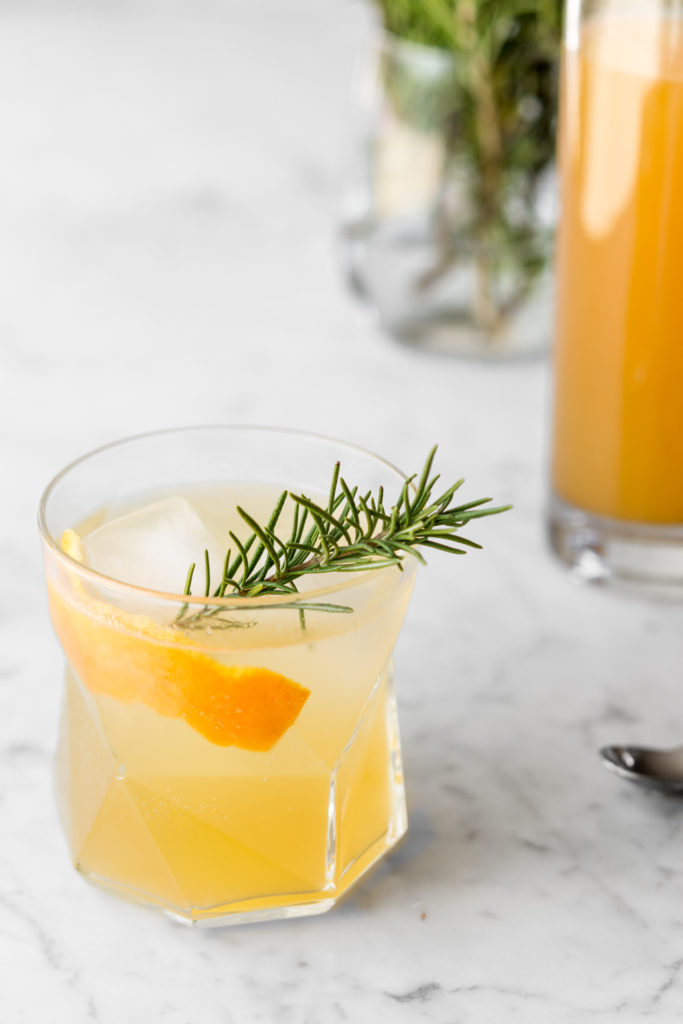 The goal is a bright, refreshing, mouthwatering shrub. We want enough acid to balance the sugar so it doesn't taste cloying, but not so much acid that you feel like you've lost a layer of enamel.
We've had this shrub with bourbon (which is amazing), but here I prefer gin for the clean, herbaceous note it adds. The splash of soda lightens everything up and makes it nearly impossible to sip just one of these drinks on a hot September evening.
more gin cocktails to try:
sparkling elderflower gin cocktail
Print
oleo-saccharum cocktail with citrus, rosemary and gin
This is a sweet, tart and aromatic gin cocktail. Orange, lemon and grapefruit zest are made into an oleo-saccharum, combined with citrus juice and vinegar to make a shrub, then shaken up in a delicious fall cocktail.
Author:
Prep Time:

30 minutes

Total Time:

30 minutes

Yield:

1

Category:

Drinks

Cuisine:

American
Ingredients
citrus rosemary oleo-saccharum and shrub
4 oranges

2 grapefruit

2 lemon

1 cup sugar

4 tbsp fresh rosemary

½ - ¾ cup apple cider vinegar, to taste
gin cocktail
2 oz gin

1 ½ oz citrus rosemary shrub

½ oz Grand Marnier

Club soda, for topping

Rosemary sprig, for garnish

Orange peel, for garnish
Instructions
citrus rosemary oleo-saccharum and shrub
Use a sharp paring knife or vegetable peeler to remove the zest of the oranges, grapefruit and lemons, making sure very little pith remains on the zest. If necessary, use a knife to remove pieces of white pith to keep the shrub from getting too bitter. Place the zest in a mixing bowl and set aside. Juice the citrus, save ¾ cup (drink the rest!) and refrigerate.

To make the oleo-saccharum, add sugar and rosemary to the zest. Use a muddler or wooden spoon to mash the zest into the sugar, then stir to get them fully coated in sugar. Cover the bowl and let sit overnight. The sugar and citrus oils will form a thick syrup.

Add the reserved citrus juice and ½ cup of apple cider vinegar to the oleo-saccharum syrup, stir to dissolve remaining sugar. Taste and add more vinegar if needed to produce a balanced, sweet tart shrub. Strain syrup and discard zest and rosemary.
gin cocktail
Combine all ingredients in a cocktail shaker filled with ice. Shake until well chilled, then strain into a rocks glass over fresh ice. Top with club soda.

Garnish with a sprig of rosemary and an orange peel, spritzed skin side down, over the surface of the drink before being tossed in.
Notes
makes 2 cups of shrub, 1 drink
Nutrition
Serving Size:

1

Calories:

204

Sugar:

19g

Sodium:

1mg

Fat:

0g

Saturated Fat:

0g

Unsaturated Fat:

0g

Trans Fat:

0g

Carbohydrates:

19g

Fiber:

0g

Protein:

0g

Cholesterol:

0mg