We all have memories of s'mores on warm summer nights: the gooey toasted marshmallows and thick chunks of Hershey's chocolate sandwiched between two graham crackers. They're sticky, fun and charged with nostalgia. These homemade s'mores aren't meant to stand in for the childhood classics, but they are an elegant twist on a dessert that everyone knows. In this case, the graham crackers are replaced by peanut butter cookies, the chocolate is dark and rich, and the marshmallow is made from scratch (!).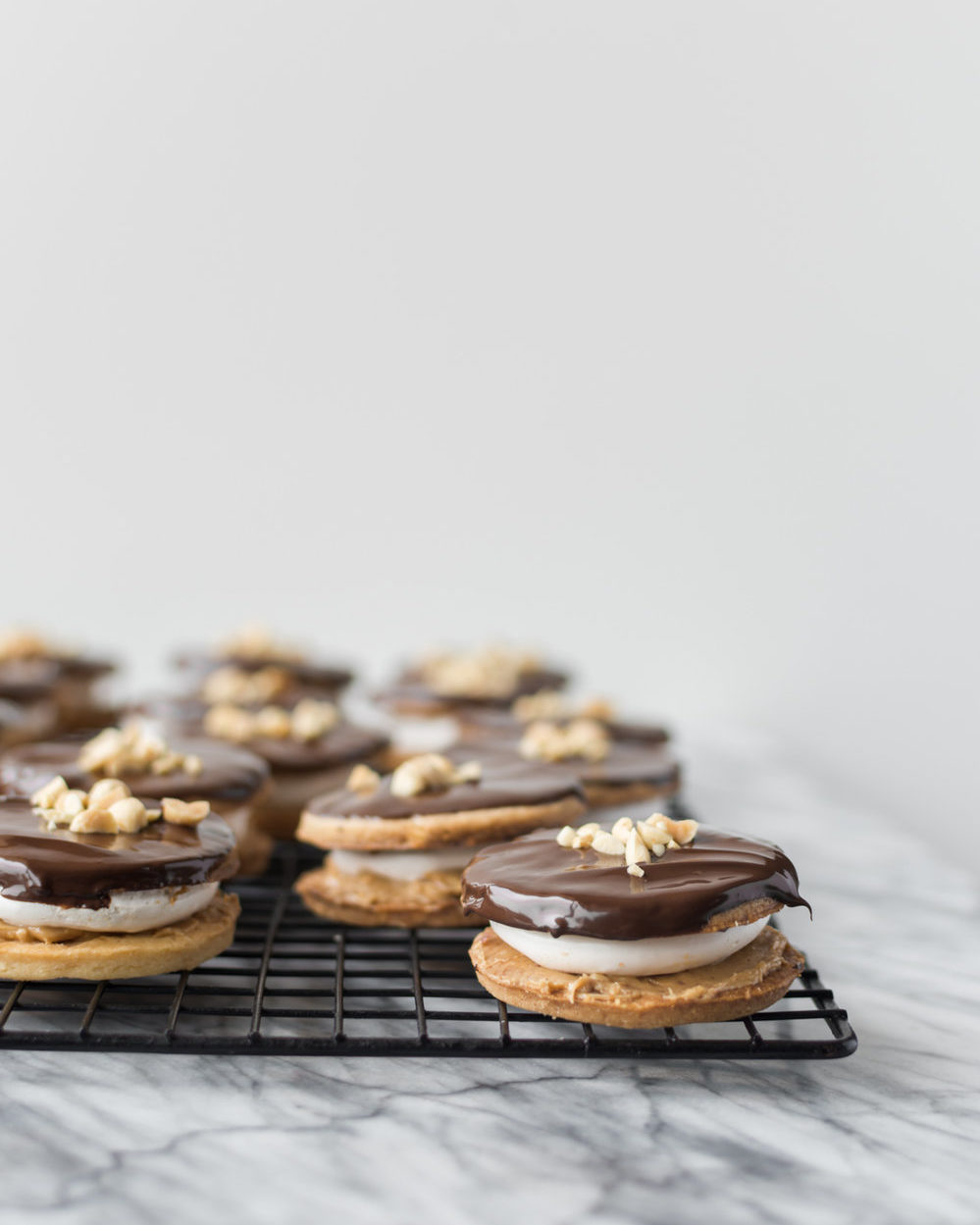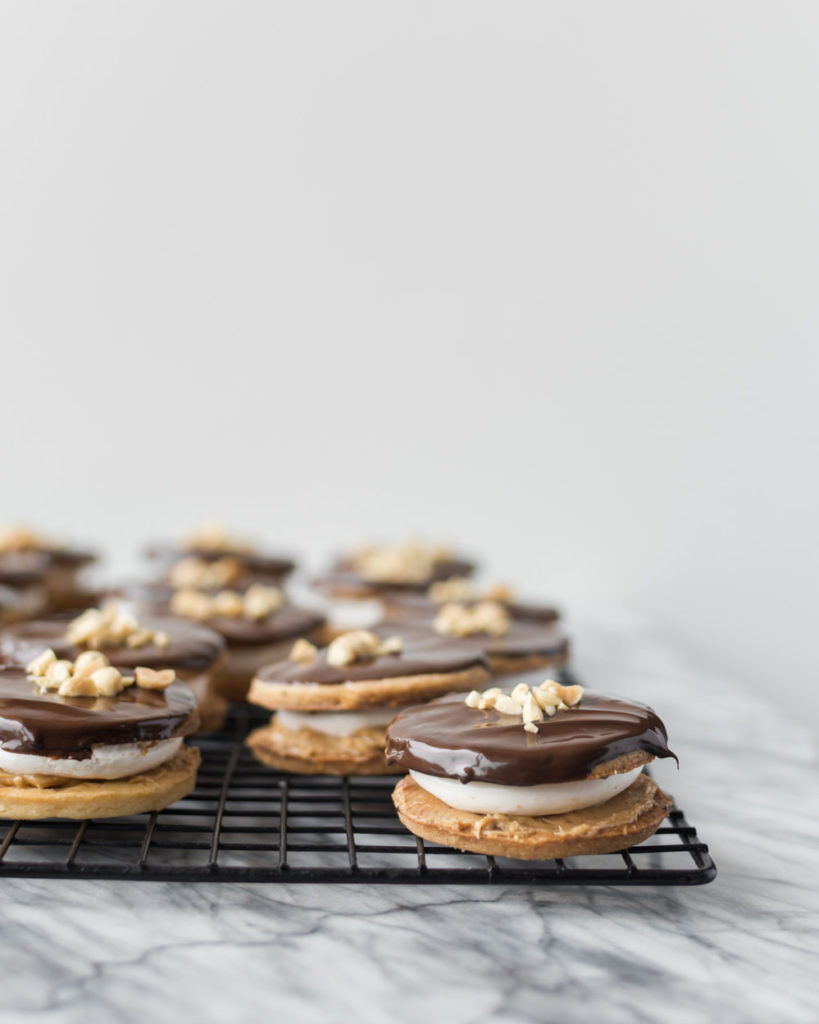 That last part is where I'm afraid I'll lose you— but don't shy away from making your own marshmallows. This was my first time too, and as long as you understand the process ahead of time, and have the ingredients laid out and ready to go, they were surprisingly easy (and so fluffy)!
I will say that if you don't have a stand mixer or a handheld mixer, this might not be a recipe you should try just yet. Dog ear it and come back when you've got power tools because marshmallows require 10- 15 minutes of high speed machine whisking, which would be much longer by hand. It'll be a great workout, but I wouldn't recommend it (my arm got tired just holding the handheld mixer).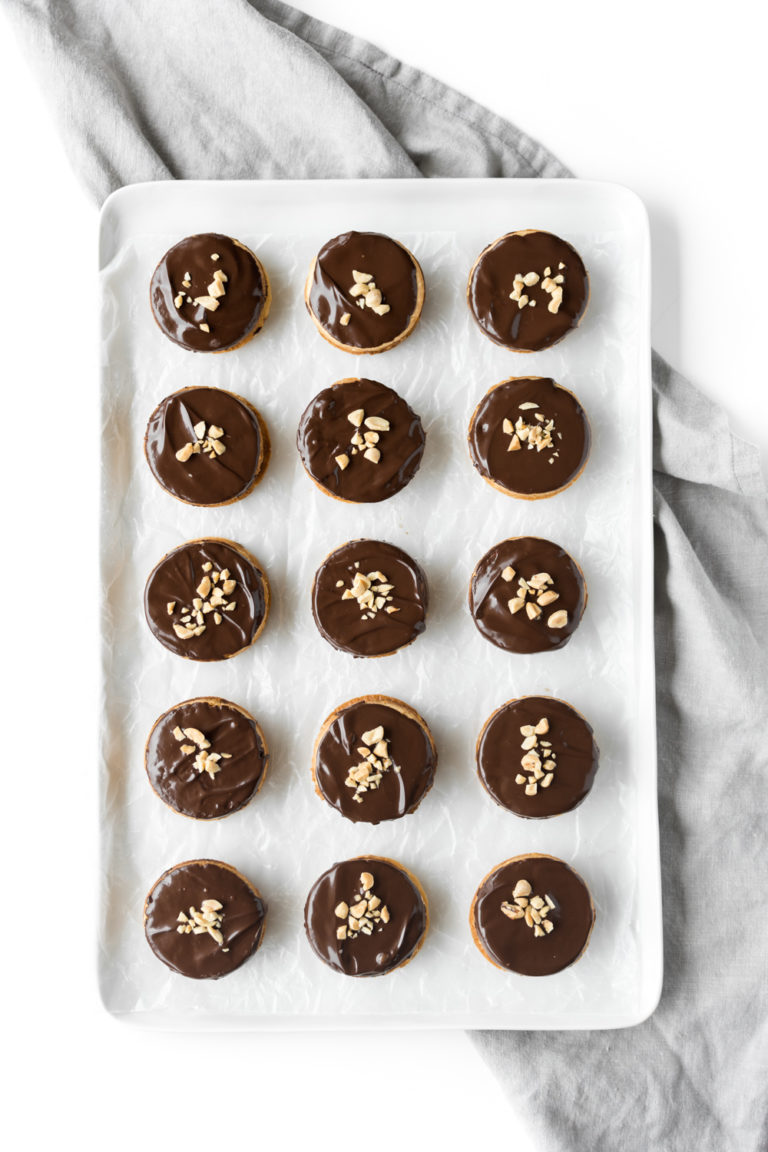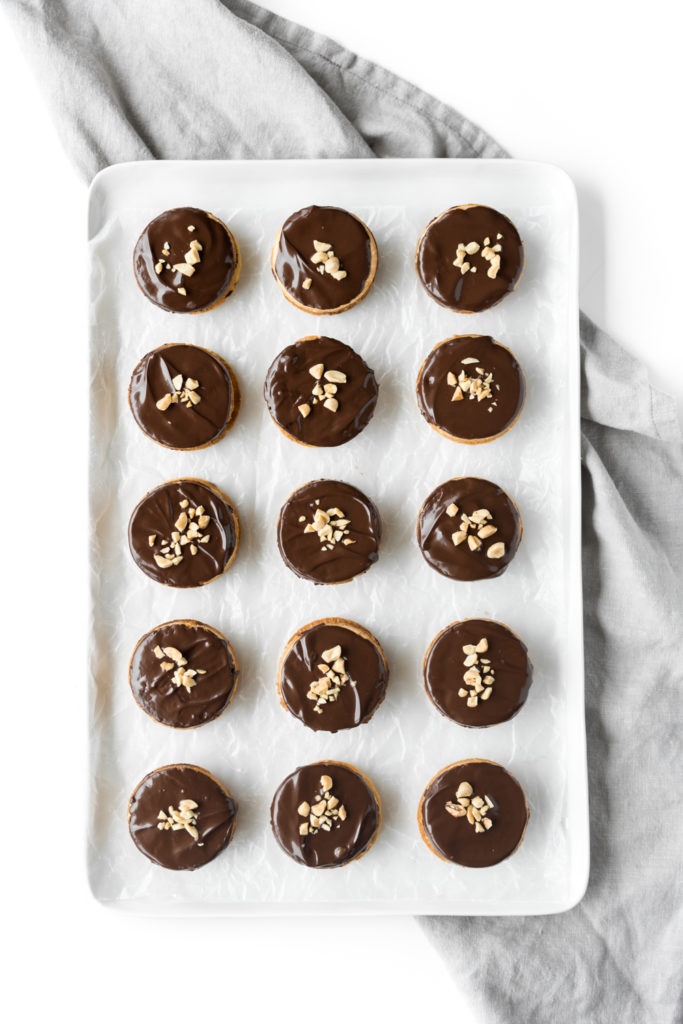 When the marshmallow is fully whipped, it's piped onto a cookie, topped with a peanut butter smeared cookie, and once set, the sandwich is dipped into a glossy pool of melted dark chocolate. Salty chopped peanuts are sprinkled on top and voila: homemade s'mores!
Print
homemade s'mores with dark chocolate and peanut butter
This is a summer dessert that everyone will enjoy: a pillowy marshmallow filling, sandwiched between chunky peanut butter cookies, dipped into rich dark chocolate, and sprinkled with salty chopped peanuts.
Author:
Yield:

22

Category:

Desserts

Cuisine:

American
Ingredients
peanut butter cookies
½ cup

plus 2 ½ tbsp unsalted butter, room temperature, cut into

¾

" cubes

⅓ cup

plus 1 tsp granulated sugar

1

large egg yolk (reserve white for the marshmallow)

2 tbsp

maple syrup

⅓

roasted unsalted peanuts, finely ground with a food processor

2 cups

plus 1 tbsp all purpose flour

⅛ tsp

salt

½ cup

crunchy peanut butter, for spreading
marshmallow
1 ½ tsp

powdered gelatin

⅓ cup

cold water

⅓ cup

plus 1 tbsp granulated sugar

1 ½ tsp

light corn syrup
scrape seeds of ¼ vanilla pod (or ½ tsp vanilla extract)

1 oz

egg white, from 1 large egg
to finish
1 ½ tbsp

roasted unsalted peanuts, roughly chopped into

¼

" pieces

¼ tsp

flaky sea salt

4 ½ oz

dark chocolate, roughly chopped into

¼

" pieces
Instructions
peanut butter cookies
In the bowl of an electric mixer, fitted with a paddle attachment, beat butter and sugar until light and fluffy, about 2 minutes on medium-high speed. Add egg yolk, mix to combine, then add maple syrup and peanuts and mix again. Add flour and salt and slowly mix until a dough forms. Using your hands, knead the dough a few times in the bowl to bring it together. Wrap loosely in a sheet of plastic wrap, form into a disk, and refrigerate for at least 1 hour or up to overnight.
Preheat the oven to 375 °F. Line two baking sheets with parchment paper and set aside.
Remove the dough from the fridge about 5 minutes before rolling, to soften. Divide dough in half, and working with one half at a time, roll out on a lightly floured surface until it is slightly less than ¼" thick. Cut the dough into circles, using a 2 ½" round cutter, and place them on the parchment lined baking sheets. Combine and re-roll dough as needed for a total of 44 cookies.
Bake cookies for about 15 minutes, rotating the sheets halfway through, or until firm and lightly golden around the edges. Remove from the oven and set aside, still on the baking sheet, to cool.
Once cool, turn the cookies over so that the underside sits up. Spread half, or 22, of the cookies with about 1 tsp of peanut butter and set aside.
marshmallow + s'more assembly
Place the gelatin sheets or powder in a small bowl, cover with 3 tbsp of the water, stir and set aside.
Combine sugar, corn syrup, vanilla seeds (if using) and remaining water in a small saucepan over medium heat. Stir until the sugar has melted, then increase heat to medium-high. Bring to a boil and simmer until the mixture begins to thicken and turn a light amber color, 8-10 minutes (the end goal is 262°F on a candy thermometer). When the syrup nears 240°F, place egg white in the bowl of an electric mixer with a whisk attachment, and start to whisk with a handheld whisk (the egg white volume is so small, the machine won't be effective) until stiff peaks form.
When the syrup reaches 262°F, remove from heat and add the softened gelatin, its soaking water, and the vanilla extract (if substituting for vanilla bean seeds) to the sugar mixture and stir to combine. Turn the mixer on medium and slowly pour the hot syrup over the egg whites. Raise the speed to high and continue to beat until the mixture is glossy and thick and the bowl of the mixer is completely cool; about 15 minutes
To finish the cookies, immediately spoon the marshmallow into a piping bag and pipe the mixture into a circular pattern over the remaining uncovered cookies, making sure to cover the whole of the base with a generous amount of marshmallow. Working quickly, sandwich a peanut butter-covered cookie on top of a marshmallow-covered cookie and press gently together before the marshmallow sets. Continue with the remaining cookies, then set aside for about 30 minutes to fully set.
Combine the chopped peanuts and sea salt in a small bowl and set aside.
Place the chocolate in a heatproof bowl over a pan of simmering water, stirring occasionally, until melted. Gently hold the peanut side of the cookie sandwich and dip the marshmallow half lightly into the melted chocolate, so that the cookie is covered. Sprinkle a pinch of the peanut- salt mix into the center of the chocolate side of the cookie and allow to set before serving.
Notes
makes 22 cookies (if using 2 ½" cookie cutter) | recipe from Sweet, by Yottam Ottolenghi and Helen Goh
Keywords: homemade s'mores
related recipes: