Juicy summer plums get poached in a syrup of honey, white wine and fresh thyme. They're served with a dollop of sweet mascarpone and crunchy almond biscotti for a quick and fresh summer dessert.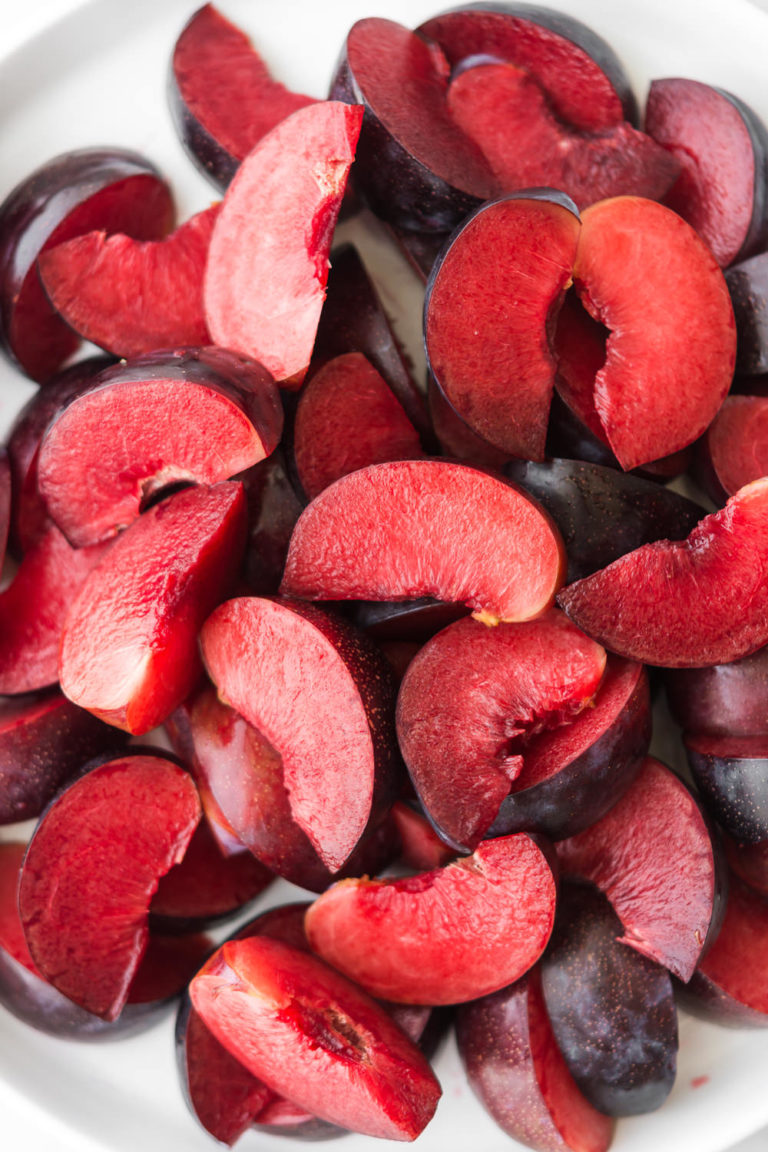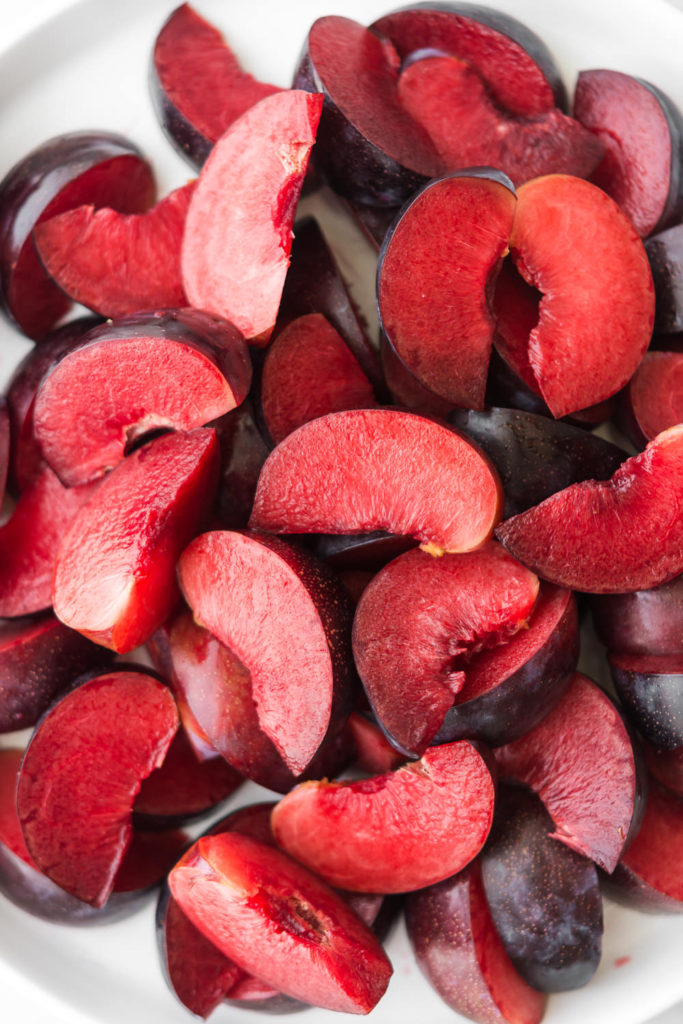 There are a few requirements in my mind for the perfect summer dessert. To start, there should be no involvement of the oven whatsoever. It's painful enough to have to turn on the A/C all day, but paying to heat and cool the air is just too much for me.
Second, it should be quick. Because when we do run the A/C, it's set to be just cool enough to keep the sweat from running down my back without exerting any energy. Running around the kitchen for a dessert just isn't happening.
And finally, it should involve some of the gorgeous fruit in the markets. Peaches, plums, nectarines, apriums, pluots, cherries, melons-- the whole gang shows up in the summer and it would be so sad to ignore them.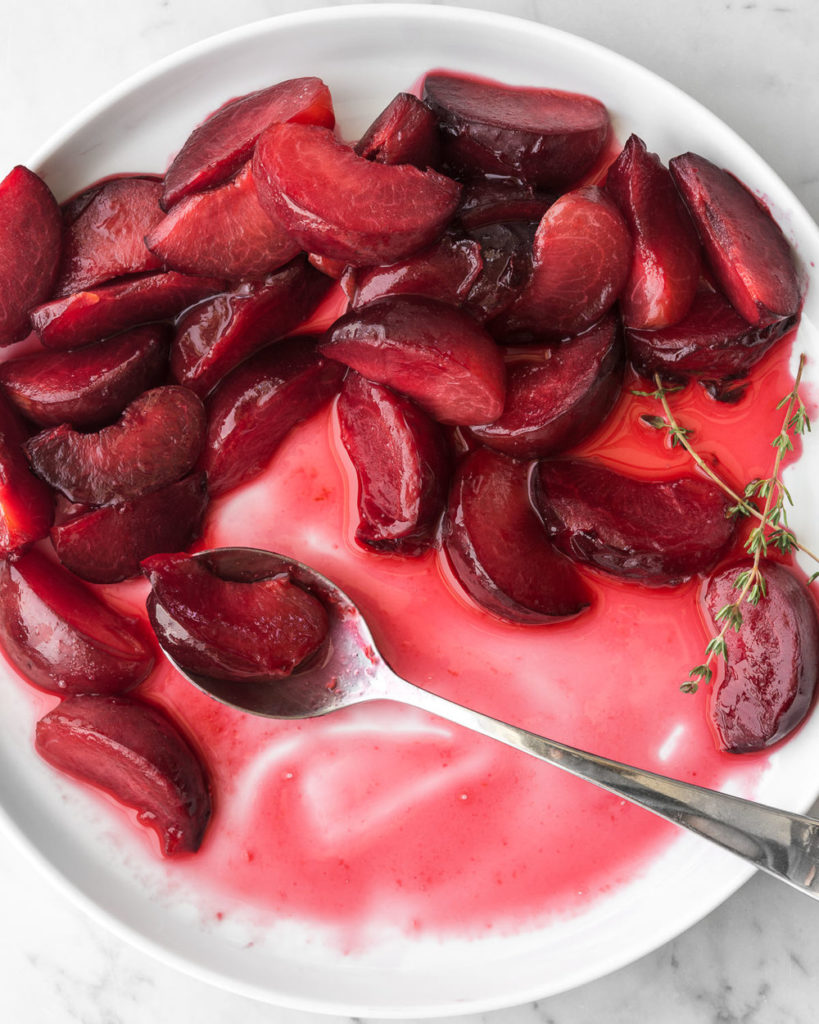 That's how I came about poaching plums. They get a quick simmer in a syrup of honey, white wine and fresh thyme to infuse them with sweet flavor, then they're served with a dollop of sweet mascarpone that's gently scented with almond. I love the juicy wedges of poached plums set against the sweet creamy mascarpone and crunchy almond cookies. It's a dreamy summer dessert that can be whipped up without breaking a sweat-- and that's a fact!
It's a total shame to dump the honey thyme syrup leftover from poaching the plums, especially because it picks up the fruity plum flavor and bright red color along the way.
here are a few ways to use the extra honey thyme poaching syrup
stirred into plain greek yogurt or cottage cheese
warmed and served over oatmeal or sweetened polenta
spooned on top of pancakes or french toast, in place of maple syrup
drizzled over warm brie and served with crackers
as a glaze for roast chicken
in homemade salad dressings, replacing the sweetening element (usually honey)
mixed with club soda for a homemade honey plum soda
mixed with sparkling wine for a plum scented spritzer
cocktails! (like a honey plum whiskey sour: 2 oz whisky + ¾ oz lemon juice + ¾ oz poaching syrup)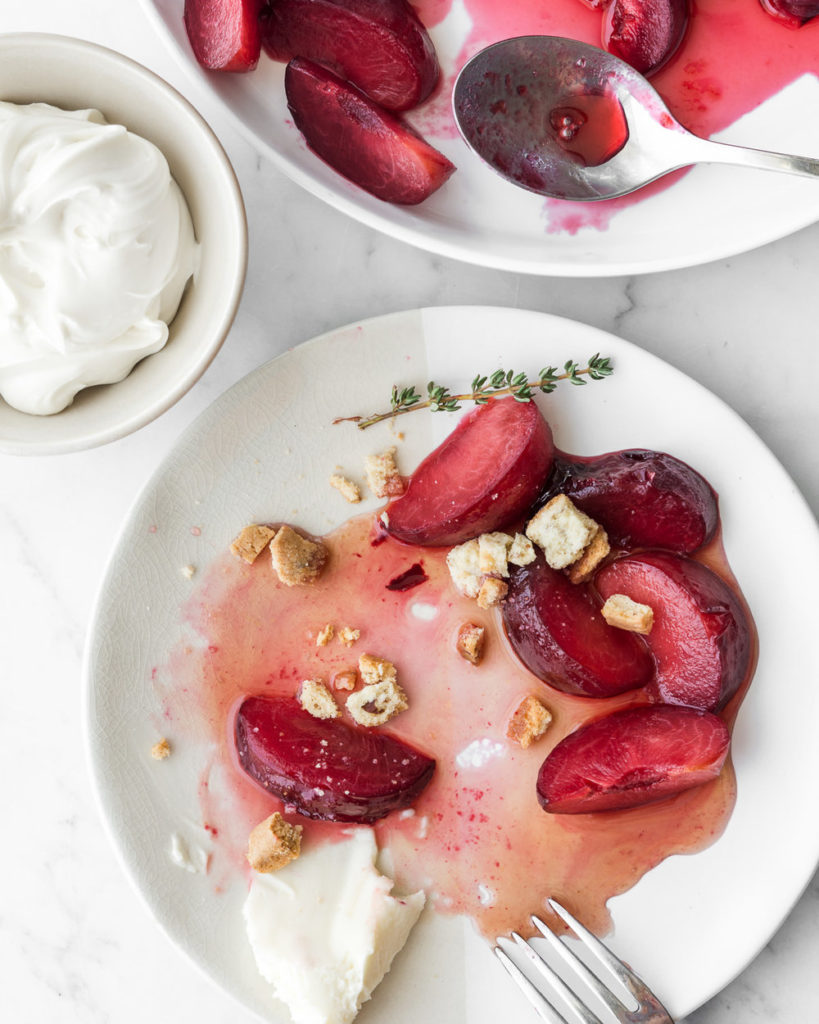 notes on the poached plums:
I prefer to use unoaked, fairly high acid white wines for poaching fruit, and they do not need to be super high quality. I typically use $7- $10 wines. You're cooking off most of the volatile compounds that contribute to complexity, so it's a waste to use anything more expensive (despite what a lot of people say). Save the fancy stuff for your glass. Look for Riesling, Albariño, Sauvignon blanc, or Pinot Grigio for fresh, fruity poaching wines.
I love to use plums that are firm and just barely ripe. The tart skin is the perfect foil to the sweet syrup and they're much more likely to hold their shape.

On that note, I always leave the skin on the plums. If you simmer them for a longer period of time, the skin will eventually slip off. Either way works just fine, but I love the sour plum skin and don't want to lose it!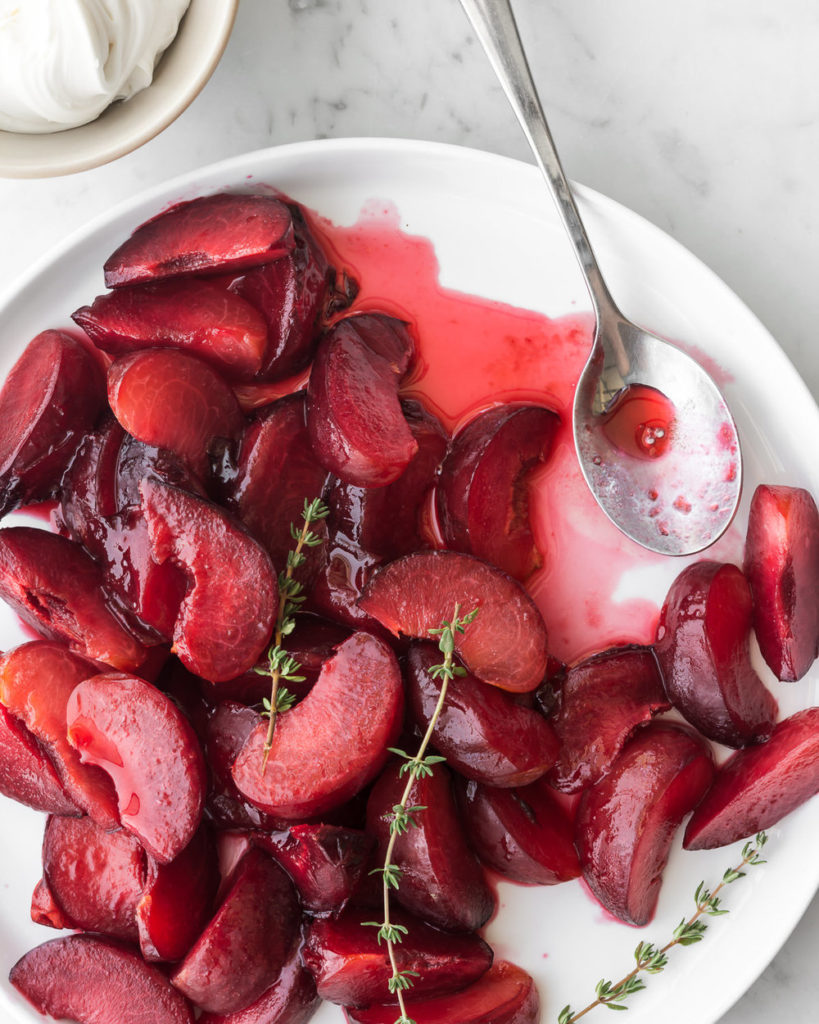 Print
honey thyme poached plums with sweet mascarpone
Juicy summer plums get poached in a syrup of honey, white wine and fresh thyme. They're served with a dollop of sweet mascarpone and crunchy almond biscotti for a quick and fresh summer dessert.
Author:
Prep Time:

5 minutes

Cook Time:

20 minutes

Total Time:

25 minutes

Yield:

6

Category:

Dessert

Cuisine:

American
Ingredients
1 ½ cups

white wine

1 ½ cups

honey

5

sprigs fresh thyme
kosher salt

8 oz

(

1 cup

) mascarpone

¼ cup

confectioners' sugar

¼ tsp

almond extract

2

lbs firm black or red plums, pitted and cut into eighths (about

7

medium sized plums)

2 tbsp

brandy (optional)

6

-

8

almond cookies (such as amaretti or almond biscotti)
Instructions
In a large pot, combine wine, honey, thyme and ¼ teaspoon of salt. Bring mixture to a boil, stirring to dissolve honey, then reduce to a simmer and cook for 5 minutes to let the flavors meld.
Meanwhile, combine mascarpone, sugar, almond extract and ¼ teaspoon of salt in a small bowl and mix until smooth. Set aside.
Carefully place plums in the hot syrup, return to a simmer and gently cook, uncovered, for 3- 4 minutes or until fruit is tender but not falling apart. Use a slotted spoon to remove the plums from the poaching syrup and set aside.
Continue to simmer syrup over medium heat until it has thickened, about 10 minutes, then stir in brandy if using.
To serve, dollop a tablespoon of sweetened mascarpone on a plate and top with a spoonful of poached plums. Drizzle with thickened syrup and top with a crumbled almond cookie. Enjoy immediately.
Notes
serves 6- 8
Poached plums can be refrigerated for up to 3 days in a covered container.
Sweet mascarpone will keep, covered and refrigerated, for 1 week.
Leftover syrup can be refrigerated for up to 2 weeks.
Nutrition
Serving Size:

1

Calories:

491

Sugar:

52g

Sodium:

215mg

Fat:

25g

Saturated Fat:

14g

Unsaturated Fat:

8.6g

Trans Fat:

0.5g

Carbohydrates:

62g

Fiber:

2.7g

Protein:

4.9g

Cholesterol:

79mg
Keywords: poached plums, stewed plums, summer dessert
---
related recipes
pickled cherries with black pepper and thyme
sour cream panna cotta with black pepper strawberry jam
As an Amazon Associate I earn from qualifying purchases.